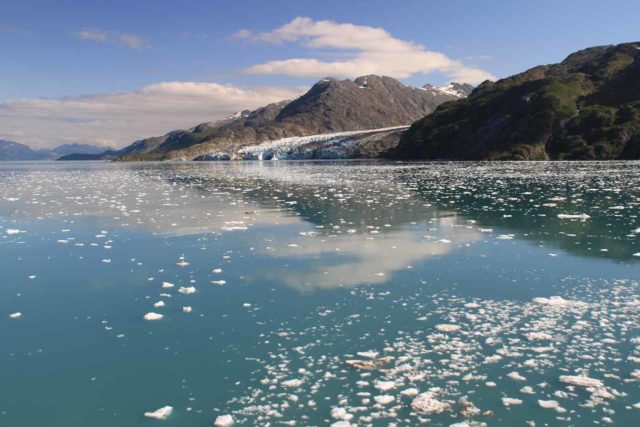 28-August 2011 to 4-September 2011:
And in this case, we saw a convergence of glaciers unlike we had ever seen before. We had seen places like the Perito Moreno Glacier, the Fox and Franz Josef Glaciers, the Icelandic Glaciers including Skaftafellsjokull and the lagoon at Jokulsarlon, and the Norwegian Glaciers including Briksdalsbreen and Nigardsbreen. Yet the beauty of this place and its more-or-less intact ecosystem could easily move anyone appreciative of its majesty and grandeur to tears. In our case, it lifted our spirits and made it seem like the two days of sea-sickness-inducing rocking along with being prisoners on the ship was worth the trouble…
Day 9: FISH OUT OF WATER
Once we finally accepted the limited space (there wasn't even any room to open our luggage) and we got settled, we went out for a late lunch at around 1:30pm.
Apparently, lines and crowds was the theme of this day as we saw long lines in each section of the lunch buffet. I guess that would be a good thing because it ought to limit the amount of food we'd be tempted to eat, but it was definitely a continuation of the long lines and crowds upon check-in prior to boarding the cruise.

We ended up chilling at the lunch room until about 3pm, but then we had a mandatory safety briefing, where everyone was packed on the lower promenade (3rd deck) in assigned stations. Tahia was trying to get in a decent nap, but the 7-high-pitched alarm followed by a very loud and long 8th high-pitched alarm briefly woke Tahia up. And when the briefing was over, we had to follow the crowds back into the main part of the ship, which was not easy when you're pushing around Tahia in a stroller.
Then, we had to wait for one of the few elevators that were working. Again, with the long queues of seniors waiting as well, there wasn't a chance we'd get on in any reasonable amount of time (15 minute wait, or longer?).
When we finally got back to our room a little after 4pm, we decided to take an afternoon siesta just as the boat started to move. We decided on dinner which required a dress code, but perhaps the food there would be much better than the lunch buffet since the food wasn't a buffet.
After 6:05pm, we managed to get dinner without reservations, but we had spent nearly two hours in the dining area as the waiters were quite busy getting everyone there their orders. They were pushing drinks from the bar real hard, but we weren't alcohol drinkers and weren't interested in bottled water. The regular ice water did us just fine.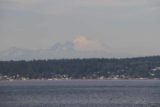 Anyways, the dinner was very hit and miss. The Alaskan King Crab legs were ok. The salmon was pretty good. The ceviche was more like scallop salad. I guess the years Julie and I spent together being foodies (actually Julie's more of the foodie), made us pickier about the quality of food. And quantity or buffet quality foods just didn't do it for us. If Holland America's food was said to be better than Princess or NCL, I'd hate to imagine what their food would be like if we weren't that crazy about our cruise's food.
Back at our room at 8:30pm, we managed to have a little help from the workers with bringing down the bunk from the ceiling (so I'd be sleeping in that one so Julie's mom wouldn't have to climb any steps). He was also nice about bringing us as much ice as we asked for so we could keep Tahia's milk cold and hold off bacterial growth.
I think there was consensus in the family that cruises were not our thing. We were like fish out of water. And this one try at a cruise would probably be our very first and very last ever cruise we'd take.
We'll have to see how the rest of the trip goes, but the rest of week certainly seemed like it was going to be a much longer week than the one we had in Seattle and the Olympic Peninsula…
Day 10: CABIN FEVER
The day began with a 7:30am wake-up for me. Everyone else was awake already for at least an hour or so. Tahia might have gotten up even earlier than that.
I didn't feel like there was much to look forward to considering today was nothing more than an entire day at sea. The activities on board didn't seem appealing to me, and perhaps this might give me some extra time to get caught up on processing all the photos I had taken last week as well as get caught up on composing the trip diaries such as this one.
We ended up going to a brekkie shortly after 8:15am, which was the order-off-the-menu kind. I think one experience at the Lido Deck upstairs and that was that for buffets. We didn't want to do it again.
And well, the breakfast took time. I guess the staff was overworked and probably understaffed. Come to think of it, most of the staff was from somewhere in Southeast Asia (Philippines and Indonesia or possibly Malaysia, Guam, etc.). Julie and I knew they must've been hired because of cheap labor. One waiter in particular saw Tahia and then thought of his 3-month old which he hasn't seen yet because he had been out here working on 10-month contracts.
It must be a pretty hard life, but then again after having been to third-world countries in our travels, we knew that employment here was far more desirable than living destitute. I'm sure that's why companies can take advantage of this because there's no shortage of cheap labor so long as there's overpopulation and the accompanying poverty somewhere in the world.
In a way, it made me not a big fan of cruises even though I'm aware of the reality that such social issues can't be avoided. We see it at home where illegal immigrants are working the kitchens in just about all the restaurants, the house cleaning in just about any house that looks like it has been well-kept, and the farms throughout Central Valley.
When the brekkie was done, it was already well past 10am. I went back to the room to try to get caught up on trip photos and blogging, but then the motion of the boat made me a little nauseous. And when I closed my eyes to recover, the next thing I knew, Julie was summoning me to wake up for lunch! I couldn't believe I was out for that long, and I was wondering if the dramamine was knocking me out.
Anyways, after the lunch (not buffet, thank you!), Julie and I caught the Source Code in the Screening Room. It was an entertaining movie, but I didn't quite get the little reality twist at the end.
We were back in our room at 2:40pm, and it was none too soon, because I really had to go pee during the movie, but I didn't really want to leave until it ended. And when the movie was over, the hard-to-find public restrooms were occupied. Basically, we had to run to our cabin upstairs before both of us were finally able to relieve ourselves.
So much for the exercise on the 3rd deck that I wanted to do. All we had been doing so far on this boat was eating and sleeping. It's all consumption all the time, and it really went against what I thought a travel experience should be – experiencing different cultures, landscapes, and really extending yourself to learn more and give back more. Clearly none of these things were happening on a cruise.
I knew I hated cruises going in because it was like being a prisoner on a ship except we're actually paying good money for it! So that wasn't a surprise. What did surprise me was how hard it was to look after Tahia even during a cruise.
Julie and I figured our experience in Seattle at the Moore Hotel was far easier, more spacious, and more accommodating. It just seemed like the more we compared our usual travel experiences on land to that on a cruise, the less we liked cruising. I guess we really weren't cruise people after all, and this experience confirmed it. But we knew that already. We just had to try it once to see what it was like.
It's like potato potahto, tomato tomahto. Different strokes for different folks.
After a brief moment in our cabin, Julie and I decided to do a little exploring of the ship. It started with a little cookie and soft serve craving (as if the pounds weren't piling on already) and so we went up to the Lido Deck to see. However, it turned out that they didn't have the soft chocolate chip cookies we had seen yesterday nor did they have vanilla soft serve. So rather than load up on more empty calories, we just declined the desserts and continued exploring the Lido Deck and above.
It was very windy at the top where there was the observation decks and the so-called sports deck. It was all empty up there and understandably so. The boat was rocking due to the swells in the sea and it was certainly making things uncomfortable for us, but at least it seemed a little better when we finally got to breathe some of the clean air.
So after seeing the spa area, gymnasium, several bars, and the swimming pool area, we headed back down to the cabin. And so that was that of our tour.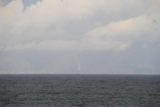 Back at our room, we did look out the balcony and noticed something in the distance that looked like a large waterfall. But it was hard to tell.
I guess before we knew it, it was dinner time with an artificially stuffy dress code since it was formal night. Being forced to pack the extra clothes went against the wise principle of travelling light. But I guess that's the life on a cruise.
Anyways, everyone but Tahia had to dress up formally. Now, the familiar dining area was full of well-dressed people. But when the food came out for this meal, it looked like they saved their best stuff for this meal because the lamb chops, thai salad, beef tataki, quail, and crispy shrimp were all good. We even got ourselves an extra entree and passed on the soups and salads when we saw what was on the menu.
Fully stuffed, we were about to leave when a couple we had met at breakfast (Angela and Tai) saw us and said hi. They were an Asian couple from Orange County and I guess we were becoming acquaintances on this ship. It turned out that Tai wasn't doing so well with the motion sickness caused by the boat responding to the big swells. So we definitely weren't the only ones struggling with this. And when we left the dinner area, we saw they had put in a dispenser with lots of barf bags. I swore we hadn't seen those before!
The rest of the night was pretty low key, and we all just went to bed. I guess the dinner quality raised our experience of the cruise, but overall we were still in the mindset that this was the one and only cruise we'd ever do…
Day 11: FALLING BACK TO NATURE
We awoke at 6:30am as it was now becoming routine to get up at this time and tend to Tahia's needs while we would freshen up in time for brekkie. It wasn't until Julie had read one of the paperwork left outside our door last night that we had actually fallen back one hour to be on Alaskan time. So it was now 5:30am!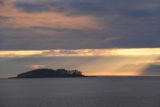 And as usual, it took a while to get ready so I used this time to take some photos of god beams breaking through some of the cloud cover to provide some color to the otherwise very gray scene that had dominated the cruise both yesterday and this morning.
It wasn't until 7:30am when we finally made it down to the Vista Dining Room (a place we had found suited our culinary needs way better than the Lido Buffet up on Deck 9), which was also becoming quite the familiar spot as we had eaten here for at least five straight meals (including a pretty decent formal night dinner last night).
During the brekkie, we had also found a pretty good and relatively healthy breakfast dish called the Frittata Italiana from the Green Spa, which was made of egg whites and sun dried tomatoes – finally something that wasn't as fattening like Belgian Waffles, pancakes, French Toast, or any of the American or English style breakfasts. Sure we could've gone with Scandinavian, but our Norway experiences have told us that koldtbord brekkies were quite salty even though they can be light if you go light on the spreads and the bread.
Anyways, it was back to the room after the brekkie at a little after 8:30am. For the next couple of hours, I was spending time getting caught up on photos, which was long overdue by about a week.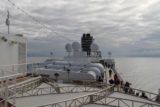 Eventually, at 11am, we thought a ranger was going to come on board to give a talk outside on the deck.
Actually, it was just us freezing in the wind chill while taking a few miscellaneous shots of the landscape and a few wildlife. I had actually seen one whale (or was it a dolphin? or merely an otter?) surface then sink into the depths. When I photographed something I thought was a whale, it was actually either an otter or sea lion when I zoomed in on my captured still and saw a snout and teeth (no way it could be a whale).
The next hour or so was spent searching for another whale sighting or other worthy wildlife viewing or photographing. Some people said they saw three whales, but if it wasn't caught on camera, it was as good as not happening at all as far as I was concerned.
Then, I noticed a small boat that caught up to the ship we were on. When the PA announcer mentioned the rangers were coming on board, I put two and two together and realized that the rangers were on that small boat and boarding our craft while both crafts were moving!
At the 12:15pm presentation by the park ranger Emma (who said she came from California before she lived in Gustavus, AK to work at Glacier Bay NP), we learned a bit about the history, the ecosystem, and the sights to see at Glacier Bay. But nothing really prepared us for what was about to transpire during the day when we got to the scenic parts of Glacier Bay.
After the presentation was up at around 12:45pm, I finally met up with Julie, her mom, and Tahia some time after 1pm, and that was when Tahia was fussing and Julie's mom retreated back to our room.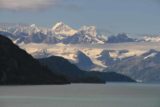 Meanwhile, I went up to the observation deck and started to see very scenic snowy mountains with the sky clearing. I took the opportunity to capture photos of the scenic mountains as well as using another cruise ship that was already there for scale.
When Julie went back to me on the observation deck, she told me about going down to the bow of the ship on the 4th deck. Apparently, that would be the prime spot to do some nature spotting. And so we went down there.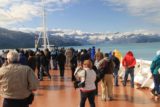 Apparently, lots of other people thought so too because it was packed down there! The wind chill didn't matter as long as some people staked claims to premium spots alongside the sides of the boat.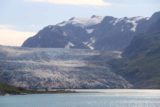 It was about this time that another park ranger used the PA to describe what we were seeing along with other tid bits. And it also turned out that the scenic sharp snowy peaks we saw towards the front left side of the bow was just the beginning. The suddenly sudden skies also added to the effect as the mostly dreary and overcast day became sunny and mostly clear!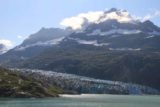 As the boat continued closer towards those snowy peaks, we could start to see a dirty glacier called Reid Glacier. But then we saw the Lamplugh Glacier, which was well hidden until the boat finally passed in front of it as it entered the Johns Hopkins Inlet.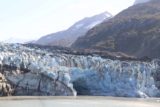 The Lamplugh Glacier exhibited pretty white and blue pinnacles as well as an ice cave. It was definitely the most scenic glacier we had seen so far and we had spent lots of time trying to take photos of it while avoiding the heads and arms of other people in the way at the same time.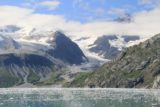 Towards the turnaround point of the journey into Johns Hopkins Inlet, we saw the Johns Hopkins Glacier against the sun. It was nowhere near as photogenic as the Lamplugh Glacier, but the overall scene was pretty nonetheless.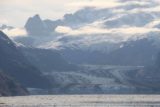 Then, the cruise went out of the Johns Hopkins Inlet and entered the Tarr Inlet. By this point, it was well past 2pm.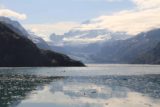 We continued seeing the other cruise ship making its way in and out of the inlet before us, and they served as a decent subject to show off the immense size of the glaciers they were fronting.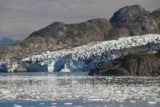 Eventually, the boat reached the end of the Tarr Inlet near the Grand Pacific Glacier, which was a dirty glacier. But the real story was its neighboring glacier, which was the scenic Marjerie Glacier. Like the Lamplugh Glacier, this one also had jagged white pinnacles, but this one was also actively calving, which we could hear the thundering from the crashing ice as well as some of the pieces spilling into the Tarr Inlet.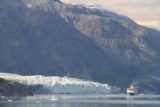 The narration stopped when we were in front of the Marjerie Glacier, and the boat pretty much parked there for the next half-hour to an hour. That afforded us time to take lots of photos while also trying to get lucky capturing the glacier face calf right in front of us.
We were also taking some people photos whenever Tahia was awake enough to do so.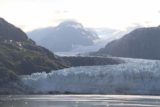 And when we finally retreated back to our cabin at 5pm, we realized that the glacier face was right outside our veranda balcony!
So while Julie and her mom were giving Tahia a bath, I took the time to go out to our balcony and take a few more photos as well as movies. And that was when I was able to capture a pair of glacier calvings on video. Unfortunately when the cruise pulled away, I missed the last big calving when a huge triangular piece calved off.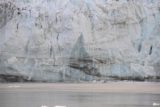 In any case, we were into dinner at the Vista Dining Room at 6:30pm and we had ourselves a pretty decent dinner in a much better mood than we had been this entire time on the cruise.
It's amazing how Nature could make us forget about the cruise environment and allow us to get lost in its beauty. Of course the weather clearing right when we got to the scenic part of Glacier Bay helped a lot, too!
And in this case, we saw a convergence of glaciers unlike we had ever seen before. We had seen places like the Perito Moreno Glacier, the Fox and Franz Josef Glaciers, the Icelandic Glaciers including Skaftafellsjokull and the lagoon at Jokulsarlon, and the Norwegian Glaciers including Briksdalsbreen and Nigardsbreen. Yet the beauty of this place and its more-or-less intact ecosystem could easily move anyone appreciative of its majesty and grandeur to tears. In our case, it lifted our spirits and made it seem like the two days of sea-sickness-inducing rocking along with being prisoners on the ship was worth the trouble…
Day 12: WATERFALL AT MENDENHALL
Once again it was a 6:30am wake-up for everyone. As Julie was pumping, she realized that she has got internet! That was good since we had forgotten to bring our Alaska guidebook, and we needed a little bit of research to see if it was possible to see something else besides Mendenhall Glacier, which was the mandatory to-do activity of our dry-docking at Juneau, Alaska.
During Julie's research, we found out that there were three other waterfalls that we could potentially visit. Plus, there was also a rental car in town. So at 8:30am, we were done with breakfast, headed down to town with Tahia and Julie's mom while bringing a car seat.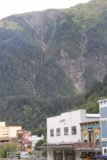 But once we got into town, further research on Julie's iPhone made us realize that there was no rental car facility near the cruise ships, and that it was near the airport some 13 miles away! Obviously, the cruises didn't want a car rental facility near their ships (so you'd be forced to go with one of their excursions) and I guess we learned the hard way that seeing those other three waterfalls in addition to Nugget Falls and the Mendenhall Glacier wasn't going to be possible as a result.
If we were here without Tahia and Julie's mom, we probably would've taken the bus to the airport and then rented a car and did the out-of-the-beaten-path stuff we had hoped to do today. I guess that's part of the frustration of taking an infant with you while still pumping breastmilk on a trip. Yet at the same time, Tahia produced priceless moments as she's growing and exhibiting new traits and learning new things on this trip. It's amazing how life works this way – you can't have your cake and eat it too!
So at 9:35am, I was back in our room waiting for Julie while it seemed like the rest of the cruise ship was already out and about in town. There was a bit of confusion going on with Julie and her mom, and it wasn't until 9:50am when Julie finally joined me in the room. Julie's mom and Tahia were still walking about in town. The housekeeping crew also showed up at this time and as they were going about their work, Julie had to wait until they left before she could pump.
In the mean time, we conversed with Toto and Nori (a couple of the Indonesian workers who worked our room) about their work and family life. We learned that they're on 10-month contracts, but they work seven days a week and work very hard during that time. They say the time goes by quickly, but they also admitted that it's hard to spend that much time away from the family.
I guess that was the reality of some of the travels that we have done. In this particular case, we felt a sense of guilt when comparing our lives with theirs. Sure you could make the argument that the workers here were better off than those who had to work even harder jobs or were destitute poor in their homelands of Indonesia or the Philippines (seems to be that majority of the workers were from those two countries).
But the truth of the matter is that cheap labor is always to be had as long as social problems, corruption, and overpopulation in third world countries allow businesses to exploit them. And when it comes down to the consumer, the cheap labor means more affordable cruises. If cruises were more accurately priced, then they'd be very expensive and who would want that? It's a very classic case of people being part of the problem whether they want to admit it or not.
Sometimes I wonder if we're better off allowing countries to solve their own problems rather than exploiting them and create other problems at home as well as in theirs. It's basically that the issues from the third world countries remain unfixed while we induce unemployment and reward outsourcing labor while creating socio-economic problems in our own country.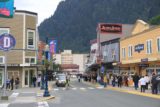 Anyways, it was 10:45am when Julie was finally done with the pumping and we finally left the room to go back into town.
When we got into town, we booked the $8 each-way shuttle per person ($32 total) and took the shuttle to the Mendenhall Glacier. It definitely beat the nearly $200 per person cost by doing it through the tour offered by the cruise though they do couple it with whale watching.
At 11:10am, the bus left and we were listening to Thomas the driver give some informative and sometimes funny commentary about Juneau and other things around town. We learned that Thomas Corwin Mendenhall was some boss for the USGS (or something like that back in the day) but had never actually set foot in Juneau even though the vast majority of features were named after him (including Mendenhall Glacier).
We also managed to see a small bit of the Juneau Icefield behind the Wal-mart in town as well as a bald eagle perched on a tree next to the Mendenhall Loop Road.
Moreover, Thomas was proud to proclaim himself a Republican when the Sarah Palin topic came up, but he claimed he had to be a closet Republican because Juneau was a Democratic town in a state that's largely Republican thanks to oil being the number one industry in the state.
I did find it interesting how jobs are intimately tied to politics, and how people tend to justify their motives for the so-called greater good based on the jobs they have or the lifestyles they have. Even for an industry as corrupt and dirty as oil, as long as you have people employed in it or because of it, you'll have people who vote according to their jobs. And Republicans aren't the only ones guilty of this. Democrats do it, too. We saw that when Obama decided Health Care was more important than greening the economy with green jobs because it was more important to their party's voting constituency. So even though I'm vehemently against much of what Republicans believe in, I don't blame them for blocking everything Democrats were trying to do.
I guess that's why we have bi-partisan gridlock in our government, and as long as the voting public continues to vote exclusively Democrat or Republican, I'm afraid the same problems will persist and get worse as no action will be taken to correct the underlying root of such problems. Both parties have valid ideas but they also are going about it in a very divisive manner. But as much as politics tend to influence our lives for the worse, that's enough about this topic.
Eventually at 11:30am, we arrived at the shuttle stop for Mendenhall Glacier, which we could already see in front of us. The glacier looked immense and photogenic even before we were dropped off. But we had learned that there were frequent black bear sightings near Steep Creek as well.
There was a boardwalk that went from the car park to the visitor center along this creek. So that got me excited about actually having a bear sighting in Alaska!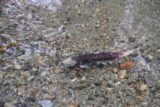 First and foremost, we went right up to the viewing deck besides the car park over Steep Creek. We could see right away that there were large sockeye salmon in the creek. Unfortunately, we didn't see any hungry black bears going for a meal for us to see. We had overheard that they were active earlier this morning, and that made me wish we got the glacier a couple of hours earlier on this trip instead of retreating back to the room to pump and then come back out later.
After all, right now there were hordes of people crowding the boardwalks between the car park and visitor center, and I'd imagine that the bears probably don't want to be around when there's so much commotion and people around.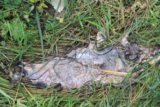 And yet despite all this, we noticed there were lots of salmon carcasses (we could definitely smell them) as well as some giant bear prints. If we weren't so much on a pumping schedule, I'd be inclined to wait here until most of the tourists leave so we could see the bears happily eating.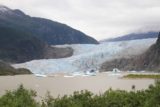 Anyways, a few minutes later, we found a lookout area of the Mendenhall Glacier from a distance. Julie and I were able to self-make some couple photos in addition to our nature photos of both the glacier and a very distant view of the falls with people on the bottom for scale.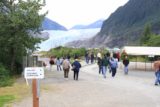 By 12pm, Julie and I were on the trail to the base of Nugget Falls. And even though there was a loop trail, we took the trail closer to the water since it involved water crossings and it seemed less busier than the easier trail (which we knew some of the slower walkers were ill equipped to handle some of the stream crossings on the more primitive trail).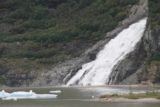 There were more photo ops of the glacier and falls all along the way.
And by about 12:40pm, we were at the base of Nugget Falls. Down here, we could see the falls at an angle, but to see its uppermost sections, we had to be willing to get our boots wet a bit and get very close to the glacial lake. Plus, mist from the falls made photography from in front of the falls difficult.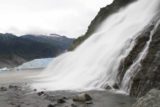 The falls reminded me of Friaren because they had almost the same shape. The difference was that Nugget Falls was one of those rare falls where we could see both a major waterfall and a major glacier in one shot. Usually, little mountain cascades that marginally count as waterfalls spill towards glaciers. So that's what made this waterfall by Mendenhall stand out.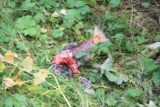 At 1:05pm, Julie was itching to get back to the shuttle because it was almost time for another pumping. When we got back to the visitor center, I was hoping to catch lightning in a bottle and have a bear sighting, but it wasn't to be on this day. Apparently, others about to board the shuttle bus said they did see a bear. I guess we missed out, but Julie didn't seem to care.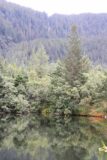 At 1:40pm, Thomas the bus driver came back. During the drive back to town, he talked about how Sitka was once the capital before Juneau got the status. He said that Anchorage was trying to get the status now, but there were some legal tricks to make sure that Juneau remains the Alaskan capital.
It wasn't until about 2:15pm when we returned to the room. This time we entered the 1st deck instead of the 3rd deck like this morning. There was a bit of a diesel smell en route to our room, but thankfully that smell didn't get to our room.
And back at our room, we saw Tahia and Julie's mom again. It was nice to see the little baby whom we had already missed.
But at 3pm, we were all headed back into town.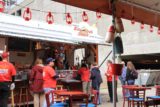 Julie and I didn't have a lunch yet so we walked over to this place called Tracy's King Crab Shack. And even though we spent over $100 for lunch to feed all three of us (Tahia couldn't have any), we savored the food because the monster Alaskan king crab legs were huge, the crab cakes were yummy, and even the shrimp we bought last tasted fresh. I guess the meal was well worth the wait as this was the real deal! Forget what restaurants back at home or even in Seattle would tell you about Alaskan king crab. Once you have it here, you KNOW you've had Alaskan king crab and all the rest were either lies or some other substitute crab like dungeness. Joe's Crab Shack? yeah, right!
This meal was definitely worth the mess, and we doubt we'd be back on another cruise again so that meant getting back to Juneau would be unlikely. Only bad things were now that we weren't hungry for the cruise dinner and that we might've supported the overfishing for these crabs. Anyways, it would have to be a late dinner for sure!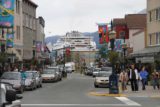 At 4pm, we were done eating and decided to walk around the tourist town some more. Basically, the town felt a bit contrived as we had noticed lots of fur shops, diamond shops, and even computer/camera shops. Clearly this town was geared towards the cruise crowd, and we even speculated that these shops belong to the cruise companies. That might explain why this part of town seemed a bit detached from the rest of Juneau, which was apparent as we took the narrated shuttle between the downtown and Mendenhall Glacier.
We even saw some Filipino bingo building as well as check-cashing or international money transfer to Philippines or Indonesia. Gee, I wonder who this caters to?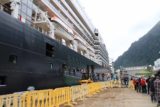 At 4:45pm, we were back at the boat and had to wait in a fairly long line to get through the security screening before finally get back inside. It wasn't until 4:55pm when we finally were back in our room and called it a day.
And so ended a pretty eventful day in which we saw the lone legitimate waterfall we're probably going to see on this cruise. Too bad there were no bear sightings, but at least as far as waterfallers are concerned, we got what we came for…
At 8pm, we were in the midst of dinner. Tahia was fussy most of the dinner from overtiredness, but she wouldn't go to sleep despite me rolling her around the 3rd deck three times. It wasn't until Julie did it that she finally fell asleep.
Despite the wait for four hours after our killer Alaskan king crab meal at Tracy's, we were still recovering from that meal before the dinner at the Vista Lounge arrived on our table. Needless to say, I knew we'd be very stuffed by the end of dinner.
But the kicker was an important announcement from the captain. He mentioned that there was a cold front hitting this side of the Alaskan coast due tonight. So he had to take a different route than he would normally take to Sitka. The alternate route was more sheltered, but it also meant that we would have to ride the 10-14ft waves as they'd be behind the ship thereby creating a rolling motion around the time we get up tomorrow morning.
Whether this causes sickness in the morning or makes us throw up the food we had today remains to be seen. But the silver lining to all this was that we managed to experience fine weather on both the Glacier Bay day and somewhat on the Mendenhall Glacier day. Now that the bad weather is coming, we don't really care since it would be happening at Sitka and Ketchikan, which to our understanding, doesn't have any of the major waterfalls we were anticipating like we were here in Juneau.
So taking the good with the bad, we definitely were lucky to have the good at the right time!
Day 13: AN EAGLE HAS LANDED
The day began with the usual 6:30am wake-up with everyone up to tend to Tahia again. As expected, the weather seemed violent outside and so the ship was rolling with the 14-ft waves as the captain predicted. It definitely was sea-sickness conditions but I quickly tried to go back to sleep given all the commotion knowing I might succumb to my loss of balance.
When I re-awoke, Tahia had already pooped, had her milk, and we were taking some time to get ready for the day.
We still hadn't docked at Sitka yet, but it looked pretty terrible outside as rain continued to fall while the clouds were hanging low. Julie and I were hoping to find some worthwhile excursions to do on our own while in Sitka as we didn't really feel up for the high-priced excursions offered by the cruise. I guess if there had to be bad weather, it seemed like today was the day for that to happen as we couldn't find any Mendenhall-like excursions that we could do on our own at 1/4 the price offered by the cruise.
We had our breakfast shortly after 8am. With all the heavy and greasy stuff on offer for brekkie, we were looking for ways to reduce calorie consumption on this meal by creatively getting fruits, museli, and oatmeal and mixing them up. We did this while resisting juice, pastries, and other eggy mains.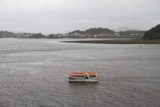 After about 9am, we were walking around deck 2. It seemed like the paid excursions would be the first to tender into Sitka and go on their tours. With the bad weather, it made us less willing to book any of the bear-watching excursions. So we decided to wait until after 10am before entering town and seeing if there was anything we could do on our own once in town.
After about 10:45am, we finally got to board one of the tender boats, which was in rough waters. The ride wasn't long and the wet weather didn't seem too terrible making our waterproof pants a bit overkill.
We did a brief visit to the visitor center as we saw what types of tours were on offer en route. There was a guaranteed bear sighting at some bear fortress, but we knew it was contrived given the low price and the fact that the bears were captive (though the tour operators would like you to think they're "rescued").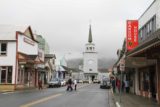 At about 11:15am, we were walking towards the St Michael's Church, which seemed to be a Sitka landmark. But we noticed lots of photographers pointing their cameras upwards. And after taking our obligatory shots, I couldn't help but notice some furry bulb perched atop the cross at the very top of the cathedral.
Well, it turned out that there was a bald eagle sitting up there!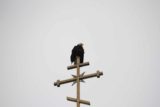 That immediately got me to switch my camera to fast mode while experimenting with exposures so the eagle wouldn't be too dark. And lo and behold after a few shots of the majestic bird perched on the cross, I managed to catch the bird in flight.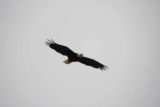 At this point, I considered our visit to Sitka a success with everything else icing on the cake. So we briefly walked around the rest of town's throughfare even getting up to the former site of some castle offering up some views of the town. Given the bad weather, we couldn't see Mt Edgecumbe behind the city. Nonetheless, we were done with our sightseeing and went for another round of Alaskan king crab at Victoria's.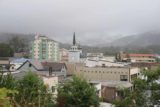 We saw the prices seemed to be half of that of Tracy's, but after eating there, we thought the quality of the crab wasn't like that of Tracy's plus if the quantities were the same, it would probably be roughly the same price. So I didn't think we got ripped off by Tracy's deadliest catch king crab.
We were back on the cruise boat by 1pm, and just as we were on the tender back to the cruise, we could see that the weather continued to improve as the time passed on.
We decided to go for some more food at Lido's once on board where we got creative with the desserts (e.g. a Dee Dee Reese like combo of chocolate chip cookie sandwich of two scoops of vanilla ice cream). The more time we stayed in Lido's, the greater the temptation to throw caution to the wind and indulge on all the food on offer (even if buffet food was terrible).
By the time we were back in our room, there was a large pocket of blue skies. We still couldn't see Mt Edgecumbe, but I guess that pretty much was the end of this day. The rest of the time was spent just chilling out on the cruise even spending a couple of hours watching The King's Speech, which was a pretty good movie.
When the movie was over, the boat started to sway and roll quite heavily. The sea-sickness from this motion didn't start kicking in until we were back in our cabin getting dressed for formal night. And this was made a bit worse when we were back down to the Vista Dining Room for tonight's dinner, but we then learned that there was a 45-minute wait! We had gotten there at 7pm and were expected to be seated at 7:45pm!
So I spent this time walking Tahia around to sooth her to sleep. The walk was sort of a drunken walk as the ship was swaying left and right, forwards and backwards. Meanwhile, Julie and her mom were chilling out at the Explorer's Lounge to try to stave off the effects of sea-sickness.
After two laps around Deck 2, I figured out that there was a relatively calm part of the ship in a curved hallway just in front of the sports bar. So I sat on one of the cushioned mats there while looking out at the washing-machine-like waves at 12-14ft meet the wake from our cruise ship.
When I looked out on the horizon, I saw what appeared to be infrequent "mini-geysers" of water spouting up! I wasn't sure if I had seen a whale or not, but when I saw it again in a pair of bursts, my eyes opened widely when that confirmed that I did indeed see a whale (or perhaps a dolphin or orca). Nonetheless, that would be my first definite whale sighting on this ship though it was too far from the ship to get a good read on its body plus I didn't have a camera ready so there was no way I could take a photo anyways. So for all intents and purposes, I had nothing to show for it.
Was I the only one to see this? It seemed like everyone else were busy moving about the hallway only noticing the violent waves but not seein what I was seeing against the setting sun.
Anyways at around this time, Julie came back to get me as we were seated shortly before 7:30pm, which was about 15 minutes sooner than we had expected. And that was the end of that little encounter with a whale.
The dinner included a surf 'n turf entree and there was no doubt just about everyone got that. It was probably the main reason why it was such a busy dinner, and there was even the typical long delay in service given that the dining crew was understaffed and overworked (even with the presence of empty tables while people still waited outside).
It wasn't until after 9pm that we retreated to our room fully stuffed. And that was when we spent time to get cleaned up and try to sleep off the sea-sickness that Julie's mom and I were in danger of succumbing to…
Day 14: KETCH IT IF U CAN
It wasn't until about 7am when all of us had gotten up. The swaying had stopped because we were apparently docked at Ketchikan. However, it was 8am when the announcement came that the cruise was finally authorized to let its passengers walk onto land.
If this was anything like Juneau, it wouldn't be a big deal to hurry to get off the ship, but since today was all aboard at 12:30pm, it became a big deal! So instead of the sit down brekkie at Vista, we decided to go right up to Lido for a buffet breakfast since we were in a rush.
And at about 8:45am, we had our cards scanned, and all four of us were right into the pier at the heart of downtown Ketchikan.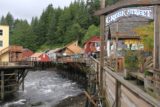 The weather was a bit misty and dreary, but at least it wasn't pouring rain. We made a beeline for Creek Street since that was apparently the historic and charming part of town that we expected to be less contrived than the shops all along Ketchikan's Front Street or in Sitka (which was dead) or in Juneau.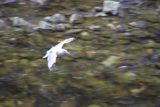 And when we got to Creek St, from what we could tell it was basically an active creek with lots of sockeye salmon and arctic tarns in the water. Meanwhile, the creek itself was flanked by wooden buildings and walkways standing on long stilts, which were perched on the banks of the creek. I guess those stilts were there in case the creek flooded.
One side of the creek had all the action with the pedestrian traffic and shops. The other side seemed dead and dilapidated.
We noticed there were gift shops, lots of gem shops, and a handful of tour shops showcasing the gold rush era in addition to Dolly's brothel.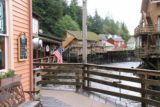 Taking the photos here was a bit of the challenge given the uneven nature of Creek Street's developments. And seeing all the live and dead salmon in the creek made me wish bears would come here for bonus sightings. I guess we won't be seeing any bears on this trip as Mendenhall Glacier was our best and last hope for it – and we missed them!
Anyways, after Creek St, we just walked around the shopping district closer to the cruise ship having ourselves some salmon chowder (of which at least 1/3 or more was potato) as well as salmon and halibut burgers at the Fish House.
Before we knew it, we were already back on the security line and into the boat by 11:15am. That was when Julie was finally able to pump while Tahia was finally able to nap.
Julie and I were lamenting how Ketchikan was a charming little place, and we certainly wished we could've done a bit more here. But it was rushed, and we wondered if we could've skipped Sitka or even Victoria, since we wouldn't even get to Victoria until nightfall.
Again, it confirmed to us that cruises were not our thing. The rushed schedules, limited choice of activities, and contrived nature of it all just went against what we valued in a holiday. And even though most of the places we visited would most conveniently (perhaps exclusively) be done by boating, we told ourselves we're never doing another cruise again.
So ended our brief morning in Ketchikan. Only two more evenings before we're finally off the prison they call a cruise…
Day 15: VICTORIAN RUSH
This entire day was spent at sea. We all tried to sleep in but we ultimately awoke before 7am.
Even though the weather was mostly clear outside, there wasn't a whole lot of worthwhile stuff to do on the boat. So I spent most of my time getting caught up on the trip diaries and photo processing.
We did have breakfast, lunch buffer, and dinner when the cruise finally docked at Victoria, Canada.
After taking our time letting Julie pump while also getting our stuff together, we finally got off the boat a little before 8pm.
And after a little bit of confusion about how we could get to where the action was, we learned that we were better off taking a taxi to the Parliament House. The Butchart Gardens that Julie wanted to do was much farther away from town and it would be too rushed since everyone was to return to ship by 11:30pm.
So we knew it was going to be a bit of a rushed trip. And much to our chagrin, when we made it to the downtown area nearby the Parliament House, we saw that it was a really happening part of town. The architecture had that European charm that we felt had been lacking in our travels since Switzerland last Summer. I'm sorry, but no US city comes close to being anywhere near as charming as this, and I figured it had to do with the fact that most US cities stubbornly refuse to have vehicle-free pedestrian-only zones.
Anyways, we took whatever twilight photos we could using the DSLR. There was a half-moon that was rising over the Parliament House, but we didn't take the time to explore the area to see if we could take better photos while soaking in the atmosphere here.
Julie was intent on wandering towards Chinatown seeing how the city came to life with its nightlife on a Saturday night. The pubs were buzzing and the main square was also happening with some kind of boat festival.
Tahia seemed to consistently draw attention from passerbys as there seemed to be a universal reaction to her cuteness. I knew we were taking her out past her bedtime, and I was sure we were going to pay for it somehow tonight and maybe tomorrow.
When we got to Chinatown, it was a bit anticlimactic with its singular street. Meanwhile, the rest of the shops en route were either closed or were about to close.
By about 9pm, Tahia was starting to get fussy so that prompted Julie to hail a cab as we started to walk back towards the Parliament House. That was pretty much the end of our little Victorian Rush, and we made it a point to come back here when we have a more dedicated visit to Vancouver, BC while encompassing Victoria Island, Whistler, and other waterfalling endeavors on both the mainland and on Victoria Island. Doing this place on a cruise just didn't cut it, and it was yet another reminder of why we weren't so fond of cruises.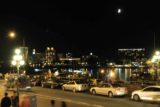 At 9:30pm, Julie and I were back at Lido's looking for one last go at a Dee Dee Reese chocolate chip cookie ice cream sandwich. There was still no more chocolate chip cookies (seemed to have been gone since 2pm since that was the third or fourth time we'd asked). The rest of the foods were just empty calories, and we really didn't indulge too much in our late night snack.
At 10pm, we were back in our room. Tahia wouldn't take her milk, and she was also refusing to sleep. I knew we were going to pay for it letting her out past her usual bedtime.
The rest of the time was spent packing and putting the large luggage outside our door per their disembarkation procedure. With this being our last night in the cramped stateroom on this cruise, we definitely couldn't wait for this part of the trip to be over.
But now comes the next part about vagabonding it for two straight days as we have one more layover night in Seattle before finally flying home on Labor Day Monday at 7am. It's definitely going to be a rough couple of days before normal life resumes…
Visitor Comments:
Got something you'd like to share or say to keep the conversation going? Feel free to leave a comment below...
No users have replied to the content on this page