Day 9: FISH OUT OF WATER
Once we finally accepted the limited space (there wasn't even any room to open our luggage) and we got settled, we went out for a late lunch at around 1:30pm.
Apparently, lines and crowds was the theme of this day as we saw long lines in each section of the lunch buffet. I guess that would be a good thing because it ought to limit the amount of food we'd be tempted to eat, but it was definitely a continuation of the long lines and crowds upon check-in prior to boarding the cruise.

We ended up chilling at the lunch room until about 3pm, but then we had a mandatory safety briefing, where everyone was packed on the lower promenade (3rd deck) in assigned stations. Tahia was trying to get in a decent nap, but the 7-high-pitched alarm followed by a very loud and long 8th high-pitched alarm briefly woke Tahia up. And when the briefing was over, we had to follow the crowds back into the main part of the ship, which was not easy when you're pushing around Tahia in a stroller.
Then, we had to wait for one of the few elevators that were working. Again, with the long queues of seniors waiting as well, there wasn't a chance we'd get on in any reasonable amount of time (15 minute wait, or longer?).
When we finally got back to our room a little after 4pm, we decided to take an afternoon siesta just as the boat started to move. We decided on dinner which required a dress code, but perhaps the food there would be much better than the lunch buffet since the food wasn't a buffet.
After 6:05pm, we managed to get dinner without reservations, but we had spent nearly two hours in the dining area as the waiters were quite busy getting everyone there their orders. They were pushing drinks from the bar real hard, but we weren't alcohol drinkers and weren't interested in bottled water. The regular ice water did us just fine.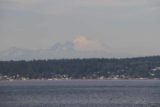 Anyways, the dinner was very hit and miss. The Alaskan King Crab legs were ok. The salmon was pretty good. The ceviche was more like scallop salad. I guess the years Julie and I spent together being foodies (actually Julie's more of the foodie), made us pickier about the quality of food. And quantity or buffet quality foods just didn't do it for us. If Holland America's food was said to be better than Princess or NCL, I'd hate to imagine what their food would be like if we weren't that crazy about our cruise's food.
Back at our room at 8:30pm, we managed to have a little help from the workers with bringing down the bunk from the ceiling (so I'd be sleeping in that one so Julie's mom wouldn't have to climb any steps). He was also nice about bringing us as much ice as we asked for so we could keep Tahia's milk cold and hold off bacterial growth.
I think there was consensus in the family that cruises were not our thing. We were like fish out of water. And this one try at a cruise would probably be our very first and very last ever cruise we'd take.
We'll have to see how the rest of the trip goes, but the rest of week certainly seemed like it was going to be a much longer week than the one we had in Seattle and the Olympic Peninsula…