Day 10: CABIN FEVER
The day began with a 7:30am wake-up for me. Everyone else was awake already for at least an hour or so. Tahia might have gotten up even earlier than that.
I didn't feel like there was much to look forward to considering today was nothing more than an entire day at sea. The activities on board didn't seem appealing to me, and perhaps this might give me some extra time to get caught up on processing all the photos I had taken last week as well as get caught up on composing the trip diaries such as this one.
We ended up going to a brekkie shortly after 8:15am, which was the order-off-the-menu kind. I think one experience at the Lido Deck upstairs and that was that for buffets. We didn't want to do it again.
And well, the breakfast took time. I guess the staff was overworked and probably understaffed. Come to think of it, most of the staff was from somewhere in Southeast Asia (Philippines and Indonesia or possibly Malaysia, Guam, etc.). Julie and I knew they must've been hired because of cheap labor. One waiter in particular saw Tahia and then thought of his 3-month old which he hasn't seen yet because he had been out here working on 10-month contracts.
It must be a pretty hard life, but then again after having been to third-world countries in our travels, we knew that employment here was far more desirable than living destitute. I'm sure that's why companies can take advantage of this because there's no shortage of cheap labor so long as there's overpopulation and the accompanying poverty somewhere in the world.
In a way, it made me not a big fan of cruises even though I'm aware of the reality that such social issues can't be avoided. We see it at home where illegal immigrants are working the kitchens in just about all the restaurants, the house cleaning in just about any house that looks like it has been well-kept, and the farms throughout Central Valley.
When the brekkie was done, it was already well past 10am. I went back to the room to try to get caught up on trip photos and blogging, but then the motion of the boat made me a little nauseous. And when I closed my eyes to recover, the next thing I knew, Julie was summoning me to wake up for lunch! I couldn't believe I was out for that long, and I was wondering if the dramamine was knocking me out.
Anyways, after the lunch (not buffet, thank you!), Julie and I caught the Source Code in the Screening Room. It was an entertaining movie, but I didn't quite get the little reality twist at the end.
We were back in our room at 2:40pm, and it was none too soon, because I really had to go pee during the movie, but I didn't really want to leave until it ended. And when the movie was over, the hard-to-find public restrooms were occupied. Basically, we had to run to our cabin upstairs before both of us were finally able to relieve ourselves.
So much for the exercise on the 3rd deck that I wanted to do. All we had been doing so far on this boat was eating and sleeping. It's all consumption all the time, and it really went against what I thought a travel experience should be – experiencing different cultures, landscapes, and really extending yourself to learn more and give back more. Clearly none of these things were happening on a cruise.
I knew I hated cruises going in because it was like being a prisoner on a ship except we're actually paying good money for it! So that wasn't a surprise. What did surprise me was how hard it was to look after Tahia even during a cruise.
Julie and I figured our experience in Seattle at the Moore Hotel was far easier, more spacious, and more accommodating. It just seemed like the more we compared our usual travel experiences on land to that on a cruise, the less we liked cruising. I guess we really weren't cruise people after all, and this experience confirmed it. But we knew that already. We just had to try it once to see what it was like.
It's like potato potahto, tomato tomahto. Different strokes for different folks.
After a brief moment in our cabin, Julie and I decided to do a little exploring of the ship. It started with a little cookie and soft serve craving (as if the pounds weren't piling on already) and so we went up to the Lido Deck to see. However, it turned out that they didn't have the soft chocolate chip cookies we had seen yesterday nor did they have vanilla soft serve. So rather than load up on more empty calories, we just declined the desserts and continued exploring the Lido Deck and above.
It was very windy at the top where there was the observation decks and the so-called sports deck. It was all empty up there and understandably so. The boat was rocking due to the swells in the sea and it was certainly making things uncomfortable for us, but at least it seemed a little better when we finally got to breathe some of the clean air.
So after seeing the spa area, gymnasium, several bars, and the swimming pool area, we headed back down to the cabin. And so that was that of our tour.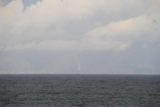 Back at our room, we did look out the balcony and noticed something in the distance that looked like a large waterfall. But it was hard to tell.
I guess before we knew it, it was dinner time with an artificially stuffy dress code since it was formal night. Being forced to pack the extra clothes went against the wise principle of travelling light. But I guess that's the life on a cruise.
Anyways, everyone but Tahia had to dress up formally. Now, the familiar dining area was full of well-dressed people. But when the food came out for this meal, it looked like they saved their best stuff for this meal because the lamb chops, thai salad, beef tataki, quail, and crispy shrimp were all good. We even got ourselves an extra entree and passed on the soups and salads when we saw what was on the menu.
Fully stuffed, we were about to leave when a couple we had met at breakfast (Angela and Tai) saw us and said hi. They were an Asian couple from Orange County and I guess we were becoming acquaintances on this ship. It turned out that Tai wasn't doing so well with the motion sickness caused by the boat responding to the big swells. So we definitely weren't the only ones struggling with this. And when we left the dinner area, we saw they had put in a dispenser with lots of barf bags. I swore we hadn't seen those before!
The rest of the night was pretty low key, and we all just went to bed. I guess the dinner quality raised our experience of the cruise, but overall we were still in the mindset that this was the one and only cruise we'd ever do…