Day 12: WATERFALL AT MENDENHALL
Once again it was a 6:30am wake-up for everyone. As Julie was pumping, she realized that she has got internet! That was good since we had forgotten to bring our Alaska guidebook, and we needed a little bit of research to see if it was possible to see something else besides Mendenhall Glacier, which was the mandatory to-do activity of our dry-docking at Juneau, Alaska.
During Julie's research, we found out that there were three other waterfalls that we could potentially visit. Plus, there was also a rental car in town. So at 8:30am, we were done with breakfast, headed down to town with Tahia and Julie's mom while bringing a car seat.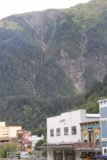 But once we got into town, further research on Julie's iPhone made us realize that there was no rental car facility near the cruise ships, and that it was near the airport some 13 miles away! Obviously, the cruises didn't want a car rental facility near their ships (so you'd be forced to go with one of their excursions) and I guess we learned the hard way that seeing those other three waterfalls in addition to Nugget Falls and the Mendenhall Glacier wasn't going to be possible as a result.
If we were here without Tahia and Julie's mom, we probably would've taken the bus to the airport and then rented a car and did the out-of-the-beaten-path stuff we had hoped to do today. I guess that's part of the frustration of taking an infant with you while still pumping breastmilk on a trip. Yet at the same time, Tahia produced priceless moments as she's growing and exhibiting new traits and learning new things on this trip. It's amazing how life works this way – you can't have your cake and eat it too!
So at 9:35am, I was back in our room waiting for Julie while it seemed like the rest of the cruise ship was already out and about in town. There was a bit of confusion going on with Julie and her mom, and it wasn't until 9:50am when Julie finally joined me in the room. Julie's mom and Tahia were still walking about in town. The housekeeping crew also showed up at this time and as they were going about their work, Julie had to wait until they left before she could pump.
In the mean time, we conversed with Toto and Nori (a couple of the Indonesian workers who worked our room) about their work and family life. We learned that they're on 10-month contracts, but they work seven days a week and work very hard during that time. They say the time goes by quickly, but they also admitted that it's hard to spend that much time away from the family.
I guess that was the reality of some of the travels that we have done. In this particular case, we felt a sense of guilt when comparing our lives with theirs. Sure you could make the argument that the workers here were better off than those who had to work even harder jobs or were destitute poor in their homelands of Indonesia or the Philippines (seems to be that majority of the workers were from those two countries).
But the truth of the matter is that cheap labor is always to be had as long as social problems, corruption, and overpopulation in third world countries allow businesses to exploit them. And when it comes down to the consumer, the cheap labor means more affordable cruises. If cruises were more accurately priced, then they'd be very expensive and who would want that? It's a very classic case of people being part of the problem whether they want to admit it or not.
Sometimes I wonder if we're better off allowing countries to solve their own problems rather than exploiting them and create other problems at home as well as in theirs. It's basically that the issues from the third world countries remain unfixed while we induce unemployment and reward outsourcing labor while creating socio-economic problems in our own country.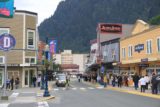 Anyways, it was 10:45am when Julie was finally done with the pumping and we finally left the room to go back into town.
When we got into town, we booked the $8 each-way shuttle per person ($32 total) and took the shuttle to the Mendenhall Glacier. It definitely beat the nearly $200 per person cost by doing it through the tour offered by the cruise though they do couple it with whale watching.
At 11:10am, the bus left and we were listening to Thomas the driver give some informative and sometimes funny commentary about Juneau and other things around town. We learned that Thomas Corwin Mendenhall was some boss for the USGS (or something like that back in the day) but had never actually set foot in Juneau even though the vast majority of features were named after him (including Mendenhall Glacier).
We also managed to see a small bit of the Juneau Icefield behind the Wal-mart in town as well as a bald eagle perched on a tree next to the Mendenhall Loop Road.
Moreover, Thomas was proud to proclaim himself a Republican when the Sarah Palin topic came up, but he claimed he had to be a closet Republican because Juneau was a Democratic town in a state that's largely Republican thanks to oil being the number one industry in the state.
I did find it interesting how jobs are intimately tied to politics, and how people tend to justify their motives for the so-called greater good based on the jobs they have or the lifestyles they have. Even for an industry as corrupt and dirty as oil, as long as you have people employed in it or because of it, you'll have people who vote according to their jobs. And Republicans aren't the only ones guilty of this. Democrats do it, too. We saw that when Obama decided Health Care was more important than greening the economy with green jobs because it was more important to their party's voting constituency. So even though I'm vehemently against much of what Republicans believe in, I don't blame them for blocking everything Democrats were trying to do.
I guess that's why we have bi-partisan gridlock in our government, and as long as the voting public continues to vote exclusively Democrat or Republican, I'm afraid the same problems will persist and get worse as no action will be taken to correct the underlying root of such problems. Both parties have valid ideas but they also are going about it in a very divisive manner. But as much as politics tend to influence our lives for the worse, that's enough about this topic.
Eventually at 11:30am, we arrived at the shuttle stop for Mendenhall Glacier, which we could already see in front of us. The glacier looked immense and photogenic even before we were dropped off. But we had learned that there were frequent black bear sightings near Steep Creek as well.
There was a boardwalk that went from the car park to the visitor center along this creek. So that got me excited about actually having a bear sighting in Alaska!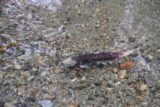 First and foremost, we went right up to the viewing deck besides the car park over Steep Creek. We could see right away that there were large sockeye salmon in the creek. Unfortunately, we didn't see any hungry black bears going for a meal for us to see. We had overheard that they were active earlier this morning, and that made me wish we got the glacier a couple of hours earlier on this trip instead of retreating back to the room to pump and then come back out later.
After all, right now there were hordes of people crowding the boardwalks between the car park and visitor center, and I'd imagine that the bears probably don't want to be around when there's so much commotion and people around.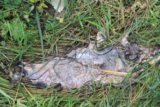 And yet despite all this, we noticed there were lots of salmon carcasses (we could definitely smell them) as well as some giant bear prints. If we weren't so much on a pumping schedule, I'd be inclined to wait here until most of the tourists leave so we could see the bears happily eating.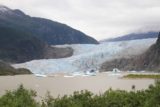 Anyways, a few minutes later, we found a lookout area of the Mendenhall Glacier from a distance. Julie and I were able to self-make some couple photos in addition to our nature photos of both the glacier and a very distant view of the falls with people on the bottom for scale.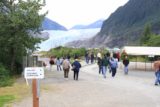 By 12pm, Julie and I were on the trail to the base of Nugget Falls. And even though there was a loop trail, we took the trail closer to the water since it involved water crossings and it seemed less busier than the easier trail (which we knew some of the slower walkers were ill equipped to handle some of the stream crossings on the more primitive trail).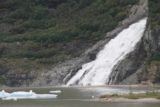 There were more photo ops of the glacier and falls all along the way.
And by about 12:40pm, we were at the base of Nugget Falls. Down here, we could see the falls at an angle, but to see its uppermost sections, we had to be willing to get our boots wet a bit and get very close to the glacial lake. Plus, mist from the falls made photography from in front of the falls difficult.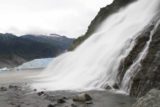 The falls reminded me of Friaren because they had almost the same shape. The difference was that Nugget Falls was one of those rare falls where we could see both a major waterfall and a major glacier in one shot. Usually, little mountain cascades that marginally count as waterfalls spill towards glaciers. So that's what made this waterfall by Mendenhall stand out.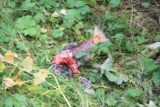 At 1:05pm, Julie was itching to get back to the shuttle because it was almost time for another pumping. When we got back to the visitor center, I was hoping to catch lightning in a bottle and have a bear sighting, but it wasn't to be on this day. Apparently, others about to board the shuttle bus said they did see a bear. I guess we missed out, but Julie didn't seem to care.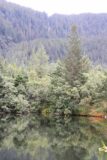 At 1:40pm, Thomas the bus driver came back. During the drive back to town, he talked about how Sitka was once the capital before Juneau got the status. He said that Anchorage was trying to get the status now, but there were some legal tricks to make sure that Juneau remains the Alaskan capital.
It wasn't until about 2:15pm when we returned to the room. This time we entered the 1st deck instead of the 3rd deck like this morning. There was a bit of a diesel smell en route to our room, but thankfully that smell didn't get to our room.
And back at our room, we saw Tahia and Julie's mom again. It was nice to see the little baby whom we had already missed.
But at 3pm, we were all headed back into town.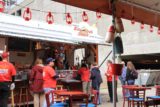 Julie and I didn't have a lunch yet so we walked over to this place called Tracy's King Crab Shack. And even though we spent over $100 for lunch to feed all three of us (Tahia couldn't have any), we savored the food because the monster Alaskan king crab legs were huge, the crab cakes were yummy, and even the shrimp we bought last tasted fresh. I guess the meal was well worth the wait as this was the real deal! Forget what restaurants back at home or even in Seattle would tell you about Alaskan king crab. Once you have it here, you KNOW you've had Alaskan king crab and all the rest were either lies or some other substitute crab like dungeness. Joe's Crab Shack? yeah, right!
This meal was definitely worth the mess, and we doubt we'd be back on another cruise again so that meant getting back to Juneau would be unlikely. Only bad things were now that we weren't hungry for the cruise dinner and that we might've supported the overfishing for these crabs. Anyways, it would have to be a late dinner for sure!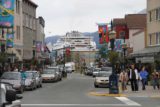 At 4pm, we were done eating and decided to walk around the tourist town some more. Basically, the town felt a bit contrived as we had noticed lots of fur shops, diamond shops, and even computer/camera shops. Clearly this town was geared towards the cruise crowd, and we even speculated that these shops belong to the cruise companies. That might explain why this part of town seemed a bit detached from the rest of Juneau, which was apparent as we took the narrated shuttle between the downtown and Mendenhall Glacier.
We even saw some Filipino bingo building as well as check-cashing or international money transfer to Philippines or Indonesia. Gee, I wonder who this caters to?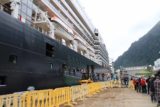 At 4:45pm, we were back at the boat and had to wait in a fairly long line to get through the security screening before finally get back inside. It wasn't until 4:55pm when we finally were back in our room and called it a day.
And so ended a pretty eventful day in which we saw the lone legitimate waterfall we're probably going to see on this cruise. Too bad there were no bear sightings, but at least as far as waterfallers are concerned, we got what we came for…
At 8pm, we were in the midst of dinner. Tahia was fussy most of the dinner from overtiredness, but she wouldn't go to sleep despite me rolling her around the 3rd deck three times. It wasn't until Julie did it that she finally fell asleep.
Despite the wait for four hours after our killer Alaskan king crab meal at Tracy's, we were still recovering from that meal before the dinner at the Vista Lounge arrived on our table. Needless to say, I knew we'd be very stuffed by the end of dinner.
But the kicker was an important announcement from the captain. He mentioned that there was a cold front hitting this side of the Alaskan coast due tonight. So he had to take a different route than he would normally take to Sitka. The alternate route was more sheltered, but it also meant that we would have to ride the 10-14ft waves as they'd be behind the ship thereby creating a rolling motion around the time we get up tomorrow morning.
Whether this causes sickness in the morning or makes us throw up the food we had today remains to be seen. But the silver lining to all this was that we managed to experience fine weather on both the Glacier Bay day and somewhat on the Mendenhall Glacier day. Now that the bad weather is coming, we don't really care since it would be happening at Sitka and Ketchikan, which to our understanding, doesn't have any of the major waterfalls we were anticipating like we were here in Juneau.
So taking the good with the bad, we definitely were lucky to have the good at the right time!