Day 13: AN EAGLE HAS LANDED
The day began with the usual 6:30am wake-up with everyone up to tend to Tahia again. As expected, the weather seemed violent outside and so the ship was rolling with the 14-ft waves as the captain predicted. It definitely was sea-sickness conditions but I quickly tried to go back to sleep given all the commotion knowing I might succumb to my loss of balance.
When I re-awoke, Tahia had already pooped, had her milk, and we were taking some time to get ready for the day.
We still hadn't docked at Sitka yet, but it looked pretty terrible outside as rain continued to fall while the clouds were hanging low. Julie and I were hoping to find some worthwhile excursions to do on our own while in Sitka as we didn't really feel up for the high-priced excursions offered by the cruise. I guess if there had to be bad weather, it seemed like today was the day for that to happen as we couldn't find any Mendenhall-like excursions that we could do on our own at 1/4 the price offered by the cruise.
We had our breakfast shortly after 8am. With all the heavy and greasy stuff on offer for brekkie, we were looking for ways to reduce calorie consumption on this meal by creatively getting fruits, museli, and oatmeal and mixing them up. We did this while resisting juice, pastries, and other eggy mains.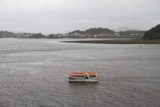 After about 9am, we were walking around deck 2. It seemed like the paid excursions would be the first to tender into Sitka and go on their tours. With the bad weather, it made us less willing to book any of the bear-watching excursions. So we decided to wait until after 10am before entering town and seeing if there was anything we could do on our own once in town.
After about 10:45am, we finally got to board one of the tender boats, which was in rough waters. The ride wasn't long and the wet weather didn't seem too terrible making our waterproof pants a bit overkill.
We did a brief visit to the visitor center as we saw what types of tours were on offer en route. There was a guaranteed bear sighting at some bear fortress, but we knew it was contrived given the low price and the fact that the bears were captive (though the tour operators would like you to think they're "rescued").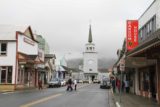 At about 11:15am, we were walking towards the St Michael's Church, which seemed to be a Sitka landmark. But we noticed lots of photographers pointing their cameras upwards. And after taking our obligatory shots, I couldn't help but notice some furry bulb perched atop the cross at the very top of the cathedral.
Well, it turned out that there was a bald eagle sitting up there!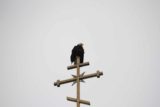 That immediately got me to switch my camera to fast mode while experimenting with exposures so the eagle wouldn't be too dark. And lo and behold after a few shots of the majestic bird perched on the cross, I managed to catch the bird in flight.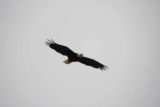 At this point, I considered our visit to Sitka a success with everything else icing on the cake. So we briefly walked around the rest of town's throughfare even getting up to the former site of some castle offering up some views of the town. Given the bad weather, we couldn't see Mt Edgecumbe behind the city. Nonetheless, we were done with our sightseeing and went for another round of Alaskan king crab at Victoria's.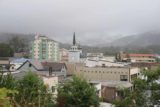 We saw the prices seemed to be half of that of Tracy's, but after eating there, we thought the quality of the crab wasn't like that of Tracy's plus if the quantities were the same, it would probably be roughly the same price. So I didn't think we got ripped off by Tracy's deadliest catch king crab.
We were back on the cruise boat by 1pm, and just as we were on the tender back to the cruise, we could see that the weather continued to improve as the time passed on.
We decided to go for some more food at Lido's once on board where we got creative with the desserts (e.g. a Dee Dee Reese like combo of chocolate chip cookie sandwich of two scoops of vanilla ice cream). The more time we stayed in Lido's, the greater the temptation to throw caution to the wind and indulge on all the food on offer (even if buffet food was terrible).
By the time we were back in our room, there was a large pocket of blue skies. We still couldn't see Mt Edgecumbe, but I guess that pretty much was the end of this day. The rest of the time was spent just chilling out on the cruise even spending a couple of hours watching The King's Speech, which was a pretty good movie.
When the movie was over, the boat started to sway and roll quite heavily. The sea-sickness from this motion didn't start kicking in until we were back in our cabin getting dressed for formal night. And this was made a bit worse when we were back down to the Vista Dining Room for tonight's dinner, but we then learned that there was a 45-minute wait! We had gotten there at 7pm and were expected to be seated at 7:45pm!
So I spent this time walking Tahia around to sooth her to sleep. The walk was sort of a drunken walk as the ship was swaying left and right, forwards and backwards. Meanwhile, Julie and her mom were chilling out at the Explorer's Lounge to try to stave off the effects of sea-sickness.
After two laps around Deck 2, I figured out that there was a relatively calm part of the ship in a curved hallway just in front of the sports bar. So I sat on one of the cushioned mats there while looking out at the washing-machine-like waves at 12-14ft meet the wake from our cruise ship.
When I looked out on the horizon, I saw what appeared to be infrequent "mini-geysers" of water spouting up! I wasn't sure if I had seen a whale or not, but when I saw it again in a pair of bursts, my eyes opened widely when that confirmed that I did indeed see a whale (or perhaps a dolphin or orca). Nonetheless, that would be my first definite whale sighting on this ship though it was too far from the ship to get a good read on its body plus I didn't have a camera ready so there was no way I could take a photo anyways. So for all intents and purposes, I had nothing to show for it.
Was I the only one to see this? It seemed like everyone else were busy moving about the hallway only noticing the violent waves but not seein what I was seeing against the setting sun.
Anyways at around this time, Julie came back to get me as we were seated shortly before 7:30pm, which was about 15 minutes sooner than we had expected. And that was the end of that little encounter with a whale.
The dinner included a surf 'n turf entree and there was no doubt just about everyone got that. It was probably the main reason why it was such a busy dinner, and there was even the typical long delay in service given that the dining crew was understaffed and overworked (even with the presence of empty tables while people still waited outside).
It wasn't until after 9pm that we retreated to our room fully stuffed. And that was when we spent time to get cleaned up and try to sleep off the sea-sickness that Julie's mom and I were in danger of succumbing to…
Visitor Comments:
Got something you'd like to share or say to keep the conversation going? Feel free to leave a comment below...
No users have replied to the content on this page