Day 14: KETCH IT IF U CAN
It wasn't until about 7am when all of us had gotten up. The swaying had stopped because we were apparently docked at Ketchikan. However, it was 8am when the announcement came that the cruise was finally authorized to let its passengers walk onto land.
If this was anything like Juneau, it wouldn't be a big deal to hurry to get off the ship, but since today was all aboard at 12:30pm, it became a big deal! So instead of the sit down brekkie at Vista, we decided to go right up to Lido for a buffet breakfast since we were in a rush.
And at about 8:45am, we had our cards scanned, and all four of us were right into the pier at the heart of downtown Ketchikan.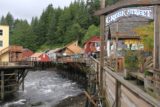 The weather was a bit misty and dreary, but at least it wasn't pouring rain. We made a beeline for Creek Street since that was apparently the historic and charming part of town that we expected to be less contrived than the shops all along Ketchikan's Front Street or in Sitka (which was dead) or in Juneau.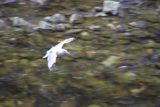 And when we got to Creek St, from what we could tell it was basically an active creek with lots of sockeye salmon and arctic tarns in the water. Meanwhile, the creek itself was flanked by wooden buildings and walkways standing on long stilts, which were perched on the banks of the creek. I guess those stilts were there in case the creek flooded.
One side of the creek had all the action with the pedestrian traffic and shops. The other side seemed dead and dilapidated.
We noticed there were gift shops, lots of gem shops, and a handful of tour shops showcasing the gold rush era in addition to Dolly's brothel.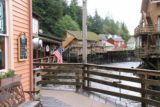 Taking the photos here was a bit of the challenge given the uneven nature of Creek Street's developments. And seeing all the live and dead salmon in the creek made me wish bears would come here for bonus sightings. I guess we won't be seeing any bears on this trip as Mendenhall Glacier was our best and last hope for it – and we missed them!
Anyways, after Creek St, we just walked around the shopping district closer to the cruise ship having ourselves some salmon chowder (of which at least 1/3 or more was potato) as well as salmon and halibut burgers at the Fish House.
Before we knew it, we were already back on the security line and into the boat by 11:15am. That was when Julie was finally able to pump while Tahia was finally able to nap.
Julie and I were lamenting how Ketchikan was a charming little place, and we certainly wished we could've done a bit more here. But it was rushed, and we wondered if we could've skipped Sitka or even Victoria, since we wouldn't even get to Victoria until nightfall.
Again, it confirmed to us that cruises were not our thing. The rushed schedules, limited choice of activities, and contrived nature of it all just went against what we valued in a holiday. And even though most of the places we visited would most conveniently (perhaps exclusively) be done by boating, we told ourselves we're never doing another cruise again.
So ended our brief morning in Ketchikan. Only two more evenings before we're finally off the prison they call a cruise…