Day 15: VICTORIAN RUSH
This entire day was spent at sea. We all tried to sleep in but we ultimately awoke before 7am.
Even though the weather was mostly clear outside, there wasn't a whole lot of worthwhile stuff to do on the boat. So I spent most of my time getting caught up on the trip diaries and photo processing.
We did have breakfast, lunch buffer, and dinner when the cruise finally docked at Victoria, Canada.
After taking our time letting Julie pump while also getting our stuff together, we finally got off the boat a little before 8pm.
And after a little bit of confusion about how we could get to where the action was, we learned that we were better off taking a taxi to the Parliament House. The Butchart Gardens that Julie wanted to do was much farther away from town and it would be too rushed since everyone was to return to ship by 11:30pm.
So we knew it was going to be a bit of a rushed trip. And much to our chagrin, when we made it to the downtown area nearby the Parliament House, we saw that it was a really happening part of town. The architecture had that European charm that we felt had been lacking in our travels since Switzerland last Summer. I'm sorry, but no US city comes close to being anywhere near as charming as this, and I figured it had to do with the fact that most US cities stubbornly refuse to have vehicle-free pedestrian-only zones.
Anyways, we took whatever twilight photos we could using the DSLR. There was a half-moon that was rising over the Parliament House, but we didn't take the time to explore the area to see if we could take better photos while soaking in the atmosphere here.
Julie was intent on wandering towards Chinatown seeing how the city came to life with its nightlife on a Saturday night. The pubs were buzzing and the main square was also happening with some kind of boat festival.
Tahia seemed to consistently draw attention from passerbys as there seemed to be a universal reaction to her cuteness. I knew we were taking her out past her bedtime, and I was sure we were going to pay for it somehow tonight and maybe tomorrow.
When we got to Chinatown, it was a bit anticlimactic with its singular street. Meanwhile, the rest of the shops en route were either closed or were about to close.
By about 9pm, Tahia was starting to get fussy so that prompted Julie to hail a cab as we started to walk back towards the Parliament House. That was pretty much the end of our little Victorian Rush, and we made it a point to come back here when we have a more dedicated visit to Vancouver, BC while encompassing Victoria Island, Whistler, and other waterfalling endeavors on both the mainland and on Victoria Island. Doing this place on a cruise just didn't cut it, and it was yet another reminder of why we weren't so fond of cruises.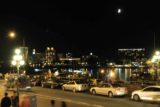 At 9:30pm, Julie and I were back at Lido's looking for one last go at a Dee Dee Reese chocolate chip cookie ice cream sandwich. There was still no more chocolate chip cookies (seemed to have been gone since 2pm since that was the third or fourth time we'd asked). The rest of the foods were just empty calories, and we really didn't indulge too much in our late night snack.
At 10pm, we were back in our room. Tahia wouldn't take her milk, and she was also refusing to sleep. I knew we were going to pay for it letting her out past her usual bedtime.
The rest of the time was spent packing and putting the large luggage outside our door per their disembarkation procedure. With this being our last night in the cramped stateroom on this cruise, we definitely couldn't wait for this part of the trip to be over.
But now comes the next part about vagabonding it for two straight days as we have one more layover night in Seattle before finally flying home on Labor Day Monday at 7am. It's definitely going to be a rough couple of days before normal life resumes…
Visitor Comments:
Got something you'd like to share or say to keep the conversation going? Feel free to leave a comment below...
No users have replied to the content on this page