Day 1: THE PROXY OF THIS TRIP
There was no rest for the weary after having worked last weekend and haven't had a decent night's sleep in about ten days. But this morning, we had to get up at 3:30am so we could catch our 6am flight to Portland.
So as groggy as we were, we proceeded to get our small luggages and day packs and promptly drove to the airport at around 4:30am. Everything went pretty smoothly and our flight left on time. By 8am, we had landed in Portland International Airport.
The view from the plane was quite a contrast from our trip to Oregon 5 months ago. Back then, it was consistently cloudy, rainy, cold, yet green. But this time around, it was pretty clear and there was a lot more brown all over the place. It might've had something to do with the record-breaking heat the Pacific Northwest had been getting the past few weeks, and apparently, our short half-week trip here would be no different.
By 8:40am, we picked up our rental car (this time we got some kind of Subaru hatchback from Dollar, which was conveniently located at the airport), and proceeded to head straight south to Eugene.
At 10:50am, we arrived at the Comfort Suites just off the I-5 near Eugene. It was the same place we stayed at last time though the circumstances were way different this time. So far, it was still around 86 degrees Fahrenheit so we were wondering if the heat wave we had read about was taking hold yet. Our pre-trip weather forecast called for 99 degrees today in Medford and around 96 degrees in Portland.
The friendly staff at the motel let us check in early and they even gave us some food recommendations in downtown Eugene. They mentioned some place called Cafe Zenon so we made sure to check this place out later tonight.
Meanwhile, we discussed our last trip where we had to improvise midtrip due to the heavy winter storms that lasted well into Spring. Upon hearing our story, the receptionist told us about Indian Beach by Ecola State Park, which was his favorite surfing spot. It was the same beach I remembered seeing a waterfall spilling right onto the sands. Kind of a small world if you ask me.
At about 11:15am, we headed into the outskirts of Eugene to do some grocery shopping for water and some small snacks. By this time, it was already about 96 degrees Fahrenheit and it was quite sweltering. The supermarket we went to was actually an Oregonian version of Wholefoods called Market of Choice. Julie loved this place as it had a much wider variety and selection of organic and natural goods she said were hard to find back at home.
Anyways, we left at 12:05pm and headed directly east towards the Three Sisters Wilderness to visit some of the waterfalls we missed the last time around.
The sweltering heat was quite a contrast from our first trip, and we started to speculate whether this was yet another instance (like in 2005) where we were getting Pacific Northwest weather while they were getting ours. Except back in '05, we got their rain while they experienced some drought. And now, they're burning up while we're getting June gloom in August.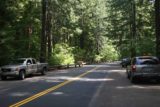 The entire drive from Portland to Eugene and then from Eugene to Proxy Falls trailhead was all under sunny blue skies. There were hardly any clouds above us and the thermometer on the car was reading consistently in the low to mid 90s.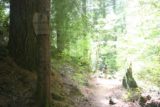 By 1:30pm, we were at the roadside pullouts flanking the narrow highway 242 in the Three Sisters Wilderness. The trailhead itself actually wasn't very far from the gate (now open) that stopped us five months ago. Anyhow, it was quite busy here as there were at least ten cars on both sides of the road. It was a very popular spot indeed.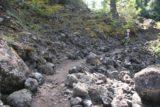 After strapping on our boots, we followed the signs and went directly onto the trail. But as soon as we left the shade from the tree cover, we could really feel the heat. It was already a bit hot even in the shade, but once we reached a little lava field with some shrubs already showing some autumn colors, the heat was draining.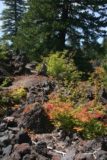 Eventually, we made it to a fork where there was a somewhat confusing trail sign indicating the both ways was the Proxy Falls Trail. We just decided to take the left fork thinking it was a loop that might take us right back to this fork.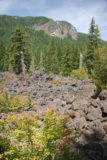 But after a few minutes of walking and the sound of falling water was fading, we were beginning to wonder if we missed Proxy Falls.
towards the trailhead in a different path we had taken. The fork on the right wasn't mentioned at all, but we could hear some more falling water. Could this be the Proxy Falls?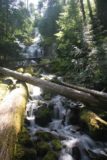 We would end up getting to another signed fork but the trail sign pointed us back A few minutes more of walking led us towards a gully and a pool where it seemed like the stream wasn't draining anywhere. The cascade was partly in shadow and it wasn't easy to photograph. We weren't sure if this was the Proxy Falls, but this one looked rather disappointing.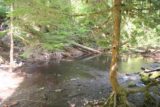 Anyways, we took what photos we could (we had to get our boots wet in a stream a bit to get better views of this cascade) before we had our fill and started to head back.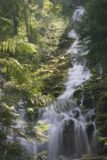 There were other people walking towards the falls we had just seen, and they asked us, "Is this the way to the other waterfall?"
"The other waterfall? That must imply there's another one around here?" I asked.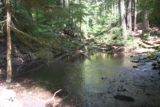 "Oh yeah, you just go back to the fork and go left. That one's real big," he said.
"Thanks!" said both of us.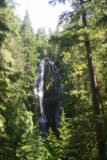 So we hastily backtracked to that confusing fork we made a left on and continued on further to the real Proxy Falls. Now this was more like it! It was a pretty tall waterfall that segmented in a way reminiscent of Shine Falls in New Zealand. Except this one had some more character to it as moss kind of made parts of the falls form rivulets of water weaving its way through the moss.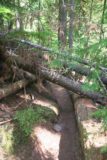 After taking photos from the main viewpoint, it looked like there was a trail that kept going towards the base of the falls. But a few steps further revealed that there had been fallen trees that forced you to scramble a bit to proceed. This didn't deter me as I was able to get by and follow what looked to be a former trail that switchbacked its way down to the creek.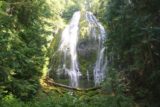 From there, it was pretty much an all out scramble as this former trail was probably closed for awhile allowing Nature to reclaim the area with the diminished human traffic. Finally, I was able to take photos of the falls from closer up, but not before walking by a few bees (or wasps?) as well as getting a few insect bites (I didn't recall seeing skeeters, but perhaps they were midges or something).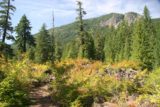 At 3:10pm, Julie and I completed the loop trail as we returned to the trailhead pullouts. It turned out that we walked in a counterclockwise direction, and our exit path was unsigned so I guess the folks here wanted us to do this loop counterclockwise.
The car thermometer said it was 92 degrees, and that's saying something for a place that's around 4000 or 5000 feet up.
Unfortunately, we saw some people on motorcycles smoking at the trailhead. Given the weather conditions, I'm sure this was a major fire hazard!
So onwards we went as we sought to check out another pair of falls we missed the first time around as well – Sahalie and Koosah Falls.
At 3:50pm, we made it to the Sahalie Falls car park, which was quite crowded. It was also 95 degrees F. It also turned out that the spot we turned around 5 months ago due to falling snow and the presence of snow plows was probably less than 5 minutes from this trailhead…
Sahalie Falls was flowing pretty heavily despite this being late August. But we could see from park photos here that on more normal flows, you could see additional segments of the falls.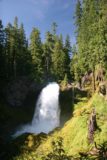 The partial shadows around the falls made photography difficult, but it was still cool to see this one finally.
We left Sahalie Falls car park at 4:10pm and five minutes later, we arrived at Koosah Falls. This one wasn't quite as busy as the previous one, but there were still a half-dozen cars and motorcycles here.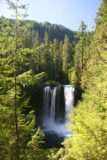 And the short walk to the viewpoints were partially blocked by flanking foliage. From my trip research, I had expected this to be a block waterfall (rectangular in shape), but this one seemed to be segmenting a bit due to the lower water volume (against since it's late Summer). Nonetheless, it wasn't as impressive as expected, but for sure it'd kill just about any Southern California Waterfall.
At 4:40pm, we were back in the car and finally called it a day of sightseeing.
At 6pm, we were back in Eugene to fill up some gas. The car thermometer at this point said it was now 100 degrees Fahrenheit!
About 15 minutes later, we finally returned to the Comfort Suites so Julie could do a little more research about the recommended Cafe Zenon.
And by 7:30pm, we were in downtown Eugene eating at the cafe. The place a bit of an international fusion flair to it. I liked my Indian lamb while Julie liked her salmon special. The bill was quite reasonable as we realized (and forgotten) that there's no state tax in Oregon. So this was a pretty pleasant surprise.
After finishing our food and doing some last minute shopping back at the Market of Choice, we were finally back at the Comfort Suites at 8:40pm. At that point, both of us needed a shower as well as some much needed rest. After all, our day started at 3:30am, and it wasn't until after 11pm did we finally go to sleep…