Day 3: THE MARRIAGE SAVER
At 7:15am, we left the Diamond Lake Resort. It was a very chilly 44 degree Fahrenheit morning, which dramatically contrasted the 90+ degree weather from the last two days. It was a good thing I brought a light jacket because this really caught us off guard. But I guess it just goes to show you that you always have to prepare from a variety of conditions especially when you're in the mountains.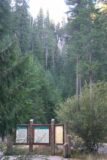 As it was gradually getting warmer under the clear blue skies, we made it to the Watson Falls Picnic Area and Car Park at 7:40am. We could already see the falls from the car park up amongst the trees. So we knew this one was as tall as advertised (some 272ft according to Gregory Plumb's book
).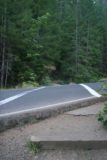 We wasted no time going across the street and then up into the uphill trail. As both Julie and I made our way up the trail, we noticed that there was nothing but silence besides the moving water of the creek and falls along with our breathing and footsteps.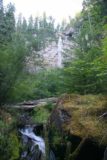 The views of the falls got gradually better as we continued climbing up the falls. The first real decent view started from the bridge over Watson Creek. But the trail continued going up some more as we paused near a bench where another pretty good view of the falls was available.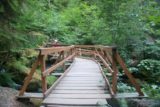 At first we thought this was the end of the trail, but I noticed more trail and railings were further above us. So we continued on. And eventually at a little after 8am, we got to the end of the trail where we could see an angled view of the falls. There was also another fork in the trail with a sign saying that it looped back (something we didn't realize when we started the hike).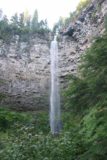 The view from up here was nice, but it was hard to photograph because we were too close to the falls to get it all in one shot. Still, we enjoyed being near this wispy waterfall, and we wondered how much more impressive it would've been a month or two ago.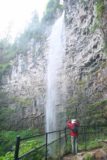 When we got our fill of this falls, we completed the loop quickly as we only had to go downhill. And by 8:35am, we were back at the car park where another couple had just arrived. There was also another pair of guys in a pick-up truck that had just showed up as well. So we left the falls and headed to Toketee Falls, which was one that I really looked forward to doing.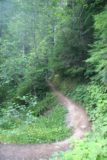 That was because I had seen calendar photos of this waterfall as well as photos on the web. So I knew it was known for basalt formations, but it had two tiers and had a little more character and color than Svartifoss in Iceland, which was a waterfall I was already familiar with. Thus, I really looked forward seeing how this falls stacked up to the Svartifoss as well as the other Icelandic waterfalls with basalt formations like Hengifoss, Litlanesfoss, and Aldeyjarfoss.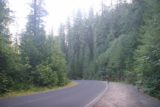 But at 8:45am we showed up at the Toketee Falls turnoff, but as soon as I saw the police tape blocking further access right at the sign, I knew something was wrong.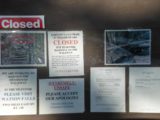 Sure enough, the trail was closed. Just like the closure of Diamond Creek Falls yesterday, this one was also overcome by events. According to the signs, it was a snowstorm back in January 2008 that did these trails in. I guess we never stood a chance of seeing either of the falls, and this one stung. But, that's Nature for you. She doesn't care what our intentions and agendas are.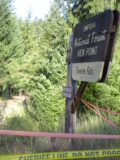 So with that, we just headed straight back to Portland. It was going to be a long haul drive as we were going from Southern Oregon to Northern Oregon.
The scenic drive west along Hwy 138 was actually quite scenic. Although we were moving at a pretty consistent 45-55mph, the highway followed a gorge and river surrounded by trees with some of them looking a bit dry and brown way up at the top of the hill. If not for the disappointment of missing out on Toketee Falls, this would've been one of the more enjoyable drives further affirming the scenery missing from Southern California and why we go to such great lengths to immerse ourselves in the best of Nature.
As we were approaching Roseburg, we noticed that the blue skies were giving way to overcast skies up ahead. By the time we got to Roseburg, the skies were pretty much overcast and even drizzling! This was totally unexpected as we thought it was going to be another scorcher of a day. Boy were we wrong!
We then reconnected with the I-5 North and headed straight north all the way to Portland. There were a lot of cars on the freeway, but we were still going pretty consistently between 60-70 mph. The skies remained overcast with pockets of drizzle so we knew that this was a legitimate weather pattern and not just morning fog that was supposed to burn off by midday (something we're all too familiar with in Southern California).
Eventually by 12:55pm, we made it to the Clarion Portland Airport where it was a comfortable 72 degrees F. We were alowed to check in to our room (they started charging more for their tempurpedic beds so we passed, which bummed Julie out since she really looked forward to it). Shortly thereafter, we went to a Vietnamese Restaurant (Pho Oregon) that we went to on our previous trip.
So we were re-energized after getting our fill of banh xeo and pho tai, and promptly drove east to the Columbia River Gorge once again.
Julie was really looking forward to revisiting Multnomah Falls since our previous experience was a bit more stressful as it was under pouring rain, lots of spray from the high volume of water, and freezing cold weather. But this time, we were expecting better weather and less waterfall. Perhaps less was more in the case of this waterfall?
As we were anticipating our visit, Julie and I were recalling the vampire baseball scene in the movie Twilight
– a movie and book she was obsessed with. The baseball scene had Multnomah Falls in the background as they were playing in an open field surrounded by trees.
Anyways, we were actively looking for a field that very well could've been where they had that game. But as we looked to and fro along the Columbia River Hwy, it was pretty obvious (at least in my mind) that there was no possible way there was a field when you have a wide river and lots of trees covering a narrow stretch of land between the river and the cliffs. I figured it was all CGI, but Julie still felt it took place somewhere around here.
When we got to Multnomah Falls at around 2:45pm, we could see that the car park was extremely crowded and there was no parking space at all. So we decided to defer stopping here for a little while and continue heading east to the Oneonta Gorge. There, I was going to chase a waterfall that we missed the last time around – the Lower Oneonta Falls.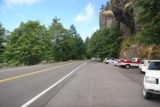 At 2:50pm, we parked the car at an area close to the Triple Falls trailhead. But this time there were many cars here so we knew we wouldn't be alone with broken glass strewn all over the ground (suggesting a break-in).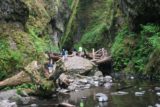 We wasted no time descending from the bridge looking into the gorge and walking along the creek towards the logjam obstacle where we could already see over a dozen people or so carefully trying to traverse it. It didn't look easy, but it certainly looked doable, and there were lots of kids doing it probably because they lacked the fear that adults tended to have when faced with these things. But make no mistake, a fall in one of the holes between the trees and rocks could be real nasty and something you might not be able to survive depending on where you fall.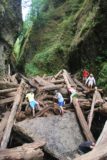 When I saw how wet some of the people were as I made it up to the top of the logjam, I realized that perhaps I better get Julie to hold on to some things I couldn't get wet – like my wallet and keys. So I called her over to me (she pre-determined that she wasn't doing this hike so she'll wait here) and I handed her my wallet and keys. Now, all I had was my camera and tripod, which I'll try to keep dry. As for my clothes, they were supposed to be quick-dry clothes so I should be OK.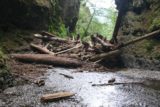 Eventually, I made it to the other side of the logjam. It didn't seem too difficult, but then again, my Chacos
were dry so they gripped the logs and rocks fairly well.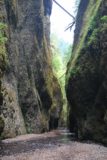 Up ahead of me was a narrow gorge that really reminded me of the Narrows hike in Zion National Park. Except this time, it was a bit darker and the water was colder. Further up ahead of me were some spots where the creek stretched from wall to wall and I was sure they were the spots where keeping dry wasn't an option.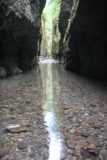 So onwards I went. And the first pool I had to wade through was only knee deep. So it was pretty straightforward keeping my camera and tripod dry as long as I didn't take a fall.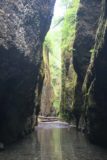 But as I continued further on, I could see further up ahead a couple where the wife was waist deep and gingerly making her way forward. So that must be the obstacle I really had to watch out for to protect my camera gear. But just beyond them was the Lower Oneonta Falls. That further motivated me to continue (not that I wasn't going to be denied on this trip).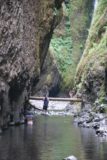 Eventually, I made it through the deep pool myself as my orange shirt was getting water and it was pretty much up to my waist. I held both the camera and tripod high above my head as well as the unzipped lower leg part of my pants. Ultimately, I made it through OK, and proceeded to continue wading upstream right before the falls. But I couldn't help but wonder how impossible this would've been five months ago when the creek was higher, everything was wetter, and the weather was colder. Clearly, this was a low-flow and in good weather only type excursion if you wanted to take decent photos.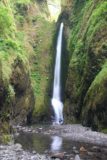 As I was setting up my tripod, the couple that was there before me was done posing right before the falls. The husband then approached me and said that he lamented not bringing his tripod here since his wife wouldn't let him. Upon hearing that, I offered him to use my tripod since he seemed to have a DSLR camera himself.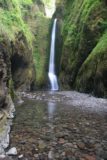 "Is that a Manfrotto?" he asked. I nodded yes.
So I helped him mate his camera to my Giotto tripod and he was happily snapping away with bracketed exposures and very slow shutter speeds in Shutter Priority mode.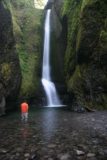 "You saved our marriage," he said. I chuckled.
But when his wife came over, she said, "You should've seen him. He was pouting all trip long because his tripod was too big to fit in a carry-on and I wouldn't let him bring it."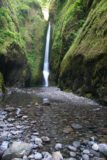 "See? I wasn't kidding about you saving our marriage," said the husband.
Anyways, they were both very happy to have this experience of seeing the Lower Oneonta Falls and the husband was quite happy to have his tripod photo so I'm sure he had his postcard quality photo to take home now. This was certainly one of those you-had-to-be-there experiences.
So now I was all alone taking photos of the falls on my tripod. As I was busy snapping away trying to get postcard photos of my own, I heard a loud crack behind me. At first I thought someone shot a firecracker or something, but when I realized that I was totally alone, I knew a rock must've fallen into the gorge and cracked.
It was kind of spooky knowing that one of those rocks could easily knock me out. So the rest of the time, I always kept looking up hoping I might move out of the way in time if one happened to be coming my way.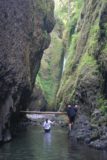 After getting my fill of this falls, I headed back. A trio of young 20 somethings were headed to the falls as I was leaving. They hesitated in going forward into the deep pool, but I told them, "You guys have no choice. You gotta get wet to go further."
"Yeah, that's what I figured," said the guy.
In any case, the two girls went first and they got themselves quite a jolt of the cold as they were also waist deep in the water.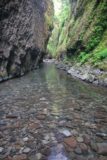 Then, a family of four came by as well. The two smaller girls compared themselves to how wet I was and saw that the water was probably going to be chest high for them. The parents were psyching themselves to continue going forward themselves.
Eventually I made it back to the logjam, but my Chacos were wet at this point and my traction was not as good as before. So there were a couple of hairy spots where I quickly balanced my way across a log (hoping not to fall on either side which gave way to a 15ft drop) and then slowly scooted my way back to the awaiting Julie on the other side.
By 4:10pm, we were back at the car. My butt was all wet, but it didn't matter. Julie still had my keys and wallet.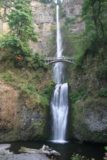 Ten minutes later, we were back at Multnomah Falls. It wasn't as crowded as earlier in the afternoon, but it was still quite busy. So we parked the car and proceeded straight back to the familiar viewpoint right at the base of the falls.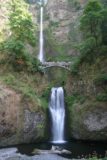 Although the falls looked a bit thinner than 5 months ago, the experience now was far less stressful than before. We took our time (and our turn) taking couple shots with my tripod (much to the amusement of some onlookers). We also were able to take long exposures without worrying about wiping water off the lens or having our hands turn white from numbness. After all, it was not misty at all and there were lots more people on the bridge above the lower part of Multnomah Falls.
We returned to the car at 4:50pm where Julie and I were still debating about where that vampire baseball scene took place in Twilight
. But after seeing the surrounding scenery in a more relaxed pace, I think Julie started giving in to the fact that my guess about the scene being aided by CGI was probably correct.
Afterwards, we headed to Troutdale for some Tad's Chicken 'n Dumplings. Unfortunately, the signature dish was mostly bread and not so much chicken; all of it drenched in gravy. The soup and starters were pretty good, but the mains were nothing like the food quality from the Diamond Lake Resort yesterday.
At 6:30pm, we returned to the Clarion where we called it a day. The skies were mostly clear at this point, and I hoped it might be this way one last time for tomorrow where we're hoping to see Mt St Helens in decent weather…