Day 4: BLAST ZONE
Today was supposed to be the free day where we could've done any number of things for the whole day before settling back to the motel for the last night. Originally, we were going to do a pair of long hikes to waterfalls on the slopes of Mt Hood in Ramona Falls and Tamanawas Falls. Unfortunately, the waterflows from some of the other falls we had seen earlier in the trip made us reconsider hiking over 11 miles total for them. Plus, when we were faced with 100 degree heat earlier on, we decided to abandon any long hikes on this trip (though today seemed to start off partly cloudy and quite comfortably cool).
Another option was to return to Cannon Beach or even head further south to Tillamook so we could see Munson Creek Falls, which was one we missed on the coastal trip five months ago. It was a total oversight. Well, we decided against this one too since we had just done the coast last time.
The last option was to head up north from Cascade Locks, cross the Bridge of the Gods over the Columbia River, and then head up the Wind River Road towards Curly Creek Falls and Big Creek Falls before swinging west towards Mt St Helens. We weren't sure how viable the Mt St Helens option was considering it was somewhat overcast this morning. But in any case, this was the plan for today.
We had gotten a late start as we slept in a little bit. But eventually, we would have our breakfast and then leave at 8:25am, which was a little later than I would've liked.
Nonetheless, we headed immediately east on the I-84 through the Columbia River Gorge and promptly made it to the familiar Cascade Locks. From there, we paid our dollar and went right across the Bridge of the Gods into the state of Washington before proceeding further east to the town of Carson.
From there, we headed north on the Wind River Road and we were well on our way to begin our waterfalling in earnest this side of the Gorge.
Since today wasn't totally planned out prior to the trip, we had to get by with the good old paper maps, books, and pretty poor resolution on our Topo!
. I completely overlooked putting in Washington on our Topo!
and it was a bad oversight.
As a result, our first waterfall target was Panther Creek Falls, but we ended up not being able to find it thanks to our lack of preparation. Plus we didn't feel like pursuing unsigned waterfalls in the middle of the forest. So this ended up being a fruitless half-hour detour though the drive through the forest really did feel like we were in a legitimate forest (unlike the ones we're used to seeing in California).
So the next waterfall target was Falls Creek Falls.
Eventually at 10:10am, we managed to find the signposted turnoff and 2-mile gravel road leading us to the Lower Falls Creek Falls trailhead. We didn't bother with the Upper Falls Creek turnoffs since the Plumb book didn't discuss it.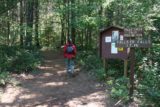 As we laced up our boots and carried our daypacks, we wasted no time leaving the nearly full unpaved car park and walked brisquely through a canopy of tall pine trees providing some shelter from the sun's rays. It was a cool, crisp morning so the hiking on the 3.4-mile return hike started off comfortably.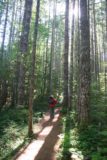 We couldn't help but notice a pair of tents pitched right besides the trail. I don't know if these folks expected privacy or something, but it was an unusual sight to say the least.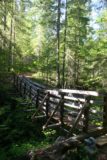 Not far beyond them, we crossed a swing bridge over a small gorge and then began the mostly gradual uphill hike in earnest. There wasn't a whole lot to see in terms of dramatic scenery, but being within the forest like this kind of set the mood. The subtle sounds of the forest were broken only by our footsteps on the trail and our voices.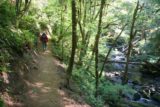 After passing a few hikers headed to the falls as well as a few hikers returning to the trailhead, we ultimately made it to the impressive falls some time after 11am.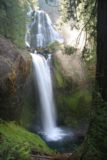 The falls itself must've been at least 150-200ft tall. It started off somewhat wide in its upper tiers before channeling into a lower tier that dropped in a column. The sun wasn't quite against us, but the wafting mist kind of played some tricks with the lighting. It wasn't long before others joined us at the site and some of them continued on further towards a steep lower overlook area (informal) where they ended up being subjects of my photographs to show how tall this falls is.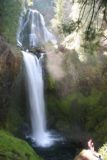 This wasn't a bad way to start off an unplanned waterfalling and volcanoes day. And this was one of those falls where we thought it would've gotten a 3.5 out of 5 rating if we were more serious about rating waterfalls.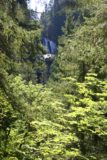 As more and more people started showing up, we quickly headed back to the trailhead. With the mostly downhill hike, we ended up back at the car at around 11:50am.
We next followed the Wind River Road towards a connecting road with the Lewis River Road (90). As we drove along the connecting road, we got hints of gorgeous views of the backside of Mt St Helens in good light. Unfortunately, we had trouble finding legitimate pullouts with views and didn't end up capitalizing on this, which was a shame.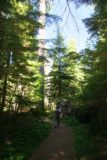 Eventually, we connected with the Road 90 and headed east in search of both Curly Creek Falls and Big Creek Falls. We went all the way east to Big Creek Falls first. Eventually, we got there at 12:35pm just as a trio of big trucks and RVs were leaving.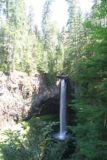 I had expected a somewhat more substantial walk to the overlook platform of the falls, but it ended up being barely 0.3 miles each way. There was even a sign with a poem talking about water.
The wooden overlook platform provided the only spot to satisfactorily view Big Creek Falls. It was a pretty tall columnar plunging waterfall. Some overgrowth and trees prevented other views of the falls so we had to live with what was presented here. Still, not bad in any case though the intensifying sun kind of made photography difficult as it created shadows.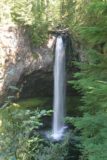 At 1pm, we were back at the car. Next up was the Curly Creek Falls, which was something I really looked forward to because it was one of those unique waterfalls that had a natural bridge or two over it. I know Ofaerufoss in Iceland used to have such a bridge before it eventually collapsed a couple decades ago from other earthquake or erosion or both.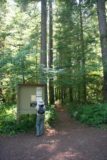 At 1:15pm, we made it to the Curly Creek Falls Trailhead parking area. It involved a bit of a short drive on gravel road past a very busy fishing bridge area. Once we got out of the car, we wasted no time getting onto the trail eagerly looking for the long-awaited waterfall attraction.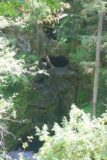 The first wooden platform lookout area presented a view across the gorge with the Lewis River below us. But as we gazed across the gorge, we could see some holes that appeared to be natural bridges, but there was no waterfall. It was dry!
This was a royal disappointment, and I could only wonder why this was the case. After all, we made an attempt five months ago only to be sent back by snow. Now, we're probably a month or two too late to see the attraction with water flowing through the natural bridges.
Plus, the harsh sunlight made it difficult to photograph even what's there. I guess it just wasn't meant to be, and perhaps the harsh winters from last year and this year might also have something to do with why there's no more creek going into the natural bridges. Was it another case of a waterfall overcome by events somehow? By debris diverting or blocking what was once a creek that went this way?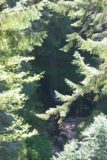 Anyways, we continued onwards on the trail towards its end. There was another wooden railing area with a disappointing view of a light-flowing waterfall in the shadows under some trees in the distance. The harsh sun here really made it hard to photograph as well. Some partial words against the railing might suggest that this was the Curly Creek Falls (instead of the dry waterfall at the natural bridges). But whatever the case, this eagerly anticipated waterfall sighting turned out to be another dud. So no Diamond Creek Falls, no Toketee Falls, and now no Curly Creek Falls.
At 1:40pm, we left the Curly Creek Falls area and made our way to Mt St Helens. We made a rather lengthy back-and-forth detour heading to Cougar (since the signposts at the 25 and 90 junction suggested going west). But our maps suggested that we should be able to see the east face of Mt St Helens if we took the 25. So after initially going towards Cougar, we headed back the other way and stopped briefly at the Pine Creek Visitor Center.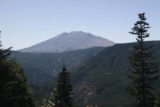 There, we picked up some newspapers and maps. Still, we weren't sure whether to head to the western entrance and get right at the Lava Dome Observatory or continue north on the 25 towards the Windy Ridge.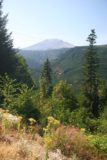 We eventually decided on the latter and drove the twisty 40 miles towards the Windy Ridge turnoff. We did make one brief stop at the Clearwater viewpoint, but it wasn't quite as good as the views we had seen earlier this morning.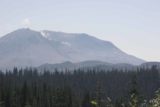 At 3:15pm, we made a stop at Bear Meadow. It was here that we got closer views (somewhat against the sun) of Mt St Helens and its blast zone. Signs here suggested that a photographer was at this spot that fateful May day in 1980 when the volcano erupted. His photos turned out to be one of the documentation of the world's greatest landslide captured on film so far as it was the moment the mountain blew off a large chunk of its north face.
So we took our obligatory photos from here before continuing onwards.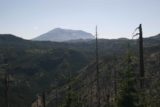 About 20 minutes later, we ended up at Monument Point, which was right at the blast edge according to the maps. Here, we could easily see the fallen and barren trees as evidence of the mass destruction that Mt St Helens inflicted nearly three decades ago. We could only imagine what an awesome sight it must've been from this vantage point when the eruption did occur. But we also wondered whether the event would've been survivable from here if the trees were barren from heat and perhaps the blast force as well.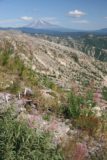 Continuing onwards, we ultimately reached the Windy Ridge Car Park at 3:55pm. We got our cameras and immediately started walking up the wooden gravel stairs up to the top of Windy Ridge. Once we were up there, we could see impressive views towards Mt Adams as well as views behind us of Mt St Helens and the mysterious Spirit Lake below.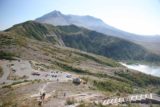 The magnitude of the devastation was quite evident from this vantage point as everything downslope from the blast crater was pretty much barren with a few shrubs and tree stumps.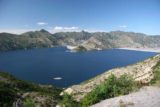 It was hard to imagine that the hills that lay before us were once higher in elevation as part of Mt St Helens itself. Now they're just reshaping Spirit Lake and the massive log mat bordering its edges to the north.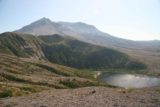 After taking what photos we could trying to make the best of looking against the afternoon sun, we headed back down the stairs and back into the car. It was 4:30pm at this point and now we had to make the long drive back to Portland.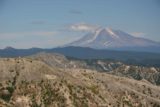 On the returning side of the Windy Ridge Road, it was pretty beat up as we suspected erosion beneath the road surfaces were accelerated due to the absence of healthy trees to stabilize the ground. Thus, parts of the road seemed to be sinking, and I'm sure it's only a matter of time before the road becomes single lane or closed altogether.
Eventually, we arrived at this Lebanese restaurant called Nicholas near downtown Portland at 7:15pm. It was a filling but pretty affordable way to satisfy a long day without eating anything decent and ending off this summer trip. Although it was cash only, we enjoyed our Middle Eastern food (they made great pita bread here) and left the place fully stuffed.
At 8:35pm, we made it back to our motel at last. It was an incredibly long day of mountain driving, but all in all, the experiences attained today would surely remain in our memories for a long time to come…