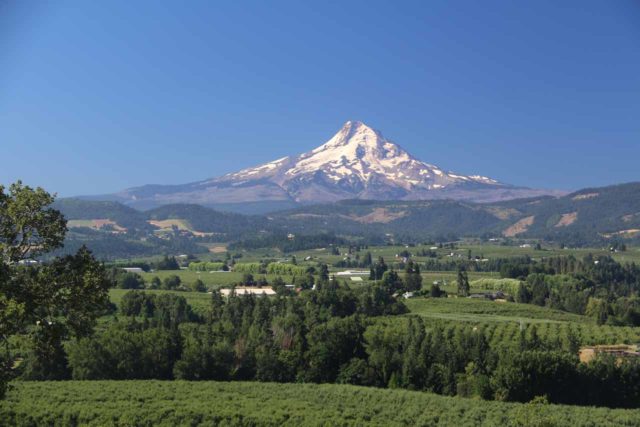 16-August 2017 to 20-August 2017:
Well, with the complications from the bridge closures and construction that was going on, we found ourselves in traffic before finally arriving at the bridge by the Portland sign. Julie said that park down below had a tree blocking views of the sign so it was best seen from this bridge.
It was a bit of a strange experience being on this bridge looking at the sign periodically go dark then the letters outlining in green before sparkling in the font while cars were whizzing by. There was also some homeless man loitering in the area making Julie want us to rush to take our photos and get back in the car.
We weren't the only tourists engaging in this strange activity, but we were one of the last to leave…
Day 21 (August 16, 2017 – Portland, Oregon): "Productive Long Travel Day"
It was 5:30am when I awoke to the alarm. As had been the case for the last few days, it had been another sluggish start to the morning. I think the lack of adequate sleep had been catching up to me. And in the case of today, that wasn't good because there was a very long drive ahead of us from Boise all the way to Portland, which was a distance of over 400 miles!
On the bright side, we were supposed to be getting back an hour as we were crossing back into the pacific time zone from the mountain time zone.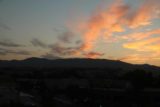 During our time spent packing and getting ready, we managed to catch some pretty colors in the residual clouds at pre-dawn just before the sun came up. It seemed like we were getting the benefit of these things with our early starts throughout this trip.
It wouldn't be until about 8:20am when I loaded up the car with our stuff. And about 15 minutes later, that was when Julie and Tahia got to the car and we were ready to go.
The drive out the I-184 connector and then west on the I-84 was about as uneventful as can be. There was quite a bit of volume on the freeways as we drove out of Boise and in the direction of Meridien and Nampa, but eventually the traffic started thinning out and we were on cruise control for much of the way.
It took a while before we saw the Walla Walla turnoff, which made me realize just how far we had driven the last time we made the out-and-back two-day trip from Boise to Palouse Falls and back in 2013!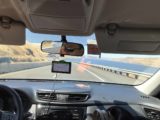 Eventually, the I-84 followed what was the Columbia River after having followed the Snake River that defined the Idaho and Oregon border. The Columbia River started looking more like a lake the farther west we went though some of the river was dammed for hydro such as at John Day and at The Dalles.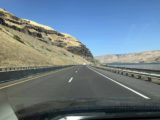 It was the first time that we had driven this stretch in good weather as our memories of this part of the road had been gray and misty, especially during that trip where we had been rained on a fair bit on our initial trip up to Oregon back in late March 2009.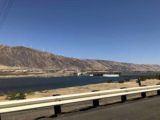 Along the way, Julie found a lunch spot worth checking out at Hood River. So we would eventually get to this place called the Farm Stand Market at 12:45pm. It was basically a deli inside a small market, but this place was all about being farm-to-table with lots of gluten free options.
We would ultimately have the Tonya (basically a turkey with avocado sandwich and other goodies) as well as the grass-fed Reuben sandwiches. We also tried their kombucha of coconut lime flavor since they had run out of mango and thus couldn't do the first option which was the mango passion fruit flavor. Julie also got the superfood smoothie while also buying some kefir and plantain chips at the market.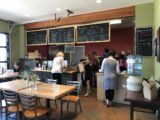 By about 1:35pm, we were back in the car. It ended up being a pretty good lunch, and it was a good introduction to the health food scene that Julie had been looking forward to on this trip ever since the beginning of it.
Next, we got off the Ainsworth State Park exit 35 and drove west along the Old Columbia River Highway. I saw that the John B Yeon State Park lot next to the freeway appeared to be full. So I knew that getting to Horsetail Falls would probably also be full. The aim was to visit at least three of the roadside waterfalls on the Columbia River Gorge since it was already on the way to our accommodation at the Hyatt House in downtown Portland.
On this visit, we had used our points as well as our anniversary night. We paid for the third night since it wasn't available on points. Still, it wasn't a cheap accommodation, and we had to call to ensure that we would be staying in the same room with full kitchen even though we had three separate reservations.
As a result of calling ahead and getting this squared away, we were able to visit sights on the way to downtown Portland with piece of mind as we were given assurance over the phone that our requests were accommodated.
Anyways, it was about 2:10pm when we got to the roadside Horsetail Falls. As anticipated, the parking lot and all the pullouts nearby were full. After circling around a few times, someone finally left and we scored a shady spot. This was a welcome chance to get out of the car after being in it for nearly 6-7 hours.
The waterfall was against the sun, but the cliffs and vegetation were high enough that it was possible to use them to still photo against the waterfall for the most part. It was very popular because people could play in the water in the plunge pool on the side of the road. There were some people who managed to scramble closer to the basalt cliffs though not many as it was moist and slippery over there; not to mention steep.
By 2:25pm, we were back in the car. Tahia really enjoyed this one because she tried to balance herself on some of the rocks opposite the plunge pool.
At 2:35pm, we managed to score a pretty good parking spot before the crowded Multnomah Falls. From looking towards the I-84, there were definitely a handful of parking spaces out there as I'd imagine not many people realized that it was possible to visit this waterfall from a different exit dedicated to this falls as opposed to the Old Columbia River Highway that we were on. Regardless, we promptly headed to the falls and the crowds.
Julie and Tahia were busy checking out the falls the easy way then check out the gift shops and the exhibits. Meanwhile, I was determined to document the experience going up to the top of the falls. It turned out that it would be a mile going up some 11 switchbacks according to the signage. That meant it would be 2 miles round trip.
The crowds were thinning out the higher I went. And I was surprised that most of the way, the trail was paved. But it was also shady, which meant that I didn't need my dysfunctional hat. That said, there were still lots of people on this path.
In one instance, there were people gathered near some black snake with patterns on it hiding in the vegetation. Some youngsters tried to move the bush to get a cleaner look at it, but someone else was discouraging it as he noted the snake probably didn't want to be disturbed and could strike back. So it would be difficult to get a clean shot at it, but it was interesting nonetheless.
As I got up to about the 10th switchback out of 11 (according to the signs though some of the switchbacks didn't seem to be counted), the trail actually started going down! In fact, it went down a handful of switchbacks before I finally saw a Multnomah Falls Overlook sign pointing to the right.
Along that final stretch, I saw access to Multnomah Creek where some people were using it as a water play area since the water was calm enough over there. When I got to the actual overlook itself, that was where I saw a smaller tier just upstream and the limited but butterflies-in-the-stomach-inducing view over the brink of the falls with the Benson Bridge and people down below as well as the car park looking tiny.
There were always people at this overlook so I had to wait my turn to get my shots.
Eventually, I'd get my fill and pretty much trail run on my way back to the trailhead and the crowds as I tried to capitalize on the momentum of the nearly all-downhill trail with the exception of the climb up the handful of switchbacks at the beginning of the return.
By 3:55pm, I was finally rejoining Julie and Tahia who were on their iPhones waiting for me. They didn't realize that I had gone all the way to the top and that it was a fair bit of distance away as they had assumed it wouldn't take that long.
Anyways, we next drove further west along the Old Columbia River Highway towards Latourell Falls. The drive to get there was a bit further than I had remembered, but eventually at 4:10pm, we got to the falls where it was fairly straightforward to score a shady spot.
Once we got out of the car, we saw that the lookout from near the sign and the road bridge was obstructed by foliage. So we went down onto the well-established trail and within a couple of minutes arrived at the base of the Latourell Falls, which was impressively tall and plunging.
The basalt formations at the base of the falls was also very interesting as it obviously hinted at the conditions that made this (and all the other waterfalls of the Columbia River Gorge) possible.
When we got back to the car at 4:45pm, I saw that there were people who went briefly up the hill leading to the so-called Upper Latourell Falls. Well, I decided that before taking off, I would get up the ramp to check out that view, and when I did, that was when I got the familiar view that I knew I had back in 2009 that wasn't at the base.
So with that, we headed out at 4:50pm.
Next, we drove further along the Old Columbia River Highway to the Vista House. With the good weather, we figured that this was a worthwhile stop that we couldn't pass up. So at 5pm, we promptly got a shady spot away from where most of the cars were parked, then checked out the view from the balcony of the Vista House. However, the railings and light posts below kept this spot from being as good as it could have been. So we always had to zoom in and try to focus on some view that left much to be desired.
By 5:15pm, we were back in the car. Then, we promptly continued driving west on the Old Columbia River Highway before getting back onto the I-84. Then, we exited somewhere well before downtown Portland where the GPS
said there were several minutes of added delay to the route due to traffic. So we took some side road that went around the north end of the airport, and then eventually arrived at this place called the Cultured Caveman in the suburb of Kenton at 5:55pm.
This place featured a pretty good menu of all paleo items. We wound up getting some pork carnitas, which were really good as well as the hearty shepperd's pie. We also got some kombucha and chicken tenders for Tahia. Julie splurged with a couple purchases of some berry cobbler though I wasn't nuts about the pot de creme, which was like chocolate pudding but too much chocolate and no contrast.
By 7:10pm, we were back in the car and headed to the Council Crest. We'd eventually get up to the park at 7:35pm where the shadows were already long. But the views seemed to be more blocked that we had recalled from our experience back in 2009. I guess the trees must have grown more than before.
Still, we could see Mt St Helens and Mt Adams though it appeared that Mt Rainier was blocked by some clouds. Meanwhile, Mt Hood could easily be seen in a different opening in the foliage. I'm sure a better view of that could be had at the Japanese Garden where Julie and Tahia could do that while I do the Eagle Creek and probably Tamanawas Falls Trail.
By 7:45pm, we were back in the car a little underwhelmed. I guess it wasn't quite as good as we had remembered it.
Eventually by 8pm, we made it to the Hyatt House. It turned out that the valet parking was a bit steep at $37 overnight, but the valet person suggested there were parking further down the road at structures. I wound up taking the U-Park structure which was pay and display for $10 for 14 hours and $7.50 for 10 hours. I took the 14 hour option.
The one across the street was Douglas Parking, and it was $7 max overnight, but the hourly rates began at 4am and it was $4 each additional hour so the costs really added up!
Anyways, by 8:40pm, we were all settled in our room. Tahia and Julie went down to the pool so Tahia could finally get her swimming fix. Meanwhile, I was busy getting caught up on all the day's events as it had been yet another long and event-filled day. We still had another couple more days in Portlandia before starting the long journey home and ending our epic 3.5-week Summer roadie…
Day 22 (August 17, 2017 – Portland, Oregon): "Long Detours"
It was about 5am when I awoke. I must have completely missed the 4:30am alarm. So I took some time to get caught up on the blogging, and it wouldn't be until about 6:20am when I got into the car.
It turned out that the Hyatt House brekkie wasn't ready by the time I left so I wound up skipping it. I hoped that I wouldn't pay for skipping a meal healthwise.
Anyways, I made the drive out towards the I-84. I had to do a little detour because the Broadway Bridge was closed. But I still managed to make it to the freeway heading east into the Columbia River Gorge without too much hassle given the relatively light morning traffic.
The drive out east was pretty uneventful. The skies were overcast though they looked light enough to be burning off later in the day.
By about 7:10am, I arrived at the trailhead for Triple Falls. I was the first car around in the area so I was a little bit anxious about car break-ins. But once my GPS
acquired the satellites, I was good to go to get started on the trail knowing that I wanted to fit in another hike to Elowah Falls and possibly Upper McCord Falls before returning to downtown Portland to pick up Julie and Tahia and drive out to the Oregon Coast.
The trail immediately started uphill. The sign suggested that it was 1.8 miles to Triple Falls, and I had recalled that it took some time to finish it from our last visit to this falls some 13 years ago.
There was a very long switchback where it wouldn't be until roughly 7:35am where I noticed a sign and a spur trail leading to a "viewpoint". I didn't recall seeing this before so I decided to spend a few minutes to pursue this trail to see what this viewpoint was all about.
It looked like the trail kept going further behind me, but in the interest of time, I returned to the main trail, then continued the uphill hike as it rounded a bend and entered the Oneonta Gorge at 7:40am.
Once the trail rounded a bend, it was entering the Oneonta Gorge, but just before continuing on, I noticed a sign that said "Viewpoint" that I never recalled seeing before. So I decided to seize the moment and check it out even though I was constrained on time.
As I took the spur trail, there were a couple of openings that looked over the Columbia River Gorge towards the west. It looked like the trail kept going but I assumed that it might have hooked up with the Ponytail Falls Trail above the Horsetail Falls so I decided to go back the way I came to resume the hike.
Ten minutes later, the trail momentarily flattened out as I reached a signed trail junction where the left fork descended down some switchbacks towards the Ponytail and Horsetail Falls. The path on the right continued onto Triple Falls, which it claimed was still another 1.2 miles from this point. The funny thing was that this sign also said the trailhead was 0.8 miles, which meant that the one-way distance should be 2 miles instead of 1.8 miles. Something didn't add up.
Anyways, I decided to descend the switchbacks towards the bridge over Oneonta Creek. Once I got there at 7:50am, that was where I saw the familiar Oneonta Falls. I also could hear the sound of falling water at the Lower Oneonta Falls though that waterfall could not be seen from up here (at least not without unnecessarily risking life and limb).
There were some steep scrambling paths that led down to the banks of Oneonta Creek right above the Lower Oneonta Falls, but I didn't bother doing that.
I had heard someone let out a loud "Yelp!" that echoed from deep down below. That told me that some people were already doing the creek scramble to get up to the Lower Oneonta Falls after wading in Oneonta Creek down below then traversing a logjam before wading the rest of the way (often thigh-deep) to the dead-end at the waterfall. I knew that I wouldn't have the time on this trip to do it.
Once I had my fill of the bridge and the Oneonta Falls, I then hiked back up to the main trail and continued going upstream. The trail also continued its pretty relentless moderate climb as it would go up several more switchbacks once I got past a rockfall section where there were loose rocks strewn across the ledge trail then went up some pretty eroded and slippery sections on a particular switchback.
After this series of switchbacks, the trail then flattened out and briefly undulated as it crossed over a bridge and some wooden reinforcements. Way down below in the gorge, I could see the brink of yet another waterfall, but that one didn't look at all safely accessible.
Eventually at 8:25am, I had finally made it to the Triple Falls. At this point, I had been the only one on the trail that made it up here that I had noticed so far. And like before, I had to stand precariously at the edge of a cliff peering right down at the three-segmented waterfall. It wasn't that much different that I had experienced before some 9 years ago other than it was less green now than it was back then, and the flowers were also lower.
Once I had my fill of the Triple Falls, I started hiking back. Since most of the trail went downhill, I found the hiking to go by pretty smoothly. However, that speed and momentum had to be checked at the rockslide area, where I had gotten there at 8:45am.
The downhill progress then continued quickly as I was about to exit the Oneonta Gorge. I saw three hikers heading towards Triple Falls near the junction with the Horsetail Falls and Ponytail Falls Trail. I warned them about the rockslide further up the canyon, then I continued on my way.
Next, I saw another "Viewpoint" sign leaving the main trail. I went ahead and pursued this trail to see if it was the same overlook. Well, it was.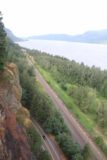 However, I also saw that there were informal trails leading to a different rock outcrop. And when I finally got here at 9am, I was treated to a scary (because it was right on the corner of a rock outcrop with vertical dropoffs directly below me) yet exhilarating panorama of the Columbia River Gorge from left to the direction of the Cascade Locks on the right.
After having my fill of this view, the rest of the downhill trail was a combination of fast hiking and trail running. So I managed to make good time and get back at the parked car at 9:15am. By this point, I was a smelly and sweaty mess as I had been sweating beads throughout much of this hike.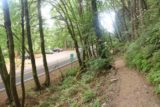 There were many more cars parked besides me as well as the pullouts further east on the Old Columbia River Highway. It was clear to me that just about all of them were going after the Lower Oneonta Falls scramble. I didn't recall anyone (well, maybe just one party) heading up to the Triple Falls. I guess it was too much work for a waterfall you can only look at but can't play at.
Anyways, I continued driving east on the Old Columbia River Highway. Because I had remembered that the John B Yeon State Park trailhead started near an on-ramp for the I-84 eastbound, I knew not to follow the GPS
and go on the I-84 straight away. Instead, I followed the Frontage Road all the way to the John B Yeon State Park car park and trailhead that I had been looking for.
I got there at 9:25am, and I promptly started hiking as I had already been geared up since the Triple Falls hike made earlier.
The immediate goal of this hike was to re-visit the Elowah Falls. But I was also going to make some time to get up to the Upper McCord Creek Falls since I had never done this before, and it was said to be 1.1 miles from the trailhead (Elowah Falls was about 0.7 miles from the trailhead). I wondered how much of the trail was in common between both Elowah and Upper McCord Creek Falls to lessen the full distance of doing both trails in their entirety (for about 3.6 miles round trip, if that were the case).
So I promptly got my gear and hiked right up the first switchback where there was a water tank spilling out water. The trail then continued a direct ascent before reaching a trail junction. The Elowah Falls Trail continued to the left while Upper McCord Creek Falls Trail continued to the right. There was a man there with some kind of breathing tube sitting at the junction, but he seemed to be in good spirits and we greeted each other before continuing on our separate ways (apparently, he was interested in doing the Upper McCord Creek Falls first).
The path continued to climb somewhat as I followed along the Elowah Falls Trail, but it didn't take long before the ascent became a descent down some pretty narrow switchbacks. It looked like the longer path had been diverted though there weren't explicit signs or markings saying to take the shorter but steeper switchbacks. With all the shortcuts, it was getting harder to tell what was sanctioned and what wasn't.
Given by the erosion seen on this trail along with its narrowness, I wondered how much longer the shorter switchbacks on the right will last.
But when I got down to the end of this section, I saw where the longer trail joined up and it looked like there were some rocks piled to discourage going the longer way that I had forsaken earlier (go figure).
Then, the rest of the trail followed along and somewhat wet and muddy ledge eventually descending to the base of the familiar Elowah Falls and its tall plunge (getting there at 9:50am). It reminded me a lot of Latourell Falls that we had seen yesterday afternoon, and Julie and I had seen this in very high flow back in late March 2009. But now, it looked like this waterfall had much thinner flow (definitely less than Latourell Falls was yesterday) and so now the differences between the two falls were more pronounced.
There were three people already here, but they decided to scramble down to the creek and do a little exploring amongst some giant volcanic boulders in the creek itself (evidence of past landslides or rockslides here). Meanwhile, I was busy taking the same kinds of photos from the other side of the bridge as well as before the bridge that we had taken 9 years prior.
Anyways, the geology giving rise to Elowah Falls was definitely on display here as there were some thick lava rock layers high up above the floor of this little gorge. There was even some kind of cave seen far up to the right side of the falls, but it looked like some prior landslide or rockslide made it a bit of a rough ascent to get all the way up there (though it wouldn't surprise me if someone did manage to get over there).
I made a brief attempt, but decided against it when I saw a thin waterfall spilling down an exposed overhanging cliff wall. Clearly, this was the source of the prior landslide and I wondered how much more would come plunging down.
When I had my fill of this plunging and attractive falls, there were at least two more hiking parties that had made it to the base of the falls. As I climbed back up the narrow switchbacks back to the junction between Elowah Falls Trail and Upper McCord Creek Falls Trail, I had to have seen at least 3 or 4 more parties going the other way.
At this point, the trail went up a few more switchbacks. Initially, they were long switchbacks, but they appeared to get shorter the higher up I went.
At about 10:20am, there was a corroded pipe laying right across the trail. I actually had to go over it twice as the trail switchbacked over this thing. I wasn't sure what this pipe had carried in its heyday, but now it looked like it was full of leaves and dirt (kind of like how I'd imagine storm gutters might look like).
Finally after hiking up a sweat going up so many switchbacks, I then reached a point where the trail was hugging vertical cliffs. There were metal railings to help mentally with the dropoff exposure. And it was at this point that there were top-of-the-world-type views over the Columbia River in the direction of Cascade Locks or the Bonneville Dam with some more volcanic cliffs and mountains directly opposite the wide Columbia River Gorge, and there was even a hint of the top of what appeared to be the snow-covered Mt Adams in the distance.
I was totally not expecting this on the hike, and this experience alone made the Upper McCord Creek Falls well worth the detour (as I knew the falls wouldn't be that impressive compared to Elowah Falls).
It was at this point as the trail went around a bend and towards and past the top of Elowah Falls that I realized that both Elowah and Upper McCord Creek Falls were on the same creek! So I concluded that Elowah Falls was on McCord Creek, and that it must have had a decent enough drainage to still be flowing fairly well this late in August (though this was a high snowpack and rainfall year in the Pacific Northwest).
As the trail resumed its vegetated section beyond the cliff-hugging portion, I saw the familiar man with the breathing tube. He seemed genuinely surprised to see me and greeted me with a "Good Morning!" before continuing on. He was the only other person I saw on this trail to this point.
Eventually at 10:35am, I finally saw the Upper McCord Creek Falls. It looked like it was once a double-barreled waterfall, but the waterflow had diminished to the point where the other segment of the drop was now a wet dripping streak while the remaining segment had pretty significant flow.
The trail kept going beyond this waterfall, but I wasn't sure how much further this trail went as it didn't appear there was a dead-end for this trail. I didn't have a map with me so I wasn't sure how much further I should be going on this trip. But the direct view of the falls was obvious and familiar from my pre-trip research (as well as the map sign at the trailhead), and so after getting my fill of this view, I headed back down.
I once again enjoyed the ledge part of the hike where I could peer down above the overgrowth at Elowah Falls again, and then look across the Columbia River Gorge towards the top of Mt Adams. The overcast seemed to be burning off quickly as more blue skies were becoming more prevalent though the sunlight was still muted by the residual morning clouds.
Going back down the trail was far faster and easier, and by 11am, I was already back at the trail junction with the Elowah Falls Trail. I hadn't seen another soul up to this point. Then, I went back down to the John B Yeon State Park trailhead where I had to have passed another half-dozen hiking parties going the other way. I also passed the man with the breathing tube who commented that I was moving pretty fast.
By 11:05am, I was back at the trailhead where all the parking spots were definitely taken up. I didn't realize that this was that popular of a hike! I guess that could be said about a lot of the Columbia River Gorge waterfall hikes, even one as obscure as this one!
So with that, I headed back to downtown Portland to pick up Julie and Tahia so we could spent the rest of today hanging out together. The aim was to drive to and check out the Oregon Coast around the Cannon Beach area, especially with the improving weather.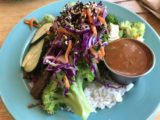 Eventually at 11:50am, I made it back to the Hyatt House, but it took some time for Julie and Tahia to head down. Once we were all united again, we then drove some of the downtown streets towards this place called Laughing Planet, which was a paleo lunch joint that seemed to be pretty busy.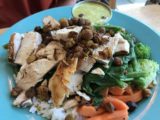 After finding street parking, we promptly went in, queued up, then placed our order before having our lunch. Since I hadn't had breakfast to this point, I was pretty hungry. Anyways, we wound up getting a Bollywood Bowl, some Korean BBQ Bowl, and a kid's bowl with chicken. We also got a honeydew kombucha after being allowed to try a sample.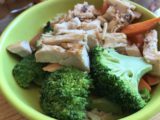 The food was ok, but we knew that it was clean for Julie's sake.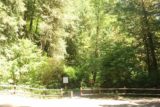 By about 12:55pm, we were back in the car, and then we finally started the drive out towards the Oregon Coast in the direction of Tillamook. I hadn't appreciated how long this drive was when I spontaneously made this plan so it wouldn't be until about 2:35pm when we stopped at the trailhead for Munson Creek Falls – a waterfall that I had regretted not being able to see 9 years ago when we were first in the area driving north along the Oregon Coast from Bandon Beach to Cannon Beach.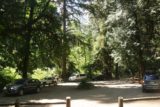 The last 1.5 miles or so of the access road was unpaved. There was a pothole here and there, but it was a pretty straightforward and well-signed route (though I had to follow the Oregon State Parks signs instead of the brown Munson Falls signs from the US101 south of Tillamook).
Both Julie and Tahia were napping in the car, and they had no intention of getting out of the car. Just as I was getting started with the short 1/4-mile hike, there were a few more cars that pulled up and thus there were a lot more people suddenly on the trail.
The short hike was mostly flat at first as we were towered over with tall coastal trees with branches that seemed to have long hairs of ferns or moss on them. That alone made this hike pretty scenic and out-of-the-ordinary as far as a Southern Californian person like myself was concerned.
The trail then got to a part where it climbed briefly, and it was at the top of the climb that I started to see most of the drop of Munson Creek Falls. The sun was still positioned somewhat against the view of the falls, and I'd imagine the lighting would be a little better later in the afternoon.
I then saw that the trail descended before making another ascent, and that where where it seemed like most people had to stop. Sure enough when I joined them, I saw a trail closed sign with a fence. There actually didn't seem like there was much to deter people from moving on, and so I did that. But it didn't take long before I saw that there had been a major landslide blocking further progress.
Amidst the jumble of broken trees and rocks, it didn't look easy to continue any further. Plus, the views were all obstructed, and it didn't appear that the risk reward to try to get a view where I'd be looking straight up at the falls would be feasible.
So by the time I went back to the sanctioned part of the trail, the people were gone (including one dude who was flying a drone earlier on; seemed like a recurring theme on this trip). So I took a few more photos of the falls both from the trail closure as well as the top of the climb where the views were more complete and better.
By about 3:10pm, I was back at the car. We then continued the drive north on the US101 towards Cannon Beach. Julie and Tahia were still asleep.
It was a shame they couldn't be in the moment because after getting past the famous cheese plant on the north end of town, I then took a coastal route staying on the 101 and followed along the Oregon Coast. I thought I had seen a Cape Meares sign, which was one stop Julie and I did in the past in 2009 (so we were probably further south than we would have liked to be). But other than that, it had been a pleasant drive in good weather with the ocean off to the left and some overflows or inlets with mountains and farms to the right.
There was one section that kind of reminded us of Big Sur as the road climbed and offered some interesting lookouts. There were other stretches where there was beach access. We didn't stop for any of these things as it was getting late in the afternoon.
Finally at about 4:30pm, we found public parking in downtown Cannon Beach. None of what I saw here looked familiar as it was basically a few blocks of shops and possible beach access. After taking a much-needed potty break, we went into the info office and got a map. He told us that the Haystack Rock that we had seen before was actually a mile further to the south. The section we were in was where 60% of the businesses were. No wonder why this part didn't seem familiar to me.
We made an attempt at having an early dinner at this place called Driftwood, but after finding out that they were booked solid until after 8pm, we decided to head towards the other side of town, where the beach and Haystack Rocks were. There was also a restaurant called the Wayfarer's, and after calling about availability, it appeared that we would be seated right away once we showed up.
So we did promptly that at 5pm, and we proceeded to indulge on an expensive dinner that consisted of halibut, salmon, and a steamer of clams. We all shared the our food as the kid's menu didn't look good (they're almost always an afterthought).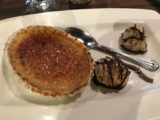 The dessert consisted of some kind of smores on a skillet while Julie had creme brulee. I'm sure the added sugar wasn't good news for her condition (something that had been hard to not cheat throughout this trip).
After the dinner, we then walked out onto the fine sandy beach with the familiar Haystack Rocks. The sun was getting lower on the horizon, but it would still be another 90 minutes or so before the sun would set. So we figured we mind as well take our photos, play in the sand a bit, and then head back to Portland for the non-trivial drive back along the Hwy 26.
It was becoming high tide during our visit so the wet sand and the waves were creeping up higher the longer we stayed. We couldn't get quite the right lighting to set up our seldomly-used tripod for family shots with the Haystack Rocks in the background. But we made do with the moment, and got what we got.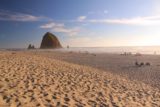 By 7:10pm, we were finally back at the car. And after filling roughly a half tank's worth of expensive gas (well, expensive for Oregon standards) at the lone station in Cannon Beach, we then made the long drive back to Portland.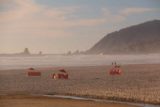 I was fighting sleep while making this drive as the skies were getting progressively darker. And mercifully, it wouldn't be until about 8:50pm when we finally made it back to the Upark lot just a couple of buildings away from the Hyatt House where we were staying.
Being in such a fatigued state, we all wasted no time getting cleaned up and sleeping to wind down this busy day…
Day 23 (August 18, 2017 – Portland, Oregon): "Earthy Changes"
It was 4:30am when I awoke to the alarm. Given last night's unexpected late outing, I could have used the extra hours of sleep on this day. But I was more concerned about competing for parking spaces at both trailheads for Tamanawas Falls and Eagle Creek, which were the goals of today. I was also going to solo these hikes.
The original plan was to do the Eagle Creek hike all the way out to Tunnel Falls, but the Indian Creek Fire ensured that that wouldn't happen on this day.
So instead, I was setting out to do both the Tamanawas Falls hike first, and then do the Eagle Creek hike out to Metlako Falls and Punch Bowl Falls later. I had a feeling that it would be hard to compete for parking spaces on the Eagle Creek Trail since that was closer to the popular Columbia River Gorge area.
After getting ready for the day and eating a kefir brekkie, I then brought some filled up waters (the last bits of water we'd have on this trip) as well as the burrito that Julie had bought last night in anticipation for this day of hiking. By 5:40am, I was in the car and headed out towards the I-84 east.
Having been familiar with the driving routes through downtown from yesterday (where the Broadway bridge ramp to the I-5 was closed), I once again took some other bridge across the Willamette towards the I-84 east directly. And from there, I headed out with one gas stop at an Arco that was really cheap compared to the rest of Portland, and then I made the pretty smooth drive in the direction of the rising sun.
It was once again overcast in the morning, but the further east I went, the more the morning sun was getting in my eyes. Eventually, I'd leave the I-84 and head south on the Hwy 35 at Hood River. And as that drive progressed, I was treated to some nice roadside views of Mt Hood getting bathed in the morning light.
I didn't have a pre-trip waypoint for Tamanawas Falls on my GPS as apparently it was a last-minute addition when I learned about the Indian Creek Fire that prevented access to Tunnel Falls. So I had to rely on the FourSquare option on the Garmin Nuvi
. But it would eventually claim that I reached the Tamanawas Falls at around 7:10am except there was no trailhead to be found!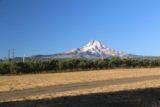 So now I found myself driving back and forth trying to figure out where I went wrong. It wasn't until I headed back north towards the Mt Hood Ranger Station and got there at 7:30am did I see on one of the maps there that I didn't go far enough south to the Sherwood Campground which was further south of the Pollalie Campground not far from the mile post 73. I had previously turned back at the Copper Spur Rd.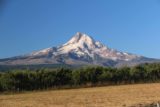 While I was at the Ranger Station, I finally managed to at least get some early morning views of Mt Hood and capture it on camera.
Next, I resumed the drive south along the Hwy 35, and I'd eventually arrive at the Tamanawas Falls trailhead at 7:50am. There were probably another 3 or 4 cars already parked here though the trailhead parking looked pretty spacious. That said, I knew to do this hike first because all the TripAdvisor and Yelp reviews that were recent had said that this lot fills up pretty quick. I never realized that this was that popular of a hike! It certainly slipped our minds the last time Julie and I were in the vicinity 9 years ago.
It took me some time to get started, and finally at 8am, I started the hike. I lightened the pack by not bringing bear spray as I wouldn't be needing that anymore on this trip.
The initial part of the hike was pretty straightforward as it crossed a bridge over the East Fork of the Hood River, then climbed up to where I could look down at the Hwy 35 being towered over by some steep cliffs with some basalt formations high up.
The trail then descended to another footbridge at 8:15am, where it looked like it crossed Cold Springs Creek, and at that point, I wasn't quite sure which way to go since the trail went both upstream and downstream. But trusting my instincts about waterfall hiking, I went upstream since I figured I'd be walking uphill to get to the front of the falls.
There was a split pair of trees which was another sign that the trail would continue this way.
Fifteen minutes later, I saw some attractive cascade on the Cold Springs Creek, but it was hard to get a clean look at it due to the overgrowth. The trail would resume its gentle climb alongside the creek with one slight eroded section right next to the creek itself. I wondered how much longer that part of the trail would last if the creek would ever have any more floods (which I'm sure would be inevitable over time).
At about 8:40am, I reached a point of the trail where there was a fork with a temporary sign. It said that Tamanawas Falls was to the left while the Tamanawas Tie Trail was to the right. I naturally followed the fork on the left and then I encountered what appeared to be a big rockslide.
At first, there was a trail going through the parts of the boulder field, but then it got to a point where I had to do a little route finding and climbing to continue on. When I got up to the next trail marker which was a combo of pink tape and more temporary signs, I had to make one switchback before resuming the hike. They had to do this to minimize any further trail erosion.
Finally at 8:55am, I finally made it to the Tamanawas Falls. The falls was still under the morning shadow but the bright sunlit cliffs were coming in from the right. There was one other guy down by the creek with a tripod taking pictures, and he kind of provided the subject I needed to convey the sense of scale of how big this plunging block waterfall was.
When I was almost done having my fill of this waterfall, another guy and his dog arrived at the falls.
I had also read that it was popular to scramble behind this waterfall, but from looking at the current conditions, it didn't look that easy to do given how much water and spray was still going. So with that, I headed back down the trail.
Since it was mostly downhill, it went by pretty quickly. I did make one stop by what looked like a small pool with tiny waterfall, and judging by the scrambling paths to get down there, I'd imagine this was a cooling off spot.
Other than that, the hike back was pretty straightforward though I did pass by at least 3-4 parties going the other way. By 9:50am, I was back at the trailhead where there were probably about a dozen cars so this lot was filling up fast. I wondered where the other hikers went since there seemed to be far more cars than hikers on this excursion.
On the drive back north towards Hood River, I started to get nice views of Mt Adams looming in the distance. When I saw a brown sign for Panorama Point Park, which I thought might give me good views of Mt Adams as well as Mt Hood.
So since I was here, I figured I mind as well make this detour.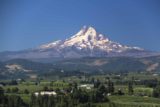 Well, when I showed up at 10:20am, it turned out that this Panorama Point Park revealed an expansive view towards Mt Hood, which stood at over 11,000 ft. But the farms and houses in the foreground with manicured landscapes really was what made this panorama well worth the detour.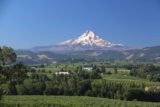 There was also a little shelter partially build beneath one of the power pylons. So that explained why signage here said this park was built out of a partnership with Bonneville Power and the City of Hood River.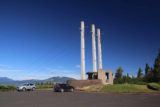 At this time in the morning, Mt Hood was still bathed in pleasing morning light. But Mt Adams couldn't really be seen as there were too many trees and hills in the way.
So after having my fill of this spot, I resumed the drive towards Eagle Creek at 10:25am.
By about 11:05am, I managed to find one of several parking spaces in the sun at the overflow parking area for Eagle Creek. It turned out that all the shady spots in the main lot just slightly uphill from me as well as all the closest trailhead parking another half-mile down the road were all taken. So I wasn't about to be picky and I just claimed the spot even after some confusion about whether this place accepted my Interagency Pass since signs said the Northwest Pass had to be displayed.
Well, after examining the signage even more, it turned out that the Interagency Pass was accepted, and I was ready to get moving. For sure I packed the Keens as well as extra water just in case. I also thought I had packed the picnic lunch as well, but I left the bear spray behind again thinking that I no longer needed it.
And so at 11:25am, I'd finally get started after getting over the confusion of whether the passes were taken or not.
I still had to walk along the road for the next half-mile before finally making it to the official trailhead at 11:35am. There was a bridge that crossed Eagle Creek and headed towards Tanner Creek, but I wasn't going to do that (we had done that waterfall 9 years ago from a closer trailhead).
As I was walking this stretch, there were some cars that left from the nearest car park, but since I was already there, it was pointless for me to walk back to the car just to try to score a parking spot here.
The hike started off in a forested setting, but it didn't take long before it pretty much followed a ledge clinging to the cliffs alongside Eagle Creek. The further along the trail I went, the more dramatic the dropoffs became.
In some of the narrowest stretches, there were metal ropes or wires attached to the cliff walls to help with the mental block of the dropoffs just a foot or two away from the walls. For the most part, they were still wide enough to let opposite directions of traffic pass.
The sun was also beating down on my so now was not the right time for my malfunctioning hat as half the strap had broken off. Luckily, there was still a loop that was left that I could leave around my neck so when I flip the hat off, it would still stay on me.
Indeed, this was a pretty hot hike at this time of day, and the continued uphill climbing didn't help matters.
This was also a pretty popular trail though it seemed like the vast majority of people were already headed back. There was only one or two parties that I encountered that were going the same way I was.
By about 12:15pm, I made it to the spur trail for the Metlako Falls, but there was signage here that said that the lookout had collapsed and the integrity of the cliffs will fail at any moment. The photograph on the sign showed the visual evidence of the compromised part of the cliffs. So naturally, people respected these warnings as they wouldn't want to be the straw that broke the camel's back so to speak and plunge straight down hundreds of feet into the Eagle Creek Gorge below.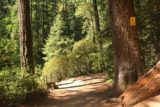 But with that, Metlako Falls was pretty much an attractive waterfall that would no longer be seen. And that was a shame.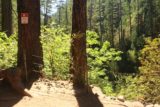 At 12:20pm, I crossed Sorensen Creek, which was far easier than when we first did this trail. Back then, there was enough water rushing over the creek that it was tricky to keep the boots dry (definitely the Goretex helped). But that concrete circle was still there.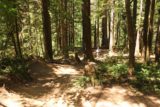 Then, at 12:25pm, I made it to the spur trail leading down to the Lower Punchbowl Falls. But I wanted to continue hiking to the overlook of the main Punch Bowl Falls just to see how much had changed from the last time we were here 9 years ago.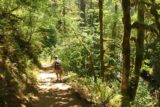 Well, when I got there at 12:30pm, the overview was pretty much all but overgrown. There was no way I could come close to seeing the falls, and I wasn't about to make a steep scramble to hop the fence and get down to a precarious ledge for a top down look.
So I backtracked to the Lower Punchbowl Falls junction, and then followed some family down the trail leading to the top of the familiar Lower Punchbowl Falls. This time, there was less water on Eagle Creek so the lower waterfall was far more visible and less like rapids.
There were a couple of dudes doing a cliff jump over this waterfall while using the fallen logs as sort of a diving board. But the vast majority of people were chilling in the shade further upstream, and that was where I went next.
I had brought Keens to brace myself for the wading that I thought I'd have to do on Eagle Creek to earn the view of the Punch Bowl Falls, but when I got to the edge of the stream and the shade, I could clearly see that the Punch Bowl Falls view didn't require any wading!
I guess when Julie and I were last here, the water was running too high to get that far up the stream without wading in the rushing creek. It was yet another case where less was more, and how sometimes you don't want to be here when the water would be running high.
So I guess the disappointment of not being able to see Metlako Falls was more than made up for by the ability to finally see the front of Punch Bowl Falls. With the direct sunlight right above, there were high contrast and blow out zones in the photos, and I'd imagine early morning or late afternoon would be the times to take photos as the whole area would be under shadow.
But midday wasn't optimal both from a lighting standpoint as well as the crowds as people kept getting in the way and choosing questionable routes.
At 1:05pm, I was ready to bring out the picnic lunch and eat in the shade while soaking in the ambience. But when I realized that I didn't bring my picnic lunch in my pack, that was when I was disappointed in myself that I now had to walk all the way back to the trailhead ASAP and hope that the food didn't go bad.
So I promptly headed back to the trailhead, where I encountered more people going the other way. Clearly, this was a very popular place despite the trail closures and Mother Nature getting rid of some old experiences like the Metlako Falls Viewpoint.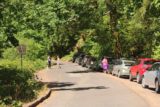 By 1:45pm, I finally made it back to the trailhead, where it looked like more people were illegally parked. It looked like they got away with it as no one appeared to have a ticket. And it made me wonder how often this spot gets enforced. Did I have to hike the extra half-mile unnecessarily?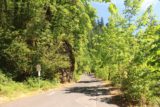 Regardless, by 1:55pm, I was back at the car, which was hot as heck given that it was baking in the sun all this time. So I opened all the doors and trunk and left them open to air out.
I took out the picnic lunch and used the picnic tables to finally have my meal. The burrito was still cold though I'm sure I wasn't exactly practicing food safety by eating it in this state.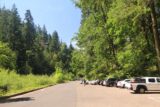 Still, I was very hungry. And I let Julie know that I was headed back to Portland as soon as I was done eating. I still had cell reception even way out here.
By 2:20pm, I finally left the Eagle Creek Trailhead where more people were pulling up, and the car park I was at was full.
The drive back into downtown Portland went pretty uneventfully, and by 3:10pm, I was back at the Hyatt House, just as I had predicted to Julie earlier this morning when it'd be between 3-4pm that I'd be back.
They spent most of their day walking around Pioneer Square, checking out the Portland sign, and checking out the Chinese garden, which was compact but still packed quite a punch in the midst of the city.
But this time, we were to drive out towards the Washington Park and Rose Garden area to check out the Japanese Garden – another thing Julie and I hadn't done in 9 years. However, there was a little bit of confusion as they closed the main route leading up to the garden and we had to take some detour towards Tigard St or something like that.
So eventually at 3:45pm, we managed to scope some pullout parking (no pay and display up here), which was a short way up the hill. There was no way we'd be able to park in the limited spaces down below right in front of the garden.
I also saw some shuttles going back and forth and it made me wonder if we didn't drive far enough up the mountain to park and then take the shuttle down to the entrance.
Oh well, as long as our car wasn't broken into, we'd be fine, and given the volume of traffic going up and down this area, we had some confidence that any thieves here would have to be pretty bold to be doing it in front of people looking.
The Japanese Garden was a pretty nice and serene experience. It was far more woodsy and spread out compared to my memories of the Chinese Garden experience (which Julie got to relive), but the serene pools and coy ponds with fake waterfall and even rock gardens were a treat.
I commented to Julie that the rock gardens here were more impressive than the rock garden we saw in Kyoto, which was basically one long gravel rectangle with a few rocks and raked patterns before it. This place had a couple of them and had a seemingly more interesting arrangement.
I guess the Japanese community presence here was quite strong. There were also interesting artworks and kabuki costumes, providing further cultural interest in this place – something we've learned to appreciate as we got older.
Of course, we also got the view of Mt Hood though there was still that hideous blocky white building fronting the mountain that was now bathed in muted afternoon lighting. Like with the Council Crest, this view wasn't as impressive as we remembered it 9 years ago. Perhaps, too, that I was also spoiled by the Panorama Point Park view at Hood River in the morning, which was wide and expansive and had all the subjects in front of it for scale.
By 5:15pm, we were back in the car. Now that it was getting late in the day, we headed straight for dinner. Julie wound up picking this place called Teote since it was still in downtown Portland's maze of one-way streets and bridges under construction. The other paleo and gluten-free places appeared to be too far out of town.
By 5:35pm, we made it to Teote. This was Latin American food that prepared their stuff gluten free on request. It wasn't a dedicated GF place. Still, they used genuine Colombian corn in their Venezuelan Arepas, and we had ourselves a very delicious dinner consisting of mole as well as a separate dish of short ribs.
Tahia had her ninos bowl with chicken as her protein.
The sauces here were actually very intense. Good thing I didn't smother the food with them.
The patio dining was all full, so we opted to eat by the window opposite the bar. It was a pleasing dinner that didn't require being waited upon so it went by quickly. More often than not, we tended to prefer the self-catering places instead of wasting time waiting for someone to wait on us as well as other patrons at the same time (not to mention the tip that's expected).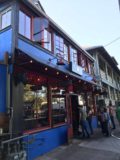 By 6:45pm, we were back in the car. When we left the restaurant, this place all of the sudden had a huge line out the door! Wow! I guess we luckily beat the rush.
Next, we drove to a Market of Choice that we had chanced upon while looking for Teote. We stopped there at 6:50pm so Julie could make her last grocery run. And while she was doing that, I dozed off in the parking structure while Tahia was busy playing DJ and singing along to B-52s songs.
By 7:15pm, we left again. Julie wanted to indulge in some gluten-free desserts so we went looking for this place called Back to Eden Bakery. As we went looking for this place, we found ourselves driving pretty far east on Alberta Street. It turned out that we had stumbled upon foodie row out in this suburb of Portland as we chanced upon a crowded area full of busy pubs and restaurants along the way. There was also an Ethiopian and Eritrean community in one stretch here, which was quite interesting.
Eventually, we'd find street parking in a residential area just off Alberta Street. It was good for one hour, and as we walked back towards Alberta Street, we were stuck by the old-school architecture of the homes here as they still appeared to have basements and even front porches (something we don't often see in Southern California).
When we finally found the Back to Eden Bakery, it turned out that they had two stores back-to-back. One side was quieter and had more tables. The other side was more cramped and it had the more interesting stuff like coconut-based ice creams, whoopie sandwiches (basically GF cookies sandwiching fillings), cupcakes, brownies, and more.
We wound up getting a chocolate brownie with coconut bliss vanilla a la mode. We also got like 3 different flavored cupcakes, two chocolate chip cookies, a kombucha, and some tea. Indeed, Julie felt like she was in foodie heaven though I'm sure she'd be paying for the sugar rush.
Anyways, at 8:25pm, we were back in the car. By this time, it was twilight. We wanted to drive by the Portland sign while it was lit up in lights under the twilight before going back to the Hyatt House.
Well, with the complications from the bridge closures and construction that was going on, we found ourselves in traffic before finally arriving at the bridge by the Portland sign. Julie said that park down below had a tree blocking views of the sign so it was best seen from this bridge.
It was a bit of a strange experience being on this bridge looking at the sign periodically go dark then the letters outlining in green before sparkling in the font while cars were whizzing by. There was also some homeless man loitering in the area making Julie want us to rush to take our photos and get back in the car.
We weren't the only tourists engaging in this strange activity, but we were one of the last to leave.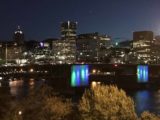 Eventually at 9:15pm, we were finally back at the UPark after getting through some congestion on another one of the bridges over the Willamette River. Julie used that incident as an opportunity to get a good picture of the Portland skyline while the car wasn't moving.
Anyways, back at the UPark, we took advantage of someone who had left a pre-paid ticket on the payment machine. It was good until 7am the next morning, and I had a feeling that we'd need to pay a little extra since I doubted we'd be out the door by that time.
And with that, we were finally done with the day. I'm sure we could have spent yet another night experiencing Portland, but with the incoming eclipse on Monday, things were surely about to get crazy from a traffic and cost standpoint. Tomorrow, we were headed south towards Medford as we were finally heading south towards home to end off our epic Summer roadtrip.
I just hope that with the long drives, we'd have the stamina to make it home safely, and then get right back in the swing of thing at work as that guilty feeling of getting back to life, back to reality was starting to sink in…
Day 24 (August 19, 2017 – Medford, Oregon): "From Sandblasting to Smoke Haze"
It was about 5:40am when I awoke. As much as I wanted to sleep in and told myself that I could sleep in on this day, I was thinking about feeding the meter after 7am as well as the long drive ahead of us to get to Medford after making a detour to Bandon Beach and possibly Florence and the Sea Lion Caves.
The original plan was to drive southwest of Portland towards the Oregon Coast, but from looking at the GPS
predictions of drive times, it would cause us to arrive in Medford way too late as it would require at a minimum 8 hours on the road without stops – and this was going the direct route west of Eugene then east towards Grants Pass!
It took us some time to get all packed and ready to go. It also took me some time to get caught up on two days worth of blogging since I had such early starts the last two mornings that I didn't have time to get caught up. So this was it.
It wouldn't be until about 9:20am when I finally started to retrieve the car and move it over to the valet spaces in front of the Hyatt House to load up the car with our belongings. It was a very busy morning at the hotel as many people also seemed to be leaving at the same time as we were.
We also fit in a breakfast so I was disappointed that the made-to-order omelette bar was closed. Go figure. It was the only day that I was finally able to have a brekkie here and the best part wasn't even open. I guess it just wasn't meant to be. Oh well, at least I didn't care too much about the food here overall so it wasn't that big of a deal to me.
Once we were finally on the road, we decided to drive straight south towards Eugene and then decide once we were there what to do next – driving to the Oregon Coast and then back (which would be at least a 5-hour detour) or heading straight to Medford, which would put us at our accommodation way too early.
Further complicating matters was that Julie wanted to see an herbalist in Sacramento tomorrow morning, and she was only available at 9:30am. So that meant that we'd have to leave Medford no later than 4:30am in order to even have a chance at making that appointment. I didn't mind the early start though as I knew that we had a very long drive to get from here all the way home.
I did such a drive with my parents last year and we pulled it off and got home at a reasonable hour. But with Julie and Tahia, they tended to move slowly and make more frequent stops. So that would be a challenge.
At least Julie had that added motivation to address her gut issue with this herbalist so I'm sure she'll do what it takes to make it happen.
Anyways, we'd fill up gas at Coburg at 11:10am, which was just north of Eugene. I noticed that at least along the I-5, the further south we went, the more expensive the gas became. So we just filled up at some station here at $2.89 per gallon for 87 octane. That was kind of similar to the California prices we were used to seeing back at home. But I guess we couldn't take the chance of saving under $2 worth of gas with the uncertainty of running out of the stuff on the road.
It took some time for us to get moving again because somehow I had lost the keys in the car. It would start so I knew that it was in the car somewhere. Eventually, Julie found it on the floor behind the driver-side seat. Somehow it got back there. Dunno how. Whew!
So with it being relatively early in the day, we decided to drive west of Eugene towards Florence. I thought about treating Tahia to the Sea Lion Caves over there, but when we'd ultimately arrive at this place called Homegrown at 12:30pm, we ultimately decided against doing the Sea Lion Caves because it was too costly, and we couldn't be too free about excursions we wanted to do given our time constraint.
Our lunch consisted of a lettuce wrap of albacore tuna, fish tacos with albacore tuna, Tahia's quesadilla with chicken added in, kombucha (some kind of honeydew and ginger flavor), and raw sauerkraut. Tahia's quesadilla had Tillamook cheese, which didn't taste anything out of the ordinary as Julie had predicted.
The food was OK, but at least it was clean.
By 1:25pm, we were back in the car. We then followed the scenic route along the US101 south passing through the Oregon Sand Dunes National Recreation Area. We could see large sand dunes off the road as well as near the ocean. It was not unlike the experience that my parents and I had at Tottori, Japan last Fall. I guess there was something in common climate and landscape wise to give rise to such features – as if this was yet another synergy between Japan and Oregon, it seemed.
Eventually at 3:05pm, we eventually made it to Bandon Beach. The moment we got out of the car, we felt right away that the winds were gusting and the temperatures were on the chilly side. We didn't expect this as most of the weather we had been experiencing in Oregon to this point had been on the warm side. So I was dressed in shorts and T-shirts, but we needed to get our jackets out.
After strolling about for a bit, we realized that there was a different parking lot closer to where the sea stacks and rock formations were on Bandon Beach. So we ultimately arrived at Coquille Point at 3:25pm, where we then promptly went down a wooden stairway to the beach.
Some guy on his way up pointed out that there was a sea lion resting on a rock. Once we saw it, we then made our way over there, but we had to endure the strong winds whipping up the sand and essentially sandblasting us (our legs especially) as we made our way over there.
Another nice surprise about this beach was that there was a sea arch not far from that sea lion. I definitely didn't recall seeing that arch the last time we were here 9 years ago! Too bad the lighting looking towards the ocean wasn't optimal at this time of day.
After having our fill checking out the sea lion, who was safely resting on a rock amidst some choppy waves, we took a few people shots on the way back, then caught some views from the bluff back down at the Bandon Beach before returning to the car at 4pm.
Even though this was not a play beach as we had expected for Tahia, it was a scenic stop just like before, and we felt it was well worth the detour.
Now, since it was too early for dinner, we decided that we'd make the drive all the way to Medford (which would take at least 3 hours given the winding roads to get through the mountains back to the I-5). Then, we could try to eat dinner either in Medford or in Ashland, which Julie noticed there was a whole food restaurant there.
It wouldn't be until about 6:55pm when we arrived at the Candlewood Suites in Medford. Unfortunately, the air was smoky again, and we were faced with the hazy skies that produced all-too-familiar red globe sun that we had seen in Vancouver, Spokane, and even Bozeman.
We were kind of free from that over much of the remainder of the trip until now in Medford. So we weren't nuts about the air quality, which we could sense right away.
Well, we checked into our room (which smelled like someone smoked here even though all rooms are non-smoking), and then we promptly drove out to Ashland at 7:15pm.
Julie's restaurant in Ashland was another 18 miles from our accommodation. We contemplated just going to the Elements Tapas Bar in downtown Medford, but I knew that we'd have to wait on the service and it would be pretty expensive given last year's experience with my parents.
So we felt driving the extra distance south to Ashland then driving back after dinner was the right thing to do.
We'd eventually be at this place called Sauce at 7:40pm. Along the way, we saw the red globe sun, which Julie tried to capture from the car.
It turned out that this place was like foodie heaven for Julie as it featured pretty much paleo stuff like grass-fed bone broth, chicken curry, lamb curry, garlic naan (not GF), and roasted chicken for Tahia. The desserts were an indulgent affair as Julie got a flourless, sugarless chocolate cake along with coconut jello. I also got a buckwheat crepe called "The Bomb" which included nutella, fried bananas, and cream. We also got a lemonade ginger kombucha to boot.
Overall, the dinner probably costed us over $60 but for what we got, it was worth it. Julie was going to miss having such great foodie options in Oregon as this would be our last night in the state. Tomorrow, we were going back to California, where our strayed diet would be back on track, I'm sure.
So at 9pm, we were back in the car, and by 9:30pm, we were back at the Candlewood Suites. There would be no messing around on this night as we had to get to bed as soon as possible given our early morning wakeup. We pretty much had to treat tonight like an airport day even though we'd have a solid 12 hours of driving ahead of us…
Day 25 (August 20, 2017 – Los Angeles, California): "Deviant Ingredient"
It was 3:30am when I awoke to the alarm. Having only had 4 hours of sleep, I was naturally groggy. Believe it or not, Tahia was totally awake and all into getting up and out the door instead of being cranky about the early wake-up. Julie and I theorized that she was so looking forward to going home so she was motivated to get up and out the door.
The reason for the early wake-up was so we could get to Sacramento so Julie could meet up with an herbalist who could sell Julie on some kind of concoction with CBD oil to help with her gut issues. Apparently, it worked for someone else, and this was one thing she hasn't tried. I remained skeptical, but I guess it couldn't hurt. After all, she tried just about everything else though her loading up on sugars during this trip probably didn't help her cause.
I managed to eat some kefir with fruits as well as some leftover arepas. Certainly, I was good to go. Julie and Tahia could eat and sleep in the car.
So by 4:30am, we were in the car and ready to go.
It was still dark when we left so the possibility of wildlife dashing in front of the car on the I-5 was everpresent on my mind. I tried to use trucks in front of me as screens so I wasn't exactly gunning it at this time.
However, in so doing this, I was badly fighting road fatigue. I was pulling out all the stops to stay awake with drinking water (making me need to go pee pretty badly) while also listening to music loudly, amongst other things. Julie and Tahia were sound asleep while all this was going on.
I did manage to see a beautiful red globe sunrise over Shasta Lake as the sun was penetrating the thick smoke from the forest fires that must have produced all this haze. Too bad I couldn't take a picture of this while driving.
Mercifully at 7:50am, I decided to pull off for a Pilot Gas Stop in Orland, CA. It turned out that they had $2.59/gal gas, which was pretty dirt cheap as far as California was concerned. This pit stop gave me a second wind, and from here on out to Sacramento (or Sac Town as I often refer to it, in an ode to Jim Rome's terminology), Julie and Tahia were also awake though it would be a struggle to get Tahia to do her homework in preparation for school which was beginning later this week.
Eventually at 9:25am, we arrived at the Cooperative Grocery Store in downtown Sacramento. We had never done much in this town other than pass through. I'm sure one of these days, we should actually spend a night here and see what the state's capital has to offer. But for now, it was purely so Julie can meet up with her herbalist while we'd do some last-minute grocery shopping for the road (like buying any more organic cherries or plantain chips).
By 9:55am, we were back in the car as Julie was successful in getting her concoction after meeting up with the local herbalist. Apparently, there wasn't such a person in the LA area who had such a concoction specific for gut issues like Julie's. I sure hope she wasn't getting ripped off because it costed us $140 in cash.
Next, the GPS
had us drive south on the Hwy 99 instead of the I-5. At first, I hesitated about this because the I-5 seemed more direct, but the more I thought about it, the more I realized that perhaps taking the 99 might be a better option since that highway passed through more developed towns (so more opportunities to stop and eat as well as fill up gas or go on pottie breaks) while the I-5 was a whole lot of nothing with a few road stops here and there, including passing through the disgusting "Cowschwitz".
Eventually by 11:20am, we opted to stop at a convenient Chipotle in Turlock. We also filled up on another cheap spot for gas at some Safeway station. We managed to beat the lunch rush so our usual lunch of barbacoa bowl and/or burrito and Tahia's DIY tacos hit the spot. We were then back out the door at 11:50am.
Next, the drive continued on the 99 for what seemed like forever. As we were nearing the Grapevine, road fatigue was once again starting to set in. Julie offered to switch drivers, but I managed to get my second wind once we were ascending the highway past the Grapevine and back into the Angeles National Forest area.
The temps were nearly 100F so we had to turn the AC off while making this ascent. Lots of other cars were pulled over on the shoulders with their hoods open as they clearly overheated.
Otherwise, the drive was surprisingly smooth despite the fairly heavy volume of traffic (something expected on this stretch of highway these days).
However, we then hit traffic once again as we were near the Magic Mountain area. Now, there seemed to be some road construction work that really bottlenecked the traffic. Since everyone needed a potty break, we had to switch lanes all the way from the inside to the exit at Calgrove Drive, which really wasn't anything.
We thought we could do a potty break at some kind of open preserve park, but we passed by it as it came upon us suddenly without adequate signage given the high rate of speed and dense traffic even on this road (apparently, many people used this road in lieu of the traffic on the I-5).
As we were getting desperate, we finally noticed a pair of porta-potties across the street from a construction site. We managed to pull over and use these contraptions (as awkward as it seemed at the time). Once we were relieved, we then resumed the drive. It was 4pm at the time.
Mercifully, we'd finally make it home at 5:10pm after making it through more sluggish traffic on the I-5. It had been a brutally long drive, but now came the real work where I had to get all the trip happenings written up and published while also working the revamp of the website. In the mean time, I had to get back in the swing of things at work, and plus we had to get all unpacked and return the rental car.
Indeed, there was no rest for the weary, but it was a price worth paying for priceless moments on trips like these. At least we didn't have to contend with the eclipse, which was sure to cause congestion and overinflated prices in Oregon, Idaho, and Wyoming (or wherever else the the moon would block out the sun in totality)…
Visitor Comments:
Got something you'd like to share or say to keep the conversation going? Feel free to leave a comment below...
No users have replied to the content on this page