Day 23 (August 18, 2017 – Portland, Oregon): "Earthy Changes"
It was 4:30am when I awoke to the alarm. Given last night's unexpected late outing, I could have used the extra hours of sleep on this day. But I was more concerned about competing for parking spaces at both trailheads for Tamanawas Falls and Eagle Creek, which were the goals of today. I was also going to solo these hikes.
The original plan was to do the Eagle Creek hike all the way out to Tunnel Falls, but the Indian Creek Fire ensured that that wouldn't happen on this day.
So instead, I was setting out to do both the Tamanawas Falls hike first, and then do the Eagle Creek hike out to Metlako Falls and Punch Bowl Falls later. I had a feeling that it would be hard to compete for parking spaces on the Eagle Creek Trail since that was closer to the popular Columbia River Gorge area.
After getting ready for the day and eating a kefir brekkie, I then brought some filled up waters (the last bits of water we'd have on this trip) as well as the burrito that Julie had bought last night in anticipation for this day of hiking. By 5:40am, I was in the car and headed out towards the I-84 east.
Having been familiar with the driving routes through downtown from yesterday (where the Broadway bridge ramp to the I-5 was closed), I once again took some other bridge across the Willamette towards the I-84 east directly. And from there, I headed out with one gas stop at an Arco that was really cheap compared to the rest of Portland, and then I made the pretty smooth drive in the direction of the rising sun.
It was once again overcast in the morning, but the further east I went, the more the morning sun was getting in my eyes. Eventually, I'd leave the I-84 and head south on the Hwy 35 at Hood River. And as that drive progressed, I was treated to some nice roadside views of Mt Hood getting bathed in the morning light.
I didn't have a pre-trip waypoint for Tamanawas Falls on my GPS as apparently it was a last-minute addition when I learned about the Indian Creek Fire that prevented access to Tunnel Falls. So I had to rely on the FourSquare option on the Garmin Nuvi
. But it would eventually claim that I reached the Tamanawas Falls at around 7:10am except there was no trailhead to be found!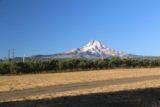 So now I found myself driving back and forth trying to figure out where I went wrong. It wasn't until I headed back north towards the Mt Hood Ranger Station and got there at 7:30am did I see on one of the maps there that I didn't go far enough south to the Sherwood Campground which was further south of the Pollalie Campground not far from the mile post 73. I had previously turned back at the Copper Spur Rd.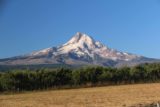 While I was at the Ranger Station, I finally managed to at least get some early morning views of Mt Hood and capture it on camera.
Next, I resumed the drive south along the Hwy 35, and I'd eventually arrive at the Tamanawas Falls trailhead at 7:50am. There were probably another 3 or 4 cars already parked here though the trailhead parking looked pretty spacious. That said, I knew to do this hike first because all the TripAdvisor and Yelp reviews that were recent had said that this lot fills up pretty quick. I never realized that this was that popular of a hike! It certainly slipped our minds the last time Julie and I were in the vicinity 9 years ago.
It took me some time to get started, and finally at 8am, I started the hike. I lightened the pack by not bringing bear spray as I wouldn't be needing that anymore on this trip.
The initial part of the hike was pretty straightforward as it crossed a bridge over the East Fork of the Hood River, then climbed up to where I could look down at the Hwy 35 being towered over by some steep cliffs with some basalt formations high up.
The trail then descended to another footbridge at 8:15am, where it looked like it crossed Cold Springs Creek, and at that point, I wasn't quite sure which way to go since the trail went both upstream and downstream. But trusting my instincts about waterfall hiking, I went upstream since I figured I'd be walking uphill to get to the front of the falls.
There was a split pair of trees which was another sign that the trail would continue this way.
Fifteen minutes later, I saw some attractive cascade on the Cold Springs Creek, but it was hard to get a clean look at it due to the overgrowth. The trail would resume its gentle climb alongside the creek with one slight eroded section right next to the creek itself. I wondered how much longer that part of the trail would last if the creek would ever have any more floods (which I'm sure would be inevitable over time).
At about 8:40am, I reached a point of the trail where there was a fork with a temporary sign. It said that Tamanawas Falls was to the left while the Tamanawas Tie Trail was to the right. I naturally followed the fork on the left and then I encountered what appeared to be a big rockslide.
At first, there was a trail going through the parts of the boulder field, but then it got to a point where I had to do a little route finding and climbing to continue on. When I got up to the next trail marker which was a combo of pink tape and more temporary signs, I had to make one switchback before resuming the hike. They had to do this to minimize any further trail erosion.
Finally at 8:55am, I finally made it to the Tamanawas Falls. The falls was still under the morning shadow but the bright sunlit cliffs were coming in from the right. There was one other guy down by the creek with a tripod taking pictures, and he kind of provided the subject I needed to convey the sense of scale of how big this plunging block waterfall was.
When I was almost done having my fill of this waterfall, another guy and his dog arrived at the falls.
I had also read that it was popular to scramble behind this waterfall, but from looking at the current conditions, it didn't look that easy to do given how much water and spray was still going. So with that, I headed back down the trail.
Since it was mostly downhill, it went by pretty quickly. I did make one stop by what looked like a small pool with tiny waterfall, and judging by the scrambling paths to get down there, I'd imagine this was a cooling off spot.
Other than that, the hike back was pretty straightforward though I did pass by at least 3-4 parties going the other way. By 9:50am, I was back at the trailhead where there were probably about a dozen cars so this lot was filling up fast. I wondered where the other hikers went since there seemed to be far more cars than hikers on this excursion.
On the drive back north towards Hood River, I started to get nice views of Mt Adams looming in the distance. When I saw a brown sign for Panorama Point Park, which I thought might give me good views of Mt Adams as well as Mt Hood.
So since I was here, I figured I mind as well make this detour.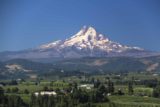 Well, when I showed up at 10:20am, it turned out that this Panorama Point Park revealed an expansive view towards Mt Hood, which stood at over 11,000 ft. But the farms and houses in the foreground with manicured landscapes really was what made this panorama well worth the detour.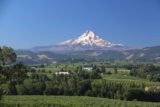 There was also a little shelter partially build beneath one of the power pylons. So that explained why signage here said this park was built out of a partnership with Bonneville Power and the City of Hood River.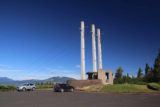 At this time in the morning, Mt Hood was still bathed in pleasing morning light. But Mt Adams couldn't really be seen as there were too many trees and hills in the way.
So after having my fill of this spot, I resumed the drive towards Eagle Creek at 10:25am.
By about 11:05am, I managed to find one of several parking spaces in the sun at the overflow parking area for Eagle Creek. It turned out that all the shady spots in the main lot just slightly uphill from me as well as all the closest trailhead parking another half-mile down the road were all taken. So I wasn't about to be picky and I just claimed the spot even after some confusion about whether this place accepted my Interagency Pass since signs said the Northwest Pass had to be displayed.
Well, after examining the signage even more, it turned out that the Interagency Pass was accepted, and I was ready to get moving. For sure I packed the Keens as well as extra water just in case. I also thought I had packed the picnic lunch as well, but I left the bear spray behind again thinking that I no longer needed it.
And so at 11:25am, I'd finally get started after getting over the confusion of whether the passes were taken or not.
I still had to walk along the road for the next half-mile before finally making it to the official trailhead at 11:35am. There was a bridge that crossed Eagle Creek and headed towards Tanner Creek, but I wasn't going to do that (we had done that waterfall 9 years ago from a closer trailhead).
As I was walking this stretch, there were some cars that left from the nearest car park, but since I was already there, it was pointless for me to walk back to the car just to try to score a parking spot here.
The hike started off in a forested setting, but it didn't take long before it pretty much followed a ledge clinging to the cliffs alongside Eagle Creek. The further along the trail I went, the more dramatic the dropoffs became.
In some of the narrowest stretches, there were metal ropes or wires attached to the cliff walls to help with the mental block of the dropoffs just a foot or two away from the walls. For the most part, they were still wide enough to let opposite directions of traffic pass.
The sun was also beating down on my so now was not the right time for my malfunctioning hat as half the strap had broken off. Luckily, there was still a loop that was left that I could leave around my neck so when I flip the hat off, it would still stay on me.
Indeed, this was a pretty hot hike at this time of day, and the continued uphill climbing didn't help matters.
This was also a pretty popular trail though it seemed like the vast majority of people were already headed back. There was only one or two parties that I encountered that were going the same way I was.
By about 12:15pm, I made it to the spur trail for the Metlako Falls, but there was signage here that said that the lookout had collapsed and the integrity of the cliffs will fail at any moment. The photograph on the sign showed the visual evidence of the compromised part of the cliffs. So naturally, people respected these warnings as they wouldn't want to be the straw that broke the camel's back so to speak and plunge straight down hundreds of feet into the Eagle Creek Gorge below.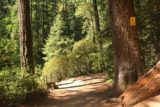 But with that, Metlako Falls was pretty much an attractive waterfall that would no longer be seen. And that was a shame.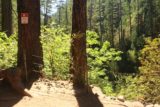 At 12:20pm, I crossed Sorensen Creek, which was far easier than when we first did this trail. Back then, there was enough water rushing over the creek that it was tricky to keep the boots dry (definitely the Goretex helped). But that concrete circle was still there.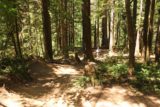 Then, at 12:25pm, I made it to the spur trail leading down to the Lower Punchbowl Falls. But I wanted to continue hiking to the overlook of the main Punch Bowl Falls just to see how much had changed from the last time we were here 9 years ago.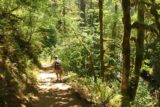 Well, when I got there at 12:30pm, the overview was pretty much all but overgrown. There was no way I could come close to seeing the falls, and I wasn't about to make a steep scramble to hop the fence and get down to a precarious ledge for a top down look.
So I backtracked to the Lower Punchbowl Falls junction, and then followed some family down the trail leading to the top of the familiar Lower Punchbowl Falls. This time, there was less water on Eagle Creek so the lower waterfall was far more visible and less like rapids.
There were a couple of dudes doing a cliff jump over this waterfall while using the fallen logs as sort of a diving board. But the vast majority of people were chilling in the shade further upstream, and that was where I went next.
I had brought Keens to brace myself for the wading that I thought I'd have to do on Eagle Creek to earn the view of the Punch Bowl Falls, but when I got to the edge of the stream and the shade, I could clearly see that the Punch Bowl Falls view didn't require any wading!
I guess when Julie and I were last here, the water was running too high to get that far up the stream without wading in the rushing creek. It was yet another case where less was more, and how sometimes you don't want to be here when the water would be running high.
So I guess the disappointment of not being able to see Metlako Falls was more than made up for by the ability to finally see the front of Punch Bowl Falls. With the direct sunlight right above, there were high contrast and blow out zones in the photos, and I'd imagine early morning or late afternoon would be the times to take photos as the whole area would be under shadow.
But midday wasn't optimal both from a lighting standpoint as well as the crowds as people kept getting in the way and choosing questionable routes.
At 1:05pm, I was ready to bring out the picnic lunch and eat in the shade while soaking in the ambience. But when I realized that I didn't bring my picnic lunch in my pack, that was when I was disappointed in myself that I now had to walk all the way back to the trailhead ASAP and hope that the food didn't go bad.
So I promptly headed back to the trailhead, where I encountered more people going the other way. Clearly, this was a very popular place despite the trail closures and Mother Nature getting rid of some old experiences like the Metlako Falls Viewpoint.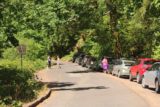 By 1:45pm, I finally made it back to the trailhead, where it looked like more people were illegally parked. It looked like they got away with it as no one appeared to have a ticket. And it made me wonder how often this spot gets enforced. Did I have to hike the extra half-mile unnecessarily?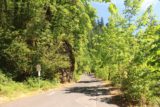 Regardless, by 1:55pm, I was back at the car, which was hot as heck given that it was baking in the sun all this time. So I opened all the doors and trunk and left them open to air out.
I took out the picnic lunch and used the picnic tables to finally have my meal. The burrito was still cold though I'm sure I wasn't exactly practicing food safety by eating it in this state.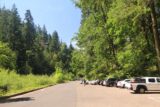 Still, I was very hungry. And I let Julie know that I was headed back to Portland as soon as I was done eating. I still had cell reception even way out here.
By 2:20pm, I finally left the Eagle Creek Trailhead where more people were pulling up, and the car park I was at was full.
The drive back into downtown Portland went pretty uneventfully, and by 3:10pm, I was back at the Hyatt House, just as I had predicted to Julie earlier this morning when it'd be between 3-4pm that I'd be back.
They spent most of their day walking around Pioneer Square, checking out the Portland sign, and checking out the Chinese garden, which was compact but still packed quite a punch in the midst of the city.
But this time, we were to drive out towards the Washington Park and Rose Garden area to check out the Japanese Garden – another thing Julie and I hadn't done in 9 years. However, there was a little bit of confusion as they closed the main route leading up to the garden and we had to take some detour towards Tigard St or something like that.
So eventually at 3:45pm, we managed to scope some pullout parking (no pay and display up here), which was a short way up the hill. There was no way we'd be able to park in the limited spaces down below right in front of the garden.
I also saw some shuttles going back and forth and it made me wonder if we didn't drive far enough up the mountain to park and then take the shuttle down to the entrance.
Oh well, as long as our car wasn't broken into, we'd be fine, and given the volume of traffic going up and down this area, we had some confidence that any thieves here would have to be pretty bold to be doing it in front of people looking.
The Japanese Garden was a pretty nice and serene experience. It was far more woodsy and spread out compared to my memories of the Chinese Garden experience (which Julie got to relive), but the serene pools and coy ponds with fake waterfall and even rock gardens were a treat.
I commented to Julie that the rock gardens here were more impressive than the rock garden we saw in Kyoto, which was basically one long gravel rectangle with a few rocks and raked patterns before it. This place had a couple of them and had a seemingly more interesting arrangement.
I guess the Japanese community presence here was quite strong. There were also interesting artworks and kabuki costumes, providing further cultural interest in this place – something we've learned to appreciate as we got older.
Of course, we also got the view of Mt Hood though there was still that hideous blocky white building fronting the mountain that was now bathed in muted afternoon lighting. Like with the Council Crest, this view wasn't as impressive as we remembered it 9 years ago. Perhaps, too, that I was also spoiled by the Panorama Point Park view at Hood River in the morning, which was wide and expansive and had all the subjects in front of it for scale.
By 5:15pm, we were back in the car. Now that it was getting late in the day, we headed straight for dinner. Julie wound up picking this place called Teote since it was still in downtown Portland's maze of one-way streets and bridges under construction. The other paleo and gluten-free places appeared to be too far out of town.
By 5:35pm, we made it to Teote. This was Latin American food that prepared their stuff gluten free on request. It wasn't a dedicated GF place. Still, they used genuine Colombian corn in their Venezuelan Arepas, and we had ourselves a very delicious dinner consisting of mole as well as a separate dish of short ribs.
Tahia had her ninos bowl with chicken as her protein.
The sauces here were actually very intense. Good thing I didn't smother the food with them.
The patio dining was all full, so we opted to eat by the window opposite the bar. It was a pleasing dinner that didn't require being waited upon so it went by quickly. More often than not, we tended to prefer the self-catering places instead of wasting time waiting for someone to wait on us as well as other patrons at the same time (not to mention the tip that's expected).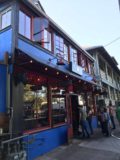 By 6:45pm, we were back in the car. When we left the restaurant, this place all of the sudden had a huge line out the door! Wow! I guess we luckily beat the rush.
Next, we drove to a Market of Choice that we had chanced upon while looking for Teote. We stopped there at 6:50pm so Julie could make her last grocery run. And while she was doing that, I dozed off in the parking structure while Tahia was busy playing DJ and singing along to B-52s songs.
By 7:15pm, we left again. Julie wanted to indulge in some gluten-free desserts so we went looking for this place called Back to Eden Bakery. As we went looking for this place, we found ourselves driving pretty far east on Alberta Street. It turned out that we had stumbled upon foodie row out in this suburb of Portland as we chanced upon a crowded area full of busy pubs and restaurants along the way. There was also an Ethiopian and Eritrean community in one stretch here, which was quite interesting.
Eventually, we'd find street parking in a residential area just off Alberta Street. It was good for one hour, and as we walked back towards Alberta Street, we were stuck by the old-school architecture of the homes here as they still appeared to have basements and even front porches (something we don't often see in Southern California).
When we finally found the Back to Eden Bakery, it turned out that they had two stores back-to-back. One side was quieter and had more tables. The other side was more cramped and it had the more interesting stuff like coconut-based ice creams, whoopie sandwiches (basically GF cookies sandwiching fillings), cupcakes, brownies, and more.
We wound up getting a chocolate brownie with coconut bliss vanilla a la mode. We also got like 3 different flavored cupcakes, two chocolate chip cookies, a kombucha, and some tea. Indeed, Julie felt like she was in foodie heaven though I'm sure she'd be paying for the sugar rush.
Anyways, at 8:25pm, we were back in the car. By this time, it was twilight. We wanted to drive by the Portland sign while it was lit up in lights under the twilight before going back to the Hyatt House.
Well, with the complications from the bridge closures and construction that was going on, we found ourselves in traffic before finally arriving at the bridge by the Portland sign. Julie said that park down below had a tree blocking views of the sign so it was best seen from this bridge.
It was a bit of a strange experience being on this bridge looking at the sign periodically go dark then the letters outlining in green before sparkling in the font while cars were whizzing by. There was also some homeless man loitering in the area making Julie want us to rush to take our photos and get back in the car.
We weren't the only tourists engaging in this strange activity, but we were one of the last to leave.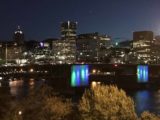 Eventually at 9:15pm, we were finally back at the UPark after getting through some congestion on another one of the bridges over the Willamette River. Julie used that incident as an opportunity to get a good picture of the Portland skyline while the car wasn't moving.
Anyways, back at the UPark, we took advantage of someone who had left a pre-paid ticket on the payment machine. It was good until 7am the next morning, and I had a feeling that we'd need to pay a little extra since I doubted we'd be out the door by that time.
And with that, we were finally done with the day. I'm sure we could have spent yet another night experiencing Portland, but with the incoming eclipse on Monday, things were surely about to get crazy from a traffic and cost standpoint. Tomorrow, we were headed south towards Medford as we were finally heading south towards home to end off our epic Summer roadtrip.
I just hope that with the long drives, we'd have the stamina to make it home safely, and then get right back in the swing of thing at work as that guilty feeling of getting back to life, back to reality was starting to sink in…