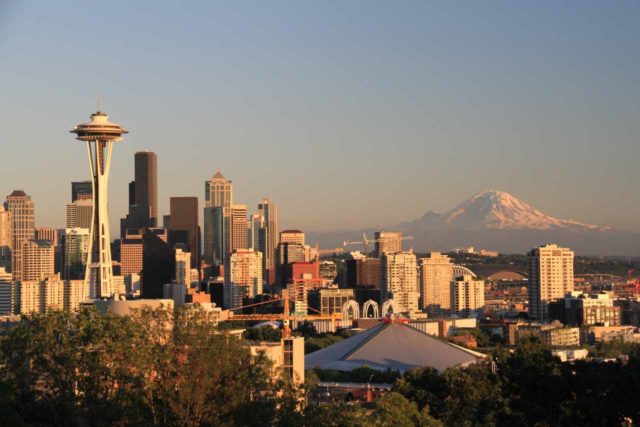 24-August 2011 to 28-August 2011:
It was at this point that I gave serious thought to turning back rather than take the risk, but I knew that I might regret never seeing the waterfall the way it should be seen after having gone this far. It was one of those situations where I knew how easily I could be another statistic taking a risk for that better photo. This year saw many deaths over Yosemite's waterfalls, and I definitely didn't want to be in that category here…
Day 5: UNEXPECTED COMPANY
The day began with a 6:05am wake-up to my watch alarm. From looking out the window, the skies looked real clear in the city so far. Even though this didn't necessarily say anything about how things would be at Mt Rainier, it was a good omen so I went ahead and prepared my stuff for a day trip out there.
Julie decided not to go with me and stay behind to watch Tahia. So I was to go solo on today's excursion.
Going solo always carried risks. I still remembered when I hit a deer with dad's MPV when I tried to go to Escalante from Zion on my own while everyone else slept in. But on the flip side, it also meant maximum flexibility and efficiency as I didn't have to answer to anyone about where I wanted to go and what I wanted to do as well as when to do anything. The only check to those desires was the sense of safety for I didn't want Tahia to go fatherless if something were to go wrong.
Anyways, it wasn't until about 7:20am when I left. Considering it was far sooner than the 8:50am or later starts we had been having while on the Olympic Peninsula, I felt pretty good about the early start though I knew I could've done better.
Nonetheless, the drive out of the quiet-but-starting-to-get-busy Seattle downtown area was pretty uneventful, plus the drive on the I-5 south was also uneventful. Actually, it was quite beautiful as I could see Mt Rainier towering over the I-5. I wanted to take a photo from the road, but this was next to impossible while also driving.
Even though it seemed to be a perfectly clear morning, it looked like the west side of Mt Rainier was foggy at its lower elevations. Once I got through the fog and onto Route 410 going east, I then followed the GPS towards Mundy Loss Road, and then took that residential road onto the road leading to both Mowich Lake as well as the Carbon River area via the towns of Wilkeson and Carbonado.
Eventually, I got to a part where the road forked shortly after a long single-lane bridge over a gorge. The left fork went to the Carbon River area and I figured I could defer that to later this afternoon. Instead, I took the right fork, which ascended steeply as it became the Mowich Lake Road.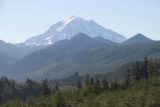 The narrow paved road became a fairly rough unsealed road, and it remained that way throughout the remainder of the drive. I could see Mt Rainier looked tantalizingly close, but it was too bad that morning wasn't the best time for these views since it was against the sun. Otherwise, these could've easily been postcard shots in the one pullout where I did take a photo.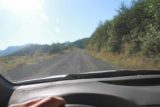 At 9:15am, I arrived at a self-help fee station for Mt Rainier National Park. I wondered how the park employees would recognize that I paid out here when I would return to the park tomorrow on the more touristed side. Whatever the case, I paid my $15 in the drop envelope, kept the receipt on my dash, and hoped that this will get honored tomorrow at Paradise.
There was another couple that was already here also looking to pay. It kind of reassured me that I wasn't totally going it alone on this trip.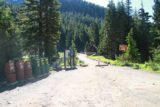 At 9:30am, I arrived at the end of the road near Mowich Lake. I couldn't believe how many cars were already parked here considering how much unsealed road it took to get here. Regardless, there were quite a few people here camping and there were others looking for recreation at the nearby lake.
I was pretty busy getting my gear together, putting on my hiking boots, and then realizing that Julie still had the DEET and the California Baby sunblock. So not surprisingly, I had already suffered a few mosquito bites before I even got started!
The hike started off by going straight past the road's end towards a camping area. A signed trail began to the right side of the campground and immediately started descending some steps. I knew this meant I had to climb these very steps at the end of this hike, but that's how it goes sometimes.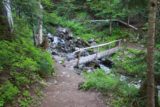 Once at the bottom of the descent, the hike was pretty flat with some minor undulations as it traversed a handful of creeks over some log bridges. The trail was still in the shadow of Mt Rainier for most of the hike so it still felt a little cool (more like comfortable hiking temps) during this stretch.
However, that didn't last long as the hike started climbing in earnest after maybe about a mile in (or less). It was at this point that I started to sweat despite being in morning shade. There wasn't much of a breeze this time of day so the sweat felt uncomfortable.
Near the crest of this initial climb, I saw a sign indicating the Eagle Cliff Viewpoint at 10:25am. I quickly made a jaunt down to the viewpoint where there was a couple ahead of me enjoying the spot. The view of Mt Rainier from here was beautiful, but it was against the morning sun. I figured I could come back here later in the day when the lighting was more agreeable.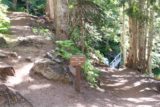 And so I returned to the main trail and continued on another brief and somewhat flat stretch. There was a little bit more climbing before I reached a sign indicating the Spray Falls Viewpoint was only 0.1 mile to my right. So I took that route, traversed a volcanic scree field, and then descended towards the creek responsible for Spray Falls.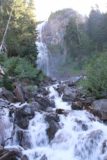 Unfortunately, the view of Spray Falls wasn't very satisfactory from this side of the creek because there was a tree blocking the view of the majority of its drop. So after taking some obligatory shots just in case it was going to be the only shots I'd get of the falls, I looked for reasonably safe ways to get across the rushing cascade and creek.
Needless to say, it wasn't easy finding one as the water moved fast and it seemed inevitable that my feet would have to get wet in sections of the crossing. The trick is to avoid the deepest sections and get swept away, and that was got me nervous.
It was at this point that I gave serious thought to turning back rather than take the risk, but I knew that I might regret never seeing the waterfall the way it should be seen after having gone this far. It was one of those situations where I knew how easily I could be another statistic taking a risk for that better photo. This year saw many deaths over Yosemite's waterfalls, and I definitely didn't want to be in that category here.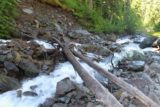 So after spending several minutes evaluating and declining possible routes across the creek, I was about to leave the place disappointed until I noticed someone's backpack downslope of the trail. When I went down to that backpack, I saw there was a pair of big logs wedged across most of the creek. I wasn't sure if they were put there intentionally or if Nature smiled upon me and gave me one last shot at considering a way across.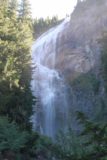 There was a guy nearby taking photos of various flowers and rocks, and I believed that pack belonged to him. In any case, I went ahead and scooted my way across the logs with my butt on one log and my legs supporting me on the other log. That got me more than 3/4 the way across the creek but there was still one last section of fast-moving water to get across.
After climbing some rocks in the middle of the creek, there were a couple of submerged but still-visible rocks on one route, but the more I looked at it, the more I doubted I could get across reasonably dry or without some other mishap given how slippery the rocks were due to wetness.
However, I did find another set of rocks below me with another rock across a deep and fast part of the creek. It looked like I could take a leap of faith onto the other rock, and eventually after thinking about it another minute or two, I made that leap and landed safely.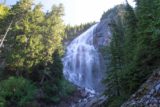 I was now on the other side, and now I had to scramble and climb onto the loose and wet rocks in order to get to a flatter part of the banks of the creek to take the desired shots of Spray Falls. And the whole time I had the camera pointed towards the falls, the namesake spray ended up on the camera lens. But at least it wasn't so bad that photos weren't possible.
So I went ahead and spent the next 15 minutes or more going crazy taking movies and photos of the impressive and strangely shaped and twisting waterfall. I knew I probably won't get back here for a long time (if ever) so I did what I could to seize the moment.
I saw other hikers arrive at the scene back on the other side of the creek, but they saw what I initially saw in terms of the creek crossing being dangerous and turned back. Apparently, no one else at the time saw the log that I saw to make the traverse.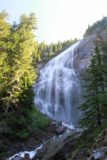 At 11:15am, I had to face the reality of crossing the creek again in order to get back to safety. The whole time I was taking photos of Spray Falls, I had thought about this fact, and now the time had come to figure out a way to get back.
Once again, the first option was to consider the partially submerged rocks leading to a rock "island" in the middle of the creek. And once again, it didn't look particularly appealing to me considering I wasn't sure how stable those rocks were along with the speed of the water in those sections.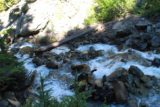 So I went back to the way I originally traversed and saw that it might be possible to take another hop towards a rock using a taller rock to catch my momentum with my hands. And fortunately, I was able to make that move though it did tweak my already ailing shoulder (which I had been suffering from for over the past month or so).
Regardless, I was back on the safer side of the creek and continued back to the main trail. Beyond the Spray Falls junction, I decided to continue climbing up the trail to get to Spray Park. Once again, I figured I made it all the way here already, so I wanted to see for myself what was this Spray Park and what kind of scenery did it offer?
Well, the trail climbed even more relentlessly than before. There were several switchbacks, and I swore my legs were burning as well as all my sweat pores were opened up and filled with water. It took a bit of time to make it up to the end of the climb, but that was when I caught up to a group of four elderly women enjoying themselves on this hike as well as an elderly Asian man carrying a tripod.
All of us were warned about mosquitoes by some hikers who were going back down the way we came. Unfortunately, the DEET was with Julie so I imagined this was going to be a pretty short stay at Spray Park.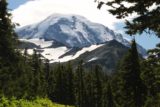 Spray Park was basically a subalpine meadow affording views of the summit of Mt Rainier as well as numerous wildflowers sprouting alongside the trail. The elderly man with the tripod struck up a conversation with me regarding cameras because he noticed the Canon EOS 7D I was using. Meanwhile, he was taking ultra sharp photos on his tripod with his Nikon DSLR in timer mode.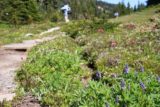 Our short conversations over cameras eventually became a longer conversation about Nature and other matters as we were walking practically side-by-side now. The unexpected company was certainly welcome as far as I was concerned since it took the loneliness out of solo hiking.
As we were well into Spray Park at 12:25pm, the Asian man showed me a use trail leading to a tarn with rippling reflections of Mt Rainier! It was too bad clouds had already started to form on the summit of Mt Rainier, including a lenticular cloud covering part of its summit. Plus, there was a bit of a breeze rippling the tarn so it wasn't as perfectly reflective as we would've liked.
Still, it was a beautiful spot, and I guess getting to know the right people at the right time could yield unexpected surprises and beautiful results.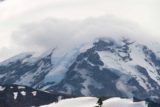 The elderly man told me that he was Japanese and was named Yano. He was 70 years old, which really impressed me since he was still in excellent shape and could still do trails like this at his age!
At 12:45pm, we headed back to the trailhead.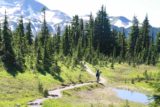 Yano warned me that my intent to see Ranger Falls in the Carbon River area of Mt Rainier wasn't going to be feasible because they closed the road east of the Carbon River Entrance Station so that hiking it wasn't going to be doable. That was because what would've been a less-than-two-mile return hike was now a minimum of eleven miles round trip!
He said the road there would get washed out every season, and this year, the cool summer meant the river there remained at very high flow and thereby preventing a re-opening of the road. He also mentioned that government money was tight so perhaps it had been left in disrepair.
And so ended those aspirations of seeing more than one waterfall on this day.
In hindsight, perhaps that's what also happened with Dosewallips Falls and its access road.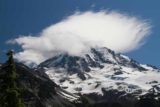 Yano and I parted ways back at the Spray Falls junction. He was going to return there to take photos, but I continued along the now-descending trail eventually reaching the fork for the Eagle Cliff Viewpoint.
And when I descended its spur to get to the overlook, I was a little disappointed to see a greater dominance of clouds beginning to shroud the uppermost sections of Mt Rainier. In any case, I chose to use this spot as a much-needed lunch break spot where I ate two smushed bananas (making a mess of my pack), a nectarine, and four pieces of King's Hawaiian rolls.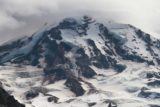 At 1:50pm, I left the Eagle Cliff View with humility as I learned never to stuff fruits (including banana) without a plastic bag covering it. I'm sure my pack wreaks of some kind of mold now. I also was reminded that whenever you have opportunities to take photos (no matter how suboptimal the lighting conditions), you take them, because you never know how compromised the conditions would be when you return. And such was the case with Mt Rainier from the Eagle Cliff Viewpoint.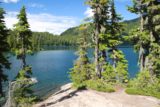 At 2:45pm, I finally made it back to the car park but not before taking photos of the neighboring Mowich Lake. Apparently the increase in cloud cover wasn't unique to Mt Rainier as patches of clouds were forming above and behind me as well.
In any case, I was glad I could finally take off the boots and wear more comfortable Chacos once I was back at the car.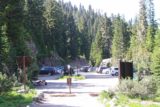 The drive out was also mostly uneventful except for pockets of congestion due to traffic. Trying to pull over a shoulder to take a photo of Mt Rainier also wasn't wise thanks to the clouds surrounding the mountain let alone the lack of wide enough pullouts and shoulders to even consider doing something like this.
It wasn't until around 4:45pm that I returned to the Moore Hotel (ahem, I mean the Magic Castle). And so ended the long day excursion to the northwest side of Mt Rainier involving plenty of exercise and precautionary driving. I could only hope that tomorrow's weather would be just as clear (if not more so) than today despite the increasing cloud cover in the afternoon. For we were headed to Paradise, and I was intent on bringing Julie with me to share the experience…
Day 6: THE CHECKLIST
Today we planned on a return to Mt Rainier. Only this time, Julie would accompany me. But since we were going to the more developed side of Mt Rainier (i.e. its south side at Paradise), we had a lot on our plate and an early start was imperative.
So when I awoke unaided at 5:30am, I made it a point to get up as well as let Julie know that it was time to pump (just like on a normal weekday at home, which she would do at 5:30am right around the time when I'd leave for work). So it wasn't a stretch to get that done and then be ready to go by 7am.
Sure enough by 7am, we had our packs all stocked with bottled water, fruits, and some munchos. Plus, we had leftover piroshkis (basically Russian version of meat pies) and croissants for brekkie. Then, we headed out leaving Tahia with Julie's mom for the day.
The skies were mostly clear when we looked everywhere but southbound. However, when we looked to the south, we were a little disheartened to see clouds covering Mt Rainier even though we could see most of its peak through the gray.
Since I had done most of this drive yesterday when I went solo to Mowich Lake, having Julie with me as we headed south towards Puyallup, then South Hills, and then to the south face of Rainier was fairly straightforward. The only thing that caught me off guard was that there was no dedicated highway or throughfare leading to this touristy side of Mt Rainier National Park (at least if you're coming from Seattle).
Instead, we had to traverse through a couple of suburbs and long stretches of traffic lights and surface streets before even getting onto forest service land, and then national park land. It was barely 60 miles from Seattle to Paradise, but it would still take over two hours to do the drive, and I'd bet most of the slow down was due to all the suburban surface streets before the mountain driving, which was pretty benign compared to some of the national forest roads we had driven on in the past (like Sequoia National Forest or even Sequoia National Park).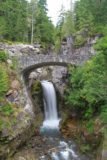 Anyways, we made it into the park boundaries just before 9am and we managed to overshoot the trailhead parking for Comet Falls. But as we were looking for a place to turn around, we stumbled upon a pullout for the signposted Christie Falls!
This was an attractive waterfall in that it had a bridge arched over its lowest tier. There were also additional tiers above the road bridge, which I had to walk on the road shoulder to get to the narrow bridge and take my shots.
It was a good way to start the day.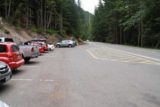 At 9:05am, we were then at the Comet Falls Trailhead, which still was only half full. However, Julie wasn't finished pumping so it wasn't until 9:40am when we finally started our hike. And by the time we were good to go, the car park was completely full! It was utterly amazing how fast it filled up, and perhaps even more amazing how close we were to being one of the unfortunate folks marauding the limited car park looking for spots.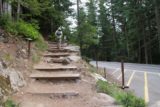 So Julie and I ascended the stairs just as a large group of seniors were about to start on their hike. About five minutes into the hike, we spent time on the bridge crossing over the creek responsible for Christie Falls. We could even see through the narrow gorge towards the bottom where cars would either slowly pass by or even back up into the pullout adjacent to the bridge in response to seeing this waterfall!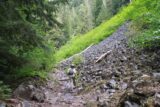 Not long after this bridge, the hike then started to climb. Little did we know just how much climbing was involved.
It seemed like there must've been at least two dozen switchbacks, and the climb continued relentlessly. There were hardly any breaks in the climb, and just when we thought the climb was about to end, we'd be faced with another daunting uphill with even more switchbacks to face.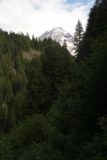 At 10:20am, we made it to the top of the initial climb. Now, the trail started flattening out somewhat as it hugged the ravine carved out by the same creek responsible for Christie Falls (which I believe was Van Trump Creek). However, we also started to see the top of Mt Rainier from the trail despite the partial morning cloud cover, which looked like it was breaking up as the day went on.
The trail was also narrow and overgrown at this stage. Julie and I weren't sure if some of the overgrowth was poison ivy or poison oak. Either way, they're bad news for exposed skin and orifices. So we tried our best to either keep our arms raised when brushing up against the flora or trust long sleeves would do the trick.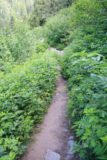 About 15 minutes later, we saw another cascade in the creek alongside the trail. However, this time, the trail started climbing again. Both of us were sweating bullets as the air was still despite the shade from the tree cover. Needless to say, the relentless uphill of the trail was not easy to say the least.
The climb continued for a handful more switchbacks as well as tall steps as we traversed boulder fields of old lava rocks or basalt sloping through the trail before eventually meeting the creek below.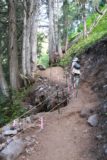 At 10:45am, we saw yet more cascades as the trail finally flattened out again. The cascades were becoming a dime a dozen on that creek at this point. There was one part of the trail where it looked like a large section of it sunk into the ravine below, and this was cordoned off by rope with pink flags.
Julie and I wondered how much longer would it be before the rest of the width of the trail would fall in and thereby prevent pedestrian access (what would the park service do then? build a bridge? does the gov't have money?).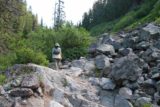 Anyways, about five minutes later, we rounded a bend and then we saw a sign indicating with an arrow pointing across the creek saying "Comet Falls 200 feet".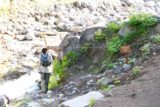 We also noticed a three-tiered cascade spilling into a creek responsible for going under the primitive footbridge we had to cross (again, I believe it was Van Trump Creek and the falls was Van Trump Falls).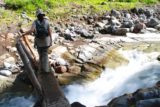 At first Julie thought the three-tiered cascade was Comet Falls, but I knew from prior research that there was no way that could be it. And it was then that the sign that was put there was meant to avoid the confusion between this falls and Comet Falls. Good thing I didn't listen to Julie in this case.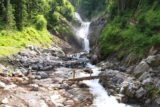 And after another couple minutes of hiking, we finally saw the impressive Comet Falls. From the initial vantage points, we could see the entire waterfall even though neighboring trees conspired to block the best views.
Not satisfied with the views of the falls from this far downstream, we continued alongside to trail to see if there were any other Comet Falls viewpoints. And that was when we noticed there were switchbacks going higher up the trail.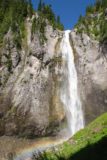 Julie followed me for the first few switchbacks as we weren't sure where this was going. Had we read the signs and the maps, we would've realized the trail would keep going to Van Trump Park, which I'd imagine would be like Spray Park – a subalpine meadow with views of Mt Rainier as well as having wildflowers.
Anyways, we arrived at a point here there was a spur trail that went almost directly underneath the very tall waterfall. Plus, we were able to see a rainbow in its mist thanks to the morning sun that punched through a clearing in the clouds.
The trail then continued some more so I went solo on this part just to pique my curiosity.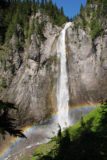 Well, I expected the trail to end or lead to other views of Comet Falls. At least I was correct in that there were a couple more impressive views of Comet Falls' main tier. Plus, the rainbow was more prominent at the base of the falls from the higher vantage point. So after taking whatever shots I could, I rejoined Julie who was waiting near the junction with the spur trail leading right into the misty base of the falls. I had had enough of climbing at this point.
By that time, the large group of seniors caught up to us.
Anyways, Julie and I took some people photos while snacking on fruits that might've gotten smushed in my backpack. It wasn't easy taking photos close to the falls thanks to the mist. Plus, the handful of mosquitoes might've gotten pot shots on us without us knowing.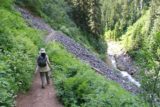 When all was said and done we left Comet Falls at 11:45am, which was a bit more time than we expected on the trail. Yet we enjoyed this falls (at least I did since Julie was more partial to wider more powerful ones than the tall ones) and felt we milked this experience as much as we could given our time constraint to see more falls this day.
Well at least with all the uphill to get up to the falls, we had an almost all downhill hike to look forward to.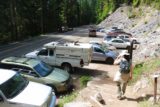 Aside from getting a little bit of pounding on the knees and a couple of near slip and falls by Julie (who didn't trust my advice about going aggressive on the downhills to both preserve momentum and minimize the likelihood of falling backwards from slippage), we made it back to the car park at 12:45pm.
It was now much sunnier than it was this morning. Plus the car park was just as crowded as before except now there was a van with someone in it waiting for a spot to open up.
And now we were on to continue further into the park to see the other waterfalls we had planned to see.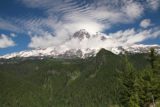 But just before we were gaining momentum to continue towards Narada Falls, which was next on the list, we turned right at a one-way road with lots of crowded lookouts. It turned out that there was a view of Mt Rainier from this spot and so we decided to join them since we knew how fickle volcanic peaks like this tend to attract cloud cover.
Well, it was difficult to take good photos of this peak thanks to its wide and rounded nature, but it was still beautiful nonetheless and pictures just didn't do it justice anyways.
We continued on and skipped the remaining pullouts as we returned to the main road (Paradise Road, I believe). I'm sure one of those pullouts was for a waterfall, but we were going for the big fish, and I didn't think the falls here (Carter and Madcap?) were what we were planning on doing based on Gregory Plumb's rating system in his book.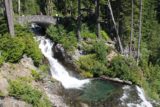 About five minutes after making our 1:05pm stop to view Rainier, we were then at the very busy and huge Narada Falls car park. Actually the car park was spacious, but only parking was allowed on the sides leaving a huge gap in the middle. Still, this particular falls was very popular with lots of people looking from the overlook near the car park as well as many others taking the trail to get in front of the falls.
The top view was top down and we could only see the falls' brink as the water disappeared and produced mist further below. Yet from this vantage point, we could see where the trail went and how small the people looked down there, suggesting it was a steep path to get down there.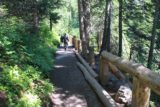 Julie was still pumping in the car so I went down first. There was a lot of moisture on the viewing area making the footing slippery. There were lots of people trying to take photos with mist blowing their way, and I wondered how one guy's photo would look with his tripod setup and all that mist blowing right towards the lens. Ah yes, I've been there, and done that, and know how terrible photos look with waterspots all over them.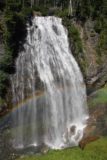 The bright side to the misty view was that there was a nice arcing rainbow right across its base. So naturally, I took a lot of time fighting the mist in order to get those rainbow shots.
After taking shots from the busy viewing area, I then recalled Yano's advice about going further down and photographing the falls from the bottom. So I didn't hesitate to continue down the trail into the packed mud part before it started to dry out. And that was when I saw there was a trail branching off the main one except it was fronted by fallen logs in a configuration that seemed to discourage people from going in.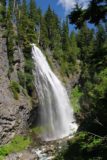 I guess this was another one of those closed former accesses, but this one looked really benign in comparison to the one I saw at Comet Falls. So I went besides the log and followed the path to a fairly open view of the profile of Narada Falls. And without the mist getting in the way, I was able to take shots in long exposure.
It was nice and quiet down here, and I wished that I could stay longer in the serenity of Nature. However, I didn't want to have Julie not knowing where I went plus I'm sure the no-see-ums already got a few bites on me. By now I was sure I must've gotten about a half-dozen bites throughout the two days in the park so far.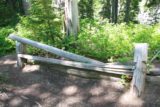 Anyways, back to the main overlook I went. Julie was still not down here so I just chilled as I was waiting for her. And just when I was about to start making my way up the trail, I saw her crossing the bridge up above by the car park. So when she met me down here, we took some people shots as well as allowed Julie to enjoy this waterfall.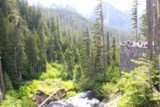 Indeed, this was the type of waterfall that she liked. She said it was better than Comet Falls, and I guess this was one of those things where it was all subjective. Some liked it taller while others liked it wider and powerful. Besides, she probably liked the overall experience of this one as opposed to the long uphill hike where we had to earn our Comet Falls view.
It wasn't until 2pm when we finally returned to the car after the uphill hike to get there. By this time, I was starting to doubt that we'd be back in Seattle before Tahia's bedtime between 6-7pm.
About 15 minutes later, we followed a caravan of cars up to the Paradise area. The driver in front was going very slow and refused to use the pullouts. I guess when you're in a popular area, you kind of have to put up with people who either didn't know any better or were just inconsiderate and stubborn about daring people to pass dangerously.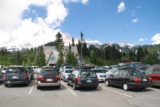 Anyways, the lot at Paradise was very full. There were a handful of cars looking for spots. Meanwhile, we decided to chase Myrtle Falls since it looked like a patch of clouds shrouded part of the peak.
I didn't know where we could access Myrtle Falls so we continued past the Paradise car park and onto a one-way road. It turned out that there wasn't much to see on this one-way road, including a spot to stop for Myrtle Falls. So, we had to make another loop to get back onto Paradise Road and then back into Paradise.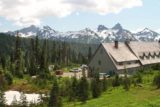 It wasn't until 2:20pm when we finally were able to find a parking spot at Paradise.
Julie was starved for a lunch so she went straight into Paradise Inn for some food. Meanwhile, I headed straight for Myrtle Falls by going up the stairs near the turnaround in front of the inn entrance. Just above the stairs, there was a patch of snow, and since I was in Chacos, the footing was tricky.
So onwards I went, but I knew going down on the way back would be a bit more difficult.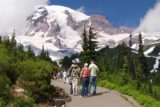 The trail was all paved as there seemed to be a network of walking paths criss-crossing this way and that. Fortunately, the signposts were clearly marked at each fork, and I knew exactly where the 0.3-mile one-way path to get to Myrtle Falls was at.
If I wasn't in such a rush to get the photos then rejoin Julie, I would've taken a lot more time on this trail because there were expansive views of not only Mt Rainier but also some other jagged peaks surrounding the area.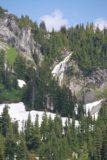 I was even able to get some attractive photos looking back towards Paradise Inn using those jagged mountains as backdrops.
In addition, I was also able to check out the canyon downslope to my right (as I was approaching Myrtle Falls) where the one-way road was. And high up above the canyon on Mt Rainier's southeast-facing slopes was some tall fan-shaped waterfall, which I believed might have been Sluiskin Falls.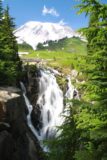 At 2:40pm, I saw the signposted spur leading down some steps to a very crowded (at least for the limited space there) view through an opening of Myrtle Falls fronting Mt Rainier. Fortunately, the clouds didn't obscure the peak here, and I was in there taking turns with everyone else for that unique photo of a waterfall fronting the state's most iconic mountain!
But once I was done with this falls, I quickly made my way back to the Paradise Inn. As anticipated, the snow patch above the stairs was not going allow me to traverse its slippery downhill slope going slow. So I gunned it down with a slight misstep causing a little twist on my left ankle but not all my weight was on that foot, fortunately. So I made it to the inn relatively unscathed.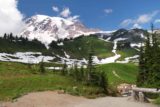 Julie picked up a very dry wrap at the cafe there while she was still waiting on her order for chili. I guess the timing was right because it wasn't long after I rejoined Julie that the chili she had bought finally arrived.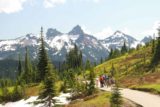 While the sandwich was dry, the chili hit the spot. I wish I could've eaten the sandwich together with the chili to offset the dryness.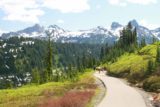 We then spoiled ourselves sharing a soft serve vanilla cone. It was creamy and rich like what I envisioned at that Kalaloch place. So I finally had my indulgent snack to offset the sweat and general sense of being hot on this day.
At 3:30pm, we re-entered the car park and left Paradise. We then went south towards the junction with Stevens Canyon Road, where we took that detour and waited out some road construction before continuing on.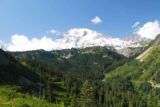 The last waterfall on today's checklist was Martha Falls. But all along the way, we noticed there were yet more views of Mt Rainier as well as the so-called Reflection Lakes. Then, when the road descended into Stevens Canyon, there were yet more expansive views of the southeast face of the volcano.
Once we got around the last major bend traversing Stevens Creek, we found a pair of pullouts on the right side. We didn't notice any signs, but I did notice some cascades down in the canyon as I was slowly driving by.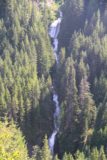 So we stopped at the nearest pullout, then I got out of the car and walked to where I could get views of the upper cascades as well as the main Martha Falls, which I believed pertained to the lowest tier.
There wasn't much of a shoulder on this road, but then again, there wasn't a whole lot of traffic on this road either. So I didn't think I was being a road hazard as I was taking photos of Martha Falls and its upper cascades against the sun.
At 3:55pm, I was done photographing Martha Falls, but just as I was pulling out and about to use one of the larger pullouts to make a U-turn, I noticed a sign that I believed was for Martha Falls. And sure enough, it was. So I read the sign, took a few more photos of Martha Falls, and then returned to the car.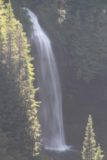 From up here, it wasn't totally satisfying to experience the falls from this distance, but it was late in the day (we still had to return to Seattle) and I definitely wasn't about to hike all the way down there (I could see the trail from up here) and then return all the way back up. I was merely content to say we checked off Martha Falls.
On the way back towards Paradise Road, we made a brief stop at 4:05pm at the hairpin turn providing a view of Mt Rainier. Somehow the photos just didn't do it justice here.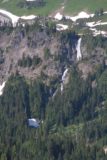 Five minutes later, I noticed some two-tiered waterfall in the distance, and according to the map, I believe that was Fairy Falls.
Then at 4:15pm, we joined a large group of people just chilling before the Reflection Lakes. But at this time of day, the lakes were rippling and so was the smaller pond further east. So there were no reflections on the main bodies of water per se, but I did find a calm section of water adjacent to the lakes where a snow patch melted into a pond.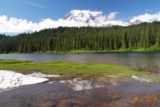 With what limited reflections of Rainier's peak was available in that small patch of calm water, I got my shots and then continued driving back towards the Nisqually Entrance leaving the lakes at 4:30pm.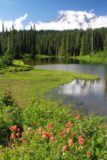 At 4:40pm, we returned to the Christine Falls pullout where we made one last stop there so Julie could finally see what it was like (she was pumping earlier in the morning when I was here). I also got to take a movie since I thought I had forgotten to take one from this spot.
Finally at 4:50pm, we left Christine Falls and officially were on our way to leave the park for good. Once again, we had to follow some inconsiderate drivers refusing to use pullouts, but we ultimately got into the South Hills or Puyallup suburbs around 6:10pm where we found a Target to re-stock on water and other things in preparation for the rest of our stay in Seattle and then the cruise to Alaska next week.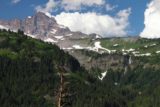 Mt Rainier could be seen barely above the roof of the Target here, and it was quite gorgeous in the afternoon, especially with nary a cloud except some thin streaky ones still above it. Too bad it wasn't photographable from here. Otherwise, I could've killed the time Julie spent shopping to take photos.
We finally left the Target at 6:35pm (though without produce as this target seemed to be recently opened). But just as we were about to leave for Seattle, Julie noticed a Safeway and made me stop there for our produce. There also happened to be a gas station there so I went ahead and filled up while Julie was grocery shopping.
Finally at 7pm, we left the Safeway, but then she asked if we should stop at some local Thai place here. But since I was itching to get back to Seattle, I wasn't too keen on spending another hour here in Puyallup or South Hills (don't know which suburb we were in).
Puyallup seemed to me to be a place name that brought me back to WA (Western Australia, that is!) where all its place names had an "up" at the end like Beedelup, Torndirrup, Wallingup, etc. I didn't know if Puyallup happened to be a coincidence or if there really was some language similarity here between Native Americans and Aborigines.
During the drive back, we could once again see Mt Rainier rising above the suburbs and foothills with an afternoon glow. It was too bad that it seemed like the views from the 167 and the I-5 were one of the best at getting such photos, but who's going to pullover a freeway shoulder to take photos of the mountain? I figured if locals took this view for granted, I'd do the same. Besides, it wasn't worth becoming freeway roadkill over it.
Julie and I were also chatting this entire drive. One of the topics that came up was whether she enjoyed this day. She said she did, but she also felt like we were ticking off a checklist.
And she was right, because a day trip from Seattle made the experience a bit rushed where we had to be as efficient as we could with our time. I'm sure if we were more flexible (i.e. without an infant and elder), we could've stayed in the park and explored other parts like the Sunrise side as well as the Ohanapecosh side of Mt Rainier. I guess that'll have to wait for another time.
At 7:55pm, we were finally back in downtown Seattle. Not surprisingly, Tahia was asleep (in her stroller as opposed to her pea pod!) and Julie's mom had bought us some takeaway Vietnamese food during her time spent with her relatives throughout the day. I guess that saved us more time and money, and so ended this very eventful day where the rest of our stay in Seattle would be more subdued.
For there were no more major sightseeing/waterfalling goals to achieve other than an easy return trip to Snoqualmie Falls tomorrow. The rest of the time would be spent catching up with friends who lived in the area, which was something we don't normally get to do a whole lot of on our trips. So that was something I really looked forward to…
Day 7: CATCHING UP WITH A HIGH SCHOOL FRIEND
Even though all of us awoke at 6:30am (I was the last one to wake up for a change), we spent the majority of the morning slowly having brekkie, tending to Tahia's needs, and giving laundry to Julie's mom, who would bring the stuff to the relatives' place in Everett. Apparently, coin-op laundromats in downtown Seattle were a thing of the past and the only ones available were those that charged by the piece.
After having had the most expensive laundry job ever in Loen, Norway using this method, we weren't about to do that again here in Seattle.
It wasn't until about 11:20am when we were finally in the car with Tahia. The late start meant that we wouldn't be able to meet up with Emily (a friend from high school whom I hadn't seen for decades) at the hoped-for time of 1pm (when she could take work off). Instead, it would be at least 2pm.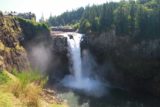 Anyways, the first order of business was to re-visit Snoqualmie Falls, which we got to at 12:05pm on this warm and sunny day. It seemed that lots had changed in five years. For starters, there seemed to be a lot of construction work upstream from the falls itself. Plus, they closed the trail leading to the river level and the lower viewing spot until 2013! They also closed some of the lower viewing decks, including one with a shelter.
Nonetheless, our visit to Snoqualmie Falls was less so about waterfalls and more so about tending to Tahia's needs again. You see, she pooped as soon as we showed up. So it took some time to get her cleaned up. Then, we fed her milk as she was due for her feeding.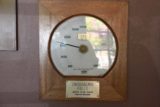 When all was said and done, it wasn't until about after 1pm when we finally got to take photos of the falls in the high summer sun. Shadows were still covering parts of the falls so it wasn't like the best photography situation (then again, when was midday ever a good time to take photos?).
But with all our limited options, there really wasn't a whole lot to do here.
At 1:35pm, we were back at the car. Even though we ended up spending twenty minutes enjoying the falls, it still was a ninety-minute visit thanks to tending to Tahia.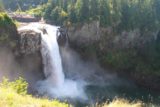 Once in the car with the AC on full blast, Julie had to pump once again, and we let Emily know that we were on our way. We also finally got a hold of Lindsey, who was a Seattle local who briefly moved down to LA for work, and that was how we got to know her. So logistics were set for both meetups (one very soon today and the other tomorrow midday).
We were to meet Emily at Kerry Park for a view of the Space Needle as well as Mt Rainier. We eventually got there at 2:35pm. Mt Rainier was visible, but in the brightness of the day, it was a bit hazy. I'm sure late afternoon photos from this spot was the way to go, especially if Mt Rainier was to have alpenglow from the setting sun.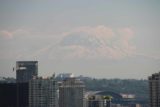 We took the obligatory photos here and then noticed some people were taking professional shots here. We had no idea what was all that about. All we knew was that we were chatting in their photo shoot and were told to move.
After getting re-acquainted with Emily, we chilled out at this cuban place called Paseo in the suburb of Fremont. After finding parking and then feeding Tahia, we finally met up with her at the little dive at 3:40pm.
The place was actually a little stuffy shack, but it turned out that the Cuban food was better than Portos or Versaille, which was the Cuban fare we were familiar with back in LA.
Sure the sandwiches were messy, but damn the Cuban Roast really hit the spot.
So we did a bit of chatting over the Cuban food, learning about Emily's dental business, finding out who she still keeps in touch with, and learning a bit more about the scene in Seattle. She definitely had an aversion to Pike's, especially given the difficult parking situation, and we could totally relate if you're from the area. Sometimes it's just too much trouble to even bother like the LA beaches.
Tahia was getting a bit antsy and shrieking loudly in the confined shack. So I took her for a bit of a walk in a stroller while Julie and Emily got to mingle a bit.
At 5:30pm, we left to go check out a gelato place called the Fainting Goat. We got there in 15 minutes though parking wasn't exactly easy to find. In any case, we got some creamy gelatos there while mingling a bit more while also entertaining Tahia.
Julie was pumping and joined us another 15 minutes or so later.
By 6:40pm, Julie and I were worn out by Tahia, and we had to get back to our hotel so we could accommodate Julie's mom when she returned. There was only one set of keys and we had it. So we parted ways with Emily holding out hope that we could return in the future so she could show us a few more foodie spots. I'm sure Julie really looked forward to that being a foodie herself.
After fighting a little bit of the downtown Seattle traffic, we were back at the car park at 6:55pm, but then we still had to take some time to get the stuff organized for the walk from the car park back to the hotel. It wasn't until 7:20pm when we were back for good and called it a day.
Even though there was some action going on in the city as we drove back to the hotel, Julie and I weren't sure if we had the energy to partake in the city scene this Friday night. I guess it was the combination of the Summer heat along with Tahia's mischief that did us in. Even though we didn't do much on this day in terms of sightseeing, it still took a lot out of us…
Day 8: HAPPENING IN SEATTLE
The day began with another sleep-in and no one waking up until about 7am. Tahia had complained and woke everyone up briefly at 4am. So her schedule might have been messed up from the get go.
We had to do the usual activities in changing Tahia's diaper, letting her drink another round of breastmilk and formula, and Julie pumping. Add to all that our own little breakfast, hygenics, clothes, and figuring out what to bring for today's excursions, and it was no wonder that it wasn't until 8:45am that Julie and I finally had a chance to go briefly down to Pike's on our own while Tahia and Julie's mom stayed in the hotel room.
I personally hadn't gone to Pike's when it was active since I was always out of the downtown area until the evening, but that meant getting to Pike's when everything was closed. Thus, the place was dead – at least on the weeknights. So this was our chance at seeing what Pike's was supposed to be like since we figured it was more of a morning market (or so we thought).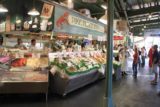 We had to make this visit brief because we were supposed to meet up with Lindsey and her husband Jason at Alki Beach at 11am. So down at Pike's we saw that there was definitely some activity, but it was early and it seemed the activity was on the up and up.
We basically checked out the long floral stands as well as the loud fish market by the pig where the workers would yell out purchases whenever someone bought something, and sometimes they'd throw fish or other merchandise when they handed off the goods from one person to the next. Consider it an ingenious way to capitalize on their location while attracting attention to their stall.
After about an hour, we had to go back to our hotel. Julie had a craving for some place that supposedly made killer chowder as well as dungeness crab rolls. But that place wasn't open until 11am and that wouldn't do for our schedule so we made it a point to return in the early afternoon.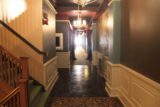 At 9:45am, we were back at the hotel. That was when we collected Tahia as well as Julie's mom, who was going to tag along on the day's excursion.
And after some more preparations, we finally drove out of the lot and made it across the West Seattle Bridge making it to our meeting spot near Alki Beach at 10:55am. And not much long thereafter, we saw Lindsey and Jason pull up acros the street. Talk about excellent timing!
We started out by making a quick stroll eastwards towards a view across the channel of the Seattle Skyline. It was a beautiful sight and I'm sure it would be even more breathtaking in the late afternoon or even during the evening when the lights are on. Of course the excursion was more secondary. It was the chatting and catching up on what has been going on in each others' lives that were more to the point of the day's activities.
We took some photos with Tahia (playing games to try to get her attention so she could look at the camera) while also playing tourist. When we realized that it was a bit too far of a walk to get over to the touristy part of Alki Beach town, we were pondering what our options were until a shuttle bus happened to pull up near us. I guess the solution to our issue presented itself!
There was one small issue about bringing the stroller with baby aboard, but I was able to carry the stroller up and down the steps while using the handicap space to stand up and prevent blockage of traffic within the vehicle. It turned out that Tahia was already asleep throughout the walk and the shuttle ride, and we were glad that none of this had awoken her from her nap.
Once we got off by the Alki Beach town, we strolled around for a bit before deciding to have a lunch at this fish 'n chips place called Spud's. It was quite a busy little dive and Tahia was still asleep the whole time we chatted some more over the greasy stuff.
Jason was surprised that Alki Beach wasn't as crowded as he thought considering it was a beautiful day in Seattle (a rare thing, apparently) and locals generally don't let days like this go to waste, especially if it happens on a weekend like today!
After we were done with the food, Julie wanted to go back to Pike's for that chowder and dungeness roll as well as make an exchange at some boutique shop regarding stuff we had bought for Tahia. I was also worried about Lindsey and Jason with the parking situation at Pike's (I know Emily wasn't too thrilled about it yesterday), but they were troopers and went along with it.
So at 1:25pm we were done with Alki Beach. About 20 minutes later, we made it to the car park where Julie was in the midst of another round of pumping while Tahia, Julie's mom, and I were waiting for her.
It turned out that we wouldn't see Lindsey and Jason for another hour, and I felt quite bad about it. I guess that's what happens when you travel with a baby and the nursing facilities are few and far between.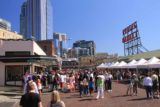 In any case, when we did return to Pike's it was definitely the happening place. The block was littered with people both inside the market area and outside on the street. It wasn't quite pure chaos, but it definitely had the energy that had been missing from our experiences all week long.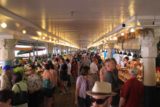 So the next thing we did was to go for Julie's craving and eat at the seafood chowder place in the Post Alley. We were fortunate to find a shady seating spot though we still had to mind the cigarette smoke, which we knew wasn't good for Tahia.
Tahia was asleep during our meal, but she did awake when we were done.
By then, it was time to say good-byes to both Lindsey and Jason, who had to make sure they got back in time to their car for their paid parking expiration. The time flew by quickly, and I guess that happens when you're in the moment.
A few minutes later, we ran a couple more errands exchanging purchases as well as finally having a go at the Molly Moon's organic ice cream.
When we returned to the Moore Hotel, we tended to more of the same routines of changing Tahia's diaper, Julie's pumping, and me preparing to go back out considering we had to make another errand run for baby stuff so we'd have sufficient supplies for the upcoming cruise.
It turned out that the Babys R Us store was nowhere to be found in the downtown Seattle area. Instead, we had to go to Bellevue across Lake Washington.
We left at about 5:40pm but the I-90 was jammed for reasons we couldn't be sure about other than there was high volume of cars. We thought this was strange considering it was a weekend.
So what should've taken only 10 minutes to go from downtown Seattle to the Babys R Us in Bellevue ended up taking about 30 minutes. Even though the traffic was brutal, there were times on the draw bridge where we saw Mt Rainier rising high above the lake. Again, couldn't take photos since I was driving and Julie was pumping, and there were no pullouts.
Eventually, the traffic cleared somewhat as we got to the other side of Lake Washington and turned onto the I-405. Then, we promptly found the Babys R Us, which dwarfed the ones that Julie was used to back at home.
We couldn't believe there wasn't such a shop in the downtown Seattle area but then again, the type of demographic that caters to downtown people (i.e. agile people without families) doesn't necessarily suit families. And so it didn't make sense to fit the cramped quarters of city center life with the added spaciousness desired for family life.
We only spent about 15 minutes in the shop, and when we returned to Seattle, the drive was far shorter as the traffic was definitely lighter going the other way.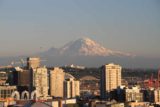 We made it point to return to Kerry Park to see if we could take advantage of the softer late afternoon light on the Seattle Skyline combined with Mt Rainier in the distance.
When we got to Kerry Park at 7:15pm, the place was much busier than it was when we met up with Emily here yesterday afternoon at 2:30pm. Apparently, other people were thinking what I was thinking regarding the postcard views with the right kind of lighting as the photographers were out en force armed with tripods and fancy DSLRs.
The more Julie and I thought about it, the more we realized that cousin Linda did take us to this place in the past one evening. The problem was that it rained everyday we were there that Memorial Day weekend in 2006 and there was no shot at seeing Mt Rainier from the ground.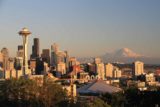 Anyways as we were taking photos, some photographer by the name of Andy (who hailed from Dallas) helped to take some people photos of us. He also managed to teach me a couple of things regarding the control of flash.
We engaged in a bit of a chit chat about cameras and how to use them. But when 7:35pm rolled around, it was time to part ways and get back to the hotel. There was no way we were going to stick around until Mt Rainier would turn pink in alpenglow.
When we were back at the car park structure, we had to get the rest of the stuff in the car in preparation for packing for the cruise tomorrow. So it wasn't going to be a restful night, but at least we ended off the sightseeing portion of Seattle in the right way.
Indeed, Seattle is a beautiful city when the weather cooperates.
At 9pm, we picked up some Vietnamese food from a restaurant right across the street that just so happened to have decent Yelp reviews. The decor of the restaurant was pretty fancy, and I think we could've totally eaten here if we had the time. But that's life.
And so ended yet another eventful day in Seattle. However this time, we really did feel like we were in the center of where the city was happening.
Next up would be the Alaskan Cruise, which I suppose would act like the vacation away from the vacation. We'll see if our presumptions are correct…
Day 9: MUSICAL MINDS
Everyone got up well before 6:05am when I finally awoke. I was the last to get up since this time it was my turn to give Tahia the late night feeding at midnight last night.
But all this tending to Tahia this morning also meant that Julie and her mom got a head start on packing their stuff as well as Tahia's stuff. I was already mostly packed last night.
It was about to be the end of our Seattle leg of the trip as we finally checked out of the Moore Hotel at 9:50am. The lobby was busy with people both checking in and checking out so while all that was going on, I went to grab the rental car and take it to the passenger loading zone right in front of the hotel entrance.
Julie still had one more pumping to go, and when we arrived at the airport, it was just in time for her to be done. We also made sure not to forget the GPS mount on the windshield unlike the faux pas we made in Canada last September.
Andy, the same driver who picked us up from the Seatac Airport when we arrived, was inside the car rental return structure. He helped us out with loading some of our luggage into the Lincoln towncar, and we certainly needed the space for the stroller went in the back seat as well as some of our packs, which were resting on our laps.
During the drive, Andy and I made more small talk. This time, he wasn't listening to rap music, but instead, he was listening to some alternative rock music. In this case, it was Tegan and Sara, whom he seemed to respect and adore greatly.
He said me recently moved from LA to Seattle just two years ago with the reason being to get more immersed in the punk scene since he was in a punk band. We also talked about various other music-related things like some of the old 90s rap music stuff when I was into it from watching Dee Barnes' show Pump It Up. We also talked about the Pixies, which my cousin just so happened to know very well.
Anyways, we made it to the cruise docks at 10:45am, and I could see from the demographic being mostly senior that we sort of didn't really fit the bell curve of passengers very well. Plus, we had an infant in tow.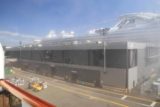 After a bit of drama having to wait forever for one of the union workers to cart our luggage to the ship (we were doing it ourselves before someone spotted us and told us someone would come), we went through the long queues, the passport checks, the boarding pass checks, the issuing of keycards, and the roll call for boarding groups, and when all was said and done, it was 12:25pm when we were finally in our state room in the Holland America cruiseline.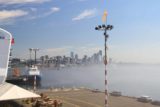 The state room was cramped, and clearly it wasn't even 1/4th as spacious as the Moore Hotel room we had stayed in for 5 nights. So we had some adjusting to do, and perhaps the thought that the cruise part of the journey would be the easy part of the trip with baby was turning out to be false.
And so began the final leg of our first ever extended holiday with Tahia…
Visitor Comments:
Got something you'd like to share or say to keep the conversation going? Feel free to leave a comment below...
No users have replied to the content on this page