Day 5: UNEXPECTED COMPANY
The day began with a 6:05am wake-up to my watch alarm. From looking out the window, the skies looked real clear in the city so far. Even though this didn't necessarily say anything about how things would be at Mt Rainier, it was a good omen so I went ahead and prepared my stuff for a day trip out there.
Julie decided not to go with me and stay behind to watch Tahia. So I was to go solo on today's excursion.
Going solo always carried risks. I still remembered when I hit a deer with dad's MPV when I tried to go to Escalante from Zion on my own while everyone else slept in. But on the flip side, it also meant maximum flexibility and efficiency as I didn't have to answer to anyone about where I wanted to go and what I wanted to do as well as when to do anything. The only check to those desires was the sense of safety for I didn't want Tahia to go fatherless if something were to go wrong.
Anyways, it wasn't until about 7:20am when I left. Considering it was far sooner than the 8:50am or later starts we had been having while on the Olympic Peninsula, I felt pretty good about the early start though I knew I could've done better.
Nonetheless, the drive out of the quiet-but-starting-to-get-busy Seattle downtown area was pretty uneventful, plus the drive on the I-5 south was also uneventful. Actually, it was quite beautiful as I could see Mt Rainier towering over the I-5. I wanted to take a photo from the road, but this was next to impossible while also driving.
Even though it seemed to be a perfectly clear morning, it looked like the west side of Mt Rainier was foggy at its lower elevations. Once I got through the fog and onto Route 410 going east, I then followed the GPS towards Mundy Loss Road, and then took that residential road onto the road leading to both Mowich Lake as well as the Carbon River area via the towns of Wilkeson and Carbonado.
Eventually, I got to a part where the road forked shortly after a long single-lane bridge over a gorge. The left fork went to the Carbon River area and I figured I could defer that to later this afternoon. Instead, I took the right fork, which ascended steeply as it became the Mowich Lake Road.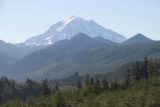 The narrow paved road became a fairly rough unsealed road, and it remained that way throughout the remainder of the drive. I could see Mt Rainier looked tantalizingly close, but it was too bad that morning wasn't the best time for these views since it was against the sun. Otherwise, these could've easily been postcard shots in the one pullout where I did take a photo.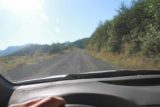 At 9:15am, I arrived at a self-help fee station for Mt Rainier National Park. I wondered how the park employees would recognize that I paid out here when I would return to the park tomorrow on the more touristed side. Whatever the case, I paid my $15 in the drop envelope, kept the receipt on my dash, and hoped that this will get honored tomorrow at Paradise.
There was another couple that was already here also looking to pay. It kind of reassured me that I wasn't totally going it alone on this trip.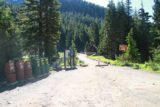 At 9:30am, I arrived at the end of the road near Mowich Lake. I couldn't believe how many cars were already parked here considering how much unsealed road it took to get here. Regardless, there were quite a few people here camping and there were others looking for recreation at the nearby lake.
I was pretty busy getting my gear together, putting on my hiking boots, and then realizing that Julie still had the DEET and the California Baby sunblock. So not surprisingly, I had already suffered a few mosquito bites before I even got started!
The hike started off by going straight past the road's end towards a camping area. A signed trail began to the right side of the campground and immediately started descending some steps. I knew this meant I had to climb these very steps at the end of this hike, but that's how it goes sometimes.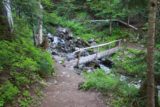 Once at the bottom of the descent, the hike was pretty flat with some minor undulations as it traversed a handful of creeks over some log bridges. The trail was still in the shadow of Mt Rainier for most of the hike so it still felt a little cool (more like comfortable hiking temps) during this stretch.
However, that didn't last long as the hike started climbing in earnest after maybe about a mile in (or less). It was at this point that I started to sweat despite being in morning shade. There wasn't much of a breeze this time of day so the sweat felt uncomfortable.
Near the crest of this initial climb, I saw a sign indicating the Eagle Cliff Viewpoint at 10:25am. I quickly made a jaunt down to the viewpoint where there was a couple ahead of me enjoying the spot. The view of Mt Rainier from here was beautiful, but it was against the morning sun. I figured I could come back here later in the day when the lighting was more agreeable.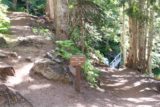 And so I returned to the main trail and continued on another brief and somewhat flat stretch. There was a little bit more climbing before I reached a sign indicating the Spray Falls Viewpoint was only 0.1 mile to my right. So I took that route, traversed a volcanic scree field, and then descended towards the creek responsible for Spray Falls.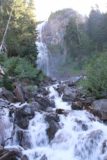 Unfortunately, the view of Spray Falls wasn't very satisfactory from this side of the creek because there was a tree blocking the view of the majority of its drop. So after taking some obligatory shots just in case it was going to be the only shots I'd get of the falls, I looked for reasonably safe ways to get across the rushing cascade and creek.
Needless to say, it wasn't easy finding one as the water moved fast and it seemed inevitable that my feet would have to get wet in sections of the crossing. The trick is to avoid the deepest sections and get swept away, and that was got me nervous.
It was at this point that I gave serious thought to turning back rather than take the risk, but I knew that I might regret never seeing the waterfall the way it should be seen after having gone this far. It was one of those situations where I knew how easily I could be another statistic taking a risk for that better photo. This year saw many deaths over Yosemite's waterfalls, and I definitely didn't want to be in that category here.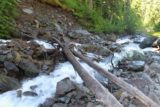 So after spending several minutes evaluating and declining possible routes across the creek, I was about to leave the place disappointed until I noticed someone's backpack downslope of the trail. When I went down to that backpack, I saw there was a pair of big logs wedged across most of the creek. I wasn't sure if they were put there intentionally or if Nature smiled upon me and gave me one last shot at considering a way across.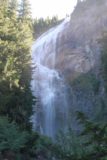 There was a guy nearby taking photos of various flowers and rocks, and I believed that pack belonged to him. In any case, I went ahead and scooted my way across the logs with my butt on one log and my legs supporting me on the other log. That got me more than 3/4 the way across the creek but there was still one last section of fast-moving water to get across.
After climbing some rocks in the middle of the creek, there were a couple of submerged but still-visible rocks on one route, but the more I looked at it, the more I doubted I could get across reasonably dry or without some other mishap given how slippery the rocks were due to wetness.
However, I did find another set of rocks below me with another rock across a deep and fast part of the creek. It looked like I could take a leap of faith onto the other rock, and eventually after thinking about it another minute or two, I made that leap and landed safely.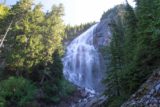 I was now on the other side, and now I had to scramble and climb onto the loose and wet rocks in order to get to a flatter part of the banks of the creek to take the desired shots of Spray Falls. And the whole time I had the camera pointed towards the falls, the namesake spray ended up on the camera lens. But at least it wasn't so bad that photos weren't possible.
So I went ahead and spent the next 15 minutes or more going crazy taking movies and photos of the impressive and strangely shaped and twisting waterfall. I knew I probably won't get back here for a long time (if ever) so I did what I could to seize the moment.
I saw other hikers arrive at the scene back on the other side of the creek, but they saw what I initially saw in terms of the creek crossing being dangerous and turned back. Apparently, no one else at the time saw the log that I saw to make the traverse.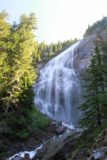 At 11:15am, I had to face the reality of crossing the creek again in order to get back to safety. The whole time I was taking photos of Spray Falls, I had thought about this fact, and now the time had come to figure out a way to get back.
Once again, the first option was to consider the partially submerged rocks leading to a rock "island" in the middle of the creek. And once again, it didn't look particularly appealing to me considering I wasn't sure how stable those rocks were along with the speed of the water in those sections.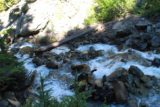 So I went back to the way I originally traversed and saw that it might be possible to take another hop towards a rock using a taller rock to catch my momentum with my hands. And fortunately, I was able to make that move though it did tweak my already ailing shoulder (which I had been suffering from for over the past month or so).
Regardless, I was back on the safer side of the creek and continued back to the main trail. Beyond the Spray Falls junction, I decided to continue climbing up the trail to get to Spray Park. Once again, I figured I made it all the way here already, so I wanted to see for myself what was this Spray Park and what kind of scenery did it offer?
Well, the trail climbed even more relentlessly than before. There were several switchbacks, and I swore my legs were burning as well as all my sweat pores were opened up and filled with water. It took a bit of time to make it up to the end of the climb, but that was when I caught up to a group of four elderly women enjoying themselves on this hike as well as an elderly Asian man carrying a tripod.
All of us were warned about mosquitoes by some hikers who were going back down the way we came. Unfortunately, the DEET was with Julie so I imagined this was going to be a pretty short stay at Spray Park.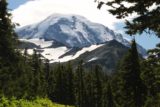 Spray Park was basically a subalpine meadow affording views of the summit of Mt Rainier as well as numerous wildflowers sprouting alongside the trail. The elderly man with the tripod struck up a conversation with me regarding cameras because he noticed the Canon EOS 7D I was using. Meanwhile, he was taking ultra sharp photos on his tripod with his Nikon DSLR in timer mode.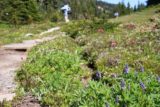 Our short conversations over cameras eventually became a longer conversation about Nature and other matters as we were walking practically side-by-side now. The unexpected company was certainly welcome as far as I was concerned since it took the loneliness out of solo hiking.
As we were well into Spray Park at 12:25pm, the Asian man showed me a use trail leading to a tarn with rippling reflections of Mt Rainier! It was too bad clouds had already started to form on the summit of Mt Rainier, including a lenticular cloud covering part of its summit. Plus, there was a bit of a breeze rippling the tarn so it wasn't as perfectly reflective as we would've liked.
Still, it was a beautiful spot, and I guess getting to know the right people at the right time could yield unexpected surprises and beautiful results.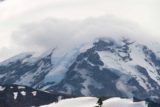 The elderly man told me that he was Japanese and was named Yano. He was 70 years old, which really impressed me since he was still in excellent shape and could still do trails like this at his age!
At 12:45pm, we headed back to the trailhead.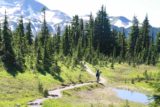 Yano warned me that my intent to see Ranger Falls in the Carbon River area of Mt Rainier wasn't going to be feasible because they closed the road east of the Carbon River Entrance Station so that hiking it wasn't going to be doable. That was because what would've been a less-than-two-mile return hike was now a minimum of eleven miles round trip!
He said the road there would get washed out every season, and this year, the cool summer meant the river there remained at very high flow and thereby preventing a re-opening of the road. He also mentioned that government money was tight so perhaps it had been left in disrepair.
And so ended those aspirations of seeing more than one waterfall on this day.
In hindsight, perhaps that's what also happened with Dosewallips Falls and its access road.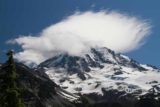 Yano and I parted ways back at the Spray Falls junction. He was going to return there to take photos, but I continued along the now-descending trail eventually reaching the fork for the Eagle Cliff Viewpoint.
And when I descended its spur to get to the overlook, I was a little disappointed to see a greater dominance of clouds beginning to shroud the uppermost sections of Mt Rainier. In any case, I chose to use this spot as a much-needed lunch break spot where I ate two smushed bananas (making a mess of my pack), a nectarine, and four pieces of King's Hawaiian rolls.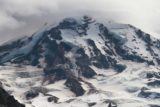 At 1:50pm, I left the Eagle Cliff View with humility as I learned never to stuff fruits (including banana) without a plastic bag covering it. I'm sure my pack wreaks of some kind of mold now. I also was reminded that whenever you have opportunities to take photos (no matter how suboptimal the lighting conditions), you take them, because you never know how compromised the conditions would be when you return. And such was the case with Mt Rainier from the Eagle Cliff Viewpoint.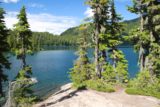 At 2:45pm, I finally made it back to the car park but not before taking photos of the neighboring Mowich Lake. Apparently the increase in cloud cover wasn't unique to Mt Rainier as patches of clouds were forming above and behind me as well.
In any case, I was glad I could finally take off the boots and wear more comfortable Chacos once I was back at the car.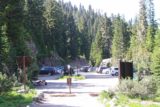 The drive out was also mostly uneventful except for pockets of congestion due to traffic. Trying to pull over a shoulder to take a photo of Mt Rainier also wasn't wise thanks to the clouds surrounding the mountain let alone the lack of wide enough pullouts and shoulders to even consider doing something like this.
It wasn't until around 4:45pm that I returned to the Moore Hotel (ahem, I mean the Magic Castle). And so ended the long day excursion to the northwest side of Mt Rainier involving plenty of exercise and precautionary driving. I could only hope that tomorrow's weather would be just as clear (if not more so) than today despite the increasing cloud cover in the afternoon. For we were headed to Paradise, and I was intent on bringing Julie with me to share the experience…