Day 8: HAPPENING IN SEATTLE
The day began with another sleep-in and no one waking up until about 7am. Tahia had complained and woke everyone up briefly at 4am. So her schedule might have been messed up from the get go.
We had to do the usual activities in changing Tahia's diaper, letting her drink another round of breastmilk and formula, and Julie pumping. Add to all that our own little breakfast, hygenics, clothes, and figuring out what to bring for today's excursions, and it was no wonder that it wasn't until 8:45am that Julie and I finally had a chance to go briefly down to Pike's on our own while Tahia and Julie's mom stayed in the hotel room.
I personally hadn't gone to Pike's when it was active since I was always out of the downtown area until the evening, but that meant getting to Pike's when everything was closed. Thus, the place was dead – at least on the weeknights. So this was our chance at seeing what Pike's was supposed to be like since we figured it was more of a morning market (or so we thought).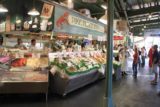 We had to make this visit brief because we were supposed to meet up with Lindsey and her husband Jason at Alki Beach at 11am. So down at Pike's we saw that there was definitely some activity, but it was early and it seemed the activity was on the up and up.
We basically checked out the long floral stands as well as the loud fish market by the pig where the workers would yell out purchases whenever someone bought something, and sometimes they'd throw fish or other merchandise when they handed off the goods from one person to the next. Consider it an ingenious way to capitalize on their location while attracting attention to their stall.
After about an hour, we had to go back to our hotel. Julie had a craving for some place that supposedly made killer chowder as well as dungeness crab rolls. But that place wasn't open until 11am and that wouldn't do for our schedule so we made it a point to return in the early afternoon.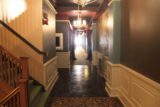 At 9:45am, we were back at the hotel. That was when we collected Tahia as well as Julie's mom, who was going to tag along on the day's excursion.
And after some more preparations, we finally drove out of the lot and made it across the West Seattle Bridge making it to our meeting spot near Alki Beach at 10:55am. And not much long thereafter, we saw Lindsey and Jason pull up acros the street. Talk about excellent timing!
We started out by making a quick stroll eastwards towards a view across the channel of the Seattle Skyline. It was a beautiful sight and I'm sure it would be even more breathtaking in the late afternoon or even during the evening when the lights are on. Of course the excursion was more secondary. It was the chatting and catching up on what has been going on in each others' lives that were more to the point of the day's activities.
We took some photos with Tahia (playing games to try to get her attention so she could look at the camera) while also playing tourist. When we realized that it was a bit too far of a walk to get over to the touristy part of Alki Beach town, we were pondering what our options were until a shuttle bus happened to pull up near us. I guess the solution to our issue presented itself!
There was one small issue about bringing the stroller with baby aboard, but I was able to carry the stroller up and down the steps while using the handicap space to stand up and prevent blockage of traffic within the vehicle. It turned out that Tahia was already asleep throughout the walk and the shuttle ride, and we were glad that none of this had awoken her from her nap.
Once we got off by the Alki Beach town, we strolled around for a bit before deciding to have a lunch at this fish 'n chips place called Spud's. It was quite a busy little dive and Tahia was still asleep the whole time we chatted some more over the greasy stuff.
Jason was surprised that Alki Beach wasn't as crowded as he thought considering it was a beautiful day in Seattle (a rare thing, apparently) and locals generally don't let days like this go to waste, especially if it happens on a weekend like today!
After we were done with the food, Julie wanted to go back to Pike's for that chowder and dungeness roll as well as make an exchange at some boutique shop regarding stuff we had bought for Tahia. I was also worried about Lindsey and Jason with the parking situation at Pike's (I know Emily wasn't too thrilled about it yesterday), but they were troopers and went along with it.
So at 1:25pm we were done with Alki Beach. About 20 minutes later, we made it to the car park where Julie was in the midst of another round of pumping while Tahia, Julie's mom, and I were waiting for her.
It turned out that we wouldn't see Lindsey and Jason for another hour, and I felt quite bad about it. I guess that's what happens when you travel with a baby and the nursing facilities are few and far between.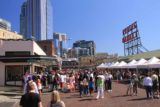 In any case, when we did return to Pike's it was definitely the happening place. The block was littered with people both inside the market area and outside on the street. It wasn't quite pure chaos, but it definitely had the energy that had been missing from our experiences all week long.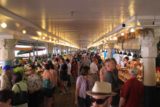 So the next thing we did was to go for Julie's craving and eat at the seafood chowder place in the Post Alley. We were fortunate to find a shady seating spot though we still had to mind the cigarette smoke, which we knew wasn't good for Tahia.
Tahia was asleep during our meal, but she did awake when we were done.
By then, it was time to say good-byes to both Lindsey and Jason, who had to make sure they got back in time to their car for their paid parking expiration. The time flew by quickly, and I guess that happens when you're in the moment.
A few minutes later, we ran a couple more errands exchanging purchases as well as finally having a go at the Molly Moon's organic ice cream.
When we returned to the Moore Hotel, we tended to more of the same routines of changing Tahia's diaper, Julie's pumping, and me preparing to go back out considering we had to make another errand run for baby stuff so we'd have sufficient supplies for the upcoming cruise.
It turned out that the Babys R Us store was nowhere to be found in the downtown Seattle area. Instead, we had to go to Bellevue across Lake Washington.
We left at about 5:40pm but the I-90 was jammed for reasons we couldn't be sure about other than there was high volume of cars. We thought this was strange considering it was a weekend.
So what should've taken only 10 minutes to go from downtown Seattle to the Babys R Us in Bellevue ended up taking about 30 minutes. Even though the traffic was brutal, there were times on the draw bridge where we saw Mt Rainier rising high above the lake. Again, couldn't take photos since I was driving and Julie was pumping, and there were no pullouts.
Eventually, the traffic cleared somewhat as we got to the other side of Lake Washington and turned onto the I-405. Then, we promptly found the Babys R Us, which dwarfed the ones that Julie was used to back at home.
We couldn't believe there wasn't such a shop in the downtown Seattle area but then again, the type of demographic that caters to downtown people (i.e. agile people without families) doesn't necessarily suit families. And so it didn't make sense to fit the cramped quarters of city center life with the added spaciousness desired for family life.
We only spent about 15 minutes in the shop, and when we returned to Seattle, the drive was far shorter as the traffic was definitely lighter going the other way.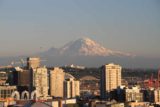 We made it point to return to Kerry Park to see if we could take advantage of the softer late afternoon light on the Seattle Skyline combined with Mt Rainier in the distance.
When we got to Kerry Park at 7:15pm, the place was much busier than it was when we met up with Emily here yesterday afternoon at 2:30pm. Apparently, other people were thinking what I was thinking regarding the postcard views with the right kind of lighting as the photographers were out en force armed with tripods and fancy DSLRs.
The more Julie and I thought about it, the more we realized that cousin Linda did take us to this place in the past one evening. The problem was that it rained everyday we were there that Memorial Day weekend in 2006 and there was no shot at seeing Mt Rainier from the ground.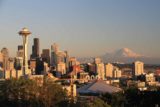 Anyways as we were taking photos, some photographer by the name of Andy (who hailed from Dallas) helped to take some people photos of us. He also managed to teach me a couple of things regarding the control of flash.
We engaged in a bit of a chit chat about cameras and how to use them. But when 7:35pm rolled around, it was time to part ways and get back to the hotel. There was no way we were going to stick around until Mt Rainier would turn pink in alpenglow.
When we were back at the car park structure, we had to get the rest of the stuff in the car in preparation for packing for the cruise tomorrow. So it wasn't going to be a restful night, but at least we ended off the sightseeing portion of Seattle in the right way.
Indeed, Seattle is a beautiful city when the weather cooperates.
At 9pm, we picked up some Vietnamese food from a restaurant right across the street that just so happened to have decent Yelp reviews. The decor of the restaurant was pretty fancy, and I think we could've totally eaten here if we had the time. But that's life.
And so ended yet another eventful day in Seattle. However this time, we really did feel like we were in the center of where the city was happening.
Next up would be the Alaskan Cruise, which I suppose would act like the vacation away from the vacation. We'll see if our presumptions are correct…