Day 2: IT'S NAMPA NOT NAPA!
It was 6am when I awoke. Julie got up a half-hour later. We spent some time getting packed and ready to go since we changed our stay in Twin Falls from 2 days to 1 day yesterday after realizing that we didn't need a second night here.
It wasn't until 7:40am that we left the Best Western, and it was very chilly outside. It was said to be 37 degrees according to the rental car's thermometer. I couldn't imagine how it was going to be in the 70s later in the day as forecasted.
So basically, we followed the Hwy 93 north of Twin Falls and followed it through some two-lane rural roads as we passed through a myriad of farms and small towns (though farmlands seemed to dominate). We would eventually turn right when we got to some railroad tracks in another small town, and then we followed that road for a while as the scenery got even more wide open and desolate.
We saw the odd barn sitting out alone in a large field plus a small town here and there, but the rest of the landscape pretty much was large tracts of open lands interspersed with farms. The scenery was quite brown and it was a far cry from the greenery we kind of expected to see in this part of the Pacific Northwest. We weren't sure if it was because this area might have gotten less rainfall than usual this year, or if it was just the way the climate was in the Snake River Plains of Southern Idaho.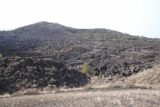 It wasn't until about 9:10am when we finally got to the entrance to the Craters of the Moon, which was the main reason why we drove this far to the northeast of Twin Falls. Even as we drove into the National Monument's boundaries, we could see evidence of old lava flows and blackened terrain in much the same way that we associated with what we recalled seeing in the Big Island of Hawaii.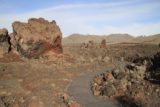 Since it was National Parks week from April 22-26, there was a sign at the kiosk that said admission was free today. So we proceeded forward and pretty much followed the winding road and the 15-25mph speed limits.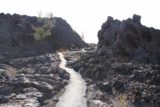 We'd ultimately make a brief stop at the North Crater lava flow where I did a short loop walk that yielded me some early morning looks amidst one of these lava flows that featured pillars, ragged surface formations, and even a dead tree as well as a bird flying about. All this was backed by some nearby mountains still hanging onto its snow on this chilly morning (it was still in the 40s at the time).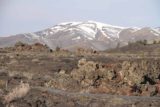 Continuing on, we'd eventually briefly check out roadside stops like the Splatter Cones, the some caves area, the Devil's Orchard, and the Inferno Crater. The caves looked interesting to check out, but we needed permits since the park was trying to protect resident bats, and we would have to spend some more time hiking here than we had budgeted for. We still had a couple of waterfall excursions while having to stay all the way at Meridien tonight, which was a surburb west of Boise.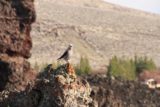 It wasn't long before we'd complete the one-way crater loop drive, but we felt there was something missing. There didn't seem to be that signature cratered landscape photograph that we thought we had seen in calendars and post cards before and we had expected to see on this visit.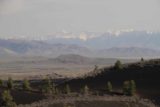 So we drove another loop on the 7-mile Crater Loop Road, but this time, we took a 2-mile out-and-back detour to the Tree Molds parking area. Then, I briefly walked a trail towards the Broken Top Trail, but I still wasn't seeing that post card crater view I was hoping to see. Julie was starting to get a little disappointed with our Craters of the Moon visit and she was starting to wonder why this national monument was pretty empty during our visit, despite being free.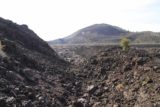 It wasn't until about 10:30am that we finally gave in and went to the visitor center by the entrance of the park so we could pick up a map and look at some of the post cards to get ideas on where the most scenic spots were. Apparently that crater view that I fancied was confused perhaps with something we might have seen already from the Big Island of Hawaii or something.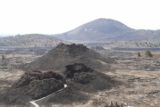 It turned out that perhaps the most striking scenery was from the Splatter Cones that we had visited earlier in the morning, but what we neglected to do was to take the North Crater Trail to get a more top down view of the trio of splatter cones in context with the moonscape around it.
So with that, we left the visitor center and drove onto the Crater Loop Road for yet a third time.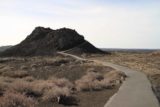 Within minutes, we were back at the Splatter Cones parking area, and this time I got out and quickly did the North Crater Trail backwards as it promptly went away from the trio of splatter cones and climbed in earnest as those cones went out of sight. Still, I proceeded on the faith that I would eventually get that top down vantage that I was expecting to get after seeing it on the post card at the visitor center.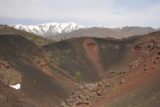 After passing by a couple of guys who were going the other way as they were descending, I was pretty much all alone as I huffed and puffed my way up this hill as the paved walkway gave way to black volcanic dirt, which was loose enough to get between my socks and my Chacos (I was hasty and didn't bother putting on hiking boots).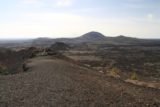 When I got to the top of this initial climb, I realized that I was on the rim of a pretty cool looking crater. That was when I realized that this must be the Red Crater that this trail was named after! And indeed, there was a mix of black and red soil as I was peering down from the crater rim. It was very Tongariro-like (in New Zealand's North Island) in that I was skirting the very rim of the crater and trying to improve my viewing angle as I was going around its southern end.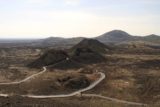 There was a fence there that looked like it was discouraging walking onto what appeared to be a trail that was once publicly accessible. I wasn't sure if they closed it off due to the ruggedness and narrowness of that section of trail or if they were trying to protect some kind of cryobiotic dust-like organisms. But one thing was clear was that the post card view came from behind that fence. Plus, the view back towards the Red Crater with a backdrop of by snowy mountains was also from that area as well.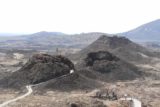 So I did my act of rebellion and went that way as I got right to the southern tip of the rim. And sure enough, I looked down at the splatter cones and I could see the car park to the lower left. Julie didn't get out of the car so I knew she was reading her Kindle in there. Still, I got my shots, and I guess I could finally say I got a vista that was punctuated our brief visit to this desolate place.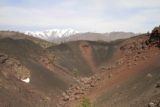 As I turned around and looked the other way, I saw that Red Crater backed by a hint of snowy mountains as I had expected. And now that I got my two desired views, I headed back to the sanctioned part of the trail and proceeded to get all the way down to the car park.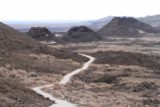 I realized that if there was something very worthwhile to do in this park, it would be to hike the Red Crater trail from the lava flow area in the north and go the roughly 2 miles one-way to the Splatter Cones in a southerly direction. In hindsight, I should've done that one-way shuttle hike by having Julie come pick me up at the Splatter Cones since she wasn't going to leave the car.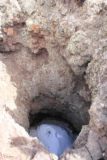 In any case, I was back at the car at 11:20am, and I knew that we were running a little behind schedule as I was hoping to be back at Twin Falls at noon to give us a little more time to get to Meridien later in the afternoon while fitting in a waterfall excursion at the Jump Creek Recreation Area.
But given the long driving distances, we knew that was going to be a bit of a tall order to fit it all in today, especially since we wanted to devote most of Saturday to visit Julie's friend in Boise and not have to take more time away from her doing another waterfalling excursion that day.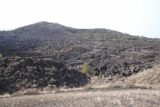 So anyways, we'd eventually be back at Twin Falls at 12:55pm, but that sidewalk that I thought would go behind residences along the canyon rim and towards the top of Perrine Coulee Falls was cut short. Apparently, that wasn't the way we were supposed to go to get to those pair of upper overlooks that we noticed yesterday.
However, we did see some nice gorge scenery of the Snake River Canyon below. All the development down there kind of made me think about how Canyonlands National Park (with the Green and Colorado Rivers) might have looked had it been allowed to be developed. So I guess the Snake River was more conducive to development as it was a bit less desolate than Canyonlands, and then again, Canyonlands was part of the last of the lower 48 states to be mapped so perhaps its remoteness was a good thing in terms of its protection.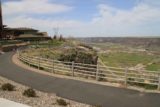 The Snake River Canyon probably didn't have a chance at being protected since a lot of the hydro infrastructure had been around since the late 19th century with the discovery of gold in some of these parts (around the time of the Gold Rush in Northern California). Interestingly, amongst the early gold miners were Chinese immigrants (something we had read at an interpretive sign back at Shoshone Falls).
It also got me thinking about how the sandstone wilderness of Zion National Park might have looked had it been allowed to be developed like at Sedona.
In addition to the nice scenery, we also noticed that those overlooks above Perrine Coulee Falls that we noticed yesterday looked accessible from the Elevation 486 Restaurant, which we were also at yesterday. Since we knew how to get there, we quickly drove over there and started walking on the Canyon Crest walkway at 1:15pm.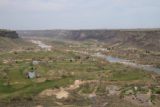 The paved walkway was shared with quite a few friendly locals (mostly women) either jogging, or walking with strollers. It immediately was clear to me that this Canyon Crest walkway was a locals favorite to get some exercise and soak in the scenery. The paved walkway proceeded along the rim of the gorge. To our immediate right were some buildings that seemed to belong to businesses. There was a dental office as well as some kind of dining events center. It was probably about 5 minutes or so of walking when we made it to the first of the top overlooks of Perrine Coulee Falls.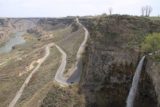 I guess it would've been possible to shorten our paved walk by starting from one of these businesses, but we felt more comfortable coming from Elevation 486 anyways.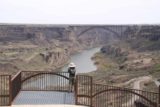 Just as I had thought, the views were grand from up here. In fact, it might have been better than I anticipated because I was able to use the wide angle of my lens to capture both the bridge spanning the Snake River gorge as well as the falls itself. In between were the switchbacking roads that we stopped at yesterday.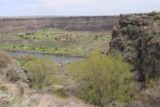 Looking in the other direction, we could see the now familiar Snake River Canyon scenery with the country club down below. I thought to myself how lucky the residents here must be to get to enjoy this scenery as part of their neighborhood stroll.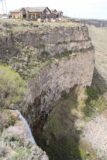 After having our fill of this overlook, Julie headed back to the car, but I quickly made my way over to the other overlook. From that further overlook, I only got a partial top down view of Perrine Coulee Falls, but it was definitely felt more precipitous as the sheer drop of the gorge was right below the events center building. I was also able to see the smaller upper cascades of Perrine Coulee Falls.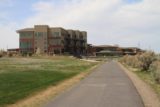 Still, it wasn't quite as interesting as the first overlook so I got my shots and movies, and then rejoined Julie at 1:50pm. Now it was getting later than I anticipated given how much more we still had to do today, and that Julie had to quickly go to Target (to buy the underwear she had forgotten to pack) and get some takeaway lunch at KFC. Even though it wasn't on the menu, it was a good thing that they accomodated our request to grill the chicken instead of deep frying it.
It wasn't until 2:15pm when we were finally leaving for Meridien.
Fortunately, that drive along the I-84 was pretty smooth. We'd ultimately make it to the La Quinta in Meridien at 4pm though the surprising amount of cars on the Eagle Drive exit threw us off. I think the last 15 minutes of the drive was just at the stop light and the traffic here alone.
After checking and dropping off our belongings in the surprisingly chic accommodation (good value for what we paid), we got back into the car at 4:25pm. The thermometer now said that it was 77 degrees F! So we went from freezing temperatures this morning to nearly Los Angeles-like Spring heat. Anyways, we filled up gas and were on our way to go find Jump Creek Falls, which was one thing we wanted to do to say we did a waterfalling excursion not far from Boise.
We were a little concerned that it might not be an easy place to find from reading Gregory Plumb's description of this place in his book, but we had to give it a try despite it being pretty late in the afternoon.
So we continued briefly west on the I-84, then we got off the freeway and onto the Hwy 55 at the town of Nampa. There were lots of wine region signs around here, and that prompted Julie to say to me, "It's Nampa, not Napa!"
Anyways, like our Napa experience (where there was quite a bit of traffic in the Napa Region when we visited last Summer), there were certainly a lot of cars in Nampa. And that was made worse when the main two-lane road merged into one in each direction, and that seemed to make the traffic a little worse.
When we tried to merge in, I knew it wouldn't make people happy, and sure enough, we drew the ire of a couple of ladies trying to prevent us from getting in. It kind of made me think about some of the road rage we observed in Napa, except here in Nampa, this pair of ladies weren't bashful about flipping us the bird.
But once that was over with, we slugglishly wound our way through the straight-shot Hwy 55 through several farms (or were they vineyards?) of this Snake River Valley Wine Region. Since we weren't much into the wine scene, we had no problems not making any turns and just kept going.
Eventually, we made it past the small town of Marsing, and not much further from there, we junctioned with the Hwy 95. After turning left on Hwy 95, we now really had to pay attention to Plumb's directions as neither Jump Creek nor the roads leading there were in our Nuvi.
As we drove south some 2.5 miles or so, we saw the easy-to-miss (especially with the 60mph speed limit on Hwy 95) Poison Creek Road to our right. We quickly made the sharp 90-degree turn onto the paved two-lane road between more farms. Now, we had to follow this road for another 3.5 miles until we had to follow some obscure directions about not being discouraged with No Trespassing signs at a sharp right turn.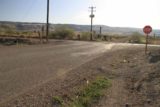 Well, it was hard to tell where that was supposed to be and we ended up finding ourselves driving alongside some irrigation ditch until we finally made it back to pavement, but from a different entry spot from where we entered in. When we drove that paved road to a four-way intersection (a junction of Poison Creek Road and Jump Creek Road), that was when we realized that we had to turn back and head south again. We should've stayed on Poison Creek Road to the 4-way intersection with stop signs, and then turn left onto Jump Creek Road.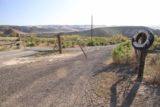 Anyways, we then went to the pavement's end, but instead of going straight back onto that private property where we had realized that we just trespassed earlier, we turned right and went past a cattle guard and a single-lane bridge. I guess the tire with writing on it that said then something but was smeared (did it say "No Trespassing"? Or "No Hunting"; couldn't tell) as well as the single-lane bridge sign and cattle guard were the key features to notice to go onto this road that now seemed to be the right one. We were especially assured when we saw more signs indicating the presence of the Jump Creek Recreation site kind of telling us where we had to turn at the forks to avoid trespassing in more private property.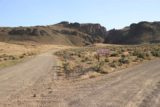 There were a few more confusing forks where we actually hung lefts (not mentioned in Plumb's book, which might have been outdated by the time of our visit) by a "Pack In, Pack Out" sign and another one by a "No Shooting, Safety Zone" sign. Eventually after that no shooting sign, we would go past a gate and descend right down a rippling and rutted spur road to an open space at the mouth of an attractive-looking canyon.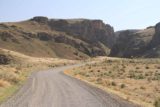 With all the trespassing anxieties, we were relieved to finally have made it to the trailhead for Jump Creek Falls though it was about 5:35pm already, and we knew it was getting late.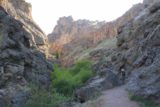 Still, we couldn't wait to get into the scenic canyon which was looming right in front of us. We put on our hiking boots this time, and then quickly went right into the shadowy confines of the canyon.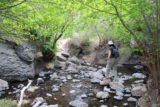 Aside from an alcove that was full of graffiti, it was almost as if we stumbled upon something that was transplanted out of Death Valley, except there was running water here so there was some vegetation as well.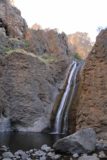 It didn't take long before we made it right to Jump Creek Falls at 5:55pm, which didn't quite have the flow that Plumb exhibited in the photo in his book. But it was still scenic as there were tall canyon pillars perched right above the falls that made this otherwise ordinary 40-60ft falls stand out a bit more. We even noticed a hole or small arch on one of those canyon features above the falls.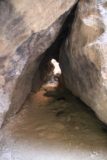 So we spent some time taking photos here with the tripod, checking out a small tunnel or natural arch to get me right in front of the falls, and enjoying being surrounded by the tall cliffs in the presence of a waterfall. There were quite a few echoing sounds of pidgeons that were flying about here, but we'd have to echo Plumb's sentiment that this had to have been one of the real hidden gems of this part of Idaho.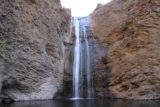 In fact, we thought after having to navigate through the maze of private property that there was a reason why this place was so hidden. Indeed, when we had our fill of this place and headed back to the car, we saw a few more locals start to show up, and that convinced us that this was certainly a locals' place and not so much one that tourists would typically find. Yet we felt richly rewarded for going on such an adventure in this instance.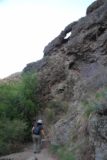 At 6:35pm, we were back in the car. After driving out of the unpaved area (always concerned about chippies that might occur to the rental car since we didn't take out any insurance), we were finally at the four-way intersection landmark at 6:50pm, and now we had to head back to Merdien.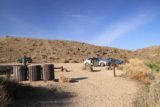 We'd eventually eat at this place called Epi's at 7:40pm since we were intrigued with having Basque food (from Spain). We were warmly greeted by the owner who was the granddaughter of the lady who emigrated here from the Basque region of Spain (and whose nickname was the name of the restaurant), and the service was really good.
However, the food was a bit on the rich side and we figured it was probably catering more to the local flavor, which were large hearty portions. We felt real guilty after being thoroughly stuffed from our meal, and in hindsight, we should've just stuck to one main course like yesterday at Elevation 486 (except for that rip off $6 split charge). There was absolutely no way we had room for dessert, though we were originally keen to try the bread pudding in apple or something like that.
Anyways, after getting a warm hug from the owner, we were back in the car at 9pm. And we were back in the room at 9:10pm. Totally stuffed, I knew we had a very guilt-ridden dinner, and my stomach still felt the effects of being expanded to hold all that food (especially the lamb leg meat and croquetas plus the breaded halibut that Julie didn't really want to eat).
And with that, the day finally drew to a close. At least, we expected a bit less of a hectic day tomorrow as Palouse Falls would be the only real sightseeing we'd do…