This Late Summer Iceland Itinerary spanned 18 days covering mostly Ring Road sights that included accessible waterfalls, popular non-waterfall sights, and a bit more of a foodie run than our first trip back in June 2007.
We didn't go as far off the beaten path as that first trip, but we did have moments on this self-guided tour despite needing to sacrifice some days due to the uncertainty of Covid-19 as it pertains to the logistics of testing.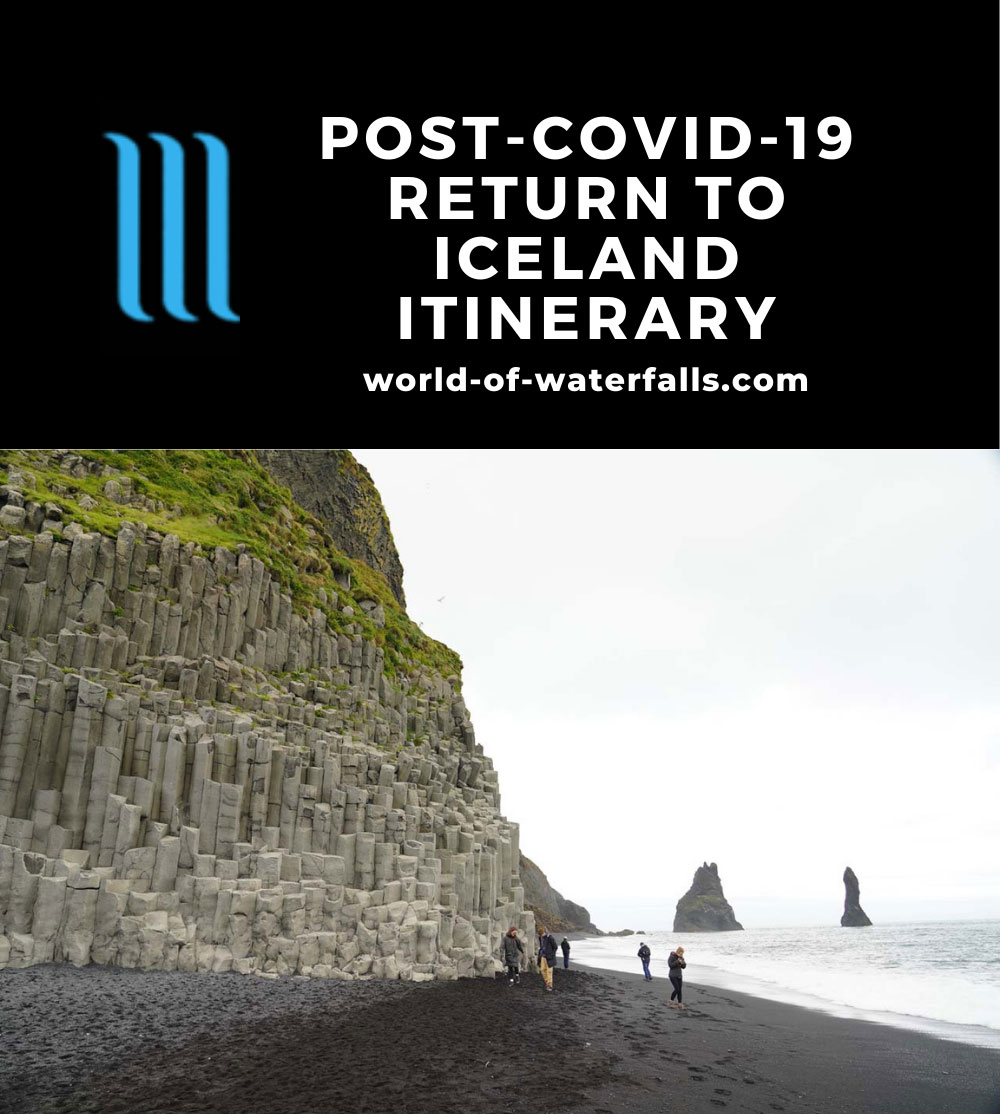 This was our first international trip in two years so trying to travel with the realities of Covid-19 was definitely a new experience, and it was kind of like learning to travel again (we had a similar situation when our daughter was born and had to re-learn how to travel with a child).
This trip was also different in that we brought my mother along on this trip so it presented new challenges as well as new rewards and greater flexibility when it came to visiting some of the more difficult places.
In addition to all the uncertainties with public health as well as Global Warming, we also witnessed quite a few things that were different about Iceland since our first visit 14 years prior when it was still a boutique destination.
Here's a brief summary of what we managed to do on this trip…
Trip Map
This map and its markings were produced by this app.
Trip Highlights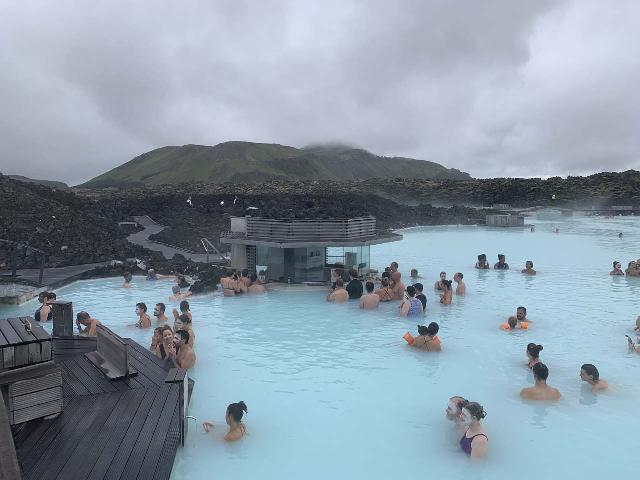 Blue Lagoon – this is the OG thermal spa in Iceland, and it is even more popular now than it was when we were first here in June 2007 (which was already popular back then)! Julie still thinks this is the best thermal spa experience in the country even though there were other new ones sprouting around given this place's popularity.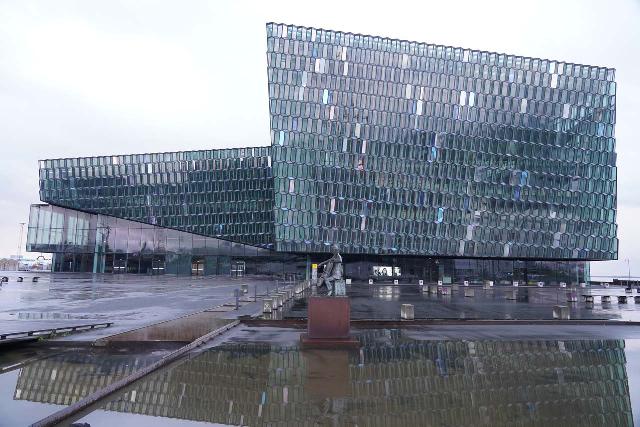 Reykjavík – due to more complex logistics concerning COVID-19 testing, we actually spent quite a bit more time in Iceland's largest city than what we would normally do. So this allowed us to explore more of the city than what we were able to do before when we were last here in 2007. And that's when the city's charms crept more into us as we came to realize that there was more in common with classical European cities than what we had thought!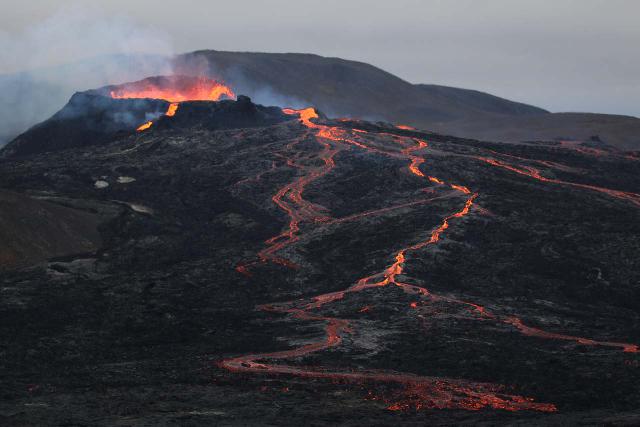 Fagradalsfjall Volcano – unlike our first visit to Iceland in 2007 when we didn't get to see an active eruption on a volcano, our 2021 trip didn't disappoint as there was one periodically spewing on the Reykjanes Peninsula within an hour's drive from Reykjavík. Of course, we had to be real patient with the weather as well as the volcano's level of activity, but it was well worth the adventure to experience something like this!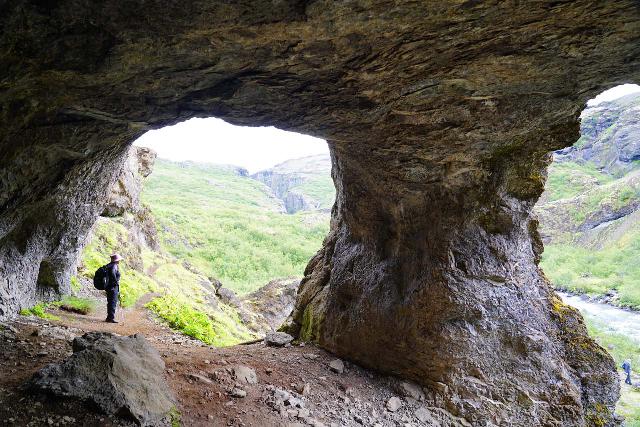 Glymur – unlike on our first trip to Iceland in 2007, we left no stone unturned as we hiked a larger loop that encompassed just about all there was to see and do regarding this adventure to what was once Iceland's tallest waterfall.
Þórufoss – this was once an obscure waterfall that we managed to find during our 2007 trip when the Road 48 was unpaved and we were the only people here. Now, there's a large car park with signage and the Road 48 was paved. The thing we did differently this time around was to get to the bottom of the falls, which made the experience more intimate than before.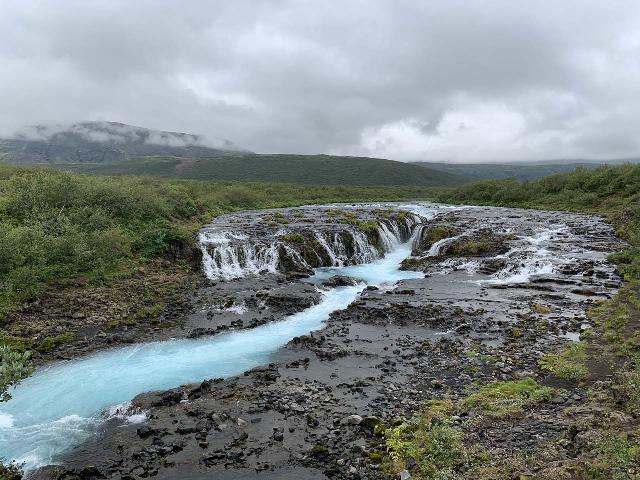 Brúarfoss – this Instagram favorite became that way because of the glacially-floured water in its river, but the falls itself flowed over dark lava which brought out the colors even more (even on the overcast day that we visited). We had to earn our visit with a bit of a hike, but that allowed us to experience two other named waterfalls along the way.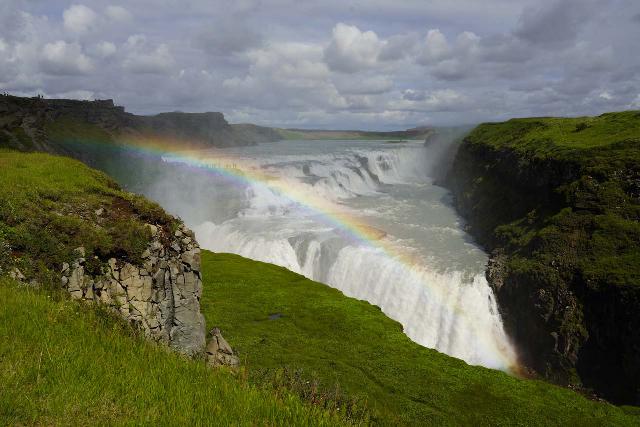 Gullfoss – this still remains our favorite waterfall in Iceland even though it's even busier than it was when we first came here 14 years ago and we had to contend with nastier weather this time around. But it still showed its magic to us before the bad weather rolled in, and it confirmed our sentiments and impressions since that first trip.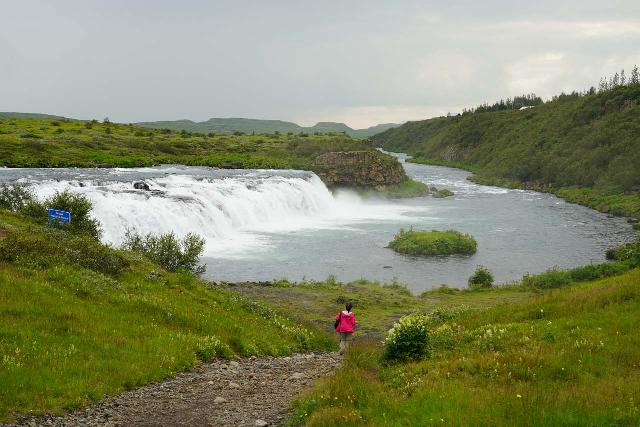 Faxi (Vatnsleysufoss) – although they're now charging you to visit this waterfall, we still found this wide river waterfall to be appealing and a bit easier to enjoy thanks to its more built-up boardwalks. And indeed, the improvements yielded greater visitation as this was no longer the obscure waterfall it once was when Julie and I were all alone here on our 2007 visit.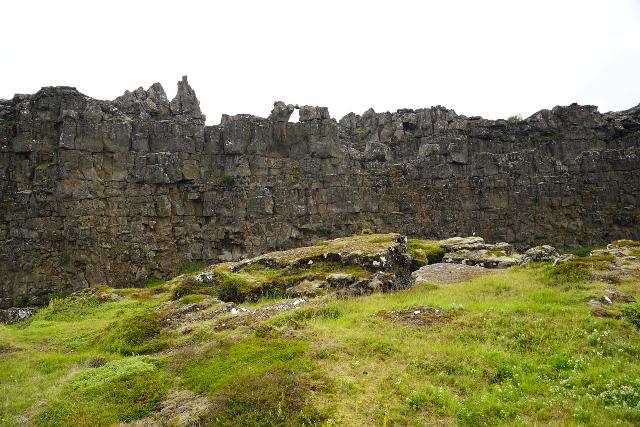 Þingvellir – this historically important area to Icelanders also gave us a glimpse into how societies and governments can form based on mutual understandings. Of course, we also witnessed waterfalls, drowning pools, and even the odd natural arch in these hallowed grounds.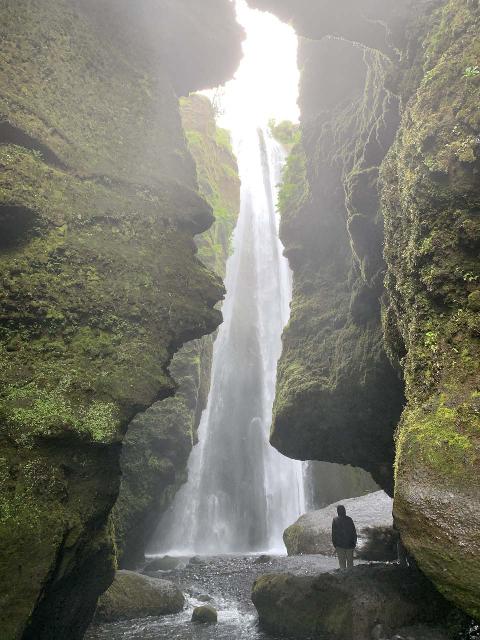 Gljúfrabúi – we combined our visit to both Seljalandsfoss and this waterfall this time around. However, we had a much easier time getting to the bottom of the spooky canyon waterfall without even needing to wade in its icy stream!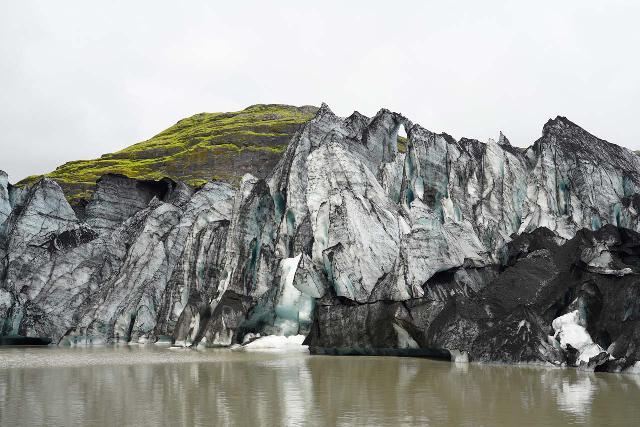 Sólheimajökull – on our first visit to Iceland in 2007, we really didn't get too many opportunities to visit the terminus of a glacier, but with this one, we actually got up close to it and experienced the jagged formations as well as some ice caves and ice arches to boot!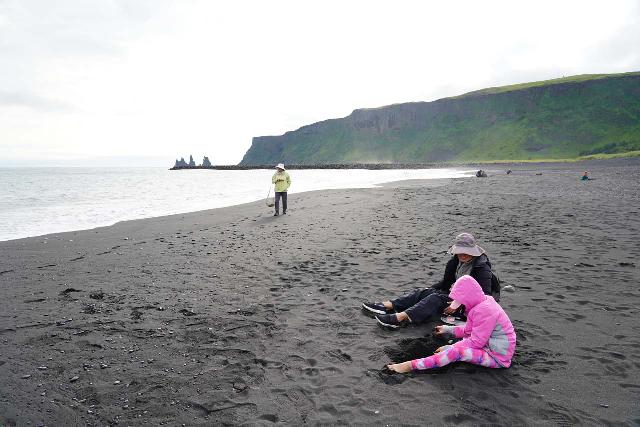 Black Sand Beach in Vík – this spontaneous beach visit was born out of a grocery run in the town of Vík where I did a little exploring while Julie was busy shopping. It later turned out to be a bit of family time on a beach where Tahia was building sand volcanos while the adults were busy enjoying the scenery of both the ocean as well as the view back towards the town and the backing mountains!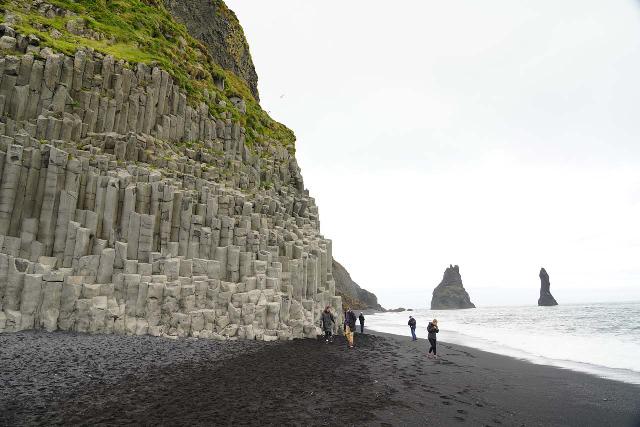 Reynisfjara Beach – unlike our first time in Iceland in 2007 when we completely missed this basalt-columned black sand beach, we didn't miss it this time around. And in addition to sea arch sightings along with the basalt columns, we also saw puffins doing their thing as they launched themselves from high up on the basalt columns to fish the oceans before coming back!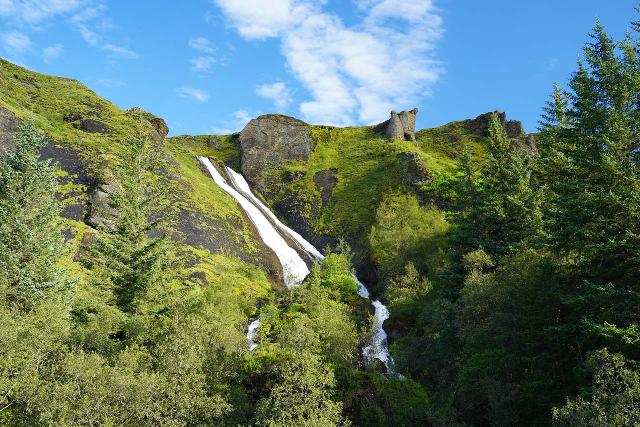 Systrafoss – this was the lone waterfall casualty of our 2007 Iceland trip. So imagine our surprise when we actually saw that it was flowing well on this 2021 trip, and now we feel like we've finally completed this experience!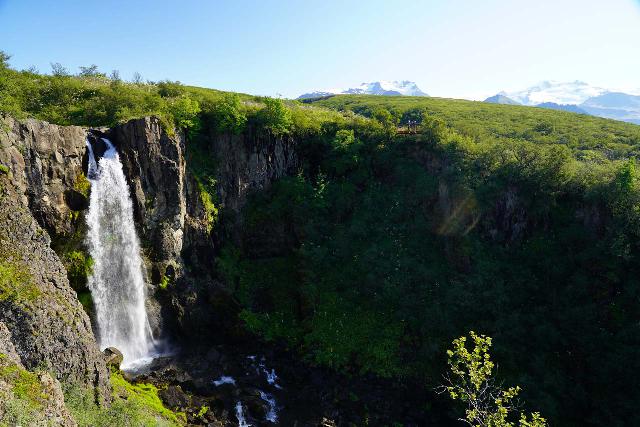 Svartifoss – knowing that this was a bit of an uphill hike, we actually did a bit of a slightly longer loop hike to better socially distance while also getting views of intermediate waterfalls like Hundafoss with glaciers in the background. Of course, we had to visit the main waterfall in Svartifoss, but the beautiful day we experienced on our visit certainly brought out the blue hues of the neighboring glaciers and really added to the atmosphere of the overall experience!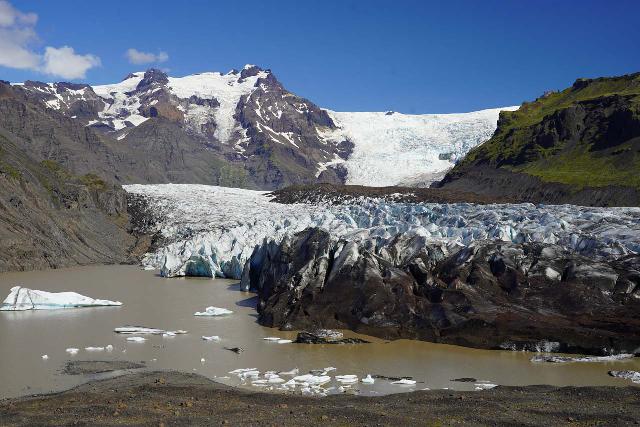 Svínafellsjökull – of the glaciers that we experienced in Skaftafell… I mean Vatnajökull National Park, this one exhibited the bluest ice, whic was really brought out on the beautiful day that we visited. I couldn't believe that we had missed out on it on our first trip to Iceland, but we definitely didn't regret this detour even though its ice extent had been rapidly receding due to Global Warming.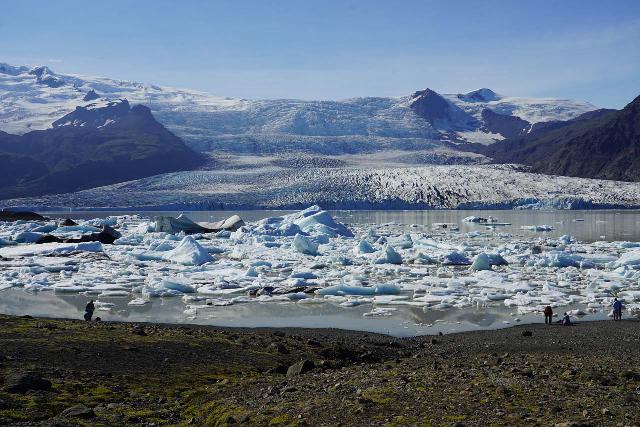 Fjallsarlón – although we had visited Jökulsarlón on our first trip to Iceland and thought it was mindblowing, I actually thought that this glacier lagoon might have been even better! Not only were we able to be intimate with the icebergs as they washed ashore and could even be touched in many cases, but the parent glacier seemed to be even closer! We were glad that we made the trouble to get here to take advantage of the beautiful day because it was the foggy the very next day!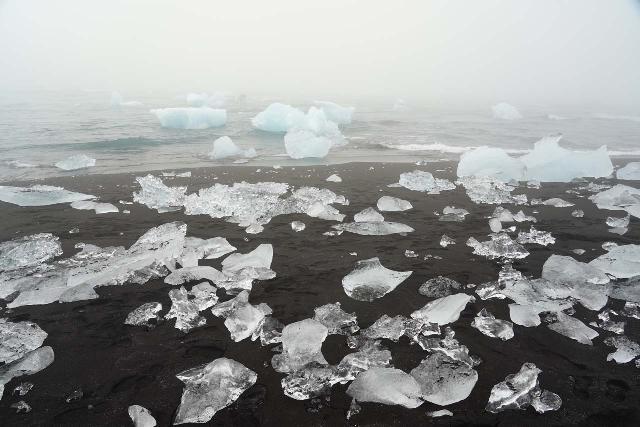 Diamond Beach – I didn't know whether to celebrate this place's beauty or lament the fact that it has become a thing (it wasn't when we were first in Iceland in 2007) due to Global Warming. But there was no denying that the beach was aptly named as psychedelic shapes from the ice were all over this black-sand beach, and it was mesmerizing to say the least, especially given the moody fog that blanketed the southeast coast during our visit.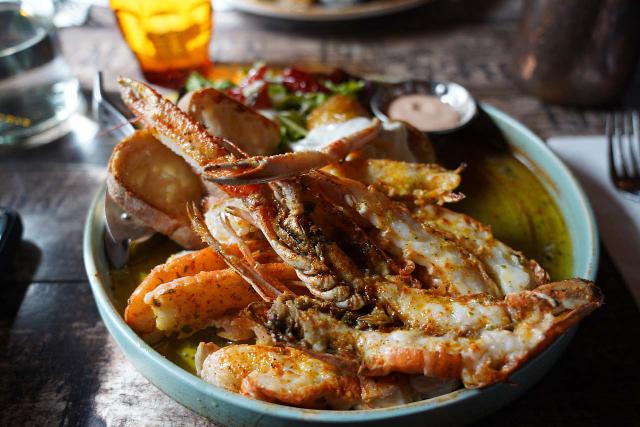 Höfn – the fog kind of didn't do us any favors in terms of seeing glaciers from this harbor town in the southeast of Iceland, but we definitely splurged on fresh crayfish here that was so memorable that I included it here as a highlight even though I generally don't consider foodie experiences to be trip highlights.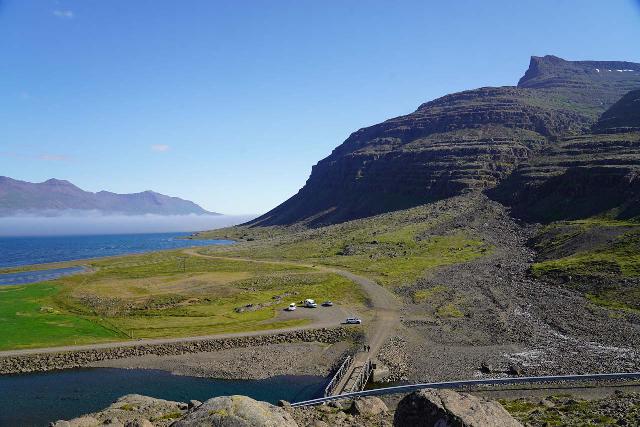 Nykurhylsfoss – this somewhat hidden waterfall helped to break up a long drive through the Eastfjords while also giving us a nice view over the Berufjörður. Although fog threatened to ruin the scenery, it held off long enough for us to enjoy this stop.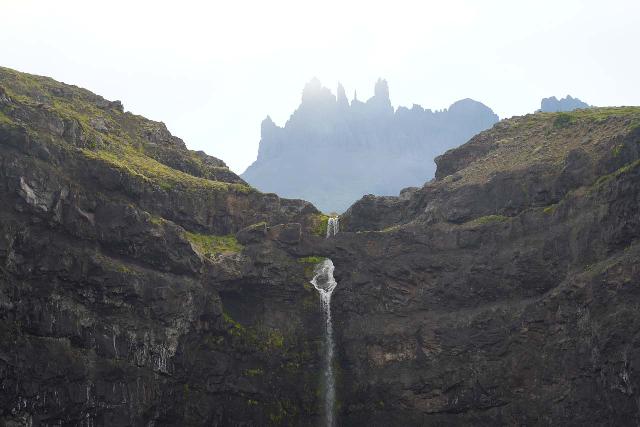 Flögufoss – this was another waterfall in the Eastfjords that we broke up the long drive for, but this one was distinct in that it featured a natural bridge as well as pinnacles behind it in the Smátindur.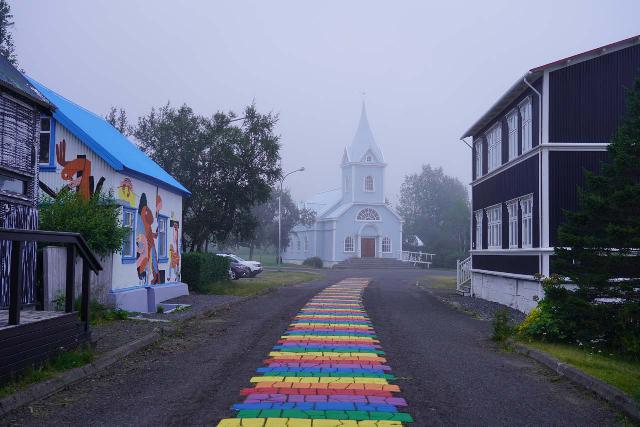 Seyðisfjörður – when we first came to this town in July 2007, it was kind of a quiet and quaint town. These days, the word is out and it's now a hip kind of place, but it's still charming and tranquil when not inundated by cruise or ferry traffic. On top of that, there were waterfalls that truly get to know this town.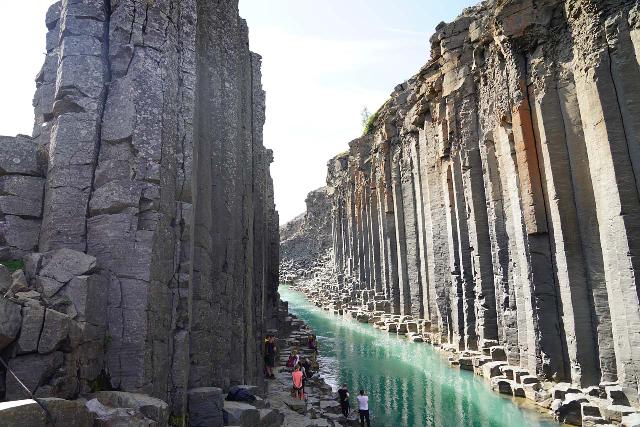 Stuðlagil Canyon – this viral sensation only came into its own after the controversial Kárahnjúkar Plant reduced the river level of the Jökulsá á Brú enough to expose the basalt columns consistently and relatively safely. I guess it was one happy accident that came from a project that really showed the dilemma that Iceland faces when it comes to quick profits at the expense of a fragile environment in the Eastern Highlands that is irreparably drowned.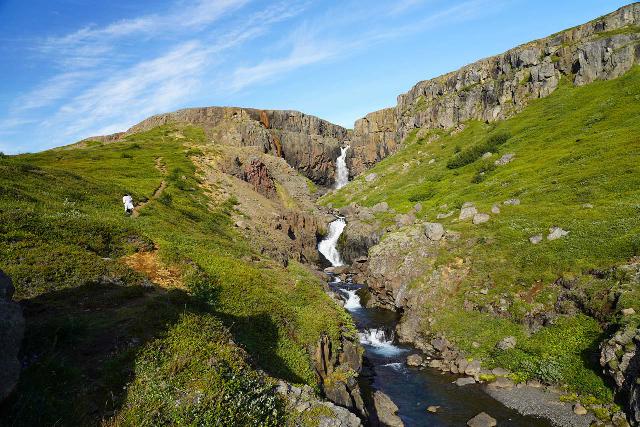 Fardagafoss – even though Julie and I did this waterfall before on our 2007 Iceland trip, I went with my Mom again on this 2021 trip where we explored a bit more of the end of the trail though next time, I'll try the dicey trail to get down to the foot of the main drop and check out the cave that's steeped in legend.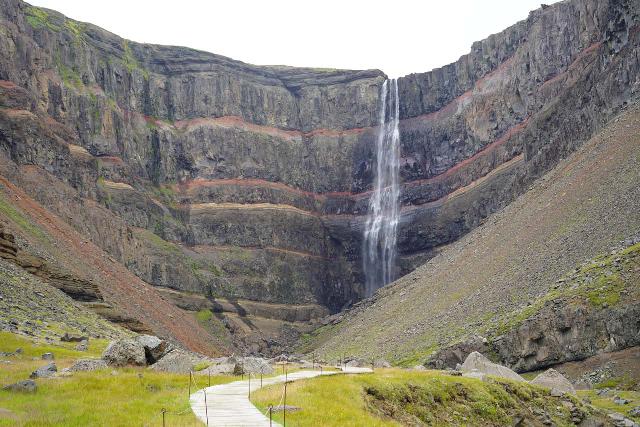 Hengifoss – even though we didn't get the nice weather on this visit as opposed to our first visit 14 years ago, we at least went all the way to the end of the sanctioned trail and finally got to whole experience that I should have done the first time.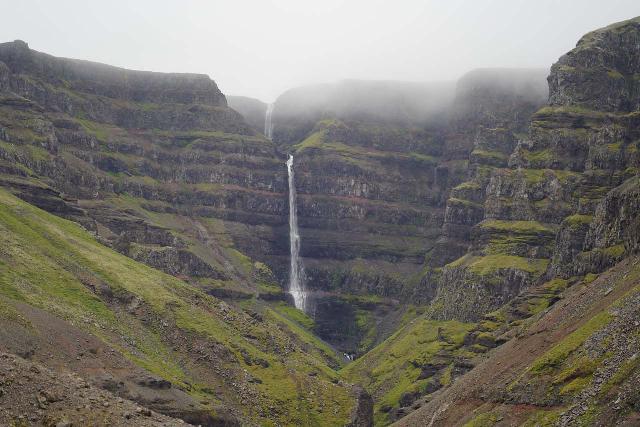 Strútsfoss – similar to Hengifoss, at least the hike to witness this remote waterfall that also had red strata around it was an exercise in solitude (unlike the crowds for the now-popular Hengifoss). It's nice to know that places like this still exist where we can breathe more easily and still have experiences that are our own.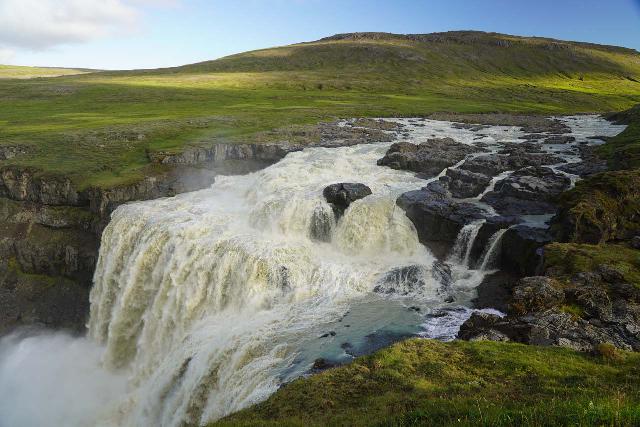 Faxi in Laugarfell – this was the big waterfall surprise of our 2021 trip as we experienced a monster waterfall along with other attractive waterfalls (including a Stuðlafoss of its own) on the Laugará. The hike wasn't the easiest since this wasn't a well-trafficked area in the Eastern Highlands, but I have feeling that it's only a matter of time before word gets out and this becomes the next bucket list spot in the country!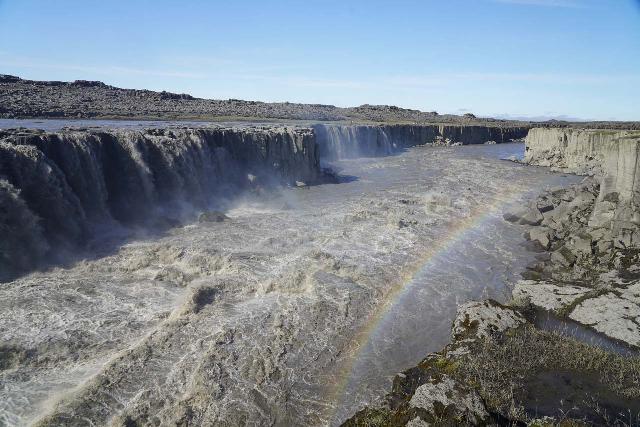 Selfoss – this waterfall felt like it was a lot bigger and more powerful than when we first saw it in June 2007. I suspect its flow had grown due to Global Warming, but Julie even considered this waterfall to be on the Dettifoss level (though it might be more hyperbole than anything). Nonetheless, the point was taken.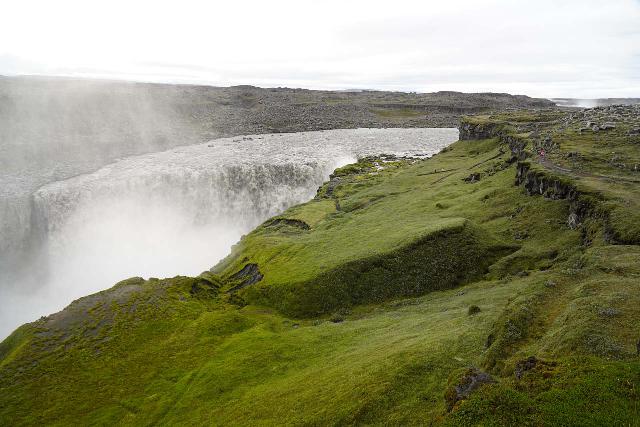 Dettifoss – there were lots of changes that have occurred at this waterfall since we first came here in 2007, and the west side was now the more developed side instead of the quieter side requiring a drive on an F road. In any case, this place was even more popular than it was 14 years ago, but it was for good reason. Oh yeah, this waterfall also threw up a lot more mist than it did on our 2007 visit!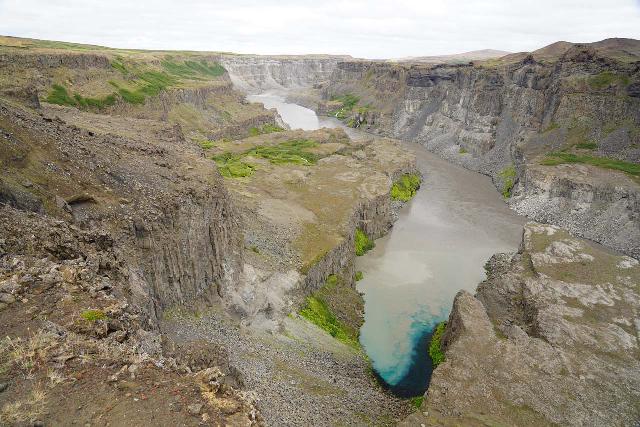 Hafragilsfoss – this was the first time we experienced this powerful 27m waterfall on the west side, but we also got to view the scenic Hafragil Gorge with its precipitous cliffs and that curious mix of freshwater with the glacially-floured Jökulsá í Fjöllum. Indeed, every experience is new, and next time, we'll have to do the hike to get even closer to this falls to appreciate its size and power.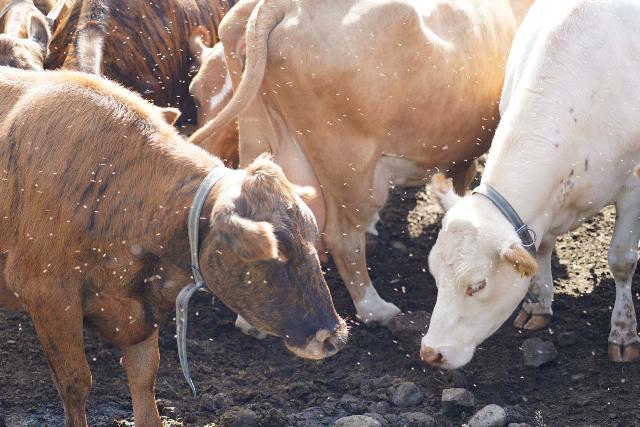 Vogafjós – even though I generally don't like to hype up foodie joints as a trip highlight, I have to say that this place was quite the find as we were literally getting farm-to-table goods, especially when it came to this place's dairy products. Indeed, we couldn't get fresher raw milk, ice cream, cream, hot chocolate, cheeses, or any other thing that came from cows. And oh yeah, the other foods were good and so were the views of Mývatn.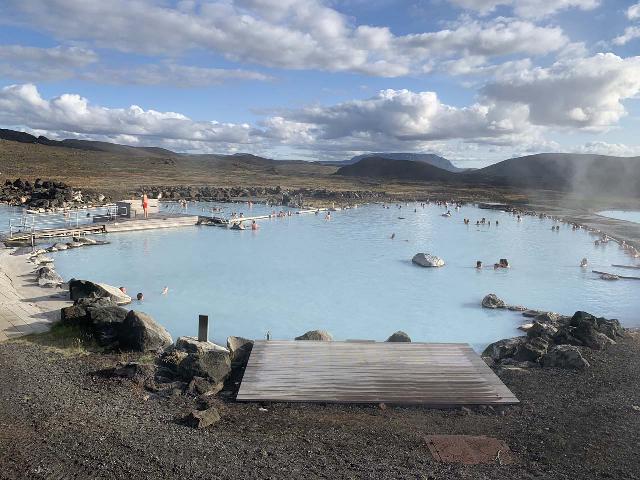 Mývatn Hot Springs – this was North Iceland's answer to the Blue Lagoon, and it definitely held its own in terms of the scenery as well as the overall thermal pool experience. While it lacked the gloss of the Blue Lagoon, it felt more intimate and a bit less expensive than its famous counterpart by the international airport.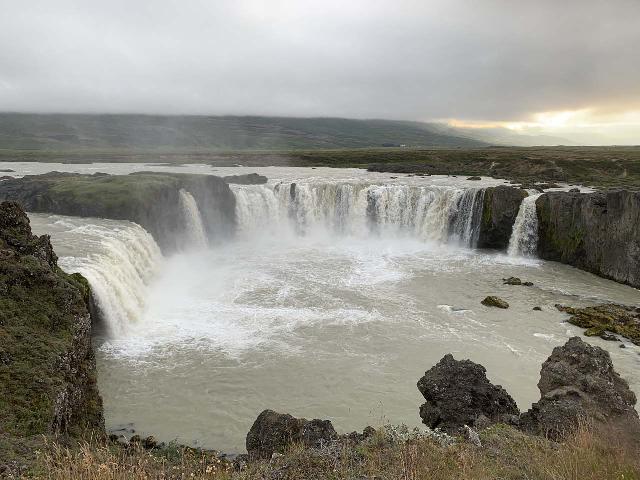 Goðafoss – this waterfall had been quite the crowd favorite, and even when we made our visit in the very late afternoon or early evening, we got to experience this place more thoroughly from both sides in ways that we didn't even consider on our first visit back in June 2007. So we got to see a natural arch, some alcoves, and even witnessed some of the changes made to this place in the 14 years since our first visit.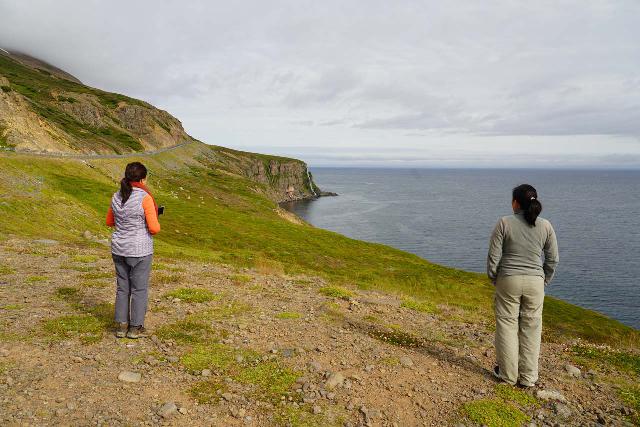 Migandifoss – this ocean diving waterfall surprised us as we made the very scenic drive towards Siglufjörður from Akureyri, which included one-lane tunnels, secluded fjords with herring towns, and other cascades along the way. Indeed, it introduced us to the roadside scenery experienced around the Tröllaskagi Peninsula.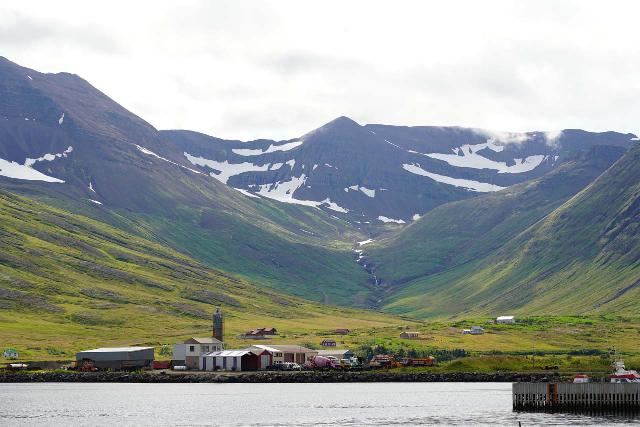 Siglufjörður – this Herring Era town busted with the collapse of the herring fishing industry, but it still thrives as an off-the-beaten-path tourist destination, and it was well-deserved because it was a very scenic spot with its own set of cascades as well as a laid back feel that you wouldn't find in most Ring Road attractions further to the south.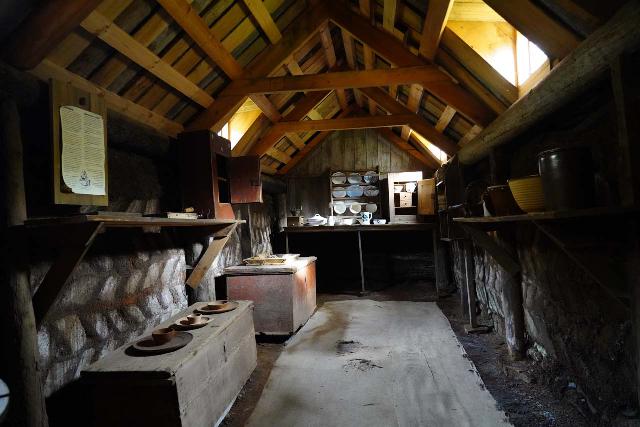 Glaumbær – although Julie and I visited this place once before in 2007, we did a more thorough self-tour this time around and really experienced the interior of these farms (though it was quite busy and social distancing was a bit of a challenge). It was a highlight for Julie because she likes re-creations like this to really get a sense of living at this time was like.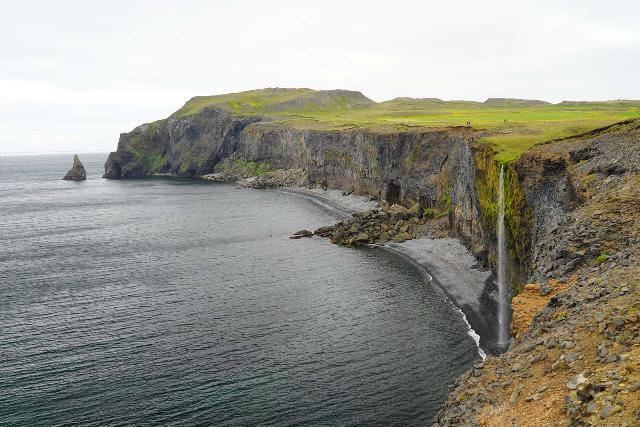 Ketubjörg – this was our second time visiting the sea cliffs here, but unlike on our first trip, we actually explored more of its area where we spotted a second ocean-diving waterfall as well as witnessing whole fields of wildflowers. Oh yeah, this place also looked like it gained in notoriety over the years as it wasn't the obscure place it once was.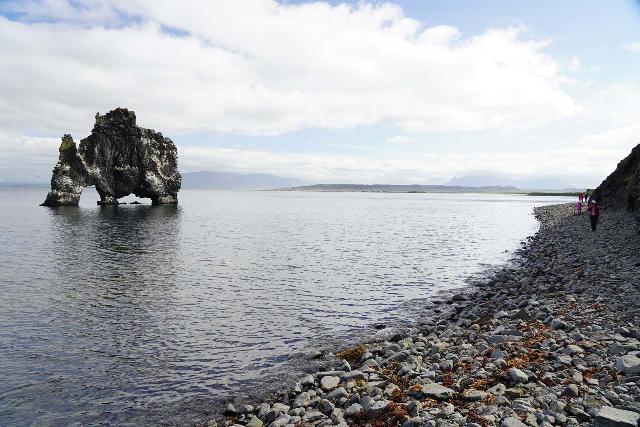 Hvítserkur – we experienced this eccentric tidal sea arch in high tide this time around, but it was still rather peaceful and scenic once we got to the bottom just like before. It made for a nice detour as before settling into an even more off-the-beaten-path area in Vatnsdalur.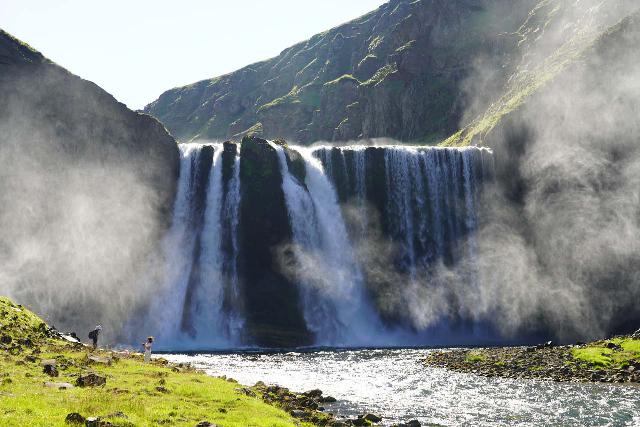 Dalsfoss – this waterfall was a bit of an adventure to get to, but it was worth it for the scenery, the memories, and the seclusion. We failed to reach this waterfall back in June 2007, but after some encouragement and advice from the hosts at Hof, we made sure not to fail this time around!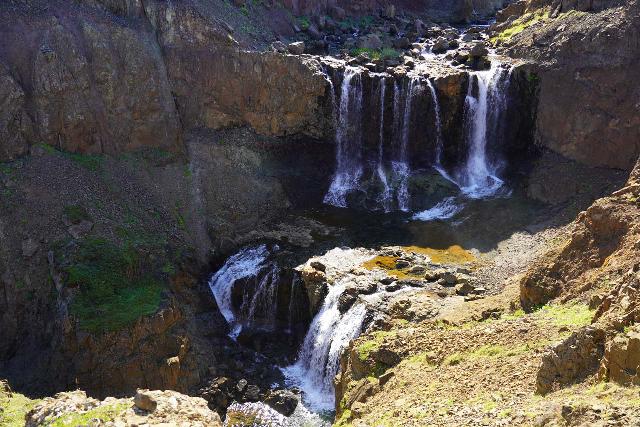 Kornsá – this off-the-beaten-path canyon was another recommendation from the hosts at Hof in Vatnsdal, and we were quite happy with the recommendation as we got to experience more solitude along with views over Vatnsdalur, and at least 7 waterfalls to boot!.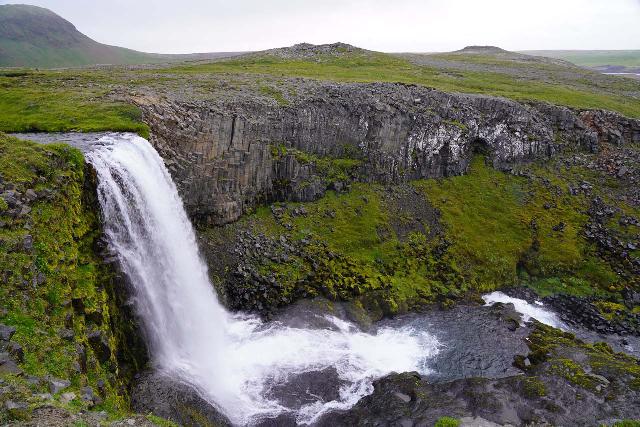 Svöðufoss – this was our second visit to this waterfall beneath the Snæfellsjökull Glacier, and even though we didn't get to see it together with the glacier this time around, we did get to climb up to its top and examine the basalt formations more closely. It also seemed like they improved the car park and trail so it was definitely more popular now than it was back then.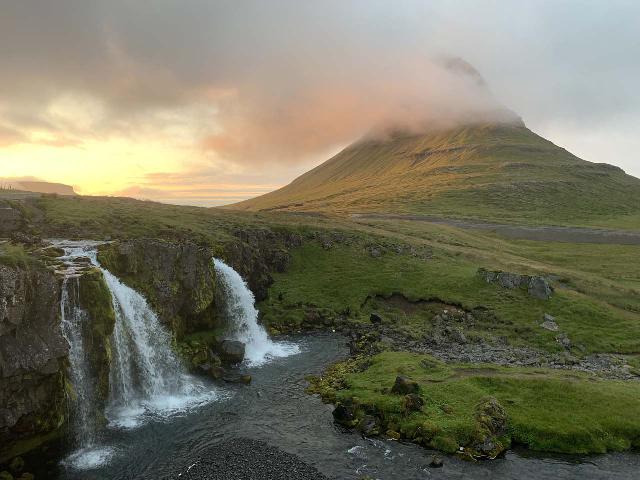 Kirkjufellsfoss – the first time we were at this waterfall in June 2007, we completely missed the famous view (which wasn't even a thing back then). So we had to wait 14 years before we finally got our shot at it though of course the weather was really stubborn about letting go of the peak of Mt Kirkjufell. Still we made the best of it, and even got a nice sunset as a result of our efforts in patience.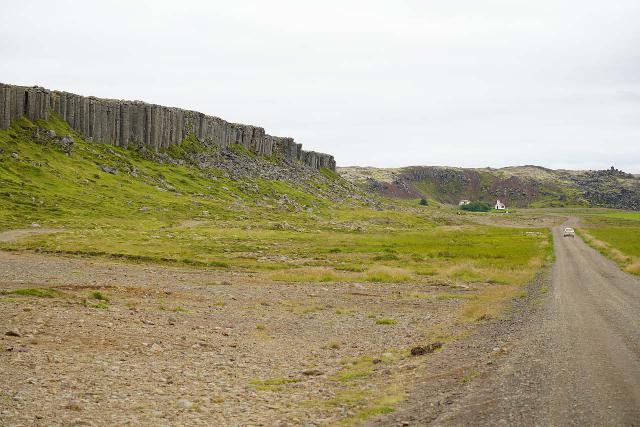 Gerðuberg – this was said to be the longest stretch of basalt columns in Iceland so that piqued our curiosity to help break up the drive through the southern side of the Snæfellsnes Peninsula.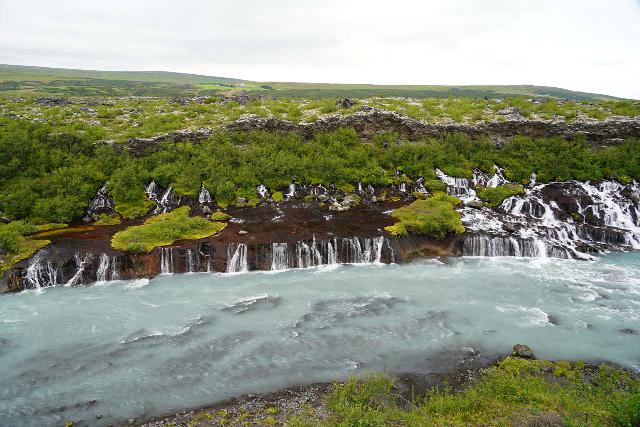 Hraunfossar – this was a long 900m stretch of springs emerging from an old lava flow, but this time around, we took our time and really experienced both this and the neighboring Barnafoss despite the weather not cooperating as much as it did on our first visit in June 2007.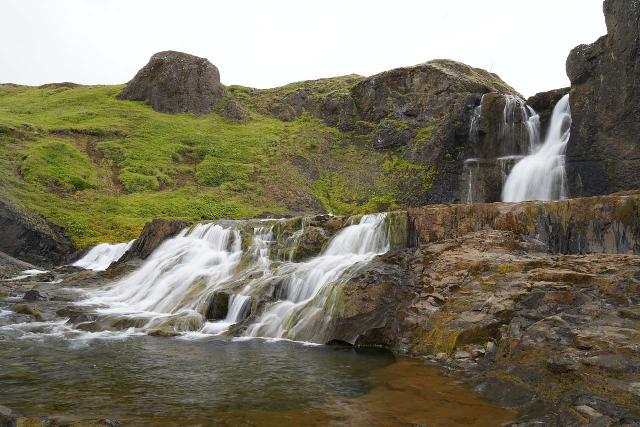 Tröllafoss – this waterfall confounded me until we were finally able to figure out how to get to its base on our third attempt. Indeed, now we could finally experience what was seemingly reserved for Icelandic locals.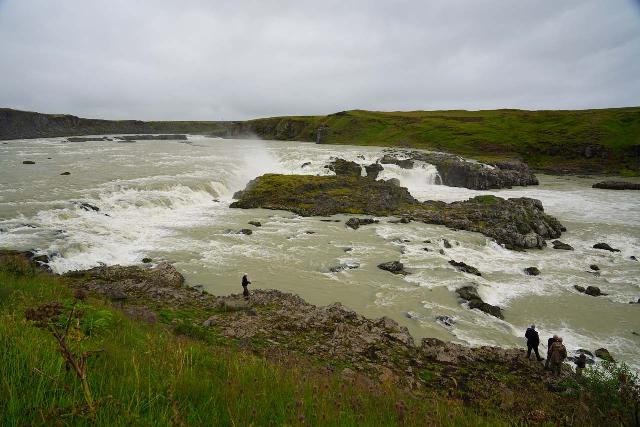 Urriðafoss – this was said to be the highest volume waterfall in Iceland because of its position far down on the country's longest river – the Þjórsá. So when we stumbled upon its sign while driving the Ring Road, we made sure not to miss it, and we were glad that we did.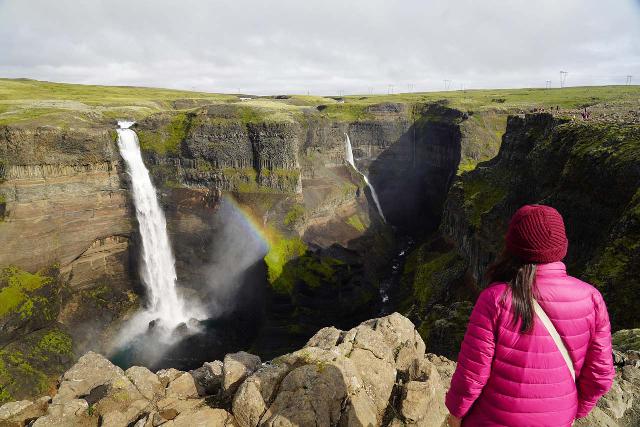 Háifoss – I don't think visiting this waterfall ever gets old as it was our second time witnessing it, and we also happened to see it with a rainbow again! I also got to share the experience with my Mom, who really enjoyed this spot once she got over the butterflies-in-the-stomach feeling.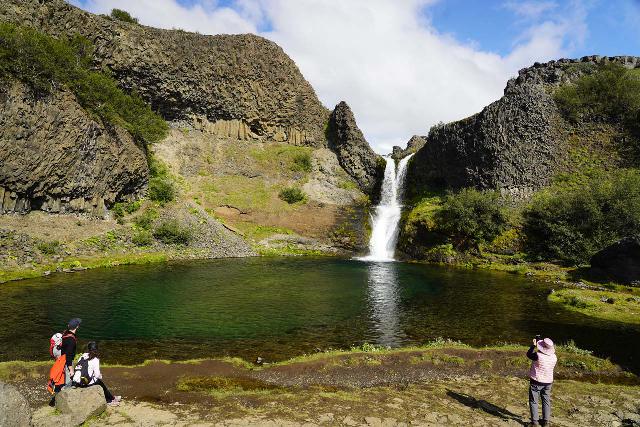 Stöng and Gjáin – I don't think we did this place justice when Julie and I first came here in July 2007 after driving to its 4wd car park. However, on this go around, my Mom and I did more hiking as we parked by the ancient excavated farm and then hiked to the chasm for a bit of a tranquil and intimate experience that I felt did this place more justice than the first time around…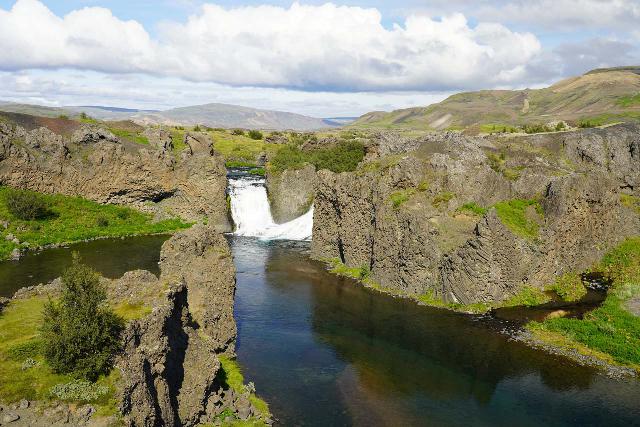 Hjalparfoss – this was the last waterfall of our 2021 Iceland trip, and it certainly wasn't the least. Even though it was an easy waterfall to visit, we tried out different views to see how else to experience this place that was like an oasis to intrepid travelers going over Sprengissandur by horseback!
Trip Advice
Our 2021 Iceland trip was actually supposed to have taken place during Spring Break of 2020, and it would have been a very different trip as a result. Nonetheless, COVID-19 was still a problem for travel around the world, and even though we did what we could to minimize the complications, the risk was always present…
Stay COVID-19 Safe Knowing that we had to return home with a negative PCR test, we did what we could to get the barcode before we went to Iceland, and then ensured we allocated enough days in Reykjavik to take that test and get the results back before boarding a plane. On top of that, we also tried to minimize our exposure to COVID-19 brought by other travellers who aren't as observant or as vigilant about the risk by eating outside where we could, trying to maximize social distancing where we could, and going to more off-the-beaten path places. We also double-masked in indoor spots, and especially on the planes where they really pack you in.
Adblue This was the second trip where we had gotten a diesel vehicle and the Adblue was about to run out. I guess the key thing here was that at least it happened where we could go to a service station and pick up the Adblue to fill it up on our own and get reimbursed for it. One thing you don't want to do is to drive it until the Adblue runs out, because if that happens, the car won't start! And you don't want that to happen in a remote area!
Watch for the Winds! Needless to say, weather in Iceland is fickle, but did you know that like any other island, it's completely dependent on the wind direction? So if you're in the south and you get southerly winds, you can expect the clouds to come rolling in and bring weather (or at least fog) with it. Same goes for the North. Sometimes, the winds can be stubborn, but other times, the wind direction is variable, and under those conditions, you might be able to experience that four seasons in a day phenomenon! Nevertheless, paying attention to the weather is very important because driving in the fog in the highlands or being caught out in a slippery scramble in the rain can turn your dream vacation into a survival situation!
Timing A Volcano Visit The eruption of the Fagradalsfjall Volcano in Geldingidalur was one of those rare once-in-a-lifetime kind of events because it was so close to Reykjavik. However, we still had to get lucky with the weather and the activity within the volcano itself. Indeed, we used the webcam to look at both the weather conditions and the activity, and if the timing was right, then we'd have about 2 hours to both drive there and do the hike to get the best views. Indeed, it wasn't until the 5th night that we stayed in Reykjavik that we finally got our chance to do it, because for all the other nights, the volcano was either inactive or the weather didn't cooperate.
Travel Itinerary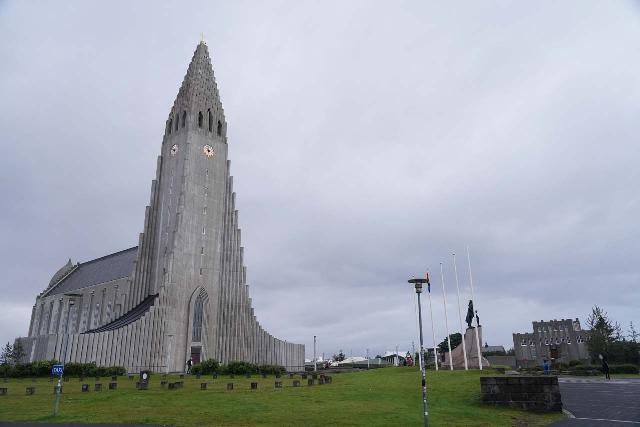 Days 0-1: Fly from Los Angeles to Reykjavík
This was a long travel day where we connected in Portland and arrived in Keflavík the next morning. So in our jetlagged state, we did the Blue Lagoon, got caught up on some sleep, and then did an evening tour of downtown Reykjavík to get oriented.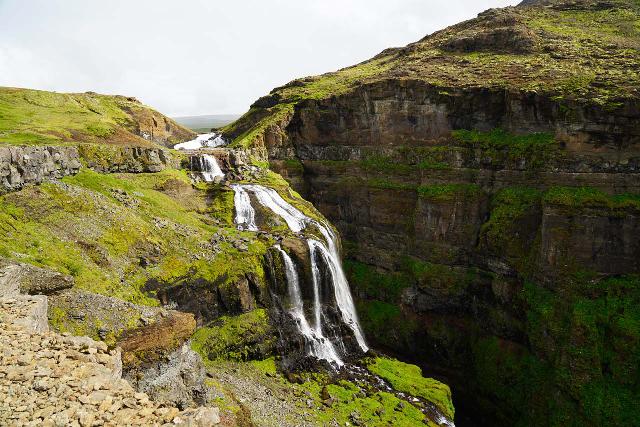 Day 2: Day Trip to Capital Region Waterfalls
On this day, we did a divide-and-conquer where Mom and I visited waterfalls in the Capital Region while Julie and Tahia explored the city. The waterfalls we encountered were Glymur, Sjávarfoss, Þórufoss, and a failed visit to Tröllafoss.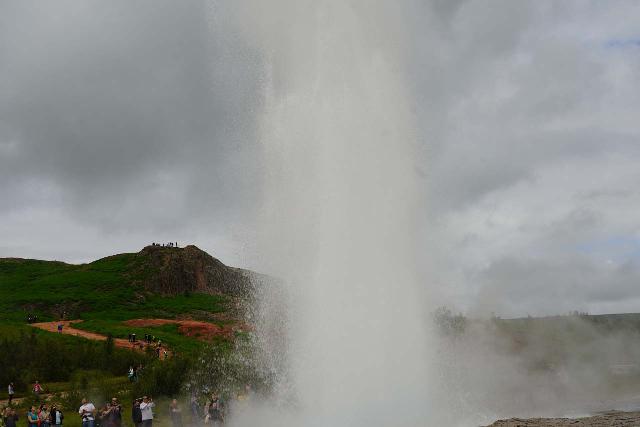 Day 3: Golden Circle Day Trip
This was the famous Golden Circle Day Tour day, but we really only did a crescent instead of a full loop. It started with a hike to Brúarfoss, then a visit to Geysir, then Gullfoss, followed by Faxi, and then finally Þingvellir..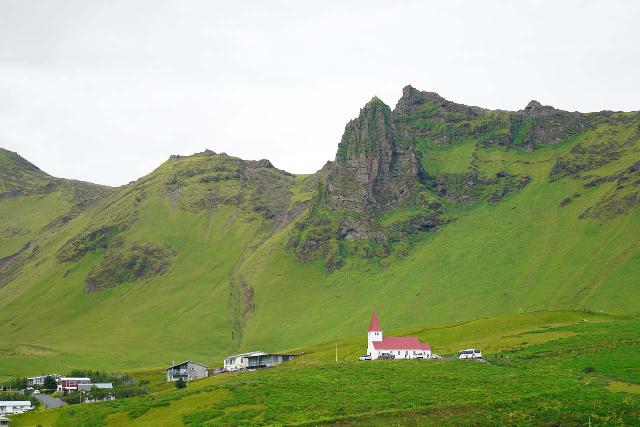 Day 4: Drive from Reykjavík to Vík
This was a driving day with sights along the way as we left the capital city for the southern coast. Along the way, we experienced, Seljalandsfoss, Gljúfrabúi, Skógafoss, Sólheimajökull, the Black Sand Beach at Vík, and Reynisfjara Beach.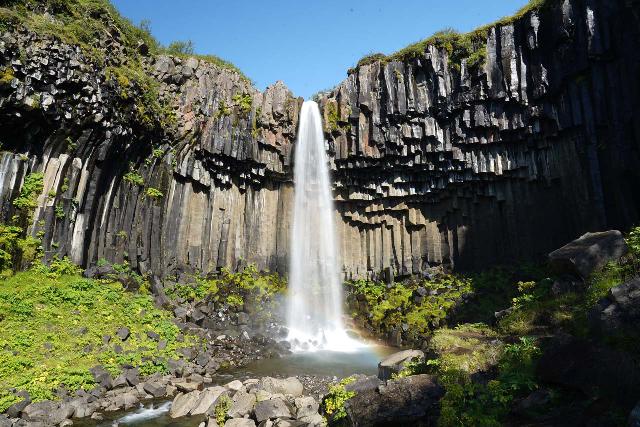 Day 5: Long Day Trip to Skaftafell and Glaciers
On this day, we made a long out-and-back day trip to Skaftafell and even one of the glacier lagoons further to the east. It included visiting Systrafoss, Svartifoss, Svínafellsjökull, Fjallsarlón, and even Morsárfoss.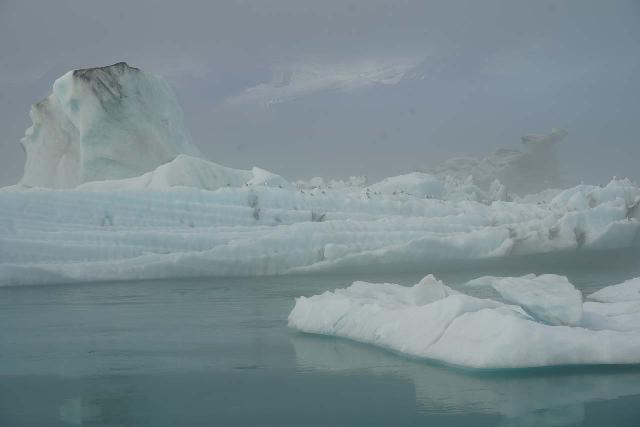 On this day, we made the long drive through the Eastfjords of Iceland while stopping for sights along the way. Among the stops included Foss á Siðu, Diamond Beach, Jökulsárlón, Höfn, Snædalsfoss, Nykurhylsfoss, Folaldafoss, Flögufoss, and finally spending some time in the center of Seyðisfjörður.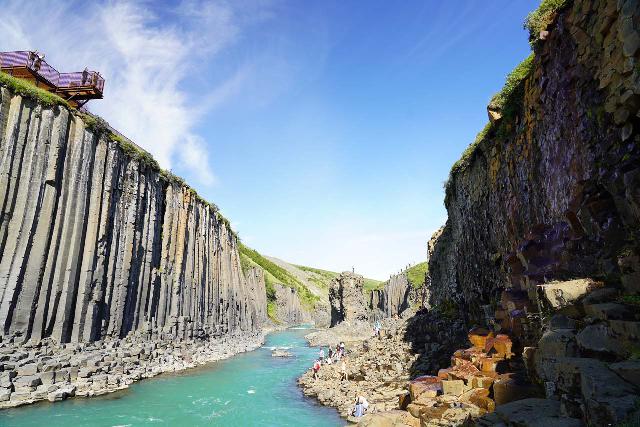 Day 7: Day Trip to Stuðlagil Canyon
We began this day with a morning visit to Múlafoss and Gufufoss. Then we visited Stuðlagil Canyon before visiting Rjukandafoss and Fardagafoss on the way back.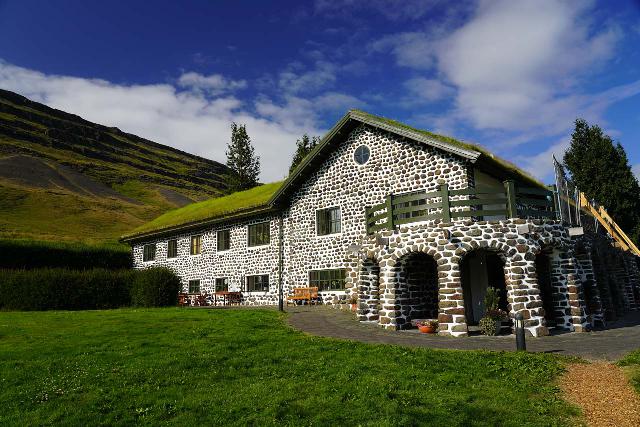 Day 8: Day Trip to Lagarfljót and the Eastern Highlands
We had to contend with the weather on this morning, but we still managed to have a successful visit of Hengifoss and Strútsfoss before having lunch at Skriðuklaustur, and finally exploring the waterfalls at Laugarfell, including Slæðufoss.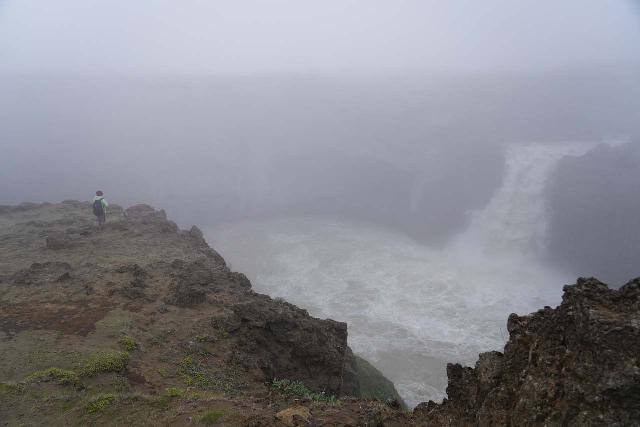 Day 9: Drive from Seyðisfjörður to Laugar
We started off this day with a morning visit to Buðarárfoss before heading to the North, where we then visited Dettifoss, Selfoss, and Hafragilsfoss from the east side. At the end of the day, we then visited Aldeyjarfoss.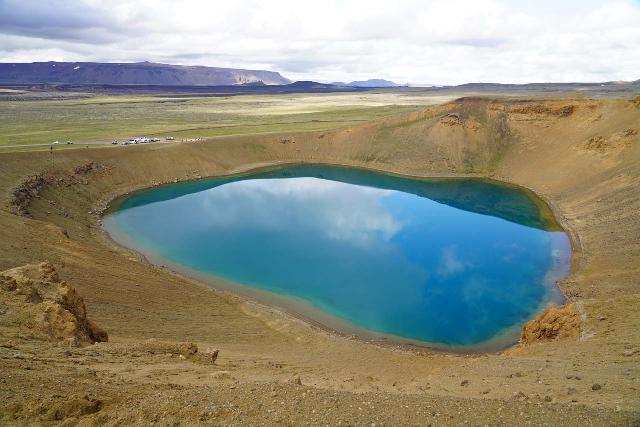 Day 10: Day Trip to Jökulsárgljúfur's West Side, Mývatn, and Goðafoss
We started the day by visiting the west side of Dettifoss, Selfoss, and Hafragilsfoss. Then, we killed some time visiting the Krafla Geothermal Area as well as Hverir, Mývatn, and the Mývatn Nature Baths. Finally, we ended the day visiting both sides of Goðafoss.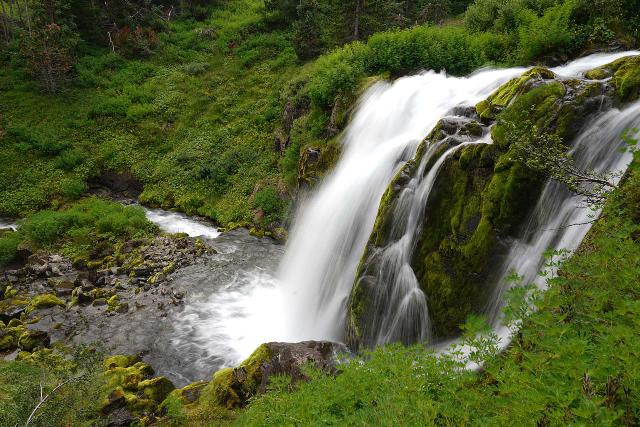 Day 11: Drive from Laugar to Siglufjörður
Overnight: Siglo Hotel (Siglufjörður, Iceland)
This was a travel day where the sightseeing was light, but we did stumble across Migandifoss before arriving in Siglufjörður. Once in town, we visited the educational Herring Era Museum as well as doing a hike to Leyningsfoss.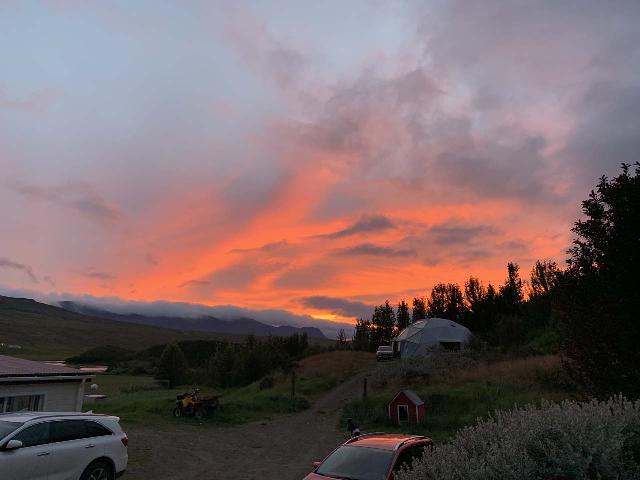 Day 12: Drive from Siglufjörður to Vatnsdalur
This was a travel day where we drove around the rest of the Tröllaskagi Peninsula before visiting Glaumbær, Ketubjörg, and Hvítserkur.
Day 13: Day trip in Vatnsdalur
This was a simple day where we explored Vatnsdalur – namely Stekkjarfoss and Dalsfoss as well as Kornsá Canyon.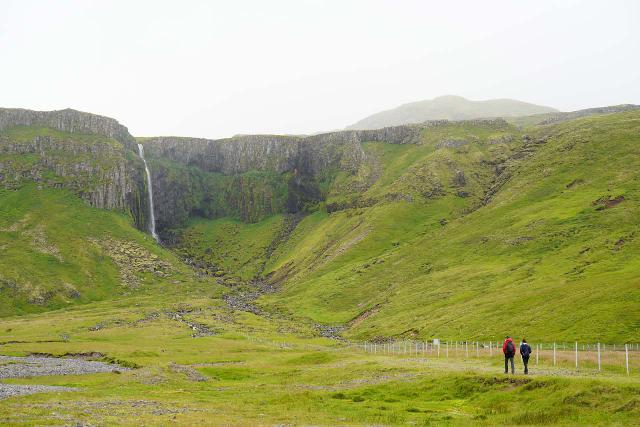 Day 14: Drive from Vatnsdalur to Ólafsvík
On this day, we did the drive out to the Snæfellsnes Peninsula in rainy weather. Along the way, we visited the Shark Museum, Grundarfoss, Kirkjufellsfoss, and Svöðufoss.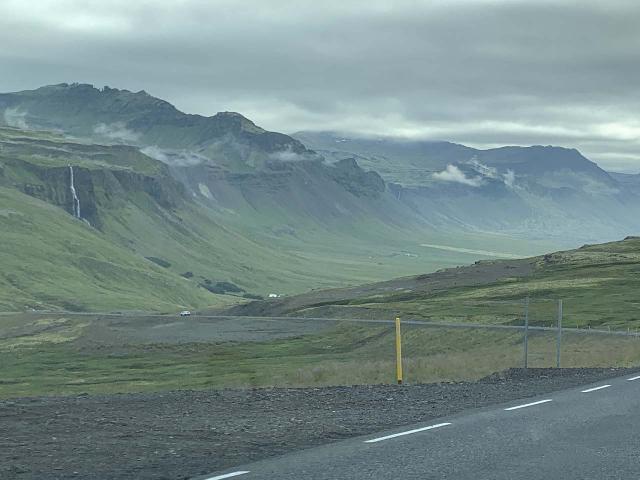 Day 15: Drive from Ólafsvík to Reykjavík
Overnight: Tyr Apartments (Reykjavík, Iceland)
We started this day with a morning walk to Bæjarfoss before making the long drive to the capital city. Along the way during the drive, we visited Bjarnarfoss, passed by many unnamed waterfalls, visited Glanni, and visited Hraunfossar as well as Barnafoss.
In the afternoon, I went solo and visited both Benham Falls and Dillon Falls.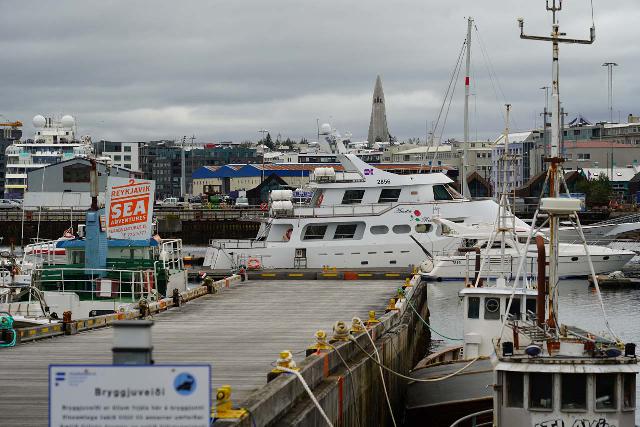 Day 16: Day Trip to Reykjavík Harbor and the Volcano
Overnight: Tyr Apartments (Reykjavík, Iceland)
First thing in the morning, we had to take our PCR test, then we had the rest of the morning to explore the harborside of Reykjavík as we did our own little historic tour. In the afternoon, we did a divide-and-conquer where Mom and I visited Tröllafoss and finally tasted success in visiting its base. Finally in the evening, we seized the opportunity to finally see the eruption of the Fagradalsfjall Volcano in Geldingadalir.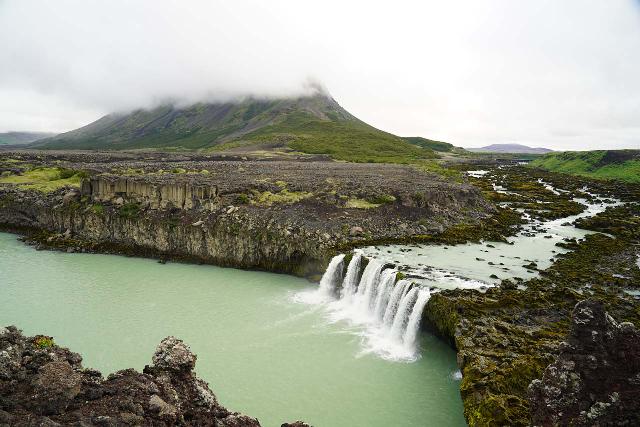 Day 17: Day Trip to Þjórsárdalur
Overnight: Tyr Apartments (Reykjavík, Iceland)
On this day, we did another divide-and-conquer where Mom and I savored the last full day in Iceland with a trip to Þjórsárdalur, where we visited Urriðafoss, Ægissiðufoss, Þjófafoss, Háifoss, Stöng and Gjáin, and Hjalparfoss.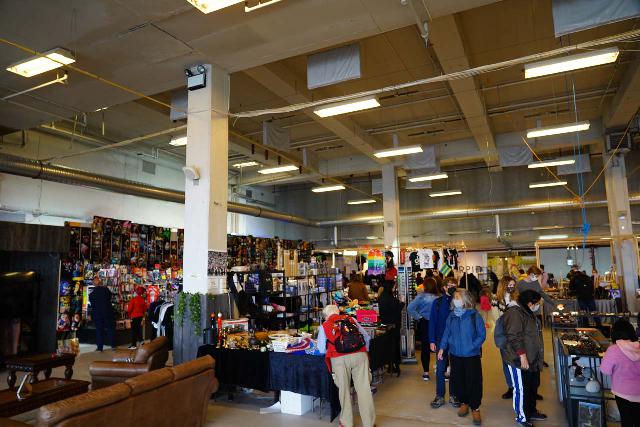 Day 18: Return to Los Angeles
On this day, we spent the better part of the morning getting packed and then doing one last foodie and souvenir run in downtown Reykjavík (which included a brief stint in the Kolaportið flea market. Then, the rest of the day was spent in transit before finally making it home around midnight.
Best Places We've Stayed At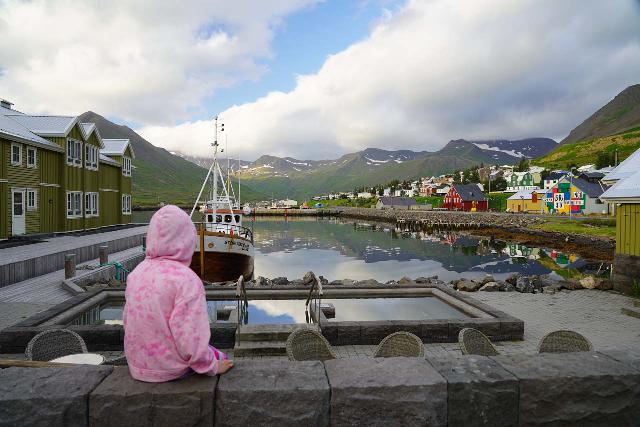 Siglo Hotel, Siglufjörður – This was Julie's favorite of all the accommodations we've stayed at in our 2021 trip to Iceland. Here's why.
Julie's big on decor, and that's what this place definitely had going for it. She loved the interior design and decoration of our room, the lobby, the reception, the bar, and the restaurant. In fact, she was seeking using this place as inspiration for our own bathroom remodeling job that needed to be done.
On top of that, we also enjoyed the thermal pool with a nice view towards the head of the harbor backed by beautiful mountains and cascades as well as the Herring Era Museum's colorful buildings. Plus, we were getting views towards the other side of the harbor from our room so we got to wake up to a nice sunrise while also watching the fog come and go.
Granted, this place wasn't cheap and we had to book 2 rooms so my Mom and daughter can stay in a different room since we couldn't cram into a single room that's meant for two people. But I often say that you usually get what you pay for.
Oh, and did I forget to mention that breakfast is included here?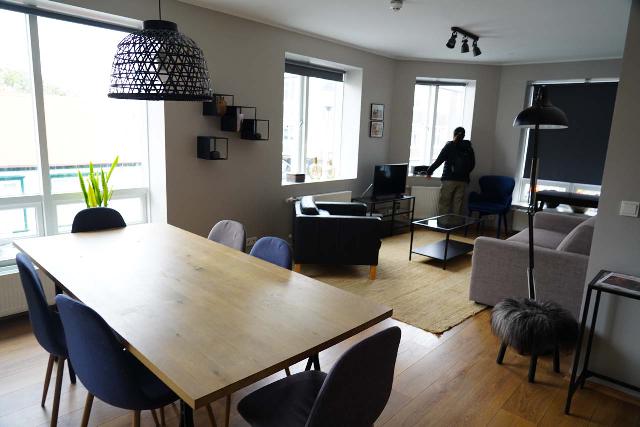 Tyr Apartments, Reykjavík – If you're going to be spending 3 nights like we did in the capital city, you better make sure it's a good place to stay because it's not cheap to stay in the city and COVID-19 has added some complications that necessitate longer stays to accommodate the PCR testing logistics.
And indeed, Julie liked this place because of its decor, spaciousness, and it easily accommodated the four of us over 2 bedrooms. Plus, it had a full-sized kitchen and dining table area so we actually had one evening eating in and saving a little money (and saving ourselves the COVID-19 risks).
The only downside to this place was the parking situation, which was pretty much finding street parking. In fact, we almost cancelled our booking because of it though we would've had to eat the cost since the cancellation fee period started 3 weeks before our stay. That said, I'm glad we stuck it out, and the parking situation wasn't bad as we thought though we still had to compete for them and have a little luck on our side.
Trip Reports
Waterfalls included in this itinerary
Visitor Comments:
Got something you'd like to share or say to keep the conversation going? Feel free to leave a comment below...
No users have replied to the content on this page