This Puerto Rico Itinerary covered ten days over our daughter's Spring Break.
Since it was a territory of the United States (and has been for over 50 years), this Caribbean island still felt like a foreign country.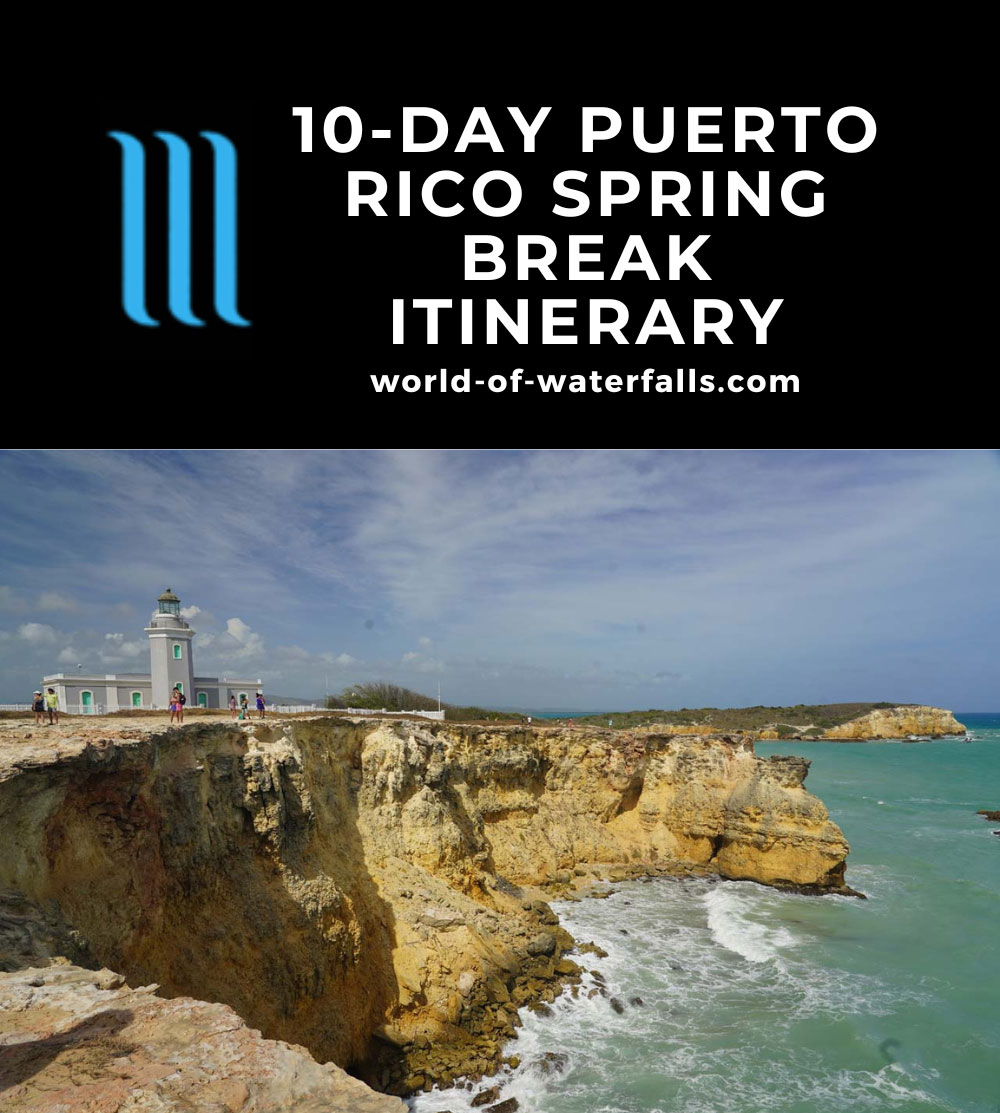 After all, we noticed a strong and proud Taino heritage, especially in the mountains of the Cordillera Central.
We also noticed that our visit coincided with Semana Santa (i.e. Easter Week), which meant that the traffic could get really intense, and this help true even for the lesser visited southwestern portions of the island.
Moreover, we noticed that it rained fairly significantly for all but maybe one day on our trip, which made already slippery jungle hikes even more treacherous.
Of course, it was the waterfalls that we targeted, and thus we self-drove throughout the island on all but maybe one of the days of this trip.
Here's a brief summary of what we managed to do on this trip…
Trip Highlights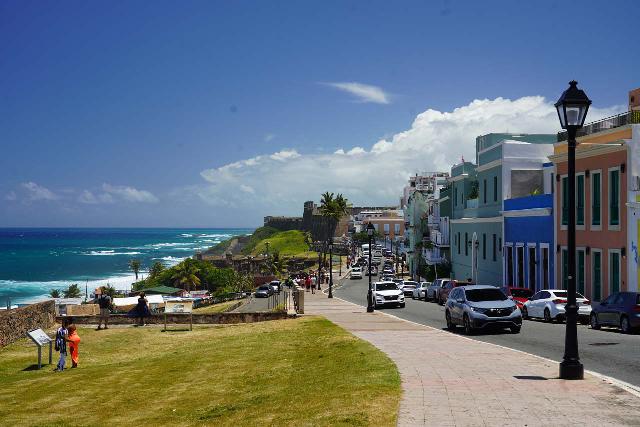 Viejo San Juan – this old town surrounded by walls and turrets also featured an interesting mix of pastel-colored buildings, narrow one-lane alleyways, cobblestone streets, ocean views, and even a large grassy area full of kite flyers. We've been to Jamaica and St Lucia, but this was the first time we really experienced a place where that European experience was seemingly on display in the New World.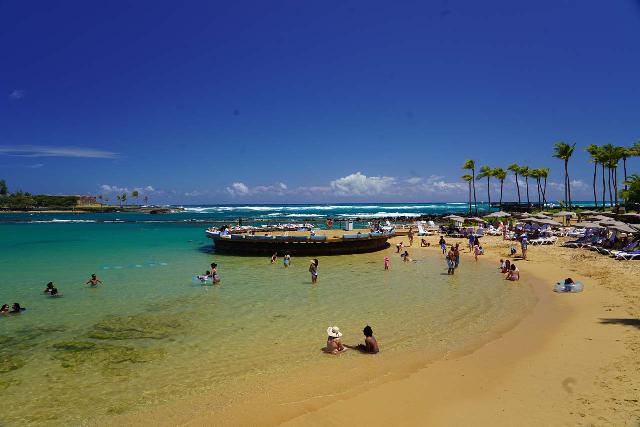 Beach at Caribe Resort – one thing we learned about regarding the beaches around the main island of Puerto Rico is that the vast majority of the beaches on the island are rough. Only a few of them are protected in bays, and most of them require long drives away from San Juan. However, there was one resort that featured a calm beach in the San Juan-Condada area, and it was the one at the Caribe Resort (and it's priced accordingly). But when the idea is to let kids have fun in a relatively safe environment, well this is what memories are made of.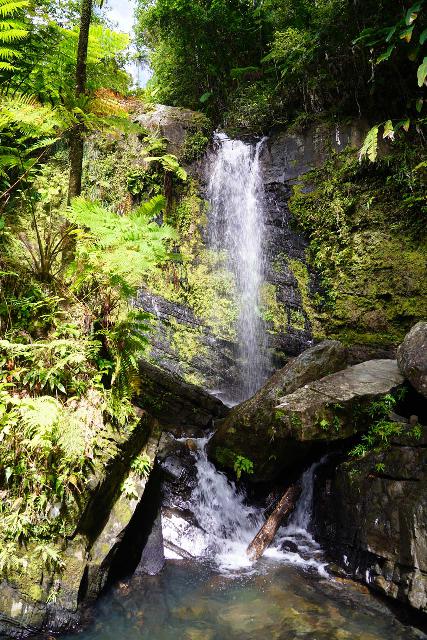 Juan Diego Falls – with La Mina Falls still inaccessible due to damage from hurricane Maria, and La Coca Falls pretty much a roadside attraction, it was this waterfall that made for the most fun in the El Yunque Rainforest.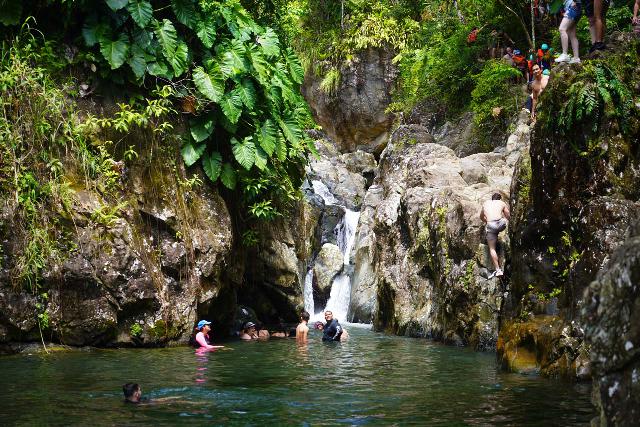 Las Tinajas Waterfall – this waterfall featured a deep pool with vertical cliff jumps and a high rope swing, which made for quite an atmospheric visit after finally getting here on a muddy hike. By the way, you might also see this place referred to as Charco Frio, but that's really just a generic term for cold natural pools, and it's really the pool fronting this waterfall that I'd consider to be the legit one.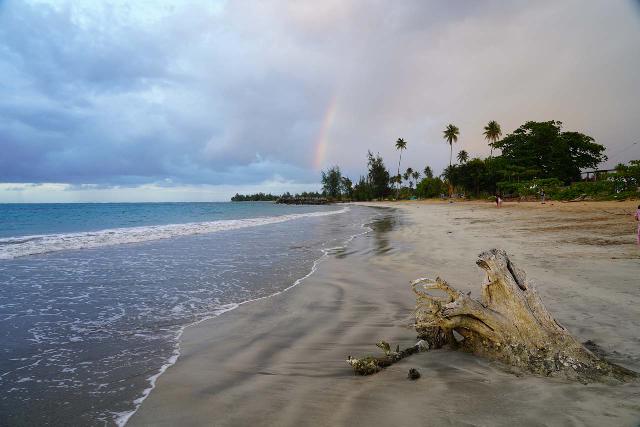 Luquillo Beach and the Luquillo Kiosks – we actually experienced this expanse of beautiful beach with colorful waters a couple of times on our Puerto Rico trip. The first time was during Semana Santa, when this place was really loud with blaring speakers and lots of people. Plus, the quioscos were really crowded (and expensive). When we came back for our last meal of the trip, we experienced a much quieter place and the dining experience at the popular La Parrilla was also much better.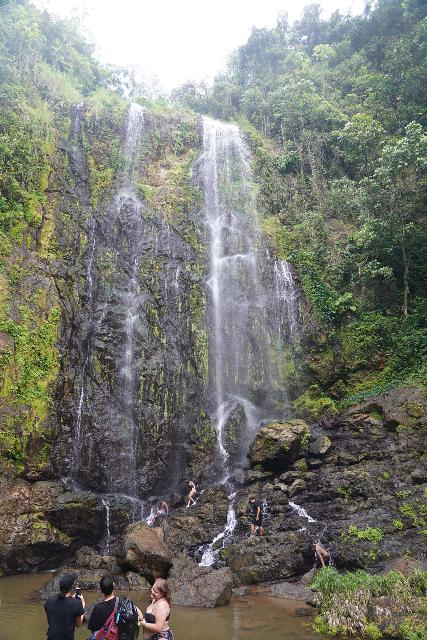 Charco Prieto Waterfall – this could very well be the biggest waterfall in the vicinity of San Juan, and I was glad that I did this excursion as a guided tour because San Juan traffic during Semana Santa was next level! In addition to learning more about Taino heritage and Puerto Rican culture, we also experienced intermediate waterfalls leading up to the grand finale fronted by a dark, murky natural pool (hence the name since prieto means "dark").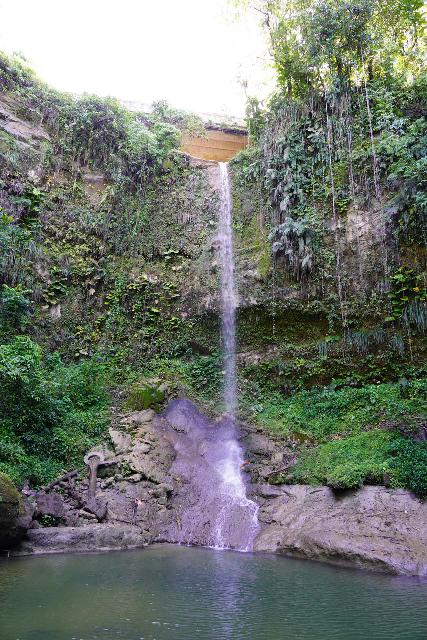 Salto Collazo – this was actually a convenient roadside waterfall if we were only content with visiting the upper waterfall. However, after scrambling around in search of a path to get to the bottom, I eventually found a way (while trying not to mind the litter) to access the taller lower drop and its secluded plunge pool.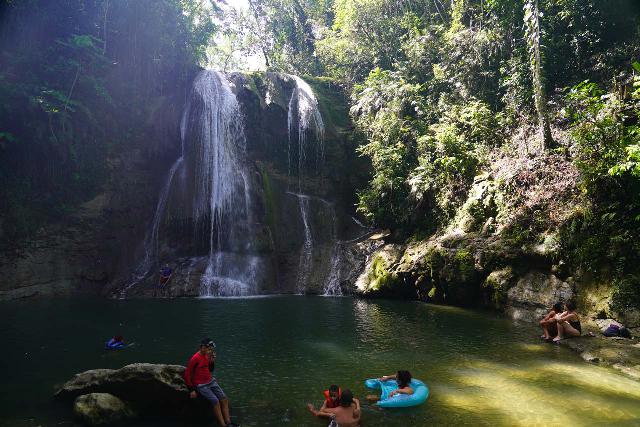 Gozalandia Waterfalls – of all the waterfalls we've visited in Puerto Rico, this was perhaps the most famous and easiest to experience as it featured a family-friendly lower waterfall (pictured here) as well as an upper waterfall that required a bit of a longer hike so it was primarily experienced by adults. We also had perhaps the best parcha mojito on our trip at this place since they used real passion fruit at the cantina there.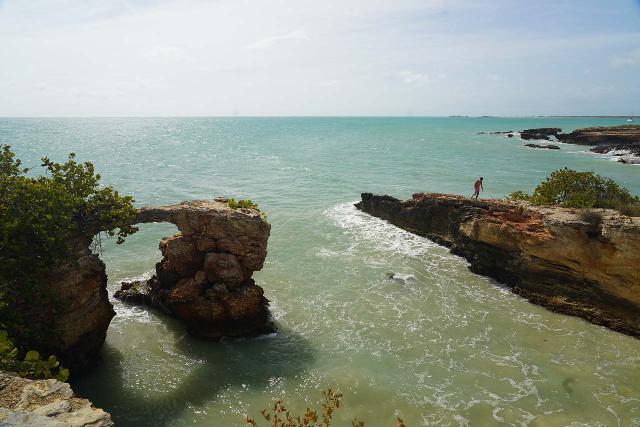 Cabo Rojo and Playa Sucia – it was a bit out-of-the-way to experience the southwestern tip of Puerto Rico, but with other places like the Cueva Ventana being closed and the Arecibo Radio Telescope being destroyed, it only made sense for us to experience perhaps the remotest corner of the island, where there was a lighthouse, sea cliffs, a sea arch, and even a "dirty beach" protected from the pounding oceans by a bay backed by brackish water that definitely had a bit of a sulfur smell. It was definitely the kind of scenery you don't really see throughout the island, and we were glad we made the detour to get here!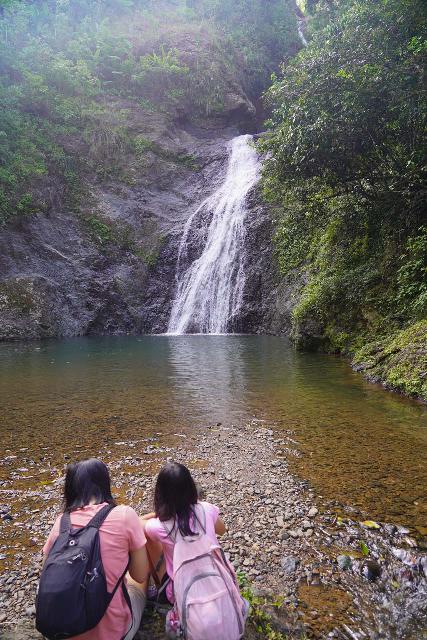 Salto Curet – this was an off-the-beaten-path waterfall that was probably the first one on our trip where we had it all alone together as a family. In fact, it wasn't too difficult to access this waterfall, and we really only had to be comfortable with getting our feet a bit wet even though we parked well before the road became something that only high-clearance 4wd vehicles should do.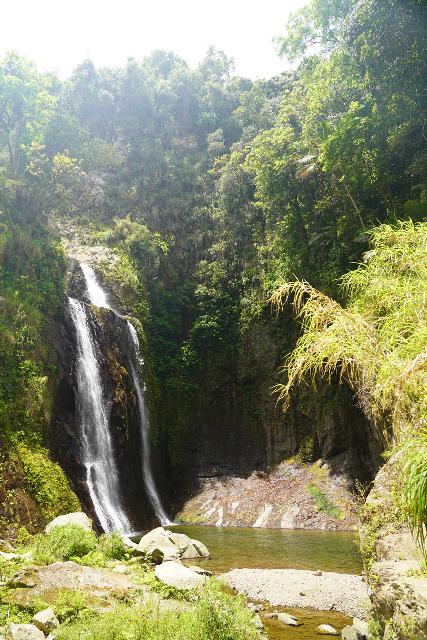 Salto Santa Clara – this could very well be the most impressive waterfall that I got to witness on our trip to Puerto Rico, and I was pretty much all alone in this off-the-beaten-path spot. While the GPS navigations conspired to take us to some sketchy beat-up single-lane roads, we trusted our instincts and eventually found helpful signs that the locals there did a very good job of maintaining.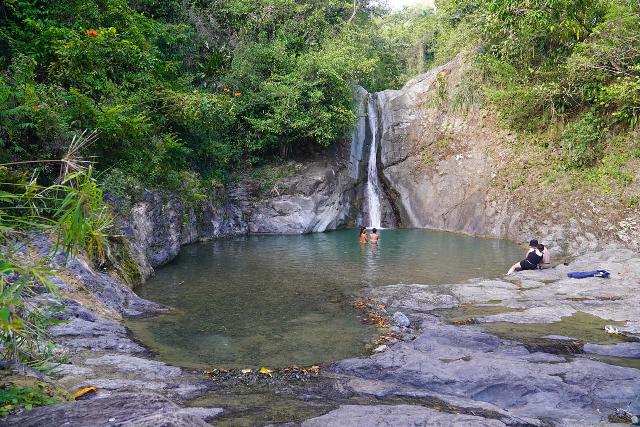 Salto Collores – this waterfall was probably one of the easiest ones (physically speaking) that we've done on our PR trip, and we shared this place with two other couples who found this place to be so romantic that they really didn't mind public displays of affection. It was a good thing we made our visit when we did because the typically sunny south side of Puerto Rico got some heavy and persistent rains the very next morning!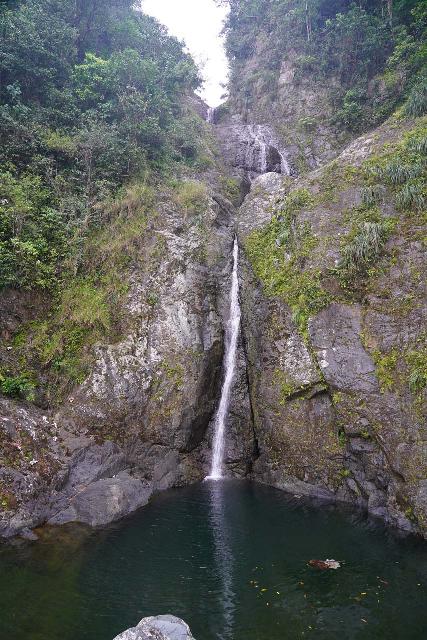 Chorro de Dona Juana – this waterfall was near the geographic heart of Puerto Rico in the Cordillera Central Mountains, and it also represented a nice spot to stretch the legs and break up the long, narrow, and winding drive along the PR-149 road. This falls even had a plunge pool that you could swim in, but no one did it during our visit because it had been raining all morning.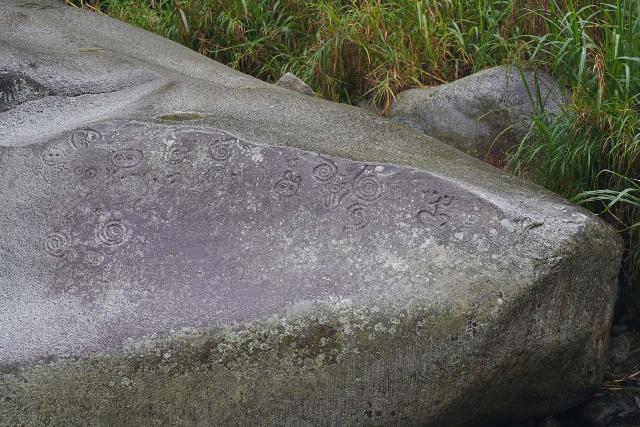 La Piedra Escrita – this giant boulder with native Taino petroglyphs on its top was an important heritage site as well as a small waterfall and swimming hole near the town of Jayuya deep in the Central Mountains of Puerto Rico. Even though we had to content with some heavy rain during our visit, the storm eventually blew by and one local decided to go for a refreshing swim!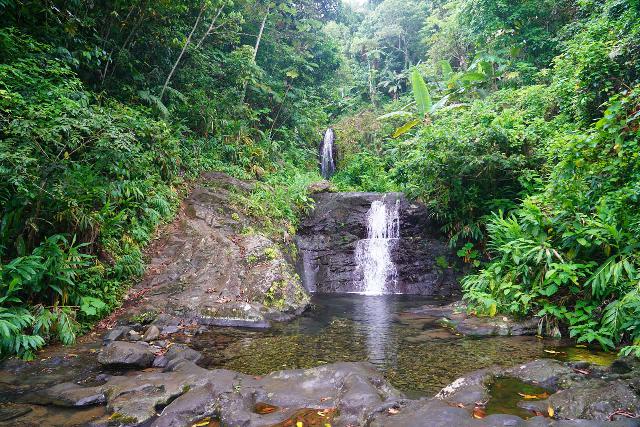 Cascada Las Delicias – this delightful pair of waterfalls also felt like it was a little off the beaten path in the Central Mountains of Puerto Rico. We actually had to find an unmarked pullout near its bridge, and then walk the narrow road back to the bridge before making the slippery scramble to experience both secluded waterfalls.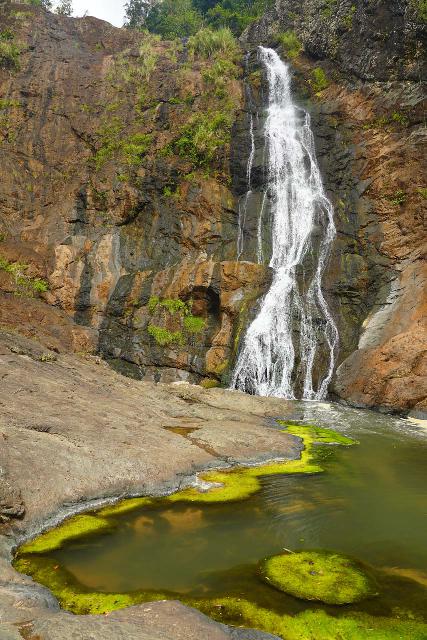 Charco La Guitarra and Salto La Plazuela – of all the waterfalls we visited in Puerto Rico, this one probably required the greatest amount of effort. Not only did this involve driving on steep and narrow mountain roads, but then I had to walk the steepest parts of the road before doing a very slippery and risky stream scramble to reach the waterfall and guitar-shaped swimming hole. And as you can see, the intermediate waterfall was huge, and the pool at the end made all the effort to get there all the more worthwhile.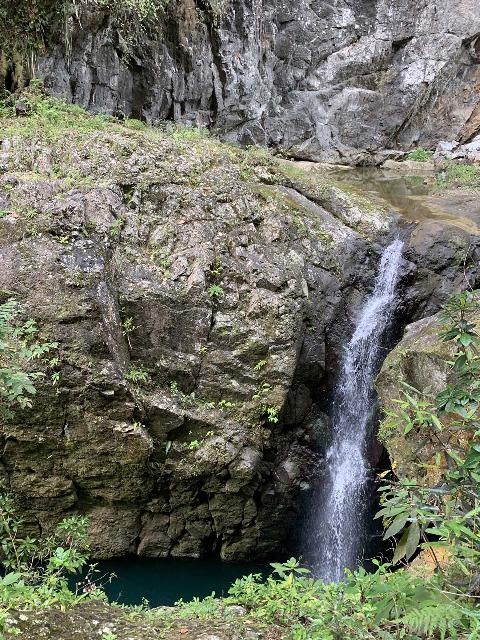 Canon de San Cristobal – as Puerto Rico's deepest canyon (and possibly the deepest one in all the Antilles Islands of the Eastern Caribbean), it was not an easy adventure to get to the blue pool and waterfall situated in the deepest part of this canyon. I was glad that I hired a guide to do this hike, and it also included possibly the island's tallest waterfall in La Niebla del Usabon as well as La Cabra Waterfall along the way.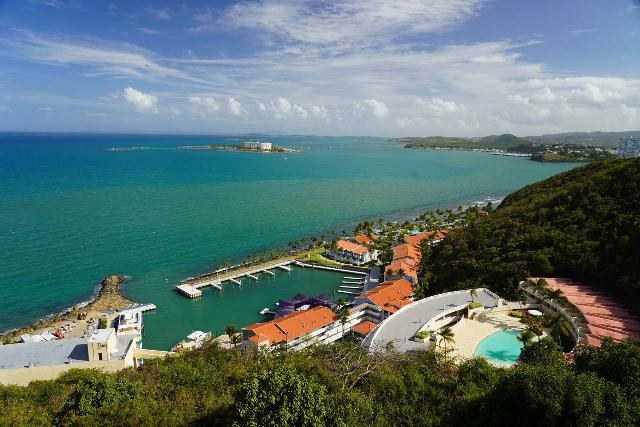 El Conquistador Resort – this could very well have been the largest resort we had ever stayed at since it featured an upper part of the property as well as a lower section that had a water park that really made our daughter's trip.
This place also featured an offshore island with calm sandy beach to boot! And I'd have to say that it was a nice way to cap off our trip in Puerto Rico.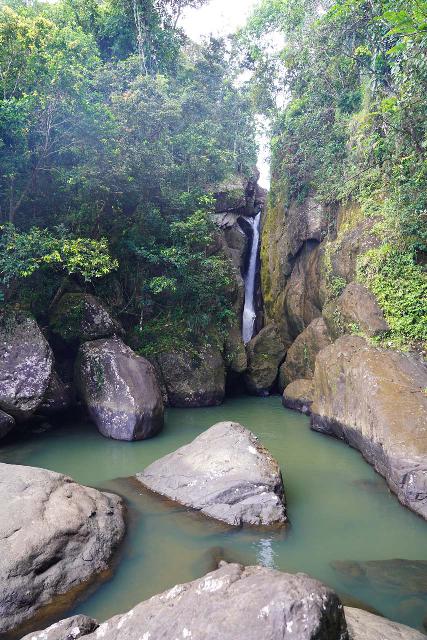 Rio Espiritu Santo Waterfall – this was the last waterfall of our Puerto Rico Spring Break trip, and even though it was very close to the road, it was deceptively tricky to properly experience due to a combination of big bouldering obstacles as well as a very beat up road in a less-visited part of El Yunque Rainforest.
Trip Advice
During our Puerto Rico Spring Break trip, we definitely had to roll with the punches concerning traffic, closures, hurricane damages, and tropical downpours.
Staying COVID-19 Safe: Our visit to Puerto Rico took place at a time when restrictions were starting to get lifted. In fact, mask mandates were still enforced at the start of our trip, but they were a thing of the past at the end of the trip. Nevertheless, the virus and its variants were still around, and we remained vigilant as far as mask wearing and social distancing.
Thunderstorms: I was quite surprised at how often it rained almost every day of our trip in Puerto Rico. There seemed to be a pattern of afternoon thunderstorms that would dump buckets of rain in spurts, but then it would persist into total tropical downpours in the mid- to late afternoons.
However, there were also days where the rains came early in the morning and persisted throughout. From talking with locals, some said that this was the build-up to the hurricane season, and that May has traditionally been their wettest month of the year (our visit was just a week or two before that month)!
Puerto Rican Food: To be honest, it seemed like there were a lot of similarities between Puerto Rican food and Cuban food. However, we noticed a lack of vegetables and mostly starches (i.e. plantains in the form of tostones or mofongos) with some fresh (i.e. expensive) seafoods as well as pork. Speaking of the pork, we did try a lechonera which served slow roasted pig, and you definitely want to avoid the fried drier ones (masitas, I think they're called).
Jungle Hiking: When it comes to chasing waterfalls in Puerto Rico, there was definitely a lot of jungle hiking going on, which meant we had to concentrate on our steps more since each step was slippery. There were also thorny and spiky plants and leaves that could be really bad news since some were neurotoxic.
So we really had to pay particular attention if we were scrambling on dark rocks, which were already slippery when dry, but they were even more so when wet. The same went for muddy surfaces, and that's why the hiking in Puerto Rico tended to be modest in distance, but they took longer due to the tropical terrain and the hazards they presented.
Driving in Puerto Rico: Finally, it's worth mentioning that even though this is a US territory, the driving is actually not that easy. There's a lot of cars on the island so traffic is one thing to keep in mind. In fact, making left turns is especially tricky, and you really have to be more assertive and decisive when making your move or else not move at all!
There's also the mountain driving involving twisty and narrow roads with blind corners, which can be quite an uncomfortable drive (not only for the driver but also carsick-prone passengers). You definitely have to budget more time for the drives in the mountains and in general just to ensure that you get to where you need to go safely.
Travel Itinerary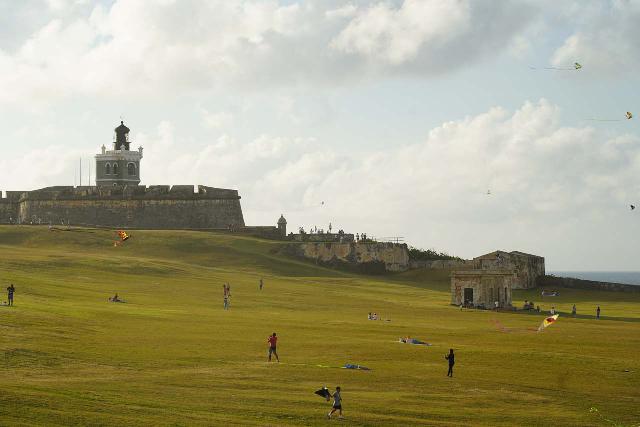 Days 0-1: Red-eye flight to San Juan via Miami from Los Angeles
The trip started with an evening flight that landed in Miami the next morning, and then we caught a connecting flight to San Juan later that morning.
The rest of the day was spent exploring Viejo San Juan, which included a foodie tour in the old town.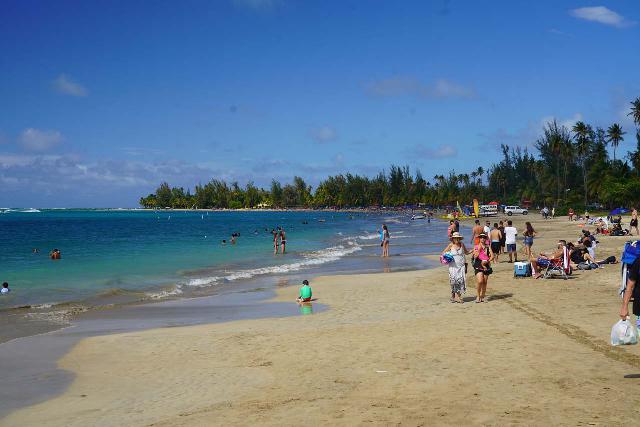 Day 2: El Yunque and Surrounds
We spent the majority of the morning visiting waterfalls in and around El Yunque Rainforest, and this included La Coca Falls, Juan Diego Falls, Las Tinajas Waterfall, and Las Paylas Waterslides. We also experienced the Luquillo Kiosks and Beach.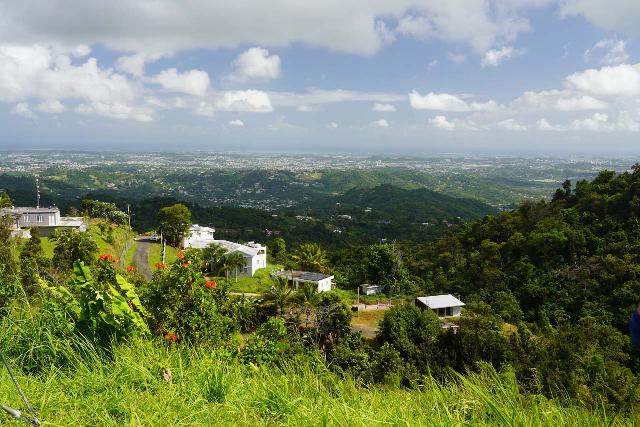 Day 3: Charco Prieto Waterfall Tour
On this day, we divided-and-conquered where I did a guided tour to the Charco Prieto Waterfall while Julie and Tahia spent time in Old San Juan so they could visit at least the Castillo de San Cristobal. When I came back to the resort, we spent time playing in the pools for our day in San Juan.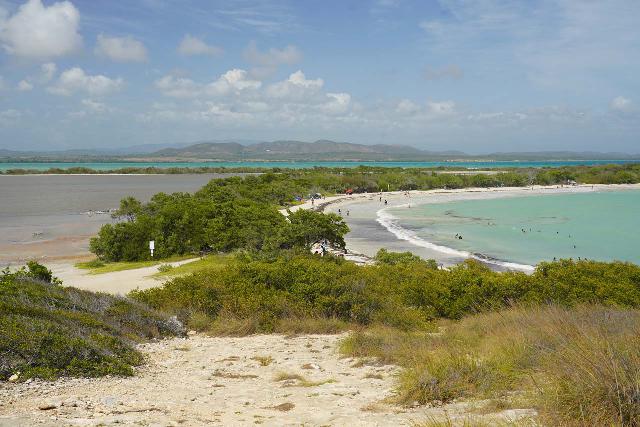 Day 4: Drive from San Juan to Aguadilla
Overnight: Punta Borinquen (Aguadilla, Puerto Rico)
We did a long drive from San Juan all the way to the west coast of Puerto Rico, and along the way, we visited Salto Collazo and Gozalandia Waterfall before doing a long detour to Cabo Rojo (since the original plan of visiting Cueva Ventana and Arecibo Observatory were nixed from closures). We ended this long day of driving at Punta Borinquen, which was actually a base just north of Aguadilla.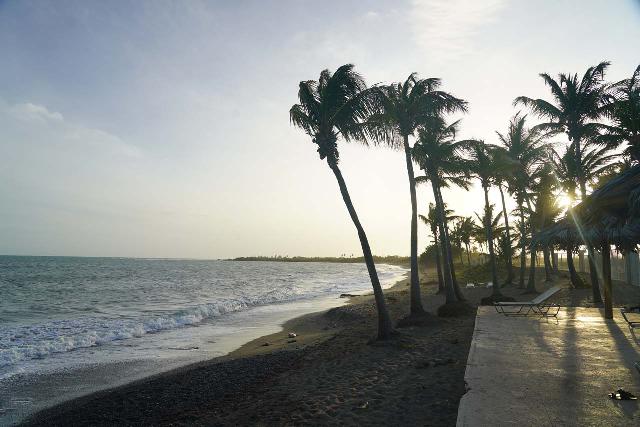 Day 5: Drive from Aguadilla to Ponce
Overnight: Ponce Hilton (Ponce, Puerto Rico)
On this day, we drove the western end of the Ruta Panoramica that encompassed the waterfalls Salto Curet and Salto Santa Clara. We then had to tend to a tire emergency in Juana Diaz before visiting Salto Collores, and then barely having enough time to enjoy the pool at the Ponce Hilton (though the slide was closed by the time we were done with dinner).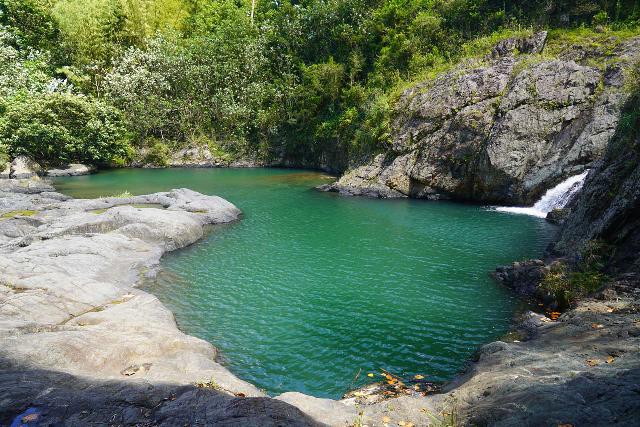 Day 6: Drive from Ponce to Barranquitas
Overnight: Canyon Boutique Hotel (Barranquitas, Puerto Rico)
We went back into the mountains on this day as we explored the geographical heart of Puerto Rico. Along the way, we visited Chorro de Dona Juana, La Piedra Escrita, Cascada Las Delicias, and Salto La Plazuela with Charco La Guitarra.
At the end of the day, we had a nice dinner at Kmilas Bakery, which had a nice mountain view from a mountain ridge on the outskirts of Barranquitas.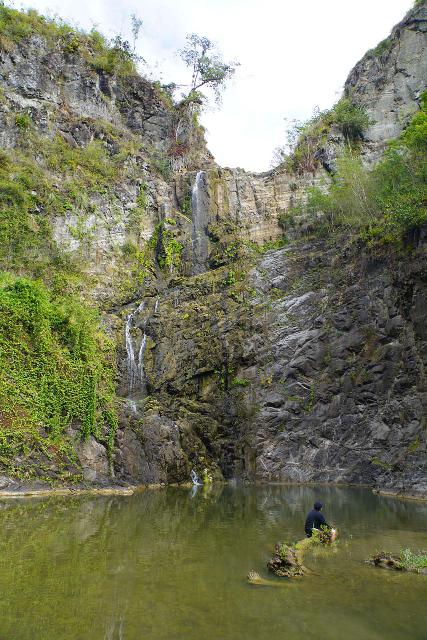 Day 7: Drive from Barranquitas to Fajardo
I started this day with a guided hike into Canon de San Cristobal, where I got to experience La Niebla Waterfall as well as Charco Azul and La Cabra Waterfall. I was glad I did the guided hike because it wasn't an easy jungle hike.
When I rejoined Julie and Tahia, we then did a long drive out of the mountains towards Guavate where we finally got to try a lechonera.
Then, we did a long drive to Fajardo where the family got to play in the resort's water park there.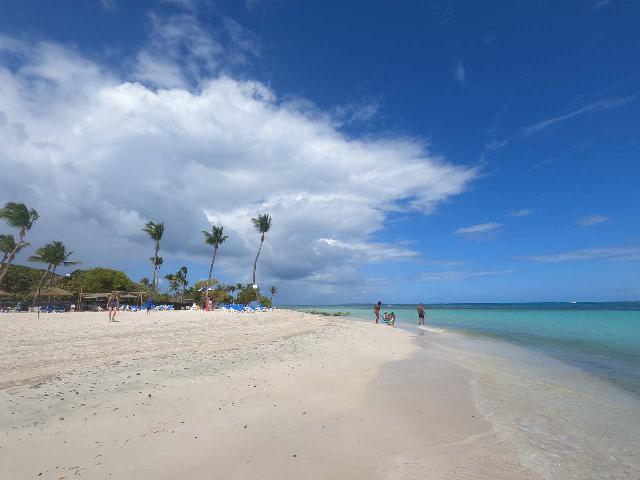 Day 8: Day at Leisure in Fajardo
I did an early morning visit to the Rio Espiritu Santo Waterfall, and then we spent the rest of the day at El Conquistador's water park as well as the offshore island and beach at Isla de Palomino.
We spent the remainder of the afternoon and evening back at the Luquillo Kiosks, where the ambience was far less chaotic than it was during Semana Santa.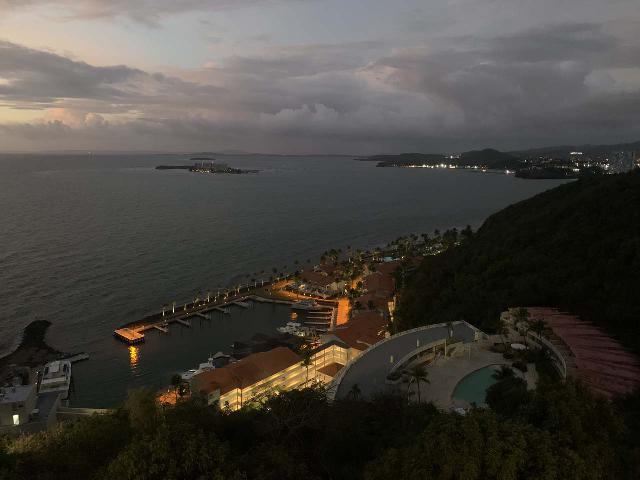 Day 9: Return to Los Angeles
We had to get up early and drive from Fajardo back to the San Juan Airport. Then, we spent the rest of the day flying back to Los Angeles with a long layover in the Miami International Airport.
Best Places We've Stayed At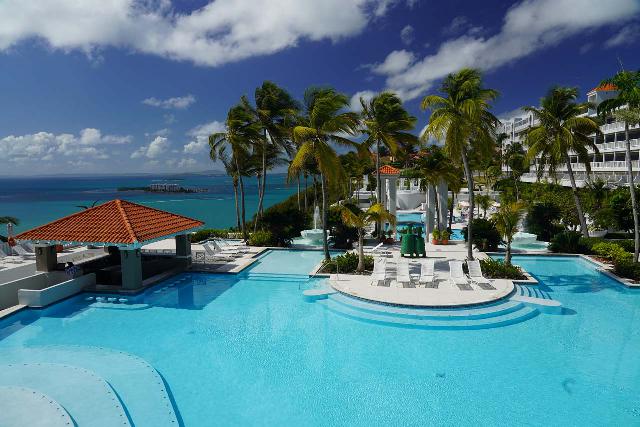 El Conquistador Resort, Fajardo – Of all the places that we stayed in Puerto Rico, this place stood out to us because it was perhaps the largest resort we had ever stayed at (I remembered we had to do quite the hike to even get to our room from the lobby)! But this place held its own in terms of being family friendly because it included a water park that was like a small scale Hurricane Harbor with water slides that Tahia and I went up and down numerous times. There was also an offshore island called Isla Palomino where we got to chill out at a beach with some calm water.
Heck, I'm pretty sure this place made Tahia's trip, but for Julie and I, we enjoyed sleeping to the sound of the waves with the doors open and the trade winds blowing into our room (so there was no need for AC). Indeed, I thought it was a good call on Julie's part to change up the itinerary to spend more time at this place instead of the non-touristy town of Barranquitas for a second night.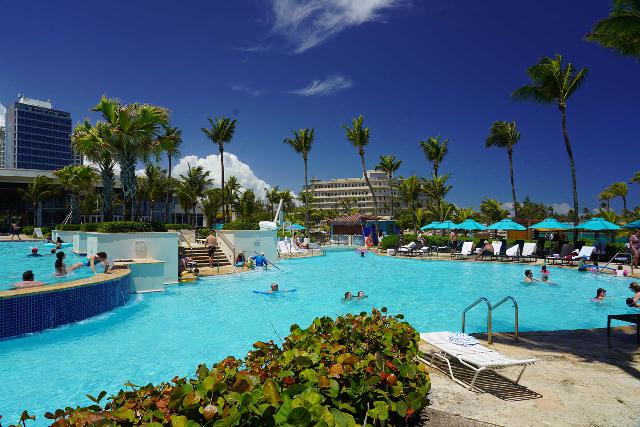 Caribe Hilton Resort, San Juan – I felt compelled to mention this place as another good place to stay mostly because of how accommodating it was for families as far as its extensive series of pools and protected beach were concerned. It was also within Uber distance of getting to Viejo San Juan, which was the main draw of most tourists to Puerto Rico. The rooms were comfortable and clean, but we definitely had to pay a hefty price to stay here (as we did for El Conquistador).
Trip Reports
Waterfalls included in this itinerary
Visitor Comments:
Got something you'd like to share or say to keep the conversation going? Feel free to leave a comment below...
No users have replied to the content on this page