This Queensland East Coast Itinerary covered nearly two weeks, and it was basically going back to doing a road trip on our own after having come here from Bali.
Speaking of which, this was the third part of a four-part longer itinerary where each part could be its own shorter itinerary on its own.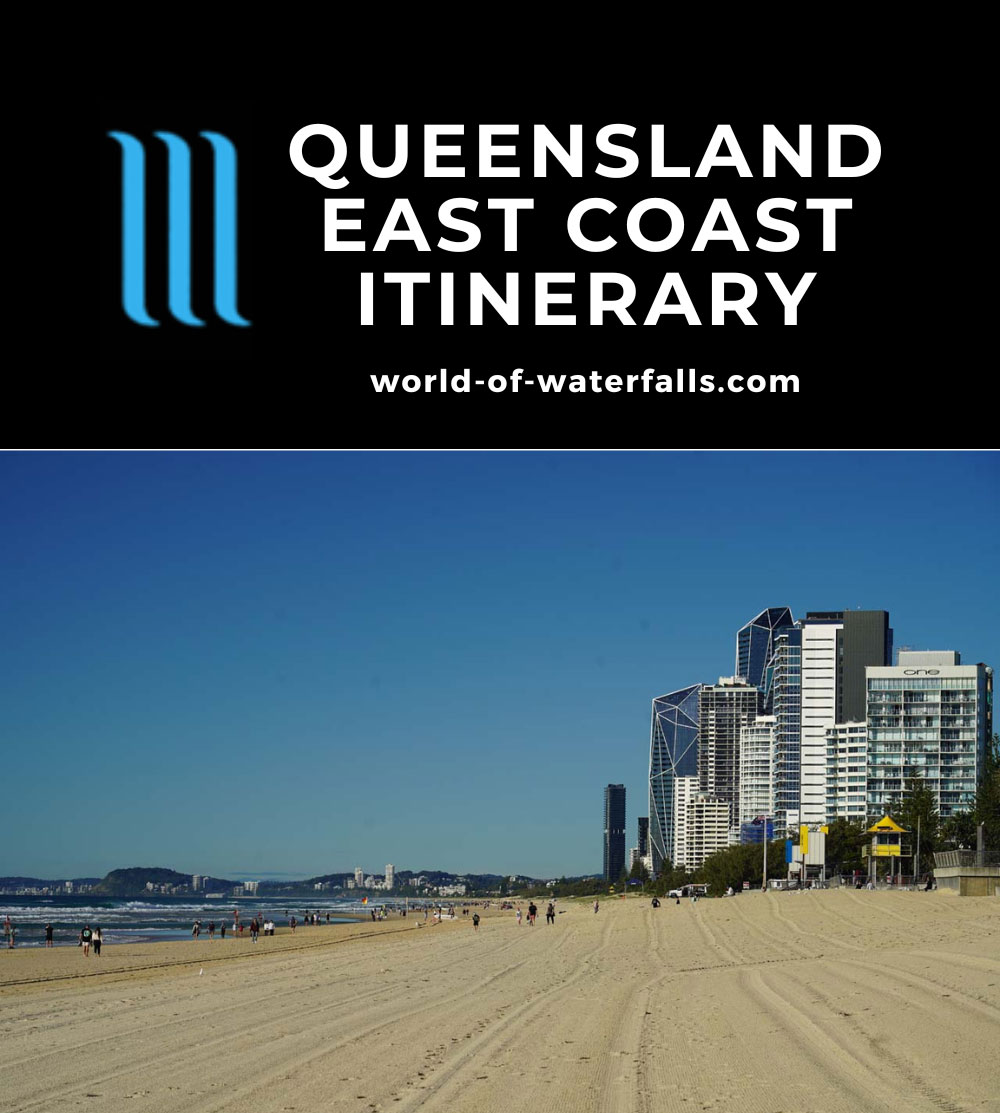 The original intent of this trip was to re-experience some of the iconic sights we did 14 years ago (e.g. the Great Barrier Reef and the Whitsundays), but this time letting our daughter and my Mom (first time visitors) experience them with us.
Unfortunately, this part of the trip will forever be known to our family as the one where we had to deal with my younger brother passing away, and that ended up cutting the trip short (we ultimately cut out the New South Wales portion).
Mom was the first to return home on the third day we were in the state (able to score a last-minute ticket for one person instead of four) while the rest of us finished the Queensland part of the trip.
In a weird and twisted way, perhaps the shortened itinerary ended up being a good thing because of flooding that really hit the Sydney and Northern Rivers (e.g. North Coast) area, which also affected almost all of the days we were self-touring in Queensland.
Although the intent was for us to take advantage of the Dry Season so we could visit the state's iconic attractions, we ultimately wound up having weather cancellations for those types of excursions, and we ended up seeing waterfalls that wound up flowing when they weren't supposed to flow.
This is all reflective of a La Nina pattern though our visit happened during a rare "double-dip" (i.e. two straight years of the climate pattern though it turned out to be going into a very rare triple dip).
Needless to say, there were lots of things that were off about this trip, but it was a lesson in improvising on the fly (again) while also learning how to deal with grief.
Here's a brief summary of what we managed to do on this trip…
Trip Highlights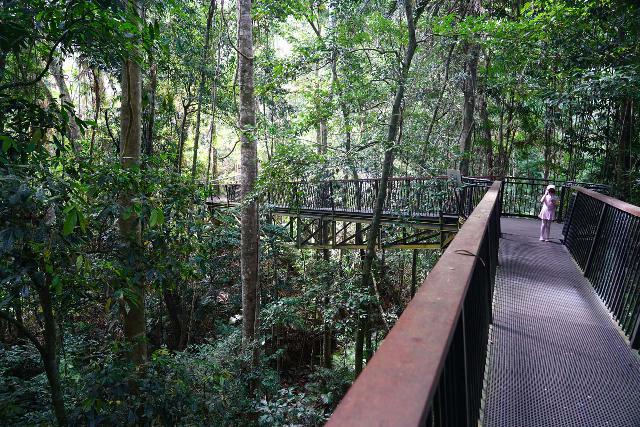 Barron Falls – this wasn't the first time Julie and I have visited this waterfall, but unlike that first time, we did this on our own and my daughter and mother shared the experience with us. Surprising us, it featured an elevated walk above the monsoonal rainforest floor, which really reminded me of a tree top walk (even if it wasn't up on the tree tops), and it made the excursion that much more memorable.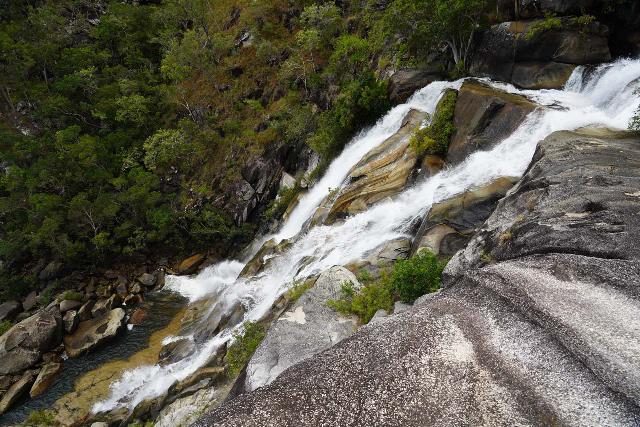 Davies Creek Falls – this was the first of the Queensland waterfalls on this trip that I haven't done before, and I was pleasantly surprised by the experience. Even though you don't get to go to the bottom of the falls for the best viewing experience, it was still a pleasant and satisfying visit with swimming opportunities as well as panoramic views in addition to the waterfall itself.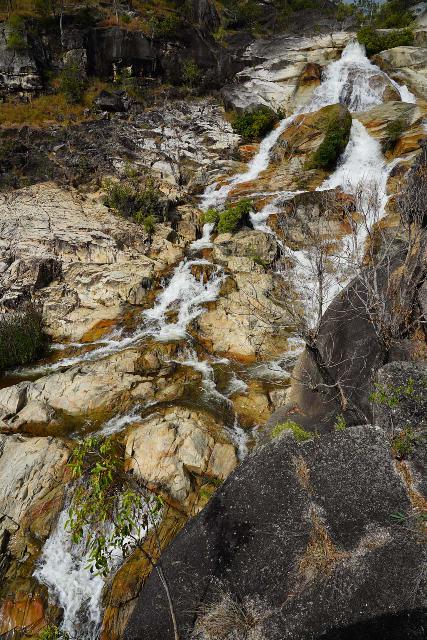 Emerald Creek Falls – this was another waterfall that Julie and I didn't get to do the first time we were here in May 2008, but like with Davies Creek Falls, it was another pleasant experience near Cairns that I got to share with Mom and I. Indeed, the trail to the lookout was pleasant, and the trail to the bottom of the falls was a little more adventurous but also memorable. It even looked tempting for a swim given how warm it was out there.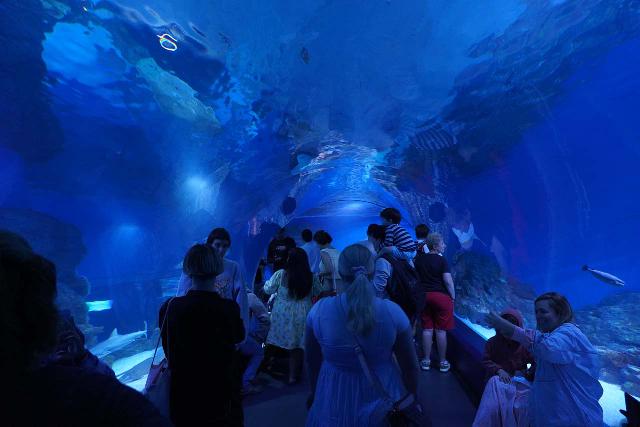 Cairns Aquarium – unfortunately, our Great Barrier Reef tour and snorkel was cancelled due to bad weather (even though we were in the Dry Season but La Nina had other plans). So the alternative was to do this aquarium, which was actually quite surprisingly pleasant and impressive. It wasn't around when Julie and I first visited Cairns in May 2008, but now that this is an option, I can definitely recommend checking it out, especially if you have family of all ages with you.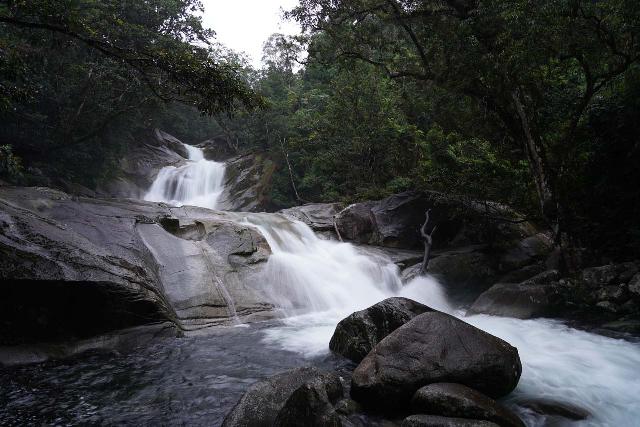 Josephine Falls – this was perhaps one of the most popular waterfalls in Queensland largely because it's a swimming hole, water slide, scenic attraction, and it's within reach from Cairns as well as Innisfail. On our most recent visit, it was on a rainy day, but that didn't stop many people from coming here even when we showed up late and tried to get our visit in before it got dark. That just shows you just how popular this place is!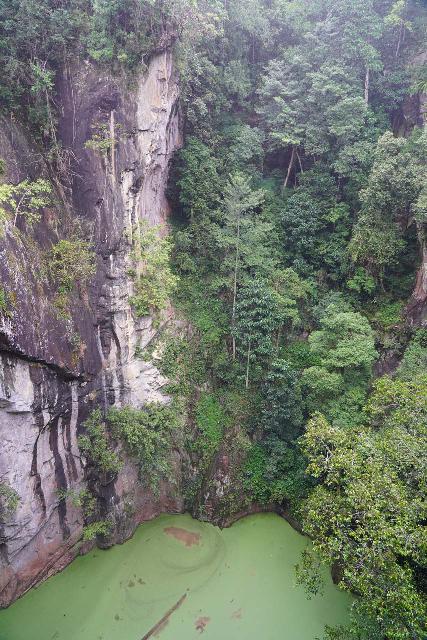 Dinner Falls and Hypipamee Crater – even though it wasn't the first time I've been to this place, this time around, we got to share the experience with our daughter and do the entire circuit track (unlike the first time). It turned out that we didn't miss anything from the first visit, but it was nice to see that this place stayed beautiful over the years even though the weather didn't cooperate.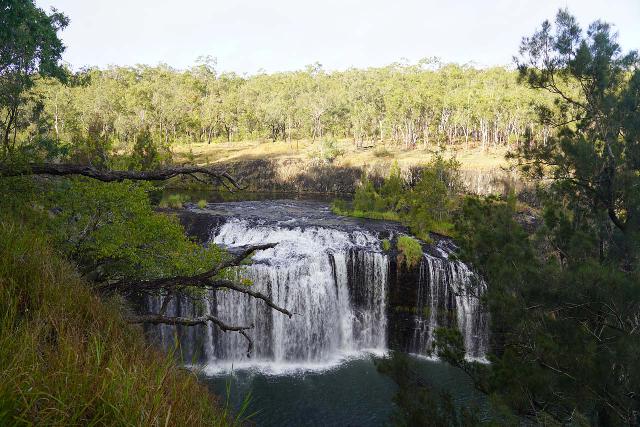 Millstream Falls – this was a pleasant repeat experience not so much because it was proclaimed to be Australia's widest singular waterfall, but there was actually sun out by Ravenshoe even though the rest of the East Coast was getting socked in by bad weather!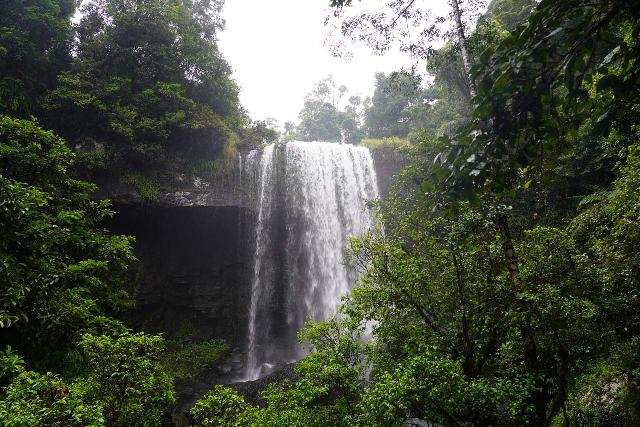 Zillie Falls and the Waterfall Circuit – this is a worthwhile scenic drive and walk, and while it was under rainy weather this time around, at least we got to explore this place a bit more and even get down to the bottom of Zillie Falls (something I didn't get to do the first time).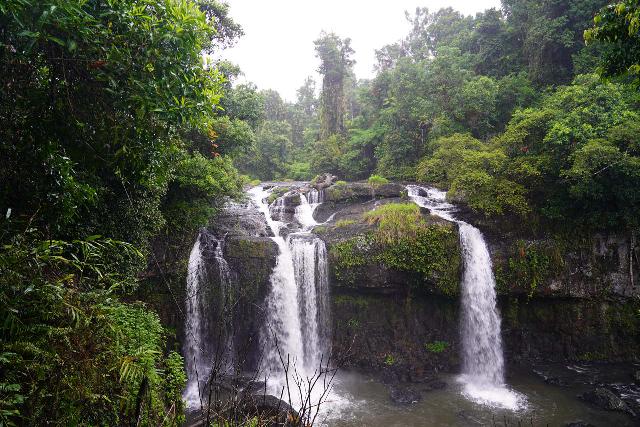 Wallicher Falls and Tchupala Falls – this is a pairing of two wide waterfalls on Henrietta Creek, which is quite different from most of the thinner taller waterfalls and/or cascades throughout Australia. It was another familiar waterfall that we've seen before, but on my 2022 visit, the damage of Cyclone Larry back in 2008 is not as prevalent so I got to see at least Tchupala Falls (the first one) better. The second one was still experienced from an overlook though I do regret not to keep going to see if there was a way to get closer to that one.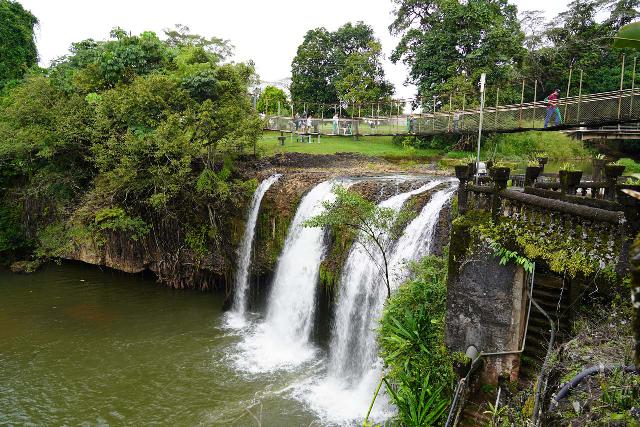 Mena Creek Falls – although the price of admission to Paronella Park was a bit on the steep side, I considered it a highlight because of not only this waterfall, but its diversity of sights like kauri trees, Teresa Falls, Spanish-style ruins, bamboo, and more. Julie and Tahia certainly enjoyed the change of pace considering how persistent rain had already made them lament going turbo on chasing waterfalls.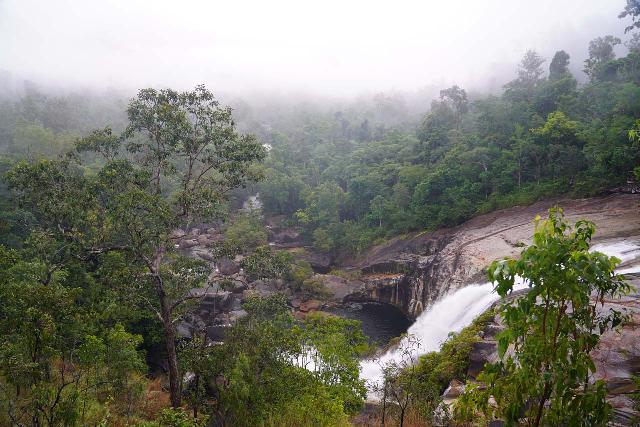 Murray Falls – when Julie and I went to this waterfall in May 2008, we didn't get around to checking out what a mysterious overlook railing high up the cliffs was all about. So when we returned 14 years later, I actually did the hidden walk to get up there (in the unseasonable Dry Season rain), and was treated to a peaceful experience with a panorama though its sights were blanketed by low clouds. Still, I enjoyed the visit enough to consider this a highlight of the QLD part of the trip.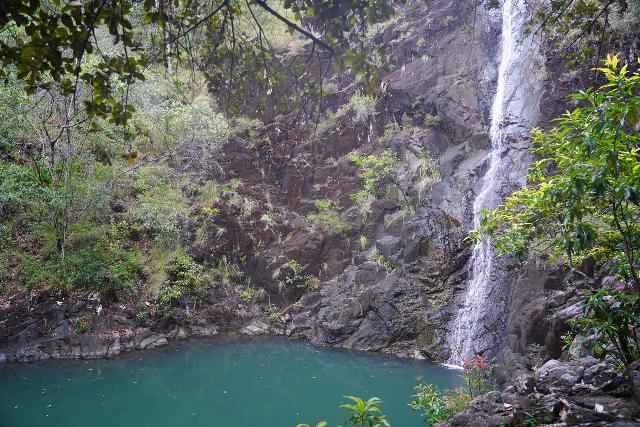 Attie Creek Falls – although it wasn't the first time I've been to this waterfall, there was something different about my second visit. I don't know if it was the improved signage and trail infrastructure, or that I realized there was a picnic area and swimming hole near the car park (which I swore was re-located from my first visit). Either way, it still was a nice, peaceful experience even if the trailhead was busy (but the falls was not).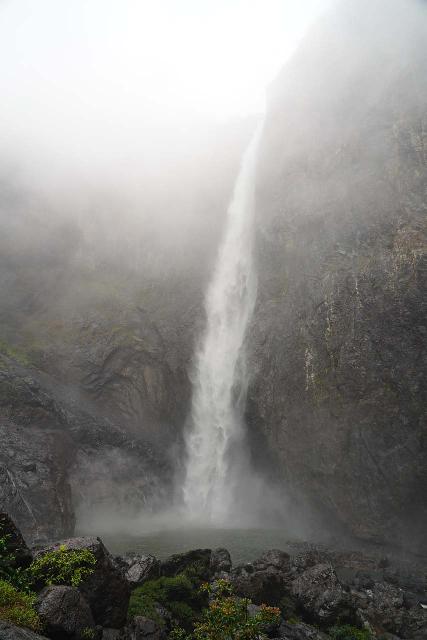 Wallaman Falls – even though our second time coming to this towering waterfall (first time in 14 years) was marred by bad weather, I was glad to have done the Djyinda Walk where I was able to witness the waterfall from its bottom beneath the clouds when the overlook was completely blocked by clouds. It just goes to show you that even with a giant waterfall, there's ways to snatch victory from defeat.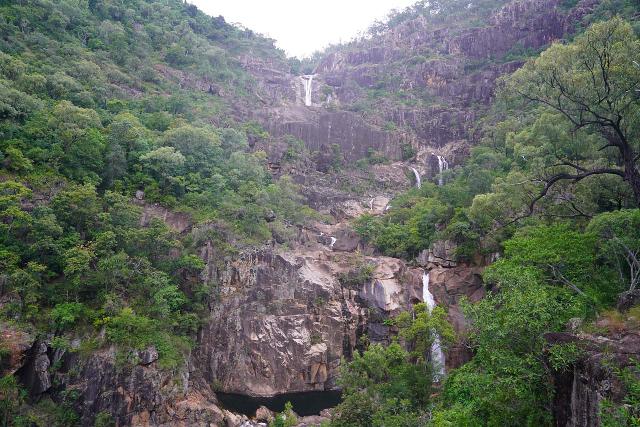 Jourama Falls – my second visit to this waterfall (first time in 14 years again) had less flow than on the first visit, and even the visit was WAY easier than it was before thanks to the lower flow. So the hike was a breeze, but the experience remained memorable even on a rain-sogged day.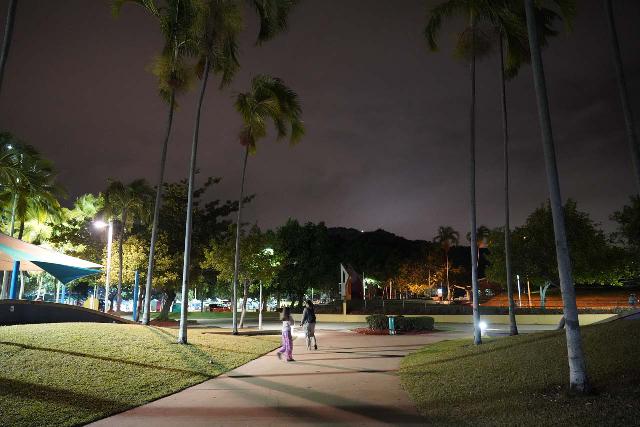 The Strand in Townsville – unlike many of the sights on this list, the town was something we hadn't done before, but we managed to squeeze in a night time stroll throughout the Strand, which was a happening beachside CBD area of the town. Even though we were too late for their Friday night fair, we still got to experience the ambience of this place, which stuck with us at a time we were looking to break up the waterfall saturation due to the La Nina rains.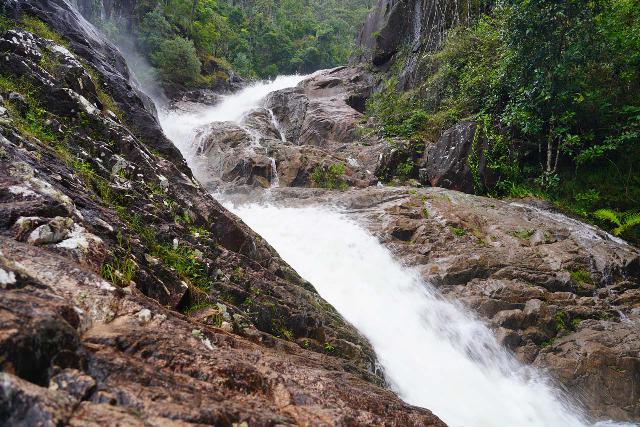 Wheel of Fire Falls – this was a mysterious waterfall to me ever since we were turned back by a trail closure on our first visit to the Finch Hatton Gorge in May 2008. Well fast forward 14 years, and I literally felt why the closure happened because that Callistemon Crossing exemplified a rather sketchy unbridged stream traverse with fast moving water and surprising depth. Moreover, it wasn't easy to even get a look at the waterfall without going for a risky swim in high water. Heck, I even contracted a blood-sucking leech, which I only realized after seeing blood stains when it came time to shower. So for that reason, just coming back OK (though my iPhone didn't do as well) really tested my sense of risk versus reward, and it was for that reason that it was memorable.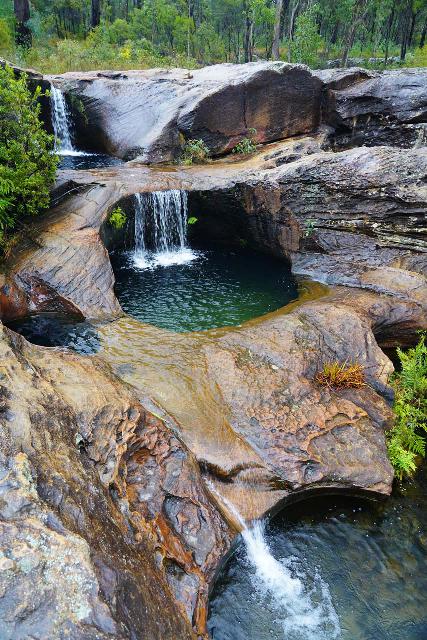 Rainbow Falls and Rockpools – we really went out of the way to visit this remote waterfall in the Blackdown Tableland National Park way west of Rockhampton, and we had to do it in the rain. So it was for the adventure (through floods, muddy 4wd roads, fast moving clouds, and getting really wet from intermittent heavy rains) that made witnessing the falls and rockpools all that much more special.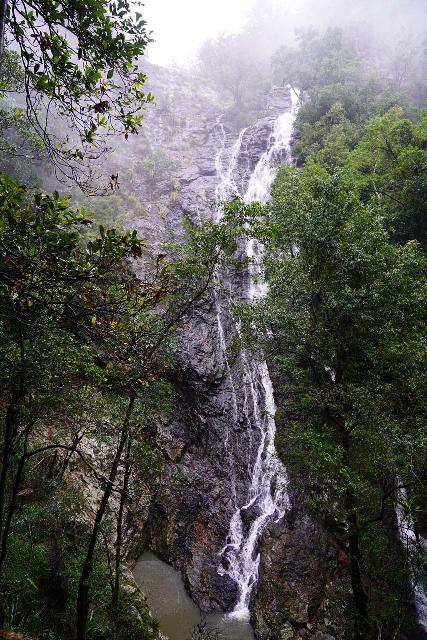 Kondalilla Falls – Julie and I tried to visit this falls on our first visit in May 2008 after a disappointing visit to Mapleton Falls, but it was closed. So we had to wait 14 years on a less-than-ideal rainy day before finally getting to witness this really tall waterfall and its rockpools. It also helped to break up the really long drive between Rockhampton and Surfers Paradise.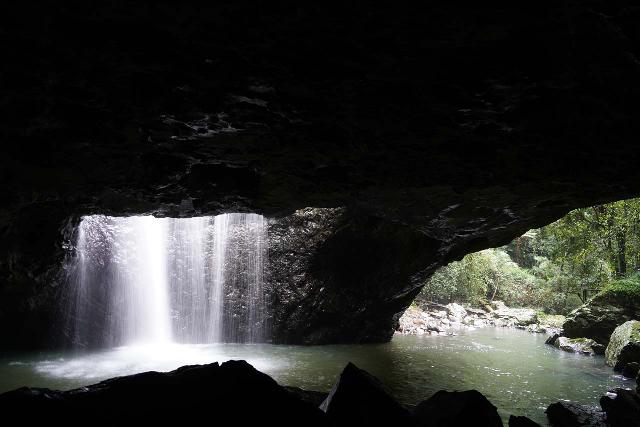 Natural Bridge – although my second visit to this attraction (in June 2022) wasn't much different than my first visit in May 2008, it was a bit rainier but also much quieter. While I was aware about glow worms, I didn't see any as I realized they're best seen in the Wet Season as opposed to the Dry (although there was lots of rain but it was still too cold). I guess that compels me to come back at that time…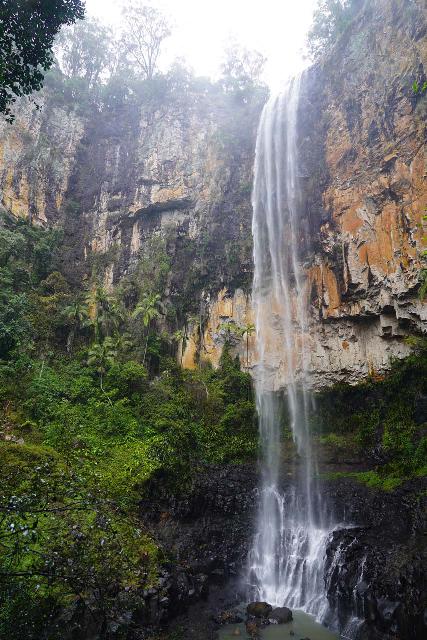 Purling Brook Falls – this was another instance where I had to come back to complete an experience. The first time in May 2008, we couldn't complete the Purling Brook Circuit because of a rock slide killing off access to the latter half. However, 14 years later, I finally managed to complete it because of a new suspension bridge fronting the falls. That said, you can't go behind this waterfall anymore, but then again, all the La Nina rains thickened this waterfall as well as allowing Tanninaba Falls to flow above the surface!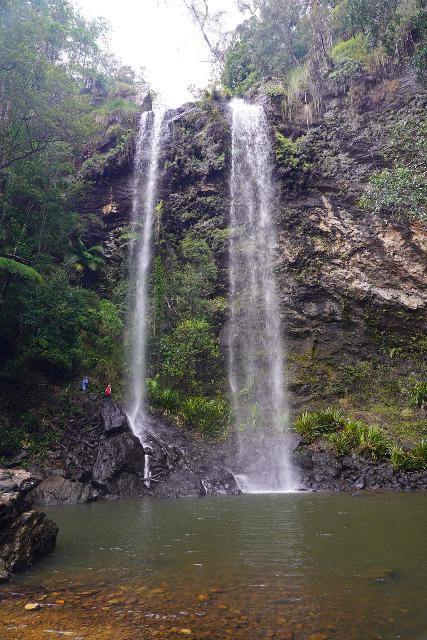 Twin Falls – this was a new experience for me even though it wasn't my first go at Springbrook National Park. Heck, I didn't even complete the 4km circuit, but I really enjoyed the shorter loop that I did do that encompassed this double-barreled waterfall, a huge rock cave, and surprising waterfalls. It was too bad I only spent about 75 minutes on this track, but I'll have to come back and make it a longer trek to finally experience it the way it should be experienced. But even that little taste I did get was memorable enough for me to consider this a highlight.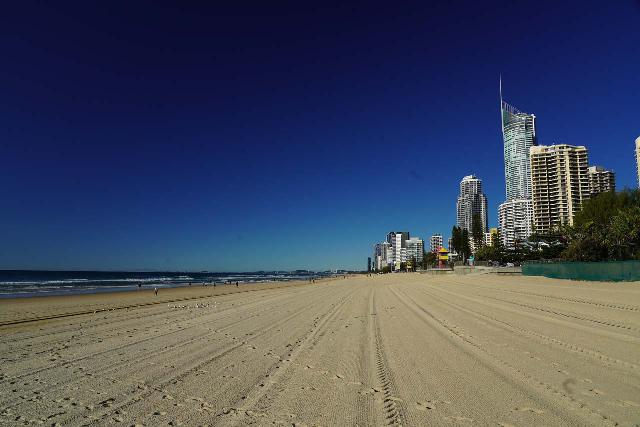 Surfers Paradise – as much as this place is touristy, our 2022 visit happened just when a persistent and strong series of storms in the Dry Season finally subsided and instantly this beach really showed off its charm. So we had to call this experience a highlight, which is why I wanted to call it out in this page.
Lone Pine Koala Sanctuary – for Tahia, this was the highlight of our Queensland part of our 2022 Summer home run trip. Not only did she have a blast, it was also her first opportunity at interacting with some of Australia's unique fauna, which she had only seen in fleeting moments throughout our time in the country on this trip. Plus, it helped that we had finally gotten good weather on a trip marred with a family tragedy and bad weather that persisted for over a week. So this place was just what the doctor had ordered!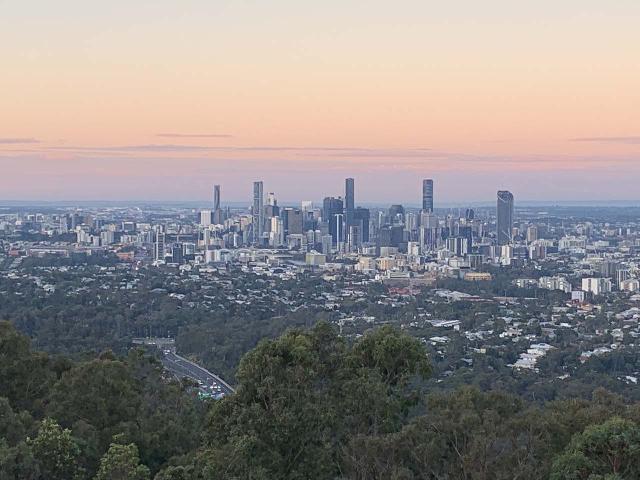 Mt Coot-tha – while my main motivation for coming to this Brisbane reserve was to experience JC Slaughter Falls and Simpson Falls, we managed to catch sunset and twilight looking towards the Brisbane CBD from the summit of Mt Coot-tha. Given the clearing weather, it was a magical experience in a trip that was littered with disappointment and tragedy, and it reminded me of why we travel as moments like these can come up.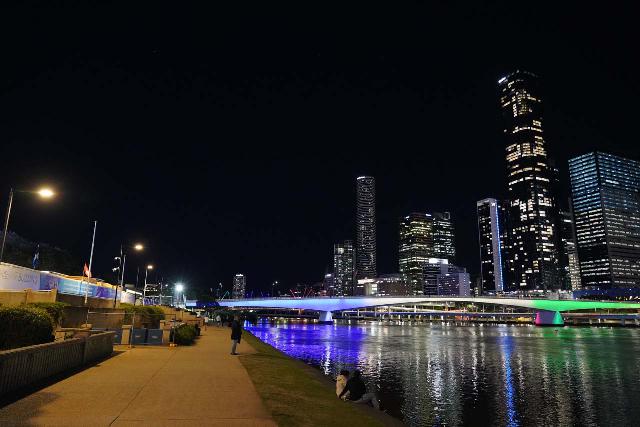 Brisbane CBD – like with other experiences we've done in Queensland on this trip, it wasn't the first time Julie and I have done this walk though it was kind of cool to see how much things have changed (or not) over those years. It also felt safe (at least relative to what we're used to in the States) and didn't reek of pee as we walked the riverside path even though it was at night. We also relished being able to share the experience with our daughter (even if her mind is all about trying to get screen time).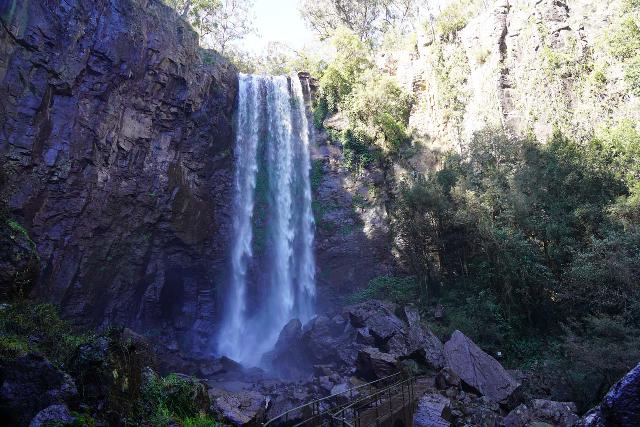 Queen Mary Falls – unlike the first time I went to this waterfall, on my second visit, I actually did the entire circuit so I could finally get to the bottom of it as well as from its familiar lookout. Amazing to think that this visit (as well as the other Killarney Waterfalls in Daggs Falls and Browns Falls) almost didn't happen because flooding killed Head Road and we had to go on a long detour on a day when we also had to catch a flight home back to Los Angeles from the Brisbane International Airport! So needless to say, time wasn't on our side, but we ultimately made it, and it would be the last memory of this particular trip that really put the whole family through a rollercoaster of emotions.
Trip Advice
During the Queensland part of our trip, there were definitely things that happened that were not planned for that ultimately had impacts to the trip experience, forcing us to make on-the-spot decisions, and making assessments for risks that we never perceived going into the trip…
Climate Change Disruptions: This trip was exhibit A when it comes to Climate Change disrupting historical norms. We had timed our trip for the Dry Season so we could experience the Great Barrier Reef and the Whitsunday Islands among others. But what we ended up with was over a week of consecutive days of rain producing flooding. So we definitely had to make on-the-spot adjustments so as to not put ourselves in life threatening situations exacerbated by Climate Change.
Long Distances: It's worth reinforcing this since touring Australia involves long drives, and this was especially true of the stretch involving Airlie Beach and Rockhampton (even the Sunshine Coast). It's times like these that I appreciate Triple J Radio while also allowing time to really soak in the sights driving through rural Australia where I'm alone with my thoughts. Of course, this can also mean road fatigue so just be sure you're well rested and well-hydrated, and that you have a backup driver to help break up the drive while you power nap.
School Holidays: Apparently, different states have different school holiday schedules, and our time in Queensland happened to coincide exactly with the school holidays. This meant that just about everywhere we went was busier than anticipated (most of the places we've been to in our 2008 visit were nowhere near as busy as now). It also explained why accommodations were so expensive and easily booked out, but that's something to remember the next time we cruise around Australia.
Travel Interruption: We always pay for travel insurance whenever we book international travel, but nowhere was it more necessary than on this trip where my younger brother died and we had to cut the trip short. Given that, the biggest expense from the resulting trip interruption was the Qantas change fees, which amounted to nearly $1000 USD per person! We had to wait for the trip to end to get the wheels rolling on submitting another claim (the first one was for a missed connection from Qantas-induced travel delays), but it took a lot of following up and persisting to even get that second claim filed (their system only allows for one claim). And even through the difficult time of getting through the funeral and emotional outbursts, we're still waiting for resolution on our claim after submitting the required documentation. Stay tuned on this one…
Travel Itinerary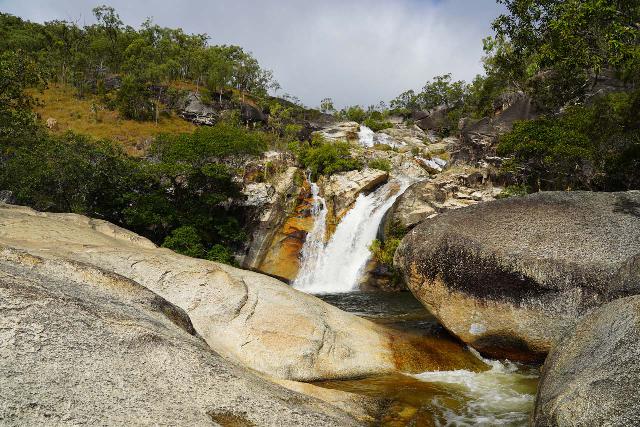 Days 0-1: Red-eye flight to Cairns from Bali
Overnight: Cairns Hilton (Cairns, Queensland, Australia)
This was a brutal day after a long day of touring in Bali and then catching a red-eye flight, only to be followed up by a full day of self-touring on this day! And as ragged as we felt, we still fit in visits to Barron Falls, Davies Creek Falls, and Emerald Creek Falls, while also enjoying one of the freshest ice cream and sorbets at the Emerald Creek Ice Creamery.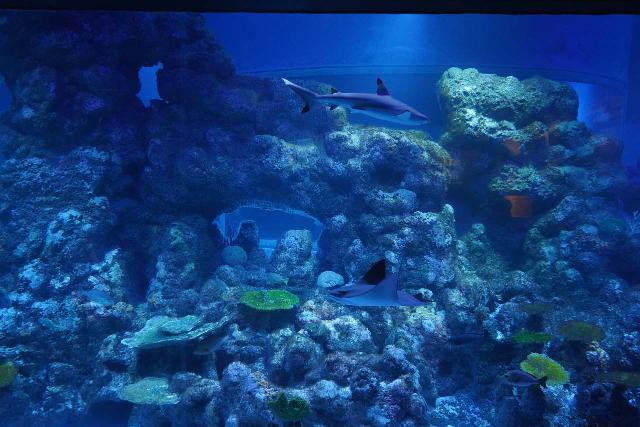 Day 2: Cairns
Overnight: Cairns Hilton (Cairns, Queensland, Australia)
This was a day we were supposed to do the Great Barrier Reef, but with bad weather, we had to settle for the Cairns Aquarium and Esplanade while also running errands. Mom and I did fit in a late afternoon visit to Josephine Falls before it got dark. But this was otherwise a pretty unassuming day (aside from learning of news of a family tragedy that changed the trajectory of this trip as well as our lives from this day forward)…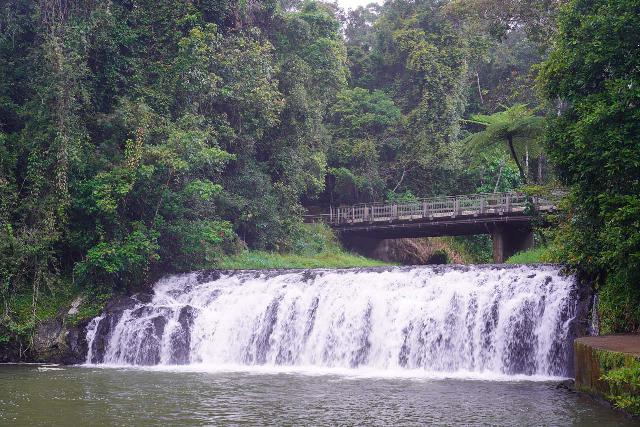 Day 3: Drive from Cairns to Millaa Millaa
Overnight: Millaa Millaa Caravan Park (Millaa Millaa, Queensland, Australia)
We began the day with dropping off my Mom at the Cairns Airport while also making phone calls to people that were with my brother's family as well as to Qantas in order to make changes in flight plans. Then, after that was done, we then drove a twisty road in the increasingly heavier rain towards the Atherton Tablelands to get to Malanda Falls and Dinner Falls.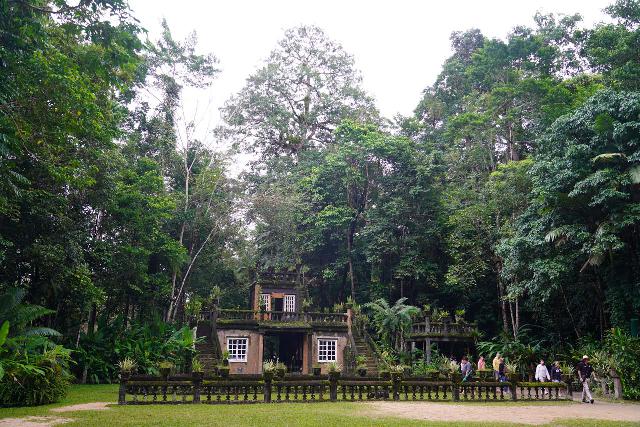 Day 4: Drive from Millaa Millaa to Innisfail
Overnight: Black Marlin Motel (Innisfail, Queensland, Australia)
On this day, we did quite the waterfall-saturation tour with a solo drive way west towards Little Millstream Falls and Millstream Falls. Then, we did the familiar waterfalls in the Atherton Tablelands like Millaa Millaa Falls, Zillie Falls, Ellinjaa Falls, and Wallicher and Tchupala Falls. On top of those, we also visited new waterfalls like Serendipity Falls and Mena Creek Falls.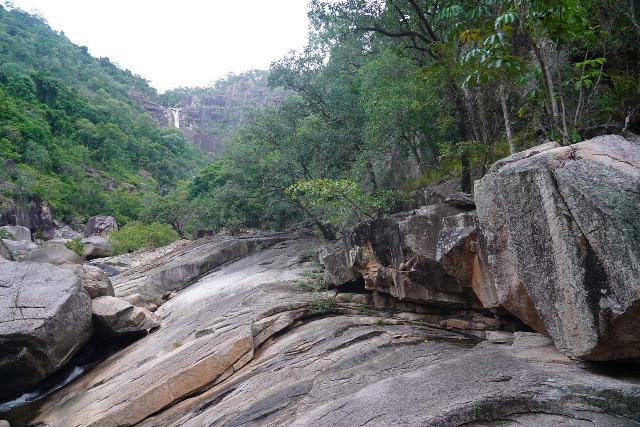 Day 5: Drive from Innisfail to Townsville
Overnight: Strand Motel (Townsville, Queensland, Australia)
This was another long driving and hiking day in bad weather, but this time, we visited Murray Falls, Attie Creek Falls, Wallaman Falls, and Jourama Falls.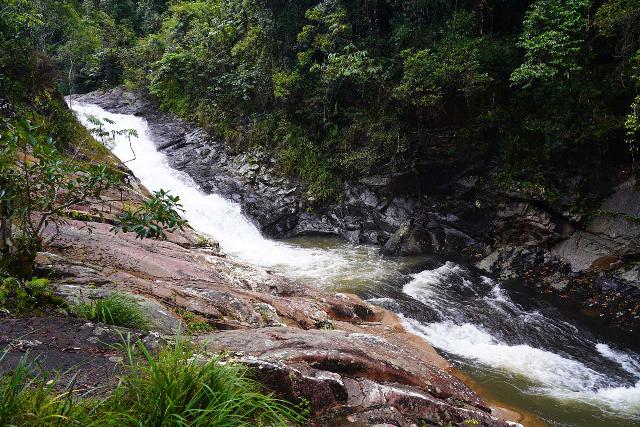 Day 6: Drive from Townsville to Airlie Beach with a detour to Finch Hatton Gorge
Overnight: Whitsunday on the Beach (Airlie Beach, Queensland, Australia)
This was another long driving day, where we went out-of-the-way to the Finch Hatton Gorge to see the Araluen Cascades and Wheel of Fire Falls. Then we went back to Airlie Beach getting there in the evening.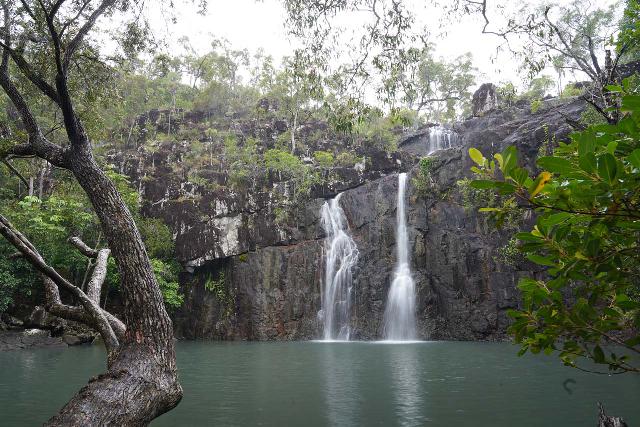 Day 7: Day at leisure at Airlie Beach
Overnight: Whitsunday on the Beach (Airlie Beach, Queensland, Australia)
This was another day of a cancelled tour where bad weather prevented us from doing a Whitsunday Islands Tour. So we pretty much had a laid back day though I did fit in a visit to the Cedar Creek Falls knowing that it was likely to be flowing given all the rain we had been getting.
Day 8: Drive from Airlie Beach to Rockhampton
Overnight: Empire Apartment (Rockhampton, Queensland, Australia)
This was another long driving day where we took an inland route towards the Fitzroy Development Road (that was also flooded in spots) leading us to the Blackdown Tableland National Park where I did a hike to Rainbow Falls and Rockpools before settling in at Rockhampton.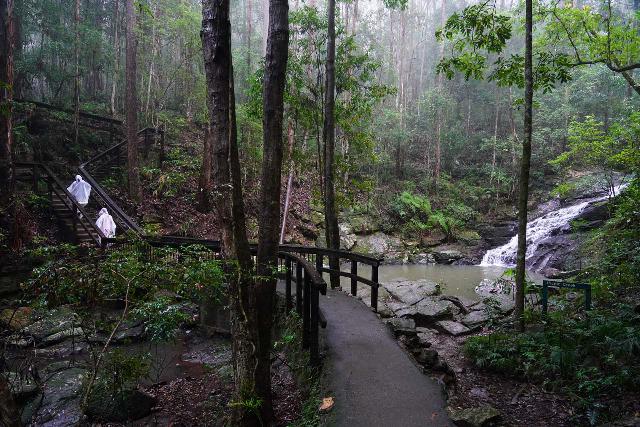 Overnight: Grosvenor Beachfront Apartments (Surfers Paradise/Gold Coast, Queensland, Australia)
Continuing with the marathon driving days, we made the long drive from Rockhampton down to the Gold Coast (particularly Surfers Paradise) while doing Kondalilla Falls along the way. We still had to deal with rain, but we did the best we could to make lemonade out of lemons.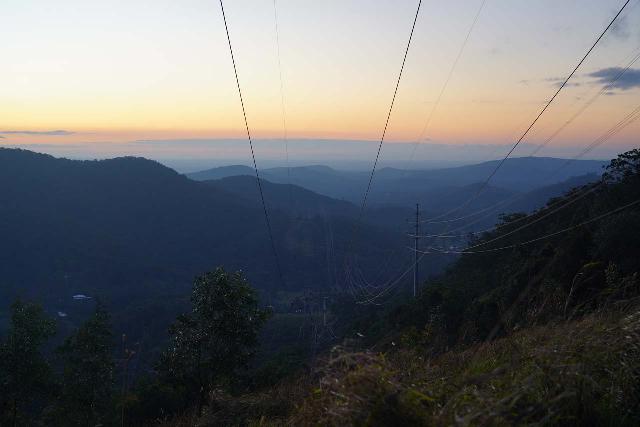 Day 10: Gold Coast Hinterland Day Trip
Overnight: Grosvenor Beachfront Apartments (Surfers Paradise/Gold Coast, Queensland, Australia)
This was a busy divide-and-conquer day where Julie and Tahia stayed in Surfers Paradise while I chased waterfalls in the Gold Coast Hinterland. The waterfalls I visited were Natural Bridge, Purling Brook Falls, and Twin Falls. And after rejoining Julie and Tahia, we then did the Cedar Creek Estates Glow Worm Caves as well as Curtis Falls.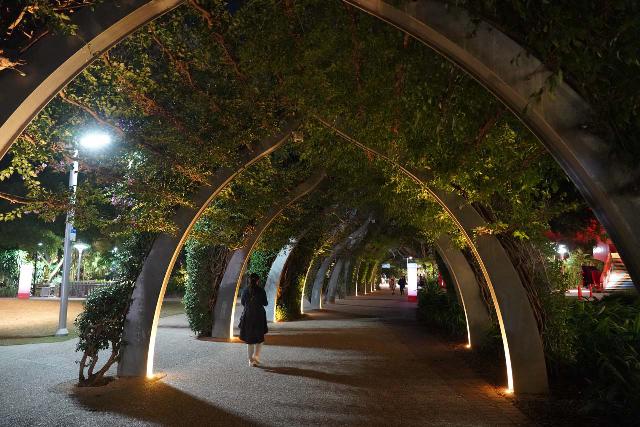 Day 11: Drive from Gold Coast to Brisbane
This was our first day of completely good weather, and we took advantage by taking our daughter to the Lone Pine Koala Sanctuary before spending the late afternoon visiting JC Slaughter Falls, Simpson Falls, and the Summit Lookout atop Mt Coot-tha. Then, in the evening, we strolled around the Brisbane CBD right on the banks of the Brisbane River.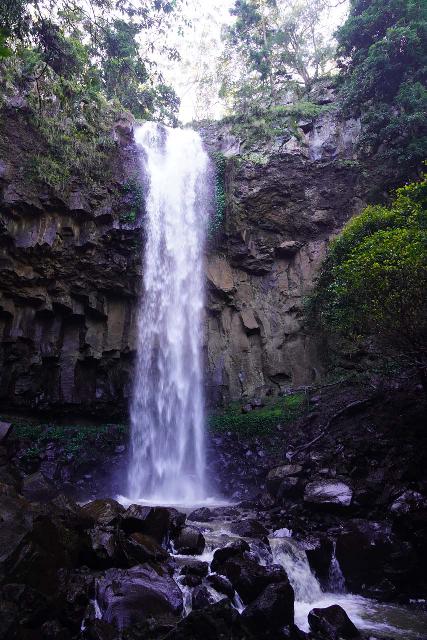 Day 12: Day Trip then Return to Los Angeles
We got an early start and drove all the way out to the Darling Downs / Southern Downs area, where after a bit of a detour, we finally got to experience Queen Mary Falls, Daggs Falls, and Browns Falls. Then, we ultimately got to the Brisbane Airport in time to get through all the logistics and finally catch our flight home to LA.
Best Places We've Stayed At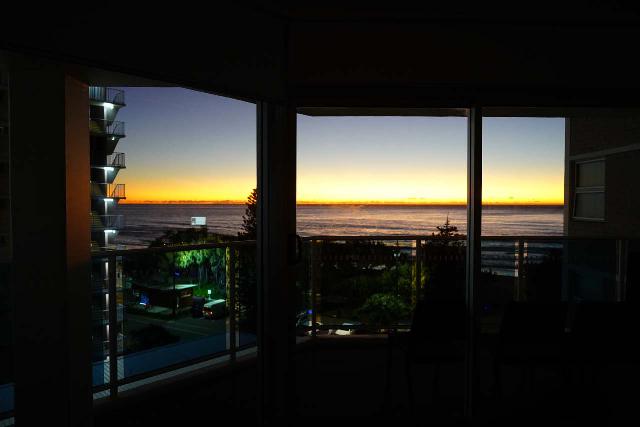 Grosvenor Beachfront Apartments, Surfers Paradise– This apartment was one of the best situated spots on the Gold Coast, where we got to see the sun rise, we got to walk on the walkable promenades (and a night market), and have dedicated parking underground.
On top of its awesome location right across the Esplanade from the beach, it was also spacious and well-stocked with two bedrooms, two bathrooms, a full kitchen, and a spacious living room with an impressive balcony with a nice view towards the beach.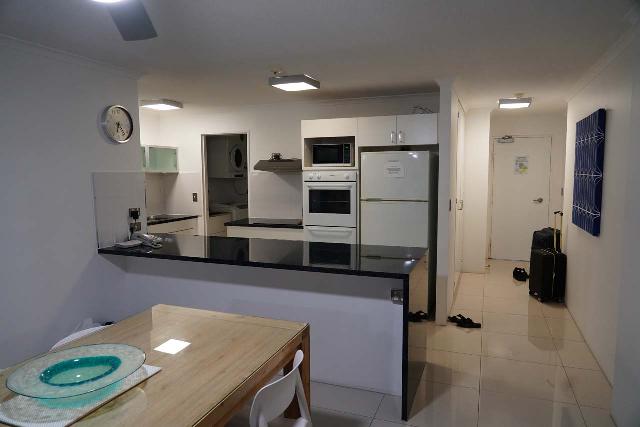 Indeed, on a trip that was dominated with motels and bad weather, it really seemed like things were turning around while we were staying here, and we wished that we could have spent another day here.
The only bad part was that internet was not included (you have to independently pay for that separately through a third party), but then again, I'm not all that keen on spending so much time on the interwebs when you should be in the moment in real life!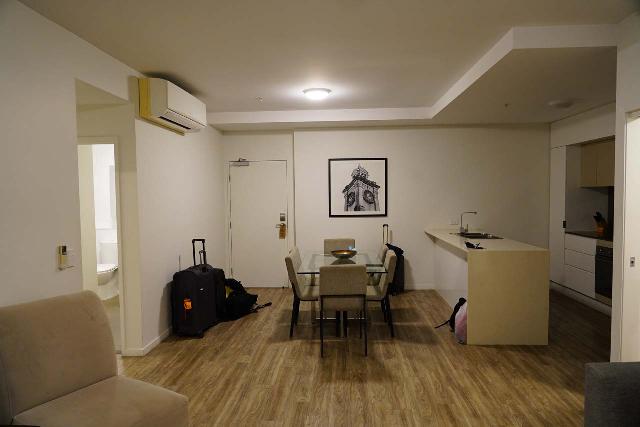 Empire Apartment, Rockhampton – This accommodation really surprised us and blew us away based on its spaciousness and cleanliness, especially after all the small hotel rooms and motel spaces that we had been staying at throughout our Queensland part of the trip.
It pretty much had everything we needed – dedicated parking, space, two bedrooms, two bathrooms, laundry machines, full kitchen, and a balcony with a view over the river.
Perhaps the only knock is the location since we are talking about Rockhampton, and there wasn't much to hold us here for longer though we really did wish there was an excuse to spend yet another night here!
Trip Reports
Waterfalls included in this itinerary
Visitor Comments:
Got something you'd like to share or say to keep the conversation going? Feel free to leave a comment below...
No users have replied to the content on this page