This itinerary of our return visit to Maui took advantage of a couple of things.
First, a friend of ours let us use her timeshare in Ka'anapali, which helped alleviate some of the accommodation costs (not cheap in Maui or in the Hawaiian Islands in general).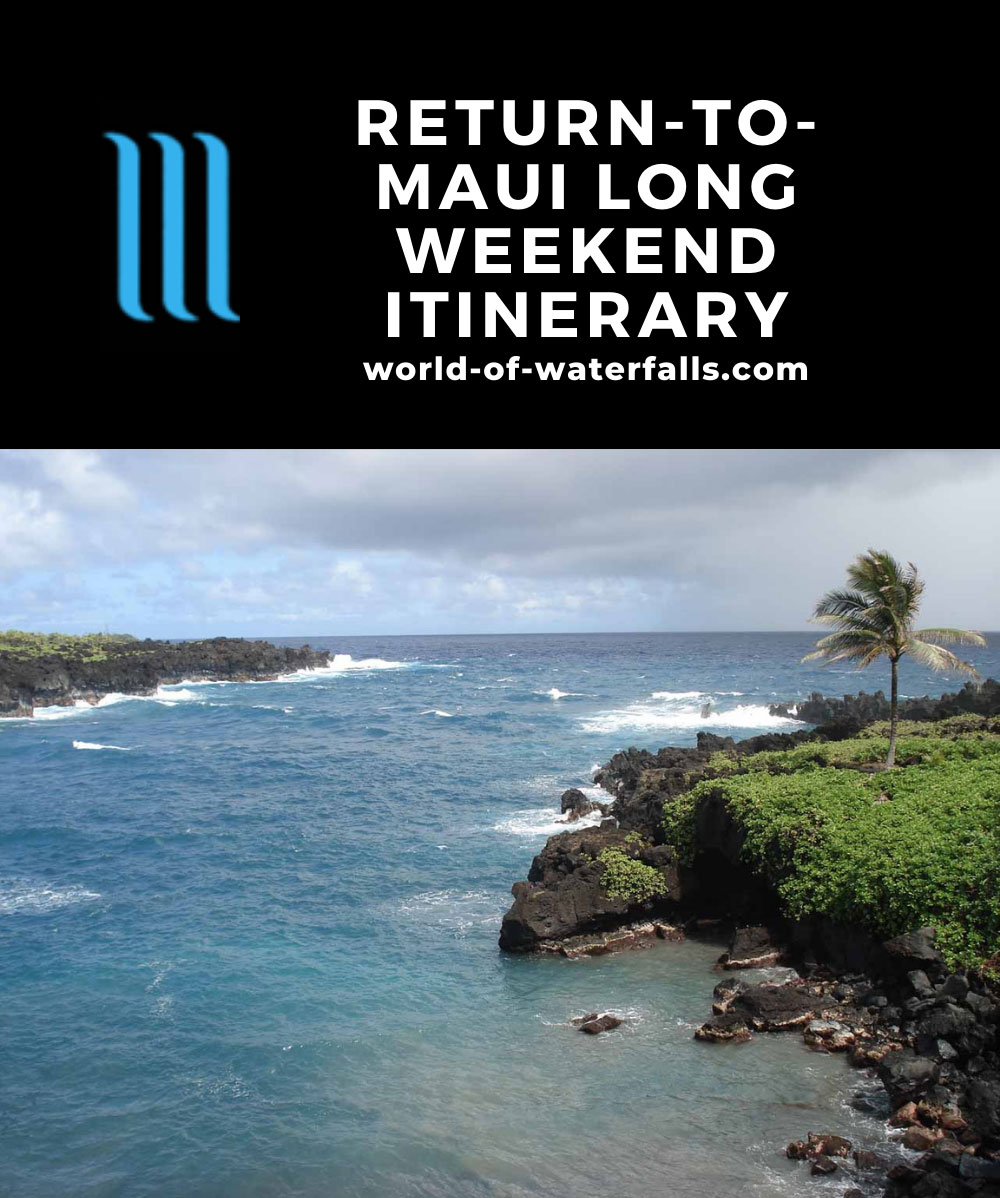 Second, with the closure of the road that went all the way around East Maui (thanks to the Kona Earthquake in October 2007), we decided to split up the Hana Highway drive into two days by spending a night in the sleepy Hana Town. It might have been one of the wisest things we had done!
Of course, if we didn't have the benefit of taking advantage of the time share that we didn't own, it might have been difficult to split up the itinerary or double-book a room for a night.
Nonetheless, as Julie and I had become very familiar with the Hawaiian Islands (this was our third or fourth trip to the islands), you'll see below that these extended weekend trips didn't seem like such a big deal from a time taken off work standpoint. (at least for us Los Angeles residents with relatively "easy" access to LAX). Indeed, the cost can really creep up on you without such fortuitous breaks in our favor.
Trip Highlights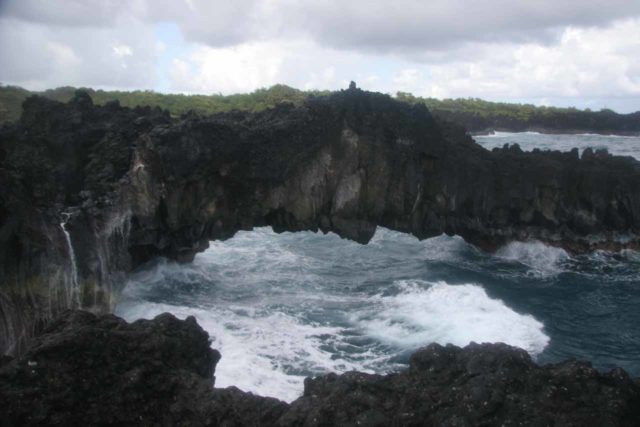 Waianapanapa State Park – This reserve featuring a rugged coastline full of lava rocks and sea arches as well as a black sand beach was a worthwhile stop to break up the waterfalling of the Road to Hana. Indeed, it was the right antidote for waterfall saturation before resuming with the waterfalling.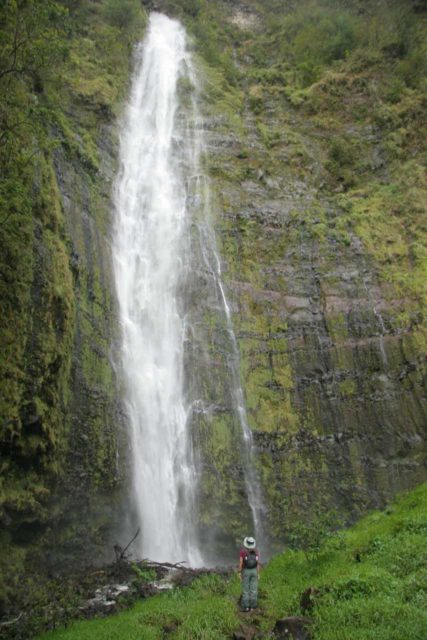 Waimoku Falls – It was a bit on the rainy side when we made our return visit to our favorite waterfall of the Hawaiian Islands. And with all the extra water, the falls definitely took on a bit of a swollen appearance while the stream crossings went about thigh deep. Even Makahiku Falls actually looked shorter in its swollen state than when we first saw it some four years ago. Of course, the bamboo forest and the other waterfalls along the way further solidified its place as our favorite waterfall in all the islands.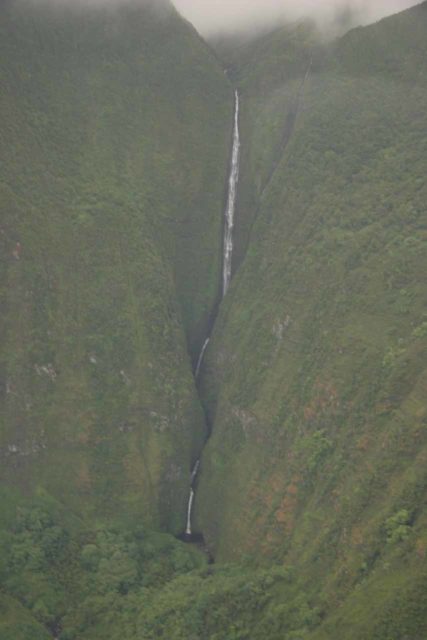 Papalaua Falls and the West Maui Molokai Helicopter Ride – Although we saw more on our first tour of West Maui and Molokai due to bad weather on this tour, we still saw many waterfalls on the remote coastlines of Molokai as well as parts of the Waihe'e Valley in Maui. The creme de la creme was of course Papalaua Falls, but the other waterfalls of the Halawa Valley like Moa'ula Falls and Hipuapua Falls were also a treat when seen together.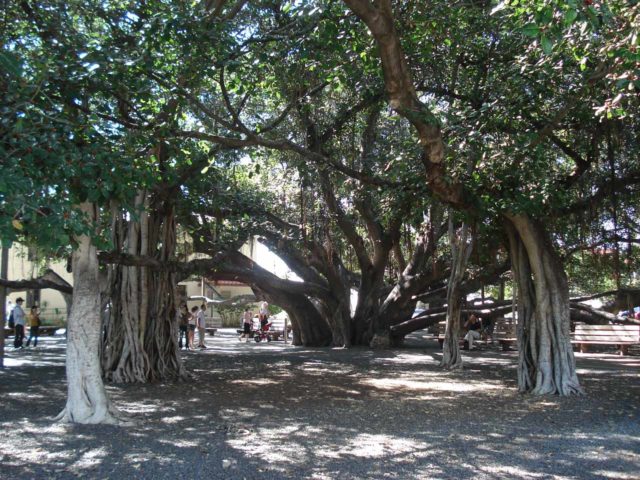 Lahaina – When we had time to unwind, we strolled along the buzzing Front Street in Lahaina to check out the restaurants or do some small scale window shopping, or check out the banyan tree as well as the coastline where some people spotted the whale migration. Indeed, this is one of the places where that notion of Maui being the "Romantic Isle" is definitely reinforced.

Taking our time on Hana Highway – Because we were forced to go out and back with the closure of the road beyond Kipahulu District of Haleakala National Park (due to the Kona Earthquake), we actually took our time and split up this drive over two days. And like I said earlier, it was probably one of the wisest things we've done. For that allowed us to really visit the nooks and crannies of East Maui that we otherwise never did before. And it was that sense of discovery that made us re-appreciate this slow and winding drive that was meant to be savored and not rushed through.
Travel Itinerary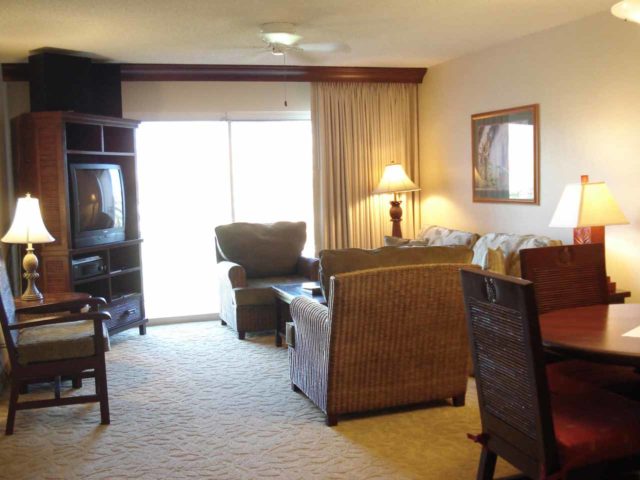 Day 1: Fly from Los Angeles to Kahului, then drive to Ka'anapali
This was a travel day where we flew to the airport in Kahului. Then, we picked up the rental car and drove further west to Ka'anapali to settle in Julie's friend's timeshare. We spent the rest of the evening checking out Lahaina.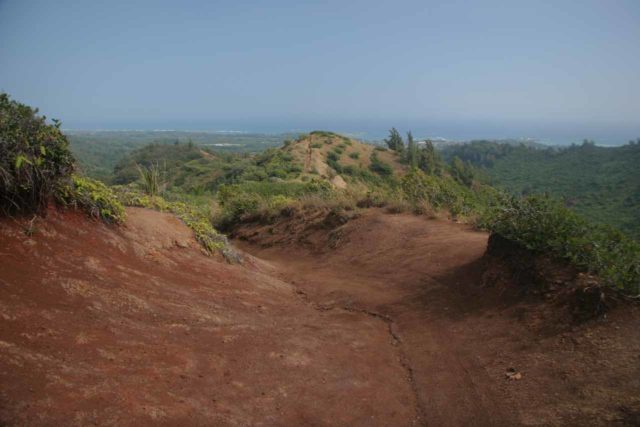 Day 2: Drive from Ka'anapali to Hana
Overnight: Hana Kai Resort (Hana, Hawaii, USA)
On this day, we drove to Hana. Along the way, we visited several waterfalls including Lower Puohokamoa Falls, Punalau Falls, Waikani Falls, Upper Waikani Falls, Pua'a Ka'a Falls, and Wailua Falls. We broke up the drive with a stop at Waianapanapa State Park.
We also did the Pipiwai Trail taking in Waimoku Falls, Makahiku Falls, Lower Pools of 'Ohe'o, and the other waterfalls in 'Ohe'o Gulch.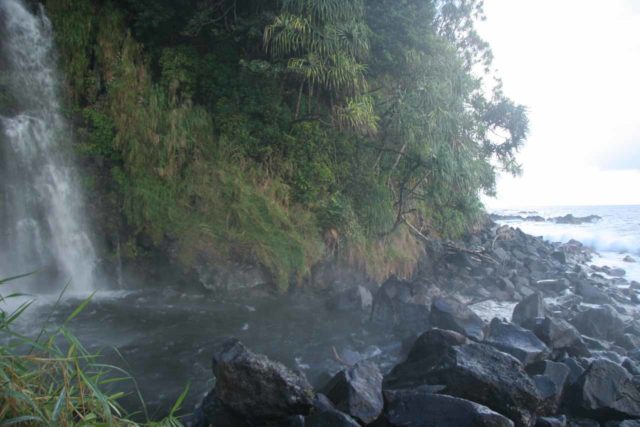 Day 3: Drive from Hana back to Ka'anapali
On this day, we went backwards on the Hana Highway visiting more Hana Highway Waterfalls, including Heleleikeoha Falls, Nahiku Landing, and Twin Falls.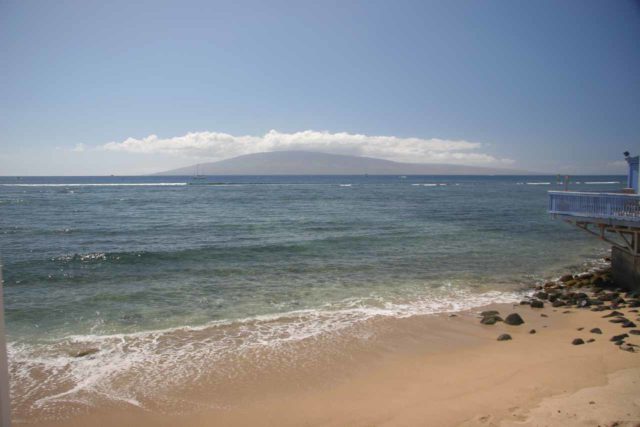 Day 4: Helicopter Tour and Lahaina
We started off this morning by doing a helicopter tour over West Maui and Molokai, which revealed Mana-nole Falls, Moa'ula Falls, Hipuapua Falls, Papalaua Falls, and other Moloka'i Waterfalls. The rest of the day was spent relaxing in Lahaina.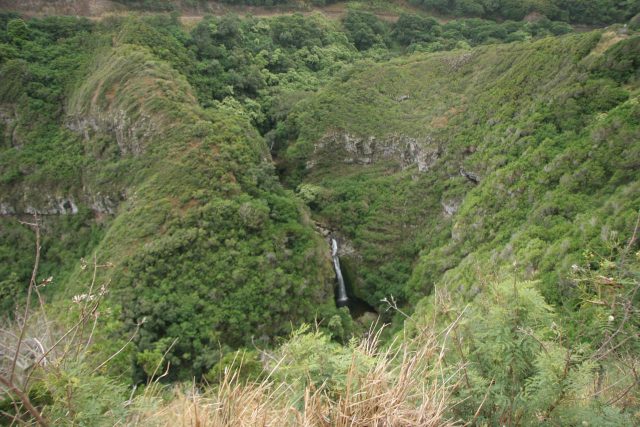 Day 5: Fly home to Los Angeles
We had the morning to drive up the east side of West Maui to visit Makamaka'ole Falls and Lower Makamaka'ole Falls. Then, we returned to Kahului to return the rental car and fly home.
Trip Reports
Waterfalls included in this itinerary
Visitor Comments:
Got something you'd like to share or say to keep the conversation going? Feel free to leave a comment below...
No users have replied to the content on this page