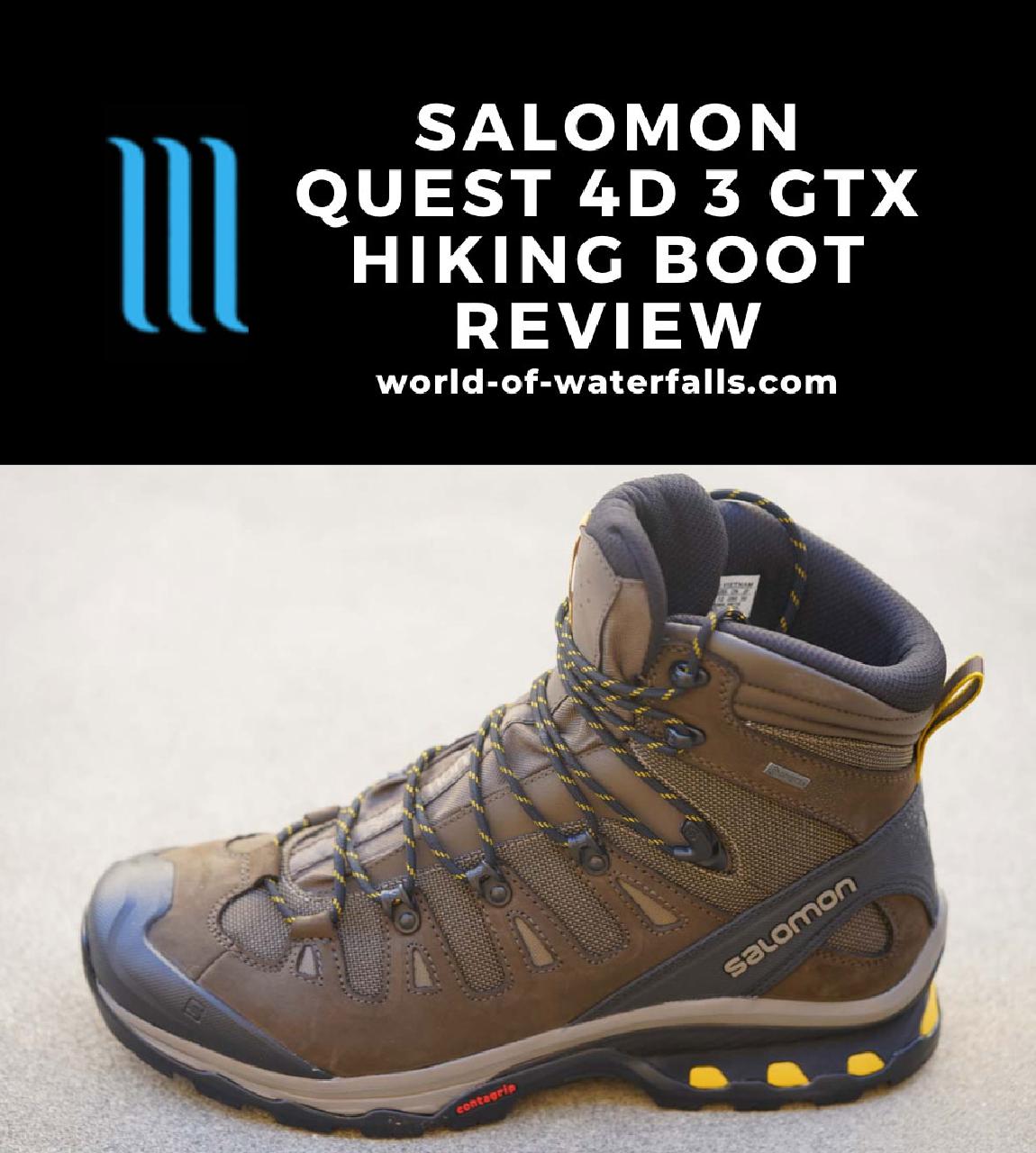 When it comes to hiking boots, I personally demand a lot from them. I not only want to use them for durability, but I also want flexibility so I could use them for a variety of situations, especially on our waterfall hikes. So this Salomon Quest 4D 3 GTX Hiking Boot Review evaluates this particular hiking boot with such demands in mind.
Since I don't want to own too many pairs of outdoor shoes (as I'd rather not waste money on things I don't use often), I generally don't want to pack additional shoes on a hike unless I absolutely have to. On the flip side, I also don't want to suffer from fungal infections, which happens when the feet and/or inside of the shoe stay wet for long periods of time.
I was particularly keen on this pair of hiking boots because the reviews circulated about on the internet seemed to be very positive about it.
So could this be the only pair of rugged hiking boots I need on our waterfalling adventures? Let's find out!
Why Use The Salomon Quest 4D GTX Hiking Boot?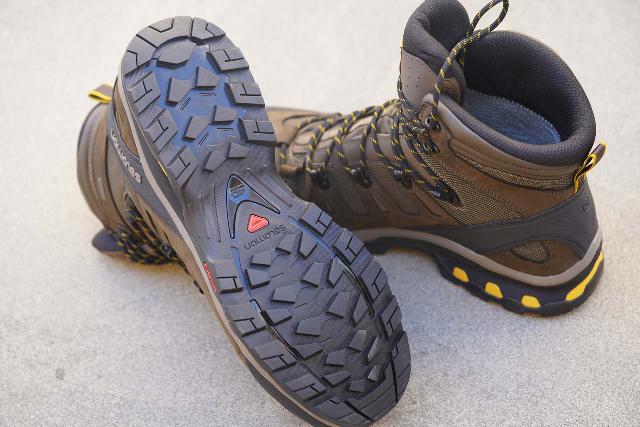 The Salomon Quest 4D 3 GTX Hiking Boot is a boot that is built for handling rugged hiking conditions.
And by rugged, I mean hikes involving terrain with hard rocks or surfaces, steep slopes, or even bearing lots of weight like on overnight backpacking treks.
In order to maintain traction in such a variety of conditions, the Salomon boot features a Contragrip sole, which is a proprietary mix of compounds that give it grip as well as flexibility.
The soles have different densities and geometries depending on which parts of the sole wear out faster and which parts need grip.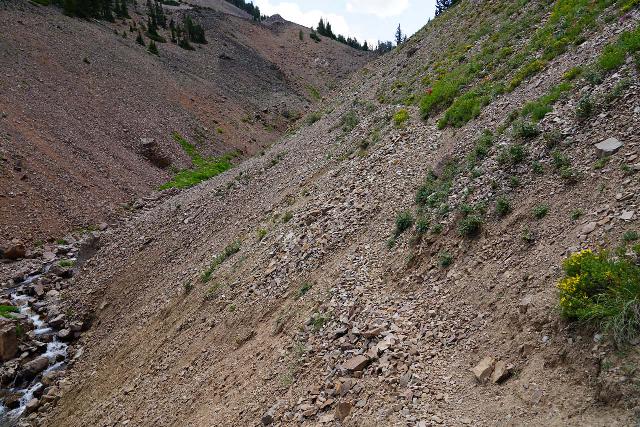 For example, the outer edges tend to wear out faster so they placed higher density compounds so the soles would last longer. On the other hand, the innermost sole needs grip as well as flexibility so they placed lower density compounds there.
During my time using the boot, it has done a pretty good job of maintaining traction in some otherwise sketchy terrain or trails.
For example, on a hike to Menace Falls in Wyoming, the trail traversed a narrow and loose scree ledge with some steep climbing as well!
And despite my reservations over the dodginess of the trail, I was pretty surprised at how well I didn't slip and slide.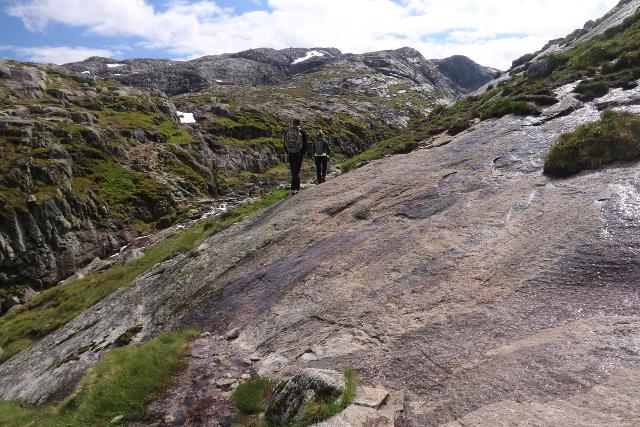 Perhaps the only time I did have a slip and fall was on a hike at Kjerag in Norway, where heavy rains earlier in the day made the steep granite surfaced trail wet and slippery.
Luckily in that instance, I fell on my back, where my day pack broke my fall, and I stood right back up immediately after landing.
The boot also has a high top for ankle protection, which is something I pay attention to because I've had a history of rolled ankles (from my basketball playing days).
And I'm well aware of how easy it is to step the wrong way onto a rock, into a hole, or across a ledge, which can cause a debilitating sprained ankle (something you don't want in the backcountry).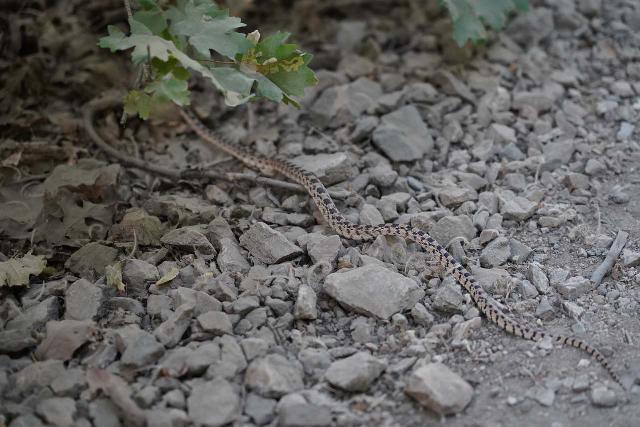 The Quest 4D 3 GTX boot also has a sturdy construction around the sides of the foot as well as the toe kick.
That way if I accidentally kick a rock or log, I wouldn't end up with broken toes. It also gives me confidence if a hidden poisonous snake lashed out and caught the boot (instead of my foot or ankle).
The Quest 4D 3 was also Gore-tex (GTX), which meant that it had the ability to repel water and keep it from intruding on the inside of the boot.
This was another consideration in purchasing this boot, especially since I encounter lots of water on my waterfall hikes.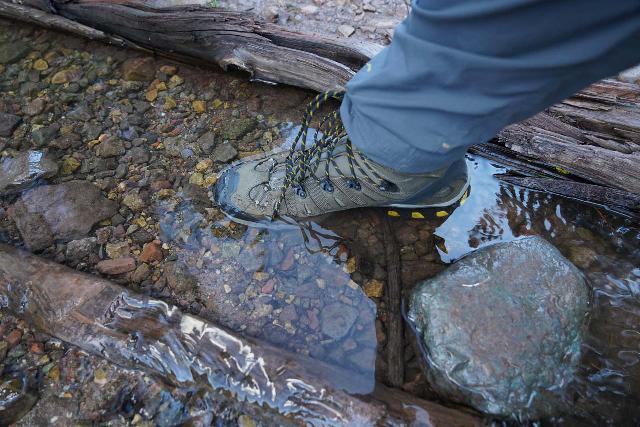 Speaking of water resistance, generally boot manufacturers have to trade off between being waterproof and being breathable.
In other words, how much will the boot let in water from the outside? And conversely, how much will the boot suffocate the feet such that it soaks the inside of the boot through sweat?
In the case of the Salomon Quest 4D 3 GTX boot, they've taken the approach of being more breathable at the expense of being very waterproof.
Thus, it can be argued that taking this approach towards the waterproofability versus breathability tradeoff was geared towards making the boot more comfortable, but this does have its limits.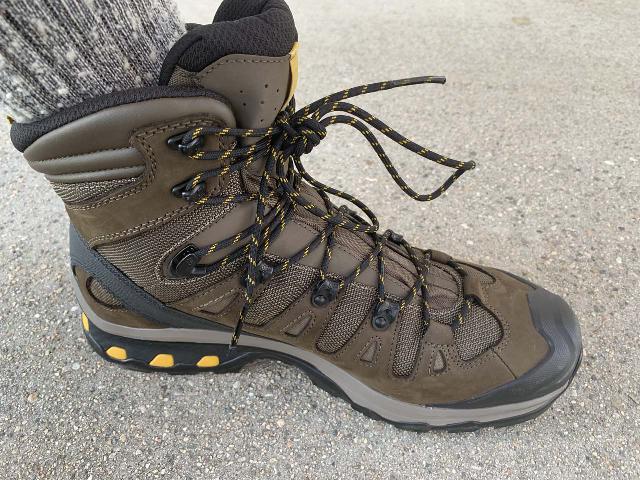 As you can see in the photo above, the part that's breathable but not waterproof was the breathable mesh part at the top of the boot. I'll get into this feature later on in this article since this was one of my key considerations regarding hiking boots.
When Should I Use The Salomon Quest 4D 3 GTX Hiking Boot?
In the two hiking heavy trips that I've extensively used these boots, they've been put through a variety of trails and even bushwhacks.
From my experiences, I believe that the Salomon Quest 4D 3 GTX boot works best in long and mostly dry hikes. Thanks to its breathability, I was able to endure a very long hike to Osprey Falls in Yellowstone National Park (a distance of 9.2 miles), and my feet felt fine by the end of the hike.
That gave me the confidence that if I was taking on additional weight on a backcountry trek lasting multiple days, then this boot would be capable of handling the extra load and long distances.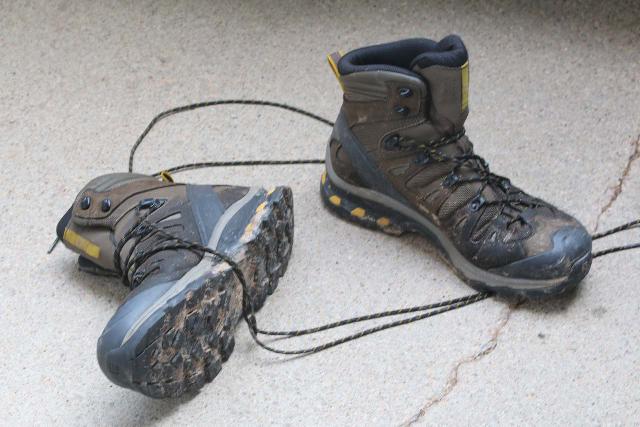 Where the boot didn't perform so well was when I had a wet hike (either due to bad weather or from lots of contact with wet foliage).
In hindsight, if I knew that I was going to have a wet hike, I would bring a 3M Scotchguard or some kind of water-repellant spray and treat the boot a day or two before the anticipated wet hike.
Its water resistance seemed to diminish quickly after a couple of hikes, which is the main reason why I tend to think of this shoe as very capable in mostly dry conditions.
As for whether this boot might be overkill on shorter hikes or easier hikes, that's debatable depending on how sure-footed your are and what kind of terrain you'd encounter on the hike.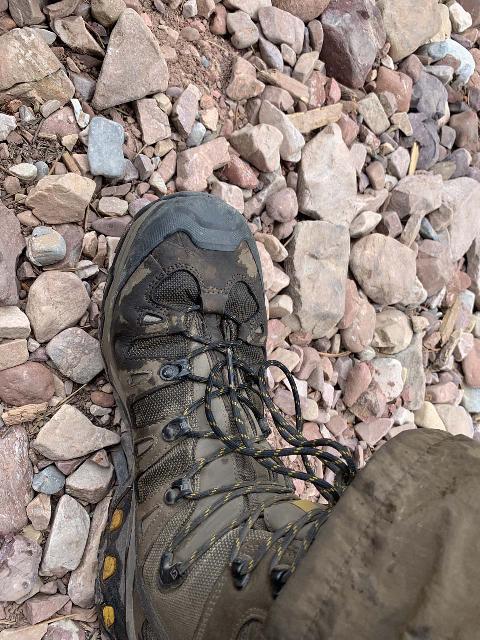 There are lots of local hikes in the Los Angeles area around me where I would still use this boot even though plenty of others try to get by in Trail Runners, sneakers, or even water shoes.
But there's a surprising amount of trail erosion and scrambling moments where being sure-footed with a grippy shoe like this one ended up being a wise decision to wear them.
On the flip side, I can see why people would rather wear something lighter, faster, and more fashionable. However, I tend to prefer taking my time on the trail while also being prepared for the unexpected.
I also might avoid using this boot on jungle hikes in humid, tropical environments, where moisture would be pretty much unavoidable. Under these conditions, I'd typically use a water shoe instead.
Things To Be Aware Of About The Salomon Quest 4D 3 GTX Hiking Boot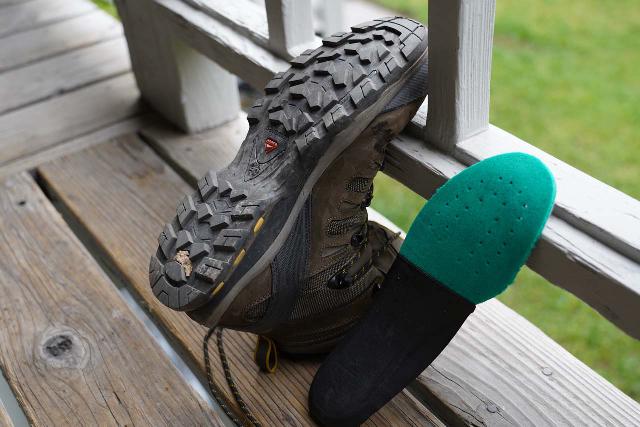 As for what I didn't like about the Salomon Quest 4D 3 GTX hiking boot, there were three key things that stood out.
First, the boots were not waterproof. They may be "water resistant", but in my experience, even that was extremely limited.
The key issue was the mesh covering the top of the foot, which also made the boot breathable. However, that layer was also the weak point that allowed water intrusion.
In fact, the insides of my boot were soaked even on hikes where I didn't have to cross streams deep enough where the water went above the front of the boot.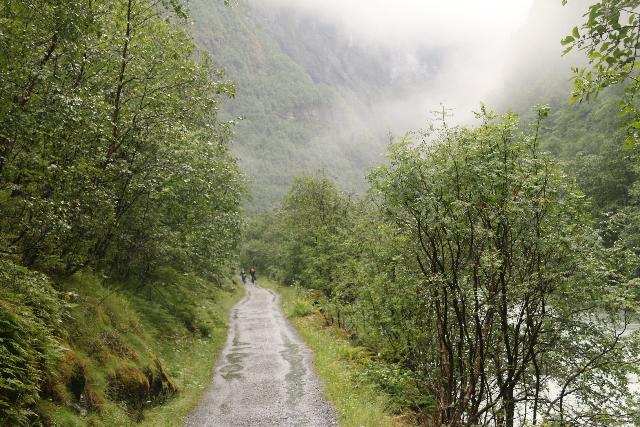 For example, on a hike back from Vettisfossen in Norway, I was caught in thunderstorm as I hastily returned to the trailhead.
Unfortunately, the rain kept landing on the mesh and eventually caused enough water intrusion to really weigh down the boot as the water continued to accumulate inside the boot.
On a different hike (more like a bushwhack) to Grizzly Bear Falls in South Dakota, I had to brush up against a lot of wet foliage (moistened by rain that occurred on the morning of my hike).
Even though I didn't have to step into deep water while wearing the boots, all that wet foliage kept coming in contact with the mesh such that water was also getting into the boot that way!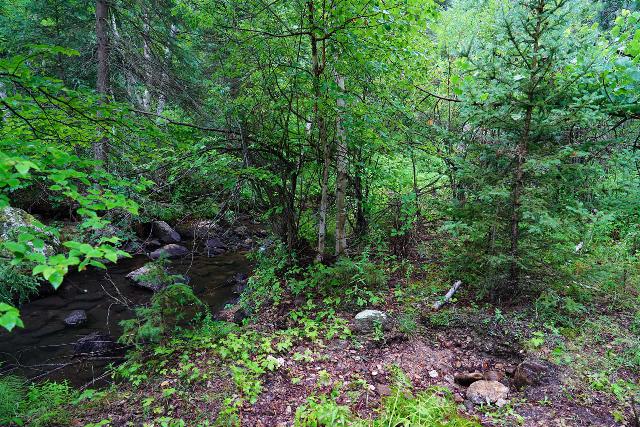 So once again, the boot was soaked (and heavy) from the inside as a result of all that water accumulation.
In the aftermath of all the water intrusion, I then had to spend extra time trying to take out the sole and dry off the boot. Sometimes even after aiding the drying process with a blow dryer still took a lot of time, and I wound up going on another hike soon thereafter with wet boots as I couldn't wait any longer.
This convinced me that the Salomon Quest 4D 3 GTX boot was ill-suited for the wet conditions that we frequently encountered on our waterfall hikes. And thus, I tended to favor a more truly waterproof boot like the Vasque St Elias GTX boot.
Second, I was really annoyed with the tendency of the laces of the Salomon Quest 4D 3 GTX boot to come undone during my hikes.
I actually returned the boot to REI after finishing off my hiking trip in Norway thinking that maybe the boots were defective.
However, after going through repeated episodes of the shoelaces coming undone after a Rocky Mountains hiking trip, I wound up very annoyed again, and eventually returned these boots a second time.
In my experiences, the double knots that I tend to employ kept coming undone when the hike became very rugged or when I had to quicken the pace with a trail run or jog.
It seemed that if the boot flexed at a severe angle (like when you're running or you're negotiating a steep slope), that seemed to make the shoelaces come undone.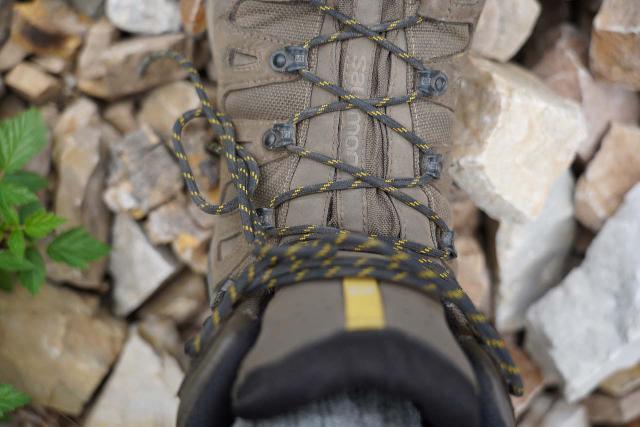 Under the circumstances where there was dropoff exposure, this actually posed a real safety hazard! Imagine tripping on undone shoelaces that might cause me to go over a cliff!
I've never had this happen to me in the years that I've worn the Vasque St Elias GTX Hiking Boot, and something as seemingly benign as a pair of shoelaces was another strike against the Salomon Quest 4D 3 GTX boot.
Finally, the last gripe I had about the Salomon Quest 4D 3 GTX boot was both the weight and the price.
It was a heavy boot (probably on par with the weight of my Vasque St Elias boot at well over 3 pounds), but I tend to think that weight and sturdiness kind of go together.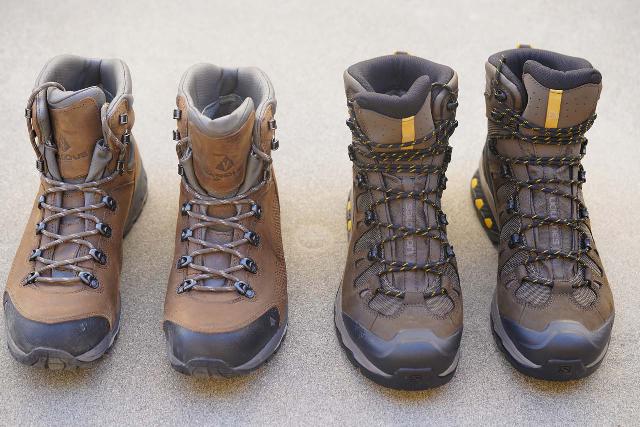 However, its price of about $230 USD made it about $30 more than what I would normally pay for on a pair of hiking boots (often times discounted further with an REI Dividend though).
Final Thoughts / Conclusions
Given the seemingly positive reviews that I had seen on the internet regarding the Salomon Quest 4D 3 GTX hiking boot, I needed to see if it was capable of replacing the Vasque St Elias GTX boot. After all, the Vasque had been my go-to boot for the better part of a decade.
I wound up taking the Salomon on two long hiking trips. And while I appreciated the breathability and traction, at the end of each trip, I ultimately returned it to REI, where I bought them.
My experiences with the Salomon's shoelaces and the waterproofability were the key deciding points in abandoning this shoe. The fact that these issues recurred after the second go at it pretty much confirmed what I had suspected after my first experiences with it.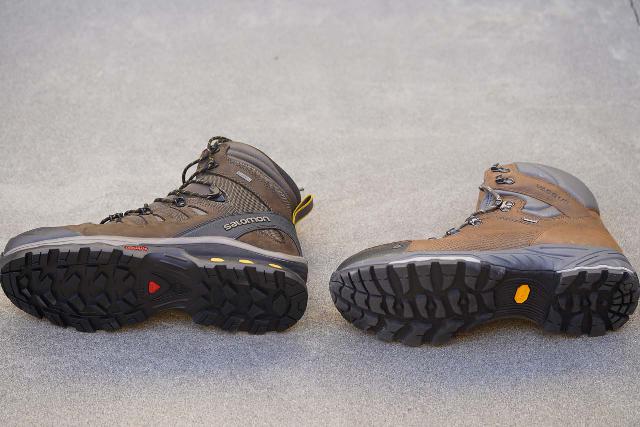 Although all the positive reviews about this shoe made me question my sanity regarding my own experiences, I came to realize that evaluating boots is a highly subjective exercise.
What may work for some people may not work for others. And in this case, I found that it just didn't suit my needs in terms of hiking in the varied (especially wet) terrain and conditions that I tend to encounter on waterfall hikes.
I generally prefer function over form, and I tend to err on the side of caution even if using sturdy boots like these might be overkill in some situations. But you just never know what you might encounter on the trail, especially if it's a new hike that I hadn't done before.
Anyways, the Salomon Quest 4D 3 GTX hiking boot may be a solid buy for moderate dry hiking situations. However, when the going gets rough as well as wet, then I still refer back to my Vasque St Elias GTX hiking boot.
Please note that this is not a sponsored post. However, there are affiliate links that help pay for this site. You can read more about these in our affiliate disclosure in the footer at the bottom of this post. If you have questions or comments, please use the comment box below.
Visitor Comments:
Got something you'd like to share or say to keep the conversation going? Feel free to leave a comment below...
No users have replied to the content on this page