This Samoa Itinerary page details a 10-day trip where Julie and I took a breather from the day-to-day to celebrate our 15-year wedding anniversary as well as coupling that with Julie's birthday.
Samoa was the last of the major South Pacific Islands destinations that we had yet to go waterfalling, and this was the trip where we finally made it happen after considering it for years.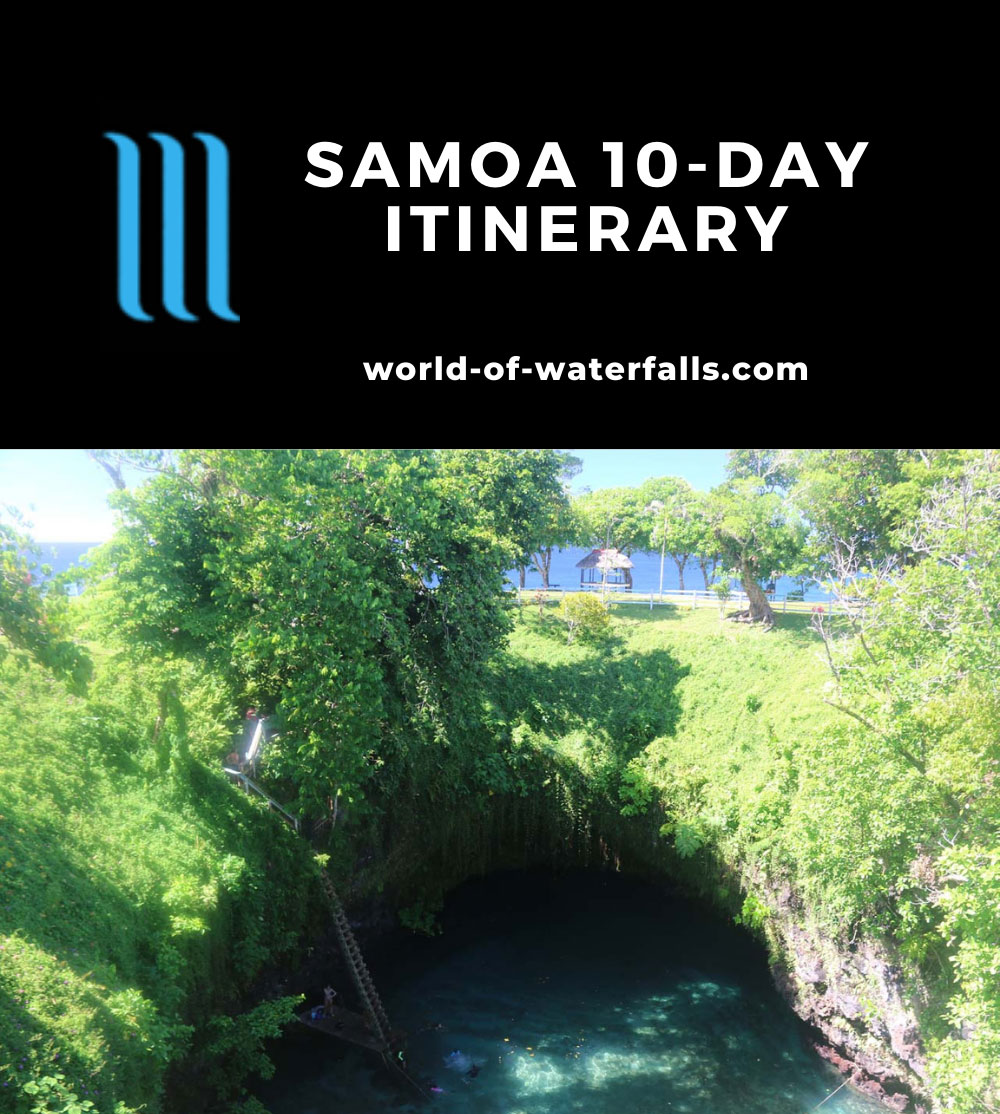 By and large, Samoa had largely avoided being commercialized so it's relatively quiet and laid back.
While we pushed our bodies in terms of the food ailments we had towards the latter half of the trip, Samoa had the right blend of relaxation as well as activities (food poisoning notwithstanding).
So in that sense, it was a very satisfying trip.
Here are some highlights and the logistics of how we made this trip happen…
Trip Highlights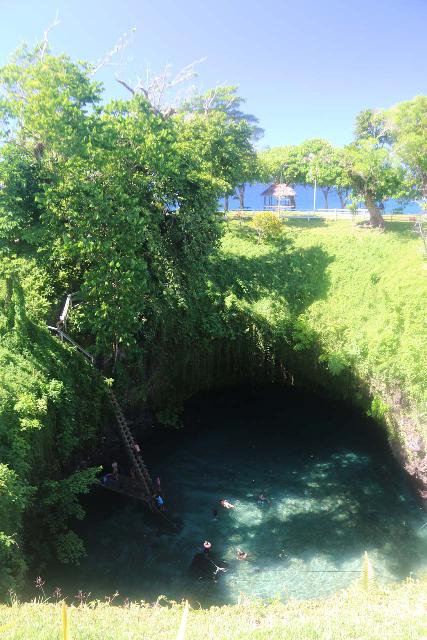 To Sua Ocean Trench – this was Samoa's signature attraction as it featured a tidal pool beneath the collapsed roof of an ancient lava tube cave. Not only was this pool perfect for swimming to contrast the stifling heat and humidity prevalent in much of Samoa, but as you can see in this photo, it was also very photogenic when the lighting conditions are right.
In addition to this swimming hole, there were also rock arches, blowholes, and beautiful vistas over the colourful reefs from the bluffs overlooking them.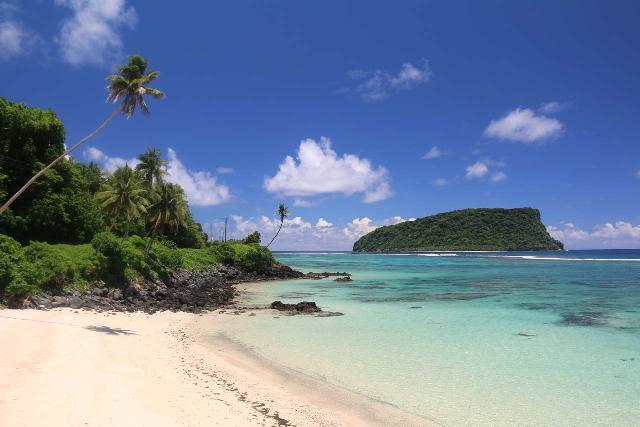 Lalomanu Beach – another one of the signature attractions in Samoa was this white sand beach, which had the perfect juxtaposition of turquoise coloured waters against the bright sand often accented with fales and palm trees. While this area was affected by a tsunami in 2009, the Nature here still remained as scenic as it ever had, especially since the southeast part of 'Upolu Island was very quiet.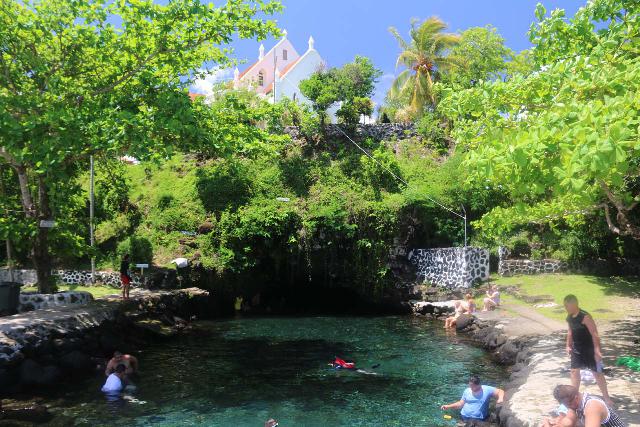 Piula Cave Pool – this was another swimming hole adjacent to the South Pacific Ocean, except this one was easier to get into compared to the To Sua Ocean Trench. This cool pool featured a cave as well as fish in the water, and it was all underneath the watch from an Episcopal Church.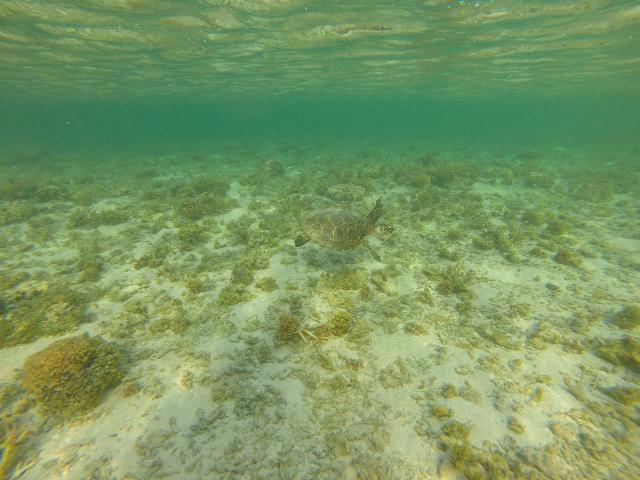 Snorkeling and Sea Turtle Sightings – because Samoa has largely avoided mass tourism and mass commercialism, the reef systems here appeared to be in a relatively healthy state compared to other reefs we've seen so far. Thus, we not only saw a surprisingly good variety of coral reefs and associated sea life, but witnessing a sea turtle (actually two of them) was the prized sighting epitomizing the beauty and biodiversity of the reefs here.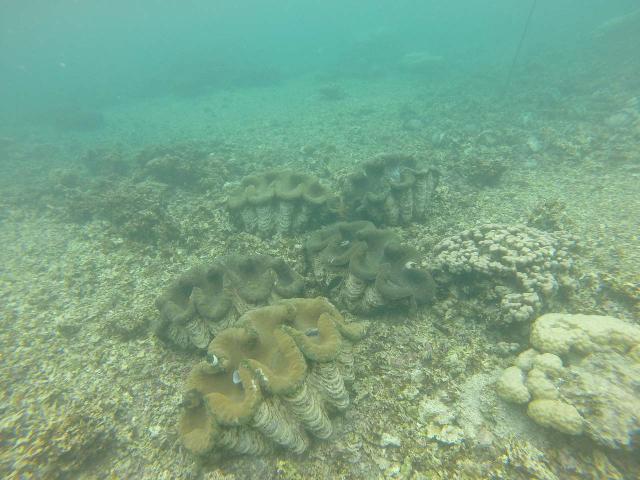 Savaia Marine Protection Area – the claim to fame of this otherwise humble marine protection area was the presence of giant clams. The interesting thing about this place was that it was not that well-signed from the main road, and pretty much only the resorts or those in the know would come here. That said, we still noticed quite a handful of tourists during our visit so it's not like it's completely unknown, but we definitely had to go on a little bit of faith to finally find the right place.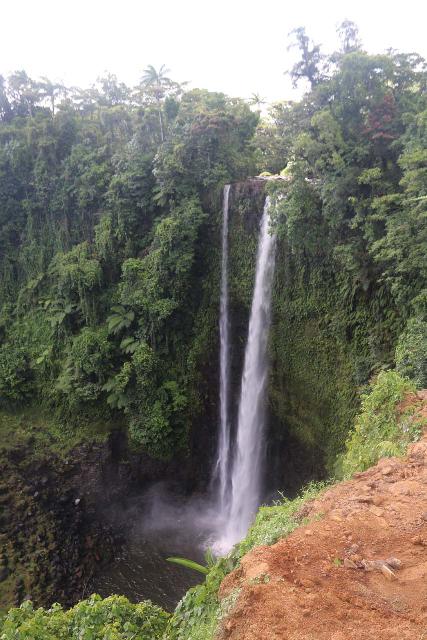 Samoan Waterfalls – one of the main reasons why we targeted a visit to Samoa was its waterfalls. We experienced tall waterfalls that we could stare at and admire, others with big plunge pools for swimming, and even others where the daring could try their hand at sliding down in one of them. Indeed, Samoa definitely had its share of impressive waterfalls considering the limited real-estate on this modestly-sized South Pacific country.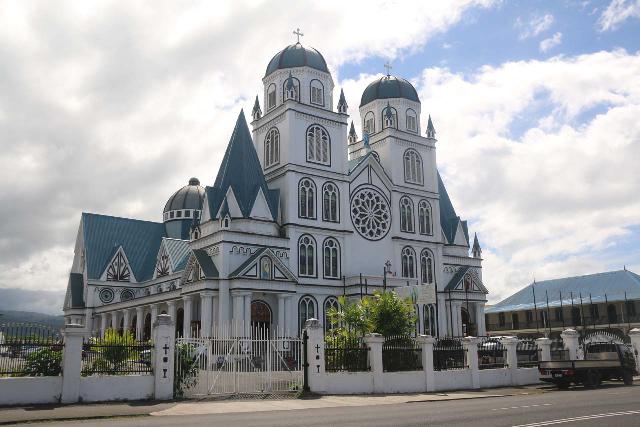 The Immaculate Conception Cathedral – one thing we noticed all over Samoa was that there were churches everywhere. But the one that stood out to us the most was this cathedral near the centre of Apia, which featured an elaborate wooden-ceiling interior as well as a noticeably gaudy exterior. It was the one religious structure that we stopped to check out, especially since it was next door to the Nourish Cafe, where we had some of our most compliant meals.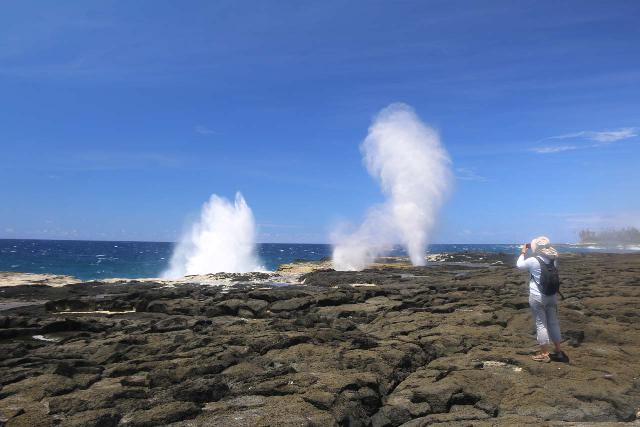 Alofaaga Blowholes – while blowholes were all around the rougher coasts of Samoa, this series of blowholes on the south coast of Savaii was probably the most impressive of the lot. While they put on the best show during high tide, even in medium tide when we showed up, it still put on a frighteningly powerful display of how powerful Mother Nature can be.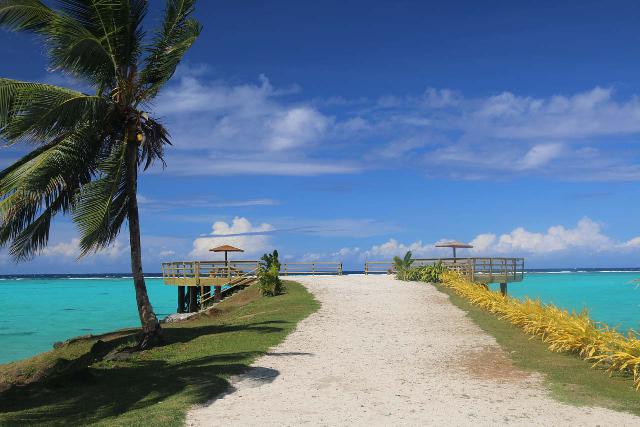 Colourful Reefs – in addition to the rich wildlife underneath the water, Samoa's relatively uncommercialized and uncrowded islands meant that when the sun was out, the colours of the waters were so beautiful that they almost seem fake. Take this photo off the Amoa Resort, for example, where we kid you not when we tell you that this photo was not Photoshopped!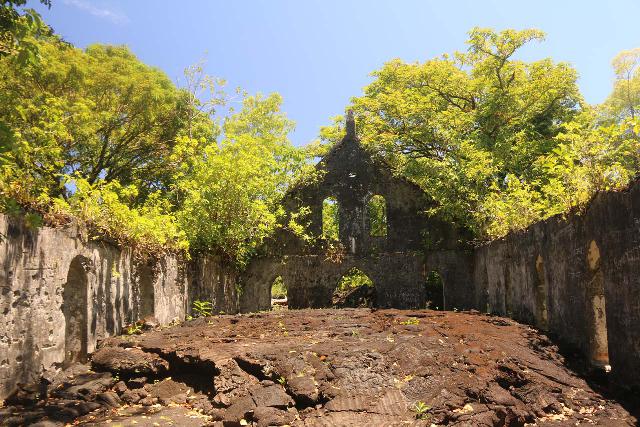 Saleaula Lava Fields – while lava fields aren't anything new on islands in the Pacific or South Pacific, this particular one had the legacy of burying a village on the northeast coast of Savaii from the Mt Matavanu Crater's eruption. All that's left now were a Virgin's Grave that apparently didn't get buried as well as the ruins of a missionary church. We even saw a gorgeous lagoon though the lava cliffs were no longer had sanctioned access.
Trip Advice
While this 10-day trip (well, more like 8 days if you don't count the travel days) was meant to be a stress reliever to unwind and celebrate some of life's milestones, reality had set in a little bit, especially towards the latter half of the trip.
Here's some of the other lessons learned from this trip during the week…
Badfish: It seems like every Pacific Island country has their version of raw fish. There's the Hawaiian poke, the Tahitian poisson cru, the Fijian kokoda, and the Samoans have oka.
We ate copious amounts of oka on this trip, but both of our stomachs paid for it on our last four or five days as we made frequent visits to the toilet as well as lost our appetites during that time. Julie even had the chills while I had to contend with toxic burp.
Given the heat and humidity of the tropics, it was very easy for parasites and bad bacteria to have a population explosion the more the fish have been left out, and this was especially true at the buffets. So the lesson learned here was that unless the oka was just brought out, don't touch any of it if it has been sitting out.
As we're getting older, apparently, we don't have the iron stomachs that we once had. And the same advice can be said for raw vegetables and ice as we're not certain of what might be in the water.
Off-the-beaten-path: While this may be subject to change over time, it felt like Samoa was off-the-beaten-path compared to other South Pacific Islands, which themselves were way less busier than say Hawaii or the Caribbean.
The reason for this was that there were no direct flights from the USA to Samoa, and we would either have to connect through Nadi, Fiji or Honolulu, Hawaii.
So that made this place more of a boutique destination, and thus the problems you get with mass commercialism and tourism (e.g. overcrowding, ecosystem damage, etc.) weren't as prevalent.
The Wet Season: Technically, November was the start of the Wet Season, and we definitely saw our share of rain on this trip. However, the rain seemed to be localized and not as widespread.
For example, they were either on one side of an island or the other.
I don't know if this is typical in Samoa, or if the widespread rainfall doesn't happen until later in the year when the conditions are more prone to Cyclones in January through March.
But whatever the case, that's one thing to keep in mind, especially since we learned that November was actually delightfully slow so that might have further reinforced the sense that this was more of an uncrowded and laid back South Pacific destination than most.
Prioritizing the Samoa Cultural Village – this was said to be the top thing to do in Samoa according to TripAdvisor, and unfortunately for us, we missed it because we didn't know that it was only on once a week during the low season (November was low season).
The sad thing was that we actually had a chance to do it, but we didn't prioritize making our visit before doing other things that day, and thus this ended up being one of the regrets of this trip.
Travel Itinerary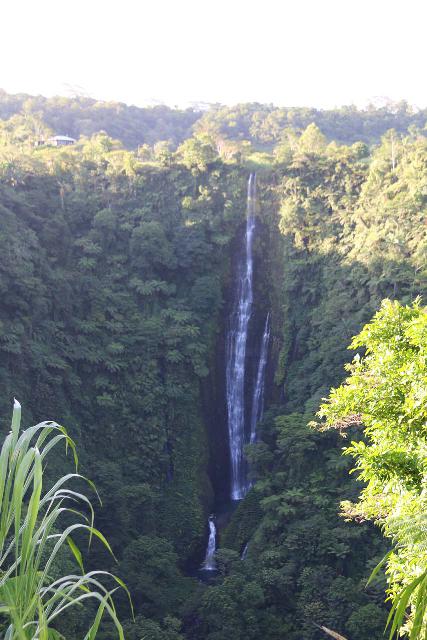 Days 1-3: Fly from Los Angeles to "Apia" via Nadi, Fiji
This was a long travel day where we took a red-eye flight from LAX to Nadi, Fiji. Then, we had a 7-hour layover in Nadi so we took a taxi to Denerau to check out some of the resorts there before returning to the airport.
After catching our flight to the Faleolo Airport in Samoa, we then hired our rental car and took the scenic route towards Apia before driving south on the Cross-Island Road towards our resort. We ultimately got there by around sunset, but we also stopped for Papapapaitai Falls along the way.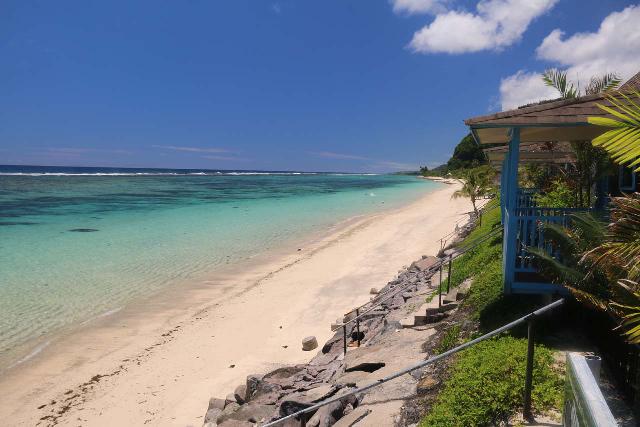 Day 4: Day Touring of Eastern Upolu
On this day, we first went to the famous To Sua Ocean Trench for the better part of the morning before having lunch at Lalomanu Beach. The rest of the day was spent visiting three waterfalls – Sopoaga Falls, Fuipisia Falls, and Togitogiga Waterfall. We then ate at the Sinalei Reef Resort.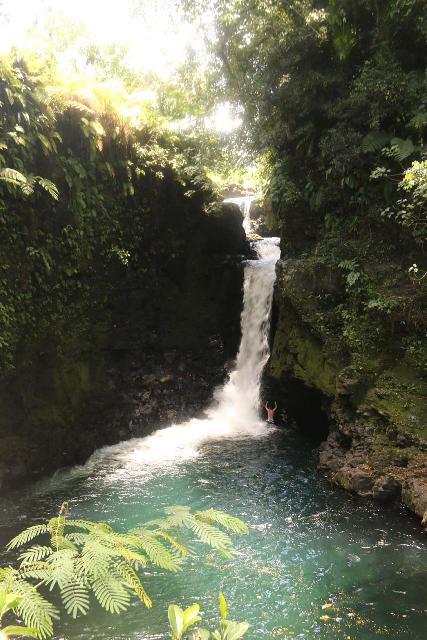 Day 5: Day Touring of Northern Upolu
On this day, we did a different driving route in Upolu Island, where we made a loop taking in Falefa Falls, Piula Cave Pool, and Sauniatu Waterfall before having lunch in Apia at Nourish Cafe.
After lunch, we checked out the Immaculate Conception Cathedral next door before returning to the south coast for culture night at the Sinalei Reef Resort.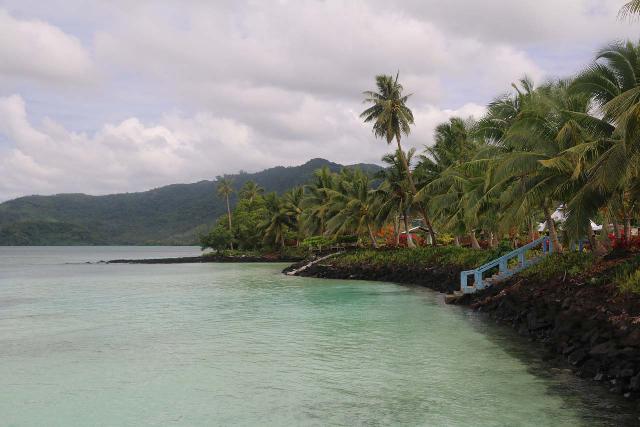 Day 6: Day Trip to the Savaia MPA and Apia
This was a slow day that started with checking out the Giant Clam Sanctuary at the Savaia Marine Protection Area.
We then spent the better part of the afternoon after lunch at Lupe's going to the Papaseea Sliding Rocks before having dinner at the Curry House.
In hindsight, we should have done the Cultural Village Demonstration in the morning (it was only on during Thursday morning in the low season), and then do the Giant Clams after lunch. But alas, lesson learned.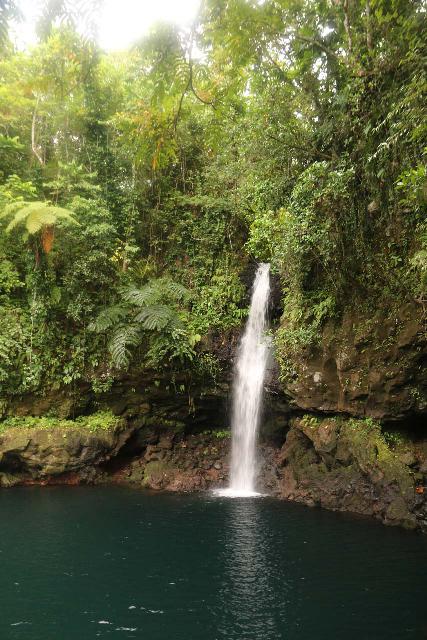 Day 7: Drive to Mulifanua and take the ferry to Salelologa on Savaii Island. Then, drive to Fagamalo.
Overnight: Le Lagoto Resort (Fagamalo, Savaii Island, Samoa)
After an early morning checkout from Coconuts, we did a roughly hour-long drive to the Mulifanua Ferry Wharf, where we had a pre-booked ferry to get to Savaii.
Once there, we then visited the Afu Aau Waterfall, the Mu Pagoa Waterfall, and the Alofaaga Blowholes before having lunch at the Savaiian Hotel.
After lunch, we made a spontaneous stop at the Amoa Resort due to their impossibly beautiful lagoon adjacent to their property. Then, we ended the day at our resort in Fagamalo.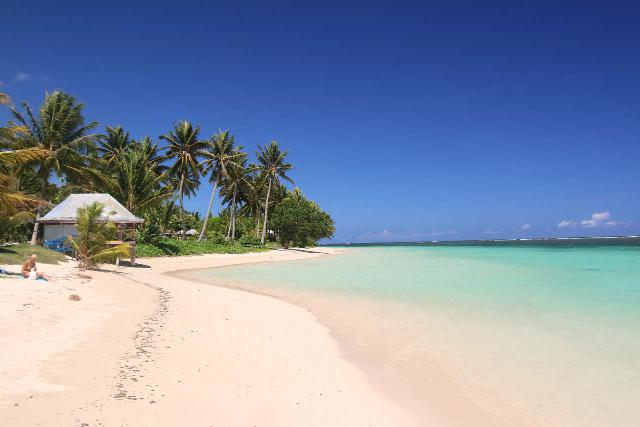 Day 8: Day at Leisure on Savai'i
Overnight: Le Lagoto Resort (Fagamalo, Savaii Island, Samoa)
On this day, it was all about snorkeling and seeking out sea turtles (though we had a little bit of difficulty getting snorkel gear until we procure one at Jane's Beach Fales down the road).
When we weren't snorkeling and trying to spot sea turtles, we checked out the Saleaula Lava Fields as well as did a brief out-and-back drive all along the northern coast and northwest coast of Savaii.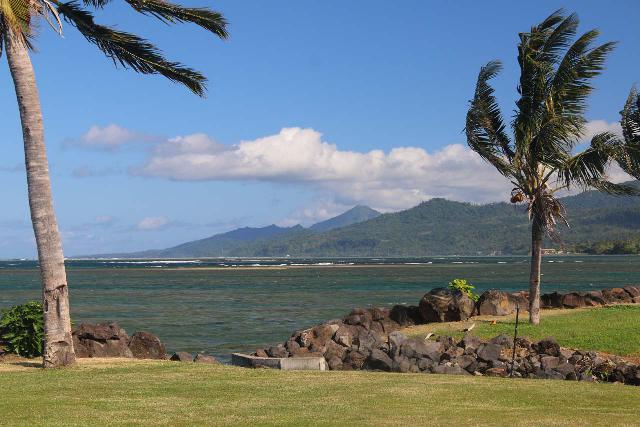 Day 9: Drive to Salelologa, then ferry to Mulifanua, and then drive to Apia
This was basically a driving day, where we started with the logistics of returning snorkel gear at Jane's Beach Fales before driving back to Salelologa to take the pre-booked ferry back to the main island. Then, we had lunch at Nourish Cafe again before settling into our hotel on Taumeasina Island, where we spent the rest of the afternoon and evening.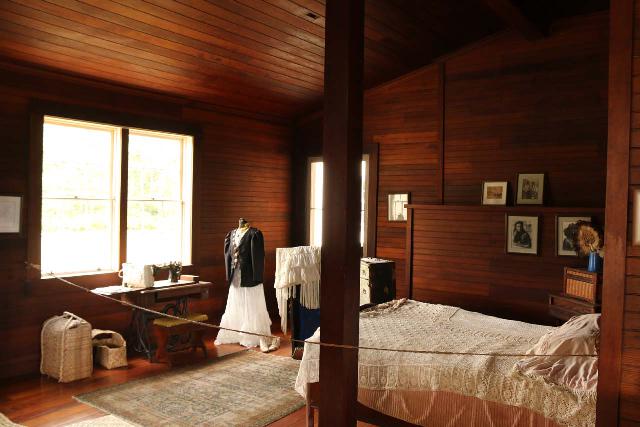 Day 10: RLS Museum then return home to Los Angeles
On this final day of our trip, we took our time checking out, then we checked out the Robert Louis Stevenson Museum (though not as much of it as I would have liked) before going to the airport to return the rental car and awaiting our flights to go home. We did visit a surprise waterfall while at the RLS Museum and neighboring Vailima Botanical Garden.
The pair of flights to go home was made a little easier when we realized that Fiji Airways VIP Lounge was part of our Priority Pass, which made us realize that we've really been underutilizing this perk.
Best Places We've Stayed At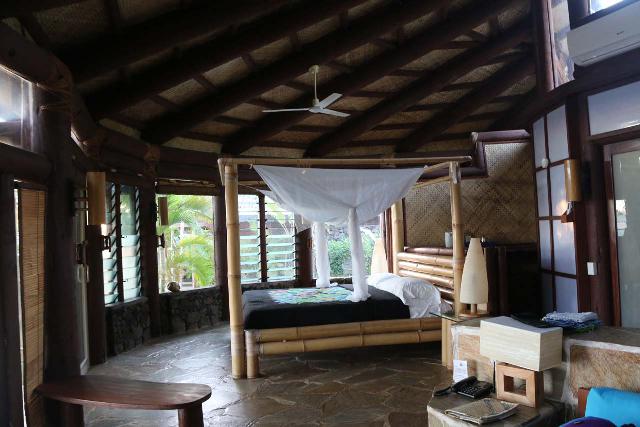 Coconuts Beach Club Resort and Spa – This accommodation was the standout during our stay in Samoa. The Beach Bungalow (fale) that we got (Vila Alii) was spacious and even had an interesting sunken shower where the water shot out of the rock wall.
Even though we didn't stay in Samoa's only overwater bungalows here, apparently we were upgraded to the bigger beach bungalow that was a really nice touch (I'm guessing our 15-year anniversary had something to do with it).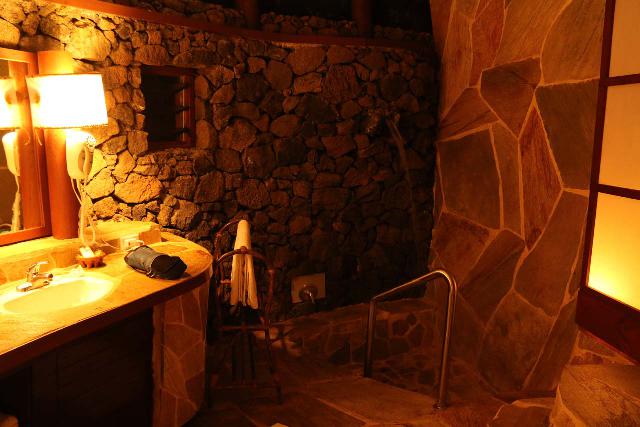 The room also had AC, which was very necessary in the heat and humidity of the Wet Season here, but it had the high ceilings and the ambience that brought us back to how our traditional Sofitel Ia Ora Garden Bungalow experience was like back in 2002 when we first went to Tahiti.
We also enjoyed speaking with the owner Brian and the manager Tess, where we learned a lot about the local area as well as how much it seemed like both Southern California as well as Auckland, New Zealand were represented in Samoa.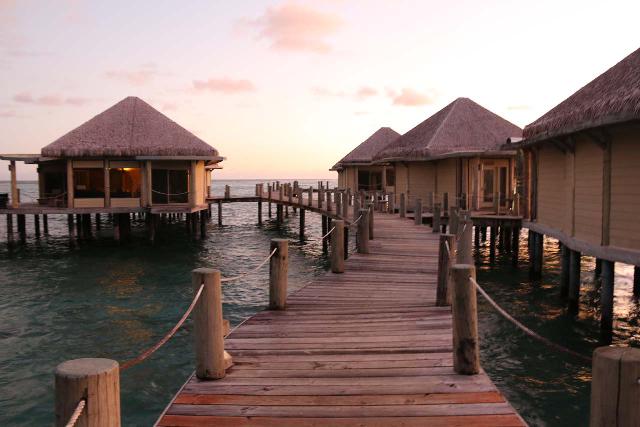 The only criticism we have of the place was the food, but there were neighboring places that served good local fare, so you definitely have options when it comes to places to eat.
Related Trip Reports
Waterfalls included in this itinerary
Visitor Comments:
Got something you'd like to share or say to keep the conversation going? Feel free to leave a comment below...
No users have replied to the content on this page