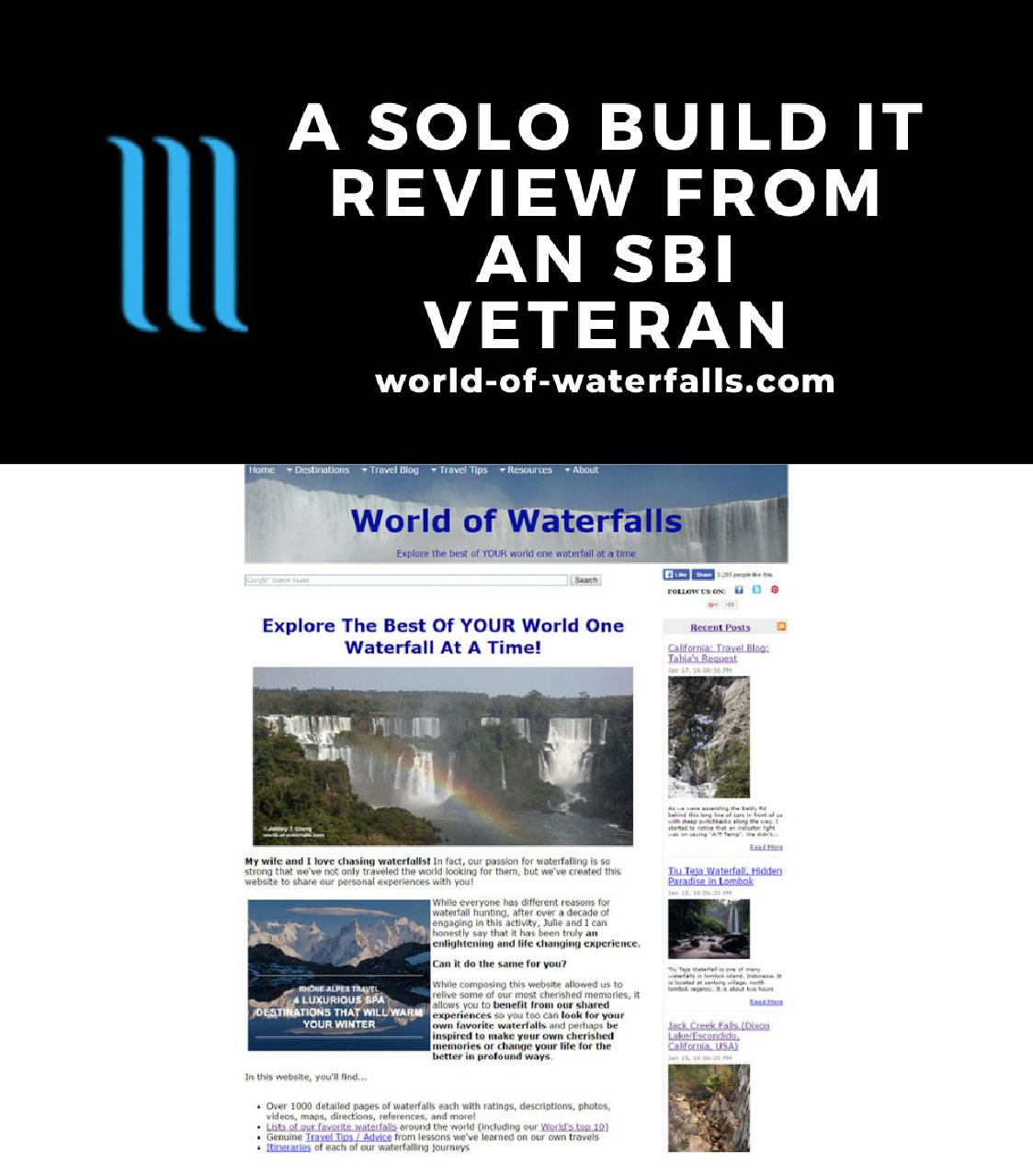 My wife and I have been chasing waterfalls together since 1999. However, we didn't blog about our adventures until 2006 when we launched the World of Waterfalls website. Back then, we used a service called Site Build It! (now called Solo Build It or SBI for short). And in a span of 3 months, we started to get real traffic for this website, and we ultimately grew the website using this platform for over 12 years. So this article is a Solo Build It Review, where I go deep into the things I liked and didn't like about my experiences with them.
Now I understand that there's a lot of reviews claiming that Solo Build It is a scam, but I'll say up front that I am not one of them. Moreover, I credit them with enabling me to turn my passion for waterfalling into a web business (i.e. making money online).
In fact, the original intent of this website was to publicize a book that I published about New Zealand Waterfalls in 2005. That was how I eventually learned about SBI through one of my wife's contacts when she was in the travel agency business.
So I definitely have some thoughts I'd like to share regarding Solo Build It because I've managed to stick with them through their rise, decline, and resurgence. Perhaps from my experiences that I'm sharing with you in this review, you can decide for yourself if you'd like to give them a try and see what they're all about.
What Is Solo Build It?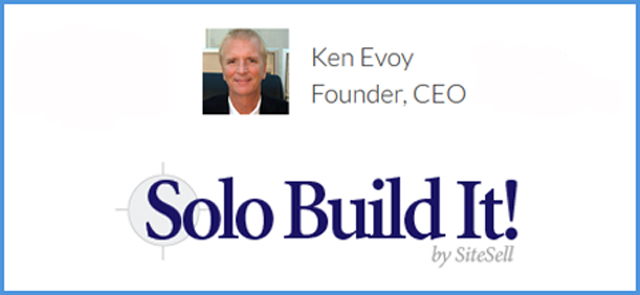 Solo Build It (which was called Site Build It when I started using it) is an all-in-one subscription-based website building platform and web business solution. Started by Dr. Ken Evoy in the mid-2000s, it was one of the first website builders that merged a lot of the principles of building a web business that is very relevant to this day. Back then, platforms like Blogger and WordPress were more about building blogs like more of a news service than it is about a full-fledged content management system.
As for the specific services that Solo Build It provides, with a paid subscription, I got:
web hosting
domain name management
keyword researching tools (via Brainstorm It!)
email
content management (via Block Builder 2.0, Content 2.0, Image Library, Look-and-Feel, and Site Central)
diagnostics (e.g. Traffic Analysis, Panda impact, etc.)
technical support
educational resources (via the Action Guide)
community / forum
In other words, this platform allowed me to build up the world-of-waterfalls.com website (i.e. this website). However, they also provided me with some tools and educational resources to go further than just building a website. Indeed, they enabled me to leverage my website and turn it into a web-based business.
Their content management system (CMS) is a proprietary combination of a Site Central backend or dashboard and Block Builder. Site Central primarily provided file management and shortcut links to website management and research tasks like Traffic Analysis, Brainstorm It!, the Look-and-Feel Editor, Link Library, Image Library, and more.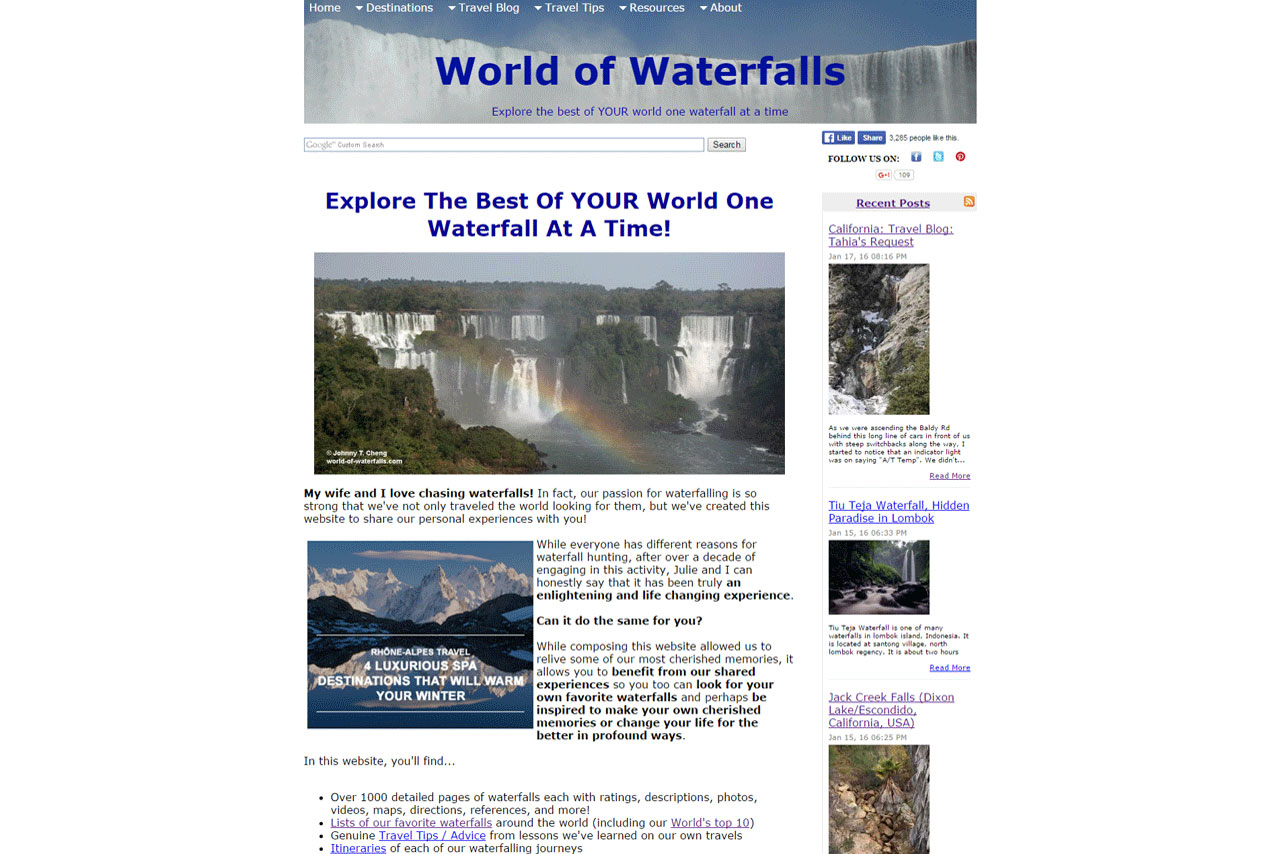 Meanwhile, the Block Builder was the backend interface tool where I would enter my content (or copy-paste them from offline text files), do some basic SEO checks with Analyze It!, and then publish so it be seen by the public. Back when I started using SBI, I used Block Builder 1, which was a straightforward text editing with dialog boxes for Page Title, Keywords, Meta Description, Headline, and the Body Copy.
Then around 2009-2010, they updated their site builder to Block Builder 2, which made content management more of a WYSIWYG (what-you-see-is-what-you-get) drag-and-drop interaction. It also introduced Sitewide Dots and Reusable blocks to take out some of the repetition of creating website content.
As far as educational resources were concerned, I had printed out and studied the 10-day Action Plan while commuting to and from my day job. I then put the Action Guide into practice when I got home from work and on the weekends.
The Action Plan basically walked me through finding a niche, structuring the website, and getting comfortable with their interface as I started building up the site based on CTPM principles (Content->Traffic->Presell->Monetize). So by the end of the Action Plan, I was already building up this website in a focused way with the most money-making potential.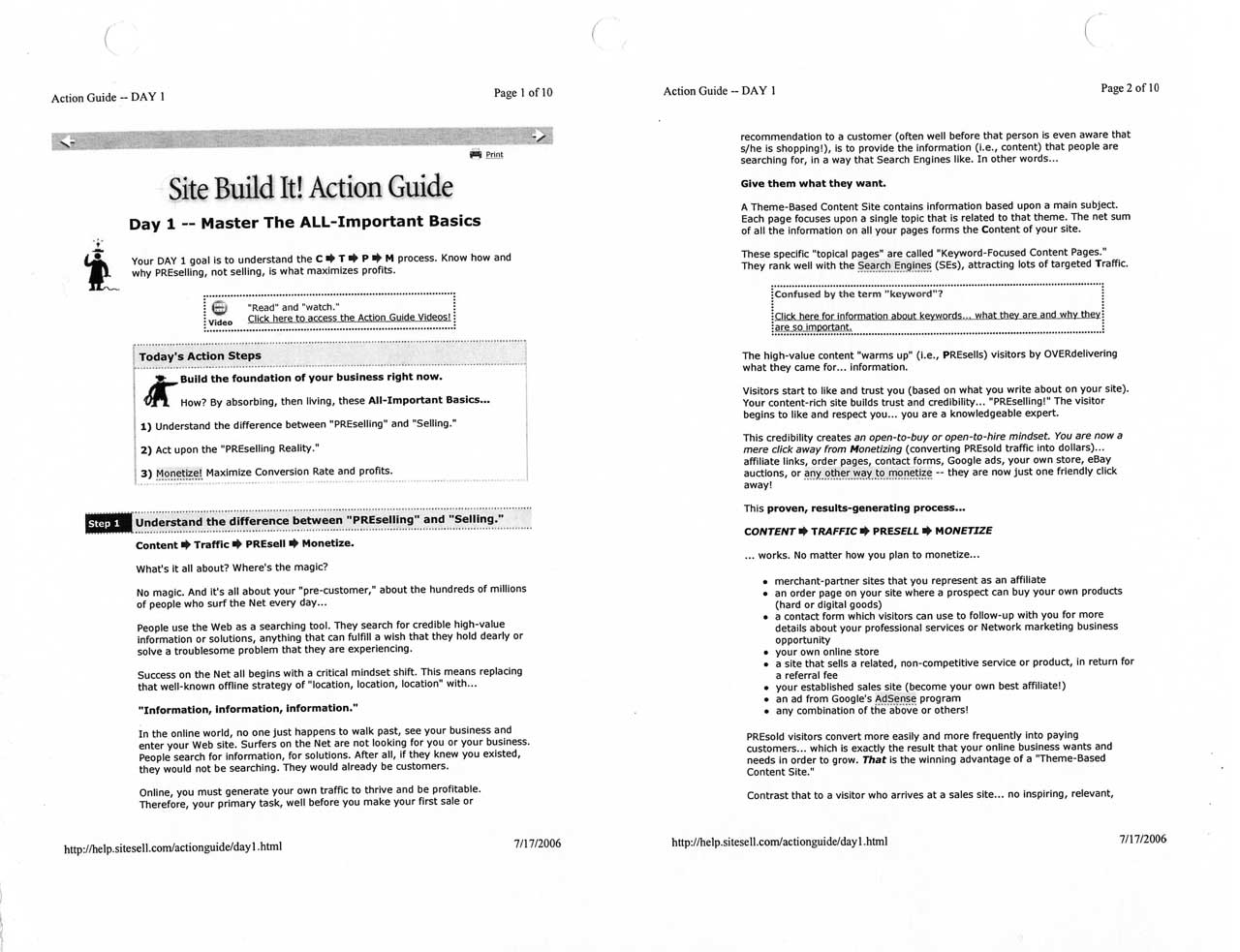 When I got stuck or ran into issues, I then searched around their forum. However, when I couldn't find answers to my questions there, then I contacted their support.
This Solo Build It! (I'm still used to calling it Site Build It!) service costed me $299/year though they did start to allow month-to-month subscriptions for $29.99/month, which I started to do around the 2018 time frame.
For a period of the first few years of its existence, I also paid an additional $100/year for a tool called Content 2.0, which allowed website visitors to submit content as if it was actual website content. Since then, they no longer charged for it, and it comes included with their membership.
Who Is Solo Build It For?

I view Solo Build It as a tool that is targeted for people who are new to building a website and wishing to build a web-based business with it. Therefore, they generally try to keep the under-the-hood technical web hosting stuff behind-the-scenes, which allowed me to focus more on creating content.
In my experiences, the degree of technical knowledge necessary to work with SBI's content management tool was limited to using some basic HTML code to insert images, links, tables, and lists. I did this to speed up workflow though their content management system allows "drag-and-drop" content creation and a more "Word Processor"-like interface, especially since Block Builder 2.0.
Given that it tries to obscure or hide the coding aspects of web development, I wouldn't say it's a great tool for experienced web developers and content creators looking for greater flexibility. So people who are comfortable working with CSS, Javascript, mySql, and PHP may not find SBI for them.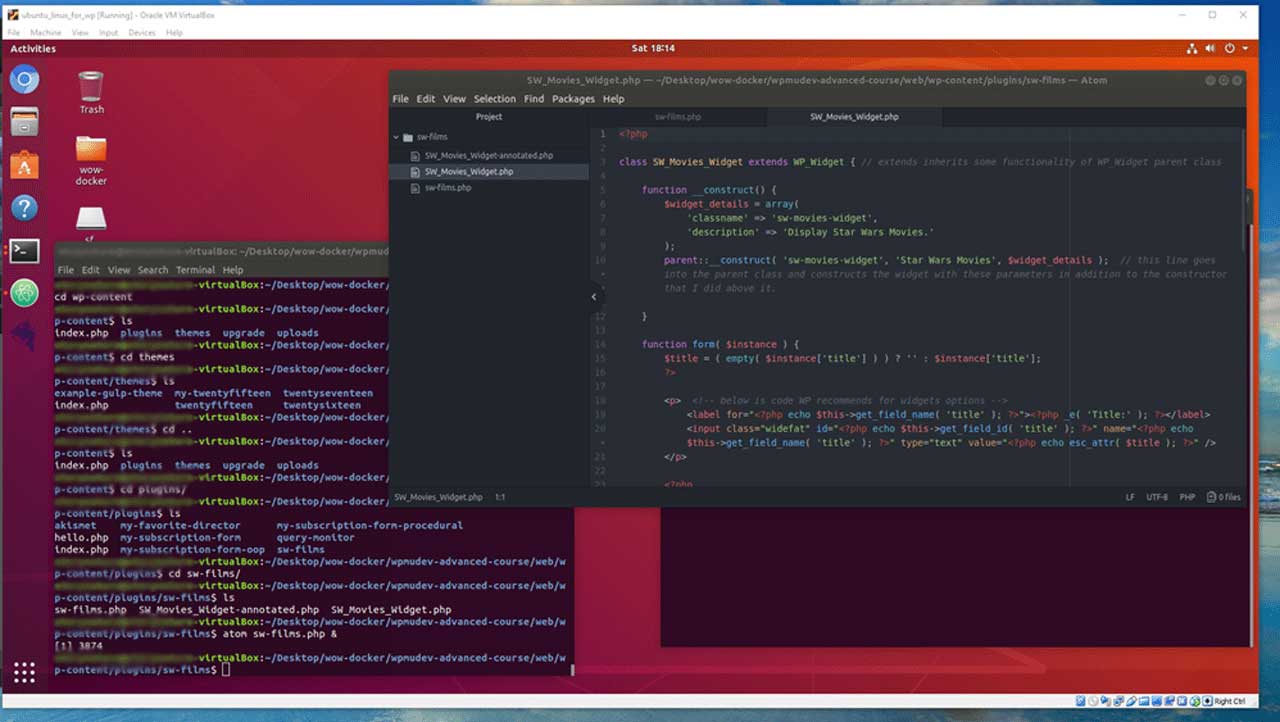 I also didn't find that SBI's content management system is suited for people with a very large website (i.e. at least hundreds or even thousands of pages or posts). That said, I believe the vast majority of websites don't have that much content so large websites would fall out of SBI's 80-20 target audience sweet spot.
Why Should You Use Solo Build It?
Having immersed myself deeply to build up a website using both the Solo Build It as well as WordPress content management platforms, I am in a position to evaluate the strengths and weaknesses of both. However, since this is a Solo Build It Review, we'll first start by focusing on the things it does well or the things it has going for it.
Quickly And Efficiently Build A Website And Business
I managed to follow SBI's 10-Day Action Guide when I started out knowing nothing about building a website let alone making money off of it. Through this process, I learned the basics behind how I was supposed to research my keyword-focused niche-based website while building the website around the keyword that I had targeted.
Indeed, when I was done with the action plan, I had already started the momentum of building up the World of Waterfalls website. By the way, I took longer the 10 days to get through the Action Plan because I did have some go-backs, but I found the process to be actionable and straightforward to follow based upon principles that made sense to me.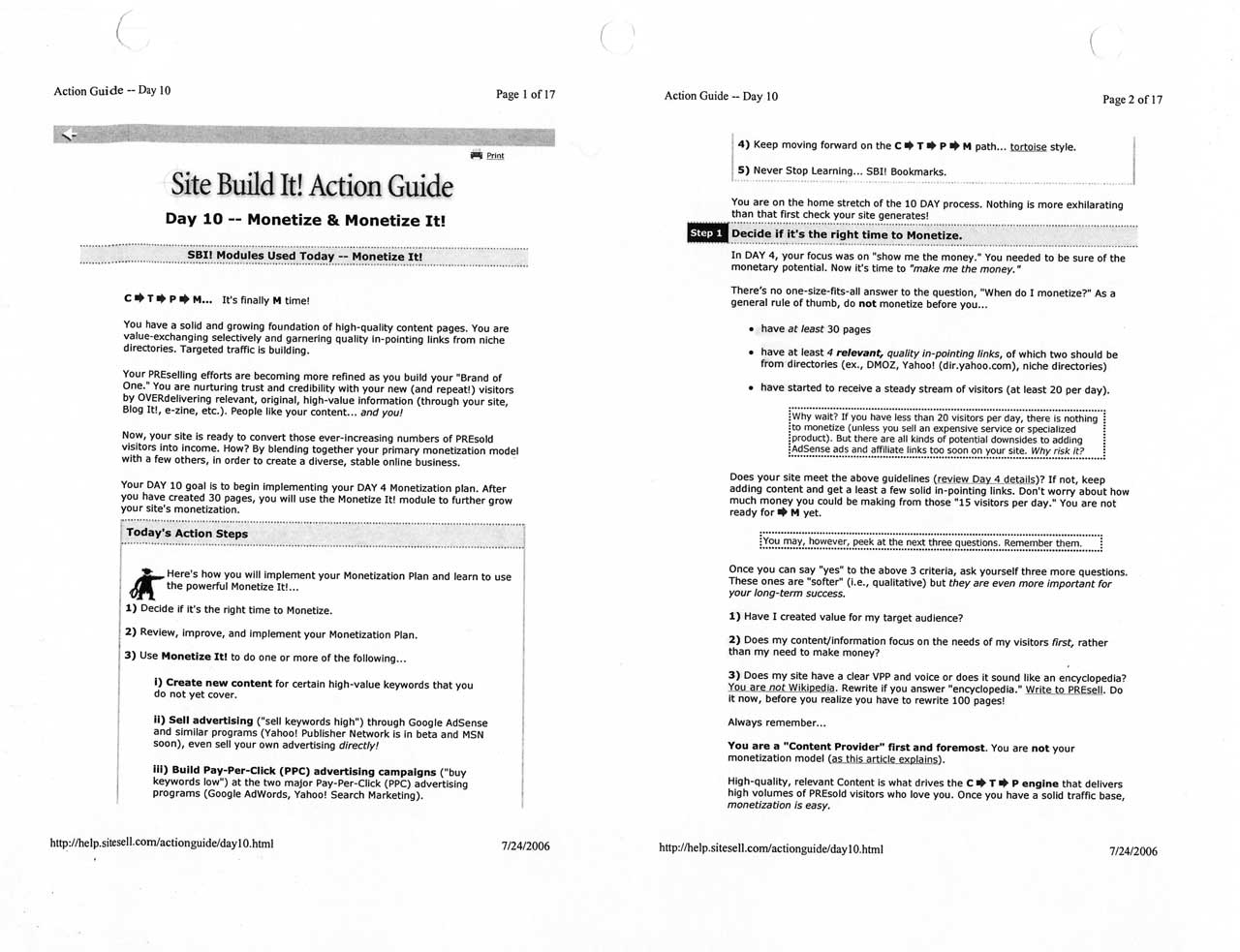 During the course of the Action Guide, they had continually interwoven the CTPM principles so I was already sowing the seeds of monetizing off this website, which thereby enabled me to monetize off my passion for waterfalling.
Good Value
At first glance, the nearly $300/year subscription might sound expensive, especially when you consider there are free website builders out there. However, I learned the hard way that SBI did a lot of things under-the-hood that I would have to take care of myself when I managed my website using WordPress.
So all the stuff about hosting the website on their servers, taking care of the DNS, interfacing the user with their Site Central and Block Builder CMS, keyword research in Brainstorm It!, C2 approval/denials, and form building were all included. SBI even seemed to accommodate having an unlimited number of files (especially with the number of images and webpages on my site), which was a limit that I frequently encountered with hosts like MDDHosting, Kinsta, DigitalOcean, BlueHost, etc.
With building up my website in WordPress, I was on my own regarding all that stuff so I got nickel-and-dimed on everything – hosting, email, domain name, and even traffic! I also had to pay for a premium theme as well as some premium plugins (not to mention hiring contractors for further customizations that weren't addressed by the WP ecosystem). Thus, these costs added up beyond the annual SBI cost quickly.
Content 2.0 (C2) Functionality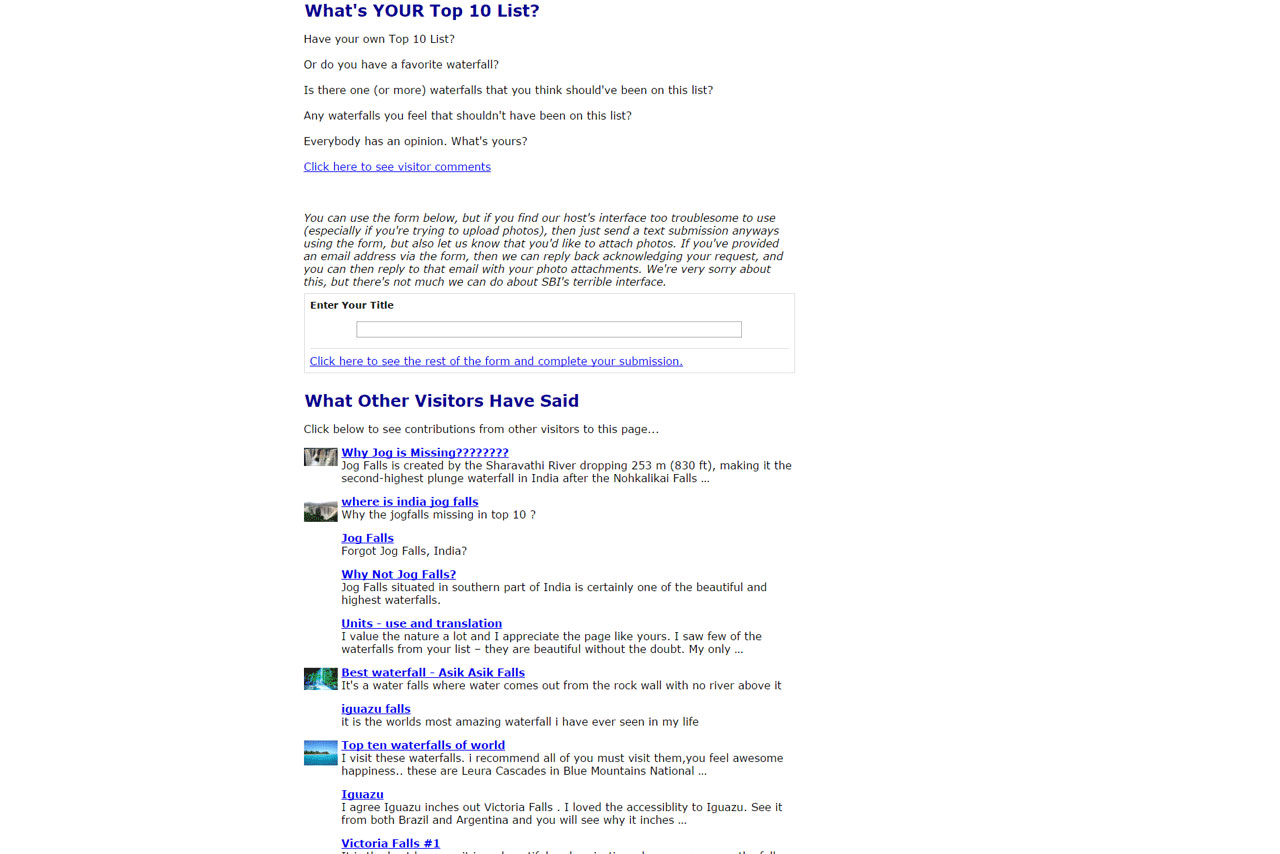 Personally, I found SBI's Content 2.0 (or C2 for short) functionality to be one of the nice features that they introduced during my early years of using them. It definitely helped to make my website more interactive, but it also seemed to make the website more inviting to visitors to submit content.
With WordPress, I had a hard time finding suitable plugins to do the same functionality. I ultimately had to do some under-the-hood custom coding to make something come close to the functionality that C2 provided. It was not an easy thing to do.
Site Speed
The thing about Solo Build It that I never really had to worry about until I started using WordPress was both site speed and security.
The reason why I found my SBI-hosted World of Waterfalls site to be much faster than on WordPress was because SBI is pretty much all static HTML. After all, I built the site directly in using basic HTML code interspersed with regular content using their Block Builder tool. So in the end, I had web pages all in HTML and it was directly rendered as such by web browsers.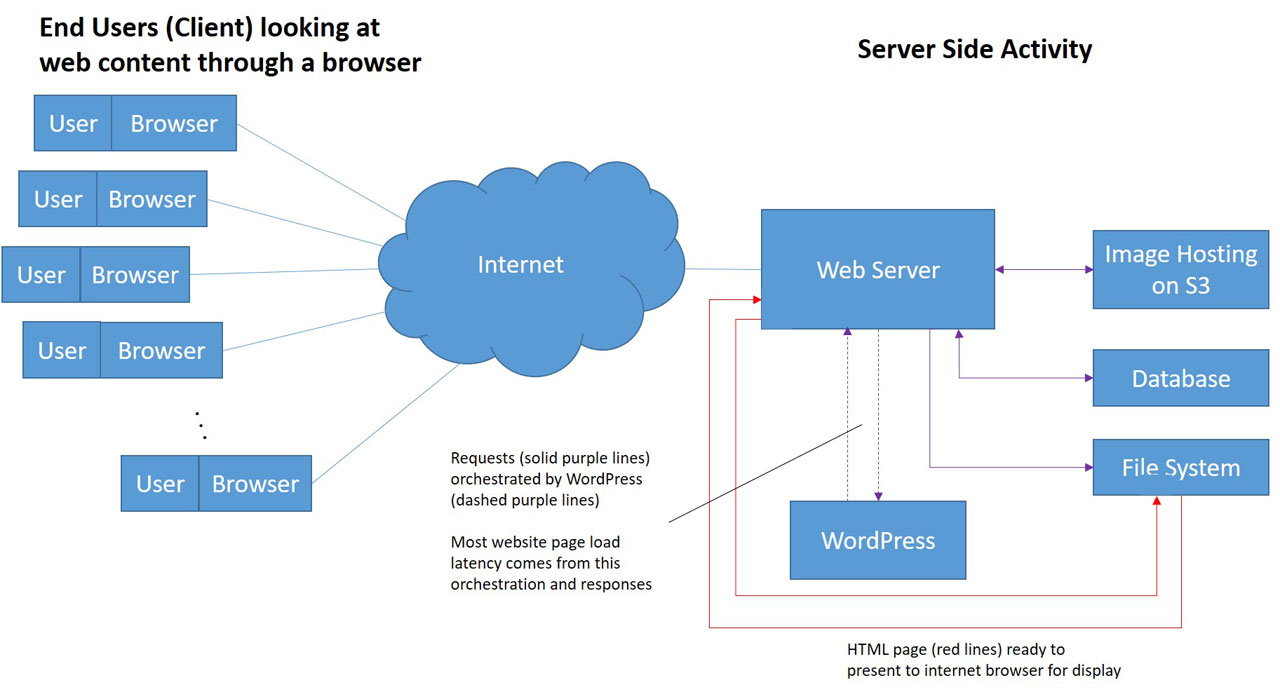 Compare that to WordPress sites where there's a lot of under-the-hood PHP, Javascript, CSS, and mySQL all interacting together. These interactions basically fetch database content and translate it all (using the alphabet soup of web-programming languages) into HTML. Once in HTML, the content can finally be rendered in a web browser for the public to see.
All that requesting, fetching, and translating causes latency (i.e. longer wait times for pages to load). However, if the web page is directly in HTML (as it is for SBI's Block Builder), then it's like that web page is cached. Web caching is basically speeding up page loading by serving up an HTML capture of a previously-loaded page that had already gone through all that processing that WordPress did to present a web page in the first place. Without caching, the WordPress-based website would have to suffer through the latency of all that behind-the-scenes processing every time a page is loaded (including previously-loaded pages).
Security
Another thing that I enjoyed with Solo Build It was that I never once encountered my website being hacked or even being attempted to be hacked. Whether this had more to do with SBI not having a login history or behind-the-scenes access to log files, it seemed to me like SBI sites were just less of a target given its proprietary interface along with direct HTML manipulation of webpages (i.e. less exploitable scripting involved).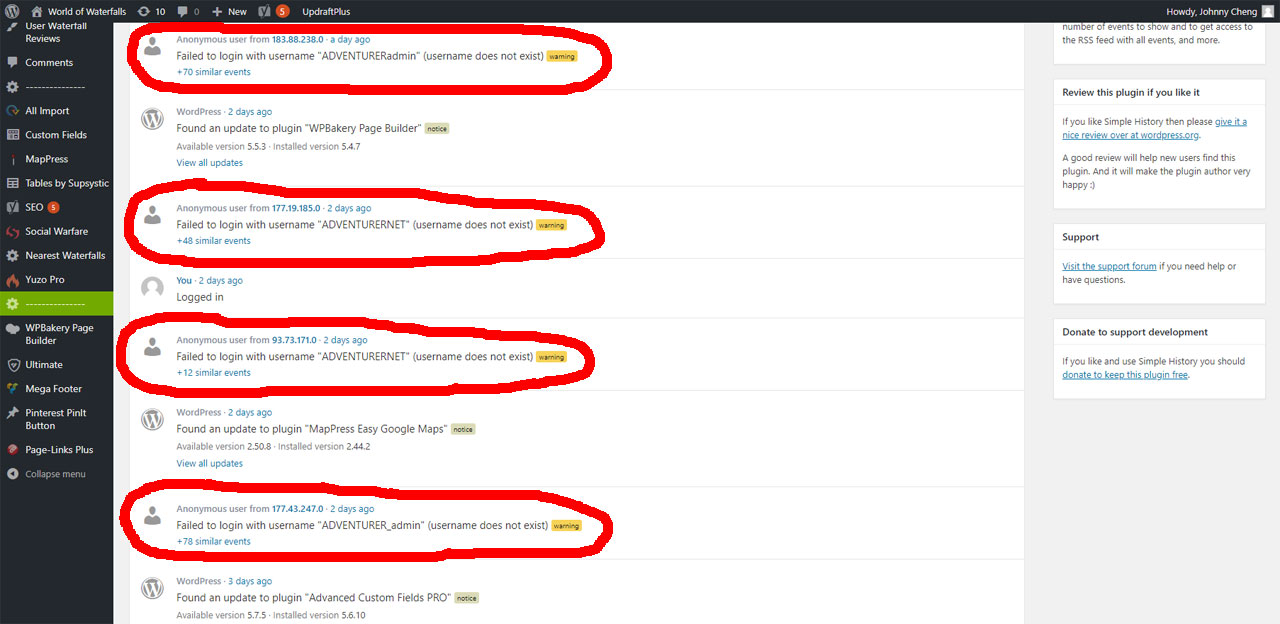 On the flip side, I constantly have to be vigilant about website security in WordPress because it's open source and quite the easy target. So even though WP seemed to benefit more from a hive mind development paradigm in open source, I also inherited bugs and security holes as well (especially with faulty plugin updates). And many of these plugins and themes lacked support (that's the true price of freebies).
Why Did I Leave Solo Build It?
So if Solo Build It was such a positive experience, it's fair to ask why the World of Waterfalls is no longer hosted on their platform? The following are the main reasons why I left.
Proprietary Interface and Sluggish Workflow
The first issue that I had with Solo Build It had to do with their content management system and interface. I had learned over the years to be efficient using their Block Builder system. This involved a lot of creative utilization of their Sitewide Dots and Reusable Blocks along with getting good at HTML to compose content and HTML coding offline and then copy-paste into SBI for preview, Analyze It!, and publishing.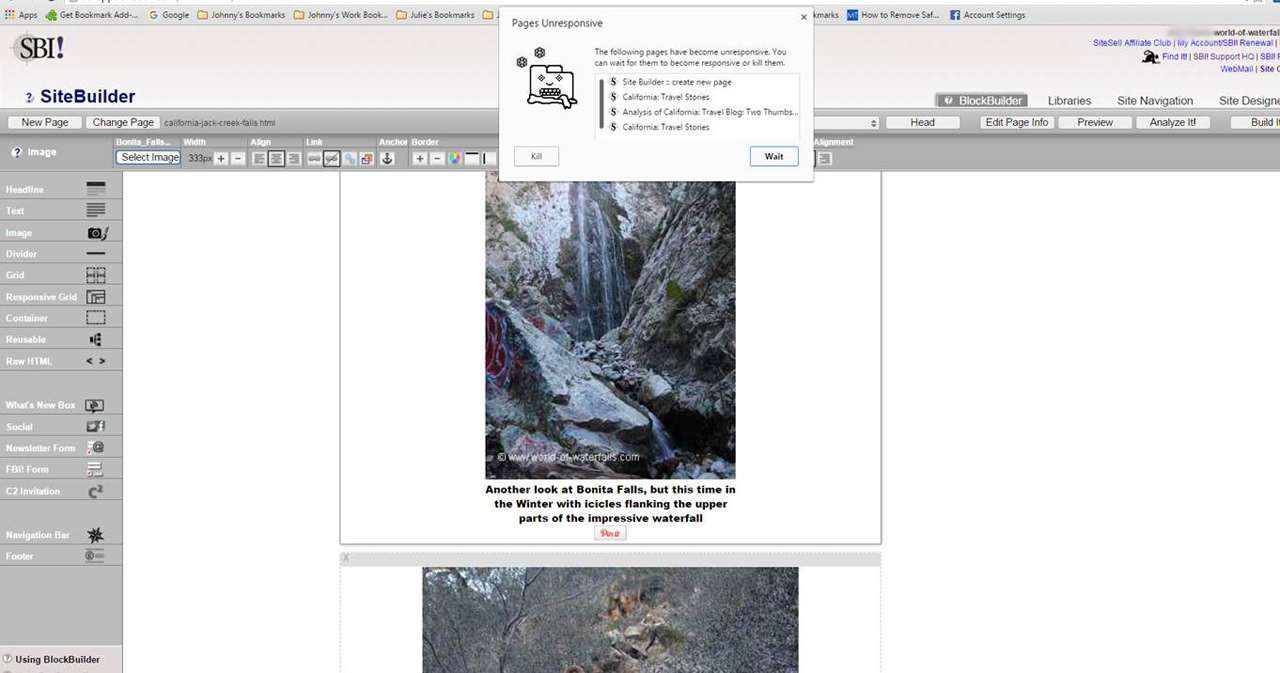 However, as the World of Waterfalls website continued to grow to hundreds of pages and ultimately into the thousands of pages (and even more images), I started to outgrow the capabilities of their CMS.
It got to the point that menial sitewide tasks like changing all the links to a different affiliate or resizing photos either became 9-month projects or completely not palatable.
The file quantities that I burdened their server with caused numerous timeouts. Indeed, Site Central really slowed down for me because it took forever to load all my pages into the dashboard before giving back control of the backend.
For example, I had to wait upwards of five minutes or longer while getting the annoying "page is unresponsive" dialog where I had to wait and resist the urge to Kill the process and start over.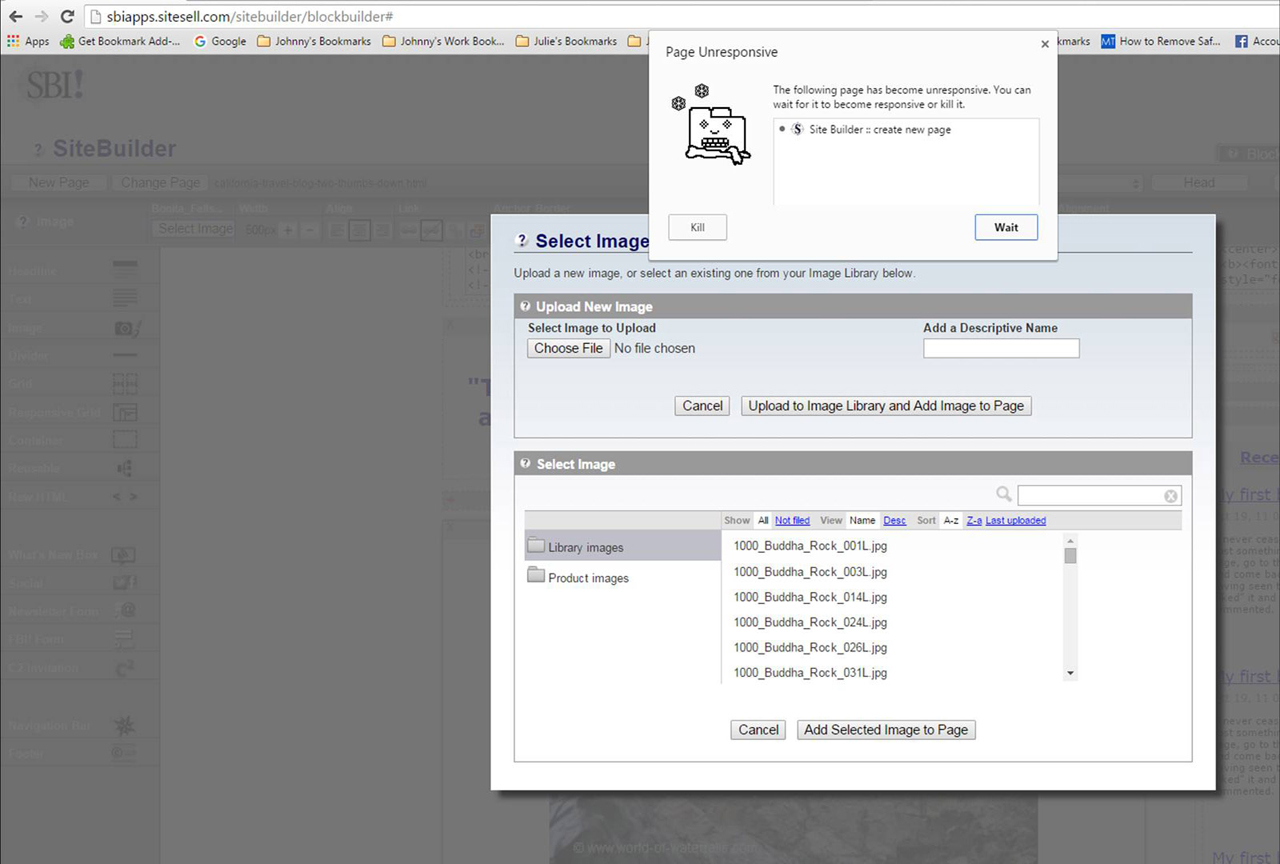 As a result, I learned to try to use the browser's Back button as much as possible to minimize the pain of loading.
However, the greatest workflow issues that I faced had to do with the Image Library as it was the only way to upload images. Yet every upload or image insertion took several minutes. There was nothing I could do about the 10-image upload limit, which meant uploading pictures took days, and I also had to pre-process all my images to meet their stringent file image size limitations (100KB at the time).
I eventually learned to just reference images directly in HTML instead of relying on the Image Library to insert them to alleviate some of the workflow sluggishness. However, I continued to face limits of their tool on a more frequent basis. As a result, it was clear that my website could no longer be reliably hosted on SBI.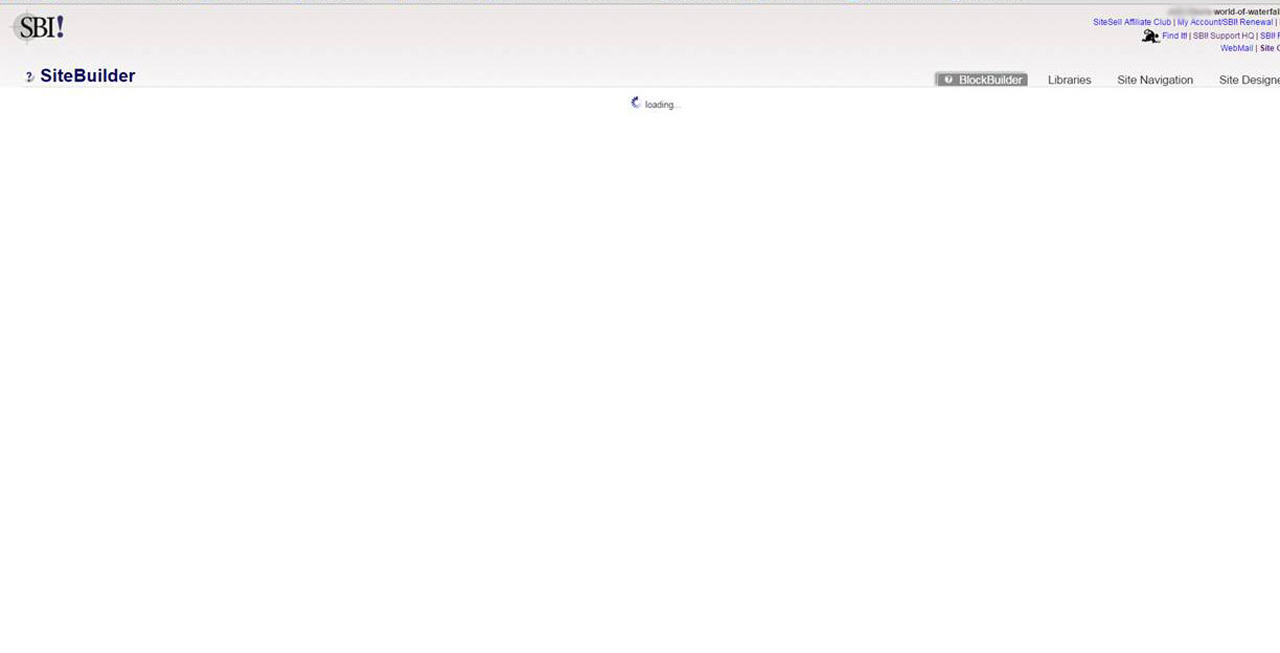 Just to give you an idea of the time frame that I started faced these issues, my Block Builder, Image Library, and Site Central issues had already started around 2010 (4 years into my tenure with SBI). That said, I ultimately started to try to migrate out of SBI since the start of 2016 after evaluating the unknown of starting up on a new and unfamiliar platform.
Losing Out On Website Relevance
Even though Solo Build It suggested to block out the noise of SEO, the service was not immune to playing the SEO game itself. While their Analyze It! tool was a decent SEO checklist to ensure the built page would be indexed by the search engines, they also taught that website credibility through inbound links could be attained by a Link Exchange program.
So when Google released their Panda update to their search algorithm, a lot of SBI sites got slammed if their website credibility heavily relied on this link exchange. In hindsight, I didn't get into this link exchange so I probably wasn't as adversely affected. However, I'm pretty sure most of the former SBIers who were affected probably thought the Solo Build It was a scam.
That said, I noticed that my website's relevance was dropping more for the dated look and feel of the website as well as not doing the SEO properly. And by properly, I mean that SBI itself along with me ignoring SEO (thinking it wasn't core to the principle of content building) combined to make me lose ground to non-SBI websites. After all, they seemed to have benefitted more from say WordPress plugins like Yoast or All-in-One SEO, which already enabled WordPress sites and blogs to be better indexed by Google.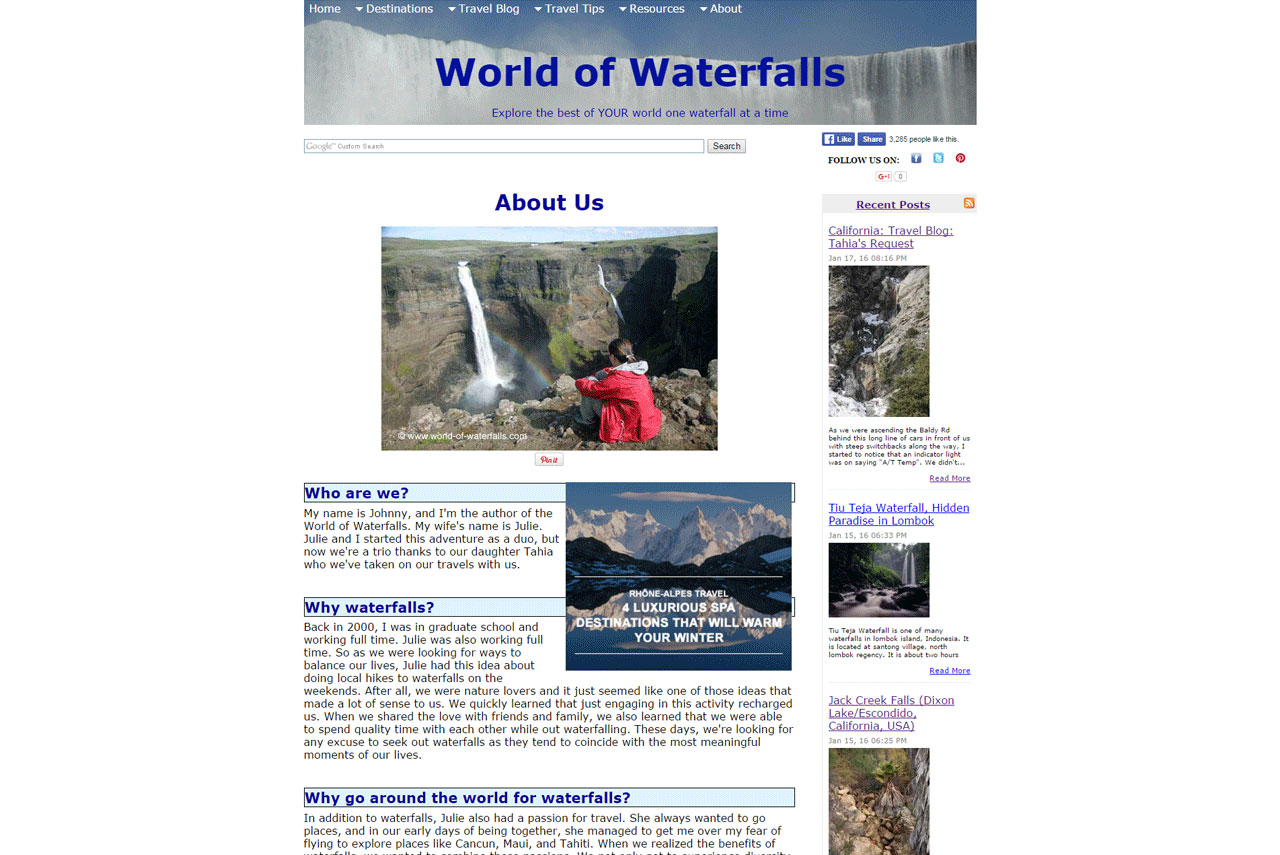 While my site continued to grow, I found that I could no longer keep up the look-and-feel of each of my individual pages. While I got all the low-hanging fruits with Sitewide Dots and Reusable Blocks along with their Look-and-Feel selectors and customizers, there were still other changes that required scripting given the sheer size of my site. Unfortunately, SBI's platform was not very receptive to the advanced aspects of incorporating scripting to improve workflow. Actually WordPress wasn't either, but I eventually found a solution involving offline scripting in Python and plugins like WP All Import.
For sure, I was growing frustrated that the "way of the Tortoise" (i.e. slow and steady) wasn't cutting it for me anymore. It felt as if all the effort I spent trying to keep World of Waterfalls relevant from within the SBI platform was becoming futile as I kept losing ground.
Email System Archaic And Full Of Spam
While SBI's email system was adequate in that we had one and were able to receive and send emails, it was actually not very good at filtering out spam and filtering in the legitimate messages. This caused us to have to spend more time sifting through the email traffic without a reliable POP and SMTP integration. Indeed, all email had to be directly checked in Site Central.
As a result, I recalled that we had missed out on being approached by Travel and Leisure magazine inquiring about our story while we were abroad. So never saw the email from them when they tried to contact us until after coming back from a trip, which was too late. We also missed out on correspondences with other inquiries by the World Waterfall Database as well as other people in the community who reached out to us with legitimate intentions.
Portability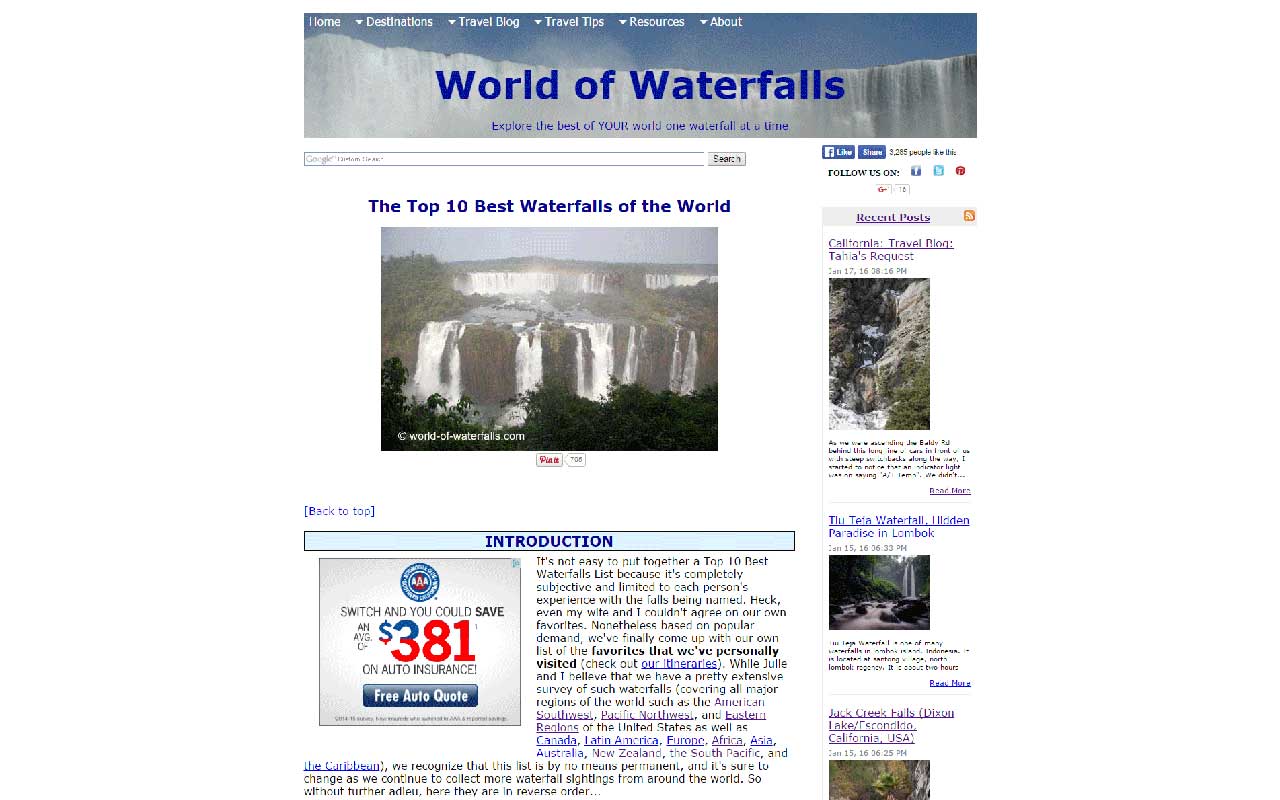 Because SBI used a proprietary structure to yield HTML web pages, it wasn't very portable into other platforms. While you can argue that this might have been by design, it's definitely a painful consideration that I had to make when I finally decided to migrate as I had outgrown their platform.
Unfortunately, the more invested I was in the SBI platform, the harder the migration became because I had to migrate more content and maintain two websites at the same time (i.e. the new one and the live SBI one). Indeed, I knew that it wasn't going to be easy to migrate out of SBI, and even so-called WordPress "experts" who tried to help out for a lot of money severely underestimated the task at hand.
To make a long story short, I ultimately made the migration, but it took me the better part of 3 years to finally relaunch the World of Waterfalls using the WordPress platform (with lots of growing pains along the way). Then, it took another 1.5 years to do further clean-up within the WordPress platform to finally achieve the better workflow and scripting that helped to turn 9-month tasks in SBI into a job of a few minutes.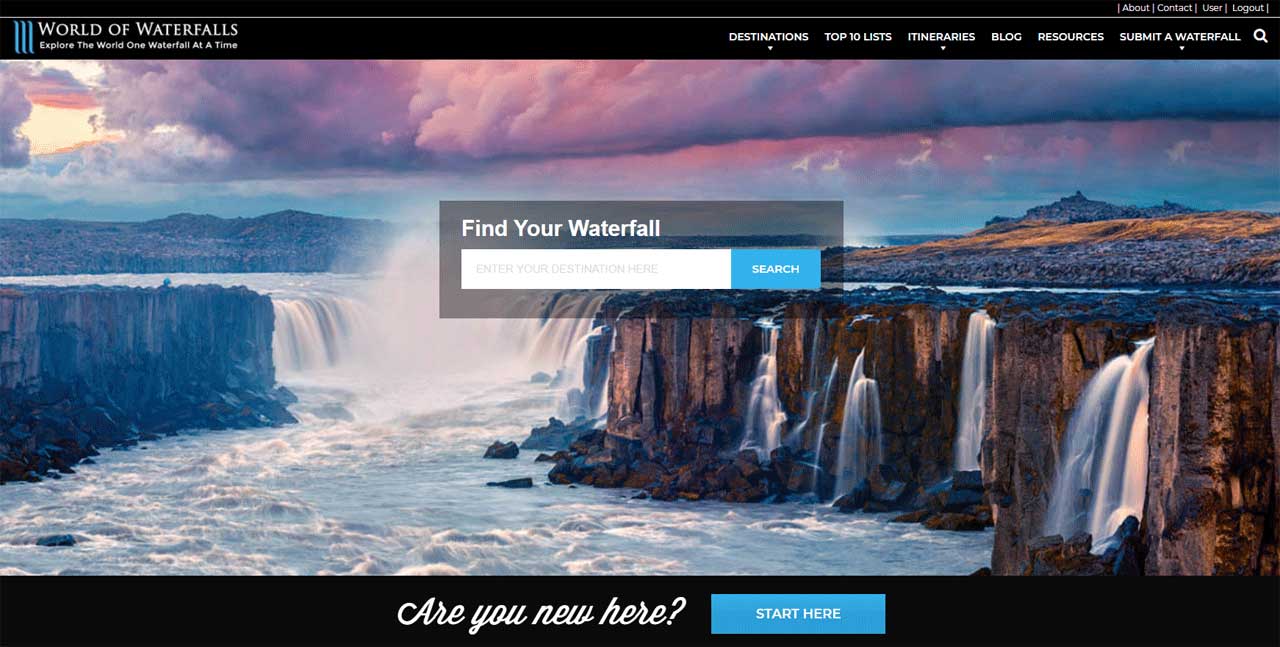 There's still a lot of work to be done to make my World of Waterfalls site perform better, but at least I was finally on my own and finding myself within the WordPress platform (for better or worse).
Final Thoughts / Conclusion
Now that you have seen my experiences with Solo Build It (both good and bad), I hope you've found it informative and cutting through the BS. More importantly, I hope I've provided you with enough information to make an informed decision on what platform you might want to consider should you wish to get into building a web business or web marketing.
I credit Solo Build It (or Site Build It!) with helping me in getting the World of Waterfalls website started with the right approach. However, I ultimately outgrew their platform as the website grew too big, and I had to go through a very painful migration to finally get it on a platform that could handle it.
Nevertheless, if you're reading this Solo Build It Review, I presume that you are probably looking to get started on building a website. So my growing pains probably wouldn't relate to you anyways (neither at first nor if you don't intend to grow the website to hundreds or thousands of pages).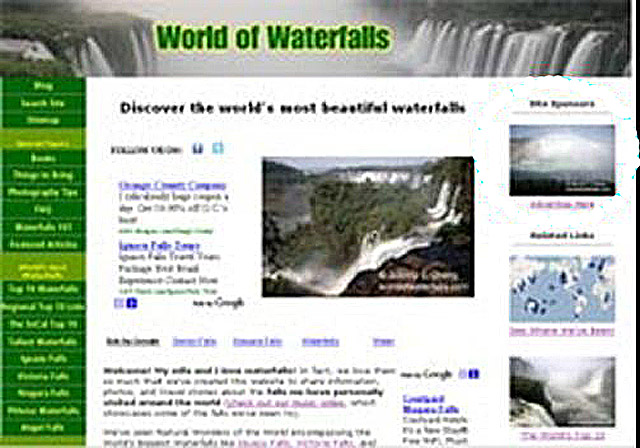 And in that vain, I think Solo Build It is a fine web business builder if you don't mind building with Block Builder and following their Action Guide.
That said, they do have a plan where if you already have a WordPress site or want to build using WP, you can subscribe to their SBI for WP plan. This provides you with their business-building tools and education but it leaves the CMS to the open-source WordPress. You're also on your own with some of the hosting functions so it's not as much of an all-in-one solution if you don't go with SBI's native Block Builder.
So if you're still looking for an all-in-one web business builder that's very much like Solo Build It but natively supports WordPress, then I would recommend Wealthy Affiliate or WA. While I don't use WA's platform to host this World of Waterfalls website (as I doubt even their platform can handle the specific needs of this beast of a website), I am using it to help my wife start her blog as well as my own homeownership blog. This is especially since I've now gotten comfortable with WordPress after all the growing pains that I had gone through.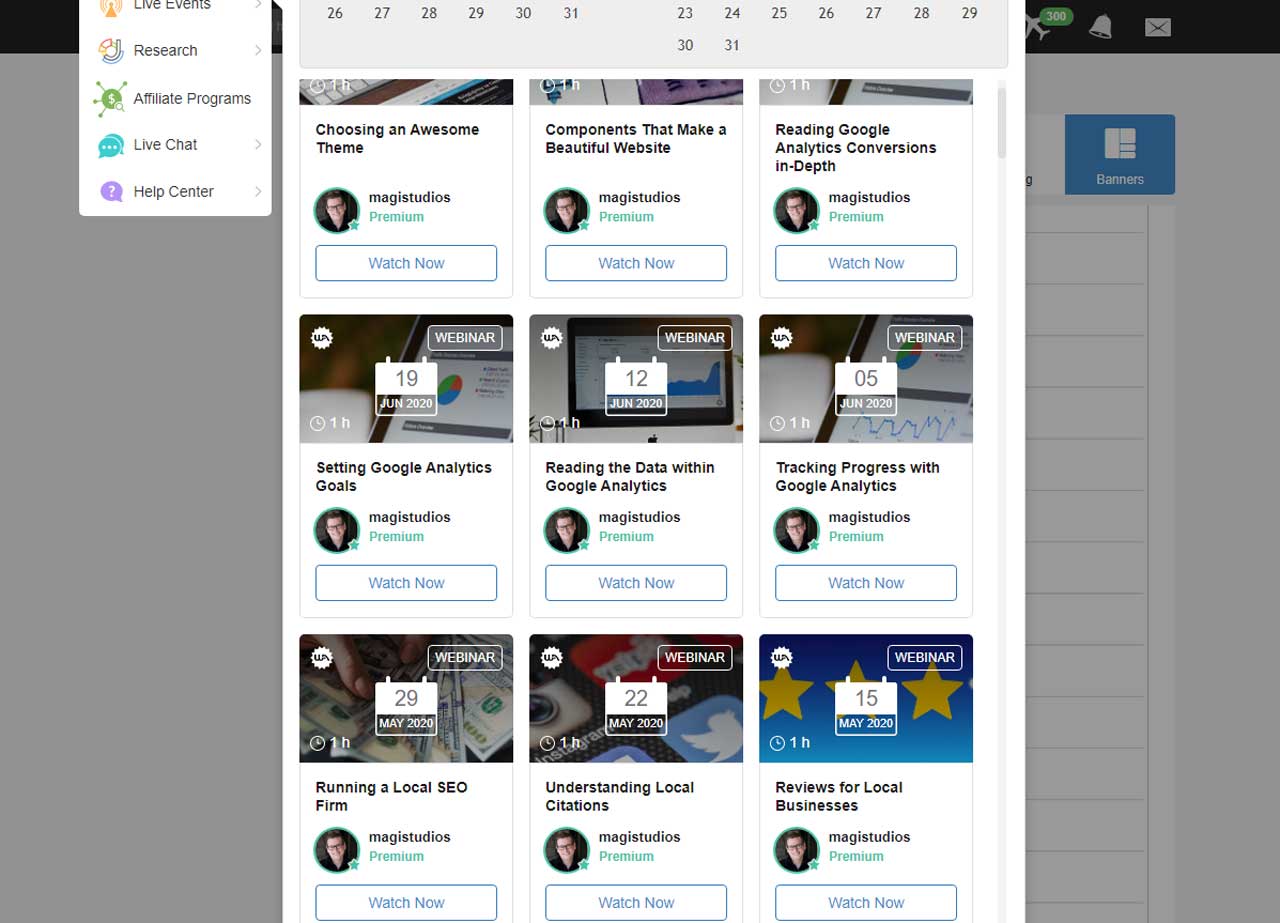 Anyways, the jury's still out on how well WA will work out for our blogs, but I can already tell you that WA's training is very much in the same vain as SBI's Action Guide. However, WA does have a very useful weekly Live Training hosted by the amazing Jay Neill of Magistudios (one of their long-time WA members and now acting as their Live Training Coach). In fact, I found that live training alone to be very worth the price of going premium. That said, it's not cheap and SBI could provide a better value in that regard since I can argue that life may be simpler without using WordPress.
Indeed, the choice to go with Solo Build It or any other competing platform (e.g. WA, Wix, Squarespace, DIY, etc.) comes down to preference. Yet website building is one thing. Having a successful web business out of it is another.
It ultimately comes down to one's passion and determination regardless of which platform is chosen. That's right. Tools are there to make a job or task easier (hopefully not being a hinderance), but success comes from the person using the tool!
Please note that this is not a sponsored post. However, there are affiliate links that help pay for this site. You can read more about these in our affiliate disclosure in the footer at the bottom of this post. If you have questions or comments, please use the comment box below.
Solo Build It
Hosting and Research
8.5/10
Backend Interface and Functionality
6.0/10
Frontend Performance
7.5/10
Pros
All-In-One Hosting and Web Business Solution
Good Value
Fast Frontend Performance
Visitor Submission Integration with C2
Website Security Holes and Bugs Less Prevalent
Cons
Proprietary CMS Makes Export/Import of Website Very Difficult
Severe Limitations to Workflow
Big Websites Will Push SBI Engine Past Breaking Point
Outdated Look-and-Feel
Community Not As Thriving As In Late 2000s
Visitor Comments:
Got something you'd like to share or say to keep the conversation going? Feel free to leave a comment below...
No users have replied to the content on this page