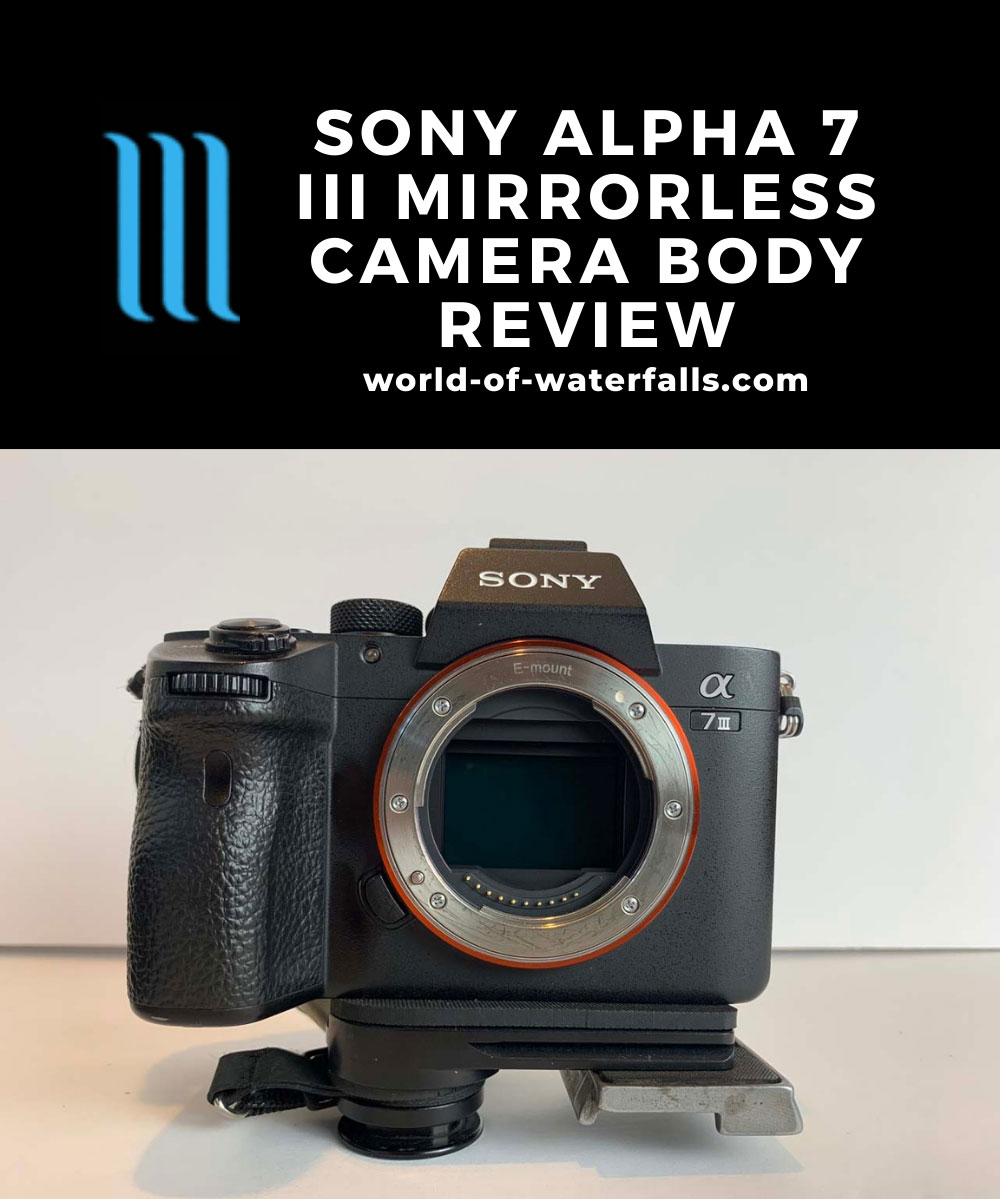 This Sony Alpha A7 III Mirrorless Camera Review is where I discuss my experiences with this serious camera purchase. Expensive financial commitments like this don't happen often for me, especially considering that I've been using Canon DSLR cameras and lenses for the better part of 15 years (the latest being a Canon EOS 70D). So, I wanted to make sure that committing to this camera is the best decision, and I'm hoping that you may find my experiences that I'm sharing in this review to be useful as you decide for yourself if this camera is right for you.
Before diving deep into this review, I want to establish a little background that led me to this point so you know where I'm coming from.
I first became acquainted with the Sony A7 3 upon a recommendation by my wife's photography class instructor, which piqued my interest because it seemed like the top mirrorless camera on the market at the time.
Meanwhile, I also considered purchasing a new camera lens after having gone through the latest lens malfunction barely two years after its purchase (and this was my third Canon EF-S 18-200mm zoom lens in 5 years).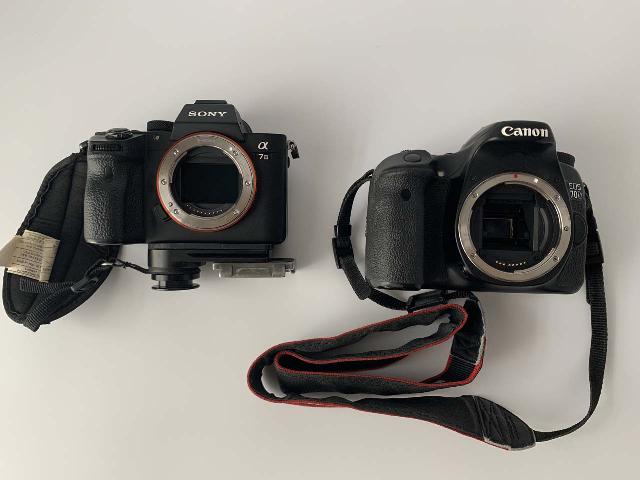 Indeed, figuring out my next camera equipment wasn't easy because I could stick with the familiar (and cheaper) Canon camera and lens system, or I could go with the Sony A7 3 camera and all the unknowns and additional equipment costs that would come with that.
I questioned whether I was setting myself up for a $3500 mistake, or whether I was missing out on an opportunity to try something different that may end up being better in the long run. It wasn't an easy decision to make.
As I considered myself to be a "mainstream hobbyist" (where I don't make money selling photos let alone doctoring them to be attention-getters on the internet), I don't think you really know what you have until you've actually used the equipment extensively.
So for the rest of this review, I'll go through my thought process for ultimately buying the Sony A7 III camera, how I managed to tweak the camera for my needs, and what I liked as well as didn't like about my experiences with the camera.
Why Did I Switch To The Sony Alpha A7 III Mirrorless Camera?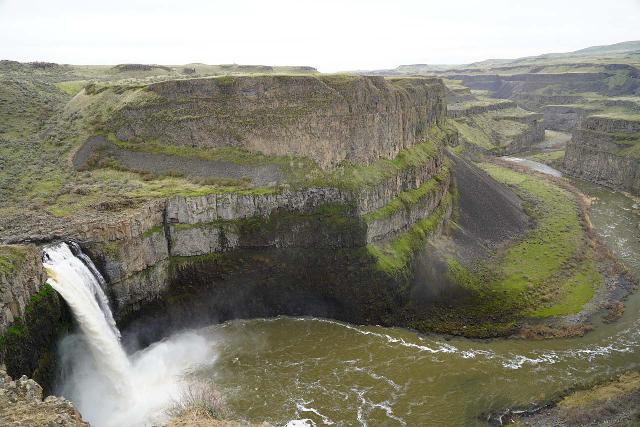 Given my hesitation choosing between giving the Sony a try or sticking with the Canon I already own, my decision points ultimately boiled down to professional functionality, cost, durability, specs, and reputation.
Professional Functionality and Durability
By "professional functionality", I mean that the Sony Alpha A7 III Camera offered a full-frame sensor, which was something that only Canon Mark series bodies featured, which were way out of my price range.
This meant that I could more confidently take wide angle landscape shots without worrying about the crop factor of the body causing me to lose some of that information around the edges of the same scene.
It was also my first go at a mirrorless camera, which promised lighter weight and fewer failure-prone moving mechanical parts for better durability.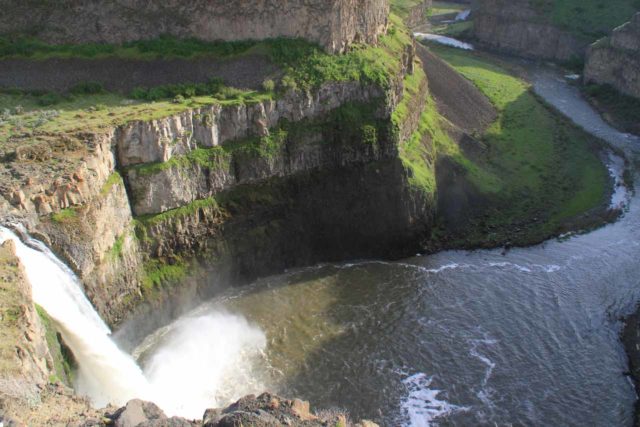 Further enhancing the durability, I saw that when mated with a weather-sealed zoom lens, the overall weather sealing meant I could more confidently take photos where a waterfall could send a lot of spray or where I happened to be caught in bad weather.
Cost
So was the added functionality that I thought I was getting with the Sony A7 3 Camera worth the added cost?
Just to give you an idea of what I had been paying over the years, here's a list of my camera and lens purchases (including the Sony purchases):
Canon EOS 20D with stock lens: $2019.25 as of February 18, 2006
Canon 70-200mm f/4 L Zoom Lens: $588.30 as of March 24, 2008
Canon 17-85mm f/4 USM Zoom Lens: $592.57 as of April 30, 2008
Canon 17-85mm f/4 USM Zoom Lens Replacement: $544.51 as of December 30, 2008
Canon EF-S 18-200mm Zoom Lens: $579.88 as of March 28, 2010
Canon EOS 7D Camera Body: $1613.58 as of January 6, 2011
Canon EOS 70D Camera Body: $1091.28 as of December 16, 2014
Canon EF-S 18-200mm IS Zoom Lens Replacement: $912.98 as of April 29, 2015
Canon EF-S 18-200mm IS Zoom Lens Replacement: $496.62 as of November 24, 2017
Sony A7 III with FE24105mm F4 G OSS Lens: $3440.61 as of December 1, 2019
Sony FE24240mm Zoom Lens: $1138.05 as of February 2, 2020
Sony FE90mm Macro Lens: $1192.80 as of February 4, 2020
Canon EF 100-400mm Telephoto Lens: $705.24 as of February 22, 2021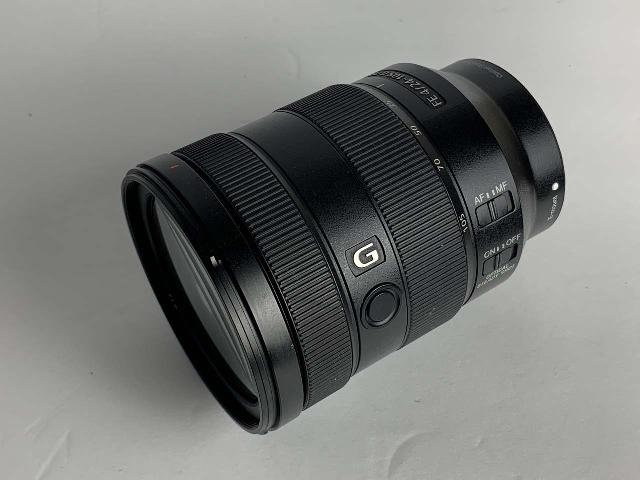 So while the Sony forced me to pay a bit more than the Canon EOS bodies and lenses, you can see with the number of Canon purchases I made regarding these things that the overall cost kind of evened out due to the poor durability of my Canon equipment.
Specs
Of course when considering a camera body, I also paid attention to the specs since that's one of the few ways you can more or less objectively compare between the various models and brands.
First, the Sony Alpha A7 3 has a 24 megapixel (6000×4000) 35mm full-frame CMOS sensor, which compared favorably to the 20 megapixel (5472×3648) 22.5mm x 15mm APS-C crop sensor on my Canon EOS 70D.
Second, the Sony A7 III can do 10 frames per second continuous shooting (seemingly like a machine gun) whereas the Canon EOS 70D struggles to keep up with 7 frames per second shooting in servo mode.
That said, the lens plays a big role in how quickly you can take pictures in succession, particularly since you have to really allow a lot of light into the sensor by opening the aperture (that's lens-dependent) and cranking up the ISO.
Regarding the ISO range, the Sony A7 3 camera has a range of 50-204800 while the Canon EOS 70D has a range of 100-12800 (though I suspect this can also vary with the lens' capability in addition to the camera body).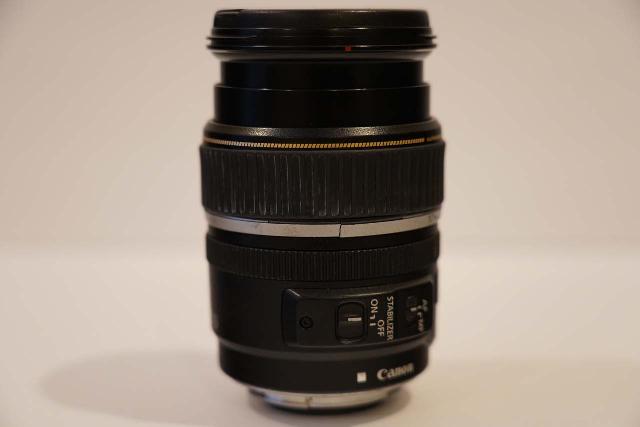 Third, the Sony does 4K (UHD) 3840×2160 video resolution whereas the Canon does Full HD 1920×1080 video resolution. This basically means I can take sharper and smoother videos with the Sony, but it also blows up the file sizes.
As for other things that I've noticed, the Sony A7 3 also does both uncompressed and compressed RAW images similar to the Canon EOS 70D though they have more choices of lossy compression. Generally, I'm not a huge fan of investing a lot of time in postprocessing RAW images, but it was an option for me should I choose to get into it.
The Sony Mirrorless camera does have a body that's smaller and lighter than the Canon EOS 70D, but I've noticed that this size and weight advantage was offset by the heavier Sony lenses compared to that of the Canon counterparts that I've used.
Indeed, my Sony Alpha 7 III with the FE 24-105mm F4 G OSS E-mount lens along with QR plate, circular polarizer, lens hood, and Cotton Carrier universal adapter weighed 3 pounds 6 ounces.
Comparing that with my Canon EOS 70D mounted with an 18-200mm EF-S lens and QR plate with circular polarizer and lens hood, it weighed about 3 pounds 1.1 ounces.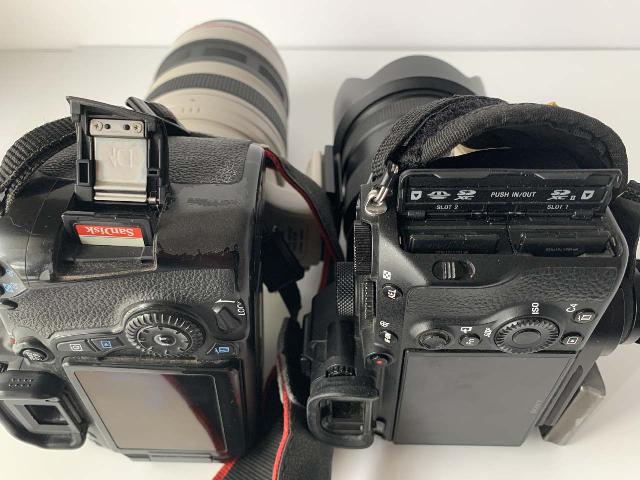 Finally, the Sony A7 3 body also featured 2 SD memory slots – 1 High Speed and 1 Slower Speed. This made it even more unlikely that I'd run out of memory while in the field. On the other hand, the Canon EOS 70D had a single SD memory slot, which went away from the bulkier compact flash (CF) memories.
Reputation
The Sony Alpha 7 III Camera definitely had quite a bit of notoriety among the professional photographer circles and reviewers, and it certainly had a bit of a reputation as the best mirrorless camera on the market at the time.
It was also seemingly universally praised as the best pro-sumer camera on the market.
Thus, with so many independent sources singing its praises combined with my frustrations with the durability of my Canon purchases, I felt compelled enough to give the Sony mirrorless full-frame camera a try.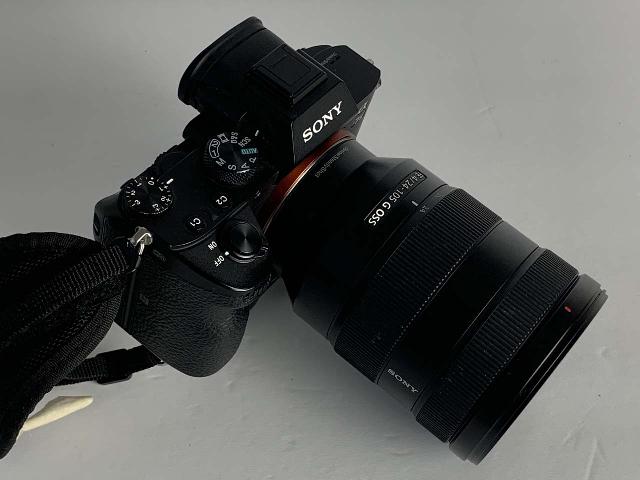 After all, if I was already in the mindset to buy a new lens (again) from Canon to work with the Canon EOS 70D, why not give a different brand a try with its lenses?
And that was ultimately the tipping point of my decision-making process in favor of the Sony with everything else kind of being a stalemate as far as the purchasing decision was concerned.
How Am I Getting The Most Out Of The Sony Alpha A7 III Mirrorless Camera?
Once I bought the Sony Alpha A7 III Camera, I learned that it had a lot of features in it, and I definitely learned the hard way that its default settings were not great out-of-the-box.
So here are a couple of the things that I figured out so far to make this camera better suited for my on-the-go needs. If you'd like to learn more about the Sony A7 3 camera, I found the Mark Galer tutorials to be helpful.
Turning Off The Eyepiece
First, I finally figured out how to eliminate the not-so-useful eyepiece functionality completely. After all, the Sony Alpha 7 III Mirrorless Camera already changed the way I took photographs by always shooting through the LCD in live mode.
However, there was this annoying tendency of the Sony to inadvertently shut off the LCD whenever anything caused a shadow on the eyepiece (as if the camera thought I was looking through that eyepiece).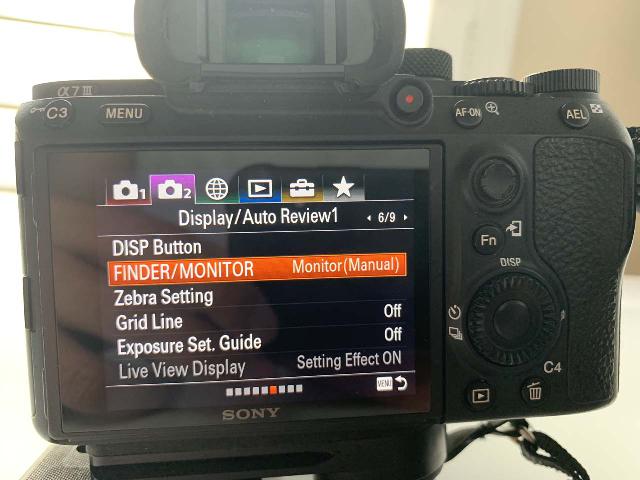 In order to correct that annoying behavior, I navigated to the FINDER/MONITOR setting in Camera2 page 6/9 in the menu and set it to "Monitor(Manual)" instead of the default "Auto".
Properly Moving Memory Content To Long-Term Storage And Clearing The Memory
In addition to turning off the eyepiece-induced LCD shutoff mechanism, I also learned that the Sony A7 3 doesn't handle deleting photos (or other file management tasks) in memory from outside the camera itself. Conversely, I didn't have such issues with the Canon EOS cameras.
For example, if I plugged the memory into my computer, and then directly moved (or copy-and-pasted from memory to disk and then deleted the memory via the computer), the Sony camera body will report errors with reading that memory after re-insertion.
Eventually, with some persistence, I can get the camera to sort out the memory issue by continuing to delete the "ghost" images that the body didn't realize were put into the recycle bin or trash on my computer. However, this can be a rather time-consuming process depending on how many days of photos that were deleted in this manner.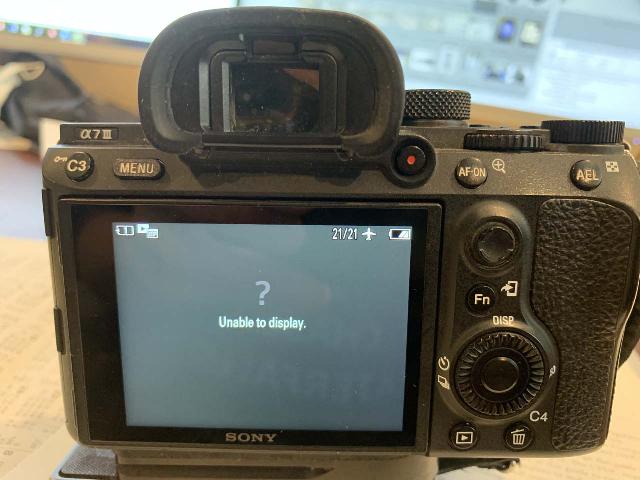 To avoid this problem, I now make it my SOP (standard operating procedure) to copy-and-paste the images from memory to disk, and then I would clear the memory only directly from within the camera body itself.
I do memory clearing by going into the camera's Menu, then navigating to page 1 of Playback1, and then navigating down to "Delete".
Once that is done, the camera asks if you want to delete "Multiple Images" or "All Images On This Date".
If you choose to delete "Multiple Images", there seems to be a limit to the numer of photos you can select and delete, but this limitation doesn't seem to occur when deleting "All Images On This Date".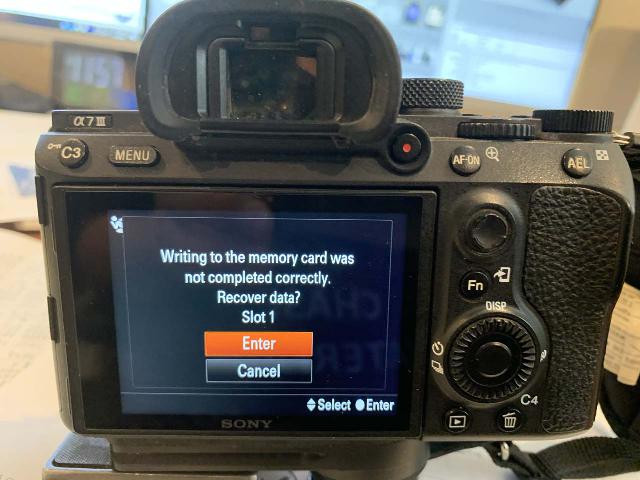 Therefore, if I happen to have lots of images over multiple dates, then I'd need to delete "All Images On This Date" multiple times (once for each date).
Otherwise, I can choose which of the "Multiple Images" I'd like to delete from memory by pressing the "AEL" button on the topright of the backside of the camera body, which then presents the images in memory in grid view.
Next, I'd move the joystick to the check box for a given date (to delete the images on that date), or I can just select the check box for each individual photo I wish to remove from memory.
With this method, you can see that it can be time consuming (let alone prone to the file selection limitation) to perform file management tasks within the camera body like this.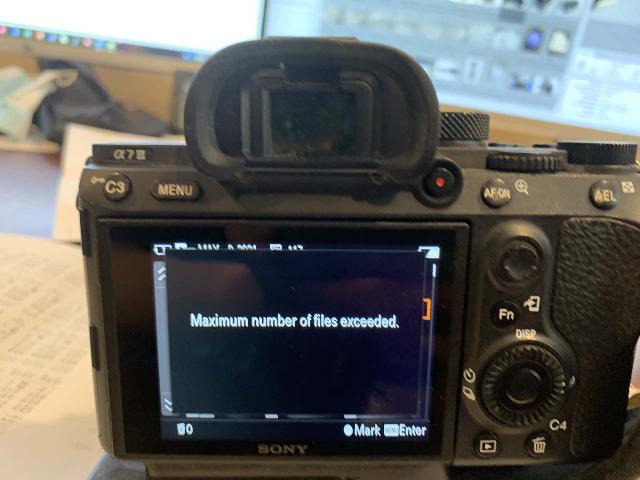 Yet that's why I tend to prefer deleting via "All Images On This Date" for greater efficiency as well as to avoid memory reading problems by not doing file management tasks on computer with the memory that I use in the Sony Camera.
What Did The Sony Alpha A7 III Mirrorless Camera Do Better Than My Canon EOS 70D Camera?
Upon using the Sony A7 3 camera, I came to appreciate the following things about it.
LCD-viewing Live Shooting
First, I can shoot photographs while looking at the LCD instead of trying to look through the viewfinder or eyepiece, which I've mentioned discussed earlier on.
This allowed me to shoot quickly and more discreetly while also speeding up my ability to take a picture without needing to bring the camera up to my eyes to be ready to shoot and not miss a moment.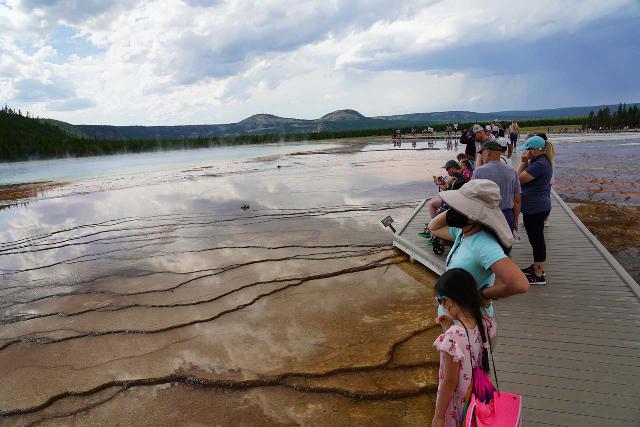 Moreover, I could take advantage of this live shooting to take pictures from higher angles with my arms extended.
Such situations happen a lot when I face crowded areas requiring me to look over people in front or if I needed to convey the atmosphere of a busy promenade or trail.
Shooting via the LCD also helps me to avoid parallax where looking through one eye is different from looking through the other eye since the screen is already showing me the "truth".
Indeed, ever since I have grown accustomed to shooting through the LCD, it changed my workflow to the point that I rarely shoot through the eyepiece (if at all).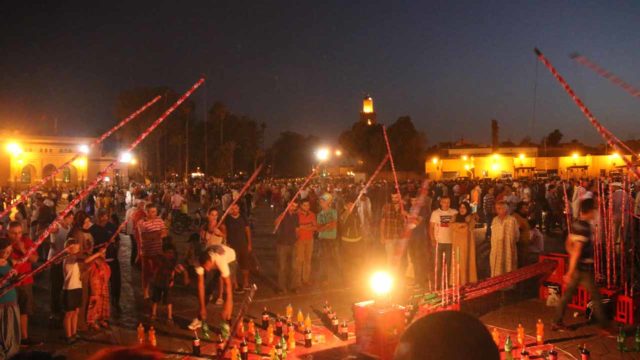 While the Canons can also take Live Mode photos while in Video mode, I noticed they were cropped even further (not to mention causing the video to pause or lose frames) from the already cropped images thanks to the APS-C sensor.
That's the main reason why I generally don't like to take still photos in Live Mode on the Canon EOS bodies that I've used once I figured out why the aspect ratios seemed off from the rest of my stills, which had a 4:3 aspect ratio.
More Robust Weather Sealing
Having been through so many lens failures (and body failures) with the Canons, so far, the Sony A7 3 along with my go-to FE 24-105mm F4 G OSS lens have been quite capable of continuing to perform even in wet weather as I had hoped.
With its ability to not fail on me under some of the typical waterfalling situations that I've encountered since I bought this camera, I'm getting more confident in its durability.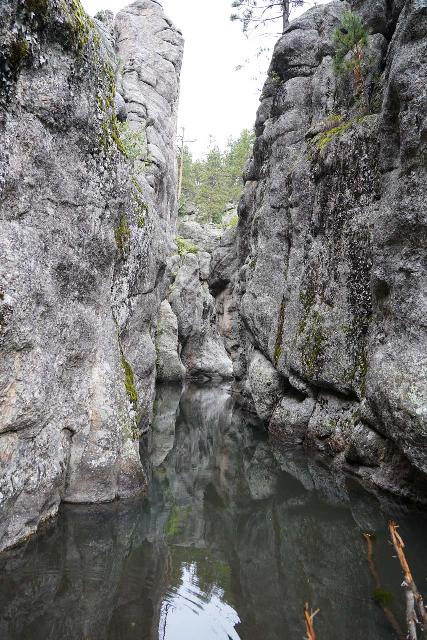 That said, they're definitely not waterproof so I wouldn't go crazy taking lots of photos in downpours or intense spray areas. In fact, I actually had to dry out the camera after three days when I inadvertently dunked it in a deep pool on a hike.
Full Frame Sensor
I can definitely verify the benefits of shooting with a full frame as I was now able to take the type of wide angle landscape shots that proved difficult with the crop sensor of the Canon EOS bodies that I had been using to this point.
In addition to getting more subjects into attractive compositions in my photographs, it also helped to keep me out of more dangerous situations where I'd have to maneuver myself in order to compensate for the lost information from a crop sensor body.
Now crop sensors aren't all bad because for photographing distant subjects like wildlife, astronomy, or other things far away like a distant waterfall from an overlook, the crop factor along with the telephoto lens actually enhanced the zoom.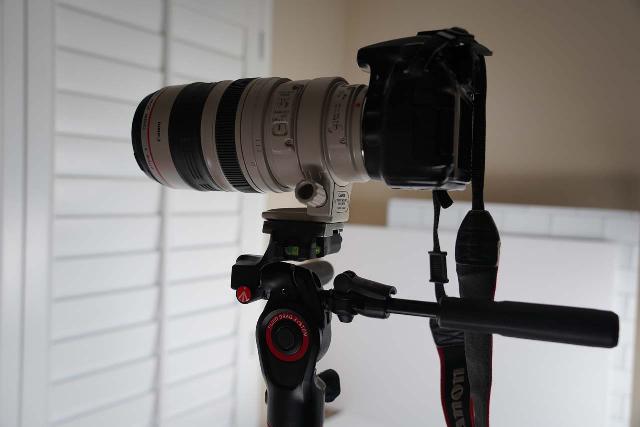 Nevertheless, the full-frame capability of the Sony Alpha A7 III made it a no-brainer for me to adopt it as my go-to camera for landscape photographs.
And thus, my old Canon EOS 70D with telephoto lens would get a new lease on life acting as my wildlife camera of choice for those times when it's better to bring a second camera instead of putting up with delays from changing lenses.
Yet even as I say that, the Sony A7 3's faster continuous shooting means it's also better than my Canon for sports or action shots though I don't do that often enough to justify buying another expensive Sony telephoto lens to take advantage of it with zoom.
Image Quality
This is a little harder to quantify since I didn't have the luxury of a photo lab to evaluate all the different cameras that I own, but anecdotally, I have noticed sharper and better color on my Sony A7 3 photos versus my Canon EOS 70D photos.
That said, it was kind of an apples to oranges comparison since the Sony body benefitted from a high-quality FE 24-105mm F4 G OSS lens that was one of the best in class for a variable-zoom lens.
Meanwhile, the Canon EOS 70D was using a lower quality EF-S 18-200mm f/4 IS USM Superzoom lens, which traded image quality for the increased zoom range.
It was also conceivable that the image sharpness on the Sony was further enhanced by the in-body image stabilization along with the optical steady shot of the lens working together.
My Canon EOS 70D didn't have in-body image stabilization and solely relied on the IS capability built into the lens, if it had it.
What Didn't I Like About The Sony Alpha A7 III Mirrorless Camera?
As much as I appreciate some of the professional functionality and quality build of the Sony Alpha A7 III Mirrorless Camera, there were still some things that I wasn't so thrilled about.
Here are some of the most noticeable things that I'd like to point out…
Cost Commitment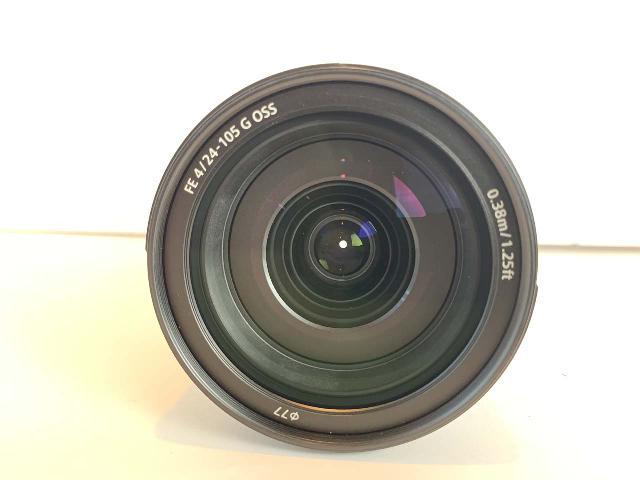 Ever since buying the Sony Alpha A7 III Camera Body, I found myself committed to buying lenses that each cost over $1000.
That was easily 50-300% the cost of many of the Canon EOS lenses that I've used with my Canon EOS 70D.
Of course, that sticker shock is somewhat offset by the durability of these lenses compared to the fragility of the Canon EOS lenses (as evidenced by how many replacements I had to buy over the years).
Limited Zoom Range For Image Quality
When it came to the zoom range that I was used to, the Canon EF-S 18-200mm IS USM Zoom Lens was my go-to lens even though it was so fragile that I had gone through 3 replacements.
While the Sony A7 3 camera had the popular FE 24-105mm F4 G OSS lens, it was still about 50% of the zoom capability of what I was used to.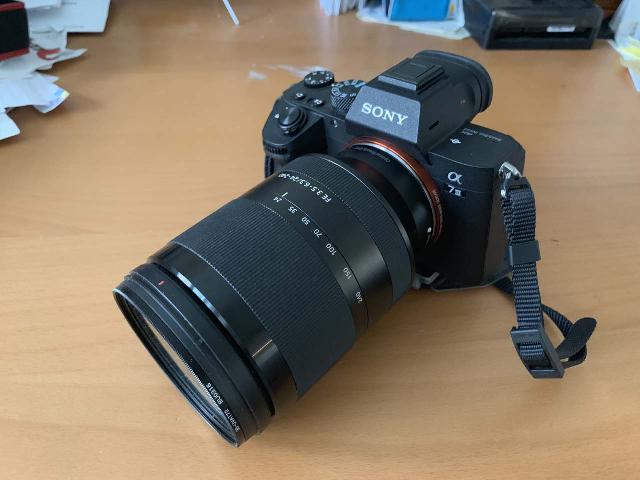 The closest Sony lens in terms of zoom range was the FE 24-240mm F5.6 lens, which wasn't as popular due to the sacrificing of image quality and responsiveness.
In the end, I wound up selling my FE 24-240mm zoom lens in favor of the FE 24-105mm zoom lens, and I chose to make up for the missing zoom range by making the Canon EOS 70D with telephoto lens as the second camera.
Of course, in my mind, it's better to have all the capability in a single camera, because who wants to carry two cameras around?
But for now, if I follow the 80/20 rule, this combination is more than capable of meeting most of my needs, and even if I didn't have the second camera, the Sony with its limited zoom lens was "good enough" for most situations I've encountered.
Battery Life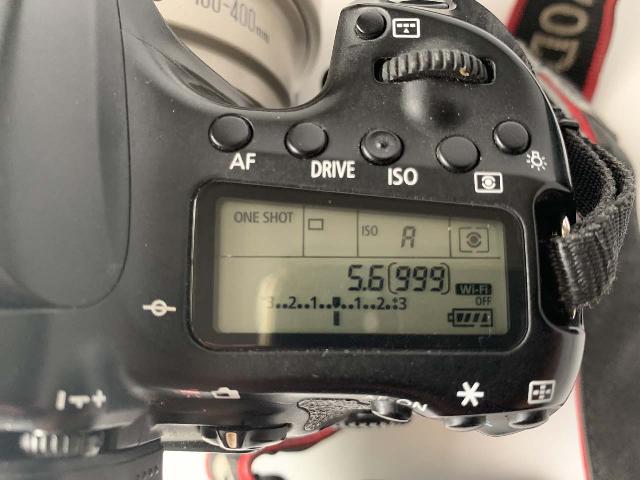 One thing where I felt like the Canon EOS 70D definitely did better than the Sony A7 3 was battery life.
Having used the Canon EOS series for so long, I had gotten used to not needing to charge the camera battery for at least two or three days at a time of active shooting on a trip.
However, with the Sony A7 3 camera body, I can't even last a day of active shooting, and I always have to make sure I carry two fully-charged spares with me.
I attribute this quick drainage of charge to the always-on LCD of the Sony A7 III body, which is like being in Live Shooting mode all the time.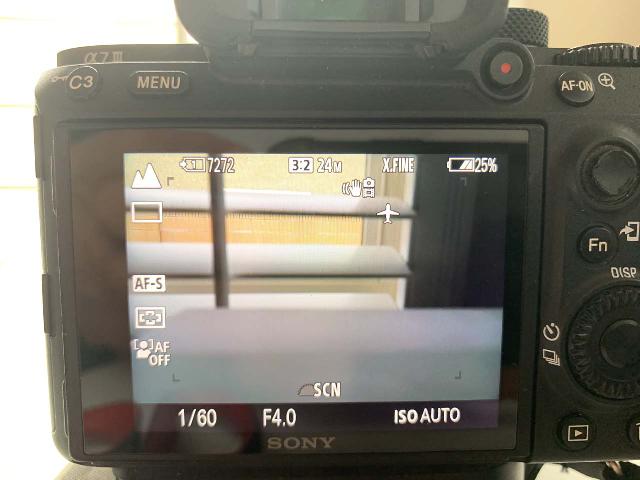 Even if I chose to use the eyepiece instead of the LCD, the camera was still sucking charge very quickly compared to the Canon DSLRs.
Apparently, I've read that the Sony Alpha A7 III's Z-battery was said to be significantly better than the predecessor models of Sony's Mirrorless cameras.
Still, even with the improvements with the version that I have, it pales in comparison to older Canon EOS DSLR models that I've been used to.
And thus, it felt like going mirrorless was taking a step backwards from the DSLR in this regard.
Other Annoyances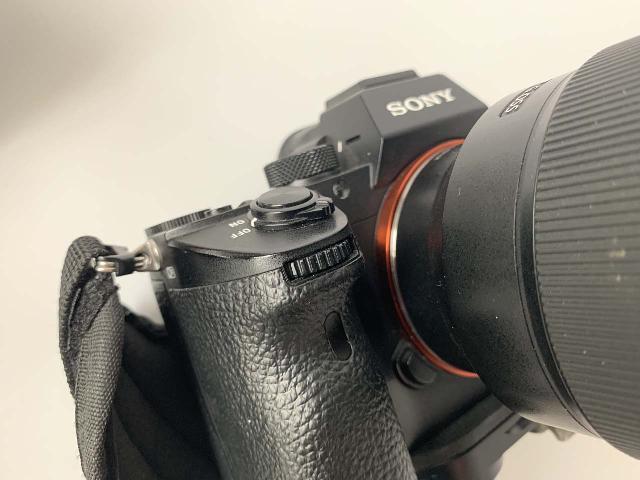 The Sony A7 3 Camera body was also prone to accidental scene selection switching thanks to the positioning of a scene selection wheel right beneath the shutter button.
I've had numerous bad photos taken with the wrong scene selection accidentally, and it does this switch almost every time I have to take the camera off my Cotton Carrier Strapshot when in the field.
Personally, I'd like to be able to disable that scene selection wheel since it was more of a nuisance rather than a beneficial shortcut.
I also found that the Sony had a very deep menu, which meant it had a high learning curve (to know what these settings actually do) as well as a slower, less-immediate setting capability for changing things like ISO, timer, servo mode, etc.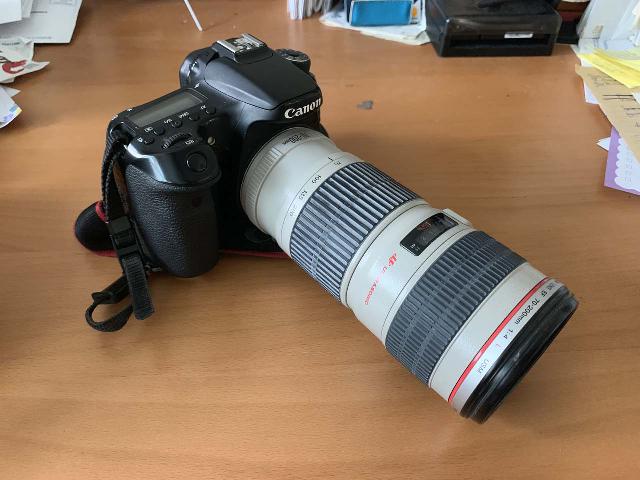 This was another thing where the Canon EOS bodies had more settings buttons and wheels to get at the desired setting more quickly and without getting in the way.
Finally, I noticed that the Sony A7 III had no in-body flash so night portraits had to be done on my Canon (though the flash no longer works anyways on that camera) or on the iPhone.
Indeed, most of our spontaneous photographs requiring fill-flash have been done with the iPhone anyways so it's not really a feature I miss much on neither the Mirrorless nor DSLR cameras.
Final Thoughts / Conclusion
The Sony Alpha A7 III Camera was the next leap that I made in terms of serious camera equipment without breaking the bank going for the all pro features on both the camera and the supporting lenses.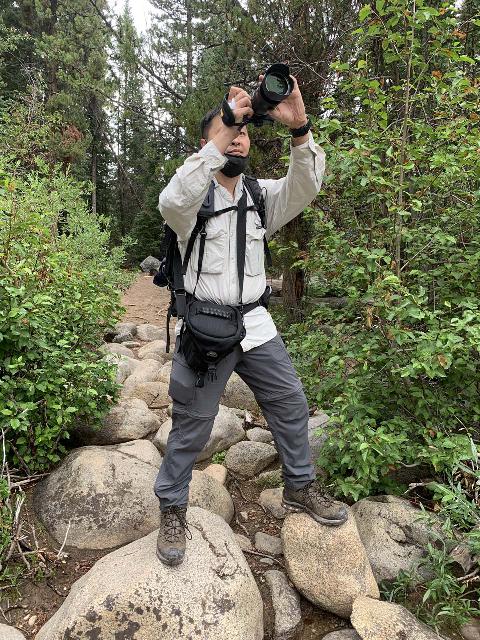 Indeed, this camera brought some of that pro functionality to an amateur like myself so I was finally able to take full-frame shots, take the plunge into the mirrorless world, and leverage live shooting through the LCD more.
I feel that as I've gotten more comfortable with using the Sony A7 3 camera, there's still more learning to do (e.g. postprocessing RAW images once I finally have the time and the will to dabble in it and doctor my photos).
And yet despite that, I've found this mirrorless camera to be my go-to camera, especially when mated with the FE 24-105mm F4 G OSS e-mount lens.
To make up for the longer zoom range, I would give my Canon EOS 70D a new lease on life as a second camera by using it in conjunction with super telephoto lenses to cover the 100-400mm range (not counting the crop factor zoom).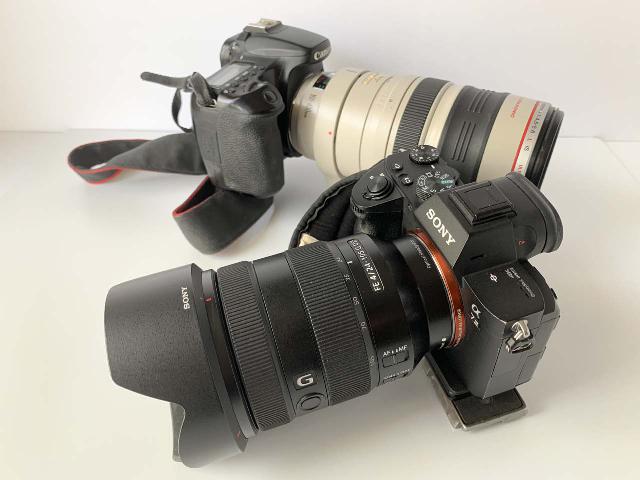 Overall, I like what the Sony Alpha A7 III Camera has allowed me to do in my landscape photography situations (especially chasing waterfalls), and I highly recommend it for the serious hobbyist or aspiring photographer/videographer.
Indeed, there's a reason why it's seemingly universally liked, and I can now see why as I'm keen on this camera remaining useful for many more years to come…
Please note that this is not a sponsored post. However, there are affiliate links that help pay for this site. You can read more about these in our affiliate disclosure in the footer at the bottom of this post. If you have questions or comments, please use the comment box below.
Sony Alpha 7 III Camera Body
Workflow & Comfort
8.0/10
Pros
Full-Frame Camera
Quick Shooting via WYSIWYG LCD
Good Image Quality
In-Body Image Stabilization (IBIS) to use tripod less
Good Durability / Decent Weather Sealing
Cons
Drains Battery Quickly
Big Learning Curve / Huge Multi-Page Menu
Big Financial Commitment
Viewfinder (Eyepiece) Not Useful
Picky About How You Move Files From Memory
Visitor Comments:
Got something you'd like to share or say to keep the conversation going? Feel free to leave a comment below...
No users have replied to the content on this page