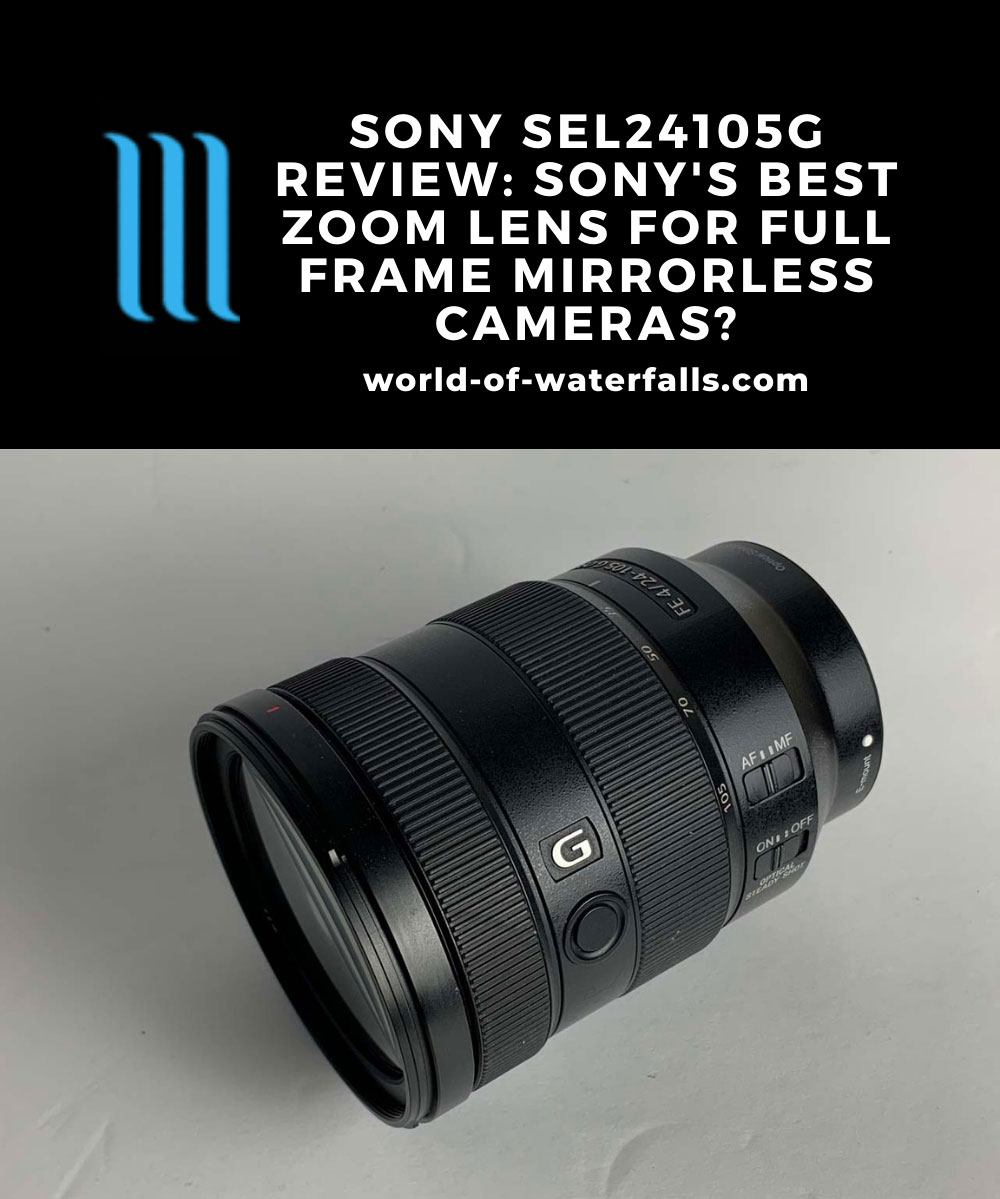 In this Sony SEL24105G Review, I share my experiences with this very popular and highly-regarded mid-zoom lens. If you own a full-frame Sony Mirrorless Camera (such as the Sony Alpha 7 III, which we use), I'd bet that you've probably heard of or at least seen this lens throughout the internet, especially in the digital photography literature. Now that I've used the Sony SEL24105G FE 24-105mm F4 G OSS Zoom Lens for a while, I'd like to weigh in on what I liked about it as well as what I didn't like about it.
Ever since I've made the switch from a Canon EOS DSLR camera body with associated zoom lenses (especially the Canon EF-S 18-200mm f/3.5-5.6 IS Lens) to the Sony Alpha 7 III mirrorless camera body, I've been looking for at least similar zoom and functionality.
After using the Sony SEL24240 FE 24-240mm f/3.5-6.3 OSS Lens (which came the closest to the Canon 18-200mm lens in terms of zoom range), I accepted with skepticism the Sony SEL24105G lens. My doubts were largely driven from the fact that it had less than 50% of the zoom range I had been accustomed to over the 10 years or so prior to the switch to Sony. Was this shortcoming something I had to live with? And why did everyone praise the SEL24240G lens so much? I just had to see for myself…
What Is The Sony SEL24105G FE 24-105mm f/4 OSS G Zoom Lens?
The Sony SEL24105G Lens is a general-purpose all-in-one midzoom lens that can do both wide angle and a modest 4.3x zoom relative to its minimum focal length of 24mm.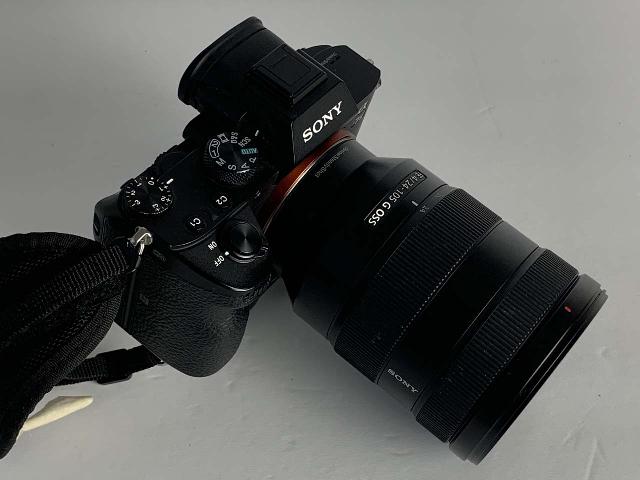 Its E-mount frame means that it mates with our Sony Alpha 7 III Mirrorless Camera body or any other Sony camera body with this mounting frame or compatibility.
Moreover, it supports the camera's full-frame capability so the 24-105mm zoom range is the true range.
In other words, there is no crop factor like there is with the Canon EOS camera bodies that I've used (they have an APS-C sensor).
This basically means that the information conveyed through the lens would be larger than the camera sensor's area, which essentially leaves out or "crops" the image thereby causing a "zoom" relative to the full size of the image.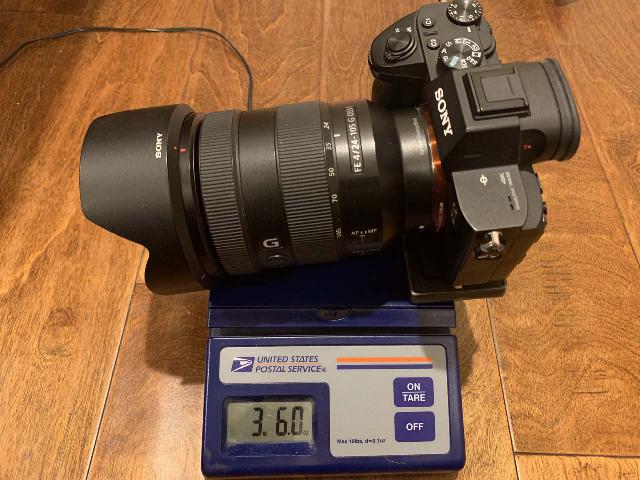 The lens by itself weighs 1 pound and 10.9 ounces with the lens hood attached, and together with the Sony Alpha 7 III body, it weighs 3 pounds 6 ounces.
Finally, if I wanted to attach a filter (like a circular polarizer) to the lens, it accepts those with 77mm in diameter.
By the way, if you do attach a filter, you'll want to use a very thin one (I use a B + W XS-PRO MRC nano 77mm circular polarizer filter), which would minimize vignetting (i.e. the dark corners).
You can read more about the Sony SEL24105G lens (as well as the compatible Sony camera bodies) from the manufacturer here as well as from Amazon.
When Should You Use The Sony SEL24105G FE 24-105mm f/4 OSS G Zoom Lens and Who Is It For?
Due to the general-purpose nature of the Sony SEL24105G, I've found that it has been useful on most of my hiking and travel situations.
This means that when I shoot landscapes and natural subjects like waterfalls, these things fall within the SEL24105G's wheelhouse.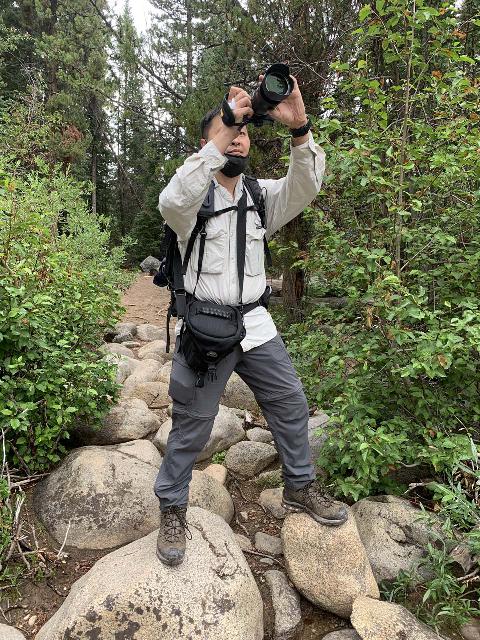 However, in addition to landscapes, I've also found that this lens does a pretty good job at allowing me to take macro photographs of things that get my attention (e.g. close-ups of blooming flowers, berries, or insects among other things).
When I travel, I've found that not only can this lens faithfully capture cityscapes, landmarks, and bustling downtown CBDs or special events, but I can easily take close-up shots of foods that we're about to eat at foodie joints or dining establishments.
Indeed, this is a very capable all-in-one lens that performs well in over 90% of the situations that I face in my hikes and in my general travels.
Therefore, I'd imagine that the Sony SEL24105G lens is for the active adventure traveler, hiker, or casual sightseer who cares about the quality of the photos (and therefore the memories) they capture.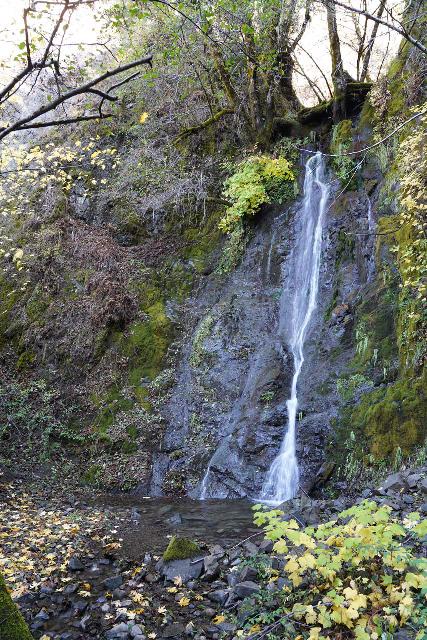 For reasons that I'll get into later in the article, this Sony lens does have limitations with its zoom range since it doesn't skimp on image quality.
As a result, its usefulness for wildlife, sports, and even wedding photography may be better left to more specialized lenses that are more purposefully designed to fulfill these applications.
Pros
While the Sony SEL24105G lens has a lot of features, I'll focus on the benefits that I've noticed the most.
No Need To Change Lens For Most Travel and Hiking Situations
The Sony SEL24105G lens accommodates a large enough zoom range that it allows me to not have to change the lens for the majority of the travel and hiking situations that I've faced.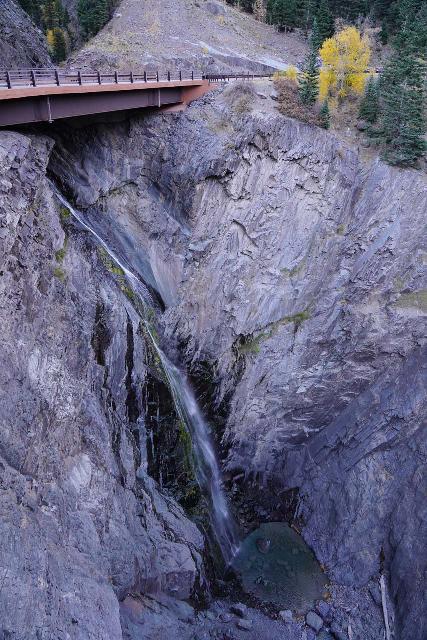 If I had to put a number of the percentage of time I felt the zoom on this lens was adequate (as opposed to inadequate), I'd say at least 90% of the time, this lens did the job.
At the wide angle of the zoom range, I'm able to fulfill almost all of my landscape needs except for those extreme cases where I have to photograph a tall waterfall in a confined area that I wasn't able to get far enough away to get all of it.
At the furthest end of the zoom range, I've been able to get a mild 4.3x zoom.
That said, after my experiences with the Sony SEL24240 superzoom lens, I've been pleasantly surprised at how well the Sony SEL24105G lens was able to allow me to capture close-ups and macro shots (more on this later).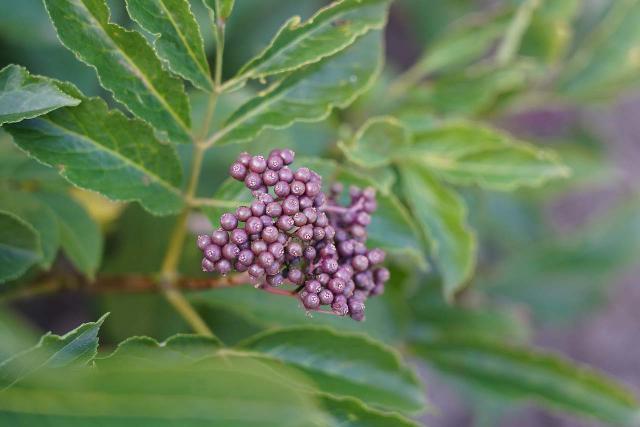 Indeed, the only times where I wished this lens could do more was regarding the more extreme telephoto ends, where I'd need to bring a very distant object closer to fill in the frame.
Such situations made up the remaining 10% of the time where I wished I used a different lens.
As a result, I can see why the Sony SEL24105G lens is widely regarded as Sony's best all-around lens, which is precisely what I need for the myriad of situations that I often encounter in my travels.
Very Capable Of Taking Sharp Photos Without A Tripod
The Sony SEL24105G lens has an image stabilizer, which is called the Optical Steady Shot or OSS in the Sony lingo.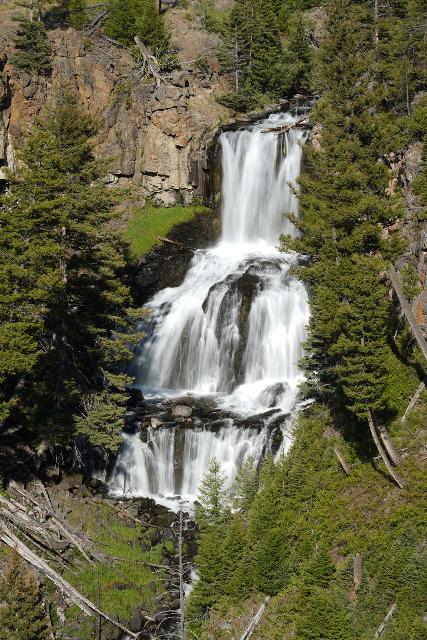 This comprises some additional image processing and mechanisms on the lens itself, which help to correct some degree of camera shake that results in blurry photos.
While our Sony Alpha 7 III body also has an In-Body Image Stabilizer (or IBIS), it actually works in conjunction with that of the lens' OSS feature.
As a result, I've been surprisingly able to take some long-exposure photos with this lens without the need to mount it on a tripod.
Of course, if I really wanted exposures longer than 1/5th of a second or even 1/4th of a second, then it probably exceeds my ability to hold still for that long without inducing camera shake effects.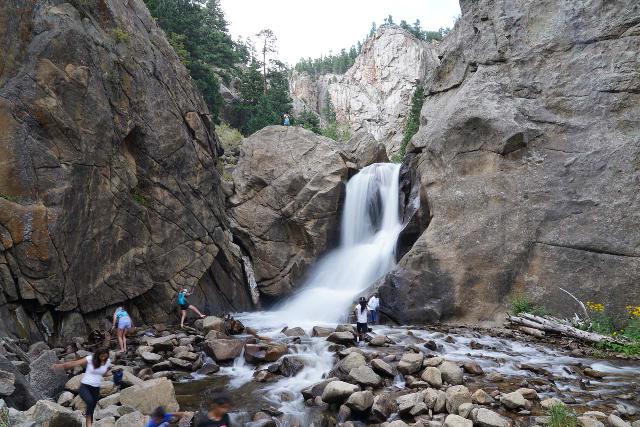 Indeed, it's nice to have this capability without feeling like I need to burden myself with the weight, bulk, and time-to-setup involved with bringing a tripod to steady the camera while shooting.
Low Minimum Distance For Autofocus To Work
Something that I've been quite aware of regarding superzoom lenses like the Sony SEL24240 lens as well as my old Canon EF 70-200mm f/4 L IS USM lens is the minimum distance to shoot.
In other words, I've found it difficult to focus on my subject at close range (especially for close-up macro photos) when using the long telephoto lenses.
However, with the Sony SEL24105G lens, I've liked how well it allowed me to autofocus and take close-up shots thanks to its pretty low minimum shooting distance.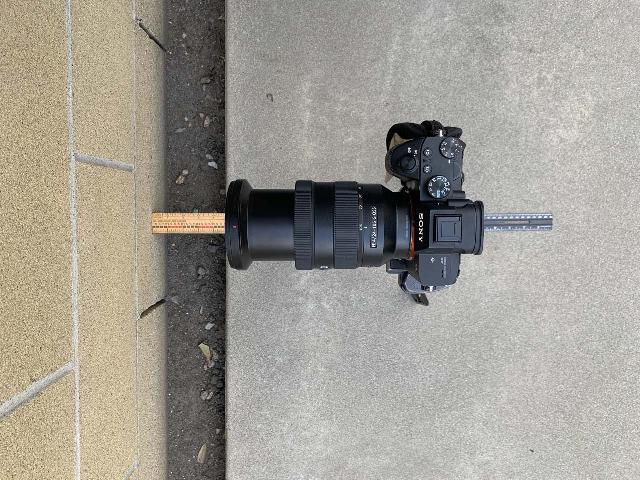 Granted, this was something I wasn't that conscious of since I've had similar functionality with my old Canon EF-S 18-200mm f/3.5-5.6 IS zoom lens, but after switching to the Sony cameras and lenses, I've become more acutely aware of this issue.
In fact, while out on our travels, I had the ability to take photos of our food when at a restaurant without needing to get up out of my seat to create enough separation between myself and the food.
This was something that I couldn't do with the Sony SEL24240 lens, which had the same wide angle zoom range, but even longer telephoto reach.
As a result, this macro-shooting flexibility further corroborates the first point I made about not needing to switch out the Sony SEL24105G lens for such macro-shooting situations.
None To Minimal Noticeable Image Distortion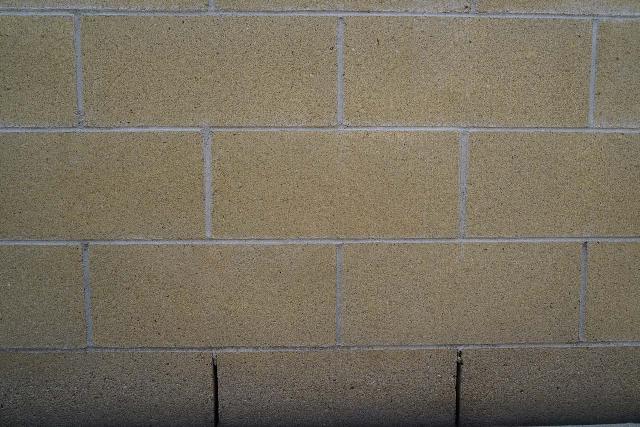 The digital photography literature on the internet had been singing the praises of the Sony SEL24105G lens because of its image quality despite it being a non-specialized general-purpose lens.
Granted, my experiences haven't brought me to notice image distortions as well as more masterful digital photographers (especially those who spend a lot of time postprocessing RAW format images in Lightroom).
Nevertheless, I haven't noticed such distortions nearly as many image distortions caused by the Sony SEL24105G compared to the Sony SEL24240 lens (my other lens that had a better zoom range).
For example, I did some experiments where I tried to compare photos from the two lenses shot against the lines on a cinder-block fence, and I noticed slightly more pincushion distortion on the SEL24240.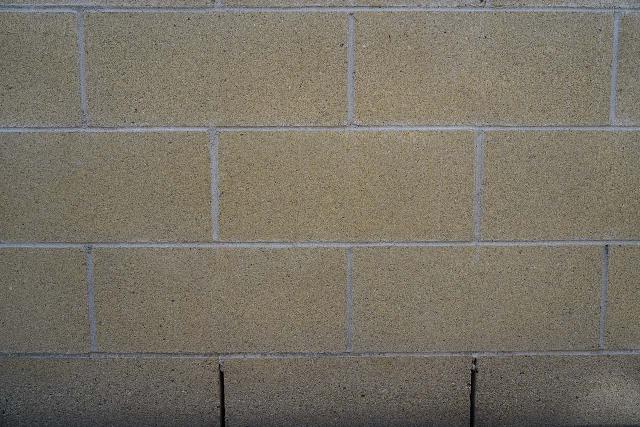 Other than that, I haven't really done enough image postprocessing in Lightroom to warrant a strong opinion on this, and so I'll trust the experts on this particular issue.
Fast Shooting Speed
Finally, the Sony SEL24105G did what they could to ensure a consistently open minimum aperture at f/4 stop to ensure that every shot I take would have sufficient light.
The result of this is the ability of the lens to facilitate taking a fast string of photos, which is normally good for sports and wildlife shots.
However, it also gives me confidence that the normal photos I take would be sharp, and that there would be minimal delay between me seeing the scene, pressing the shutter button, and committing the image to memory.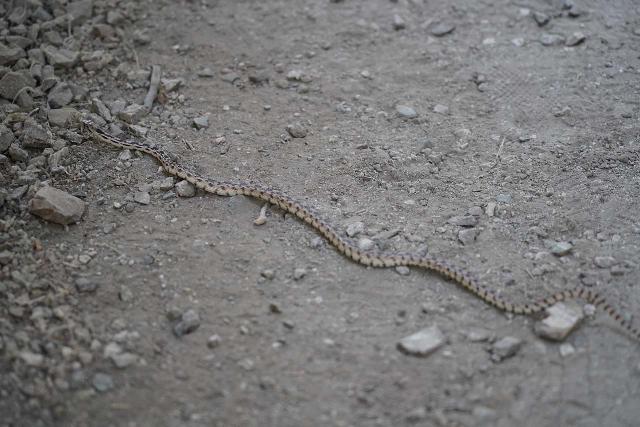 Indeed, this combined with the OSS further enhances my ability to take sharp images without a tripod.
So imagine just how much sharper the images would end up being with the stabilization aid of a tripod!
Cons
As much as I appreciated the things that the Sony SEL24105G lens does well, there are some shortcomings that I've noticed.
So in this section, here are some of the things to be aware of concerning this lens.
Limited Zoom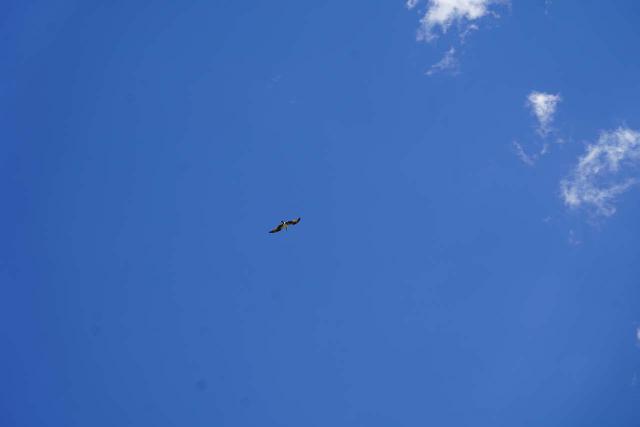 My biggest grievance with the Sony SEL24105G lens is its limited zoom.
That said, I recognize the compromises that need to be made in order to provide a long zoom range against image quality, and this lens optimized for the latter.
Nevertheless, I've had situations where I wished I had telephoto capability as some moments (especially with wildlife) are fleeting.
In one instance, I actually had two cameras (one for telephoto) when we pulled over the side of a road for a moose sighting in Rocky Mountain National Park.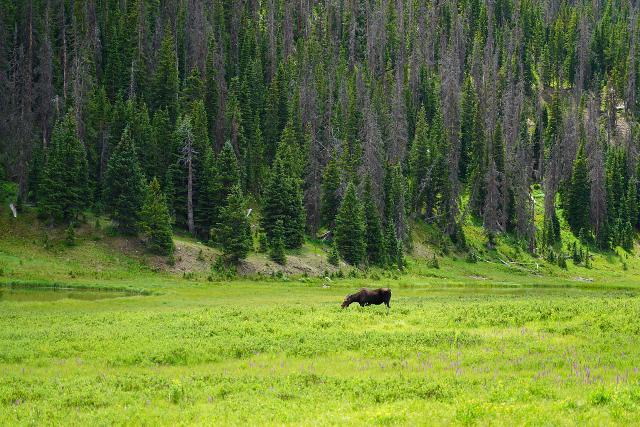 Unfortunately, I got the wrong camera, and I ended up with rather tiny shots of that moose instead of better filling the frame shooting with the camera that had the 200mm zoom.
Speaking of two cameras, this was my workaround for letting the Sony Alpha 7 III mated with the Sony SEL24105G lens do the landscapes and macros well while letting my old Canon EOS 60D with telephoto lens handle the long zoom situations.
While it's not ideal to have to bring two cameras on a trip, I can better manage this on a road trip.
However, when carry-on restrictions become an issue when traveling, then having two cameras becomes less palatable.
Not Waterproof; Only Moisture- and Dust-Resistant
Unfortunately, I've had the misfortune of dunking my Sony Alpha 7 III body with the Sony SEL24105G lens in water.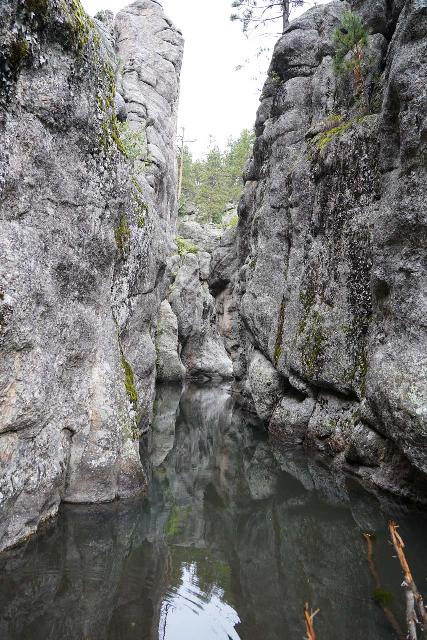 Not surprisingly, this disabled both the camera body as well as the lens itself.
So I know firsthand that the Sony SEL24105G lens is not waterproof, but it does have sturdy and tight construction to make it moisture- and dust-resistant.
Therefore, I can wield this camera lens combo for those situations where I'm required to do a lot of off-trail scrambling as well as where I have to face wet situations due to bad weather or if a waterfall produces a lot of spray.
There are things that I can do to mitigate the risk of these wet situations by sheltering the camera in my camera bag while shielding them beneath a rain poncho.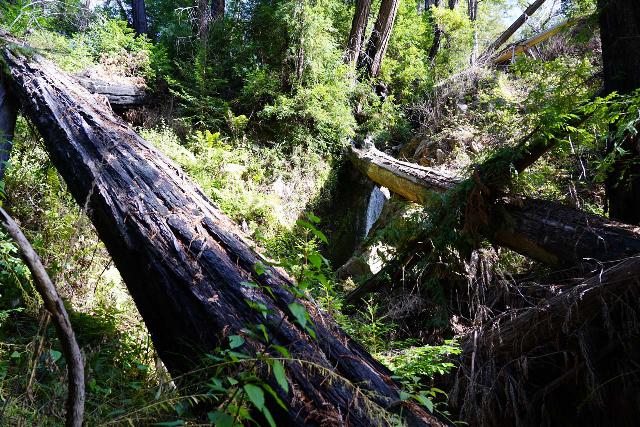 As a result, I can limit the camera and lens' exposure to the elements as needed, but when I do that, I can have a little more confidence that the SEL24105G can withstand those elements to a first order.
And if my bad history with the unsealed, non-weatherproofed Canon EF-S 18-200mm f/3.5-5.6 IS Lens is any indication (I've gone through at least 4 or 5 of these over a span of 10 years), the Sony lens is a big upgrade as far as durability is concerned.
Final Thoughts / Conclusion
In conclusion, I've found that the Sony SEL24105G FE 24-105mm f/4 G OSS Zoom lens to be well-deserving of the praise heaped upon it by the digital photography community.
This is primarily due to the lens' high quality construction and engineering that afforded me the flexibility to shoot wide angle landscapes as well as close-ups, which made up over 90% of my shooting situations in both my hikes and travels.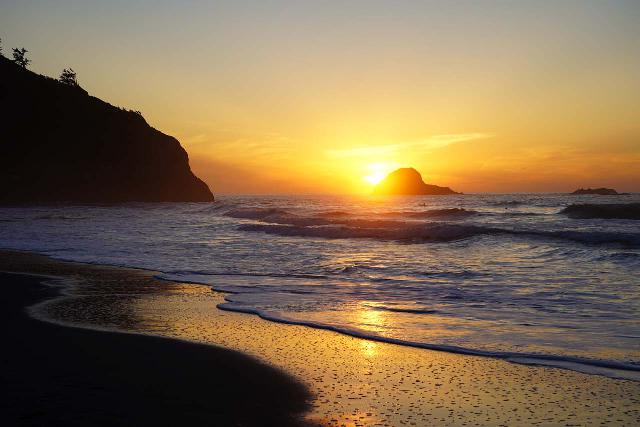 Therefore, the Sony SEL24105G lens has been my go to lens as it's pretty much almost always attached to my Sony Alpha 7 III full-frame mirrorless camera body.
Since this lens didn't compromise on image quality, image stability, and shooting speed (among its other attributes), I use a two-camera solution if I can get away with it.
In this scheme, the second camera (which is my old Canon EOS 60D mated with a dedicated L-series telephoto lens) handles my wildlife or other distant-subject photography needs.
That said, I know that it can be too much trouble to bring two cameras on a trip (let alone carrying them on a hike).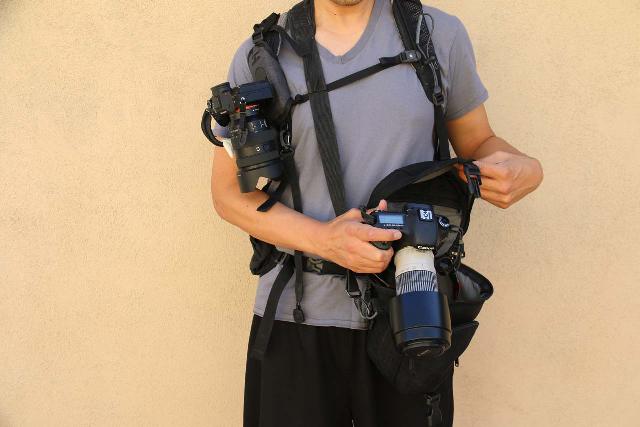 So I'd have to live with the limited zoom if my travel situation doesn't allow for that second camera.
Regardless, there is no one lens that does everything well, but the Sony SEL24105G comes the closest in my experience with Sony cameras, which I think exceeds my experiences with the Canon EOS cameras and lenses that I've used.
As a result, I would recommend using the Sony SEL24105G FE 24-105mm f/4 G OSS lens if you have a full-frame Sony mirrorless camera body (I've been using the Sony Alpha 7 III).
Please note that this is not a sponsored post. However, there are affiliate links that help pay for this site. You can read more about these in our affiliate disclosure in the footer at the bottom of this post. If you have questions or comments, please use the comment box below.
Sony SEL24105G FE 24-105mm F4 G OSS Lens
Pros
No Need To Change Lens For Most Travel & Hiking Situations
Very Capable Of Taking Sharp Photos Without A Tripod
Low Minimum Distance For Autofocus
Little To No Noticeable Image Distortion
Fast Shooting Speed
Cons
Limited Zoom Range
Not Waterproof
Visitor Comments:
Got something you'd like to share or say to keep the conversation going? Feel free to leave a comment below...
No users have replied to the content on this page