THE LAVENA COASTAL WALK
As we were walking back along the coast, I noticed that Augustino was hiking barefoot the whole time. Now I had seen this before when a Fijian boy guided me to Uru's Waterfall earlier in the trip in Viti Levu. But this was a pretty long 5km walk!
Anyways, as we made our way along the mostly shady trail, Augustino filled us in on how the movie "The Blue Lagoon" was filmed here. We couldn't really tell or comment on that because neither of us had seen the movie.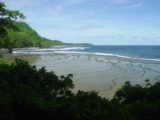 But still, we enjoyed the constant coastal scenery that featured pretty tidal flats and saying "Bula!" to groups of Fijian boys who we would pass by.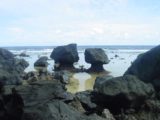 By 2:30pm, we noticed some intriguing Pedestal Rocks (called Vatuni'epa in Fijian). The standing water was a bit hot at these rocks as it had baked in the sun for much of the day. Still, we enjoyed posing for photos by these weird rocks.
As we passed Naba village, it was getting near the end of the walk. Augustino noticed I didn't have the same posture as I had earlier in the hike and asked if I was tired. He was probably right as I didn't really feel like hunting for a way to photograph the waterfall behind the village. He even offered to carry my day pack but I told him I was fine.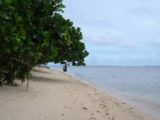 Meanwhile, Julie was busy looking towards the coast as we walked because she wanted to find a sandy secluded beach and imagine she was Brooke Shields frolicking in the sand. It wasn't until 3pm as we sensed we were getting close to Lavena that she got her wish. So we spent a few minutes checking out the scene even though I wasn't quite sure this wasn't exactly where they filmed it.
Finally at 3:15pm, Augustino had us walk through his village. Everyone we saw along the way smiled as they said "Bula!" to us. We felt a bit strange being these strangers walking through their village with this attention given to us. But it felt warm and genuine as had most of our interaction with Fijians on this trip.
When we finally arrived back at the visitor center, Augustino handed me a piece of paper with his name and address on it. Apparently, he wanted me to be his pen pal. So with that, we shook hands and said our good-byes.
Julie and I hopped back in the car and proceeded to drive back to the Garden Island Resort on the opposite side of the island. It was quite a relaxing drive back and it felt good to wave at everyone I saw on the road while they waved back in kind with smiles.
By 4:30pm, we returned to the resort for a well-earned dinner while enoying yet another tropical sunset to end this beautiful New Year's Day…
Visitor Comments:
Got something you'd like to share or say to keep the conversation going? Feel free to leave a comment below...
No users have replied to the content on this page