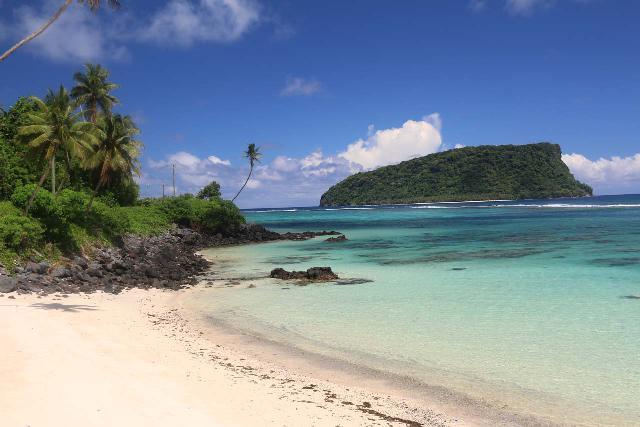 9-November 2019 to 18-November 2019:
We found one makeshift pullout spot that didn't seem to have signage or a home in the area, and we spent a few minutes taking pictures out there.
However, some kids came out of a house and demanded money pretty aggressively. The oldest asked that we pay 10 Tala for taking pictures (seemed like she was making it up as she went), and we just did that.
One young boy was pointing at my pockets (which were empty) and demanded additional money.
In any case, we paid the 10 Tala, and then we headed off though I sensed that the kids didn't get as much as they wanted from us…
Days 0-2 (November 9-11, 2019 – Upolu, Samoa): "The Anniversary Circle"
It wasn't until about 6:25pm when we boarded one of the airport shuttles to LAX.
With all the swirl around not letting Uber or Lyft drivers to pick up or drop off at the terminals deep into the airport, we decided to eat the slightly higher cost (they've costed us around $11-15 per carload in each direction) and go with the $15 per person round-trip ($30 for Julie and I) 105 shuttle like we used to do.
We managed to get checked in without a hitch through Fiji Airways, where we'd connect in Nadi and then fly to Samoa. We saw the crowd of cars in the lot near Terminal 1 along Sepulveda Blvd. That might be a foreshadowing of what we'd have to deal with when we go on our next trip with Tahia.
But for this trip that was to celebrate our 15-year anniversary as well as Julie's birthday, we were going it alone for the next 9 days.
And by about 7:30pm, we made our way over to the waiting area to board a bus to get to a remote terminal where our jumbo jet was waiting.
The airport was still quite busy on a Saturday night even though we thought Tuesdays, Wednesdays, and Saturdays were the slowest days to fly out.
I guess it goes to show you just how many people are traveling these days.
Anyways, after about 8:30pm, which was the boarding time, we lined up and started to board the plane as they boarded from the back first.
Then, we got onto the plane and proceeded to try to get comfortable though we were already starting to get sleepy.
It seemed like the flight took off without too much delay (it was scheduled for 9:30pm), and really, the only hitch regarding the otherwise smooth flight was how hard the seat cushions were which made my butt uncomfortably sore the whole time (making it difficult to get some legitimate sleep).
As far as movies were concerned, they didn't have a good selection. I had already seen Free Solo, but the rest were either old movies or those action blockbusters that I didn't care to see.
Perhaps towards the end of the flight, Julie and I watched Toy Story 4, which seemed like a good one for our little girl to see though she wasn't on this flight with us.
By about 6:05am, after landing at the Nadi Airport (where the ground appeared to be wet from a rain or two), we then found ourselves in a very long immigration line.
They actually opened up a second line while we were in the long first line, and it wasn't until about 30 minutes or so into our wait did we see that the second line was moving quite a bit faster.
As we got closer to the front, we noticed that the second line was both shorter in length and they had 4 agents serving them whereas the longer line had only 2! Talk about a lame system.
We eventually hopped to the second line, but by then, it didn't really make a difference to the overall wait in hindsight as the person we were behind just happened to be getting processed just slightly before we were.
Next, we got money changed since we knew that we'd be in Nadi for another 7 hours or so (though probably more like 5 in reality) to check out this part of Fiji before going back to the airport. We didn't want to spend that much time at the airport itself.
Anyways, it wasn't until about 7:10am when we were picked up by a taxi for about 35 FJD (around $15 USD was my guess). I guess the proactive ones got the business since he was pretty quick at the jump at getting into the arrival terminal and asking if we needed a taxi.
During the drive from the airport towards Denerau Island, I was looking out the window to see if I could recognize anything from our first trip to Fiji 14 years ago.
I guess aside from road signs to places like Lautoka, Sigatoka, etc., I really didn't recognize much else.
Nothing about the city of Nadi seemed to be all that memorable, and it kind of reminded me of what a typical "city" in a tropical destination would be. It was nothing like the smaller concentration of buildings that I thought I had remembered from 14 years ago (then again, maybe we didn't really experience the main part of Nadi).
And then when we were driven towards Denerau Island, we could immediately see that the wealth was definitely concentrated in this part of northwestern Viti Levu.
For here, there were golf courses, lots of lawns, and quite a few condos or resorts. I know for sure that we didn't visit this part of Fiji on our first trip here 14 years ago.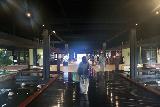 After getting dropped off at the Westin Fiji in Denerau at about 7:30am, we then ultimately made our way to the Kitchen Grill on the property. Along the way, it was pouring rain and I was busy fighting condensation on my DSLR as I was trying to take pictures as I went.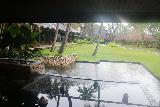 Julie's first reaction after getting here and comparing that to the YouTube video about the Westin's breakfast was that it was nowhere near what was shown in that video.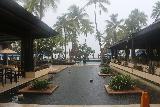 The brekkie wasn't as spacious as what was shown, it wasn't as bright (though it was raining hard at the time we showed up), and the food selection didn't seem as various either.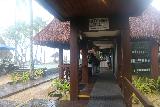 It also seemed like there was some kind of conference or something going on as the brekkie area was very busy. Apparently, there was some kind of rugby event or conference going on judging by how many people wearing rugby-related shirts.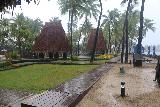 Regardless, our little splurge for our anniversary brekkie didn't turn out to be quite what we were hoping for.
Plus, we had to further limit our selection due to Julie's diet restrictions.
Nevertheless, we still had ourselves a miso soup, some dalo (taro "fries"), some gluten-free bread (though we were skeptical about other things they had at the gluten-free station), a greenish curry (which they then substituted for a more potato-like curry when the initial curry ran out), and some ripe pineapples, papaya, and watermelon.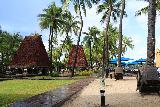 There was also free champagne though we weren't all that into it.
The roti, gluten-free pancakes, omelettes, and poached eggs were on the ok side.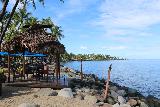 After all the rain that we had been getting, the sun started to come out at around 8:45am, which really brightened the mood a bit. We could see a little further to the east where the dark clouds were and where the rain definitely came down.
And after about 2 hours of stuffing ourselves silly, we then walked around the neighboring properties just to see if we had made the wrong choice when it came to breakfast buffet splurges.
The walk along the beach towards the Sheraton property (which apparently was a sister property to the Westin) was a bit of a scenic but surprisingly sweaty walk despite it being flat.
Maybe it was because we were still carrying our packs and other carry-ons while our luggages were to be checked through to Samoa. But we were apparently walking past the Sheraton Villas before finally getting to the main part of the Sheraton Fiji Resort.
By the time we were in the muggy confines of the dining hall of the Sheraton (I think it was called Ports of Call), we couldn't go inside to see what they had, but we could see from the plates that people got that it wasn't all that different from what we just had at the Westin.
The dining hall was brighter and more spacious, but otherwise it didn't seem like we missed out on much.
By about 9:45am, we had our fill of the Sheraton and then proceeded to walk just as it had started to rain lightly again.
At around 10:15am, we finally made it to the Sofitel Fiji property after going on what seemed like a pretty long walk to get out of the Sheraton property and then across the Westin property, which looked a bit more authentic than the Sheraton.
As mentioned in the reviews, we saw that the Sofitel was indeed under construction.
It took a little effort to see where we were supposed to get up to the lobby, but down around the pool, it seemed to be quite busy with families. They even had an interesting waterslide that was popular with the kids.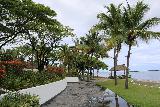 Anyways, we got up to the lobby, where there was indeed the dining area. Again, we couldn't see what they were having, but we couldn't stick around too much longer since we couldn't go inside to see what the brekkie here was like.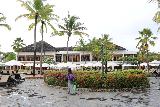 In any case, I'd say as far as buyer's remorse was concerned, we did fine. Plus, I wound up paying around 103 FJD for the two of us, which was actually reasonably priced (despite the "surcharge" that was going on today).
The Sofitel then hailed us a taxi, which charged 45 FJD to get back to the airport. It took us by surprise that it costed more than on the way here, but I guess they know that guests don't really have a choice when trying to head back.
Eventually at about 10:35am, we were back at the airport. During the drive back, the driver laughed when I told him that I didn't recognize anything in the Nadi area from our first trip 14 years ago.
He mentioned that there were lots of changes and the airport itself was new.
I guess that kind of explained it.
As far as the weather was concerned, he said that there was Climate Change action going on because he said the rain like this wasn't supposed to come until around January. So we wondered what Samoa's weather might be like in the mean time.
By about 11:30am, we were in the departure lounge waiting for our flight to Samoa. At first, the monitors didn't have anything about our FJ255 flight to Apia, but eventually it showed up. That caused us a little bit of anxiety about whether we were in the right place or not.
In any case, we dozed off and had a little bit of a siesta on one of the comfortable benches. Julie and Tahia even had a little facetime chat using the free airport WiFi, which was cute.
By about 12:50pm, we finally boarded the plane to Samoa, which was also another full flight though this was on a single-aisle Boeing 737 instead of the Airbus jumbo jet that we took between LAX and Nadi.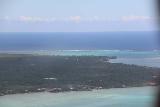 We ultimately landed at the airport west of Apia at 4:10pm, and it took a bit of time to wait to de-plane as usual.
After getting through a much more efficient customs line, we then got our luggages, Julie exchanged money (knowing that we're likely to spend quite a bit of it here in Samoa as I didn't expect credit cards to be widely accepted), and then I got the rental car while Julie got a mobile sim card (ultimately choosing Blue Sky per a local's suggestion versus Digicell).
When we finally left the airport with the rental car at about 4:50pm, I was dismayed at the Garmin Nuvi that I brought which was not powering up anymore. And even with the car charger, I was getting nothing but a blank screen.
I had brought the one for New Zealand and Australia, which was a unit that was younger than our trusty one that I use for Europe back at home, but alas, it was not turning on the whole time. And so I had to rely on the Garmin etrex handheld unit for trip logging.
Definitely as far as navigation was concerned, I'd have to rely on the mobile coverage for that now.
Anyways, we took the slow scenic route from the airport towards Apia since we didn't have a full tank. We were also warned that the gas stations here only accepted cash. So we had a limited supply of cash, and we sure hoped that it would last us for the rest of this trip.
We ultimately got some water at a mom-and-pop shop before filling up some 66 Tala of gas for a little under a half-tank's worth. So that gave me the idea that perhaps we might have enough cash to last us the week.
Anyways, it took at least an hour to go east to Apia. Then, we took the Cross-Island Road south to the Coconuts Beach Club Resort, which was where we were staying for the next four nights.
At about 6:30pm, we finally made it to the Papapapaitai Falls which was a pretty easy lookout looking right across a ravine to a very tall reportedly 100m waterfall.
There wasn't a whole lot we could do here so we took our photos and movies, and then we proceeded to continue south towards the Coconuts Beach Club, where we got there at about 6:55pm.
Apparently, we got there after the reception had closed at 6:30pm, but the manager came out and greeted us. Apparently, he was from Los Angeles like we were.
And after showing us around to our room at 7:10pm, we then had a cocktail social over sangrias where we learned a bit more about him as well as one of the Samoan workers named Tess, who had a Kiwi accent since she was raised in Auckland.
It was a pleasant evening though we were getting bitten by mosquitos as we all just stood there and chatted over the sangrias.
Eventually at 8pm, we finally got around to eating our anniversary dinner, which consisted of Oka (like poisson cru), escargot, Coconut I'a (fish in coconut cream and coconut husk), and a curry lobster.
The food was very hit and miss, and it was kind of underwhelming for our anniversary dinner. Julie found the lobster to be a bit rubbery and Julie was very concerned about the lack of gluten free options.
However, the weather was nearly perfect for the evening as the stars were out despite the full moon, and it was a nice way to wind down the evening even though the food was OK.
By about 9:45pm, we were back in the room to finally get settled and cleaned up. We had a little drama with ants everywhere and Julie insisting that I got get ant spray from the reception, but other than that, we could finally start to settle in and get into Island Time…
Day 3 (November 12, 2019 – Upolu, Samoa): "The To Sua Circle"
We woke up at about 6:15am, and it was still dark outside.
The sun started to rise some time at around 6:45am, which prompted Julie to want to get outside to take pictures.
With not so many clouds out and about this morning, it seemed like it was going to be another fine day.
I eventually followed suit and went outside myself to take some pics. While the lighting was already harsh by the time I got out, it was still serene.
The morning got off to a slow start as we got to the breakfast area at around 8am, and after having a very hearty meal (with the Paniolo [kind of a ground beef with onion, bell peppers, tomato sauce, and potatoes all smothered in cheese] and a French poached eggs on top of the included continental brekkie), we got back to the room, and took some time to get ready for the day.
It wasn't until about 9:45am when we finally got into the car. And to my surprise, the GPS was actually working now!
I guess the battery on that thing doesn't hold charge anymore, and it needed the laptop to revive it a bit in order to finally let the car charger bring it back to life. Funny how the car charger didn't do jack yesterday.
With the sun beating pretty hard on this day, we knew that it was going to be hot and humid.
So that meant that we were headed straight for the most popular attraction on Samoa, which was the To-Sua Ocean Trench.
This was like a swimming hole in a collapsed cave that created a cenote-like effect, but the water filtered in from the ocean so it was seawater.
We made a beeline for the trench, which took us about 45 minutes to get there after bypassing the Togitogiga Waterfall (thinking we could come back for it later) while dealing with the speed limit.
There were hardly any signs saying what the speed limits were, but a sticker behind the steering wheel of our rental car said it was 35km/h, which was a snail's pace.
I saw locals driving more on the order of 45km/h to 55km/h though I didn't want to chance anything.
So I tried to follow them where I could, but when I was on my own, I stuck to around 45km/h or thereabouts.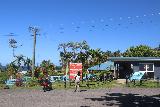 When we got to the To Sua Ocean Trench, we were surprised to see how few cars there were. We were maybe the third or fourth car that were here, but we tried to seek out a shady parking spot.
We managed to get a partially shaded spot next to a large tree, but we weren't sure if the sun would move over and cause shade for our car by the time we were done here.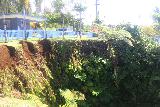 It took us some time to pay the 20 Tala total (10 per person) while also trying to figure out where to leave our stuff.
Since there were no lockers, we eventually left most of the stuff in the car, but we'd have to come back for the cameras and stuff when we were done taking a dip.
As for the trench itself, it looked like it was partially in shadow at this time of the day. The ladder leading down to the trench was completely in shadow while the pool itself was partially in shadow.
There were a handful of people already doing cannonballs from the platform above the pool, while there were others just floating about on the side of the pool closest to a smaller hole that we saw earlier on the way to the main pool (I think it was called Tu Le Sua).
The descent to the pool looked a bit scary as there was a slippery-looking ladder that only allowed one direction of traffic at a time.
After getting changed, we eventually figured that we would just leave our stuff next to the top of the ladder. I guess no one was going to steal anything, and we left our key valuables at the car park under the supervision of the person collecting the fees.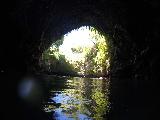 We probably didn't get into the pool until around 11am, and we pretty much just floated about in the pool which was not too cold.
There were ropes set up so we could navigate a little more easily around the pool, including one that went through an apparent tunnel connecting to the To Le Sua.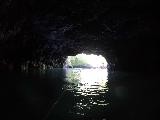 When we looked up while floating about the To Sua, the eye could see the circular rim of the trench, which was quite the unusual sight.
When we got to the bottom of the smaller opening at To Le Sua, we noticed small fish near where there was sand (they were more visible there).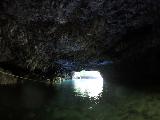 But all in all, the pool seemed to be devoid of life since I'm sure there had been a lot of human activity over the years here to ensure that no wildlife could thrive here.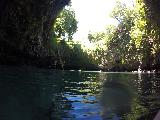 The depth of the pool went from being able to keep my head above water while on my tippy toes to being deep enough to require paddling or floating.
We spent a pretty decent hour within the pool before going back up.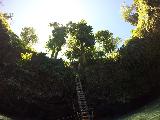 Once we were back up, we got our cameras and stuff, and we promptly spent some time checking out some of the park's other features like an interesting rock arch as well as nice bluff views of the colorful reefs surrounding this southern coast of 'Upolu Island.
The Rock Arch in particular seemed to have some work going on, but myself and another family were able to check out the area, which seemed to have an interesting little waterfall that would be fed by he tides before falling and letting the water sink beneath a small sea arch.
There also seemed to be a small blowhole next to the arch here.
I didn't have my shirt on so I was definitely getting burnt on my back.
There was also some locals doing work around the rock arch so apparently they might have been making it easier to walk around the arch or to enhance one of the tidepools or something.
I wasn't actually sure what they were doing, but they were definitely hard at work there against some blaring hip hop and local reggae music.
After having our fill of this part of the To Sua Ocean Trench, it was now 12:40pm, and it was getting late in the afternoon so we were now headed for lunch.
So the next order of business was to keep driving to the east towards Lalomanu Beach, which was said to be a famous beach area on 'Upolu Island.
However, a tsunami in 2009 seemed to have seriously affected the area so it was apparently not as popular as it had been in the past.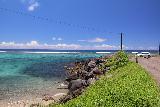 When we made our way out to there, it seemed like GoogleMaps was incorrect about the nice parts of the Lalomanu Beach as it seemed to suggest that we should keep driving around the southeastern tip and towards the north.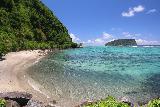 But we saw very nice white-sand beaches fronted by fales that all seemed to be private or require payment.
We tried to find a spot where we could be able to take photos without a charge, but that was pretty much limited to a landslide section, which we got to at around 1:05pm.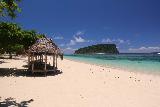 We found one makeshift pullout spot that didn't seem to have signage or a home in the area, and we spent a few minutes taking pictures out there.
However, some kids came out of a house and demanded money pretty aggressively. The oldest asked that we pay 10 Tala for taking pictures (seemed like she was making it up as she went), and we just did that.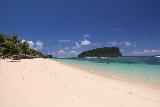 One young boy was pointing at my pockets (which were empty) and demanded additional money.
In any case, we paid the 10 Tala, and then we headed off though I sensed that the kids didn't get as much as they wanted from us.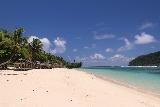 So that experience kind of told us that if we were going to stop, we'd have to do a legit stop to enjoy the beach. Otherwise, a short stop for 10 Tala didn't seem to be a worthwhile way to spend our limited cash supply.
Nonetheless, it was the locals' right to demand payment if it's their land. They probably don't get much else if they're not employed in anything tourism related, and it definitely seemed kind of quiet in these parts.
I'm sure the tsunami back in 2009 didn't do any favors for the locals here.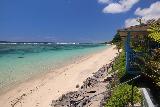 By about 1:30pm, we ultimately got to a restaurant called Litia's after turning around where the GoogleMaps had suggested Lalomanu Beach was, but it was really nothing more than the village.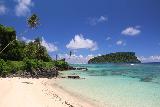 The beaches and the restaurants were actually more south-facing as opposed to east-facing.
Anyways, there was only one other couple at this restaurant, and we pretty much just chilled out, enjoyed the views of the white-sand beaches (with an island in the background as well as blue fales looking in the other direction), and just chilling for the time being even though mosquitoes were taking pot shots at us (despite the bug repellent).
Our lunch consisted of a Samoan poke, curried prawns, and a mahi mahi catch-of-the-day.
Unlke last night's dinner, this one was more compliant for Julie's dietary restrictions, and we also thought it was better here.
Of course, we had to pay quite a bit to eat here (on the order of 115 Tala but they took credit card with a 5% surcharge).
When we were done eating, we briefly checked out the beach down below, where we saw that the fales were built higher from the beach as compared to how the photos showed how this place looked before the tsunami when they were down on the beach.
We eventually got back into the car at around 2:55pm, where we then drove back towards the Sopoaga Waterfall.
Along the way, we stopped by the To Sua Ocean Trench again at 3:15pm, where the lady recognized us and let us take photos with the different lighting.
Now, it seemed like the ladder was lit up, but the pool below was still in partial shade. I'm guessing that the best photos of this place would likely be when the sun would be covered up.
When we returned to the car at 3:25pm, Julie noticed a group of Chinese tourists, which kind of undermined our thinking that Samoa was off-the-beaten-path.
Anyways, we then continued backtracking to the west, where we ultimately got to the well-signed Sopoaga Waterfall car park at about 3:35pm.
We paid 10 Tala per person for this place, where we walked briefly through a garden before arriving at an overlook at the thicker 32m columnar drop of the Sopoaga Waterfall in the distance.
There wasn't much more we could do with this waterfall other than to look at it, and the lady who collected money from us seemed to want to sell coconuts to us.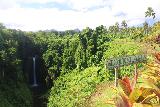 But we were sweating beads even though we were hardly doing any physical activity, and by about 3:50pm, we were back in the car and its air-conditioned confines.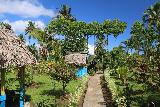 Next, we continued driving to the north as we headed towards Fuipisia Waterfall.
Of all the waterfalls that we had researched, this one seemed to have the worst reviews mostly due to the price of admission.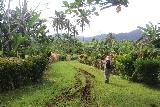 To do our due diligence, we had to do this since we were already here, and we were mentally prepared for the high price of visiting.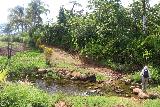 When we showed up at 4pm, a lady surrounded by kids greeted us and said that we were welcome to visit the waterfall. She said the price was 20 Tala per person, which was a little on the high side compared to other places we've been, but it still wasn't in the realm of rip off in our minds.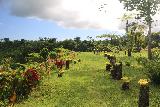 After all 40 Tala in total was like maybe $16 USD, which wasn't terrible though the To Sua Trench, which was more popular and more manicured seemed to be cheaper by comparison.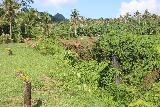 Nevertheless, we walked down a wide grassy path then crossed a stream where we could rock hop our way across.
It turned out that this stream fed the first of the Fuisipia Waterfalls, which was a little awkward to see as we had to see it from the top along a rim and try not to get too close to the edge of the cliffs for the view.
As we continued along the path, which seemed to be under work for improvements to make the place more inviting, we then got to a corner where we could see a convergence of a pair of ravines as well as partial views of both of the Fuipisia Waterfalls.
We ultimately got to the main lookout for the twin falls of the Fuipisia Waterfall, which looked impressive though the lookout was a work in progress.
We were allowed to still check out the falls despite the work going on, and the person working there even told us that we could keep going past this overlook into the jungle, which ultimately led to the top of the Fuipisia Waterfall.
The path was a little on the muddy side in spots, but at the top of the falls, we were careful not to get too close to the edge while trying to savor the views looking downstream into the deep ravine.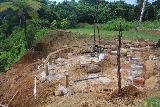 After having our fill of the Fuipisia Waterfalls, we then headed back to the car, and we got there at 4:35pm.
We thanked the hosts for having us, and they genuinely seemed appreciative that we were paying this place a visit. I wondered if all the bad reviews in the literature was having a negative effect on them.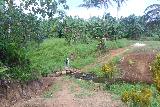 Anyways, Julie and I were sweating beads once again as we got back to the car. And then we continued to backtrack our way to the west as we were now headed to the Togitogiga Waterfall.
I wasn't sure if they were still open or not as it was getting late in the afternoon.
Nonetheless, by about 5:15pm, we finally got to the National Park area containing the Togitogiga Waterfall.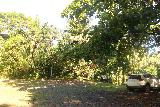 We took an access road that ultimately got us to a fork where the visitor center was on the left and the waterfall continued to the right.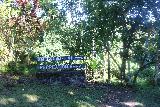 We weren't sure what the visitor center had that was of interest, but we were here for the waterfall so we continued on the rough road ultimately bringing us to the car park near some cows for the signed Togitogiga Waterfall Recreation Area.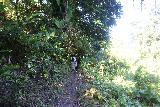 There were quite a few mosquitoes buzzing around here even though we were wearing bug repellent. Perhaps our sweat was washing off the spray.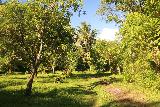 We then proceeded to go onto a well-defined trail that followed along the stream responsible for the falls.
The trail seemed to skirt on some lava rocks or some kind of hardened layer hinting at the reason why the falls here existed.
And we'd ultimately arrive at some changing rooms and some fales for picnicking.
We first descended a couple of steps near the changing room, which brought us down to the stream bed, where we then scrambled to the partially-shaded pool fronting the two-tiered Togitogiga Waterfall.
The lower tier was a chute plunge while the upper tier consisted of four segments in a semi-horseshoe, it seemed.
It was hard to get a good photo of the whole thing from this angle since the upper falls could only be partially seen from the bottom. Plus, the shadows kind of made it harder to photograph nicely.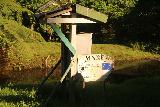 After having our fill of the bottom, Julie started heading back while I did a little more exploring of the top of the Togitogiga Waterfalls, where I managed to get an awkward frontal shot of the upper tier as well as a top down view near a stream gauge.
At the back of the property was a pretty filthy toilet with lots of black flies and mozzies buzzin about.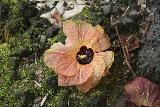 By about 5:45pm, I finally rejoined Julie at the car park, where we then started to drive off. Just as we were leaving, there was another car that showed up, and it turned out to be a group of Kiwis that we saw earlier in the day at the To Sua Ocean Trench.
I guess we were on similar itineraries, but they looked like they were ready for another swim.
By about 6:05pm, we returned to the Sinalei Reef Resort, which was next door to the Coconuts Beach Club.
We decided that we were going to eat dinner here while also make a booking for their cultural dinner tomorrow.
By around 6:15pm we made it down to the pier restaurant, which had a very nice ambience to it though the kitchen wasn't open until 15 minutes later.
Still, the waitress helping us invited us to have a table, which we promptly did.
And when we finally got to order and have dinner, we enjoyed our coconut chicken salads, then were blown away by the chicken curry, which came with a roti as well as tamarind chutney that had quite a spicy kick to it.
Julie also got a curried prawn, which she liked. And I topped it off with a chocolate tart for dessert (though the menu said vanilla ice cream but got chocolate ice cream instead).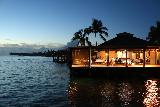 Nevertheless, we liked this meal better than last night's meal, and it was a toss-up between this place or Litia's as the best meal in Samoa so far.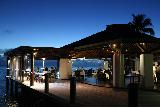 Eventually by 8:15pm, we returned to the car. But not before seeing the full moon rising behind the bungalows though the setting sun was muted by the thickening dark clouds in the distance.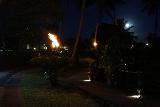 There seemed to be even more mozzies as well as more mugginess by the time we drove off and returned to Coconuts Beach Club at 8:25pm.
And after a few more bites and more sweat beads on our sticky skin, we finally settled in for the night.
Day 4 (November 13, 2019 – Upolu, Samoa): "An Adventure Circle"
Julie and I got up at around 6:15am, and despite the short burst of rain that we heard last night, it looked like the skies were partly cloudy this morning with the sun coming back out.
We got to the breakfast area at around 7:45am, where we had our included continental breakfast while also having ourselves a couple orders again.
I got the omelette of the day this time (which was some kind of cheese and garlic omelette) while Julie got the same French poached eggs though this time there was more tomato sauce and there was cheese. Julie hoped this wouldn't set her off.
After finishing off our brekkie and renting out some snorkel gear anticipating perhaps a swim out to the Palolo Reserve, we ultimately got into the rental car at about 9:15am to get started on this day's adventures.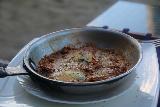 With the day already getting hot and humid, we welcomed the air conditioning in the car.
Unlike yesterday where we pretty much stuck to the southern coast to get as far as Lalomanu Beach and back, this time, we were heading north to the northern coast after going past Sopoaga and Fuipisia Falls.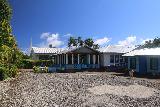 After going over a mountain pass with a nice view towards the northern coast, we eventually got to the well-signed Falefa Falls at around 10:15am.
This place had another car park similar to those we had seen for other private waterfalls, where the owners used their front yards as car parks.
This time, our visit amounted to $10 Tala ($5 per person), and we promptly paid an owner then walked down the steps from the manicured garden walkway down towards the banks of the river or inlet.
Julie and I noticed crabs scurrying about the concrete in the area, but we also noticed that way downstream was what appeared to be the open ocean.
Looking further upstream, we saw that there was the Falefa Waterfall, which actually had a second segment except that it was suffering from being in the shadow so it was hard to photograph.
Around the lookout area along the banks of the stream or inlet, we saw several crabs scurrying about. They seemed very skittish as if they knew to hide in the shadows or the cracks of the walkway whenever they felt any sort of vibrations on the ground from approaching footsteps.
Anyways, it was just Julie and I enjoying the falls until there was one other lady who had shared the lookout for Falefa Falls along with us. However, she came later than us and left earlier than us.
I guess she had no intention to swim in the very wide swimming hole at the base of the Falefa Falls.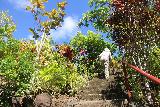 And Julie and I also didn't intend to do any swimming here as we were anticipating visiting the Piula Cave Pool to swim or go for a snorkel or dip.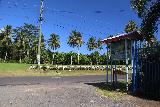 So after getting our shots and videos, we then headed back up the steps and back up to the car park. There was some kind of work going on near the restroom (seemed like everywhere we were going there seemed to be some kind of construction work of some kind), and I guess November seemed to be that month to partake in those activities.
At about 10:50am, we were in the air-conditioning of our rental car, which felt like quite the relief after sweating beads making it back up the steps.
I guess when it's this hot and humid, it's quite easy to really sweat it out, especially when you're going up steps.
As we continued on our drive up to the north coast then along it, we then found a signed turnoff for the Piula Cave Pool, which went right into some kind of Episcopal Church.
As we drive the 5km/h on the driveway alongside the church, a guy walked towards us and greeted us.
We paid 10 Tala (5 Tala for each adult) to enter the grounds, but Julie wanted to pay an additional 10 Tala to drive our vehicle down to the Piula Cave Pool instead of walking down from the church.
I guess she wasn't looking forward to sweating it out with the heat and humidity to have to go down there especially since we weren't quite sure how far we would have to walk had we parked up here for free.
By about 11:05am, we finally arried at the car park for the Piula Cave Pool. We claimed a spot next to the toilet, where there was ample shade.
Then, we promptly got our stuff and walked towards one of the fales facing the Piula Cave Pool itself.
There were already quite a few people (both locals and tourist alike) swimming into the natural swimming hole, where there was a natural tunnel or cave in the far reaches of the cave pool while the other half of the pool was exposed to the hot sun.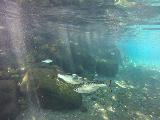 I realized just then that I didn't bring my swimming trunks so I had to essentially unzip the lower leg part of my hiking pants and then use the rest of the pants and its quick-drying properties as my swimming trunks.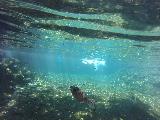 So with that, I got the snorkel gear from the resort and promptly went into the Piula Cave Pool, which was quite cool at first, but then I got comfortable.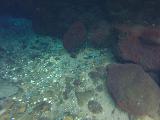 It also took a little time for me to get used to the gear as well as the clarity of the water, where I noticed some fish swimming around though they blended in quite well with the submerged rocks and sand.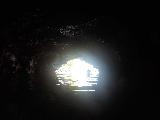 After floating about in the pool, I then proceeded to go into the cave, where the lighting became increasingly dark.
Unfortunately, the GoPro that I brought with me seemed to be out of charge, which I found amazing considering that it was full chart all day yesterday.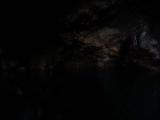 I guess I should have left it charged with the laptop overnight to ensure I'd have something for this excursion.
Anyways, I went as far as the end of the cave, where I saw there was something glowing underneath the water.
Upon closer inspection, i saw that there was a bit of a tunnel opening that I would have to dive and then squeeze into to get to the other side.
While I was curious to see what was there, I thought better to not do it. Besides, I couldn't capture anything anyways since the GoPro battery life died at that moment.
So I eventually went back out just in time for some local guys to do cliff dives into the Piula Cave Pool despite the signs saying "No Jumping."
Once I had my fill of the pool, I got back out and then Julie took her turn to go into the pool to enjoy the cool waters as well as the fish life sharing the pool with the other people trying to beat the heat and humidity.
As I was busy checking out Julie as well as the commotion at the Piula Cave Pool, some of the locals wanted to take a picture of me with three other guys around me.
I wasn't sure what their intentions were, but I guess it was probably unusual to have an Asian-American at these parts.
Anyways, Julie and I eventually had our fill of the Piula Cave Pool, and by about 12:15pm, we made it back to the car.
Although it was probably time to have a lunch at this time while going to Apia, we still had to go to the Sauniatu Waterfall, which was nearby.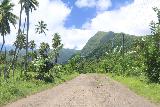 So we promptly drove the main road out west before seeing a sign pointing left towards Sauniatu Waterfall, which was for another 6km.
I thought that wasn't too bad of a distance, but after the first kilometer of the climbing road, it quickly degenerated into a badly potholed and eventually unsealed rough and rocky road.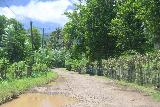 So that made the 6km drive seem very slow and white-knuckle as I tried not to pop or cause any damage to our rental car.
That said, there was a reason why we rented a high clearance vehicle, and a road like this was precisely why.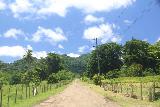 It wouldn't be until about 12:50pm when we made it to the village of Sauniatu, where a watchman asked what we were doing, and we told him we were visiting the waterfall.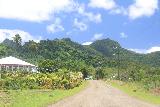 His English wasn't that good so we were kind of misunderstanding his line of questioning of us regarding what my occupation was and whether I was here for work.
We told him we were merely just visitors and we didn't live here, and he mentioned something about some kind of warning about something while telling us to be careful.
Anyways, we then parked the car in the open sun right behind another rental vehicle.
We then got our stuff and we could hear the waterfall so we eagerly anticipated going closer to the source of that noise.
After going across a lawn and then down some yellow-railed steps, we then started to see the impressive chute waterfall, which plunged in half-shadow (which made photographing it tricky).
There were already quite a few people swimming around the falls as well as others doing a cliff dive. There were also three women in the plunge pool of the falls while others seemed to do a climb behind the base of the falls.
Aside from aggressive mosquitoes figuring out where we failed to apply DEET, this place was quite the find so we were glad that all that adventurous driving wasn't for nothing.
Anyways, we heard American accents from most of the people here (though there were three Kiwi women making their way back up as we were headed down). We suspected that this was probably a Mormon family as apparently Sauniatu was a Mormon community.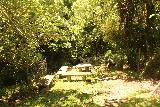 After having our fill of the falls, we then headed back up the steps and promptly returned to the car at 1:20pm.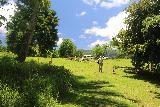 Already sweating bullets while the vehicle had roasted in the sun, the AC was turned up a lot, and now we could finally look forward to driving back down to the main road before heading west towards Apia.
We didn't get cell phone reception until we were back at the main road at around 1:45pm. And that was when Julie looked up possible lunch spots in Apia.
She stumbled upon this place called Nourish Cafe, and after seeing their pretty inventive lunch menu as well as their focus on whole foods and gluten free fare, we made a beeline for that restaurant, especially since they closed at 3pm.
By about 2:20pm, we made it to the Nourish Cafe, which happened to be next door to the Immaculate Conception Cathedral, which was an impressive looking church.
Inside the air-conditioned confines of the restaurant, we promptly looked at the menu and got eye hungry.
We wound up ordering some four dishes as well as couple of kombucha – one of ginger and another of soursop.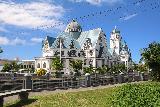 The four dishes consisted of breadfruit tacos, breadfruit wedges with an interesting green dipping sauce, Nourish sushi (wrapped in spinach leaves instead of seaweed), and coconut-crusted chicken (which was giving Julie ideas about how to make gluten free katsu or fried chicken using coconut "breading" back at home).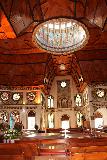 We saw that this place was open on Sunday so for sure we would likely come back again and try out some of their other things.
When we were done eating at around after 3pm, we then walked next door to check out the Immaculate Conception Cathedral, which pretty much had to be visited given how impressive and close by it was.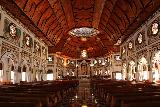 As we walked up to the car park and towards one of the handful of open doors, we saw that were a handful of people sitting and contemplating.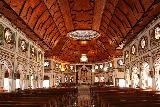 There was one guy keeping watch on the whole thing and I greeted him while quietly making my way to the back to take pictures.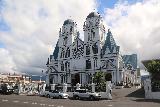 Although Samoa seemed to be full of churches, this one in particular had an elaborate interior where the roof was wooden, and there was a very tall navel.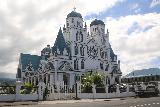 We probably could have lingered here a little longer and check out every angle and corner of this big cathedral, but we didn't want to cause a disturbance so we quietly made our way to the back.
Once there, we saw that there was a visitor center across the street.
There was one guy who was a tour operator who greeted us and was apparently hoping to guide us around though we were only there to ask questions about the Palolo Marine Reserve and the cultural things going on here as we were trying to figure out what to do tomorrow.
By about 3:35pm, we got our questions answered, and then we walked back to the car.
This kind of gave us a taste of what it might be like walking around Apia, which was definitely busier compared to the quiet southern side of the Upolu Island.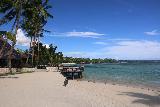 Anyways, we drove the cross-island road back south to the Coconuts Beach Club Resort as we drove the familiar 22km road that we had taken the first time around.
We skipped the Papapaitai Falls since the sun was still out and it would be a similar experience to the first time we were here.
Plus, we were running out of time to return the snorkel equipment, which the guy said to bring it back by 4:15pm.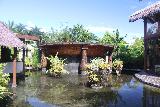 Sure enough, we got back to the Coconuts Beach Club at 4:15pm, and after returning the snorkel gear (and Julie buying 1GB of data at the resort since there was no cell reception for Blue Sky here), we then used up our bandwidth on Facetime with our daughter back at our room at 4:30pm.
We then napped a little (especially Julie) since it was still quite hot and we had some time to kill before our 6:30pm dinner.
When 6:30pm rolled around, we drove to the Sinalei Reef Resort and had ourselves the traditional Samoan buffet, which had a lot of food.
We got a little of everything though we gravitated towards the Samoan Oka (poisson cru), lots of meat dishes, seared tuna, the pork cooked from an umu (underground), and some stir fry.
We also had a pina colada because they ran out of mint for their signature mojito.
By about 7pm, the show started as a group of youth with equal amounts of young men and young women were partaking in a traditional dance that involved a bit of slapping.
I was imagining the entrances of the WWE Usos when they would do some kind of Samoan dance before going to the ring though I sensed that the one we were seeing seemed to be more authentic and from the heart.
After the dancing part of the show, we then watched two kids do fire dancing as they were twirling sticks of fire.
The boy started first, but then the girl did her thing and she was totally bad ass.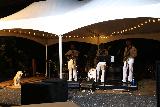 She lit the floor around her with flames while doing the twirling, and she was essentially surrounded by flames in a display that I had never seen before in all the fire dancings that I had seen around the Polynesian Islands over these years.
When the show was essentially over, we then watched uniformed US Navy officers perform jazz as a band called Big Wave.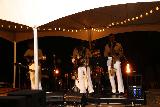 They were very good and very smooth, which kept the audience entertained and seated through the whole performance with the setting sun acting as a backdrop.
Not only that, but in the last song, the lead singer sang something like a cover of the Red Hot Chili Peppers in Samoan, which really impressed the owner of the Sinalei Reef Resort.
After the performance, the owner walked to us and had a chat with us (that's how we found out he was the owner). While we were talking, we learned that fire dancing was originally Samoan so these kids knew what they were doing.
Not only that, but with all the ligitation around what could go wrong in other countries (especially in the USA), the way they did the fire dancing was more daring here and could never be done elsewhere.
The traditional dancing was also from the heart, according to the owner, so he was quite proud of how tonight went as we could totally tell how proud of the Samoan culture he was and of this night.
We then greeted Tana (the person who was helping us out make the booking for this night as well as serving us throughout the dinner) before we left as Julie thought she was very sweet.
She wanted to tip her a lot but I don't think it was customary to tip in Samoa (and we definitely didn't want to offend anyone by doing that).
By about 9:45pm, we were finally back at our room at the Coconuts Beach Club. All in all, we had a wonderful evening at the Sinalei Reef Resort, and they seemed genuinely glad that we showed up as guests even though we weren't staying there.
And with that, we were all tired and quite hot. Even with the AC on a low temperature, it took quite some time to get cool in the room and get cleaned up.
It definitely felt like the weather was turning even though it had been breezy when we first showed up, but the forecasts were saying that it would rain tomorrow, and we'll have to see if they're on or not.
Of the people we've asked (including Brian the owner of Coconuts Beach Resort), they all seemed to say that the weather was unpredictable and the forecasts are frequently wrong.
We'll have to play it by ear pretty much as tomorrow was going to be our last full day staying at this resort and on Upolu Island in general…
Day 5 (November 14, 2019 – Upolu, Samoa): "After-the-fact Discoveries"
It was about 7:05am when we awoke naturally to the morning sun.
Both Julie and I felt pretty warm despite the AC running in the room, and we suspected that it must have been all the food that we had eaten last night that caused us to sweat out the calories.
By about 7:55am, we headed out for the breakfast, as we were settling into the resort routine once again.
As we were having our continental breakfast as well as the additional orders of American Breakfast and the omelette of the day (salmon dill this time), we couldn't help but notice that there were considerably more clouds on this day than there were throughout the previous days on this trip.
After having our fill of the brekkie (where it felt like we were still stuffing ourselves after last night), we were then back in our room at 9:05am.
With today being an anticipated light day of touring, we ultimately decided that we were going to go check out the Giant Clams Sanctuary so we rented out snorkel gear while getting our bathing suits.
And by about 9:25am, we got into the car.
The drive further west was for the most part uneventful. Unlike the drive further to the east, it seemed like people were less receptive to me waving as I was passing by.
I wasn't sure if this was due to the fact that there happened to be more people in these parts of 'Upolu Island and the people were more jaded to passing tourists or something, but there was definitely more vehicles and more people on this drive than say throughout the eastern part of the island.
Eventually at 10:05am, we made it to the Giant Clam Sanctuary, where signs suggested that this was the Savaia Marine Protection Area.
There were no road signs pointing the way to the sanctuary, which made us wonder if this was one of those spots where perhaps it was intentionally that way to keep this place from being overrun with people.
A local girl collected 10 Tala in total (5 Tala each) from us, and she told us that there was a blue and white ball where the clams could be found.
One other local girl in the fale also chatted with me about how we knew about this place. I pretty much told her that it was from the internet so someone had already let the world in on this place.
That said, we weren't the only people here as there were a couple of other self-drivers here already. The girl also mentioned that tours do show up here as well.
These tours actually came from the nearby Return to Paradise Resort as well as other resorts such as the Sinalei Reef Resort.
Anyways, we promptly geared up and went into the water, which felt cold initially, but then we got used to it.
We had to swim about 100m past the sandbars before getting into the reef area between the drums.
There were gratings where the Giant Clams as well as the baby clams were, and we figured that it must have been either infrastructure set up to make the clams easier to cultivate here or at least help them stay in place in case the next tsunami might hit.
As far as the snorkeling experience, it was full of life here as the interesting coral attracted lots of different kinds of fish.
Meanwhile, we could tell that the Giant Clams were definitely alive as a couple of them were moving or at least opening and closing their mouths.
I was struggling with my snorkel mask as water kept getting inside the snorkel, which was very annoying.
Anyways, Julie had her fill of the incredible snorkeling experience, which definitely delivered. Perhaps the only thing we wished that could have happened was the muted colors of the reef due to the overcast conditions.
Had the sun been out, perhaps it might have been a better snorkeling experience as the sun would have surely brought out the colors of the reef.
Anyways, back at the fale, we got our stuff and then rinsed off and got changed at the nearby Savaia Womens Community Center or something like that.
We spent a few more minutes taking pictures now that we were on dry land where there were a few more Kiwi visitors going for their snorkel. There was also an arriving van that came from the Sinalei Reef Resort.
So we probably got our fill at just the right time.
It was about 11:15am when we were back in the car, and it was already getting to lunch time so we decided to drive back towards the Coconuts Beach Club to return the snorkel gear while also going for a lunch at Lupe's next door.
We got back to Coconuts at around 12pm, where the resort seemed to be pretty quiet.
We saw Tess the manager back by the reception area, and we chatted a little more about our experiences as well as chatted about the other dining options outside of Coconuts.
She showed us that there were actually steps between the rock wall barricades separating out the properties between Coconuts and Sinalei.
So that made it so we didn't have to drive.
Anyways, we learned that there was some kind of a measles outbreak going on in Samoa at the moment, and that school was about to be out for the majority of Samoan kids (which explained why we noticed quite a few kids already out and about and not in school during our trip).
Thinking back to the awkward exchange we had with the guard at Sauniatu Village when he asked whether we were afraid of something, it finally made sense after the measles revelation.
He probably thought I was a doctor or something.
Anyways Tess also mentioned that there was a diabetes problem in Samoa as well, which we figured was largely due to the high sugar and starch diet.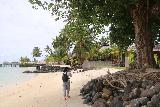 We then went ahead and checked out both Lupe's and Fiafia, but the latter seemed to be more of a burger joint though they had tables closer to the beach.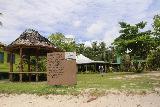 Lupe's was more of a garden dining establishment, and we wound up eating here because they had a more substantial menu that could accommodate gluten free.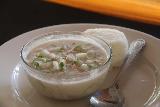 We ultimately got a Palusami (baby taro leaves cooked in coconut cream), a fish curry, and another Samoan Oka.
The food was quite good though I was already starting to get toxic burp so I figured that perhaps from yesterday's oka that was sitting out, I might have contracted a bad fish (just like in the past when I ate raw fish and had food poisoning symptoms).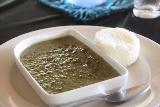 In any case, that all made me not feel terribly hungry, but I still had to eat something nonetheless.
When we were done with our slow-paced lunch (where another couple that was here was smart in that they wanted to sit closer to the beach while we were getting nailed with mozzies), we then chatted with the cook and manager that was working here.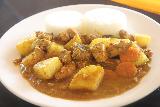 He told us about the tsunami that really affected most of 'Upolu Island even as far west as where we were at.
He also told us about Savai'i since he used to work at Coconuts next door for nearly 20 years, and he used to run day tours from there.
So he seemed excited to tell us about what we could expect on that island as apparently not that many tourists take the trouble to go there.
And so our lunch ended and we returned to the Coconuts Beach Club to settle our bill knowing that tomorrow morning, we had to get up and out early in order to ensure we would catch our ferry to Savai'i.
We had another pleasant chat with Tess as well as Brian who showed up at the reception. He told us about another couple who used to live in the Southern California area before moving to New Zealand some 40 years ago. Indeed, there seemed to be a strong representation of local So Cal people here.
Anyways, by 2:30pm, we were back in the car and headed north towards Apia. With the agreeable weather, we figured that we mind as well go check out the Papaseea Sliding Rocks as we weren't sure how available this place would be on Sunday when we expected to return to Apia.
But you never know about the weather and I didn't want to chance it with visiting under dangerous conditions if it got too rainy and slippery.
As much as we wanted to nap, we just made our way on the Cross-Island Road where it seemed like the northern side of the island was very sunny compared to the cloudy southern side.
It made me wonder if Savai'i might also have better weather considering that it seemed like the south was getting the clouds.
In any case, we got to the Papaseea Sliding Rocks at about 3:20pm, and it seemed like it was just us and another couple at the car park, which had a nice view back down towards Apia.
It was quite hot and humid when we showed up, so we knew that it was going to be a sweaty affair. Nevertheless, we paid the 10 Tala in total (5 per adult) and then promptly made our way down the steps towards the stream responsible for the waterfalls making up the Papaseea Sliding Rocks.
There was a fale towards the bottom of the steps where there were three or four girls speaking Spanish to someone on their phone (though one person had an American accent while another had a Kiwi accent).
Julie and I went around them and then checked out the upper two waterfalls where the smaller uppermost one was called Le Telesa's Pool while the next one looked like a really dicey one called the Men's Pool.
We then continued to descend along some more steps taking us towards the base of the Men's Pool as well as the top of the so-called Childrens Pool and the Women's Pool further downstream.
And like the Men's Pool, these other pools looked really dicey to slide down. In fact, I'd say they were pretty suicidal.
The English couple that was already at the bottom of the English Pool said that they didn't bother doing the slide and they were just enjoying the water.
Neither Julie nor I were interested in going in the water this time around, but with the heat and humidity, it sure looked inviting.
Anyways, the water on the Papaseea Sliding Rocks seemed to be on the low side. And yet, even if there was more water in the stream, sliding down these steep slopes with seemingly a lot that could go wrong made us wonder that there could never be a place like this back at home without someone getting sued.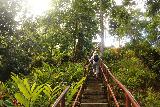 By about 4:10pm, we were back in the car after sweating beads on the ascent as anticipated.
We then tried to figure out if we should eat dinner in Apia except most places were closed until at least 5:30pm or even 6:30pm at this expensive place that Lonely Planet recommended.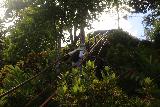 Well, with tonight being our last night at the Coconuts and with the early morning ferry, we really weren't up for staying up later than we needed to just for food.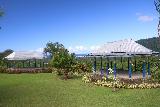 So we ultimately decided to fill up on gas and then start heading back perhaps to eat back at Sinalei Resort or something.
But just as we were ascending the Cross Island Road at around 4:55pm, we stumbled upon a Curry House, which had touted authentic Indian cuisine, and we decided to just give this place a try since they were open.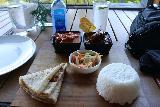 We went in despite not reading any reviews or anything.
But we promptly went ahead and sat in their garden with a partial view back down towards Apia. We then proceeded to order a Meat Thali (where I got butter chicken and lamb korma) while Julie got a really good prawn curry.
The meal came with roti and rice, and it really hit the spot, especially since we were looking for something a little different from more fish, which I wasn't in the mood for given my toxic burp symptoms.
After the dinner, as we were settling the bill, we had a nice chat with the lady who owned this place. Apparently, she had been a resident of Samoa for 19 years and told us how this place might have been disappointing about 10 years ago because the tourism infrastructure wasn't built up yet.
But she felt that this place was coming to its own in recent years.
She also had some restaurant recommendations for us considering we were staying in Apia on Sunday night, but unfortunately, most spots were closed on that day. The only spots left that she recommended were the restaurants affiliated with the resorts such as the Sheraton Samoa Aggie Grey.
At about 6:20pm, we were back in the car and resumed our drive back south to the Coconuts Beach Club.
At about 6:35pm, we made another stop at the Papapapaitai Falls where there was a local loitering there. Julie and I wondered if he wanted to collect money from us, but it turned out that he started to walk off and leave us alone.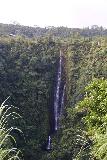 So I briefly took advantage of the overcast skies and the even light to document this waterfall once more before we resumed our drive five minutes later.
Finally at about 6:50pm, we were back at the Coconuts Beach Club, which was just in time for sunset.
We took our drink vouchers and had another chat with Brian (about American Samoa as well as other flight options to get to Samoa from Los Angeles) before enjoying a couple of complimentary cocktails.
Julie paid 10 Tala for a pineapple kombucha while we used our vouchers for the mojito as well as the coconut (except it wasn't served in a coconut and it didn't have young coconut meat so that was misleading).
Regardless, after the sun had set and we were done with our drinks, we then proceeded to walk towards the overwater bungalows, which was something we hadn't done in all the times we were here.
And as we were walking past our Vila Alii bungalow, we couldn't help but notice that the other beach bungalows didn't have names. Instead they were called Fale A through Fale F or something like that. Plus, these other bungalows seemed smaller than the one we had.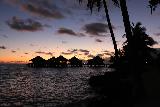 So that was when we realized that perhaps Brian upgraded us upon learning that we were on our 15 year anniversary! That was really nice of him.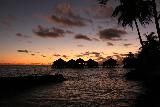 When we got onto the overwater bungalows (the only ones we're aware of on this island), Julie lamented that we really should have checked these out when it was brighter in the day.
But standing here reminded me of the time that we had Tahia with us in Bora Bora, and she was able to open the door by herself before the age of two, which really made us aware of how easily a toddler could drown here.
Anyways, by 8pm, we were back in the room to get all cleaned up as well as to finish packing. The staff brought to our room the continental breakfast (which we totally forgot about), and with that, we got to enjoy our upgraded bungalow one last time before heading off to Savai'i tomorrow…
Day 6 (November 15, 2019 – Savaii, Samoa): "Outbreak"
I awoke about 4:15am to the first of my alarms. Right off the bat, I got right to wrapping up the packing duties while also blogging about yesterday.
Julie got up at 5am, and tended to her packing.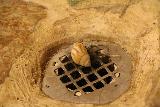 By about 5:25am, we heard noises outside like it was legitimately raining. I was worried that I had cracked the windows in the car so things might get wet inside.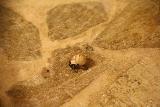 I think this was the first time all trip long that it had been raining hard in Samoa though it was pouring rain in Nadi, Fiji when we had that long layover before flying to Samoa.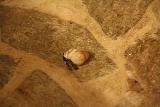 So we were a bit concerned about walking in the rain to the car.
I wound up eating the continental brekkie while we were both ready to leave by 5:55am as we had an 8am ferry to catch preceded by a pre-check-in an hour before and an hours drive or so just to even get to the ferry wharf.
To our surprise when we left the Fale Alii for the last time, there were two porters waiting for us right outside our room.
So they grabbed our rollable luggages while Julie and I carried the rest of the loose items.
And once we loaded up the car, we promptly went inside where it seemed like things weren't too wet from what we could tell from the inside.
So with that, we left Coconuts Beach Club in the darkness and made our drive out west towards the ferry wharf so we could ferry to Savai'i.
The drive was for the most part uneventful though we were surprised by the number of people already out and about walking the roads.
We even saw one foreigner standing outside apparently waiting for her ride.
So I'm presuming that most of these people were waiting to be taken to the ferry to Savai'i.
As the day was getting brighter and the headlights weren't needed, we finally made it to the Mulifanua Ferry Wharf at about 6:55am, where after a little confusion, we were then directed by someone inside to drive to the other side of the facility to register.
It was a good thing that Julie pre-booked the ferry because the guards were checking for confirmations as space was limited.
It was also a good thing that we showed up an hour before because there were quite a few cars already here. It not only included other tourist cars as well as locals, but it also included taxis, commercial vehicles, and tour vans.
The ferry costed us about 107 Tala in cash so we had to make sure that we had at least that much cash on the return.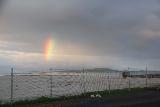 Anyways, as we were waiting for the ferry to show up and then to board, we saw that there was a rainbow off in the distance. It happened to be near some dark clouds which was probably the same system that produced the rain storm earlier this morning.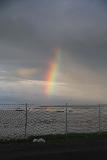 As we looked towards Savai'i Island, we could see that its west side was covered in dark clouds. However, the east side seemed ok as far as the weather was concerned.
In fact, pretty much all of the south side of 'Upolu Island throughout our drive seemed to be covered in clouds, and we wondered if this was a foreshadowing of what we could expect for our two days in Savai'i.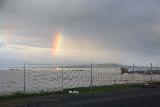 Eventually by about 7:35am, we were finally allowed to drive onto the ferry as we were one of the last vehicles to board.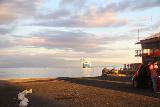 The time spent on the ferry was pretty much a low-key affair as Julie picked a seat on the inside while some kind of YouTube TV specific to Samoan news was on.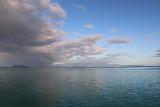 At the start of the hour-long journey, I was battling food poisoning ailments as I had toxic burp as well as a bad case of diarrhea. The toilets on the ferry were a bit full-on as they didn't have toilet seats as I had to sit on it to let the body try to expel the toxins coming out both ends.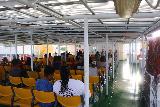 I'm pretty sure I must have eaten bad fish left out at the buffet when I went to get a second helping because I think every time I've had toxic burp, it could be traced back to bad fish (typically raw).
Anyways, we were reading up a bit about Savai'i and Samoa in general on bot LP as well as on the Blue Sky sim card.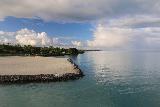 Something in particular that caught my attention was the Pulemei Mounds in LP as it was apparently some kind of star mound or pyramid hidden away on the southern side of Savai'i.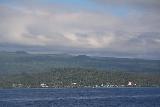 I also fancied visiting Sinaloa Falls (the tallest waterfall in Samoa), but both activities seemed to require uncomfortably muggy and long jungle treks to reach.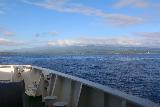 Julie was deadfast against the idea of doing this as she insisted that we should relax on this vacation and heal our guts, especially mine since I had ulcer concerns from the stress of work prior to this trip.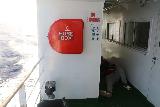 In the few times that I explored the deck of the ferry (I think it was Lady Samoa III), I had found it comical that there were some Samoans who were using the floor of the deck as a bed.
In a couple of instances, it seemed like you couldn't even get past some of the guys who blocked the hallways. I don't think I had ever seen that before.
Eventually by about 8:55am, we were told in Samoan to return to our vehicles (if we were self-driving, which we were), and it took us asking a local what the announcement was about to confirm since we didn't know Samoan.
And eventually after 9am, we were finally driving off on the island of Savai'i where we had planned to do most of our sightseeing this morning before driving up to our resort.
With the weather pretty sunny as of now, we wanted to seize the moment and leave nothing to chance tomorrow even though we had another full day of Savai'i (though I wasn't sure if we overachieved by spending two nights here instead of one considering I wasn't sure what else we could do besides the three things we were targeting today).
And so we headed west where we drove along the circle island road before reaching the signed turnoff for the Afu-a-au Waterfall on the right.
Unlike what LP said (where the turnoff sign could only be seen from the east), we did see that there was a separate sign pointing the way left if you happened to be driving from the west instead of the east as we were doing.
Just as we were descending the unpaved road past the fales at the start of the spur road, a mother and child walked out towards us to intercept us, where we had to pay 5T per adult to continue.
After a little more driving on the unpaved roads past a bathroom facility and ultimately to a dead-end, that was where we eventually parked the car at 9:40am.
There was already a scooter here, and there was apparently a woman who was already on her way to the falls.
My stomach was churning at the time, but I figured that I could tough out my food poisoning ailments while trying to savor the steamy experience of the Afu Aau Waterfall.
The waterfall was basically a series of short cascades culminating with the plunge of the uppermost drop of the falls. The lowermost one had four separated segments.
And given the steamy stale air here, the pools beneath each of the waterfalls seemed like the ideal place to go for a swim.
Ah, but as we were busy documenting the experience, as tempting as it was to just get wet and cool off, my stomach was getting so uncomfortably pushy (with the runs), that we had to hastily retreat back to the car at 10:20am and get over to the toilets that we knew were nearby.
It took me another 15 minutes to let out whatever my body was pushing to get rid of (but at least these toilets had seats), and I figured that it was expelling the last of the breakfast food that I had eaten this morning.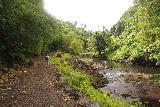 I finally returned to the car at about 10:35am, and we then proceeded further west along the south coast of Savai'i.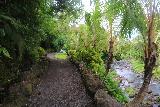 The drive seemed pretty long but pretty chill. By about 10:55am, we were nearing where Mu Pagoa Falls was supposed to be, but this waterfall was not signposted.
That said, we crossed a bridge over a river, where a glimpse downstream revealed some locals standing on a cliff edge over where we could tell the Mu Pagoa Falls was supposed to be.
However, after driving past the bridge, we could clearly see that this was kind of a locals waterfall spot as there was definitely no sanctioned spot to park, nor anything to let tourists know about this spot.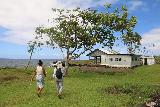 We ultimately went back across the bridge and drove down into the driveway of the nearest residence to the Mu Pagoa Falls to ask about it.
One girl who had this coy smile (as if we were these foreigners who didn't know what time it was) answered our questions about the falls. She said that we can pay 5T each to go see the falls, which was a reasonable rate.
The rest of her family in the area also had these smiles and it seemed like this visit to the Mu Pagoa Falls was about as awkward as well as non-touristy as it gets.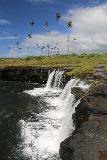 Regardless, she led us out to the grassy area behind the shacks, and then she proceeded to leave us alone. We then walked towards the lava at the end of the grass where we looked down at the churning ocean crashing onto the lava cliffs as well as the Mu Pagoa Falls.
So technically speaking, this was another one of the waterfalls that spilled directly into the ocean.
On the opposite side of the waterfall, there were cows grazing, and upstream from the falls was the road bridge that we had crossed over earlier.
Julie and I spent some time capturing the turbulent yet idyllic scene of the waterfall and the open ocean beyond.
And by about 11:15am, we were back in the car.
Next, we continued our drive out west as we then pursued the Alofaaga Blowholes, which was a bit further to the west.
This was the last of the sightseeing targets before we would backtrack towards Salelologa for lunch on the way up to our accommodation.
We eventually reached a signed turnoff for the Alofaaga Blowholes on the left, and that put us onto a fairly rough road that went over a combination of sandy track with volcanic lava rocks.
This track led us to a fale where we paid a guy 5T per adult to continue.
The drive pretty much skirted some lava fields where we could see big splashes as well as what already appeared to be some blowholes spewing up seawater in the churning oceans that we knew were beyond.
We'd eventually get to the closest car park at 11:50am, where there were a few more fales as well as an open lot.
At first, there was one other couple here while we were there.
We first went to an overlook platform while the other couple went closer to one of the blowholes so they kind of served as subjects for us to show how high the water shoots up.
From the viewing deck, we noticed that there were other blowholes shooting up water though it was hard to convey their power without a subject for scale.
There was another guy who showed up and went closer to one of the blowholes, and we pretty much headed in that direction just for a slightly closer look.
We got close enough to feel the ocean spray from the other blowholes behind us but not close enough to see where some of the crashing waves splashed onto the lava field nearby.
We spent a bit of time just basking in Nature's raw power here, but I sensed that these blowholes might have put on a bigger show had we showed up closer to high tide earlier this morning. We were somewhere in between high tide and low tide, which was supposed to be around 2:30pm.
By about 12:25pm, we returned to the car but not before paying a woman at the fale another 5T to park here. Upon learning that we were from California, she told us that she had relatives in both California and Texas.
With that, we headed back to the main road, and then backtracked to the east to go find a place to eat lunch.
By about 1:30pm, we eventually showed up to the Savaiian Hotel for lunch, which had a nice view back towards 'Upolu except there were some really dark and menacing clouds over that island.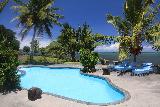 With my food ailments, we wound up eating a Thai chicken curry dish as well as a chicken salad. I don't think the food was a clean as Julie would have hoped (gut wise), but it was satisfying for the time being.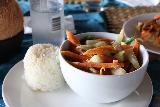 We also had some fresh niu (coconut) to help with the electrolytes situation in my gut.
While the food and service here was on island time (probably more like the Samoan Way that we had read about prior to coming here), we took some time taking pictures of the coastline as well as some of the fruits growing on the property.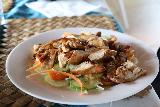 Eventually by 3pm, we returned to the car and then continued driving north towards our accommodation.
However, at about 3:15pm, we were struck by the colorful turquoise waters in the reefs just off the shore. This was in stark contrast to the churning oceans of the south coast.
And we ultimately decided to stop by the Amoa Resort to look at their menu as we were thinking ahead to possible places to have a dinner.
But really, we were looking for an excuse to stop by and try to capture the memory of the vibrant colors off the coast where I'm sure stopping anywhere would be a recipe for paying a family demanding payment even for just stopping to take a picture.
At least the Amoa Resort had a jetty that we walked out to and looked in both directions at the colorful reefs or sandbars.
With the sun still out, I knew that we had to seize this moment because who knows if the large thunderclouds budding all around us would dominate tomorrow?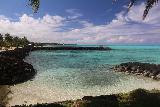 I found it strange that only Julie and I were here enjoying the jetty and the views, and that the guests at the Amoa didn't even come out here to enjoy it?!?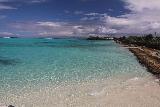 By about 3:35pm, we were back in the car, and I was glad that we took advantage of this moment to at least capture the color in the water that was as surreal as any of the other South Pacific destinations we had been to in the past where we saw colors like this – like Aitutaki or Bora Bora or Espiritu Santo.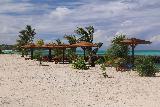 We then continued driving north as we ultimately made it to the Le Lagoto Resort at 4:20pm. Up here at the north shore, it looked like there was going to be rain coming as there were dark thunderclouds to the north and east of us, as well as to the south and west of us.
After checking into our accommodation and being shown to our beach fale, we noticed that this accommodation was a bit more primitive than the fancy fale we had at the Coconuts Beach Club.
Again, I figured this place was more traditional and more according to the Fa'a Samoa (i.e. the Samoan Way), but neighborng places didn't have AC and with how muggy and hot it was at this time of year, that seemed like an unacceptable proposition for this trip as far as Julie was concerned.
We had some time to kill at around 5pm so we checked out the dinner menus at both Le Lagoto as well as the Savaii Lagoon Hotel. But we saw that only our resort had the more compliant and local foods while the other had more gluten stuff that Julie couldn't have.
We then killed some more time just in the lagoon outside our fale though we couldn't snorkel as the hotel didn't have snorkel gear and the dive shop across the street was already closed since 4pm and wouldn't re-open until 8am.
Nevertheless, there was still enough clarity in the water to at least use my GoPro and take some shots of the some of the fringes of the reef as well as some random fish.
But by about 6pm, we were back in the room to rinse off and get changed.
We then proceeded to go for dinner, where we sat closest to the beach where things were idyllic as the sun was setting even amidst the storm clouds in the distance and threatening to skirt over us.
We ultimately got a local coconut cream lobster as well as a NZ sirloin steak. We were fished out so we didn't get any Oka or grilled fish of the day. Especially since I was still fighting food poisoning, I couldn't take any more chances and had to stick with the boring stuff.
As the sun had already set and the evening was quite the romantic affair, we saw the clouds turn purple and pink though it wasn't quite as pronounced as our Matamanoa Island experience in Fiji many years ago where whole thunderclouds put up a dazzling display of purple and violet skies with the odd lightning in the distance.
We were chatting with our server who was lamenting the measles outbreak as she said it was a Samoan family whose kids contracted the disease while in New Zealand and brought it to Samoa in a careless manner as they didn't act on the symptoms until the very last minute.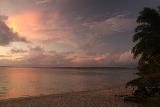 That ultimately costed 8 children their lives and counting, and I'm sure if vaccinations were rare back then, I'm sure they're mandatory now. Even American Samoa was said to require proof of MMR vaccines in order to get onto that island as one family was denied entry as they had measles after coming there via ferry.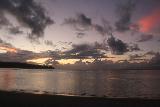 We also learned that there was a family on the beach having a dinner, and they happened to be family of the owner of this resort. They got our attention because one of the girls had an American accent instead of a Kiwi accent, but the server told us that she was born in Auckland, which was all the more surprising.
We also learned that our server had an American husband from California, so it was yet another instance where Californians seemed to represent well in Samoa.
Anyways, we ultimately retreated to our room at 8:15pm after paying for the dinner (we almost got double-charged for the NZ steak), and we then pretty much spent the remainder of the evening just relaxing and trying to sink into the slower pace of life of Savai'i.
Indeed, it seemed like Samoan Way (fa'a Samoa) was sinking into our pace of touring in much the same way that the locals here live the Samoan Way. And perhaps, this was the experience that Julie was seeking out to detox on our 15 year anniversary trip before returning to the rat race next week…
Day 7 (November 16, 2019 – Savaii, Samoa): "Shaken Not Stirred"
It was about 7am when we awoke. We intended to take it easy and sleep in on this day, and by getting up this late, we pretty much did precisely that.
The first order of business was to try to secure snorkeling gear after experiencing the water yesterday without such gear and realizing that we really needed at least a snorkel mask.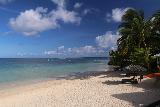 Even with the taste of the water world just outside our room, it piqued our interest, especially when it came to the prized sighting of a sea turtle.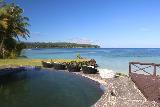 With Global Warming threatening all things reef related, who knows how much longer we can witness the variety of life under water like this? I was genuinely surprised that we even had this option so close to the resort in the first place!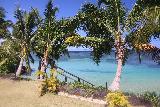 Anyways, it took us some time to get to the brekkie room and enjoying some fresh fruits though we had to order bacon and eggs at a pricey 25 Tala for just that.
We could have gone with the coconut-flavored French Toast which was included in the room, but I was still fighting the stomach bug (even though I had now gone about 4 straight meals without diarrhea) and Julie definitely couldn't have gluten in her diet.
It was a pretty nice day as once again we could see blue skies around our resort, and it seemed like the thunderclouds for the moment were at bay though there seemed to be some clouds budding around the summit of the Mt Matavanu and perhaps beyond further to the west.
While we were waiting for our brekkie to be served, we were very disappointed to learn that the dive shop across the street was open earlier this morning but then closed as they decided to take some people out to some sort of snorkeling tour.
With the waters in relative high tide this morning, it seemed like that elusive snorkeling gear that we needed was going to remain elusive.
Fortunately, the soft-spoken server told us that we could also taxi or drive over to Jane's Beach Fales further down the street to try to rent snorkel gear. Since we had our own car, this would be no problem.
So after having our brekkie, Julie was struggling with some kind of stomach bug so it seemed like it was now her turn to get the runs. That said, I still wasn't quite out of the clear yet.
Regardless, by 9:25am, I drove off on my own to go get the snorkeling gear. It didn't take long before I found Jane's Beach Fales, and then I was led to the guy at the activities area facing a very beautiful beach and colorful waters.
He eventually gave me a couple of snorkel masks and two pairs of fins for 40 Tala (20T each), and with that I got back in the rental car and returned to the room by 9:55am.
Now, we could finally try out the snorkeling just outside of our fale.
By this time, it was partly cloudy but there were still blue skies in the area so it was a mixed bag as far as the colors of the reef were concerned.
As we went out into the water, Julie was having trouble with her snorkel mask so we switched. It turned out that she had a legitimate complaint because the mask was leaking both around the eyes as well as the mouthpiece.
So I was always finding myself spitting out sea water periodically while also needing to remove the snorkel mask to expel the seawater before putting it back on. Very annoying!
Anyways, this experience on the reef at least allowed us to see a moray eel as well as lots of fish and coral.
Indeed, this was an impressive snorkeling experience, and it kind of rivaled what we saw at the Great Barrier Reef except the GBR still took the cake when it came to the diversity of sea life.
Nevertheless, Julie and I figured that Tahia would love this experience, and it probably further planted the seeds for us to take her there during the Dry Season in the near future.
By about 11am, we were back in the room. While the snorkeling was satisfying, we didn't get to see any of the elusive sea turtles.
So after getting rinsed and getting dressed, we then got into the car, and proceeded to drive back to Jane's Beach Fales to change out the defective snorkel mask.
When we got there, the guy was generous enough to give us two different snorkel masks just in case one of the ones he handed me was defective.
In the mean time, Julie and I were enjoying the photographic experience of the white sand beach fronting the turquoise colors of the water just outside this fale. Although the waters were a little choppy here, it was still a feast for the eyes to try to capture it.
By about 11:30am, we were back in the car and proceeded to drive to the Saleaula Lava Fields, which was just a few minutes drive east of Le Lagoto.
We promptly got there at about 11:45am, paid the 10T total, got a little bit of a broken English explanation of the eruption and a couple of the ruins from the lavaflow (basically the missionary church and the Virgin's Grave), before going off on our way in the stifling heat.
At first we followed a path that then went to a junction near the ruined church. We followed the sign to the Virgin's Grave, which then took us over some mounds of lava flow leading to a hole in the ground with some stuff growing out of it.
That hole was the Virgin's Grave, and it was believed that the lava flow spared the grave by whatever divine intervention.
It seemed like there was always a story like this whenever there was a lavaflow incident involved, and the last time we saw something like this was the Sister's Cafe in Kirkjubaejarklaustur, Iceland.
After having our fill of the Virgin's Grave, we then walked back towards the missionary church, where we then proceeded to check out its front side before continuing over a lava field towards a viewing platform right by a lagoon.
It appeared that whatever trail that was once here to go 900m to the lava cliffs was no longer visible and likely overgrown since it was deemed too dangerous. That was the first time I saw a closure due to public safety concerns in Samoa on this trip! So it must be a pretty legitimate concern.
Anyways, there were some kind of pink clouds in the distance though we weren't sure what was causing that.
There was also some fish in the water around the dock.
And just as the other couple that was here was done viewing this spot, Julie and I got to spend some time alone here while basking in the momentary breeze that at least provided temporary relief from the stifling humidity and heat.
After having our fill of this spot, we then walked back across the lava fields and then through the ruined church, where the lava seemed to have flowed fairly high into the church itself.
By about 12:30pm, we got back to the car and then we returned to Le Lagoto for a lunch.
Our lunch consisted of NZ steak and eggs, taro and luau, a coconut-infused rice bowl, and a tasty chicken curry.
We also enjoyed a coconut (niu) as well as a cold water to wash it all down.
We avoided fish on this meal since both of us seemed to be struggling with the food poisoning aftermath (me with badfish while Julie suspected bad raw veggies).
She was actually struggling with maintaining her appetite so I wound up eating the lion's share of our rather substantial lunch.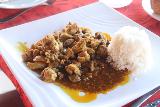 Meanwhile, we also chatted with the soft-spoken server as we learned about some of the locals' behavior when it came to trying to shake tourists for money (even he and his driver get approached to be shaken), and his solution was simply to be upfront with the prices and post them on signboards.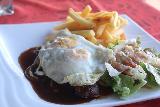 I guess the telltale sign of being shaken was whether there was no signage around declaring what the prices would be for simply stopping to take a picture, and then prices get made up as you go.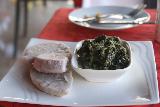 Julie and I experienced something like this near the Lalomanu Beach on 'Upolu Island a few days ago, and it wasn't exactly a pleasant experience. While we would gladly pay to go onto private land, we're probably with other tourists who might have had a bad taste in their mouths when prices are made up on the spot and they do feel like they were shaken for money.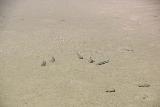 Come to think of it, while Fuipisia Falls could have been under that category, at least their pricey 20T price remained consistent since I last saw the reviews. Perhaps they, too, need a signboard to let the tourists decide whether they want to pay the premium to see the pair of waterfalls there or not.
While we thought 20T might have been fair considering we can divide by 2.5 to get the equivalent USD amount, compared to everything else we paid, which was between 5T and 10T per adult, I guess 20T per adult did seem kind of steep.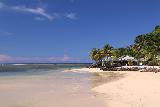 And in Savai'i, we had read that similar prices (even higher in some cases like 30T) were prevalent. And perhaps this might be a reason why Savai'i wasn't as popular nor as well-visited as 'Upolu Island.
Regardless, the server gave us some ideas to at least check out the Tree Canopy Walk on the far northwest side of the island. I also saw that our LP map said something about sea arches a little further south of there that perhaps we might be able to check out (though we were well aware that no matter where we would stop, there was always a chance of getting shaken).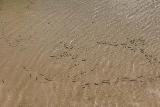 We also chatted with him about his family and what American Samoa might be like considering we told him that we were from the US. I guess we learned from him that it might not be the greatest of experiences there because every time he has gone there to see relatives, he can't stand the smell of the fish from the two canneries there (one of them being Starkist).
While it drew laughs, this was the kind of local knowledge that you simply can't reproduce in the guidebooks.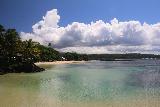 We also learned that he had relatives in Auckland, and it was kind of interesting to see how he embraced the nightlife there, especially at the Sky City, where there were views and gambling.
It wasn't the first time a Samoan told us of how nice Auckland was (I think Tess was the other though she also liked Macau), and I suspected that people tend to embrace experiences that would be different to their typical lives.
So in Samoa, the slow pace of life begs for a change to something faster paced. We tended to go in the opposite direction since we've had the city life and now we were seeking to escape the city life for a brief moment before returning to it.
By about 2:30pm, we finally left the lunch and twenty minutes later, we proceeded to drive west to at least explore what the rest of Savai'i might be like.
I had a feeling that we wouldn't have enough time drive all the way around the island, we could at least go to the northwestern part of the island.
All I know was that it was 50/50 whether we were going to stop anywhere, and perhaps we might see the sea arches that LP mentioned was there on the map (but not in the text).
And so we proceeded to drive off and it turned out to be a pretty long drive.
There were some pockets of rain on the northern side of the island, but when we got past a sign that said "Welcome to American Samoa" near the tree canopy turnoff, we then headed south in search of the sea arches.
But that was when the rain got even more intense as clearly the thunderstorms were pelting this side of the island.
From what we could tell, there was no signage saying anything about sea arches, and we didn't see any of them by the road (though we did see some locals standing on lava rocks against the turbulent seas perhaps fishing or something).
But we knew that we couldn't stop without getting shaken since there was no signage here. And so we turned around at 4:05pm and headed towards the tree canopy walk.
When we finally got to the car park for the tree canopy walk at 4:25pm, Julie was getting the chills, and we decided that we weren't going to do the excursion, especially since we might not be back at our resort until 5:30pm at least, and I still wanted to fit in one more snorkel before we had to return the equipment first thing tomorrow.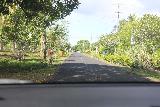 LP also mentioned that it was like 20T per person to do this excursion, and it was threatening rain so we ultimately turned around and headed straight back to Le Lagoto.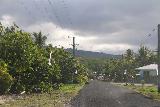 In hindsight, this was kind of a fruitless long drive, but at least we got to see what it was like on this part of the island. I guess that left the western shores of Savai'i, but I'd imagine it was something similar.
Eventually at 5:40pm, we were back at Le Lagoto. We spent some time to buy an hour of WiFi so we could Facetime Tahia.
She was missing us, but we kept showing her the scenery outside our resort. Tahia's solution to everything was always to draw pictures, and she drew a "gift" for us of some kind of roses in a vase.
Towards the end of the call, I got out the snorkel gear and proceeded to head into the water. Down at the docks, there was a group of Aussies from Queensland chilling out down there. One lady there told me that some kayakers from yesterday right around this time saw sea turtles towards the lone white stick left (the locals removed the rest of the sticks so they could get repainted).
So I went into the water and immediately headed over there. I used the black snorkel mask that I knew was good and the experience already was way better than what I had to deal with earlier on.
Anyways, as I was quickly making my way out, I was starting to get a little discouraged that I didn't see any sea turtles to this point as I was gravitating further to the east. So then I stopped to turn around and see what was around me, and that was when I noticed some kind of rock-looking thing attached to some coral.
When I swam for a closer look I started to notice that it had legs, and sure enough, it was indeed a sea turtle where its head was buried in the coral as it was trying to pluck something.
Bingo! I finally got my sea turtle sighting!
And since I was finally using the functional snorkel mask (since Julie didn't go back in the water), I could stay with this turtle without trying to rid the mask of water that would leak in.
When the sea turtle was done doing its thing, it then started to swim off. I pursued it as I was trying to take as many videos and shots as I could of it, and at some point, it led me to another sea turtle doing its thing digging into the coral to get at something.
So I found myself now following this second sea turtle though it kept going west and when it got past the boundaries of the resort, that was when I knew that I should just head back.
By about 7:05pm, I was back in the room where Julie was fighting the chills as she was in bed trying to nap.
With the sun setting, I knew that we had to at least have a dinner before trying to sleep off whatever bugs we had.
Even though I had held down my last four meals, I still wasn't totally out of the clear yet though I was game to at least try their dessert (they had chocolate cake with ice cream last night).
When we finally got to the dinner, we wound up having a dinner of grilled tuna steak (it was actually seared, which was dicey as far as our food bugs were concerned) as well as lobster tail. We weren't having the organic rib-eye steak though I wondered if in hindsight that would have been better.
In this dinner, they ran out of niu, and it took 20 minutes for our sticky date pudding to come out (they didn't have the chocolate cake with ice cream), but that was my test dish. Julie headed back earlier to try to sleep off the chills.
By about 9pm, I joined her back in the room. Our last calm dinner had that stomach bug looming over us so Julie didn't have an appetite. We were worried that her birthday tomorrow would see similar symptoms, and I guess it just wasn't meant to be as far as the culinary splurge that we were looking forward to.
Anyways, we were boxed in at the car park so we were concerned that we might not be able to return the snorkel gear and get out of the resort in time for the ferry, but that was a concern for tomorrow. For now, we were just focused on fighting off whatever parasites we might have contracted over the past few days…
Day 8 (November 17, 2019 – Apia, Upolu, Samoa): "Sunday Best"
We woke up to our 6:15am alarm, where it was still dark outside.
My stomach wasn't feeling that great so I guess the test of having the sticky date pudding last night had failed miserably as I had apparently revived whatever parasite was inside me given the sugar content.
By 7:30am, I had diarrhea'd twice so my stomach was back to feeling as crappy as it did when we ferried to Savai'i two days ago. However, at least I didn't have to contend with the toxic burp as I had avoided raw fish in the past couple of days.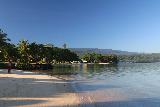 It took some time before we got our belogings together, and then we left for breakfast a little after 7:40am.
There was still someone parked behind our car, which was not good news in terms of us getting out of Le Lagoto in a timely manner, but we let the reception know and in the mean time, we had breakfast.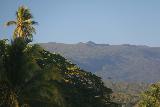 This time around, the included breakfast consisted of a veggie omelette as well as some fruits, which consisted of papaya, whole mango, and some hard coconuts. There were no pineapples this time around.
We saw the soft-spoken waiter again (this time we learned his name was Seti), and he pointed out that today was very fine weather, where there was hardly any clouds in the sky!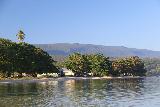 In fact, when we walked out towards the beach by Le Lagoto, we could see that the summit of Mt Matavanu could be seen for the first time since we got to Savai'i.
I'm sure the views would have been better over by the Savai'i Lagoon Resort, where their barefoot bar seemed to have an elevated view towards the shield volcano without as many trees blocking the view.
Nevertheless, we had a satisfying brekkie, then we settled the bill. By the time we made one last visit to the toilet (both of us had diarrhea), the car behind us had moved, and we could finally get going by about 8:35am.
First order of business was to drive back towards Jane's Beach Fales to return the snorkel gear. It was interesting to see everyone on the streets dressed in their Sunday best as they were about to congregate in their local churches.
This was the Sunday services that we had read about prior to coming here, but it was quite interesting to see this in action as all those churches that seemed to be closed or dead throughout our week in Samoa all came alive.
Anyways, we happened to catch the activity guy just before he was about to go across the street to go to church. We left him the snorkel gear, and then he proceeded to go across the street to meet with some other guys congregated there.
With this order of business out of the way, we then drove back south along Savai'i's eastern shore where the bright sun really brought out the turquoise colors of the water just off the coast.
As much as I wanted to stop to take photos, we had a ferry to catch, and we still had a pretty solid hour or so of driving to get all the way to the wharf at Salelologa.
We continued to see more people dressed in white, which looked really good on a lot of the Samoans as we had never seen them dressed this way throughout our week in the country.
Even the women were dressed in long dresses that seemed tight-fitting in some instances, which really seemed like the kind of outfit you wouldn't want to wear with such heat and humidity prevalent at this time of year.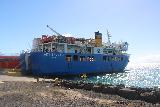 In any case, we finally made it to the ferry terminal at around 9:55am, where the person at the gate asked for 95 Tala for the vehicle ticket. I thought it was strange that it wasn't 107 Tala like it was on the way to Savai'i.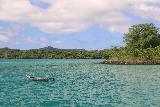 Regardless, we waited for our turn to get onto the ferry itself, and that didn't happen until about 10:25am.
Unfortunately, the guy collecting the tickets wanted to see a purple adult ticket, which we never got from the guy at the gate. So eventually we just paid the 12 Tala on the spot but we had to break of 100 Tala as we didn't have exact change.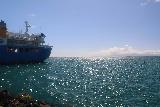 That said, shortly after parking the car within the ferry, a man approached Julie with the 88 Tala in change.
And with that, we locked the car and went upstairs to sit in the air-conditioned room as we awaited the ferry to take off for 'Upolu.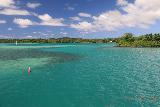 I had to visit the toilet one more time as my stomach was churning once again, but this time, I picked a toilet that actually had a proper toilet seat.
It was not a good feeling to have my stomach in this shape again, and it really felt like Julie and I were surviving our trip to Samoa as opposed to other trips where we didn't want to leave paradise.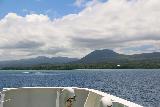 After napping and watching some ABC shows on the TV within the ferry, we eentually got back in the car at 12:05pm, and then we proceeded to drive the road towards Apia.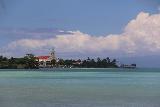 At around 12:40pm, we made a quick water stop at a local mom and pop shop. And five minutes later, we stopped by the Farmer Joe Supermarket, where we bought taro chips except it was made with vegetable oil, which was inflammatory.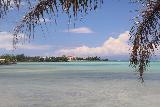 By 12:55pm, we continued on our way to Apia, where by about 1:20pm, we arrived back at the Nourish Cafe once again.
This time, we got a Nasi Goreng as well as a chicken curry. We also got a breadfruit nacho with guacamole and mango salsa.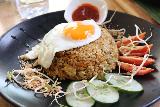 We avoided the uncooked stuff as well as the beans, and this meal was just what we needed to help heal our ailing guts.
After the lunch (which closed early at 2pm), we then returned to the car at 2:30pm but this time we didn't bother re-visiting the Immaculate Conception Cathedral.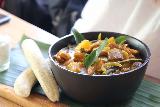 We also knew that the visitor center across the street was closed so we didn't bother going back there either, but we did have plans to come back first thing tomorrow morning for the Samoan Cultural Demonstration.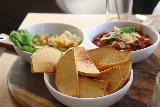 By about 2:40pm, we drove onto the Taumesina Island Resort, which was on its own little island just attached from the outskirts of Apia.
And by 2:55pm, we got settled in our room, which was modern and fancy unlike the traditional bungalow-style rooms that we had been accustomed to earlier on in this trip.
With my stomach still unsettled, I had to use the toilet one last time though it wasn't as bad a diarrhea as I had thought. Perhaps what we were eating was working.
After chilling out in the room for a bit, we finally explored the property at around 4:15pm. We basically walked through the reception, checked out the dinner menu at the resort, and then walked past the pool towards the beach where the winds were blowing hard from the northeast.
What was strange was that the clouds seemed to be growing as the afternoon wore on, but the strong winds actually reduced the stifling humidity that otherwise would have prevailed without these winds.
Anyways, the winds made the water choppy although it was colorful. So we took some photos, and then walked back towards the reception area where we looked at the dinner menu some more while also getting a couple of coconuts.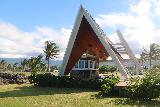 The person at the bar was nice enough to get us the kinds of coconuts that had the softer meats within as apparently you can tell (or get a preview) of whether the coconut meat inside was scoopable or not.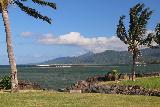 Although the niu costed $10 Tala each (which was double the price of what we had been paying everywhere else), at least the bartender cut up the coconuts such that it was easier to get at the coconut meat after drinking up the juice.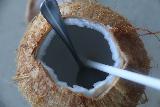 Ah, this was the electrolytes replenishment that we needed!
When all was said and done, we then briefly checked out the gift shop where we chatted with the young lady working in there who was surprised that we could speak fluent English.
I guess she was used to Chinese visitors that spoke limited English as apparently they get lots of Chinese visitors to this hotel for conferences and such (something that wasn't lost on us as we saw numerous Chinese people at this hotel).
By about 5:40pm, I was back at our room, where I thought my stomach was churning, but it turned out there was nothing coming out of the wrong end. As uncomfortable as I felt, maybe my gut was improving once again?
We lingered around the room for another hour or so before around 7pm when we headed back downstairs to get a dinner at the resort's restaurant.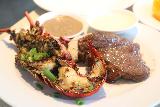 To our surprise when we got down there and seated, they had a special steak and lobster dinner that only costed 65 Tala. We didn't have to bother with overpaying for a two-course or three-course menu that included raw fish that we couldn't eat.
So we bought and split the steak and lobster dinner, where the steak was finally cooked properly as medium rare.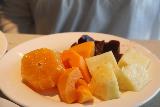 Julie also got some unlimited sides, which included beets, oranges, papaya, and pineapple (though a bit sour).
We also added on some steamed veggies which took quite a bit of time to show up, but when it finally did, we ate that up too.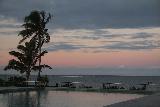 This was probably the healthiest meal that we had on this entire trip, and sure we didn't get to properly celebrate Julie's birthday with a birthday cake and song, but given how our guts were feeling, we didn't need to feed our parasites with more infusion of refined sugars.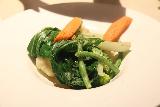 By 8:25pm, we finally made it back to the room, where we ultimately wound down the day, tried to wrap up our packing, and eventually get cleaned up and to bed for our final night in Samoa.
Tomorrow, we actually had some planned activities in the morning, but we knew that we had to get to the airport by around 2pm for our 5pm flight to Nadi before connecting to Los Angeles.
Given the heat and humidity of Samoa, we were probably going to sweat it out for our two flights to get home, but alas, sometimes you have to get uncomfortable in order to earn the remote places like this one where we got that low-key South Pacific experience to recharge our batteries and get back into the rat race…
Day 9 (November 18, 2019 – Los Angeles, California, USA): "Surviving Paradise"
It was about 7:30am when we awoke, which was about as slept in as we were going to get on this trip.
Julie complained that she got the chills again. She was already in a bad mood, and then she realized when she had the runs again, that we had run out of toilet paper.
So that meant that I had to run errands for her, and this had to happen NOW!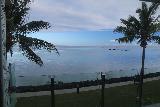 So by 7:40am, I asked for extra toilet paper for our room, and then I went into the car, where I immediately noticed that it was cloudy outside. Indeed, I sensed that it was likely to rain on this day.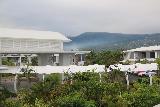 I promptly got into the car and drove out of the Taumeasina Island Resort, and when I got to the main road, I saw straight away that there were quite a few vehicles on the road at this time.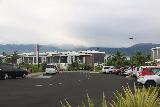 There was definitely something in the air today as I not only had to wait to get onto the main road due to rush hour traffic.
It was like for every song I heard on the radio, there were a couple announcements concerning government-ordered shut downs of the RLS Schools (including any exams that were to be missed and internally assessed otherwise).
There was also some kind of Fiji Airways announcement saying you must have proof of immunization against MMR in order to get into American Samoa.
Failure to do that meant that you'd be sent back on the arriving vessel, which actually already happened earlier in the week when a couple of infected Samoans showed up on a ferry.
Indeed, this measles outbreak that we were only made aware of a few days ago really was serious. Julie and I had been childhood immunized, but we still did what we could to avoid public places and tried to keep our hands away from any orifices.
After making a much-needed gas stop (where I paid 80 tala, which actually might have been too much money as I only had to return the car with 5/8 tank, but I was about 7/8 tank after this fill-up), I then went to the nearby Wilson Supermarket to pick up some water for Julie since we had also run out of it.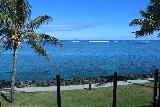 By 7:55am, I was back at the Taumeasina Island Resort, where the extra toilet paper I had asked for still hadn't showed up while I was away.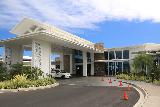 Not long after that, we went downstairs for our included breakfast, but given that both of our tummies were not in the greatest of shape, we tried to avoid inflammatory stuff as well as sugars as much as possible.
Probably compared to most of the guests, I'd bet that we had the healthiest and most sparse dishes at the brekkie buffet.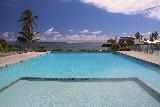 On our first helping, we had soup, bananas, and some veggie stir fry where we removed the gluten stuff (like the noodles).
Julie also picked up some cooked eggs as well as a veggie omelette from the omelette bar.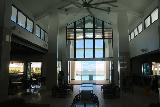 On my second helping, I cheated a little and got a banana bread with Nutella as well as some pineapple, watermelon, and papaya. It was probably a good thing that the Nutella didn't taste that great, and neither did the banana bread so I didn't cheat very much with those.
However, I did eat up the fruits though Julie wouldn't let me finish the orange.
By around 8:40am, I had returned to the room to do a little more brushing and flossing since it seemed like Julie wasn't packed.
Whatever hopes of hitting both the Robert Louis Stevenson (RLS) Museum and the Nourish Cafe before going to the airport, it seemed to be looking less and less likely given our late checkout and departure from the Taumeasina Island Resort.
Indeed, it wasn't until 11:15am when we had finally got back into the car after checking out of the resort, checking into our international flights with Fiji Airways, and loading up the car.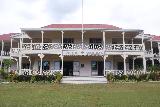 At around 11:30am, we showed up to the RLS Museum, which was actually in a pretty large estate higher up on the island of 'Upolu right off the Cross-Island Road.
There was a huge lawn area where we parked a little to the left of the big mansion, and then we promptly paid our 20 Tala per person to go right into the open door on the left side of the property.
We were led up some stairs and towards one of the bedrooms where a guide was leading a couple of Kiwis though we caught the tail end of the tour. So I wondered what else we had missed out on.
Of the part that we did visit, we saw a few bedrooms as well as the large dining room area. The kitchen was detached to reduce the risk of fire and accidents that would have affected the rest of the house.
When we went downstairs for the conclusion of their tour, we listened to the guide give a beautiful singing exhibition of a poem written about (or by?) Robert Louis Stevenson. We could tell from this song that this guy really did matter to Samoans.
After the conclusion of the tour, Julie and I did a little more self exploration of the RLS property back upstairs before concluding our tour. It seemed like there was another half of the house that we didn't get to see, and I wondered if we had missed out on that.
Nonetheless, just as we were about to leave, I noticed a sign board explaining that there was a walk to both the RLS Tomb as well as a waterfall.
Upon studying the map further, the guides asked if I wanted to do one of the walks. And so I asked about the waterfall.
They pointed the way behind them towards the far end of the RLS Museum, where there was a wide path leading right into the lush bush surrounded by tall fig trees (or were they banyan trees?).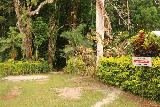 So after going back to the car to get my backpack so I could log the tracks on my handheld GPS, we then proceeded on the path.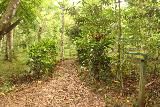 At first, the trail led to a junction where the path on the right led to the visitor center, the path on the left led to the RLS tomb, and the path straight ahead I presumed went to the waterfall since I could see that there was a ravine where I suspected the watercourse would be.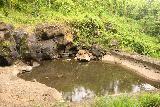 After a few minutes of walking, there was a path leading down towards the left side, which went to a trickling waterfall with a pool that appeared to have had some help.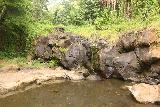 I wasn't sure if this was what the maps referred to as the RLS Pool or if this was the waterfall, but I presumed it was the pool because of the pool-like infrastructure around it.
Given that this waterfall was hardly flowing, I didn't have much hope for any other waterfall having any better flow, but I at least had to find out if there really was another waterfall to pursue.
So we then went further down the trail hoping to find the "waterfall" that was on the maps, but after another minute or so of following the trail, we wound up at a junction where it appeared to be the visitor center of some forestry department.
The path closest to the ravine where the stream would have continued looked like it went into a driveway.
We asked a couple of people walking in the opposite direction of us who looked like they worked here, and they actually pointed back in the direction of that pool we were at.
So after looking around a little more (and seeing a map sign confirming that there was both an RLS Pool and a waterfall), I started to go off trail towards the ravine towards at least where there was this rusted flume or "bridge".
At this point, Julie was protesting loudly that we are running out of time (to both go back to Nourish Cafe for lunch before going to the airport three hours before our 5pm departure), but I had to at least see whether that waterfall was there or not.
So when I scrambled down there (on somewhat spotty footing), I got to the "bridge" but I saw that there was nothing but a dry stream in either direction with no sign of a waterfall in sight.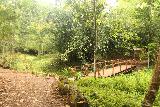 That was when I gave up the search downstream of the falls that we were at earlier, and I rejoined Julie on the trail all sweaty from this scramble along with the humidity and the stress of mosquitoes buzzing around me.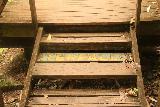 Finally, as we were near the ascent back up to the RLS Museum, I took a trail towards the RLS Tomb to pursue perhaps the RLS Pool (thinking that perhaps we had seen the "waterfal" but not the RLS Pool).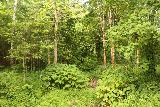 I wound up going towards a footbridge where the far side of the footpath on the bridge said "Waterfall" on it, but it was facing the wrong way. In any case, I didn't see anything signifying that there was a pool around this bridge.
And so only at that point, I went back to the path we took, and then we went back up to the lawn area fronting the RLS Museum.
I noticed that there was a guide and a couple on the upstairs balcony (an area that we didn't get to visit), and it seemed like there was a whole other half of the museum that we didn't get to see.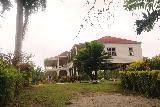 But by this time, Julie was insistent that we just go back to the car (maybe hoping that we could still go to Nourish before going to the airport), and thus we got back to the car at 12:45pm.
I kept thinking to myself how we managed to miss half of the RLS Museum, but at this point, the important thing was that we were now pursuing the airport as we ultimately decided to just skip the Nourish Cafe since we had already gone there twice before (but we never got to try out their coconut waffle or banana crepe thanks to our unsettled stomachs).
Anyways, we ultimately got back to the Faleolo Airport at 1:45pm, which was like a ghost town as there were hardly anyone there.
There was no one at the Avis Office and I wasn't quite clear on the signed instructions about what to do with the rental car. So I ringed Edward the Avis agent who helped me (since he gave me his cell phone number), and after a little bit of a conversation on the phone, I finally figured out what was meant by the "Upper Car Park".
It was still in the airport facility behind the entrance gate, but it didn't require a ticket to open the boom and payment to leave the lower car park. Instead, it was just free parking up there.
He also instructed me to leave the keys inside the car, which I thought was a strange request, but they must have a spare key to open the car. I also told him the reg-o number of the car so he could identify it and give back the deposit after final inspections.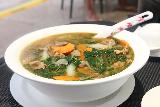 So with that, we checked in our bags at about 2:05pm, and then we had some time to kill so we had ourselves a soup lunch though it was a next-level-sized portion of soup with beef and veggies as well as a bowl of rice.
With our unsettled stomachs, it was just what we needed, and it only costed 20 Tala for the whole thing that was more than enough food for both Julie and I.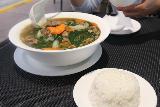 With our BlueSky sim card still working, we thought about our 3.5-hour layover and checked if the Nadi Airport supported a VIP lounge for our Priority Pass, and it turned out they did! So we looked forward to exercising this.
After filling up on that and drinking up the rest of our water (as well as watering the plants with what we couldn't finish), we then waited for at the departure lounge for our flight at about 3:35pm.
Our plane hadn't landed yet, which was a bad sign, but it eventually showed up at almost 4pm, and it was at Gate 3 instead of Gate 2. Julie asked about the boarding situation, and a clerk said they were boarding at Gate 3 despite the monitors indicating Gate 2.
It was strange that we were the only ones at Gate 3, but we waited there all alone and eventually we were one of the first to board.
It turned out to be a surprisingly empty flight, and so the boarding happened swiftly, and it turned out that we departed on time at around 5pm, and we landed at the Nadi Airport at a little before 6pm.
After getting through another security line, we then got into the Fiji Airways lounge, and we proceeded to get into spacious and comfortable lounge area.
When Julie checked out the foods, it turned out that they had a tasty chicken satay, basmati rice, lots of fresh fruits, some desserts, taro chips, and breads with all sorts of spreads and toppings.
With the whole Chase Sapphire Reserve and the Priority Pass that came with it, I guess we realized that we really were underutilizing these VIP Lounges. We probably could have used it on our last trip at the Stockholm Arlanda Airport, but failed to do so.
Well, at least in Nadi, we didn't whiff on this though we did miss out on it on the 7-hour layover on the way to Samoa.
We really have to remember to check on the VIP Lounges on all future trips for as long as we're Sapphire Reserve members with that Priority Pass!
And with that, we comfortably waited for our evening departure home while also enjoying the foods provided at this lounge. At least we didn't have to spend more money on the curry offered at the bakery at the more public lounge…
By around 8:45pm, we went over to the departure gate for the LAX flight, which we were certain would be way more full than the flight we took from Samoa to get to Nadi, Fiji.
Sure enough, we boarded the plane and by about 10pm, the flight finally took off for home.
While the seats were just as uncomfortable as on the way here, Julie and I did manage to catch a very limited amount of shut-eye, while we watched some movies that helped to pass some of the time like the movie about Enzo the Dog, Stuber, and a controversial Bollywood movie that was very beautiful but we didn't get to finish it since it was long and we de-planed before it ended.
Indeed, we landed and got through the passport control with the Global Priority Pass, which got us to the baggage carousel by about 11:40am, but it wasn't until much later did we finally get all our luggages and could call the airport shuttle to take us to where we parked the car.
I always hated this part of coming home since we are so backwards when it comes to getting to and from the airport, which is needlessly costly, time-consuming, and complicated, but when it comes to bending to the will of lobbies, that is what you get (like in most of America).
We finally got onto our shuttle at about 12:30pm, and it wasn't until about 12:55pm when we finally got our car and drove home. Indeed, it seemed like the driver took slower routes all the way through, especially since Sepulveda was jammed, but I guess he stuck to his usual routes.
By about 1:25pm, we finally made it back home. Even though Julie wanted to have lunch somewhere on the west side, I wasn't having any of it knowing that there was bound to be rush hour traffic which would prolong the misery of driving in LA just to get home from the airport.
And with that, the trip was over, but now the return to the rat race as well as the work coming from all this new content from this trip will begin…
Visitor Comments:
Got something you'd like to share or say to keep the conversation going? Feel free to leave a comment below...
No users have replied to the content on this page