GETTING TO NAKAVIKA
After getting our first night's rest in Fiji, we got up and ready for our Day on the Luva tour from the company Rivers Fiji. The shuttle would pick us up by 7:15am and we would join the rest of the people on the tour in their office at Pacific Harbour.
The Day on the Luva tour was basically an all day adventure that begins with a drive up into the Namosi Highlands while visiting a Fijian village. Then, we would go onto our own inflatable kayaks and run our way down the upper parts of the Luva Gorge. Then, we would catch a motorized boat that would return us to an awaiting shuttle, which in turn would take us back to the Rivers Fiji office. Then, we would finally be returned to our accommodation.
So with a full day to look forward to, we caught our shuttle and promptly made it to the Rivers Fiji office in Pacific Harbour. There, we met the manager of Rivers Fiji who was actually a guy from California. While we were there, we picked up dry bags to ensure some clothes and camera gear would stay dry.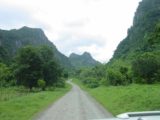 At 9am, we boarded the open-air truck and headed up into the Namosi Highlands. The road we took headed north from the township of Navua. The road got worse as we headed higher up into the mountains. There was even a couple of moments where other Fijian villagers hopped on the truck to catch a ride. One group especially needed a life because their own pick up truck broke down.
Eventually, we would reach the village of Nakavika at 12pm. At that point, we got off the truck and followed our guide (named Andre) into the village. We were supposed to meet the chief of the village who happened to be his father.