NAKAVIKA AND THE CEREMONY WITH THE CHIEF
As we walked through the village, there were lots of people saying "Bula!" to us and we did likewise. Some kids even wanted their photos taken and so I happily obliged.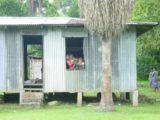 The houses here were about as basic as can be. From what we could tell there was no running water. Their water source was basically the river. Clearly these folks lived a simple life, but they all seemed jovial as it appeared there was going to be some big celebration going on. We could tell because there was this skinned pig (it looked inside-out and not particularly appetizing at the moment) sitting behind the open-air hut where the chief and some villagers sat.
Andre told us that many of the Fijians are off between Christmas and New Years so they leave the coastal townships and cities for their native inland villages. Then, they celebrate.
He then went on to tell us that we were about to celebrate our arrival and meet the chief.
And so after we shook everybody's hands, we went through a little ceremony that was composed mostly of Fijian sayings. Andre told us that we were primarily asking to be accepted by the chief and the chief would eventually accept and bless us.
Next, the attention was focused on this giant bowl full of this cloudy brown water. One of the Fijians was dipping into it some cloth that was holding something before squeezing the water out.
Andre told us that we were about to drink this stuff, which was part of the Fijian way of celebrating. We would be asked, "High Tide? Or Low Tide?" which dictated the size of the coconut bowl we'd be drinking out of. Of course, there was the third option called the "Tsunami," which was a huge intimidating bowl for those brave enough.
And so this part of the procession began. At first, a couple from Orange Count, California got their turns. The Fijians would clap once before you drank and clap again afterwards. It looked like we had to clap in kind after each of their claps.
Finally, it was my turn.
"High Tide? Or Low Tide?" asked Andre.
"High Tide," said I.
A few Fijians onlookers then gave a clap from the bottom of their curved palms as I was presented the coconut bowl full of this cloudy brown liquid. I clapped in kind before receiving it.
For some reason, I kept thinking about dirty dishes when I laid my eyes on the liquid before me. But my sense of curiosity was every bit as strong as strong as well. Besides, everyone was looking at me and I couldn't let them down. So finally I just said the heck with it, put my lips to coconut bowl, and quickly gulped the kava.
Another round of claps. Then, I clapped.
Soon I started the effects of the liquid started sinking in. It tasted like Sensodyne toothpaste, but it went down surprisingly easy. Then, my tongue and throat felt fuzzy. My mind felt fine though. It was quite different from my expectations of taking a shot of hard liquor or gulping down beer quickly.
"This was some strange stuff," I thought to myself.
Next, it was Julie's turn.
I was a little concerned about whether she'd try this stuff or not. But she was game and got herself a "Low Tide" dose of the kava.
When everyone got their dose of kava, Andre went ahead and had himself one. Another Fijian named Lino, who accompanied us on the way here, drank out of a "Tsunami" bowl.
Then, we had another round of kava. I had my high tide. Then it was Julie's turn again.
Julie had this uncomfortable look of apprehension. I knew she must've thought she had enough of this stuff already. She even said out "Very Low Tide" before she was even asked the question.
But she downed the kava once again and all was clear after that – or so she thought.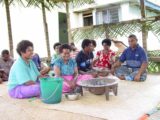 When the ceremony was over, we shook hands with everyone again and left the open-air hut. As we proceeded to walk back towards the shuttle truck, we were stopped by a house full of villagers who were having a kava ceremony of their own. Andre couldn't say no to them and so we joined in for another round of kava.
I had another high tide, and Julie reluctantly had another low tide. At this point I started growing concerned about how she'd react to all this kava. I was worried we might be kayaking with the kava buzz or something.
Anyways, when we had our round of kava, we shook everyone's hands and continued on our way out of the village.
Then, we were stopped once again by another house full of Fijian villagers. And yes, they were preparing more kava.
And so we joined these friendly folks for yet another round of kava. I had another high tide and then came Julie's turn.
"No more," she said with her hands up.
But the bowl was handed to her anyways. Julie, being a good sport about it, drank another low tide bowl full of kava. I wasn't sure if even I could handle another round of kava after this. Even Andre was concerned that we might not be in any shape to paddle our kayaks.
But mercifully, we made it to the truck without any more kava stops. We soon headed back down the road and were about to go onto the kayaking phase of our day long tour.