ON THE RIVER
The truck would eventually stop at some part of the road where the river was nowhere in sight. The deal here was that we had to carry our paddling sticks down a trail that ultimately led down to the river. The rest of the kayaks and dry bags had already been carried down by helpers.
Before going down however, one of the folks on tour realized there probably wouldn't be toilets along the river. So she asked Andre, "How do we go to the toilet if we have to go?"
Andre smiled and said, "Well, the solution to pollution is dilution." And with that, we all busted out laughing, but in all seriousness, when you gotta go, you gotta go.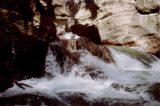 It was 2pm when we finally arrived at the river. I got to go on my own kayak, but since Julie couldn't swim, she got to ride with the guide Andre paddling. We initially had a few minutes to practice moving around in the kayak in the calm river. Then, we got some time to go upstream and explore a little waterfall barrier.
Afterwards, we headed back downstream and down the first set of rapids. There were anxious moments as this was the first time I had ever been on white water, but we all made it through without incident.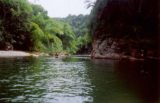 We would eventually go down a few more whitewater sections before we got to a rocky area where we had lunch that was part of the Rivers Fiji tour.
The lunch was mostly sandwiches with various toppings that could be packed in coolers. We had refreshingly cold lemonade for drinks. The food was quite filling but the mosquitoes wouldn't leave us alone.
Some of the folks on the tour joined Andre in a climb up to a cliff opposite the lunch area. They then proceeded to jump off about 20 to 30ft into the deep pool below.
We all continued to paddle down the river at 2:30pm.
After going through a few more rapids, we all landed in another rocky shore. This time, there was trail that left from the shores. So as we docked our kayaks and made sure it wouldn't float down the river without us, the group started walking on the trail. I lagged behind as I was busy getting my camera out of the dry bag.
Lino stayed behind waiting for me. As I was about to start walking on the trail, both of us heard a loud crack. Suddenly, a few rocks were plunging off the cliff opposite the river. The rocks made a few harmless splashes, but that was an instant reminder that we were indeed in nature and you never know when these things happen. I shuddered to think about if we were still paddling under that side of the cliff.
Lino and I gave each other a surprised look before we both followed the rest of the group along the trail.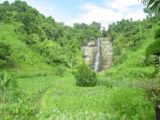 As we got climbed the initial embankment, we could see a very tall waterfall in the distance. Clearly, this was the Wainuta Falls that I had read about prior to the trip. And it was every bit as advertised.
The closer we got to the falls, the larger the falls loomed. We would eventually get to the base of the falls where some of the folks went for another swim. Julie and I marveled at this very scenic waterfall as it was easily the prettiest one we had seen so far.
At 3:30pm, we returned to our kayaks and paddled down a few more rapids. In one instance, I almost tipped over as I got stuck on a rock, but the inflatable kayaks were so buoyant that it even overcame my clutziness.
Finally at 4:15pm, we made it to a large river delta. We paddled over to another shore where a larger river boat was waiting. It was here that our kayaking was over and we had to deflate the kayaks. When we got on the river boat, they handed out sodas for everyone.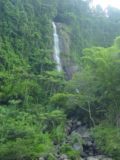 The river boat took us through the rest of the Luva Gorge (on the Navua River by now) and we got to see a few waterfalls along the way. Most of them weren't extraordinary, but they were interesting eye candy nonetheless. Some of the folks on tour heard that we hunt for waterfalls. So they helped point some of them out to us.
There were still a few more villages we could see along the river. In one of these villages, a pair of Fijian women hopped on the boat and caught a ride with us.
Eventually at 5:15pm, the boat docked and we reboarded the awaiting truck shuttle. During the drive back, Julie and I were talking to Lino about what places were good to eat in Fiji. We expressed interest in trying something that was authentically Fijian like the lovo feast, but he told us that such an activity was normally by invitation and required lots of time to prepare. So with a lovo feast out of the question, we asked where else we could eat.
"Villisite's," he said. "It's very close to your resort."
And with that, we returned to the Rivers Fiji office in Pacific Harbour by 6:15pm.
While there, we awaited our final shuttle to take us back to the resort. In the mean time, both Andre and the Californian Rivers Fiji manager were opening up some coconuts that we picked up off the ground.
When our shuttle finally arrived, I already got into the mood to try out some Fijian expressions and told the Rivers Fiji folks, "Vinaka" and "Moce."
The Californian guy told us, "Moce mada."
When Julie and I returned to the resort, it was almost dinner time. We got cleaned up and ready to go out for dinner. I think Julie had such a good time on the Luva tour that she had even forgotten about her swollen arm, which started acting up on Day 1 (yesterday).
Since we were disappointed with last night's dinner at the resort, we got into the car and took Lino's advice. We headed to Villisite's.
After about 15 minutes of driving in the twilight, we arrived at the restaurant. After a warm welcoming greeting, we were escorted to an open-air eating area that overlooked the ocean. It was dark, but we could still make out some of the shapes of the clouds and the horizon as the sun continued to set further below.
We ended up having a tasty meal of prawns and curries. The dishes were more simple yet much better than the Hideaway Resort food we had yesterday, we thought.
And when we were done with our dinner, we were given a warm good-bye. One of them Fijian ladies told me how to say "Thank you very much," which was "Vinaka vakalevu."
So with that, I said to them, "Vinaka vakalevu" and then "Moce mada" to try to utilize the new expression that the Californian manager at Rivers Fiji taught me.
And so ended a very memorable day that had it all – Fijian hospitality, good food, kava, kayaking, waterfalls, and even good weather. From now on, both Julie and I would start with this day when it came to remembering the good times in Fiji.