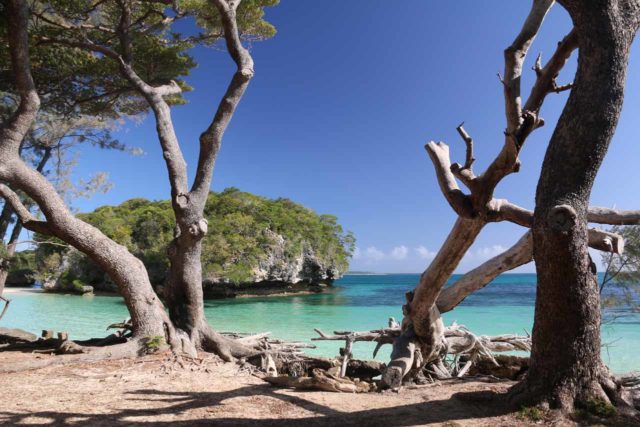 23-November 2015 to 2-December 2015:
Eventually towards the end of the performance, they brought me up once again. But instead of a seemingly benign short dance routine like before, it seemed like they were doing something else with me. First, one of the ladies had me put my arms all the way up, then she was waving her arms beneath my armpits in a slow and sensual manner. I was wondering what Julie was thinking as this was happening.
Then, the same lady pulled off my shirt while another one of the dancing ladies put a grass skirt on me. Then, perhaps the most attractive of the dancers went up behind me and put on these coconut-shell bras. Very embarrassing, especially since I knew that Julie would now have blackmail material against me at her will…
Days 0-2 (November 23-25, 2015 – Hienghene, New Caledonia): "Very Long Haul Transiting"
When Julie and I arrived past the security at around 7pm, that was when I realized that I had somehow forgotten my notepad and pen, which I always bring along on every trip to take notes. I guess with all the chaos of tending to Tahia's virus (she was running a 103F fever on two of the last three days), I must have forgotten about a lot of the little things like that. So we wound up spending some $6.50 for a last-minute notepad, which was a painfully expensive lesson on what happens when you don't bring what you need on your trip. Even for a moment, I thought I had forgotten to bring our adapter plugs (including my emergency Brookstone one), but it turned out that I had put it in a different spot in the laptop bag instead of the day pack, which I had switched out for this trip.
Anyways, we were back at the posh Tom Bradley terminal, which we knew was very nice from our Spain and Morocco trip back in May and June this year. But now, it looked like there were more restaurants that we remembered. Still, we had some time to kill, and we opted to go for the Umami Burger place, which featured this $15 truffle burger. Julie also got some kind of rotisserie chicken with cold curried cauliflower from some kind of tavern just a few kiosks over from Umami, which was all organic.
Once we were done with the food (overhearing lots of Australian and Kiwi accents around us so we wondered if they were taking the same flight as we were to Auckland), we then went upstairs for the first time and checked out the bars at the mezzanine. There, I saw that they were showing the Bills versus Patriots Monday Night Football game, which we happened to catch when it was tied 10-10 and the Pats had just scored to go up 17-10. Julie and I also went up to the 6th floor (another floor above the mezzanine), where it appeared that the lounges for those with priority status from various airlines could chill out at.
Anyways, with a couple of hours to kill before our 9:45pm flight to Auckland, I was being entertained watching the football game. With a lot of Aussies sitting around the bar also checking out the game, I wondered how strange they must think of this game considering they're more into rugby or Aussies-rules Footie. So all the sports entertainment pretty much persisted right up until it was time to board the Air New Zealand flight. There were more TV screens showing the game at some bar right across our gate for our flight so I wasn't missing a thing.
Once we finally boarded the plane at 9:30pm, Julie and I were busy getting comfortable. Both of us were pretty tired, and it would turn out that we would spend the majority of the flight sleeping despite how uncomfortable economy class seats tended to be. However, when we woke up, we did manage to sneak in a couple of movies before landing (like Spy and Magic Mike XXL).
We finally landed and ultimately got to the food court at the international transfers and terminal area at the Auckland International Airport at 8:15am. By now, it was Wednesday morning so we had lost a day to this point. And since we knew that we would have a very long drive ahead of us once we get to New Caledonia, Julie finally decided that we should have ourselves an early morning ramen breakfast even though we had already eaten dinner and breakfast on the plane.
Julie had also picked up some manuka honey jars, which weren't cheap at around 35 NZD. But she was coming down with a sore throat and she knew that the real manuka honey here was the only kind of honey recognized for medicinal properties. And once that was all done, we then boarded our 10:25am flight to Noumea, New Caledonia.
The flight was pretty uneventful as it took us about 3 hours to get from Auckland to Noumea, but it was only 11:25am when we finally were in the airport at Noumea (though I'd find out later that this airport was actually at least an hour's drive north of Noumea) thanks to the us having to jump back another two hours from Auckland time. During the flight, we were enjoying watching Mission Impossible Rogue Nation. However, we were stressing about whether they would make us toss our expensive jar of manuka honey since we saw in the customs form that we had to declare it.
Well, once we picked up our checked luggages, we got through the customs line and showed our jar. The lady working customs there said it was no problem and so we were relieved that Julie could still use that jar of the medicinal honey to fight off what seemed to be a pending cold or flu (thanks to Tahia probably passing it onto her).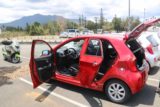 After exchanging some money then picking up the car rental at 11:50am, we then finally started driving off 15 minutes later after pointing out the scratches and getting our GPS set up. As we were leaving the airport and heading north, Julie noticed a "Simply" supermarket so we quickly made a stop there. It was a good thing we stopped when we did, because it appeared that the supermarket was going to close at 12:30pm for siesta.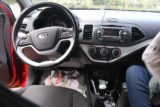 In order to meet the 1500 CFP minimum for credit cards, we went ahead and bought two extra large bottles of water. I hope we wouldn't have a leaching problem down the road with all this excess water and the warm weather causing the plastic to leach in the car.
Anyways, at 12:20pm, we were finally driving off for good. We knew from Julie's pre-trip research that it would be 5 hours of driving to get to Hienghene, which was where we were spending the night. The road surfaces were a bit rough, but they were fine for the tiny Kia Picanto stick shift that we were driving.
We noticed that the terrain around us seemed more like dry savannahs as there was a lot more brown and less green than we were accustomed to seeing in the South Pacific Islands. We had read that New Caledonia was one part of Gondwonaland (think Australia), which meant that it was one of the few islands to not be created directly by volcanoes. That alone made this place look and feel different.
We saw African-looking acacia-type trees looking like mushrooms as well as some pine trees juxtaposed with bamboo trees more towards the interior. Most of the time, the roads were dry, but we did see some pockets where the roads were wet from a passing rain or two. As we looked to the east, we could see there was persistent cloud cover so I'd imagine that while there wasn't that much rain out in the dry west, it must've been raining towards the east.
It wouldn't be until about 3pm when we'd finally made a gas stop at a Mobil near Kone. We still had 120km to get all the way to Hienghene so I knew that it would be around the neighborhood of 5pm or so when we'd finally get to our accommodation. There was a guy selling fresh lychees for 1500 CFP so we went ahead and got one bag.
When we finally drove off, Julie tried some of the local lychees and said they could've been sweeter (citing that she's had sweeter ones from the Ranch 99 back at home), but I guess we were supporting a local and the lychees were still sweet regardless.
As we were driving inland and crossing over towards the east coast of the main island of New Caledonia's North Province, the road was still quite twisty and steep. But we did make a couple of panoramic stops to break up the drive and let us get an initial taste of the forested scenery as well as the warm and humid weather.
As we continued driving further towards the east coast, we then headed north once we got to where the road went north-south. That was when we crossed what appeared to be a few scary-looking one-lane bridges looking like they were right on the ocean's elevation. We thought they could easily be washed out from high waves or flooding, and we hoped that we wouldn't be stranded tomorrow or the day after due to high waves or bad weather.
At 4:30pm, we got to another lookout and picnic spot, where it appeared that there was a nice view of a bay as well as some mountains in the distance along the shorelines. There was also a sign here with lots of graffiti on it. The sign was in French so I knew I couldn't translate quickly on the spot, but I took a photo of it so I could try to decipher it on my own time back at home. I did notice something about whales that could be spotted off the coast from this spot or something like that.
At 5:15pm, we had finally made it to the Koulnoue Village in Hienghene (sounds like "yieng-YEN"), which appeared to be the only accommodation in the immediate area. We saw quite a few gites (guesthouses) as well as local dives throughout the drive to get to this point, so I guess not too many tourists come out this way. The drive indeed felt far (it took 5 hours to get here like Google Maps had predicted), but I was already feeling the island vibe as strangers were waving at me and I would wave back.
Of course, our reason for coming here besides the rocks at Hienghene was also to check out Cascade de Tao and Cascade de Colnett among others. We weren't sure if they'd be flowing since we were in the tail end of Dry Season and the start of the Wet. But now that we're here, we knew that we'd have to target all those sights tomorrow.
But given how long it took to drive here, I hoped that we'd still have enough time to do those falls, the rocks, and Cascade de Ba before checking into Poindimie tomorrow. We'll see how all that plays out.
After checking into our room, which was far out in bungalow 3, we saw that the AC wasn't working all that well. At least they did have a tiny fridge to try to cool down our fruits and a select couple bottles of water. However, this was certainly no luxury spot compared to some of the other spots we'd been to in the South Pacific. Still, for all the independence New Caledonia had to offer, we looked forward to exercising that independence in the form of waterfalling starting tomorrow…
As we were getting cleaned up and checking out the premises, we saw a bright full moon rising towards the east above the open ocean. It appeared bright against the purple skies as the twilight was giving way to darkness, and for the weather to be clear enough to see this moon at this time, we were hoping that maybe the weather gods might smile upon us tomorrow for our full day of activity.
At 9pm, we made it back to our bungalow. The dinner was a pretty expensive buffet that wound up costing us around 8700 CFP, which was like $43.50 per person. I guess it could be worse. In any case, since it was a buffet, the food was very hit and miss. We did stuff ourselves on the Tahitian Salad (aka poisson cru) as well as some grilled stuff like the steak and mai mai (mahi mahi?) along with some local veggies. They had delicious chocolate sauce, but it didn't go with anything in the dessert kiosk as there weren't any vanilla ice cream nor anything in the pies or pastries that went with the runny fudge.
It didn't take long before we crashed and ended this exhausting day…
Day 3 (November 26, 2015 – Poindimie, New Caledonia): "No Privacy"
It was about 5:45am when both Julie and I woke up without alarms given our somewhat jetlagged state. The first thing we noticed when we looked out the window was how bright it already was at this hour in the morning. I guess since the sun had pretty much set before 6pm (or somewhere close to it) yesterday, which seemed early for a place that's in Spring and getting closer to Summer, I guess that meant that the sunrise must've been very early.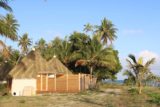 While Julie was getting ready and getting packed, I decided to stroll around the property for a bit. It was already on the humid side. When I got towards where the dining area was, I noticed that there were already a lot of people having brekkie. It was barely past 6am so that meant that the brekkie must've started at 6am sharp.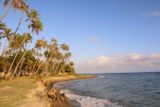 When I got back to the room to tell Julie of the large party having breakfast already, we decided to finish our packing, then load up the car before going to have our breakfast. I suspected that the brekkie was going to be a buffet like the dinner was last night. We're not fans of buffets, but at least for brekkie, that seemed like par.
Eventually at 6:35am, we left the room. By the time we loaded up the car and got into the dining area, it was probably about 6:45am. And at that time, we noticed that there were far fewer people eating at this time. The brekkie pretty much featured an omelette bar, some hot goods of hashbrowns, sausages, bacon, scrambled eggs, and spiced tomatoes. Then, there were also some condiments, especially a very popular nutella-like spread that was almost gone.
There were also some baguettes and toast as well as a pastry kiosk along with some fruits to round things out. It was pretty typical breakfast fare though I was pretty certain that this place wouldn't be cheap (especially since we paid over $40 USD equivalent per person on last night's dinner buffet).
Eventually at 7:35am, we were done with brekkie then checked out and started the drive north towards Cascade de Tao, which would be our first waterfall of this trip.
As we were starting to gain momentum on our drive as we were entering Hienghene's commune limits, we noticed some impressive-looking karst-like formations (I believe they were called La Linderalique). We wanted to stop to photograph them, but we just kept going on as we spotted a few more roadside stops to take in the scene. Eventually at 7:45am, we got to a turnoff for the Point du Vue (viewpoint), which took us towards the famous view of what the Kanaks called "Puxa" (that famous rock of Hienghene), but it was also refered to as the Poule de Creveaux (sp???), which translated roughly into something like a resting hen in French.
Julie and I were the only ones at this viewpoint this early in the morning. And with it just being us two, it was quite nice. There were also those colorful mushroom-shaped trees with the reddish leaves that seemed like acacia trees out of Africa or something. Whatever the case, we enjoyed our view of Puxa as well as the Sphinx looking in the other direction. We even made use of our tripod to take some nice couple shots with the Puxa in the background.
The sun was coming in and out, which meant that there was a contrast in appearance from there being color thanks to the sun and then muted colors due to the clouds blocking the sun. There was also a view looking into a bay, where it appeared Hienghene the town was situated right in back of it.
After getting our fill of this spot, we got back into the car at 8:10am. We then continued driving around the bay towards the attractive small town of Hienghene, which seemed to be the only town of note on this side of the North Province. We noticed some docks as well as some offices and even a communal market (which wasn't running as it would probably only be available on the weekends).
As we were leaving the town, the road climbed until we were alongside some long pullout with a view back towards the Puxa and the bay. The view from here was more distant, but it was nice in that we could get more of the water context plus there were some interesting plants fronting the views from here.
It wouldn't be until about 8:25am when we were done with this view. Then, we continued our drive further north.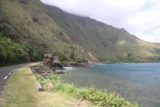 The drive would persist pretty uneventfully though I was getting in the spirit of things by waving to locals as we drove by. By about 8:45am, we noticed that the road suddenly came to an abrupt end as it went right into a large body of water. At first, we weren't sure if we were going the right way, but then when we looked up ahead, it appeared that we had just missed the previous ferry across this body of water. So I guess that was what the maps meant by "Le Bac".
I guess they didn't have the funds to build a large bridge across this bay so a back-and-forth ferry was the way to go. I don't know when the guy manning this ferry operates but I'd imagine this would be one major reason why much of the North Province would be isolated from much of the stuff further to the south. Anyways, by about 9am, we were finally leaving the ferry on the other side of the body of water.
Next, we continued driving past the village of Panie, where we noticed a gushing waterfall in the back of this village. It didn't look like there was any public access to get closer to that waterfall so we kept going towards Cascade de Tao trying to keep our eyes on the prize. We figured that we might attempt to photograph this Panie waterfall on the way back.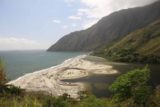 Finally at 9:15am, we had driven past a bridge where there was a sign fronting it saying "Cascade de Tao". As we were driving along that single-lane bridge, we saw the mighty waterfall to our left. There was definitely quite a bit of water in the waterfall and we knew that we had to find parking before walking back on the bridge to take a photo from there. Eventually, we found a car park on the north side of the bridge, where we promptly stopped the car.
While Julie was getting ready, I got my camera out and immediately walked onto that bridge so I could document the waterfall from there. Indeed, it was quite a big waterfall though it seemed small when I tried to compose it with some other things like the little inlet in front of me. So that was enough motivation for me to pursue the hike to get a closer look at this waterfall.
There was a sign here in French saying that it was 2km round trip to hike to the falls and back (1km each way). The sign also predicted that it would require about an hour. So with that, I went back to the car, and put the new Keens to the test. Meanwhile, Julie was pretty much ready, and with that we immediately headed on the developed path leading past some residence then past some donation box before getting onto the bush trail.
The trail itself was a bit on the rocky side, and even though I had read somewhere in the local literature that this was supposed to be a family-friendly excursion, I'd be willing to bet that it might be a bit too intense for our little girl had she been here. I'm sure she could do it, but it wouldn't exactly be a very comfortable experience for her.
As we continued along the muggy hike, we spotted a couple of areas where it appeared to be possible to go for a swim in front of some small waterfalls and cascades. There were also a couple of signs saying in French not to traverse the creek in times of rain (for obvious reasons). And finally at around 10:05am, we made it to a kind of a rocky area where we were able to get a partial look at the impressive Cascade de Tao though the trees tended to get in the way.
Julie and I weren't sure if we were supposed to continue further along the trail, but it seemed like had we kept going, we'd just be seeing more bush getting in the way. Plus, the trail seemed to be ill-defined at this point. So we decided that this would be our turnaround spot, and we took a few photos (including the view back towards the ocean), before finally heading back. But in hindsight, we probably should've kept going until we got to the base of one of the main drops of the falls as this just illustrated how ill prepared we were for this trip.
At 10:30am, we were finally back at the car. On the way back, we saw a French couple making their way up. That was the first tourist that we had seen all morning long to this point. And while I was busy trying to get the AC going in the car since the interior was quite hot, Julie went onto the bridge to take the photo of Cascade de Tao from there. Indeed, we felt the view of the falls from the road was better than on the hike, but perhaps the zoom on Julie's iPhone wasn't good enough to make it more compelling than the shots she took on the trail.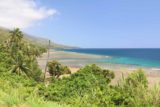 Next, we pursued the nearby (according to the maps) waterfall called Cascade de Colnett. Since it was labeled on the maps, we were kind of expecting it to be signposted like Cascade de Tao was. But as we were driving north, we saw a few more waterfalls from bridge crossings but we really couldn't tell which one was Cascade de Colnett and which ones weren't. Eventually, we got up to some town that the maps said was north of Cascade de Colnett, and that was when we knew it was time to head back south in search of the waterfall.
Eventually at about 10:55am, I stopped the car nearby some camping spot near a bridge where we spotted a cascade twisting its way down to a bay. Along the way, we saw the impressive Cascade de Tao appearing even wider as we were seeing it from the road at an angle. So I got out of the car, then walked back to the bridge where I was able to capture this falls that I guess could be Cascade de Colnett (at least that was what I thought the sign by the camping implied).
I also scrambled onto the beach, where it appeared to be in low tide. So I was able to look back towards the Cascade de Tao while it was fronted by the beach in low tide. That said, the Cascade de Tao looked kind of small from here.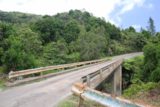 At 11:05am, I rejoined Julie back at the car. Still unsure if that waterfall I had just seen on the bridge was Cascade de Colnett, we continued onto the next spot where we saw partial views of some cascade on another bridge further to the south. We'd wind up by that bridge at 11:10am. And according to the maps (at least the one we picked up at the Koulnoue Village), it might have implied that this was supposed to be Cascade de Colnett since it said that it was on the next stream north of Cascade de Tao.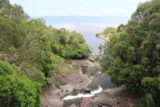 But when we were exploring the bridge, we never really got a clean look at the watersliding cascade in the distance. Now there were some cascades tumbling beneath the road bridge, and we saw some trails of use going past some deep tall grass onto some slippery rocks, but it was clear that in order to proceed any further, we would have to do some stream scrambling to get up to that partial view of the waterslide in the distance.
Julie and I decided that we were probably better off just going back to the car seeing that getting closer to this cascade was probably not worth it.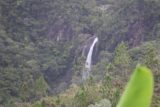 So at 11:25am, we were back at the car. We then continued driving south as we were about to enter the town of Panie. Then, at 11:30am, we saw there was that gushing waterfall we had seen earlier while passing through Panie. And as we finally found a small pullout across from some school or something, I then got back out of the car and went looking for a spot to view that gushing waterfall without trespassing. There were lots of homes between the main road and the waterfall in back of the valley, and it clearly didn't look like there was going to be any public access to get closer to that waterfall.
So I got my shots, then by 11:35am, I was back in the car to continue making the long drive towards Poindimie, which was where we were to spend the night. At 11:40am, we got back to Le Bac, and once again, we had just missed the previous ferry. There was a roadside stand here selling cakes and chocolate crepes, but since Julie and I were already muching on lychees, we passed on those desserts.
At 12:10pm, we made it back to the view near Hienghene. This time, the sun was in and out, but when it was out, the colors of the water of the bay near Hienghene was quite blue. That made the photos of the Puxa from here that much more compelling than it was earlier this morning.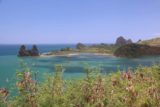 Julie and I mulled over going back to the Point du Vue, but we ultimately decided to pass on that given how pretty the views already were from where we were at this instant.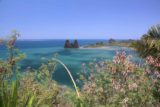 After having our fill of the panorama north of Hienghene at 12:20pm, we continued the drive south. Then at about 12:30pm, we were back at that karst-like rock formation (called La Linderalique, I think) we had vowed earlier to stop at. Actually, there was a bit of a car park and picnic area here, and there was a couple of French women already parked here and enjoying the scene.
Julie and I spent a few moments walking onto some kind of pontoon or platform, where we got what awkward photos we could get of the long and tall rock formations here before taking off.
At 12:50pm, we were back in the car, and then we proceeded to make the long drive further south towards Poindimie. Eventually at 1:50pm, we finally arrived at the Hotel Tieti. I had predicted to Julie earlier that it would probably be about 2pm when we'd finally make it here, and I guess my prediction was pretty spot on.
Now, we looked forward to checking in and dropping off our luggage then having a quick lunch. When we got to our bungalow, which was pretty much by the beach and water, we were kind of surprised to see a lot of young locals loitering about on the patio. It seemed kind of strange to me that the folks felt empowered to loiter about at the resort bungalows, but I guess who are we to kick out the locals when this was probably accessible long before the resort was built.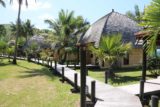 Besides, I didn't feel right to kick out the locals who had every right to be at this beach. Still, when you're paying about the equivalent of $200 USD a night for privacy to stay at the bungalow here, I could see the inherent conflict that was playing out.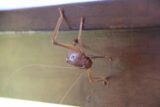 Anyways, I said bonjour to the folks here and pretty much just took some photos while they were out still chilling out. I don't think they realized that I was staying here, but I didn't want to cause trouble. Plus, there were about a half-dozen of those folks and a few of them were drinking hard liquor while a couple of others had body boards (for skim boarding or something since there were some small waves at the beach here). I did notice that there was a public car park just where the last of the bungalows ended so indeed this must've been a public beach.
At about 2:35pm, Julie and I were finally having our snack (since the official lunch time was over at 1:30pm). We just had ourselves a fish burger and a panini of beef and cheese. Aside from a scare of some giant grasshopper that was clinging to our table, I took some time to talk to the staff here about Cascade de Ba.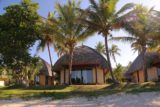 We had intended to drive from here out to Cascade de Ba then come back. However, after the awkward discussion I had with the staff here (since my French wasn't that great), I learned that it was an hour drive to continue further south to the waterfall. It sounded like the falls was viewable from the road and would only a take a few minutes to hike to get closer, but seeing that I only had a little over a half-tank of gas, it just didn't seem like a good idea to drive south then drive back.
Plus, we had a 7pm dinner reservation, and it would be another afternoon of go-go-go had we pushed forward with doing the waterfall today. So I ultimately decided that we should just chill out and enjoy this resort for the rest of this afternoon. Then, do Cascade de Ba on the scenic drive back to Noumea tomorrow. At least that would be more efficient and we wouldn't have to be doing any more backtracking.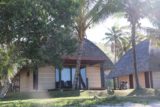 And so we took our sweet time having our lunch, then at 3:30pm, we were back at our room. At first, we wanted to chill out in the patio of our room while listening to the sounds of the waves, but there were still locals loitering about at the patio of our bungalow. In fact, there was a couple that was kind of making out right next to our patio. So as much as we tried to chillax on our lounge seats, no one was moving, and it didn't feel exactly as private as Julie and I were hoping.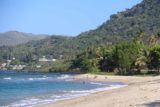 So we locked up our bungalow, then slowly walked along the beach, then chilled near the pool as well as the estuary where there was a freshwater stream meeting the ocean. We weren't successful trying to Facetime home to see our little girl as the bandwidths here were probably too limited, but Julie did fit in some internetting where she learned that American Airlines had just devalued their miles program by rewarding miles or points by cost of the ticket instead of the actual miles traveled. I guess that only leaves United Airlines as the last of the US-based carriers to go off of miles instead of ticket prices.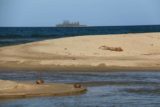 So much for trying to capitalize on rewards miles to save money on flights…
At 4:55pm, Julie and I were back at the room again. This time, there was a mother and a child chillaxing on our patio. The mother saw us, then quickly left with her child, and apologized to us when she saw us. But we just smiled and told her "pas de probleme."
Julie and I concluded that this beach bungalow would be very nice if it was more private. But without that privacy, something just seemed off.
Still, we were finally able to chillax at the patio of our room, and now we could just listen to the waves while we were busy just enjoying this place. With tomorrow's long drive looming, I knew I could use some down time right now. With the sun setting and the mozzies coming out, that was also our time to get ready for our dinner and call it a day. But this sure was a nice day as we finally got our first waterfalling fix while also hitting the main Hienghene hightlight as well…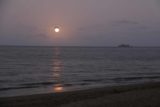 At 6:55pm, Julie finally got us to switch rooms after we were starting to get mosquito bites. The room we were in originally had one window whose shutters weren't working (so there wasn't much of a breeze) and the AC was missing the remote. None of the windows except in the bathrooms had insect screens. So we were getting hit by a double whammy of uncomfortably stifling humidity and biting bugs. I kept wondering whether we got hit with yet another runt of a bungalow.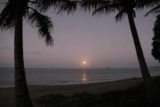 Once we were in the new and functional room, I took some time to take photos of an attractive rising full moon that was glowing orange at first before it started to get brighter as it went higher in the sky. Only after we got re-settled again did we get into the dinner for our 7pm reservation.
We ended up being about 10 minutes too late, but since we knew everyone was on island time, this wasn't a big deal. The mains we ended up getting were some kind of recommended mahi mahi which was very tender with coconut shavings on top. Julie got some kind of local prawns, which was also fresh and delicious. For most of the dinner, we were watching the moon going in and out of the clouds while some local cat kept hoping that we'd give it handouts and other folks were smoking poolside.
The dinner was pretty much over around 8:15pm except we decided on going for a dessert, where some kind of soft chocolate cake with vanilla ice cream sounded like a good idea. But after about 45 minutes of waiting (and breathing more cigarette smoke), we ultimately decided that perhaps we should cancel if they hadn't started preparing the dessert. And when I asked in my broken French whether they even started, I got the impression that they hadn't.
They offered to bring the dessert to our room when I told them it was too late, but I told them we wanted to cancel to save the trouble (and save us from packing on more calories). And so by 9pm, we were finally back at the room to call it a night.
Day 4 (November 27, 2015 – Ile des Pins, New Caledonia): "The Domestic Airport Long Haul"
It was 5:15am when we awoke. There were lots of clouds crowding offshore to the east so there would be no sunrise to see on this morning. There were enough clouds out there to give the appearance that it was going to rain today. However, by 6:10am, we were finally leaving the room after having packed our belongings, and by that time, the clouds that looked organized earlier now were back to being patchy. So it was probably going to be yet another fine (and hot) day.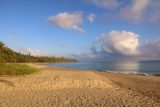 The breakfast was another buffet fare except we had to special order poached eggs and omelette. They actually cooked the eggs with a rich and creamy texture and was quite good. The rest of the stuff was pretty standard fare of crepes, croissants, sausages, hash browns, sauteed veggies, and an assortment of fruits. The kiwis they had there were quite sweet.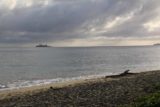 The cats were still out and about trying to look for handouts and they once again thought we would be good candidates. Anyways, we were pretty stuffed and ready for our long drive back to the domestic airport near Noumea. We ultimately checked out and started our drive at 7:10am. This time, we were going to take the scenic route since we were aiming to check out Cascade de Ba en route.
The drive through Poindimie was eye-opening to us in that it seemed like a pretty legitimately large town on this side of the coast. Even though the fuel was 142 CFP per liter (very expensive), I decided to play it safe and just fill 2000 CFP just in case.
Once we left Poindimie, the drive south was pretty uneventful. Actually, there weren't a whole lot of features though we did notice that there were lots more greenery with broad leaves (kind of what we typically would have expected to see in a tropical island). Up until now, they seemed largely absent and we actually saw more mangroves, lychee trees, mango trees, and even pine trees, which was very strange to us.
Still, the featureless drive kind of dragged on, and we were hoping that Cascade de Ba would be as signposted as Cascade de Tao was, especially since it was given special mention on LP as well as the Jason's map we were carrying around.
Eventually, we'd wind up passing through the village of Ba, but we weren't sure where the waterfall was. And after several more minutes of driving (it was now about 8:30am at this point, which was 80 minutes into our drive), we figured that we had overshot the waterfall. Thus, it was clear that the falls was not well signposted as we had feared.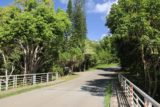 So we backtracked, and eventually got to a bridge with a shack at the north end of it. On the way in earlier, I had wondered if this was it, but now that we were back here, I saw a local on the bridge and decided to stop the car to ask him. Summoning my limited French, I went ahead and posed the question, and he confirmed that this bridge was indeed over the stream responsible for the Cascade de Ba.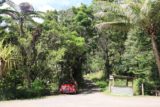 He and some local lady were busy tossing food into the streams to feed the freshwater fish down below. But it definitely seemed like the creek beneath the bridge had very limited waterflow. The local had told me to drive up the rough road past the shack to get up to the waterfall. And so we did that.
I was a little nervous driving the pretty rough road, but eventually at 8:40am, we managed to stop the car near a small clearing next to a fairly large bundle of bamboo shoots. There wasn't anyone around to collect the 100 CFP per vehicle, and I wondered whether that was what the shack was for. In any case, this waterfall was struggling to flow though I did see the potential that this spot could've been as the well-known swimming hole.
But in the state that the falls was in at this instant, only one strand of waterfall was noticeably flowing while the rest of the dropoff was pretty much bare rock except for a few barely-visible streaks. Further downstream, there appeared to be more tiers, but they couldn't be photographed. So it didn't take long before I finished my stream scramble and waterfall viewing, and then scrambled my way back up to the car at 9am.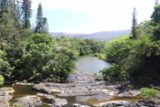 We then stopped next to the roadside shack just to take a few more shots from the bridge. That was when I looked downstream and saw that there was yet another dropoff further downstream. Then, as I was walking back to the car, I saw that there was an unsigned path leading further downstream, which I then pursued as I was looking for a way to see what that last dropoff entailed.
I wasn't sure if I was trespassing, but it seemed like this pretty rough "road" had some tire tracks though it had more tall grass growing around them. Eventually, I found an intersection, where there were some parked cars (rusted and beat up they seemed). Then, I saw a sloping trail leading down to the level of the river below. So I followed that, and eventually got to where there were some hanging clothes and a few kayaks.
Again, not sure if I was trespassing or not, I just gingerly looked around this riverbank and took the photos of the falls' last tier, which was struggling to flow like the upper tiers I had seen earlier. At least from down here, I could see the road bridge above it for some context and scale.
Ultimately at 9:15am, I had returned to the car once again. And then we were on our way out of Ba and continued further south in search of the inland road that would take us to the dry western side of the Grand Terre Island.
When we finally crossed the bridge at Houailou, then turned right at the roundabout, that was when we finally went on the inland road. The road was definitely a lot more tame than I had anticipated (based on the Jason's map, which was probably outdated). And eventually at 10:25am, we had found ourselves in the big town of Bourail, where Julie wanted me to stop at a supermarket so she could get some lemons and ginger as she said she might be coming down with another sore throat.
Well, it turned out that particular supermarket didn't have lemons, but they did have ginger. Then, at 10:35am, we were on our way out of town when we saw a Leader Price Supermarket. And once in there, Julie finally picked up some lime.
At 10:50am, we finally left the supermarket and then resumed our long drive south towards the domestic airport at Noumea. The drive was noticeably faster and smoother as the speed limits down here were back to being 110 km/h most of the time. I guess that's the difference between driving on the east coast versus the more developed west coast.
As we got back to the familiar international airport, we thought we were going to be very very early for our 3:20pm departure to Ile des Pins since it was barely 12pm at this point. However, it turned out that the domestic airport and the city of Noumea were still a ways away to the south. So it was a good thing we allowed ourselves plenty of time to make this drive.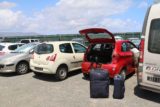 Eventually at 12:50pm, we had finally arrived at the domestic airport (Magenta). There was actually a freeway en route, which was definitely a first on this island. Plus, we saw quite a few modern apartments along the way, which was further indicative of how developed and city-like Noumea must be. I guess every tropical island must have one of these no matter how idyllic they may be.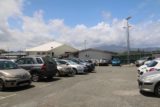 Next, we were then stressing about trying to find parking. It turned out that the parking on the airport premises were quite ad hoc, and the parking spaces as well as passages were very tight. It was a very good thing that our Kia Picanto was as small as it was. There were so many cars parked chaotically that we were still able to squeeze through where larger cars couldn't and eventually we'd secure a parking spot between some cars. Apparently, there was no more notion of lanes where we were parked.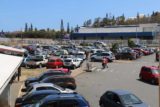 After baking in the sun while emptying out the car and getting our stuff together, we finally got into the domestic terminal at 1:10pm. It looked like we got here a bit too early because the check-in desks were all gated up. Still, with the parking situation the way it was, you never know what can delay you. So it's always better early than late.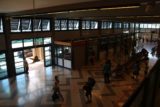 So we wound up spending the next hour upstairs at this surprisingly cool and breezy cafeteria. They didn't have much in the way of food other than the kinds of baguette sandwiches we had already had on the road. So Julie wound up getting hot water and some chips. I was just chilling out.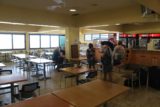 Eventually at 2:15pm, we were back at the waiting room again. This time, we checked in our luggage, but we were surprised that we were charged around 1330 CFP due to excess baggage weight. Julie's luggage weighed 19kg while mine was 12kg. But he said Julie's weighed some 24kg, which was probably due to Julie trying to adjust the lock while it was on the scale. Not good. I guess the baggage allowance was 15kg per person.
Anyways, after that, we would eventually get onto the twin propeller plane, which was quite busy. The flight to Ile des Pins was only 20 minutes, but since Julie had the window seat, she got to take pictures on her iPhone. I didn't have access to my DSLR. Still, the extensiveness of the lagoons and atolls were impressive. Too bad there were also a lot of clouds around. I wondered if that bode ill for the weather while we're in the Ile des Pins.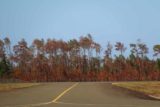 As we descending into the Ile des Pins, I was surprised to see just how big the island was. I was also surprised to see how a large swath of the pine trees that the island was named for had turned red. It also looked like the pine beetle had scourged the island probably due to global warming since they'd naturally die off from cold. But then that seemed like a contradiction since we were in the tropics, and pine trees seemed quite out of place in the tropics. I wondered if they were introduced or they were naturally here in the first place (later on, we realized that the pine trees were indeed endemic, but they were a rare breed of pines that could thrive in the tropics as opposed to high mountains where they'd get snow).
Once we landed, we were then picked up by the Le Meridien Ile des Pins shuttle (which costed us around 2900 CFP round trip per person). And then, we were on the property after a 15-minute drive through groves of pine trees as well as other types of tropical vegetation. When we arrived at the property, we were escorted to the reception area, where we caught a glimpse of the nice light blue water on the Baie d'Oro. But we didn't have a whole lot of time to linger around the bay while there was color as the clouds were still around to block the sun from time to time.
At 4:40pm, we were finally in our room, which was very nice. It looked out towards some kind of river or inlet well inland from the Baie d'Oro and its beach. The spacious room was quite baller, and I guess this was our first taste of this kind of SPG accommodation as our Sheraton Iguazu experience 8 years ago wasn't quite in this category.
I spent some time in the mugginess taking photos of the backside of our bungalow, where there was a rock jutting up out of the inlet or channel. The colors were muted though given the cloud cover.
After finally getting acclimated to our room, we decided to go out and explore the property for a bit before having our dinner at 6:30pm (or at least that was our reservation time). We first went through the reception area and onto the white-sanded beach. By now, the sun was well beneath the clouds and there was pretty much no color in the bay because of it.
It didn't take long before we realized that there really wasn't that much to this property besides more bungalows. So we decided right then and there to try walking to the Piscine Naturelle thinking that it was only a 15-minute walk to get there.
It was about 5:45pm when we got started so I figured we ought to have plenty of time. And so we walked back towards the car park then headed towards the bridge dedicated to the Le Meridien Ile des Pins property. That was when we saw a signposted path leading us on the trail to the Piscine Naturelle. At first, we had to walk around the staff area before finally getting onto the bush trail.
At that point, the trail weaved beneath palm trees and other tropical vegetation. Then, the trail veered towards some steel pylon before we turned right to head towards the water. That path was a bit overgrown and there looked to be some poison oak growing on that trail so I was concerned that we might have our legs irritated since we were wearing shorts.
Anyways, once we were near the water, we then had to follow that channel as we weaved through more bush and trees. It was becoming apparent that the hiking was definitely non-trivial, and the farther we were walking as it was getting dark, the longer we'd have to backtrack to get back to the resort. Julie and I were becoming a sweaty mess even though we were in our Tahitian night time "uniforms" dressed for dinner. Julie also managed to scrape her leg on a rock along the way. We were also hearing sounds coming from the darkness of the bush around us, which we figured were from crabs coming out of the ground at this time.
We definitely didn't expect to be going on a hiking adventure at this time.
Eventually at around 6:05pm, we had finally made it to the Piscine Naturelle. There were lots of signs pointing the way, and we always kept wondering whether the body of water we had reached was it. However, the real natural pool was at the end of the hike which ended right at a giant little calm bay sheltered by rocks. We could see waves crashing and splashing higher than the rocks in the distance, and that was how we knew that this pool must be as famous as it was given its calmness, and I'd imagine its colors would be awesome under sunnier skies.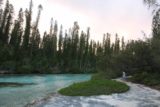 When Julie put her foot into the water, she was telling me that it was cold. So that might mean that snorkeling here might be a little bit painful in terms of the cold shock, but I'm sure once we'd get used to it, the cold water might actually be welcome relief to the humidity and heat of the day. Still, we're holding out hope that the weather will behave tomorrow. We'll see.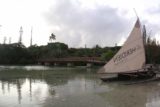 So with that, we hiked back through the way we came. Eventually at about 6:25pm, we made it back to our bungalow, where Julie had to tend to her open wound from the rock scrape. At least the AC from our room was a welcome relief, which helped to quickly dry off our sweat.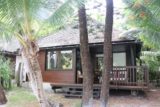 Eventually at 6:40pm, we made it to the dinner area. We got to sit outside and enjoy a little bit of the tropical breeze. We noticed that as people were trickling in, there were actually a fair bit of people with Aussie or Kiwi accents as well as a few Asians in addition to the usual dominance of French couples or families. I guess the Ile des Pins had a bit more of an international feel to it as compared to the experiences we had in the North Province on the Grande Terre.
Our dinner pretty much consisted of some tomato muffin on the house, then a smooth foie gras on french toast along with Julie's escargot of the local garden snails with elaborate and large shells. Our mains consisted of Julie's langostine (at nearly $100 USD, which probably wasn't a good value) and my scallops. We ultimately passed on the dessert since I knew that our dinner was going to be on the order of $200 USD. So tonight was definitely a splurge.
Finally at 8:45pm, we were back at our room. We had spent a few minutes on the computers in the lobby trying to plan out what to see and do tomorrow. At least Julie got her answer about trying to find the Kanak statues on the island, which the worker we asked identified that statue as the Statue of St. Maurice. We also researched about Kerumera Bay, and so we'd probably have to do those things in the afternoon after the morning in Piscine Naturelle and the lunch at Kou-ngy.
But with island time not necessarily conducive to packed schedules or busy days, we'll just see how it all plays out tomorrow. Again, we hope the weather would cooperate so we could capture the beautiful bay pictures we had seen on the interwebs to this point.
Day 5 (November 28, 2015 – Ile des Pins, New Caledonia): "Questioning Sanity"
It was 6:30am when we finally awoke. This was the first time on this trip that we were able to sleep in though in the back of my mind, we were going to have a lot of things going on today – the Piscine Naturelle, the Baie de Kanumera, the Plage de Kuto, and the Baie de Saint Maurice among other things. That said, we still took our time to get ready for the 7am brekkie.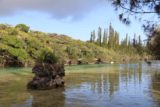 When Julie first opened the curtains, we saw that there was some sun shining on the pine trees opposite the tiny little channel or lagoon that our room was looking out towards. But within a few minutes, the lighting went mute as there seemed to be quite a few clouds blocking the sun.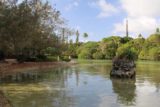 After getting dressed in swimming attire anticipating some snorkeling activity, we then went for the brekkie. As we approached the dining area, Julie and I immediately noticed the bright blue colors in the Baie d'Oro so before we went for a bite, we spent time trying to take pictures at the beach fronting the bay.
There were already people having their brekkie at the time (probably around 7:15am or so), and we were getting looks like they were wondering what we were getting all geeked about.
Then, after the picture-taking was done, we then finally settled in on the breakfast, which was the typical buffet fare. In this case, we saw that there was some kind of cured local smoked lagoon fish, which we could complement with capers. That was different and very good. We also tried some miso soup, which Julie said was packed with probiotics since she claimed it had some fermented stuff in it.
The rest of the stuff was pretty standard.
Eventually at 8:45am, we were finally back at the room. On the way back to our room, we made a brief stop at the reception asking about the alternate way to the Piscine Naturelle. We knew they were advocating the garden way that Julie and I explored late yesterday, but we were curious whether we should try the other way since we hadn't tried that out yet.
Well since the staff that was there at the time didn't speak a whole lot of English, I had to practice my French in getting these answers. Apparently, they said that we should go the garden way first, then take the alternate way on the way back to the resort. Still not quite sure how to do that alternate way, we followed their advice after getting our stuff together.
It wouldn't be until about 9am when we finally got started. Our bungalow was so close to the car park that we thought it was a waste to walk back towards the reception then head back over to the gate. Instead, we shortcutted across a small patch of lawn fronting the last of the bungalows, then cut before the bridge onto the familiar trail.
As we got started, the sun was definitely on us so this channel was showing good colors. However, we also noticed that the tide must've been higher than yesterday afternoon because parts of the trail were more inundated than we had remembered. In fact, the inundated parts were more prevalent in much of the trail than we had remembered. However, there were also colors further on the channel that caused me to pause and take even more photographs thereby slowing down our walk.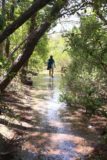 At 9:30am, we finally got to the Piscine Naturelle. There were already two other couples here. But we staked out a shady spot where there was a broken surf board or body board and took some time to get our snorkel gear and life vest out. We didn't have fins though, but at least we could effortlessly float if we wanted to.
There was an extensive sandbar that was probably consisting of dead reef. Whether the sand bar was always there or it was a more recent development was unknown to us. But it seemed like most of the reef action was pretty absent until we got all the way to deeper parts of the water where it had a deeper blue color when viewed from afar.
Speaking of deeper parts of the water, it was actually quite cold when we first got this far into the natural pool. We could hear crashing waves on the other sides of the rocks concealing most of the ocean's turbulence, but every so often, we could see a huge splash rising higher than the protective rocks which attested to the power and fury of the ocean's swells out there.
As we were busy snorkeling and I was busy giving the GoPro
a shot for the first time, Julie and I were already being surrounded by lots of fish. Even though we were in a sandy section at first, they were already out and about. That was cool.
Then, we tried to float towards the reef though there seemed to be a current trying to push us more towards the beach than closer to the reefs. So without the fins, this wasn't an effortless swim. But with the life vests, all I had to do now was to use both the arms and the legs to move.
As I was looking towards the small patches of reefs, I could see glowing fish and brain coral as well as giant clams. However, I was a bit annoyed that someone opted to stand on the reef and take his photos or GoPro
on his selfie stick from there. I guess that guy didn't realize that the reefs were already dying and he was accelerating that process by his thoughtless actions.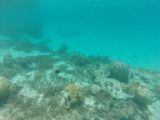 Anyways, after a few more minutes of snorkeling, I was starting to get a headache so I went over to the sandy area behind the nearest reef to stop. Julie and I were about to snorkel hand-in-hand letting the current take us away from the furthest parts until I saw that there was actually water inside the waterproof casing that was supposed to protect Julie's iPhone from the water.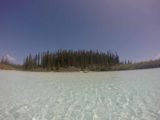 I noticed that the phone was complaining about some kind of cable or something not being official and not working right, which was strange because there was no cable attached. So with that, Julie immediately stopped her snorkeling activities to try to save her iPhone which still appeared like it was working. However, we weren't sure if her cable interface would survive this incident.
Meanwhile, I spent the last few minutes trying to snorkel some more, but ultimately didn't last much longer as I had noticed dozens of more people show up to the pool. By the time both Julie and I were both trying to get our stuff together, it was around 10:45am. We thought that perhaps we ought to try to take the alternate path back to Le Meridien Ile des Pins while eating at Kougny along the way.
We had noticed that some of the folks chilled out at a nearby island (accessible by wading) that appeared to have a hill. In hindsight, maybe we should've waded out there and gone up the hill to see if there would be a way to photograph the Piscine Naturelle from a higher vantage point. Since we didn't do it though, we were left wondering.
In any case, us and a couple of other couples walked the other side of the channel, which I knew must've been the alternate path we had been seeking out originally. But since it was now low tide, most of the walking was on the sand with small stretches of wading in about ankle- to shin-deep water.
There were some interesting undercut formations that kind of reminded Julie of hiking in the Narrows of Zion, but in this case, it was so blindingly bright and the channel was so wide that it wasn't nearly as claustrophobic as that Narrows experience. Eventually, we'd start to see some civilization and immediately thought that that must be the restaurant Kou-gny. However, we then saw signs saying "privee" which we knew meant "private".
And so eventually we found ourselves on a beach looking towards a very bright and blue lagoon. After walking a few more paces on the hot sand with limited shade, we'd eventually arrive at a group of tables with table settings on them, and that was when we knew that we had finally made it to Kougny. We got there around 12pm.
Once again, I had to reach down into my limited French vocabulary and ask if we could get lunch. They said that we were supposed to make reservations in order to lunch here. The lady working the reception asked if we could come back tomorrow, but I told her that we were leaving for Noumea tomorrow. And with that, she confirmed whether there was enough excess fish and langostines to accommodate us, and apparently that was the case.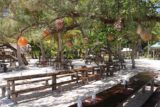 However, Julie was wavering about whether we should do this instead of eating at Le Meridien Ile des Pins. But with the cash we had withdrawn, I told Julie that we mind as well spend the cash here (they don't take credit cards) since we were going to lose on the exchange back to USD anyways.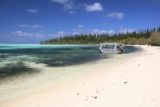 Eventually, we'd finally have our lunch here. The lady working the hostess duties was messing with me when she said that we couldn't eat here after Julie changed her mind. In any case, we were finally seated and then we just patiently waited for our food while we were watching people start trickling into the restaurant as well as watching the big bright blue colors of the mesmerizing lagoon before us.
It took a while for our food to show up, but we figured that their system was to pretty much bring out the foods all at once. And it was a good thing that we showed up when we did because we saw another couple that was turned back without reservations. So we were lucky.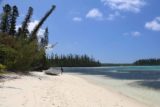 The food didn't really start coming out until about 1pm. That was when we finally got our langostine and fresh catch of the day. The food turned out to be better and cheaper than the langostine and fish that we tried last night at Le Meridien Ile des Pins. So in this case, I guess it was also better supporting the locals instead of some international hotel chain.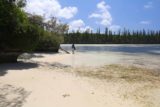 Finally at 1:45pm, we left Kougny and continued around the beach and rocks back towards the Baie d'Oro at Le Meridien Ile des Pins. Since the tide was low, we didn't need to do any wading on this stretch, but we could totally see how the garden way was more recommended than this way due to the uncertainty in water levels.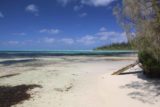 While Julie was preparing for round two of sightseeing, I was busy with the receptionist renting the car. It was too bad they didn't have a half-day type rental, because this 24-hour minimum rental was annoyingly expensive. In fact, we would probably only need the rental car for no more than 3 hours considering we were getting such a late start.
It wasn't until about 2pm when we finally got the Ford Fiesta rental car. The first thing that I noticed was that the wireless alarm wasn't working. Putting two and two together, I suspected that someone else who rented this car in the past must've gone swimming with the keys in the pocket thereby shorting that part of the circuit.
Anyways, we got into the car and was on our way out. First and foremost, the plan was to go as far as the Kuto Bay and Kanumeria Bay before ending the day at the Bay of St Maurice. Eventually at 2:30pm, we parked at the Bay of Kuto, which featured an extensive white sand crescent beach with bright blues in the choppy waters of the lagoon.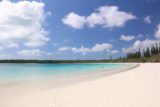 There were already quite a few people enjoying the blindingly bright beach. There was a huge group of kids in the distance, a lot of tourist couples (including us), and even a dog that used the water of the bay to cool off. On one side of this crescent beach, was a ferry dock with what appeared to be a cruise ship. On the opposite side was a lot of trees and what seemed to be an even quieter stretch of beach as well as what appeared to be another channel.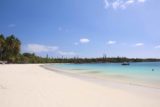 Yet despite the people on this beach, the general feel was somewhat quiet and subdued. It drew comparisons of Champagne Beach in Espiritu Santo Island, which was one of Vanuatu's many islands. After all, this beach at Kuto contained blindingly white sand juxtaposed with bright blue water.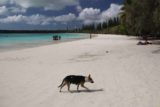 We saw that there was some hotel restaurant nearby here, but the rest of the beach seemed to be pretty much nature fringed by palm trees and other lower trees providing people with much needed shade from the intense sun. There were lots of locals in addition to tourists sharing this place. There was even a dog cooling off in the water.
Julie and I weren't in the mind of swimming here so we took our photos, then opted to get back in the car. As we got there, we noticed there was a big dent with red streaks above the front wheel on the driver side. We were lazy about not noting the damages to the car before driving off, and now we were worried about being charged for this damage even though we knew we weren't the cause of it.
Next, we drove back towards Kanumera Bay, which was totally walking distance from where we were at by Kuto Beach. At this spot, it appeared that the waters were choppier, but the bay seemed to be more photogenic as there were undercut rocks flanked with colorful coral waters. We thought this should be the spot to do another round of snorkeling just to see if it would be more fulfilling than the Piscine Naturelle experience.
But when Julie saw how choppy the waters were, she was bearish about doing the snorkeling. So we took our pictures of the bay as well as the small little sandbar and beach looking towards another hotel in the distance. There were dozens of other folks both snorkeling and beaching here. Plus, there was the Kanumera Rock, which looked like it would've been a suitable spot to get a more top down view of the pretty bay here. However, there was a sign here prohibiting the climbing of the rock.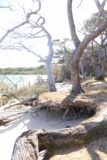 So we didn't do it. But there were a couple of locals kids that did. I guess the sacred rock rules didn't apply to them. Once we had our fill, we then headed back to the car where we paid more attention to the gnarled concrete fronting the bay. We weren't sure if these concrete barricades were broken by a cyclone or not, and if it was a cyclone that did it, that just illustrated how awesome the force of Mother Nature was against the man-made stuff. There were even some toppled pine trees whose roots were undercut by the intense erosion.
At 3:30pm, we were back in the car, then we headed north back to the main road. At first, we thought we might be able to drive to the Pic-nga for a top down view of the nearby bays. But when we saw how rough the road was (and it seemed to be more for walking than driving), we opted to skip it. And so we then drove towards some ruins of a prison called the Vestige de Bagnes.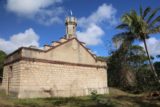 The vestige itself was merely what appeared to be an old church dating back to 1874-1875. There wasn't much to this spot so we went back to the main road where there were ruins of the old penitentiary. We took photos of this part before returning to the car at 3:45pm. That was when Julie noticed that the backside of the driver-side side mirror was missing!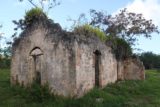 Now, I was worried that we could very well be charged a lot of money on top of the already steep 10k CFP we owed just to rent this car, which we've only possessed for barely 2 hours so far. Now this was messing with my sanity because I never remembered any of this damage to the car, and once again, both Julie and I were fretting about not marking up the contract before taking the car out.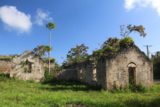 Come to think of it, the fuel gauge on the car wasn't even working so we have no idea how much fuel we have in the car! I knew the gas was included in the rental so we wouldn't have to bother visiting the gas station, and the driving distances were short on the Ile des Pins anyways.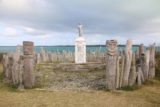 Next, Julie and I then drove to the Bay of St Maurice, which was the last stop we planned on doing. We got there at 4:30pm after making a couple of stops looking for the missing mirror, which we thought we were the cause of. Anyways, all those delays meant that by the time we got to the St Maurice statues and monument, we lost the colors just as we arrived as the clouds now dominated the scene.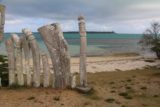 Too bad the colors were gone, but the statues were fascinating. There were a couple of car fulls of tourists as well as a bunch of locals playing in the waters. Our stop was short because it was getting late, and largely because it wasn't as photogenic as we were hoping thanks to the clouds. And so we took off and headed back to Le Meridien Ile des Pins wondering what we should tell the staff there regarding the damage to the car.
Anyways, at 5pm, we were back at the hotel, promptly parked the car, then put our stuff away in our room before heading into the lobby to book a reservation for tonight's dinner as well as returning the keys to the rental car. While Julie and I were getting changed, we noticed that there was a couple in a nearby bungalow being very affectionate with each other in plain sight. However, what was unusual about this was that the young lady was topless.
I know we're not supposed pay any mind to this, but for some reason we were drawn to what they were going to do next like the way people are drawn to car crashes or something like that. Anyways, I didn't want to miss the last of sunset and our car rental key return over this erotica show, and so we promptly showed ourselves out of our bungalow without knowing what else these folks were going to do next.
When we got to the lobby, we saw Pierre (the concierge worker who escorted us to the lobby when we first arrived), who was probably the only guy working the general reception who spoke good English. I guess that was a good thing since we could explain the car rental situation to him.
And when we spoke to him about it, he asked us if it was the driver side mirror. At that point, we were relieved as it was a well-known issue. He even laughed when I told him that I was questioning my sanity regarding how we only noticed these damages AFTER we had driven off Le Meridien Ile des Pins.
At 6pm, Julie and I were enjoying a couple of Happy Hour cocktail drinks (a pina colada and fraya, which seemed to be a very different kind of drink). There was a local reggae band that was going to play tonight so we were watching them doing setting up while we were having our drinks. We were hoping they'd start playing before our 6:30pm dinner reservation, but alas, we had to get to our reservation when it was 6:40pm.
The dinner this time ended up being half the price of last night's dinner largely because we only did the crabmeat appetizer (instead of two appetizers), and our mains consisted of duck two ways as well as Julie's seared tuna dish. In other words, we didn't pay nearly $100 USD on the lobster alone! Once again, we passed on dessert, and we got a carafe d'eau (tap water) instead of getting ripped off on mineral water, which costed us some 800 CFP last night.
When we were done with the dinner, we chilled out for about 15 minutes listening to the local reggae band playing a Bob Marley song, a Stand By Me song, and some other local Kaneka song. Then, we finally got back to our room at 8pm to finally call it a night – our last relaxing night on this trip.
Part of me was hoping that we could experience an authentic Kanak ceremonial dance, but when we inquired with the staff about when or where we might catch one of these things, we were told that they were for special occasions only. So much for the white painted faces of the phantom fisherman…
Anyways, we'll see what the damage of our splurge will be when we check out tomorrow. But for now, we were just enjoying the serenity that seemed to only be available in the smaller islands of South Pacific destinations.
New Caledonia's Ile des Pins was the latest example of this.
Day 6 (November 29, 2015 – Noumea, New Caledonia): "Festive Noumea"
It was about 6am when both Julie and I awoke. Julie said that she was actually awake since 5am because she had heard something outside that caused her to wake up and not fall back asleep. She said it was something like wheels rolling on something with grooves. It seemed a bit early for luggages to be rolling about, and I guess it was the timing of this sound that threw her off.
Anyways, we spent the better part of our first hour this morning getting our stuff together. Then, we strolled over to the familiar dining area for our brekkie. We already knew what to expect from the buffet breakfast so there was nothing extraordinary about this meal other than we stuffed ourselves again. I guess the only real drama on this morning was that our seat started to get out of the shade as the sun rose higher and was beating down onto our table causing us to sweat as we ate.
And when we were pretty much done with our meal, we then tried to savor our last hour or so on the island taking pictures of the Baie d'Oro from the massage table at the far western end. Fortunately, there were still lots of bright blues in the bay as the clouds that had momentarily covered our area during breakfast had now parted and it was pretty much clear.
We then took the channel back towards our bungalow for more pictures that we hadn't taken earlier. Then, when we got back to our bungalow, we wrapped up our last minute packing. By about 9am, we headed to the lobby and settled our bill, then we walked over to the front area awaiting the shuttle bus back to the airport.
Once we got to the airport and collected our bags from the van, we immediately went to the check-in. Even though Julie and I were careful about trying to trim our pack weight, apparently it did us no good as we still had to pay around 1150 CFP. Anyways, we'd eventually get onto our packed short flight back to the domestic airport at Magenta.
Despite us being one of the first ones on the plane, apparently we chose poorly as we sat on the left side of the plane. It turned out that most of the picture-taking was on the right side of the plane.
So I didn't get the atoll and reef shots that I was hoping to get. Anyways, when we landed at the airport at about 10:40am, we got our luggages, then when we were in the terminal area, we were met by a van driver who came from the Chateau Royal. That kind of surprised us because we had our own car. But at least the lady driving the van had a bunch of other folks going to the same accommodation as us so it wasn't like she wasted a trip.
After loading up our very hot rental car, we then took the scenic coastal route south from Magenta and towards the Chateau Royal, which was right next door to Le Meridien. Along the way, we filled up gas at a Total, but I was surprised to see that it was still 142 CFP per liter here! It was the same as it was at Poindimie, and the cheapest gas we paid remained at the place near Kone. Anyways, it was barely 11:15am when we parked and checked into the Chateau Royal.
It was nice that they let us check in early so we promptly got up to our room on the 6th floor, where we saw that there was a nice view looking towards Anse Vata. The day was totally clear so the views of the bay and the beaches here were quite attractive. The beaches here were also full of people as it was a seemingly lazy yet festive Sunday.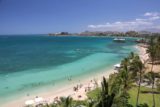 We had to wait until 12pm before we got to use our internet connection, and when that time finally rolled around, we got to Facetime home for the first time on this trip. Our daughter was crying when we finally connected as she was missing us. Julie's mom said that she would look out the window waiting for us to come back.
Well, we still had three more nights in New Caledonia in Noumea Sud before getting to see her in person again so we were definitely missing our daughter as well. We spent the better part of the next half-hour trying to catch up with Tahia while trying to encourage her to get excited about us taking her on our next trip whenever that may be. Julie also showed Tahia where we were staying at though I'm not quite sure if our little girl could process what we were showing her. In fact, it was quite hot here in the South Pacific, but we heard that it was quite cold back at home.
Anyways, when the conversation ended, we finally headed downstairs to eat lunch at 12:55pm. We'd eventually settle at this place called L'Escale, which had some paninis and a tuna tartare salad (we were hoping for Tahitian Poisson Cru, but their dijon mustard tuna tartare was different yet tasty as well). Then, when we were done with lunch, we headed back upstairs as the boutique there opened at 2pm. That allowed us to book our all-day tour for the Phare Amedee (lighthouse) on Tuesday December 1 since they were closed on Monday.
Then, we walked over to the Le Meridien next door to secure a dinner reservation at one of their internal restaurants called L'Hippocampe, which was said to be one of the best dining spots in Noumea. We knew it was going to be an expensive dinner, but we figured it would be our last splurge. So it turned out the restaurant was also closed tonight and tomorrow night so Tuesday night (our last night) would be our last chance.
The lovely lady at the concierge (named Louise) was having trouble with the system in saving our reservation so she emailed the parties there about us. And she encouraged us to return tomorrow to ensure that our reservation was honored.
So with that, we then walked through the Le Meridien property then onto the beach as we thought we could stroll away the warm afternoon checking out Anse Vata then the Baie des Citrons (Bay of Lemons).
At first, we were dealing with fierce winds by the Le Meridien Property, and that was where we saw that there was a kitesurfing school.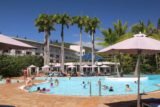 With the fierce winds, we saw some people doing some pretty intense jumps. There was even one girl who seemed to be ripping it up with the guys around her doing tricks, jumps, and seeming to have full control of both the board and the kite. I knew some folks back at work who were into kitesurfing, and I'm sure that this would be one of those places that would've been heaven.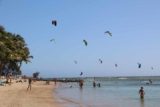 Anyways, we then slowly made our way on the beach across both the Le Meridien property then our Chateau Royal property. The beaches were packed with people. There were lots of families though we also saw some people sunbathing topless as well as other folks who were badly sunburnt. Julie thought the one guy who didn't need more sun was red like a lobster.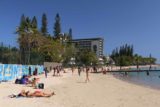 Then, as we got past a graffiti-laden wall, we then walked past the entrance to Le Roof Restaurant, which was not open. Then, we ultimately walked closer to a lot of the commotion on Anse Vata beach, where there was a live local performance as well as lots of tents set up for markets as well as some social and environmental causes. The winds seemed to have intensified as we strolled further west along Anse Vata.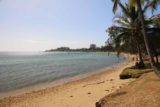 Then, the human activity and traffic intensified more as we seemed to have approached even more tents and displays past the nautical center, where there appeared to have been some kind of windsurfing contest. Again, I knew another coworker who was into windsurfing (as opposed to kitesurfing) and had just retired, and I'm sure she must've known about this place and that event, which I think was called Air Waves.
There were lots of locals and tourists alike just relaxing along the long stretch of beach on Anse Vata. It was almost as if this was the kind of scene we could've expected to see on a lazy Sunday afternoon here in Noumea, except I got the feeling there was like a convergence of activity and festivals that wound up creating this real festive scene we were a part of. They even closed off the east-bound road so there was room to create these tents and performance areas.
Anyways, the winds continued to intensify and conspire to blow our hats off of our heads. Eventually, we got to a turn, where the coastline veered northwards. There, the foot traffic died down and so did the winds. Eventually, after a few more minutes, we found ourselves at the Baie des Citrones, which was a more subdued swimming and beach area. Indeed, there were fewer people but it was still busy on this Sunday afternoon.
Perhaps the main reason why there were fewer people here at the smaller Baie des Citrones was that the sand here was more like pebbles and rocks. Meanwhile, Anse Vata was definitely more brownish and golden sand. But there were some restaurants and a smaller set of shops so we eventually decided to treat ourselves to some gelato at this place called Amorino (the same kind of gelato place that we saw in Barcelona, Spain earlier this year).
So we waited in the queue at 3:55pm, then paid for our order, then made our order per their process on our way out the door. I wound up getting a Tahitian vanilla gelato while Julie got a combo of sorbets from mango to passion fruit to raspberry. Next door to Amorino was this comical American cafe knockoff (of Hard Rock Cafe) with a Texaco sign and some interesting statues of Elvis, Marilyn Monroe, and other figures from the 50s and 60s.
We had fancied eating at this Thai-looking place next door to a Dukes (in New Caledonia instead of Hawaii?) at the Bay of Lemons. In any case, by the time we were done with all the gelato, we saw that those restaurants were pretty much closed, and we'd continue walking back to Anse Vata. Along the way at 4:30pm, we arrived at the aquarium, which Julie was hoping that we might be able to visit. Unfortunately, it was closed (or at least the last entry was at 4pm) and they weren't open tomorrow either. So we probably wouldn't be able to visit this aquarium on this trip.
Our walk then took us back to the windsurfing festivities, but this time it seemed like the competition had ended as there was a very large group of people gathered by a stage where apparently the winners of the competition were being awarded and recognized. It was definitely crazy busy as people were crowding around the stage. We even had to walk onto the beach instead of the promenade knowing we wouldn't have a prayer of squeezing past this sea of humanity.
Next, we finally made it to the Rue de l'Anse Vata, where we then crossed and follow this street towards this bakery called L'Atelier Gourmand which Julie had read a lot of good things about. It turned out that while lots of places were closed, this place was still open. So we got in there, and picked up a couple of pastries. Julie wasn't very impressed with her tarte (she's still trying to recover that experience she had in the Cotswolds at a local French bakers in Chipping Campden) nor my souflee-like chocolate fondant.
Anyways, we concluded that this place was really more for the breads and croissants, and it was probably more of a morning place. There didn't seem to be much of a selection left at the late hour that we showed up.
So when that was done, we then walked towards a local grocers where we picked up our last bits of backup water as well as a Bretonne Apple Cider, which was something that really caught our eye. We knew we'd never have access to this stuff back at home (even though Brittany, France was half a world away from New Caledonia).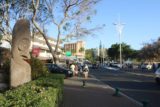 After that, we found ourselves passing before the busy Hilton park area before walking in front of even more shops and eateries. Eventually, we arrived at this Vietnamese place called Hanoi Plage (Hanoi Beach), and we saw that there was a couple that was already have a lunner here. Since we didn't feel like going back to our room then coming back down for dinner, we decided that we ought to just eat here right now, especially when we saw some menu items that really brought us back to Little Saigon like banh cuon and banh xeo. The time was 5:45pm.
And after placing our order of banh xeo, banh cuon, and a Vietnamese style papaya salad, we were pretty much chilling out while watching the sun set. As the food arrived and we were pigging out to our early dinner, we'd eventually see that the sun was about to disappear some time before 6:30pm. So I seized the moment and walked across the street to catch the last of the sun's rays.
As I was busy taking photos of the last moments of the sun, I kept wondering why the flash kept going off even though I was on SCN (scene) mode. Then, after several shots of dealing with this, I looked in the menu and realized that for some reason my camera was set up in macro mode instead of landscape unbeknownst to me. By the time I had corrected this, the moment had passed, and I pretty much had to deal with the photos I already had.
Oh well, I then immediately retreated back to the Hanoi Plage.
We couldn't finish our dinner so we took the last piece of banh xeo (Vietnamese crepe) to go. And then we walked back to the Chateau Royal as the twilight was taking over. That was when we saw the lights of Anse Vata come alive as well as Le Roof Restaurant on that pier lighting up as well.
Eventually at 7pm, we had finally made it back to the apartment, where we managed to get a few more night views of Noumea Sud. And so ended this very festive day. Tomorrow with practically everything closing on Monday, I guess it would be as good as day as ever to do our waterfall hikes to Cascade de la Madeleine and Cascade de Wadiana. We'll see how much water would be in there considering how dry the South Province looked to this point…
Day 7 (November 30, 2015 – Noumea, New Caledonia): "The Economic Engine of New Caledonia"
It was 5:30am when I awoke to Julie already initiating Facetime with Tahia. With the curtains open, the outside looked very quiet, which was in stark contrast to all the festivities from yesterday afternoon. This time, Tahia was in a better mood as she was eager to show us some things that her aunties and uncles gave her while we were away.
After getting ready for the day, we went downstairs at 6:35am for breakfast. As we got down there, we saw that the included breakfast (that Julie got some kind of deal on) was far less diverse and tasty than the Le Meridien experience from the last two days. I guess we had to set our expectations low from here on out.
Well, at least there were lots of birds around the dining area being very opportunistic looking for uneaten or unattended foods to nibble at. They were quite aggressive as some even managed to fly inside the building.
After brekkie was over, we went back upstairs to get our waters and our gear. And by 7:35am, we were back in the car. With everything all set up and ready to go, it was time to embark on our last waterfalling excursions of this trip – the Chute de la Madeleine and Cascade de Wadiana. We were a little concerned about navigating through the city streets of Noumea without any true turn-by-turn navigation from our GPS (as there simply wasn't any Mapsource-like products about New Caledonia on the market). But we figured that it couldn't be that hard, could it?
But first, with the disappointing breakfast, we decided to drive back to the Rue de Anse Vata and the L'Atelier Gourmand and try their croissants since we figured that was what they were probably known for based on the TripAdvisor reviews. It was a little tricky getting over there given the amount of road traffic, but we'd eventually get there so Julie could rush in and get the croissants to go.
As soon as she took a bite, she told me the place was overrated. When I took my bite, I could see where she was coming from. I guess with raised expectations, she was hoping it would be like the French bakeries that we were spoiled with during our France trip back in 2012. But these croissants were a bit on the soft side. So the bottom line was that we wouldn't be driving out this way for the rest of this trip.
Anyways, with all the traffic that was on this road, it wasn't easy to pull out of bakery then find a way to turn back. There were simply too many cars and there was also some road work about to start. Fortunately, there was someone else backing out to my right who was kind of setting a screen for me. That allowed me to get out and then try to figure out how to get back to Anse Vata again.
Eventually, I'd make a series of right turns until I'd finally head south again, and then once I turned left onto the main road along the coast, we then took the way back the way we came from the domestic airport at Magenta. Once we got past the airport, we thought we could follow the road towards whatever route would take us to the north side of the loop taking us towards Yate and Goro. However, it wasn't clear which suburb along the way we were supposed to take en route.
As we were passing one roundabout after another, we weren't seeing places like Normandie and Tina on the map, and yet those were the turnoffs that seemed available to us. Again, we weren't sure which roads were the main ones, and at some point, we wound up in Tina then had to backtrack.
Eventually, we'd get back onto the main route somewhere near Normandie, then we found some signs pointing the way to Mont-Dore. While we were there, we weren't sure if we were going the correct way, but we just followed the main road hoping the road to turn left before Plum would be obvious.
At 8:30am, we were caught in a traffic jam due to road construction. After the construction zone, there was a roundabout near some supermarket (I think it was the Casino Supermarche), and there was a jam on that roundabout as well. Eventually, I figured that I had to take the exit that virtually made me go left (north), where the first exit went south towards the Mt-Dore town.
Anyways, it seemed like we were going the correct route now, and eventually, I saw a sign telling me to turn left for Yate where keeping right would've taken me to Plum.
At that point, the drive was somewhat slower because it was a bit narrower and twistier, but the road was fine and it had far fewer vehicles. The scenery became more of a mix of green pine trees again with lots of red dirt interspersed throughout. We saw the turnoff for Parc Provincial de Riviere Bleu, but there was a sign at the turnoff saying it was "ferme" (closed) just as the lady at the boutique for the Chateau Royal had said.
At 9am, we made a few photo stops trying to capture the Lac de Yate. The sign said it was supposed to be 40 square kilometers, but from the vantage points that we saw, it didn't look to be that big of a lake. Maybe this area was experiencing a drought or something, and if that was the case, that wouldn't bode well for our prospects of seeing the waterfalls flow.
Eventually, we turned right at a signpost pointing the way to the Chute de la Madeleine saying it was another 11km further from the main road. So we promptly took that road following some other vehicle thinking they were probably going that way, too. However, after passing by a turnoff for some park for "Netcha" (is that some New Caledonian pidgin for "Nature"?), we then turned left onto a red dirt road (with some hidden potholes blending in the red dirt) for the Chute de la Madeleine car park.
We got there at 9:35am, and we were the only ones there. The outside temperature didn't feel too hot but we didn't take any chances and put on sunscreen as well as donned our hats. Then, we promptly walked past some Kanak totem poles (or something like it), past some kind of welcome kiosk that was unmanned (though it appeared that had it been manned, we were supposed to pay around 100 franc per person I think), and then onto the red dirt track to the right.
There were other paths, but we just took the shortest one to the falls. There were some interpretive signs in French, and aside from a quick glance at them to test my French, I ultimately wound up taking photos of the signs knowing that I could read them later at my leisure at home. Anyways, it didn't take long before we reached the first and nearest sanctioned lookout for the Chute de la Madeleine. There appeared to be some kind of rope barricade blocking what appeared to be a perfectly fine trail leading down to a sanctioned railed lookout below.
We merely stepped over the barricade then walked to that sanctioned lookout for our first views of Chute de la Madeleine. It turned out that the falls was a bit on the short side, and it probably had seen wider flows, I'm sure. But it was one of those river-type waterfalls that were block-shaped, which we thought was very unusual for a tropical waterfall.
In fact, there was a sign saying that this river didn't have a valley, which we thought was paradoxical. Anyways, we followed the trail up to the brink of the falls to see if there were some other views to be had, but the views there weren't that great. So we headed back to the sanctioned part and then went downstream towards the Point de Vue.
When we got there, we could clearly see that this was the better view of the waterfall as we could get the background mountain context along with the river leading to the falls itself. There were more longer trails leaving from this spot having to do with getting close to the endemic species that were rare yet identified by botanists who had explored this area in the past.
But we opted to go complete the short lollipop loop after having our fill of the falls from this vantage point. And by 10:40am, we were back at the car park where we saw another couple just show up. Since we had this place all to ourselves on this visit, it's now their turn to have this falls all to themselves.
Next, we continued our drive back towards the main road to the north, then we headed east to Yate. At some point, the road climbed steeply, but there was a viewpoint where we looked back down towards the Lac de Yate. The view was on the hazy side however, so we didn't linger for too long at this spot. And so at 11:15am, we continued our drive.
At 11:20am, we were on the other side of the Col de Yate, and there was a view looking east down to the bay. It was an attractive view, but again it was hazy and not terribly photogenic due to its flatness. We did see there was some kind of mining operation or something down below near the river, but we doubted that was the infamous nickel mining operation that threatened to kill off the recently-gazetted UNESCO world heritage listing of the reefs here (since it was said to dump toxic stuff right next to those reefs).
The drive eventually descended steeply then flattened out as we followed the coastal road south. The road started to degenerate into some unpaved dirt roads and half-paved roads, but it wasn't too bad. In fact, it looked like some work was going on to improve their condition. That said, there were a lot of speed bumps (the long kind that conspired to damage the car if we were going too fast) to keep us honest with our speed.
After a few more kilometers of unpaved roads and speed bumps, we'd finally arrive at the Cascade de Wadiana at 12pm. There was a pullout area besides the unpaved road next to a low bridge. But there were also several smoky patches as apparently someone was burning lots of stuff down here. We didn't know if those smoky fires were there to keep mosquitos away or if they were there for something else.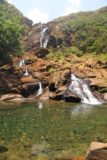 Whatever the case was, the place reeked of smoke and I knew it wouldn't be good for our lungs. Anyways, we only had to do a short scramble on rocks before getting to the plunge pool right at the base of the Cascade de Wadiana. It turned out that this waterfall was quite tall though there was no way we could take it all in given the trees in the way and the angle at which the water was falling.
Julie saw lots of fish in the plunge pool, and this was the kind of pool that seemed to be ideal for a soak. Anyways, after having our fill of this attractive waterfall (which Julie thought might be better than Chute de la Madeleine), we then continued on with our drive at 12:15pm.
We had mulled over whether to drive back around the south coast to complete the loop or to backtrack and take the roads that we had already taken to get down here. But we wound up making the executive decision to keep going south and see what we would find.
At about 12:30pm, we passed by some vestiges of the Goro Mine. Now this must have been the infamous nickel mine. We weren't sure if there was still something going on here, but it looked quite dead. Still, the ruins of some steel contrapments were interesting, especially when juxtaposed against the sea and the mountains around it.
The road continued to be a mix of unpaved gravel and rough pavement with some potholes starting to show up. Plus, there were stretches of the road that seemed to hug the ocean (in fact, I swore the seas might have inundated the roads here from time to time given how close and low they were).
We'd eventually get to some misleading sign at a junction saying the Port Boise was 6km in the direction of the Kanua Terra Eco Lodge. So we followed this route thinking this was the way we were supposed to go, but after several minutes of taking this detour, we managed to get to the eco lodge, but it seemed like the road went no further. We were surprised that there were quite a few cars parked here considering how out of the way this place was.
Anyways, at 1pm, we turned back and headed back to the main road. Now, the presence of potholes on the road were very frequent. Some of the potholes were like craters, and we had to be careful not to damage the rental car on them. I guess this was my hand at driving these 3rd world kind of roads like what we had seen in Africa and India firsthand now.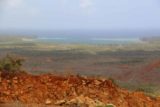 At 1:25pm, we arrived at the viewpoint at the Col de Boise. It was quite windy at this stop, and the road to get up here was quite steep. There were a trio of hippie type folks already chilling up here, but they were headed back in the opposite direction that we were going when we showed up.
Next, the road descended from the col and then we approached this massive and unsightly industrial area of Prony. Given the massive scale of this complex and the quantity of cars that were parked here, we figured that perhaps this was the controversial nickel mining operation that we had read about going into this trip.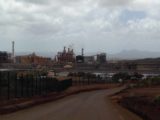 This got Julie and I thinking about how perhaps nickel mining was the main economic driver of New Caledonia, and despite the desire to protect the lagoons, especially since it became UNESCO world heritage recently. With the COP21 happening in Paris, where a bunch of countries were going to get together again and try to find policy solutions and worldwide binding agreements to curb climate change, this Prony Industrial Mine demonstrated the reality of what the environment was up against.
After all, if wealth building would continue to be through extractive (and almost all the time polluting and unsustainable) practices, there'd be no way the COP21 would amount to anything. The only real solution is to make everything cost what it's supposed to be – i.e. dirty energy, dirty products, etc. would have to price in the clean-up costs and mitigation costs associated with said practices. Only then would renewables and sustainable/responsible farming and products would be on equal footing with the status quo means of wealth building.
Besides, it was the government subsidies for dirty and irresponsible practices that continues to prevent the responsible practices from thriving, and with these market distortions that remain in place, unsustainable practices like planned obsolesence and mining will continue to be the primary ways to build wealth.
And indeed, seeing how many people were employed here was a sobering reminder of why making money is almost always at the expense of sustainability.
So once we got past this extensive complex (where we saw there was even an on-site police to ensure no one would sabotage this operation, I guess), we were then back on the remote rough and undulating roads. The drive was pretty featureless to be quite frank, and it was made even more featureless as we were following a pair of trucks probably hauling the nickel material or whatever back to Noumea and the ports there.
Plus, the drive seemed to go a lot longer than we remembered on the way in, further attesting to the fact that taking this south route was probably not the wisest thing to do. But then again, we wouldn't have seen this real aspect to how New Caledonia works either, and sometimes these lessons are valuable regardless of whether they were beautiful or not.
Eventually, we got through the small town of Plum, and then we got back to the familiar roundabout by the Casino Supermarket near some road construction. Once again, there was a little traffic jam, but it wasn't as bad as it was this morning. Anyways, we then followed this route past the domestic airport again (now we came to the realization that we did indeed go the correct way for the most part this morning), and then I decided to continue back to the freeway to see if there was a shorter and more efficient way of getting back to the Bay of Lemons (Baie des Citrons) so we could fulfill our crepe and gelato fix at Amorino.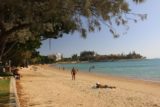 It wouldn't be until 3:20pm when we'd finally make it back to the Baie des Citrons. Along the way, we followed the west coast, which seemed to be full of cruises and small harbors with lots of sailboats. The drive here also seemed to be a little longer than I had expected, but I didn't want to chance going right through the city center and try to figure things out on the fly at this time, especially after a long day of driving.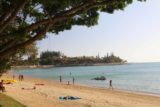 Now, Julie did tell me that we had a 1000km limit on our car hire. This was news to me, and I wondered why she didn't tell me this earlier. Anyways, we were only 10km away from breaching that limit, and I'm sure we're about to get nickel-and-dimed again by the time we'd return the car back to the international airport on Wednesday. So an already expensive trip is going to get even more expensive yet again.
Anyways, we managed to find street parking right across from the shopping area across from the Bay of Lemons. Then, we made good on our sweet tooth indulgence and got ourselves a delicious crepe with nutella, two scoops of Tahitian Vanilla gelato, and chantilly (whipped cream). Julie got another one of her three-scoop sorbets like last time.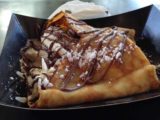 Once we were done with that indulgence, we then walked around to see if any of the lunch spots would be open again, but once again, we could clearly see that since it was pretty much the same time as yesterday when we were here, nowhere except some Cuban-like cantina was open for drinks. Other than that, there were still folks playing at the beach at the Bay of Lemons though not nearly as much as yesterday.
At 4pm, we were back at the car. Next, we took the road back towards Anse Vata and noticed some people were going into the aquarium, but it was past 4pm and there'd be no way we would be able to get in. So we just wound up back at the Chateau Royal at 4:10pm.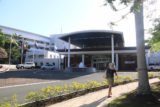 Then, we walked over the Le Meridien to see Louise at the concierge again to confirm that our dinner reservation was good for Hippocampe tomorrow. When we saw her and confirmed it (she remembered us), we then went downstairs at Le Sextant just to see what they might have for dinner since we hadn't eaten a full meal since breakfast.
After seeing that Le Sextant had some interesting things including poisson cru (looking like the Tahitian tuna salad that we've come to know and love since our Tahiti trips) as well as some curried local prawns, it was looking like we could very well be eating here for dinner. However, Julie wanted to go back to our room to see if Amadeus was also worth the walk.
Next, we walked past the Le Meridien pool, which was far less busier than yesterday. Then we got back to the beach, where we saw fewer kitesurfers as well as fewer beachgoers though it was still quite windy down here. And then, we went around the Chateau Royal smaller pool before going back upstairs to our room finally at 4:35pm.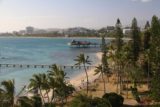 We'd spent the next couple of hours drinking the Breton cider that we had bought yesterday (now that it had been chilled in the refrigerator) as well as heating up the leftover banh xeo.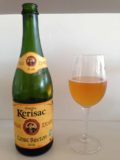 Then, we chilled out on our balcony for a bit while Julie was internetting and I was writing this blog. And that was when we noticed that we wouldn't be getting a sunset view as the sun was setting just behind the contour of our building. Oh well, I guess for tomorrow, if we were going to see the sunset, we'd have to be on the beach or something.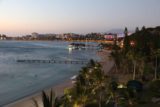 Anyways at 6:45pm, we called the Amadeus Restaurant for a 7pm reservation after seeing their very good reviews. We figured that with all the chain eating and subpar fusion or ethnic foods that weren't French, we mind as well try a local spot that had a real French flair to it. And so after securing our reservation (clearly hardly anyone eats dinner that early I guess), we immediately made our way downstairs and walked to the Rue de l'Anse Vata.
By about 7:05pm, we arrived at the restaurant and were seated right next to a koi pond. Seeing that there was standing water there, we put on DEET immediately. We were one of the first ones here as well as a larger party that had also showed up. As we mulled over our menu options, we decided on having some lobster carpaccio as a starter, then the duck breast as Julie's main and the veal Rossini (which had truffle, foie gras, and other things on it) as my main.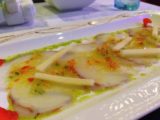 The lobster carpaccio was so different yet so tangy and tasty that we ordered another one of those.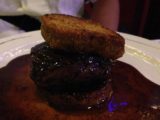 Then when the mains came out at about 8:15pm, a chef was there cutting up Julie's duck and then presenting the cut up pieces in a very interesting circular manner. As soon as I took a bite out of my veal, I tasted the explosion of truffle. The foie gras was also very smooth while there was a crunchy breaded exterior to contrast the gamy softness.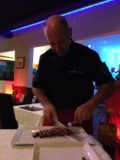 Along with the veal and the duck, with each bite that we were taking, I was already concluding that this was by far the best meal of this trip! It was a good call to come here.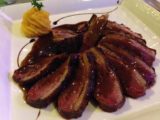 Eventually, we were totally stuffed. There was definitely plenty of food and we couldn't save room for dessert. So at the end, we paid roughly $113 USD for the meal, which was far more affordable than any of Le Meridien's meals, and this meal was a far better value. So I guess Amadeus was now setting the bar higher for the L'Hippocampe experience we've booked for tomorrow.
Just before we left, Julie asked the Melanesian waitress if the chef was French. She answered that he was Italian, and I guess that might have made sense considering the veal I just had was named "Rossini", which was definitely was not a French name.
So we left the restaurant fully stuffed, just as it looked like the restaurant itself was now complet (full). Then, we did what we could to walk off what we had just eaten as we were going back the way we came to the Chateau Royal. And eventually at 8:55pm, we were back at the room all tired from this long day of driving and waterfalling.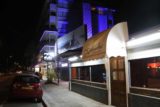 Tomorrow, we were booked on the Phare Amedee excursion, and hopefully the weather would hold up for that! I looked forward to not having to drive after today's experience. And we hoped this last excursion and full day on New Caledonia would be a fitting end to this milestone trip for Julie's birthday.
Day 8 (December 1, 2015 – Noumea, New Caledonia): "Snakes, Turtles, and Embarrassing Dances"
It was 5:55am when I awoke. Once again, Julie had gotten up a little earlier than me, but in her attempt to Facetime Tahia again, she came to the realization that today was a Monday back at home and that she should've been in school by now. When we tried to figure out when would be the next opportunity to Facetime her, we realized that since we wouldn't be back from our day excursion to Amedee Island until around 6pm (or 11pm back at home), there'd be no chance to talk to her until we get home.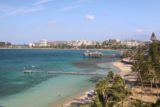 At 6:35am, we were once again back downstairs at the breakfast area where the aggressive birds were once again going after unattended leftovers or other foods sitting out. Julie told me that she saw one of the birds pecking away at one of the serving spoons in the buffet area. Meanwhile, there were some bread thrown onto the adjacent rooftop down below our eating area, where it seemed like the larger white gulls couldn't eat that bread (it couldn't figure out how to get at the softer parts of the bread underneath as it played bread hockey) while the smaller birds seemed to be smarter at getting beneath the hard part and eating the softer parts.
I'm sure human food must be too easy and supercharged with energy to keep these birds from going back to their normal diet.
Anyways, we were back downstairs at the lobby at 7:40am along with two or three other couples, and we were anticipating our 7:45am pickup as scheduled. And like clockwork, our bus driver showed up and we promptly got onto the bus and were whisked away. The driver at first stopped at Le Meridien and some other accommodation by the aquarium, but nobody showed up from there. He did pick up one other pair of girls from an accommodation right across from the Baie des Citrons, and that was when we were taken to the Port Moselle wharf.
We embarked on the boat while there was a band playing Tahitian music. Little would we realize that this day tour to Amedee Island had a much more Tahitian or Polynesian flavor to it than something we might expect from Kanak culture.
After a little confusion trying to figure out where we should be sitting, we finally figured out that we could go upstairs from the aft deck and then chill out in the open air under some shelter from the sun. As the boat took off, the ride was a little on the bumpy side since the open ocean seemed to be pretty choppy thanks to the strong winds coming from the east. Sometimes, the splash from the boat crashing against the waves went high enough to blow up then back into the sitting area surprising us with some water on our faces.
Finally at about 9:30am, we had landed on Amedee Island after the 45-minute boat ride had ended. That was when we saw firsthand the bright white sand and the attractive white lighthouse, which unfortunately was closed. So we couldn't go up to its top and get nice reef views around the island from the top down. Bummer.
We didn't get much of a chance to get settled in any of the lawn chairs out there because it then became time to get onto the 10am glass bottom boat cruise. The space was a little cramped on that boat, and we noticed that there were a couple of "pilot fish" or "lazy fish" that sucked onto the glass surface and then hitched a ride on the boat. I wondered if those same fish hitched onto the shells of the large turtles that this island was famous for.
It was hard to take photos on the glass bottomed boat since the glass was a little on the cloudy side plus there were lots of bars in the way. I was also getting a bit of a headache as the boat was rocking while we were all paying attention to the bottom of the boat.
What was pretty neat about our tour was that we got to see a handful of large turtles swimming about. One of them was called Marcel because it was said to be a French name that could pass for a boy or a girl, and that they couldn't tell if Marcel the turtle was a male or female.
The glass-bottomed boat tour ended at about 10:45am, and then Julie and I spent the next 10 minutes checking out the Amedee Lighthouse (Phare Amedee). There was hardly a cloud in sight on the island so the lighthouse was pretty much jutting up against an almost perfectly clear blue sky. The scene here was quite bright so the camera was overcompensating and making everything appear dark. So I had to try to fight that by making my shots even brighter (risking a blow out or wash out with too much bright light), but I learned from my Whitsundays experience just how easy it is for the camera to think everything else should be darkened to even out the light balance.
At 11am, we got onto the big boat again for an outer reef tour. This one was a bit more subdued and less interesting than the glass-bottomed boat. We saw how extensive the reef was between Amedee Island and Grande Terre, but they didn't photograph well since everything looked pretty flat. Perhaps the most interesting part of the tour was when one of the crew members tossed bread out into the water to bring the fish closer to the boat for photo ops.
At about 11:45am, we made it back to Amedee Island, which was just in time for the buffet lunch and pre-lunch cocktail. The cocktail was pretty much rum and punch, and it didn't take long before the food buffet got started.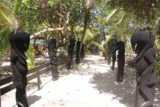 There was an assortment of good stuff including a very popular poisson cru (Tahitian raw tuna salad) as well as some good hot foods like New Caledonian Paradise Prawns, some seared yellow-fin tuna, some pretty good roast beef, and coconut rice among others. Julie and I agreed that the French really know how to make good food, and this buffet was surprisingly pretty good.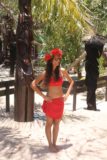 There was also ice cream, lots of fruits (including sweet pineapples), some kind of panacotta (creme-brulee except it wasn't burned), some local Caledonian bananas, and more. There was simply way too much food, but believe it or not, some of the popular items like the poisson cru were already gone when we went for seconds!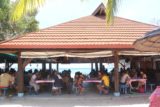 Towards the end of lunch, the musicians with the ukeleles (playing mostly Tahitian music with a mix of French Polynesian though nothing that I'd characterize as Kaneka) started to beat some drums. I think that was the cue for the ladies on the staff to get into grass skirts and start doing their Polynesian dance. And sure enough they started to come out and do their hip shaking dances to the fast drum beats.
The dance became interactive when they started having one guy on the adjacent table to us get up there and dance with the ladies. Then they pulled me up there to do the same. Over the next few minutes and a few more songs, some other guys were brought up to show their Polynesian dancing skills. The first guy that went up was pulled up again to do another dance with another one of the ladies, which prompted one of the older ladies sitting at our table to say, "Gee, they're pulling up all the young men."
Eventually towards the end of the performance, they brought me up once again. But instead of a seemingly benign short dance routine like before, it seemed like they were doing something else with me. First, one of the ladies had me put my arms all the way up, then she was waving her arms beneath my armpits in a slow and sensual manner. I was wondering what Julie was thinking as this was happening.
Then, the same lady pulled off my shirt while another one of the dancing ladies put a grass skirt on me. Then, perhaps the most attractive of the dancers went up behind me and put on these coconut-shell bras. Very embarrassing, especially since I knew that Julie would now have blackmail material against me at her will. She followed that up with putting on three leis around me, and then it seemed like three of the dancers surrounded me and put on another routine for the crowd while trapping me in.
When the dance routine was over, three of the dancers kept going on their routine. The attractive one led me to the room behind the musicians so I could put on my shirt. Apparently, my Chacos were still on stage. She told me in her broken english that she hoped I had something to remember New Caledonia by. I was quite sure that this was certainly accomplished as of this moment.
As I was walking back to my seat, I was getting random compliments from some guys saying I did well on my dance. I had to have gotten at least three or four of these comments, which started to make me think that I must have been made famous by this routine. Later, one of the Kiwi ladies we met during the boat ride here told me that the ice cream I was having was well-deserved. Even one of the school kids told me (or to someone in my direction), "Il a danse." (He danced)
Well, with the lunch over, we were now pretty much on our own for the rest of the afternoon to chill out, relax, and even go snorkeling. There were other activities on offer here like coconut shaving (husking?) demonstrations, palm tree climbing, and some other things. It sure seemed like the entire time spent on this excursion could be spent doing something on the program. But we opted to go the low key route.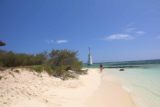 First and foremost, we decided to walk around Amedee Island just to see what else there was here. After continuing in a clockwise direction, we were approaching a jetty, where Julie was telling me something about some tide pools on the jetty. As Julie was coming down the rocks, I noticed there was a banded snake lying still on the sand next to the rocks. It looked like Julie was about to step on it before I warned her.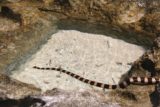 At that point, Julie panicked and ran towards me while the snake appeared to be on guard and raised up while backing away. That was a close call!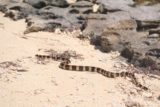 Anyways, that snake now became a photo subject as we watched it deliberately slither back onto the rocks of the jetty, then through some small tide pools, before slithering across the sand again, then finally disappearing into the bush. That was enough for us to realize that bushwhacking here would probably not be a very wise move (especially considering that these banded snakes were venomous).
As we continued our walk along the beach, we then went towards the quiet backside of the island where snorkeling here wouldn't be recommended since the waters were rougher. As we got to the path leading back to the lighthouse, I noticed there was a sandy path going through more bush terrain inland from the beach. I believe this area was a protected area (at least the beach and reefs were) so I just explored that trail to see where it went. However, after the close call with Julie and the snake, I was always keeping a keen eye out for snakes crossing this trail.
It would eventually curl towards the far eastern end of the island then curl back towards the jetty on that side (that we had chilled out at very early this morning). Just as we were approaching the jetty there, Julie and I saw yet another banded snake crossing the sand then underneath the lawn chairs before disappearing into the bush. There were a couple of ladies relaxing around this area, and Julie let them know about that snake.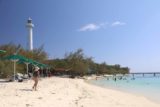 Once we got back to our chill out spot at 2:30pm, that was when we finally donned the snorkeling gear and the life vest (for easier floatation), and as I was approaching the water, I saw yet another banded snake floating around me. That made me hesitate to go in the water, but I figured that I had to go in anyways since I desired to see the sea turtles in a snorkeling environment.
Anyways, after getting over my snake hesitation, I finally got into the water, which felt good after how hot it had felt during our short walk around the island. At first, I saw lots of sea grass and some schools of small fish, but as I started to encounter some corals, I saw more colorful fish as well as brain coral.
Then, as I started to see giant clams and some strange coral formations or remnants of some kind of concrete or something like that, that was when a sea turtle suddenly passed before me. With my GoPro
, I immediately started to snap away photos as well as take some videos. Unfortunately with GoPros
, you can't preview your work on the spot so it was pretty much a guessing game.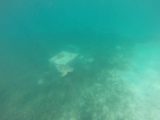 As I slowly followed the turtle while it was busy eating at stuff in the sea grass below while being accompanied by a shark-looking fish (might be the "pilot fish" sucking on the underbelly of the turtle shell), that was when another turtle came in and joined the initial turtle I had been watching.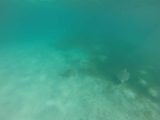 Eventually, the turtles dispersed, then the one turtle I was following would eventually get into deeper waters where I didn't want to go (past the buoys). Next, I would start to have headaches again as I was probably a tad seasick snorkeling like before. So that would pretty much conclude my snorkeling self-tour, but I rejoined Julie a pretty happy customer thanks to those turtle sightings.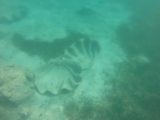 Indeed, the 2008 awarding of the reefs off New Caledonia as UNESCO World Heritage sites were definitely well-deserved.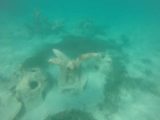 At 3:45pm, we finally had some down time though we knew that it wouldn't last for very long since we had to get back onto the big boat at 4pm. Still, we deflated our life vests, tried to clear out the sand from our reef shoes, and then try to dry off.
As we headed back to the big boat to leave the Amedee Island, we saw a couple more banded snakes. That brought our informal count up to something like 6 or 7 snake sightings. I guess after seeing the first couple, it seemed like these snakes were everywhere as it appeared that we noticed them at an even higher rate.
At 4:05pm, we were all finally aboard the big boat back to Port Moselle on Grande Terre of New Caledonia. As we were boating back, Julie and I were on seats in the middle aisle that were facing the rear. The ride itself didn't seem as severely choppy as on the way in. In fact, Julie and I were able to look back and see the Phare Amdedee for almost the entire boat ride.
At about 5pm, we were finally back at Port Moselle. As we left the boat, the musicians were now playing Hawaiian songs as they were singing Aloha e. After the musicians, we were flanked by two lines of the ladies working the Amedee Island, including the dancers at lunch. When I made eye contact with the lady who put the coconut bras on me, she gave me an acknowledging smile and chuckled. I did the same.
At 5:40pm, we were the last to leave the bus as people were being dropped off. And so it was time to start packing, showering, and getting ready for our 7pm dinner at L'Hippocampe at the Le Meridien property next door. When we were done showering, it was about 6:15pm. At that point, I could see from the pinkish cliffs that the sun had already set. So much for catching the sunset one last time.
At 6:50pm, we headed downstairs and walked to L'Hippocampe. Then, we were promptly seated at 7pm. We had a lot of expectations for this place since it was said to be one of the best dining experiences in Noumea, but our Amadeus experience last night really raised the bar. We'll see if this place can meet the hype.
Our dinner pretty much consisted of an appetizer of scallop ravioli with a couple of chefs surprises. So far so good. But when the mains came out, it seemed like Julie's Wagyu beef was a bit overcooked and dry. She was very disappointed with it. However, my veal was pretty good though it wasn't quite as good as what we had last night.
By the time we were done with our mains at around 8:05pm, we still had to wait about a half-hour for our souffle to show up (even though we had put in our order for it very early on). That kind of frustrated Julie, and I guess things kind of compounded as it seemed like the waiter/waitress neglected us (probably for not ordering any wines).
When the "souffle" came out, it was more like lava cake on a crust. Indeed, it wasn't the souffle we were expecting, and I guess in the end, things kind of went downhill since the starter. So after paying for our dinner (roughly $122 USD for the meal), we concluded that our finale of the trip was a bit of a disappointment. I guess this was yet another affirmation that chain places almost never surpass a local place in terms of value and quality.
At 8:50pm, we were finally back at the room. And that pretty much ended this last full day in New Caledonia, which was quite the busy one. Tomorrow, we're supposed to drive back to the airport though I had fancied going to check out the Place des Cocotiers before taking the freeway out of town. We'll see how it all plays out, but in the mean time, we had to brush and floss, and wrap up our packing.
Day 9 (December 2, 2015 – Los Angeles, California): "From Hot to Cold"
It was 5:25am when I awoke. Unfortunately, I awoke with a mosquito bite right on my forehead between the eyes. I had trouble sleeping because I could hear that damn mozzie in my hear, and given how stealthy they are, there was no chance I'd find it and kill it before it took its pot shot. Hopefully, it wasn't carrying anything deadly.
We spent the next hour trying to reconcile the fact that we had made a mistake trying to dry our wet gear outside on our balcony, but the reality was that we were probably better off drying things inside the apartment where it was air conditioned (therefore drier than the humid outdoors where moisture would be retained). So now, the gear and clothing stinks.
At 6:35am, we went downstairs for the usual breakfast. Nothing extraordinary there except the veggies and the meatballs (something different) were both very salty. We were also entertained watching some poor guy's unattended brekkie getting pilfered by one of the aggressive birds.
At 7:30am, we put the stuff in our luggage, checked out (they were about to charge us the transfer except we never took it since we had our own wheels; good thing Julie caught that), and then got back in the car under the overcast skies.
This time as we drove out, we took the Rue de l'Anse Vata all the way north to some of the side streets going left then north towards the Place des Cocotiers. This would be the first time we'd catch a glimpse of the main city center of Noumea, which Julie thought was cosmopolitan in much the same way that Honolulu could be in Hawaii. It was certainly way busier than say Papeete, Tahiti.
So at 7:55am we parked in one of the open spaces on the side of the road once we saw the main square, and then briefly walked around and tried to get a flavor of this public square. Since it was still early morning, only locals were out and about going about their business. I guess this place could be more festive and happening during lunch and dinner times, but at this time in the morning, it was pretty dead.
At 8:10am, we concluded that there was no more reason to linger at the Place des Cocotiers any longer, and then we continued driving onto the freeway leading us up to Tontouta International Airport, which was still a ways away from Noumea City Center (something on the order of 50km or so).
We weren't in any terrible hurry since we knew we'd be at the airport early, and so we didn't chance any risky passes of slower trucks. With hindsight being 20/20, I guess this was the road we should have taken all along to get to Chateau Royal in Noumea Sud in the quickest route possible. All those longer coastal routes costed us a little more time and probably a little more money (since we were about 50km over the unlimited 1050km limit), but I guess in the end, what's another $10 USD over the excess driving.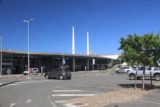 At 8:55am, we finally made it back to the Tontouta Airport. It was pretty empty when we showed up, especially since we were a little over 3 hours from our departing flight to Auckland. When we took everything out of the car (except for leaving the torn up maps that we had been using), we went to the Hertz office, but they weren't open. There was a sign saying they only open for arriving flights, and I guess the Air New Zealand Flight we were about to take wasn't considered an arriving flight?
So we used the key dropoff, and I guess we'd have to wait for whatever charges that will be levied on us after the fact (there'd better not be anything besides the overage charge).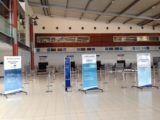 After killing time shopping at the airport to use up the remainder of our francs (we had about $100 USD worth of them), we then promptly got onto the plane at around 11:40am. It seemed like Air New Zealand was prompt yet again, and come to think of it, I don't think any of our Air New Zealand flights had been delayed. Knock on wood, I hope that won't be the case for our really long flight back home later tonight.
After watching yet another version of their creative and entertaining safety videos (this time it was of some surfing legends instead of the Men in Black spoof with Stan Walker and some All Blacks rugby players), I watched a silly but entertaining movie called Entourage (not knowing or even seeing any of the HBO episodes), and then I dozed off.
By about 5:05pm, we had made it to the familiar Auckland International Airport, where we'd have to put up with our long 6-hour layover (Julie learned there was a 7:30pm flight but the cost would've been another $1000 per ticket more so we went with the later flight at 10:55pm). The airport was also noticeably colder than the hot weather in New Caledonia, but I guess that's to be expected in New Zealand. After all, it was cloudy outside with the clouds looking dark and menacing.
Anyways, we would have ourselves another round of ramen noodles from Hayama, but this time, we refused to get prawns after watching the Matthew Evans special on Australia+ that we had seen on the tellie last night. I recalled seeing two nights ago that he talked about the behind-the-scenes engine (the people and jobs) running the Australian economy (like armored car guard feeding the ATMs, the shipping routes of all the stuff we buy, what happens to the rubbish, and even the value of green spaces like Royal National Park near Sydney), but this time, we saw the dirty secrets behind the unsustainability of trash fish and the prawn farming trade in Southeast Asia.
So now we knew that with a loophole in food labeling for cooked prawns or shrimp, it was more likely than not that whole ecosystems were being trashed by dredging for trash fish becoming feed for the farmed prawns.
Boy we could certainly use more honest investigative journalism like what the Australians have back at home. But in a country where money reigns supreme above all else, I highly doubt we'll have that.
Come to think of it, I highly doubt that the COP21 going on in Paris right now will amount to anything meaningful given that the only voices that have impact will come from influential people with wealth. These are the types of people who have big egos and selfish ambitions to attain that wealth in the first place, making it highly unlikely that something as democratic and selfless as sharing a common resource with the world (i.e. the environment) would be properly protected or looked after by these same folks that plunder it.
So as long as we continue with the fallacy that capitalism is the economic system of the world (where wealth is concentrated to the 1%), environmentalism (where wealth is distributed to everyone since we're all sharing the same resources) will always be on an uneven playing field and will take a backseat to the selfish ambitions of that 1%.
And while we're headed back to life, back to reality, I'm sure it won't be long before we're longing for the next getaway in a world that's getting increasingly hot, crowded, troubled…
And with that, we'd kill the next few hours trying to keep ourselves busy with blogging and internetting at the airport. Eventually, we would board the plane at 10:10pm, and we could already see that it was going to be yet another full flight. That said, Julie and I were sitting way in the back this time so we were one of the first ones to board after the baller classes and families. It turned out that there was one more row behind us before the bathrooms, and it appeared to be empty. However, someone claimed that she wasn't feeling well so she was the one who got to sprawl on that entire back row and sleep comfortably.
The flight cabin was quite cold throughout the flight. As a testament to how unprepared I was for this trip, I didn't have a second pair of long pants. So I was basically in nerdy attire with khaki shorts, hiking socks, Chacos, and a Tahitian T-shirt with a waterproof UK jacket over my upper torso. My shin up to my upper knee was exposed to the cold, which had to have been around 60F or something. So I made liberal use of the blanket, especially around the legs.
We had a pretty turbulent flight for what seemed like a large part of the evening. Julie kept clutching my left arm while I was in and out of consciousness. I think when it finally got to around 6:45am New Zealand Time (9:45am California time), that was when I finally kept myself awake to watch a bunch of episodes of Flight of the Conchords. I had always been looking forward to seeing this comedy routine on HBO, but since we don't have HBO and we never seemed to have access to these episodes while flying with Air New Zealand, I never got to see them until now.
Unfortuantely, I didn't get to finish the last two episodes as I had run out of time. Hopefully, I'll get a chance to see them later if they're on Amazon Prime or something. We'll see.
Anyways, the plane touched down at around 1:25pm. It was actually seemingly ahead of schedule. But I knew from experience that before we could celebrate and think we're getting home sooner rather than later, I knew that the passport control, customs, and the inevitable poor line management might rear their ugly heads again. Plus, since we were in the back of the plane, we still had to wait for everyone else to de-plane before it was our turn.
It wouldn't be until around almost 2pm when we were busy walking out of the plane then onto a seemingly new corridor with glimpses of the fancy international terminal below us. That's new. But still, once we got back downstairs to the ghetto part of the airport underground, that was when we saw straight away that we were back in the super long passport control and customs lines.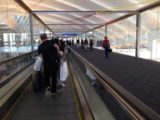 The passport control and customs part of it seemed relatively painless as we would be out of there at around 2:15pm I think. However, then we saw there was utter chaos as there was a massive line of people crowding towards the exit. We had to squeeze our way towards the baggage carousel 9, which was where we got our luggages. Then, we basically crowded our way into the exit queue seeing that it was total chaos thanks to the lack of line management here. Julie wasn't the only person taking a photo of the scene as apparently other people with iPads and other things did the same.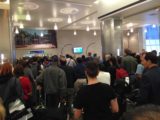 Who knew that it would take us another 30 minutes just to get out of the airport!?!? And we didn't even get a chance to call the 105 Airport Parking shuttle! We were feeling really bad for those folks who had international connections as we knew that our flight was a connecting flight to London Heathrow.
Well, once we finally picked up our car and drove home during the early rush hour, we were finally home at around 4:05pm. I always knew that it typically took around 2-3 hours from the time the plane lands to the time we'd finally get home. It didn't matter that they automated the passport control, because they still had us line up and see a live person, then go through a pair of customs lines. And in the the end, we concluded that they merely window-dressed the international passport control and customs process, but fundamentally, nothing really changed.
I guess it was finally back to life, back to reality. But at least we got to finally embrace our daughter once again…
Visitor Comments:
Got something you'd like to share or say to keep the conversation going? Feel free to leave a comment below...
No users have replied to the content on this page