Days 0-2 (November 23-25, 2015 – Hienghene, New Caledonia): "Very Long Haul Transiting"
When Julie and I arrived past the security at around 7pm, that was when I realized that I had somehow forgotten my notepad and pen, which I always bring along on every trip to take notes. I guess with all the chaos of tending to Tahia's virus (she was running a 103F fever on two of the last three days), I must have forgotten about a lot of the little things like that. So we wound up spending some $6.50 for a last-minute notepad, which was a painfully expensive lesson on what happens when you don't bring what you need on your trip. Even for a moment, I thought I had forgotten to bring our adapter plugs (including my emergency Brookstone one), but it turned out that I had put it in a different spot in the laptop bag instead of the day pack, which I had switched out for this trip.
Anyways, we were back at the posh Tom Bradley terminal, which we knew was very nice from our Spain and Morocco trip back in May and June this year. But now, it looked like there were more restaurants that we remembered. Still, we had some time to kill, and we opted to go for the Umami Burger place, which featured this $15 truffle burger. Julie also got some kind of rotisserie chicken with cold curried cauliflower from some kind of tavern just a few kiosks over from Umami, which was all organic.
Once we were done with the food (overhearing lots of Australian and Kiwi accents around us so we wondered if they were taking the same flight as we were to Auckland), we then went upstairs for the first time and checked out the bars at the mezzanine. There, I saw that they were showing the Bills versus Patriots Monday Night Football game, which we happened to catch when it was tied 10-10 and the Pats had just scored to go up 17-10. Julie and I also went up to the 6th floor (another floor above the mezzanine), where it appeared that the lounges for those with priority status from various airlines could chill out at.
Anyways, with a couple of hours to kill before our 9:45pm flight to Auckland, I was being entertained watching the football game. With a lot of Aussies sitting around the bar also checking out the game, I wondered how strange they must think of this game considering they're more into rugby or Aussies-rules Footie. So all the sports entertainment pretty much persisted right up until it was time to board the Air New Zealand flight. There were more TV screens showing the game at some bar right across our gate for our flight so I wasn't missing a thing.
Once we finally boarded the plane at 9:30pm, Julie and I were busy getting comfortable. Both of us were pretty tired, and it would turn out that we would spend the majority of the flight sleeping despite how uncomfortable economy class seats tended to be. However, when we woke up, we did manage to sneak in a couple of movies before landing (like Spy and Magic Mike XXL).
We finally landed and ultimately got to the food court at the international transfers and terminal area at the Auckland International Airport at 8:15am. By now, it was Wednesday morning so we had lost a day to this point. And since we knew that we would have a very long drive ahead of us once we get to New Caledonia, Julie finally decided that we should have ourselves an early morning ramen breakfast even though we had already eaten dinner and breakfast on the plane.
Julie had also picked up some manuka honey jars, which weren't cheap at around 35 NZD. But she was coming down with a sore throat and she knew that the real manuka honey here was the only kind of honey recognized for medicinal properties. And once that was all done, we then boarded our 10:25am flight to Noumea, New Caledonia.
The flight was pretty uneventful as it took us about 3 hours to get from Auckland to Noumea, but it was only 11:25am when we finally were in the airport at Noumea (though I'd find out later that this airport was actually at least an hour's drive north of Noumea) thanks to the us having to jump back another two hours from Auckland time. During the flight, we were enjoying watching Mission Impossible Rogue Nation. However, we were stressing about whether they would make us toss our expensive jar of manuka honey since we saw in the customs form that we had to declare it.
Well, once we picked up our checked luggages, we got through the customs line and showed our jar. The lady working customs there said it was no problem and so we were relieved that Julie could still use that jar of the medicinal honey to fight off what seemed to be a pending cold or flu (thanks to Tahia probably passing it onto her).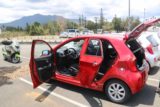 After exchanging some money then picking up the car rental at 11:50am, we then finally started driving off 15 minutes later after pointing out the scratches and getting our GPS set up. As we were leaving the airport and heading north, Julie noticed a "Simply" supermarket so we quickly made a stop there. It was a good thing we stopped when we did, because it appeared that the supermarket was going to close at 12:30pm for siesta.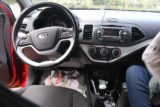 In order to meet the 1500 CFP minimum for credit cards, we went ahead and bought two extra large bottles of water. I hope we wouldn't have a leaching problem down the road with all this excess water and the warm weather causing the plastic to leach in the car.
Anyways, at 12:20pm, we were finally driving off for good. We knew from Julie's pre-trip research that it would be 5 hours of driving to get to Hienghene, which was where we were spending the night. The road surfaces were a bit rough, but they were fine for the tiny Kia Picanto stick shift that we were driving.
We noticed that the terrain around us seemed more like dry savannahs as there was a lot more brown and less green than we were accustomed to seeing in the South Pacific Islands. We had read that New Caledonia was one part of Gondwonaland (think Australia), which meant that it was one of the few islands to not be created directly by volcanoes. That alone made this place look and feel different.
We saw African-looking acacia-type trees looking like mushrooms as well as some pine trees juxtaposed with bamboo trees more towards the interior. Most of the time, the roads were dry, but we did see some pockets where the roads were wet from a passing rain or two. As we looked to the east, we could see there was persistent cloud cover so I'd imagine that while there wasn't that much rain out in the dry west, it must've been raining towards the east.
It wouldn't be until about 3pm when we'd finally made a gas stop at a Mobil near Kone. We still had 120km to get all the way to Hienghene so I knew that it would be around the neighborhood of 5pm or so when we'd finally get to our accommodation. There was a guy selling fresh lychees for 1500 CFP so we went ahead and got one bag.
When we finally drove off, Julie tried some of the local lychees and said they could've been sweeter (citing that she's had sweeter ones from the Ranch 99 back at home), but I guess we were supporting a local and the lychees were still sweet regardless.
As we were driving inland and crossing over towards the east coast of the main island of New Caledonia's North Province, the road was still quite twisty and steep. But we did make a couple of panoramic stops to break up the drive and let us get an initial taste of the forested scenery as well as the warm and humid weather.
As we continued driving further towards the east coast, we then headed north once we got to where the road went north-south. That was when we crossed what appeared to be a few scary-looking one-lane bridges looking like they were right on the ocean's elevation. We thought they could easily be washed out from high waves or flooding, and we hoped that we wouldn't be stranded tomorrow or the day after due to high waves or bad weather.
At 4:30pm, we got to another lookout and picnic spot, where it appeared that there was a nice view of a bay as well as some mountains in the distance along the shorelines. There was also a sign here with lots of graffiti on it. The sign was in French so I knew I couldn't translate quickly on the spot, but I took a photo of it so I could try to decipher it on my own time back at home. I did notice something about whales that could be spotted off the coast from this spot or something like that.
At 5:15pm, we had finally made it to the Koulnoue Village in Hienghene (sounds like "yieng-YEN"), which appeared to be the only accommodation in the immediate area. We saw quite a few gites (guesthouses) as well as local dives throughout the drive to get to this point, so I guess not too many tourists come out this way. The drive indeed felt far (it took 5 hours to get here like Google Maps had predicted), but I was already feeling the island vibe as strangers were waving at me and I would wave back.
Of course, our reason for coming here besides the rocks at Hienghene was also to check out Cascade de Tao and Cascade de Colnett among others. We weren't sure if they'd be flowing since we were in the tail end of Dry Season and the start of the Wet. But now that we're here, we knew that we'd have to target all those sights tomorrow.
But given how long it took to drive here, I hoped that we'd still have enough time to do those falls, the rocks, and Cascade de Ba before checking into Poindimie tomorrow. We'll see how all that plays out.
After checking into our room, which was far out in bungalow 3, we saw that the AC wasn't working all that well. At least they did have a tiny fridge to try to cool down our fruits and a select couple bottles of water. However, this was certainly no luxury spot compared to some of the other spots we'd been to in the South Pacific. Still, for all the independence New Caledonia had to offer, we looked forward to exercising that independence in the form of waterfalling starting tomorrow…
As we were getting cleaned up and checking out the premises, we saw a bright full moon rising towards the east above the open ocean. It appeared bright against the purple skies as the twilight was giving way to darkness, and for the weather to be clear enough to see this moon at this time, we were hoping that maybe the weather gods might smile upon us tomorrow for our full day of activity.
At 9pm, we made it back to our bungalow. The dinner was a pretty expensive buffet that wound up costing us around 8700 CFP, which was like $43.50 per person. I guess it could be worse. In any case, since it was a buffet, the food was very hit and miss. We did stuff ourselves on the Tahitian Salad (aka poisson cru) as well as some grilled stuff like the steak and mai mai (mahi mahi?) along with some local veggies. They had delicious chocolate sauce, but it didn't go with anything in the dessert kiosk as there weren't any vanilla ice cream nor anything in the pies or pastries that went with the runny fudge.
It didn't take long before we crashed and ended this exhausting day…