Day 3 (November 26, 2015 – Poindimie, New Caledonia): "No Privacy"
It was about 5:45am when both Julie and I woke up without alarms given our somewhat jetlagged state. The first thing we noticed when we looked out the window was how bright it already was at this hour in the morning. I guess since the sun had pretty much set before 6pm (or somewhere close to it) yesterday, which seemed early for a place that's in Spring and getting closer to Summer, I guess that meant that the sunrise must've been very early.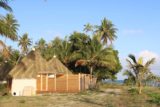 While Julie was getting ready and getting packed, I decided to stroll around the property for a bit. It was already on the humid side. When I got towards where the dining area was, I noticed that there were already a lot of people having brekkie. It was barely past 6am so that meant that the brekkie must've started at 6am sharp.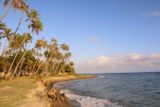 When I got back to the room to tell Julie of the large party having breakfast already, we decided to finish our packing, then load up the car before going to have our breakfast. I suspected that the brekkie was going to be a buffet like the dinner was last night. We're not fans of buffets, but at least for brekkie, that seemed like par.
Eventually at 6:35am, we left the room. By the time we loaded up the car and got into the dining area, it was probably about 6:45am. And at that time, we noticed that there were far fewer people eating at this time. The brekkie pretty much featured an omelette bar, some hot goods of hashbrowns, sausages, bacon, scrambled eggs, and spiced tomatoes. Then, there were also some condiments, especially a very popular nutella-like spread that was almost gone.
There were also some baguettes and toast as well as a pastry kiosk along with some fruits to round things out. It was pretty typical breakfast fare though I was pretty certain that this place wouldn't be cheap (especially since we paid over $40 USD equivalent per person on last night's dinner buffet).
Eventually at 7:35am, we were done with brekkie then checked out and started the drive north towards Cascade de Tao, which would be our first waterfall of this trip.
As we were starting to gain momentum on our drive as we were entering Hienghene's commune limits, we noticed some impressive-looking karst-like formations (I believe they were called La Linderalique). We wanted to stop to photograph them, but we just kept going on as we spotted a few more roadside stops to take in the scene. Eventually at 7:45am, we got to a turnoff for the Point du Vue (viewpoint), which took us towards the famous view of what the Kanaks called "Puxa" (that famous rock of Hienghene), but it was also refered to as the Poule de Creveaux (sp???), which translated roughly into something like a resting hen in French.
Julie and I were the only ones at this viewpoint this early in the morning. And with it just being us two, it was quite nice. There were also those colorful mushroom-shaped trees with the reddish leaves that seemed like acacia trees out of Africa or something. Whatever the case, we enjoyed our view of Puxa as well as the Sphinx looking in the other direction. We even made use of our tripod to take some nice couple shots with the Puxa in the background.
The sun was coming in and out, which meant that there was a contrast in appearance from there being color thanks to the sun and then muted colors due to the clouds blocking the sun. There was also a view looking into a bay, where it appeared Hienghene the town was situated right in back of it.
After getting our fill of this spot, we got back into the car at 8:10am. We then continued driving around the bay towards the attractive small town of Hienghene, which seemed to be the only town of note on this side of the North Province. We noticed some docks as well as some offices and even a communal market (which wasn't running as it would probably only be available on the weekends).
As we were leaving the town, the road climbed until we were alongside some long pullout with a view back towards the Puxa and the bay. The view from here was more distant, but it was nice in that we could get more of the water context plus there were some interesting plants fronting the views from here.
It wouldn't be until about 8:25am when we were done with this view. Then, we continued our drive further north.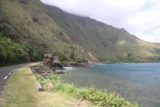 The drive would persist pretty uneventfully though I was getting in the spirit of things by waving to locals as we drove by. By about 8:45am, we noticed that the road suddenly came to an abrupt end as it went right into a large body of water. At first, we weren't sure if we were going the right way, but then when we looked up ahead, it appeared that we had just missed the previous ferry across this body of water. So I guess that was what the maps meant by "Le Bac".
I guess they didn't have the funds to build a large bridge across this bay so a back-and-forth ferry was the way to go. I don't know when the guy manning this ferry operates but I'd imagine this would be one major reason why much of the North Province would be isolated from much of the stuff further to the south. Anyways, by about 9am, we were finally leaving the ferry on the other side of the body of water.
Next, we continued driving past the village of Panie, where we noticed a gushing waterfall in the back of this village. It didn't look like there was any public access to get closer to that waterfall so we kept going towards Cascade de Tao trying to keep our eyes on the prize. We figured that we might attempt to photograph this Panie waterfall on the way back.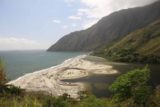 Finally at 9:15am, we had driven past a bridge where there was a sign fronting it saying "Cascade de Tao". As we were driving along that single-lane bridge, we saw the mighty waterfall to our left. There was definitely quite a bit of water in the waterfall and we knew that we had to find parking before walking back on the bridge to take a photo from there. Eventually, we found a car park on the north side of the bridge, where we promptly stopped the car.
While Julie was getting ready, I got my camera out and immediately walked onto that bridge so I could document the waterfall from there. Indeed, it was quite a big waterfall though it seemed small when I tried to compose it with some other things like the little inlet in front of me. So that was enough motivation for me to pursue the hike to get a closer look at this waterfall.
There was a sign here in French saying that it was 2km round trip to hike to the falls and back (1km each way). The sign also predicted that it would require about an hour. So with that, I went back to the car, and put the new Keens to the test. Meanwhile, Julie was pretty much ready, and with that we immediately headed on the developed path leading past some residence then past some donation box before getting onto the bush trail.
The trail itself was a bit on the rocky side, and even though I had read somewhere in the local literature that this was supposed to be a family-friendly excursion, I'd be willing to bet that it might be a bit too intense for our little girl had she been here. I'm sure she could do it, but it wouldn't exactly be a very comfortable experience for her.
As we continued along the muggy hike, we spotted a couple of areas where it appeared to be possible to go for a swim in front of some small waterfalls and cascades. There were also a couple of signs saying in French not to traverse the creek in times of rain (for obvious reasons). And finally at around 10:05am, we made it to a kind of a rocky area where we were able to get a partial look at the impressive Cascade de Tao though the trees tended to get in the way.
Julie and I weren't sure if we were supposed to continue further along the trail, but it seemed like had we kept going, we'd just be seeing more bush getting in the way. Plus, the trail seemed to be ill-defined at this point. So we decided that this would be our turnaround spot, and we took a few photos (including the view back towards the ocean), before finally heading back. But in hindsight, we probably should've kept going until we got to the base of one of the main drops of the falls as this just illustrated how ill prepared we were for this trip.
At 10:30am, we were finally back at the car. On the way back, we saw a French couple making their way up. That was the first tourist that we had seen all morning long to this point. And while I was busy trying to get the AC going in the car since the interior was quite hot, Julie went onto the bridge to take the photo of Cascade de Tao from there. Indeed, we felt the view of the falls from the road was better than on the hike, but perhaps the zoom on Julie's iPhone wasn't good enough to make it more compelling than the shots she took on the trail.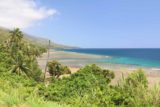 Next, we pursued the nearby (according to the maps) waterfall called Cascade de Colnett. Since it was labeled on the maps, we were kind of expecting it to be signposted like Cascade de Tao was. But as we were driving north, we saw a few more waterfalls from bridge crossings but we really couldn't tell which one was Cascade de Colnett and which ones weren't. Eventually, we got up to some town that the maps said was north of Cascade de Colnett, and that was when we knew it was time to head back south in search of the waterfall.
Eventually at about 10:55am, I stopped the car nearby some camping spot near a bridge where we spotted a cascade twisting its way down to a bay. Along the way, we saw the impressive Cascade de Tao appearing even wider as we were seeing it from the road at an angle. So I got out of the car, then walked back to the bridge where I was able to capture this falls that I guess could be Cascade de Colnett (at least that was what I thought the sign by the camping implied).
I also scrambled onto the beach, where it appeared to be in low tide. So I was able to look back towards the Cascade de Tao while it was fronted by the beach in low tide. That said, the Cascade de Tao looked kind of small from here.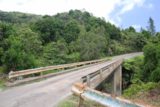 At 11:05am, I rejoined Julie back at the car. Still unsure if that waterfall I had just seen on the bridge was Cascade de Colnett, we continued onto the next spot where we saw partial views of some cascade on another bridge further to the south. We'd wind up by that bridge at 11:10am. And according to the maps (at least the one we picked up at the Koulnoue Village), it might have implied that this was supposed to be Cascade de Colnett since it said that it was on the next stream north of Cascade de Tao.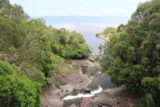 But when we were exploring the bridge, we never really got a clean look at the watersliding cascade in the distance. Now there were some cascades tumbling beneath the road bridge, and we saw some trails of use going past some deep tall grass onto some slippery rocks, but it was clear that in order to proceed any further, we would have to do some stream scrambling to get up to that partial view of the waterslide in the distance.
Julie and I decided that we were probably better off just going back to the car seeing that getting closer to this cascade was probably not worth it.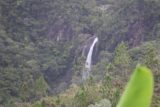 So at 11:25am, we were back at the car. We then continued driving south as we were about to enter the town of Panie. Then, at 11:30am, we saw there was that gushing waterfall we had seen earlier while passing through Panie. And as we finally found a small pullout across from some school or something, I then got back out of the car and went looking for a spot to view that gushing waterfall without trespassing. There were lots of homes between the main road and the waterfall in back of the valley, and it clearly didn't look like there was going to be any public access to get closer to that waterfall.
So I got my shots, then by 11:35am, I was back in the car to continue making the long drive towards Poindimie, which was where we were to spend the night. At 11:40am, we got back to Le Bac, and once again, we had just missed the previous ferry. There was a roadside stand here selling cakes and chocolate crepes, but since Julie and I were already muching on lychees, we passed on those desserts.
At 12:10pm, we made it back to the view near Hienghene. This time, the sun was in and out, but when it was out, the colors of the water of the bay near Hienghene was quite blue. That made the photos of the Puxa from here that much more compelling than it was earlier this morning.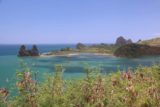 Julie and I mulled over going back to the Point du Vue, but we ultimately decided to pass on that given how pretty the views already were from where we were at this instant.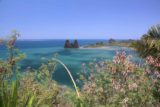 After having our fill of the panorama north of Hienghene at 12:20pm, we continued the drive south. Then at about 12:30pm, we were back at that karst-like rock formation (called La Linderalique, I think) we had vowed earlier to stop at. Actually, there was a bit of a car park and picnic area here, and there was a couple of French women already parked here and enjoying the scene.
Julie and I spent a few moments walking onto some kind of pontoon or platform, where we got what awkward photos we could get of the long and tall rock formations here before taking off.
At 12:50pm, we were back in the car, and then we proceeded to make the long drive further south towards Poindimie. Eventually at 1:50pm, we finally arrived at the Hotel Tieti. I had predicted to Julie earlier that it would probably be about 2pm when we'd finally make it here, and I guess my prediction was pretty spot on.
Now, we looked forward to checking in and dropping off our luggage then having a quick lunch. When we got to our bungalow, which was pretty much by the beach and water, we were kind of surprised to see a lot of young locals loitering about on the patio. It seemed kind of strange to me that the folks felt empowered to loiter about at the resort bungalows, but I guess who are we to kick out the locals when this was probably accessible long before the resort was built.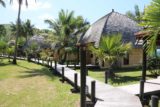 Besides, I didn't feel right to kick out the locals who had every right to be at this beach. Still, when you're paying about the equivalent of $200 USD a night for privacy to stay at the bungalow here, I could see the inherent conflict that was playing out.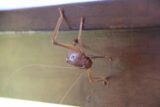 Anyways, I said bonjour to the folks here and pretty much just took some photos while they were out still chilling out. I don't think they realized that I was staying here, but I didn't want to cause trouble. Plus, there were about a half-dozen of those folks and a few of them were drinking hard liquor while a couple of others had body boards (for skim boarding or something since there were some small waves at the beach here). I did notice that there was a public car park just where the last of the bungalows ended so indeed this must've been a public beach.
At about 2:35pm, Julie and I were finally having our snack (since the official lunch time was over at 1:30pm). We just had ourselves a fish burger and a panini of beef and cheese. Aside from a scare of some giant grasshopper that was clinging to our table, I took some time to talk to the staff here about Cascade de Ba.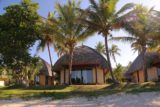 We had intended to drive from here out to Cascade de Ba then come back. However, after the awkward discussion I had with the staff here (since my French wasn't that great), I learned that it was an hour drive to continue further south to the waterfall. It sounded like the falls was viewable from the road and would only a take a few minutes to hike to get closer, but seeing that I only had a little over a half-tank of gas, it just didn't seem like a good idea to drive south then drive back.
Plus, we had a 7pm dinner reservation, and it would be another afternoon of go-go-go had we pushed forward with doing the waterfall today. So I ultimately decided that we should just chill out and enjoy this resort for the rest of this afternoon. Then, do Cascade de Ba on the scenic drive back to Noumea tomorrow. At least that would be more efficient and we wouldn't have to be doing any more backtracking.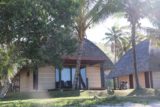 And so we took our sweet time having our lunch, then at 3:30pm, we were back at our room. At first, we wanted to chill out in the patio of our room while listening to the sounds of the waves, but there were still locals loitering about at the patio of our bungalow. In fact, there was a couple that was kind of making out right next to our patio. So as much as we tried to chillax on our lounge seats, no one was moving, and it didn't feel exactly as private as Julie and I were hoping.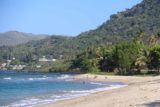 So we locked up our bungalow, then slowly walked along the beach, then chilled near the pool as well as the estuary where there was a freshwater stream meeting the ocean. We weren't successful trying to Facetime home to see our little girl as the bandwidths here were probably too limited, but Julie did fit in some internetting where she learned that American Airlines had just devalued their miles program by rewarding miles or points by cost of the ticket instead of the actual miles traveled. I guess that only leaves United Airlines as the last of the US-based carriers to go off of miles instead of ticket prices.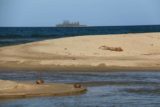 So much for trying to capitalize on rewards miles to save money on flights…
At 4:55pm, Julie and I were back at the room again. This time, there was a mother and a child chillaxing on our patio. The mother saw us, then quickly left with her child, and apologized to us when she saw us. But we just smiled and told her "pas de probleme."
Julie and I concluded that this beach bungalow would be very nice if it was more private. But without that privacy, something just seemed off.
Still, we were finally able to chillax at the patio of our room, and now we could just listen to the waves while we were busy just enjoying this place. With tomorrow's long drive looming, I knew I could use some down time right now. With the sun setting and the mozzies coming out, that was also our time to get ready for our dinner and call it a day. But this sure was a nice day as we finally got our first waterfalling fix while also hitting the main Hienghene hightlight as well…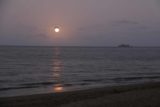 At 6:55pm, Julie finally got us to switch rooms after we were starting to get mosquito bites. The room we were in originally had one window whose shutters weren't working (so there wasn't much of a breeze) and the AC was missing the remote. None of the windows except in the bathrooms had insect screens. So we were getting hit by a double whammy of uncomfortably stifling humidity and biting bugs. I kept wondering whether we got hit with yet another runt of a bungalow.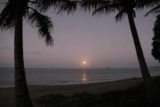 Once we were in the new and functional room, I took some time to take photos of an attractive rising full moon that was glowing orange at first before it started to get brighter as it went higher in the sky. Only after we got re-settled again did we get into the dinner for our 7pm reservation.
We ended up being about 10 minutes too late, but since we knew everyone was on island time, this wasn't a big deal. The mains we ended up getting were some kind of recommended mahi mahi which was very tender with coconut shavings on top. Julie got some kind of local prawns, which was also fresh and delicious. For most of the dinner, we were watching the moon going in and out of the clouds while some local cat kept hoping that we'd give it handouts and other folks were smoking poolside.
The dinner was pretty much over around 8:15pm except we decided on going for a dessert, where some kind of soft chocolate cake with vanilla ice cream sounded like a good idea. But after about 45 minutes of waiting (and breathing more cigarette smoke), we ultimately decided that perhaps we should cancel if they hadn't started preparing the dessert. And when I asked in my broken French whether they even started, I got the impression that they hadn't.
They offered to bring the dessert to our room when I told them it was too late, but I told them we wanted to cancel to save the trouble (and save us from packing on more calories). And so by 9pm, we were finally back at the room to call it a night.