Day 4 (November 27, 2015 – Ile des Pins, New Caledonia): "The Domestic Airport Long Haul"
It was 5:15am when we awoke. There were lots of clouds crowding offshore to the east so there would be no sunrise to see on this morning. There were enough clouds out there to give the appearance that it was going to rain today. However, by 6:10am, we were finally leaving the room after having packed our belongings, and by that time, the clouds that looked organized earlier now were back to being patchy. So it was probably going to be yet another fine (and hot) day.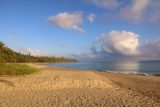 The breakfast was another buffet fare except we had to special order poached eggs and omelette. They actually cooked the eggs with a rich and creamy texture and was quite good. The rest of the stuff was pretty standard fare of crepes, croissants, sausages, hash browns, sauteed veggies, and an assortment of fruits. The kiwis they had there were quite sweet.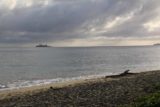 The cats were still out and about trying to look for handouts and they once again thought we would be good candidates. Anyways, we were pretty stuffed and ready for our long drive back to the domestic airport near Noumea. We ultimately checked out and started our drive at 7:10am. This time, we were going to take the scenic route since we were aiming to check out Cascade de Ba en route.
The drive through Poindimie was eye-opening to us in that it seemed like a pretty legitimately large town on this side of the coast. Even though the fuel was 142 CFP per liter (very expensive), I decided to play it safe and just fill 2000 CFP just in case.
Once we left Poindimie, the drive south was pretty uneventful. Actually, there weren't a whole lot of features though we did notice that there were lots more greenery with broad leaves (kind of what we typically would have expected to see in a tropical island). Up until now, they seemed largely absent and we actually saw more mangroves, lychee trees, mango trees, and even pine trees, which was very strange to us.
Still, the featureless drive kind of dragged on, and we were hoping that Cascade de Ba would be as signposted as Cascade de Tao was, especially since it was given special mention on LP as well as the Jason's map we were carrying around.
Eventually, we'd wind up passing through the village of Ba, but we weren't sure where the waterfall was. And after several more minutes of driving (it was now about 8:30am at this point, which was 80 minutes into our drive), we figured that we had overshot the waterfall. Thus, it was clear that the falls was not well signposted as we had feared.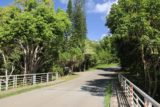 So we backtracked, and eventually got to a bridge with a shack at the north end of it. On the way in earlier, I had wondered if this was it, but now that we were back here, I saw a local on the bridge and decided to stop the car to ask him. Summoning my limited French, I went ahead and posed the question, and he confirmed that this bridge was indeed over the stream responsible for the Cascade de Ba.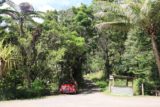 He and some local lady were busy tossing food into the streams to feed the freshwater fish down below. But it definitely seemed like the creek beneath the bridge had very limited waterflow. The local had told me to drive up the rough road past the shack to get up to the waterfall. And so we did that.
I was a little nervous driving the pretty rough road, but eventually at 8:40am, we managed to stop the car near a small clearing next to a fairly large bundle of bamboo shoots. There wasn't anyone around to collect the 100 CFP per vehicle, and I wondered whether that was what the shack was for. In any case, this waterfall was struggling to flow though I did see the potential that this spot could've been as the well-known swimming hole.
But in the state that the falls was in at this instant, only one strand of waterfall was noticeably flowing while the rest of the dropoff was pretty much bare rock except for a few barely-visible streaks. Further downstream, there appeared to be more tiers, but they couldn't be photographed. So it didn't take long before I finished my stream scramble and waterfall viewing, and then scrambled my way back up to the car at 9am.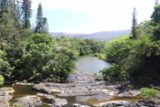 We then stopped next to the roadside shack just to take a few more shots from the bridge. That was when I looked downstream and saw that there was yet another dropoff further downstream. Then, as I was walking back to the car, I saw that there was an unsigned path leading further downstream, which I then pursued as I was looking for a way to see what that last dropoff entailed.
I wasn't sure if I was trespassing, but it seemed like this pretty rough "road" had some tire tracks though it had more tall grass growing around them. Eventually, I found an intersection, where there were some parked cars (rusted and beat up they seemed). Then, I saw a sloping trail leading down to the level of the river below. So I followed that, and eventually got to where there were some hanging clothes and a few kayaks.
Again, not sure if I was trespassing or not, I just gingerly looked around this riverbank and took the photos of the falls' last tier, which was struggling to flow like the upper tiers I had seen earlier. At least from down here, I could see the road bridge above it for some context and scale.
Ultimately at 9:15am, I had returned to the car once again. And then we were on our way out of Ba and continued further south in search of the inland road that would take us to the dry western side of the Grand Terre Island.
When we finally crossed the bridge at Houailou, then turned right at the roundabout, that was when we finally went on the inland road. The road was definitely a lot more tame than I had anticipated (based on the Jason's map, which was probably outdated). And eventually at 10:25am, we had found ourselves in the big town of Bourail, where Julie wanted me to stop at a supermarket so she could get some lemons and ginger as she said she might be coming down with another sore throat.
Well, it turned out that particular supermarket didn't have lemons, but they did have ginger. Then, at 10:35am, we were on our way out of town when we saw a Leader Price Supermarket. And once in there, Julie finally picked up some lime.
At 10:50am, we finally left the supermarket and then resumed our long drive south towards the domestic airport at Noumea. The drive was noticeably faster and smoother as the speed limits down here were back to being 110 km/h most of the time. I guess that's the difference between driving on the east coast versus the more developed west coast.
As we got back to the familiar international airport, we thought we were going to be very very early for our 3:20pm departure to Ile des Pins since it was barely 12pm at this point. However, it turned out that the domestic airport and the city of Noumea were still a ways away to the south. So it was a good thing we allowed ourselves plenty of time to make this drive.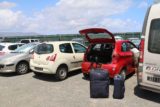 Eventually at 12:50pm, we had finally arrived at the domestic airport (Magenta). There was actually a freeway en route, which was definitely a first on this island. Plus, we saw quite a few modern apartments along the way, which was further indicative of how developed and city-like Noumea must be. I guess every tropical island must have one of these no matter how idyllic they may be.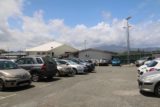 Next, we were then stressing about trying to find parking. It turned out that the parking on the airport premises were quite ad hoc, and the parking spaces as well as passages were very tight. It was a very good thing that our Kia Picanto was as small as it was. There were so many cars parked chaotically that we were still able to squeeze through where larger cars couldn't and eventually we'd secure a parking spot between some cars. Apparently, there was no more notion of lanes where we were parked.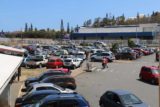 After baking in the sun while emptying out the car and getting our stuff together, we finally got into the domestic terminal at 1:10pm. It looked like we got here a bit too early because the check-in desks were all gated up. Still, with the parking situation the way it was, you never know what can delay you. So it's always better early than late.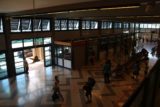 So we wound up spending the next hour upstairs at this surprisingly cool and breezy cafeteria. They didn't have much in the way of food other than the kinds of baguette sandwiches we had already had on the road. So Julie wound up getting hot water and some chips. I was just chilling out.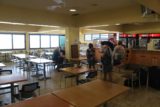 Eventually at 2:15pm, we were back at the waiting room again. This time, we checked in our luggage, but we were surprised that we were charged around 1330 CFP due to excess baggage weight. Julie's luggage weighed 19kg while mine was 12kg. But he said Julie's weighed some 24kg, which was probably due to Julie trying to adjust the lock while it was on the scale. Not good. I guess the baggage allowance was 15kg per person.
Anyways, after that, we would eventually get onto the twin propeller plane, which was quite busy. The flight to Ile des Pins was only 20 minutes, but since Julie had the window seat, she got to take pictures on her iPhone. I didn't have access to my DSLR. Still, the extensiveness of the lagoons and atolls were impressive. Too bad there were also a lot of clouds around. I wondered if that bode ill for the weather while we're in the Ile des Pins.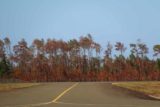 As we descending into the Ile des Pins, I was surprised to see just how big the island was. I was also surprised to see how a large swath of the pine trees that the island was named for had turned red. It also looked like the pine beetle had scourged the island probably due to global warming since they'd naturally die off from cold. But then that seemed like a contradiction since we were in the tropics, and pine trees seemed quite out of place in the tropics. I wondered if they were introduced or they were naturally here in the first place (later on, we realized that the pine trees were indeed endemic, but they were a rare breed of pines that could thrive in the tropics as opposed to high mountains where they'd get snow).
Once we landed, we were then picked up by the Le Meridien Ile des Pins shuttle (which costed us around 2900 CFP round trip per person). And then, we were on the property after a 15-minute drive through groves of pine trees as well as other types of tropical vegetation. When we arrived at the property, we were escorted to the reception area, where we caught a glimpse of the nice light blue water on the Baie d'Oro. But we didn't have a whole lot of time to linger around the bay while there was color as the clouds were still around to block the sun from time to time.
At 4:40pm, we were finally in our room, which was very nice. It looked out towards some kind of river or inlet well inland from the Baie d'Oro and its beach. The spacious room was quite baller, and I guess this was our first taste of this kind of SPG accommodation as our Sheraton Iguazu experience 8 years ago wasn't quite in this category.
I spent some time in the mugginess taking photos of the backside of our bungalow, where there was a rock jutting up out of the inlet or channel. The colors were muted though given the cloud cover.
After finally getting acclimated to our room, we decided to go out and explore the property for a bit before having our dinner at 6:30pm (or at least that was our reservation time). We first went through the reception area and onto the white-sanded beach. By now, the sun was well beneath the clouds and there was pretty much no color in the bay because of it.
It didn't take long before we realized that there really wasn't that much to this property besides more bungalows. So we decided right then and there to try walking to the Piscine Naturelle thinking that it was only a 15-minute walk to get there.
It was about 5:45pm when we got started so I figured we ought to have plenty of time. And so we walked back towards the car park then headed towards the bridge dedicated to the Le Meridien Ile des Pins property. That was when we saw a signposted path leading us on the trail to the Piscine Naturelle. At first, we had to walk around the staff area before finally getting onto the bush trail.
At that point, the trail weaved beneath palm trees and other tropical vegetation. Then, the trail veered towards some steel pylon before we turned right to head towards the water. That path was a bit overgrown and there looked to be some poison oak growing on that trail so I was concerned that we might have our legs irritated since we were wearing shorts.
Anyways, once we were near the water, we then had to follow that channel as we weaved through more bush and trees. It was becoming apparent that the hiking was definitely non-trivial, and the farther we were walking as it was getting dark, the longer we'd have to backtrack to get back to the resort. Julie and I were becoming a sweaty mess even though we were in our Tahitian night time "uniforms" dressed for dinner. Julie also managed to scrape her leg on a rock along the way. We were also hearing sounds coming from the darkness of the bush around us, which we figured were from crabs coming out of the ground at this time.
We definitely didn't expect to be going on a hiking adventure at this time.
Eventually at around 6:05pm, we had finally made it to the Piscine Naturelle. There were lots of signs pointing the way, and we always kept wondering whether the body of water we had reached was it. However, the real natural pool was at the end of the hike which ended right at a giant little calm bay sheltered by rocks. We could see waves crashing and splashing higher than the rocks in the distance, and that was how we knew that this pool must be as famous as it was given its calmness, and I'd imagine its colors would be awesome under sunnier skies.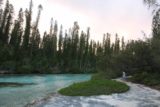 When Julie put her foot into the water, she was telling me that it was cold. So that might mean that snorkeling here might be a little bit painful in terms of the cold shock, but I'm sure once we'd get used to it, the cold water might actually be welcome relief to the humidity and heat of the day. Still, we're holding out hope that the weather will behave tomorrow. We'll see.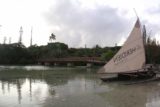 So with that, we hiked back through the way we came. Eventually at about 6:25pm, we made it back to our bungalow, where Julie had to tend to her open wound from the rock scrape. At least the AC from our room was a welcome relief, which helped to quickly dry off our sweat.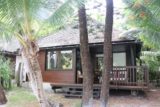 Eventually at 6:40pm, we made it to the dinner area. We got to sit outside and enjoy a little bit of the tropical breeze. We noticed that as people were trickling in, there were actually a fair bit of people with Aussie or Kiwi accents as well as a few Asians in addition to the usual dominance of French couples or families. I guess the Ile des Pins had a bit more of an international feel to it as compared to the experiences we had in the North Province on the Grande Terre.
Our dinner pretty much consisted of some tomato muffin on the house, then a smooth foie gras on french toast along with Julie's escargot of the local garden snails with elaborate and large shells. Our mains consisted of Julie's langostine (at nearly $100 USD, which probably wasn't a good value) and my scallops. We ultimately passed on the dessert since I knew that our dinner was going to be on the order of $200 USD. So tonight was definitely a splurge.
Finally at 8:45pm, we were back at our room. We had spent a few minutes on the computers in the lobby trying to plan out what to see and do tomorrow. At least Julie got her answer about trying to find the Kanak statues on the island, which the worker we asked identified that statue as the Statue of St. Maurice. We also researched about Kerumera Bay, and so we'd probably have to do those things in the afternoon after the morning in Piscine Naturelle and the lunch at Kou-ngy.
But with island time not necessarily conducive to packed schedules or busy days, we'll just see how it all plays out tomorrow. Again, we hope the weather would cooperate so we could capture the beautiful bay pictures we had seen on the interwebs to this point.