Day 5 (November 28, 2015 – Ile des Pins, New Caledonia): "Questioning Sanity"
It was 6:30am when we finally awoke. This was the first time on this trip that we were able to sleep in though in the back of my mind, we were going to have a lot of things going on today – the Piscine Naturelle, the Baie de Kanumera, the Plage de Kuto, and the Baie de Saint Maurice among other things. That said, we still took our time to get ready for the 7am brekkie.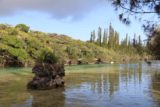 When Julie first opened the curtains, we saw that there was some sun shining on the pine trees opposite the tiny little channel or lagoon that our room was looking out towards. But within a few minutes, the lighting went mute as there seemed to be quite a few clouds blocking the sun.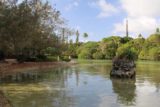 After getting dressed in swimming attire anticipating some snorkeling activity, we then went for the brekkie. As we approached the dining area, Julie and I immediately noticed the bright blue colors in the Baie d'Oro so before we went for a bite, we spent time trying to take pictures at the beach fronting the bay.
There were already people having their brekkie at the time (probably around 7:15am or so), and we were getting looks like they were wondering what we were getting all geeked about.
Then, after the picture-taking was done, we then finally settled in on the breakfast, which was the typical buffet fare. In this case, we saw that there was some kind of cured local smoked lagoon fish, which we could complement with capers. That was different and very good. We also tried some miso soup, which Julie said was packed with probiotics since she claimed it had some fermented stuff in it.
The rest of the stuff was pretty standard.
Eventually at 8:45am, we were finally back at the room. On the way back to our room, we made a brief stop at the reception asking about the alternate way to the Piscine Naturelle. We knew they were advocating the garden way that Julie and I explored late yesterday, but we were curious whether we should try the other way since we hadn't tried that out yet.
Well since the staff that was there at the time didn't speak a whole lot of English, I had to practice my French in getting these answers. Apparently, they said that we should go the garden way first, then take the alternate way on the way back to the resort. Still not quite sure how to do that alternate way, we followed their advice after getting our stuff together.
It wouldn't be until about 9am when we finally got started. Our bungalow was so close to the car park that we thought it was a waste to walk back towards the reception then head back over to the gate. Instead, we shortcutted across a small patch of lawn fronting the last of the bungalows, then cut before the bridge onto the familiar trail.
As we got started, the sun was definitely on us so this channel was showing good colors. However, we also noticed that the tide must've been higher than yesterday afternoon because parts of the trail were more inundated than we had remembered. In fact, the inundated parts were more prevalent in much of the trail than we had remembered. However, there were also colors further on the channel that caused me to pause and take even more photographs thereby slowing down our walk.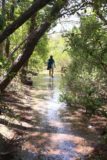 At 9:30am, we finally got to the Piscine Naturelle. There were already two other couples here. But we staked out a shady spot where there was a broken surf board or body board and took some time to get our snorkel gear and life vest out. We didn't have fins though, but at least we could effortlessly float if we wanted to.
There was an extensive sandbar that was probably consisting of dead reef. Whether the sand bar was always there or it was a more recent development was unknown to us. But it seemed like most of the reef action was pretty absent until we got all the way to deeper parts of the water where it had a deeper blue color when viewed from afar.
Speaking of deeper parts of the water, it was actually quite cold when we first got this far into the natural pool. We could hear crashing waves on the other sides of the rocks concealing most of the ocean's turbulence, but every so often, we could see a huge splash rising higher than the protective rocks which attested to the power and fury of the ocean's swells out there.
As we were busy snorkeling and I was busy giving the GoPro
a shot for the first time, Julie and I were already being surrounded by lots of fish. Even though we were in a sandy section at first, they were already out and about. That was cool.
Then, we tried to float towards the reef though there seemed to be a current trying to push us more towards the beach than closer to the reefs. So without the fins, this wasn't an effortless swim. But with the life vests, all I had to do now was to use both the arms and the legs to move.
As I was looking towards the small patches of reefs, I could see glowing fish and brain coral as well as giant clams. However, I was a bit annoyed that someone opted to stand on the reef and take his photos or GoPro
on his selfie stick from there. I guess that guy didn't realize that the reefs were already dying and he was accelerating that process by his thoughtless actions.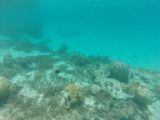 Anyways, after a few more minutes of snorkeling, I was starting to get a headache so I went over to the sandy area behind the nearest reef to stop. Julie and I were about to snorkel hand-in-hand letting the current take us away from the furthest parts until I saw that there was actually water inside the waterproof casing that was supposed to protect Julie's iPhone from the water.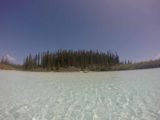 I noticed that the phone was complaining about some kind of cable or something not being official and not working right, which was strange because there was no cable attached. So with that, Julie immediately stopped her snorkeling activities to try to save her iPhone which still appeared like it was working. However, we weren't sure if her cable interface would survive this incident.
Meanwhile, I spent the last few minutes trying to snorkel some more, but ultimately didn't last much longer as I had noticed dozens of more people show up to the pool. By the time both Julie and I were both trying to get our stuff together, it was around 10:45am. We thought that perhaps we ought to try to take the alternate path back to Le Meridien Ile des Pins while eating at Kougny along the way.
We had noticed that some of the folks chilled out at a nearby island (accessible by wading) that appeared to have a hill. In hindsight, maybe we should've waded out there and gone up the hill to see if there would be a way to photograph the Piscine Naturelle from a higher vantage point. Since we didn't do it though, we were left wondering.
In any case, us and a couple of other couples walked the other side of the channel, which I knew must've been the alternate path we had been seeking out originally. But since it was now low tide, most of the walking was on the sand with small stretches of wading in about ankle- to shin-deep water.
There were some interesting undercut formations that kind of reminded Julie of hiking in the Narrows of Zion, but in this case, it was so blindingly bright and the channel was so wide that it wasn't nearly as claustrophobic as that Narrows experience. Eventually, we'd start to see some civilization and immediately thought that that must be the restaurant Kou-gny. However, we then saw signs saying "privee" which we knew meant "private".
And so eventually we found ourselves on a beach looking towards a very bright and blue lagoon. After walking a few more paces on the hot sand with limited shade, we'd eventually arrive at a group of tables with table settings on them, and that was when we knew that we had finally made it to Kougny. We got there around 12pm.
Once again, I had to reach down into my limited French vocabulary and ask if we could get lunch. They said that we were supposed to make reservations in order to lunch here. The lady working the reception asked if we could come back tomorrow, but I told her that we were leaving for Noumea tomorrow. And with that, she confirmed whether there was enough excess fish and langostines to accommodate us, and apparently that was the case.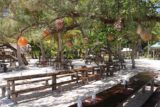 However, Julie was wavering about whether we should do this instead of eating at Le Meridien Ile des Pins. But with the cash we had withdrawn, I told Julie that we mind as well spend the cash here (they don't take credit cards) since we were going to lose on the exchange back to USD anyways.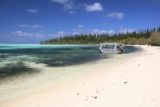 Eventually, we'd finally have our lunch here. The lady working the hostess duties was messing with me when she said that we couldn't eat here after Julie changed her mind. In any case, we were finally seated and then we just patiently waited for our food while we were watching people start trickling into the restaurant as well as watching the big bright blue colors of the mesmerizing lagoon before us.
It took a while for our food to show up, but we figured that their system was to pretty much bring out the foods all at once. And it was a good thing that we showed up when we did because we saw another couple that was turned back without reservations. So we were lucky.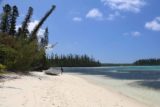 The food didn't really start coming out until about 1pm. That was when we finally got our langostine and fresh catch of the day. The food turned out to be better and cheaper than the langostine and fish that we tried last night at Le Meridien Ile des Pins. So in this case, I guess it was also better supporting the locals instead of some international hotel chain.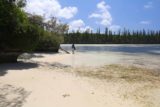 Finally at 1:45pm, we left Kougny and continued around the beach and rocks back towards the Baie d'Oro at Le Meridien Ile des Pins. Since the tide was low, we didn't need to do any wading on this stretch, but we could totally see how the garden way was more recommended than this way due to the uncertainty in water levels.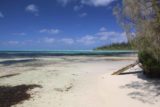 While Julie was preparing for round two of sightseeing, I was busy with the receptionist renting the car. It was too bad they didn't have a half-day type rental, because this 24-hour minimum rental was annoyingly expensive. In fact, we would probably only need the rental car for no more than 3 hours considering we were getting such a late start.
It wasn't until about 2pm when we finally got the Ford Fiesta rental car. The first thing that I noticed was that the wireless alarm wasn't working. Putting two and two together, I suspected that someone else who rented this car in the past must've gone swimming with the keys in the pocket thereby shorting that part of the circuit.
Anyways, we got into the car and was on our way out. First and foremost, the plan was to go as far as the Kuto Bay and Kanumeria Bay before ending the day at the Bay of St Maurice. Eventually at 2:30pm, we parked at the Bay of Kuto, which featured an extensive white sand crescent beach with bright blues in the choppy waters of the lagoon.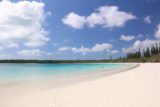 There were already quite a few people enjoying the blindingly bright beach. There was a huge group of kids in the distance, a lot of tourist couples (including us), and even a dog that used the water of the bay to cool off. On one side of this crescent beach, was a ferry dock with what appeared to be a cruise ship. On the opposite side was a lot of trees and what seemed to be an even quieter stretch of beach as well as what appeared to be another channel.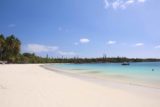 Yet despite the people on this beach, the general feel was somewhat quiet and subdued. It drew comparisons of Champagne Beach in Espiritu Santo Island, which was one of Vanuatu's many islands. After all, this beach at Kuto contained blindingly white sand juxtaposed with bright blue water.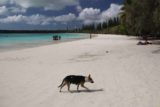 We saw that there was some hotel restaurant nearby here, but the rest of the beach seemed to be pretty much nature fringed by palm trees and other lower trees providing people with much needed shade from the intense sun. There were lots of locals in addition to tourists sharing this place. There was even a dog cooling off in the water.
Julie and I weren't in the mind of swimming here so we took our photos, then opted to get back in the car. As we got there, we noticed there was a big dent with red streaks above the front wheel on the driver side. We were lazy about not noting the damages to the car before driving off, and now we were worried about being charged for this damage even though we knew we weren't the cause of it.
Next, we drove back towards Kanumera Bay, which was totally walking distance from where we were at by Kuto Beach. At this spot, it appeared that the waters were choppier, but the bay seemed to be more photogenic as there were undercut rocks flanked with colorful coral waters. We thought this should be the spot to do another round of snorkeling just to see if it would be more fulfilling than the Piscine Naturelle experience.
But when Julie saw how choppy the waters were, she was bearish about doing the snorkeling. So we took our pictures of the bay as well as the small little sandbar and beach looking towards another hotel in the distance. There were dozens of other folks both snorkeling and beaching here. Plus, there was the Kanumera Rock, which looked like it would've been a suitable spot to get a more top down view of the pretty bay here. However, there was a sign here prohibiting the climbing of the rock.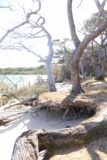 So we didn't do it. But there were a couple of locals kids that did. I guess the sacred rock rules didn't apply to them. Once we had our fill, we then headed back to the car where we paid more attention to the gnarled concrete fronting the bay. We weren't sure if these concrete barricades were broken by a cyclone or not, and if it was a cyclone that did it, that just illustrated how awesome the force of Mother Nature was against the man-made stuff. There were even some toppled pine trees whose roots were undercut by the intense erosion.
At 3:30pm, we were back in the car, then we headed north back to the main road. At first, we thought we might be able to drive to the Pic-nga for a top down view of the nearby bays. But when we saw how rough the road was (and it seemed to be more for walking than driving), we opted to skip it. And so we then drove towards some ruins of a prison called the Vestige de Bagnes.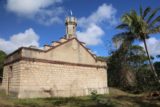 The vestige itself was merely what appeared to be an old church dating back to 1874-1875. There wasn't much to this spot so we went back to the main road where there were ruins of the old penitentiary. We took photos of this part before returning to the car at 3:45pm. That was when Julie noticed that the backside of the driver-side side mirror was missing!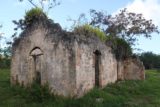 Now, I was worried that we could very well be charged a lot of money on top of the already steep 10k CFP we owed just to rent this car, which we've only possessed for barely 2 hours so far. Now this was messing with my sanity because I never remembered any of this damage to the car, and once again, both Julie and I were fretting about not marking up the contract before taking the car out.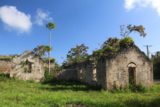 Come to think of it, the fuel gauge on the car wasn't even working so we have no idea how much fuel we have in the car! I knew the gas was included in the rental so we wouldn't have to bother visiting the gas station, and the driving distances were short on the Ile des Pins anyways.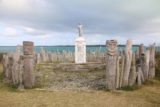 Next, Julie and I then drove to the Bay of St Maurice, which was the last stop we planned on doing. We got there at 4:30pm after making a couple of stops looking for the missing mirror, which we thought we were the cause of. Anyways, all those delays meant that by the time we got to the St Maurice statues and monument, we lost the colors just as we arrived as the clouds now dominated the scene.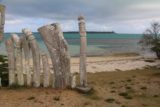 Too bad the colors were gone, but the statues were fascinating. There were a couple of car fulls of tourists as well as a bunch of locals playing in the waters. Our stop was short because it was getting late, and largely because it wasn't as photogenic as we were hoping thanks to the clouds. And so we took off and headed back to Le Meridien Ile des Pins wondering what we should tell the staff there regarding the damage to the car.
Anyways, at 5pm, we were back at the hotel, promptly parked the car, then put our stuff away in our room before heading into the lobby to book a reservation for tonight's dinner as well as returning the keys to the rental car. While Julie and I were getting changed, we noticed that there was a couple in a nearby bungalow being very affectionate with each other in plain sight. However, what was unusual about this was that the young lady was topless.
I know we're not supposed pay any mind to this, but for some reason we were drawn to what they were going to do next like the way people are drawn to car crashes or something like that. Anyways, I didn't want to miss the last of sunset and our car rental key return over this erotica show, and so we promptly showed ourselves out of our bungalow without knowing what else these folks were going to do next.
When we got to the lobby, we saw Pierre (the concierge worker who escorted us to the lobby when we first arrived), who was probably the only guy working the general reception who spoke good English. I guess that was a good thing since we could explain the car rental situation to him.
And when we spoke to him about it, he asked us if it was the driver side mirror. At that point, we were relieved as it was a well-known issue. He even laughed when I told him that I was questioning my sanity regarding how we only noticed these damages AFTER we had driven off Le Meridien Ile des Pins.
At 6pm, Julie and I were enjoying a couple of Happy Hour cocktail drinks (a pina colada and fraya, which seemed to be a very different kind of drink). There was a local reggae band that was going to play tonight so we were watching them doing setting up while we were having our drinks. We were hoping they'd start playing before our 6:30pm dinner reservation, but alas, we had to get to our reservation when it was 6:40pm.
The dinner this time ended up being half the price of last night's dinner largely because we only did the crabmeat appetizer (instead of two appetizers), and our mains consisted of duck two ways as well as Julie's seared tuna dish. In other words, we didn't pay nearly $100 USD on the lobster alone! Once again, we passed on dessert, and we got a carafe d'eau (tap water) instead of getting ripped off on mineral water, which costed us some 800 CFP last night.
When we were done with the dinner, we chilled out for about 15 minutes listening to the local reggae band playing a Bob Marley song, a Stand By Me song, and some other local Kaneka song. Then, we finally got back to our room at 8pm to finally call it a night – our last relaxing night on this trip.
Part of me was hoping that we could experience an authentic Kanak ceremonial dance, but when we inquired with the staff about when or where we might catch one of these things, we were told that they were for special occasions only. So much for the white painted faces of the phantom fisherman…
Anyways, we'll see what the damage of our splurge will be when we check out tomorrow. But for now, we were just enjoying the serenity that seemed to only be available in the smaller islands of South Pacific destinations.
New Caledonia's Ile des Pins was the latest example of this.