Day 6 (November 29, 2015 – Noumea, New Caledonia): "Festive Noumea"
It was about 6am when both Julie and I awoke. Julie said that she was actually awake since 5am because she had heard something outside that caused her to wake up and not fall back asleep. She said it was something like wheels rolling on something with grooves. It seemed a bit early for luggages to be rolling about, and I guess it was the timing of this sound that threw her off.
Anyways, we spent the better part of our first hour this morning getting our stuff together. Then, we strolled over to the familiar dining area for our brekkie. We already knew what to expect from the buffet breakfast so there was nothing extraordinary about this meal other than we stuffed ourselves again. I guess the only real drama on this morning was that our seat started to get out of the shade as the sun rose higher and was beating down onto our table causing us to sweat as we ate.
And when we were pretty much done with our meal, we then tried to savor our last hour or so on the island taking pictures of the Baie d'Oro from the massage table at the far western end. Fortunately, there were still lots of bright blues in the bay as the clouds that had momentarily covered our area during breakfast had now parted and it was pretty much clear.
We then took the channel back towards our bungalow for more pictures that we hadn't taken earlier. Then, when we got back to our bungalow, we wrapped up our last minute packing. By about 9am, we headed to the lobby and settled our bill, then we walked over to the front area awaiting the shuttle bus back to the airport.
Once we got to the airport and collected our bags from the van, we immediately went to the check-in. Even though Julie and I were careful about trying to trim our pack weight, apparently it did us no good as we still had to pay around 1150 CFP. Anyways, we'd eventually get onto our packed short flight back to the domestic airport at Magenta.
Despite us being one of the first ones on the plane, apparently we chose poorly as we sat on the left side of the plane. It turned out that most of the picture-taking was on the right side of the plane.
So I didn't get the atoll and reef shots that I was hoping to get. Anyways, when we landed at the airport at about 10:40am, we got our luggages, then when we were in the terminal area, we were met by a van driver who came from the Chateau Royal. That kind of surprised us because we had our own car. But at least the lady driving the van had a bunch of other folks going to the same accommodation as us so it wasn't like she wasted a trip.
After loading up our very hot rental car, we then took the scenic coastal route south from Magenta and towards the Chateau Royal, which was right next door to Le Meridien. Along the way, we filled up gas at a Total, but I was surprised to see that it was still 142 CFP per liter here! It was the same as it was at Poindimie, and the cheapest gas we paid remained at the place near Kone. Anyways, it was barely 11:15am when we parked and checked into the Chateau Royal.
It was nice that they let us check in early so we promptly got up to our room on the 6th floor, where we saw that there was a nice view looking towards Anse Vata. The day was totally clear so the views of the bay and the beaches here were quite attractive. The beaches here were also full of people as it was a seemingly lazy yet festive Sunday.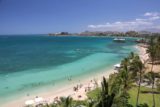 We had to wait until 12pm before we got to use our internet connection, and when that time finally rolled around, we got to Facetime home for the first time on this trip. Our daughter was crying when we finally connected as she was missing us. Julie's mom said that she would look out the window waiting for us to come back.
Well, we still had three more nights in New Caledonia in Noumea Sud before getting to see her in person again so we were definitely missing our daughter as well. We spent the better part of the next half-hour trying to catch up with Tahia while trying to encourage her to get excited about us taking her on our next trip whenever that may be. Julie also showed Tahia where we were staying at though I'm not quite sure if our little girl could process what we were showing her. In fact, it was quite hot here in the South Pacific, but we heard that it was quite cold back at home.
Anyways, when the conversation ended, we finally headed downstairs to eat lunch at 12:55pm. We'd eventually settle at this place called L'Escale, which had some paninis and a tuna tartare salad (we were hoping for Tahitian Poisson Cru, but their dijon mustard tuna tartare was different yet tasty as well). Then, when we were done with lunch, we headed back upstairs as the boutique there opened at 2pm. That allowed us to book our all-day tour for the Phare Amedee (lighthouse) on Tuesday December 1 since they were closed on Monday.
Then, we walked over to the Le Meridien next door to secure a dinner reservation at one of their internal restaurants called L'Hippocampe, which was said to be one of the best dining spots in Noumea. We knew it was going to be an expensive dinner, but we figured it would be our last splurge. So it turned out the restaurant was also closed tonight and tomorrow night so Tuesday night (our last night) would be our last chance.
The lovely lady at the concierge (named Louise) was having trouble with the system in saving our reservation so she emailed the parties there about us. And she encouraged us to return tomorrow to ensure that our reservation was honored.
So with that, we then walked through the Le Meridien property then onto the beach as we thought we could stroll away the warm afternoon checking out Anse Vata then the Baie des Citrons (Bay of Lemons).
At first, we were dealing with fierce winds by the Le Meridien Property, and that was where we saw that there was a kitesurfing school.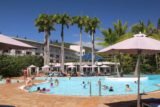 With the fierce winds, we saw some people doing some pretty intense jumps. There was even one girl who seemed to be ripping it up with the guys around her doing tricks, jumps, and seeming to have full control of both the board and the kite. I knew some folks back at work who were into kitesurfing, and I'm sure that this would be one of those places that would've been heaven.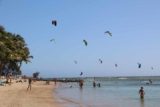 Anyways, we then slowly made our way on the beach across both the Le Meridien property then our Chateau Royal property. The beaches were packed with people. There were lots of families though we also saw some people sunbathing topless as well as other folks who were badly sunburnt. Julie thought the one guy who didn't need more sun was red like a lobster.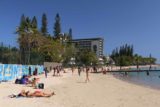 Then, as we got past a graffiti-laden wall, we then walked past the entrance to Le Roof Restaurant, which was not open. Then, we ultimately walked closer to a lot of the commotion on Anse Vata beach, where there was a live local performance as well as lots of tents set up for markets as well as some social and environmental causes. The winds seemed to have intensified as we strolled further west along Anse Vata.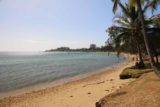 Then, the human activity and traffic intensified more as we seemed to have approached even more tents and displays past the nautical center, where there appeared to have been some kind of windsurfing contest. Again, I knew another coworker who was into windsurfing (as opposed to kitesurfing) and had just retired, and I'm sure she must've known about this place and that event, which I think was called Air Waves.
There were lots of locals and tourists alike just relaxing along the long stretch of beach on Anse Vata. It was almost as if this was the kind of scene we could've expected to see on a lazy Sunday afternoon here in Noumea, except I got the feeling there was like a convergence of activity and festivals that wound up creating this real festive scene we were a part of. They even closed off the east-bound road so there was room to create these tents and performance areas.
Anyways, the winds continued to intensify and conspire to blow our hats off of our heads. Eventually, we got to a turn, where the coastline veered northwards. There, the foot traffic died down and so did the winds. Eventually, after a few more minutes, we found ourselves at the Baie des Citrones, which was a more subdued swimming and beach area. Indeed, there were fewer people but it was still busy on this Sunday afternoon.
Perhaps the main reason why there were fewer people here at the smaller Baie des Citrones was that the sand here was more like pebbles and rocks. Meanwhile, Anse Vata was definitely more brownish and golden sand. But there were some restaurants and a smaller set of shops so we eventually decided to treat ourselves to some gelato at this place called Amorino (the same kind of gelato place that we saw in Barcelona, Spain earlier this year).
So we waited in the queue at 3:55pm, then paid for our order, then made our order per their process on our way out the door. I wound up getting a Tahitian vanilla gelato while Julie got a combo of sorbets from mango to passion fruit to raspberry. Next door to Amorino was this comical American cafe knockoff (of Hard Rock Cafe) with a Texaco sign and some interesting statues of Elvis, Marilyn Monroe, and other figures from the 50s and 60s.
We had fancied eating at this Thai-looking place next door to a Dukes (in New Caledonia instead of Hawaii?) at the Bay of Lemons. In any case, by the time we were done with all the gelato, we saw that those restaurants were pretty much closed, and we'd continue walking back to Anse Vata. Along the way at 4:30pm, we arrived at the aquarium, which Julie was hoping that we might be able to visit. Unfortunately, it was closed (or at least the last entry was at 4pm) and they weren't open tomorrow either. So we probably wouldn't be able to visit this aquarium on this trip.
Our walk then took us back to the windsurfing festivities, but this time it seemed like the competition had ended as there was a very large group of people gathered by a stage where apparently the winners of the competition were being awarded and recognized. It was definitely crazy busy as people were crowding around the stage. We even had to walk onto the beach instead of the promenade knowing we wouldn't have a prayer of squeezing past this sea of humanity.
Next, we finally made it to the Rue de l'Anse Vata, where we then crossed and follow this street towards this bakery called L'Atelier Gourmand which Julie had read a lot of good things about. It turned out that while lots of places were closed, this place was still open. So we got in there, and picked up a couple of pastries. Julie wasn't very impressed with her tarte (she's still trying to recover that experience she had in the Cotswolds at a local French bakers in Chipping Campden) nor my souflee-like chocolate fondant.
Anyways, we concluded that this place was really more for the breads and croissants, and it was probably more of a morning place. There didn't seem to be much of a selection left at the late hour that we showed up.
So when that was done, we then walked towards a local grocers where we picked up our last bits of backup water as well as a Bretonne Apple Cider, which was something that really caught our eye. We knew we'd never have access to this stuff back at home (even though Brittany, France was half a world away from New Caledonia).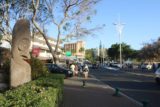 After that, we found ourselves passing before the busy Hilton park area before walking in front of even more shops and eateries. Eventually, we arrived at this Vietnamese place called Hanoi Plage (Hanoi Beach), and we saw that there was a couple that was already have a lunner here. Since we didn't feel like going back to our room then coming back down for dinner, we decided that we ought to just eat here right now, especially when we saw some menu items that really brought us back to Little Saigon like banh cuon and banh xeo. The time was 5:45pm.
And after placing our order of banh xeo, banh cuon, and a Vietnamese style papaya salad, we were pretty much chilling out while watching the sun set. As the food arrived and we were pigging out to our early dinner, we'd eventually see that the sun was about to disappear some time before 6:30pm. So I seized the moment and walked across the street to catch the last of the sun's rays.
As I was busy taking photos of the last moments of the sun, I kept wondering why the flash kept going off even though I was on SCN (scene) mode. Then, after several shots of dealing with this, I looked in the menu and realized that for some reason my camera was set up in macro mode instead of landscape unbeknownst to me. By the time I had corrected this, the moment had passed, and I pretty much had to deal with the photos I already had.
Oh well, I then immediately retreated back to the Hanoi Plage.
We couldn't finish our dinner so we took the last piece of banh xeo (Vietnamese crepe) to go. And then we walked back to the Chateau Royal as the twilight was taking over. That was when we saw the lights of Anse Vata come alive as well as Le Roof Restaurant on that pier lighting up as well.
Eventually at 7pm, we had finally made it back to the apartment, where we managed to get a few more night views of Noumea Sud. And so ended this very festive day. Tomorrow with practically everything closing on Monday, I guess it would be as good as day as ever to do our waterfall hikes to Cascade de la Madeleine and Cascade de Wadiana. We'll see how much water would be in there considering how dry the South Province looked to this point…