Day 7 (November 30, 2015 – Noumea, New Caledonia): "The Economic Engine of New Caledonia"
It was 5:30am when I awoke to Julie already initiating Facetime with Tahia. With the curtains open, the outside looked very quiet, which was in stark contrast to all the festivities from yesterday afternoon. This time, Tahia was in a better mood as she was eager to show us some things that her aunties and uncles gave her while we were away.
After getting ready for the day, we went downstairs at 6:35am for breakfast. As we got down there, we saw that the included breakfast (that Julie got some kind of deal on) was far less diverse and tasty than the Le Meridien experience from the last two days. I guess we had to set our expectations low from here on out.
Well, at least there were lots of birds around the dining area being very opportunistic looking for uneaten or unattended foods to nibble at. They were quite aggressive as some even managed to fly inside the building.
After brekkie was over, we went back upstairs to get our waters and our gear. And by 7:35am, we were back in the car. With everything all set up and ready to go, it was time to embark on our last waterfalling excursions of this trip – the Chute de la Madeleine and Cascade de Wadiana. We were a little concerned about navigating through the city streets of Noumea without any true turn-by-turn navigation from our GPS (as there simply wasn't any Mapsource-like products about New Caledonia on the market). But we figured that it couldn't be that hard, could it?
But first, with the disappointing breakfast, we decided to drive back to the Rue de Anse Vata and the L'Atelier Gourmand and try their croissants since we figured that was what they were probably known for based on the TripAdvisor reviews. It was a little tricky getting over there given the amount of road traffic, but we'd eventually get there so Julie could rush in and get the croissants to go.
As soon as she took a bite, she told me the place was overrated. When I took my bite, I could see where she was coming from. I guess with raised expectations, she was hoping it would be like the French bakeries that we were spoiled with during our France trip back in 2012. But these croissants were a bit on the soft side. So the bottom line was that we wouldn't be driving out this way for the rest of this trip.
Anyways, with all the traffic that was on this road, it wasn't easy to pull out of bakery then find a way to turn back. There were simply too many cars and there was also some road work about to start. Fortunately, there was someone else backing out to my right who was kind of setting a screen for me. That allowed me to get out and then try to figure out how to get back to Anse Vata again.
Eventually, I'd make a series of right turns until I'd finally head south again, and then once I turned left onto the main road along the coast, we then took the way back the way we came from the domestic airport at Magenta. Once we got past the airport, we thought we could follow the road towards whatever route would take us to the north side of the loop taking us towards Yate and Goro. However, it wasn't clear which suburb along the way we were supposed to take en route.
As we were passing one roundabout after another, we weren't seeing places like Normandie and Tina on the map, and yet those were the turnoffs that seemed available to us. Again, we weren't sure which roads were the main ones, and at some point, we wound up in Tina then had to backtrack.
Eventually, we'd get back onto the main route somewhere near Normandie, then we found some signs pointing the way to Mont-Dore. While we were there, we weren't sure if we were going the correct way, but we just followed the main road hoping the road to turn left before Plum would be obvious.
At 8:30am, we were caught in a traffic jam due to road construction. After the construction zone, there was a roundabout near some supermarket (I think it was the Casino Supermarche), and there was a jam on that roundabout as well. Eventually, I figured that I had to take the exit that virtually made me go left (north), where the first exit went south towards the Mt-Dore town.
Anyways, it seemed like we were going the correct route now, and eventually, I saw a sign telling me to turn left for Yate where keeping right would've taken me to Plum.
At that point, the drive was somewhat slower because it was a bit narrower and twistier, but the road was fine and it had far fewer vehicles. The scenery became more of a mix of green pine trees again with lots of red dirt interspersed throughout. We saw the turnoff for Parc Provincial de Riviere Bleu, but there was a sign at the turnoff saying it was "ferme" (closed) just as the lady at the boutique for the Chateau Royal had said.
At 9am, we made a few photo stops trying to capture the Lac de Yate. The sign said it was supposed to be 40 square kilometers, but from the vantage points that we saw, it didn't look to be that big of a lake. Maybe this area was experiencing a drought or something, and if that was the case, that wouldn't bode well for our prospects of seeing the waterfalls flow.
Eventually, we turned right at a signpost pointing the way to the Chute de la Madeleine saying it was another 11km further from the main road. So we promptly took that road following some other vehicle thinking they were probably going that way, too. However, after passing by a turnoff for some park for "Netcha" (is that some New Caledonian pidgin for "Nature"?), we then turned left onto a red dirt road (with some hidden potholes blending in the red dirt) for the Chute de la Madeleine car park.
We got there at 9:35am, and we were the only ones there. The outside temperature didn't feel too hot but we didn't take any chances and put on sunscreen as well as donned our hats. Then, we promptly walked past some Kanak totem poles (or something like it), past some kind of welcome kiosk that was unmanned (though it appeared that had it been manned, we were supposed to pay around 100 franc per person I think), and then onto the red dirt track to the right.
There were other paths, but we just took the shortest one to the falls. There were some interpretive signs in French, and aside from a quick glance at them to test my French, I ultimately wound up taking photos of the signs knowing that I could read them later at my leisure at home. Anyways, it didn't take long before we reached the first and nearest sanctioned lookout for the Chute de la Madeleine. There appeared to be some kind of rope barricade blocking what appeared to be a perfectly fine trail leading down to a sanctioned railed lookout below.
We merely stepped over the barricade then walked to that sanctioned lookout for our first views of Chute de la Madeleine. It turned out that the falls was a bit on the short side, and it probably had seen wider flows, I'm sure. But it was one of those river-type waterfalls that were block-shaped, which we thought was very unusual for a tropical waterfall.
In fact, there was a sign saying that this river didn't have a valley, which we thought was paradoxical. Anyways, we followed the trail up to the brink of the falls to see if there were some other views to be had, but the views there weren't that great. So we headed back to the sanctioned part and then went downstream towards the Point de Vue.
When we got there, we could clearly see that this was the better view of the waterfall as we could get the background mountain context along with the river leading to the falls itself. There were more longer trails leaving from this spot having to do with getting close to the endemic species that were rare yet identified by botanists who had explored this area in the past.
But we opted to go complete the short lollipop loop after having our fill of the falls from this vantage point. And by 10:40am, we were back at the car park where we saw another couple just show up. Since we had this place all to ourselves on this visit, it's now their turn to have this falls all to themselves.
Next, we continued our drive back towards the main road to the north, then we headed east to Yate. At some point, the road climbed steeply, but there was a viewpoint where we looked back down towards the Lac de Yate. The view was on the hazy side however, so we didn't linger for too long at this spot. And so at 11:15am, we continued our drive.
At 11:20am, we were on the other side of the Col de Yate, and there was a view looking east down to the bay. It was an attractive view, but again it was hazy and not terribly photogenic due to its flatness. We did see there was some kind of mining operation or something down below near the river, but we doubted that was the infamous nickel mining operation that threatened to kill off the recently-gazetted UNESCO world heritage listing of the reefs here (since it was said to dump toxic stuff right next to those reefs).
The drive eventually descended steeply then flattened out as we followed the coastal road south. The road started to degenerate into some unpaved dirt roads and half-paved roads, but it wasn't too bad. In fact, it looked like some work was going on to improve their condition. That said, there were a lot of speed bumps (the long kind that conspired to damage the car if we were going too fast) to keep us honest with our speed.
After a few more kilometers of unpaved roads and speed bumps, we'd finally arrive at the Cascade de Wadiana at 12pm. There was a pullout area besides the unpaved road next to a low bridge. But there were also several smoky patches as apparently someone was burning lots of stuff down here. We didn't know if those smoky fires were there to keep mosquitos away or if they were there for something else.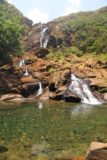 Whatever the case was, the place reeked of smoke and I knew it wouldn't be good for our lungs. Anyways, we only had to do a short scramble on rocks before getting to the plunge pool right at the base of the Cascade de Wadiana. It turned out that this waterfall was quite tall though there was no way we could take it all in given the trees in the way and the angle at which the water was falling.
Julie saw lots of fish in the plunge pool, and this was the kind of pool that seemed to be ideal for a soak. Anyways, after having our fill of this attractive waterfall (which Julie thought might be better than Chute de la Madeleine), we then continued on with our drive at 12:15pm.
We had mulled over whether to drive back around the south coast to complete the loop or to backtrack and take the roads that we had already taken to get down here. But we wound up making the executive decision to keep going south and see what we would find.
At about 12:30pm, we passed by some vestiges of the Goro Mine. Now this must have been the infamous nickel mine. We weren't sure if there was still something going on here, but it looked quite dead. Still, the ruins of some steel contrapments were interesting, especially when juxtaposed against the sea and the mountains around it.
The road continued to be a mix of unpaved gravel and rough pavement with some potholes starting to show up. Plus, there were stretches of the road that seemed to hug the ocean (in fact, I swore the seas might have inundated the roads here from time to time given how close and low they were).
We'd eventually get to some misleading sign at a junction saying the Port Boise was 6km in the direction of the Kanua Terra Eco Lodge. So we followed this route thinking this was the way we were supposed to go, but after several minutes of taking this detour, we managed to get to the eco lodge, but it seemed like the road went no further. We were surprised that there were quite a few cars parked here considering how out of the way this place was.
Anyways, at 1pm, we turned back and headed back to the main road. Now, the presence of potholes on the road were very frequent. Some of the potholes were like craters, and we had to be careful not to damage the rental car on them. I guess this was my hand at driving these 3rd world kind of roads like what we had seen in Africa and India firsthand now.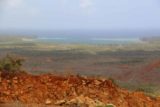 At 1:25pm, we arrived at the viewpoint at the Col de Boise. It was quite windy at this stop, and the road to get up here was quite steep. There were a trio of hippie type folks already chilling up here, but they were headed back in the opposite direction that we were going when we showed up.
Next, the road descended from the col and then we approached this massive and unsightly industrial area of Prony. Given the massive scale of this complex and the quantity of cars that were parked here, we figured that perhaps this was the controversial nickel mining operation that we had read about going into this trip.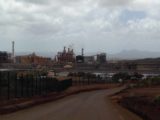 This got Julie and I thinking about how perhaps nickel mining was the main economic driver of New Caledonia, and despite the desire to protect the lagoons, especially since it became UNESCO world heritage recently. With the COP21 happening in Paris, where a bunch of countries were going to get together again and try to find policy solutions and worldwide binding agreements to curb climate change, this Prony Industrial Mine demonstrated the reality of what the environment was up against.
After all, if wealth building would continue to be through extractive (and almost all the time polluting and unsustainable) practices, there'd be no way the COP21 would amount to anything. The only real solution is to make everything cost what it's supposed to be – i.e. dirty energy, dirty products, etc. would have to price in the clean-up costs and mitigation costs associated with said practices. Only then would renewables and sustainable/responsible farming and products would be on equal footing with the status quo means of wealth building.
Besides, it was the government subsidies for dirty and irresponsible practices that continues to prevent the responsible practices from thriving, and with these market distortions that remain in place, unsustainable practices like planned obsolesence and mining will continue to be the primary ways to build wealth.
And indeed, seeing how many people were employed here was a sobering reminder of why making money is almost always at the expense of sustainability.
So once we got past this extensive complex (where we saw there was even an on-site police to ensure no one would sabotage this operation, I guess), we were then back on the remote rough and undulating roads. The drive was pretty featureless to be quite frank, and it was made even more featureless as we were following a pair of trucks probably hauling the nickel material or whatever back to Noumea and the ports there.
Plus, the drive seemed to go a lot longer than we remembered on the way in, further attesting to the fact that taking this south route was probably not the wisest thing to do. But then again, we wouldn't have seen this real aspect to how New Caledonia works either, and sometimes these lessons are valuable regardless of whether they were beautiful or not.
Eventually, we got through the small town of Plum, and then we got back to the familiar roundabout by the Casino Supermarket near some road construction. Once again, there was a little traffic jam, but it wasn't as bad as it was this morning. Anyways, we then followed this route past the domestic airport again (now we came to the realization that we did indeed go the correct way for the most part this morning), and then I decided to continue back to the freeway to see if there was a shorter and more efficient way of getting back to the Bay of Lemons (Baie des Citrons) so we could fulfill our crepe and gelato fix at Amorino.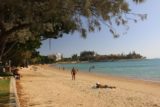 It wouldn't be until 3:20pm when we'd finally make it back to the Baie des Citrons. Along the way, we followed the west coast, which seemed to be full of cruises and small harbors with lots of sailboats. The drive here also seemed to be a little longer than I had expected, but I didn't want to chance going right through the city center and try to figure things out on the fly at this time, especially after a long day of driving.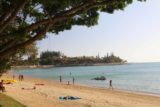 Now, Julie did tell me that we had a 1000km limit on our car hire. This was news to me, and I wondered why she didn't tell me this earlier. Anyways, we were only 10km away from breaching that limit, and I'm sure we're about to get nickel-and-dimed again by the time we'd return the car back to the international airport on Wednesday. So an already expensive trip is going to get even more expensive yet again.
Anyways, we managed to find street parking right across from the shopping area across from the Bay of Lemons. Then, we made good on our sweet tooth indulgence and got ourselves a delicious crepe with nutella, two scoops of Tahitian Vanilla gelato, and chantilly (whipped cream). Julie got another one of her three-scoop sorbets like last time.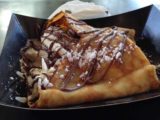 Once we were done with that indulgence, we then walked around to see if any of the lunch spots would be open again, but once again, we could clearly see that since it was pretty much the same time as yesterday when we were here, nowhere except some Cuban-like cantina was open for drinks. Other than that, there were still folks playing at the beach at the Bay of Lemons though not nearly as much as yesterday.
At 4pm, we were back at the car. Next, we took the road back towards Anse Vata and noticed some people were going into the aquarium, but it was past 4pm and there'd be no way we would be able to get in. So we just wound up back at the Chateau Royal at 4:10pm.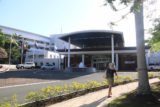 Then, we walked over the Le Meridien to see Louise at the concierge again to confirm that our dinner reservation was good for Hippocampe tomorrow. When we saw her and confirmed it (she remembered us), we then went downstairs at Le Sextant just to see what they might have for dinner since we hadn't eaten a full meal since breakfast.
After seeing that Le Sextant had some interesting things including poisson cru (looking like the Tahitian tuna salad that we've come to know and love since our Tahiti trips) as well as some curried local prawns, it was looking like we could very well be eating here for dinner. However, Julie wanted to go back to our room to see if Amadeus was also worth the walk.
Next, we walked past the Le Meridien pool, which was far less busier than yesterday. Then we got back to the beach, where we saw fewer kitesurfers as well as fewer beachgoers though it was still quite windy down here. And then, we went around the Chateau Royal smaller pool before going back upstairs to our room finally at 4:35pm.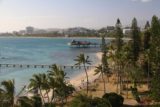 We'd spent the next couple of hours drinking the Breton cider that we had bought yesterday (now that it had been chilled in the refrigerator) as well as heating up the leftover banh xeo.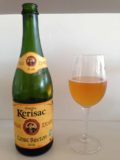 Then, we chilled out on our balcony for a bit while Julie was internetting and I was writing this blog. And that was when we noticed that we wouldn't be getting a sunset view as the sun was setting just behind the contour of our building. Oh well, I guess for tomorrow, if we were going to see the sunset, we'd have to be on the beach or something.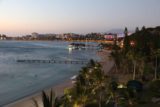 Anyways at 6:45pm, we called the Amadeus Restaurant for a 7pm reservation after seeing their very good reviews. We figured that with all the chain eating and subpar fusion or ethnic foods that weren't French, we mind as well try a local spot that had a real French flair to it. And so after securing our reservation (clearly hardly anyone eats dinner that early I guess), we immediately made our way downstairs and walked to the Rue de l'Anse Vata.
By about 7:05pm, we arrived at the restaurant and were seated right next to a koi pond. Seeing that there was standing water there, we put on DEET immediately. We were one of the first ones here as well as a larger party that had also showed up. As we mulled over our menu options, we decided on having some lobster carpaccio as a starter, then the duck breast as Julie's main and the veal Rossini (which had truffle, foie gras, and other things on it) as my main.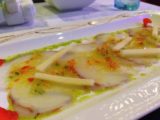 The lobster carpaccio was so different yet so tangy and tasty that we ordered another one of those.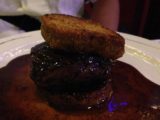 Then when the mains came out at about 8:15pm, a chef was there cutting up Julie's duck and then presenting the cut up pieces in a very interesting circular manner. As soon as I took a bite out of my veal, I tasted the explosion of truffle. The foie gras was also very smooth while there was a crunchy breaded exterior to contrast the gamy softness.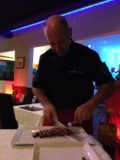 Along with the veal and the duck, with each bite that we were taking, I was already concluding that this was by far the best meal of this trip! It was a good call to come here.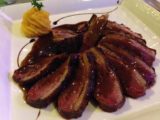 Eventually, we were totally stuffed. There was definitely plenty of food and we couldn't save room for dessert. So at the end, we paid roughly $113 USD for the meal, which was far more affordable than any of Le Meridien's meals, and this meal was a far better value. So I guess Amadeus was now setting the bar higher for the L'Hippocampe experience we've booked for tomorrow.
Just before we left, Julie asked the Melanesian waitress if the chef was French. She answered that he was Italian, and I guess that might have made sense considering the veal I just had was named "Rossini", which was definitely was not a French name.
So we left the restaurant fully stuffed, just as it looked like the restaurant itself was now complet (full). Then, we did what we could to walk off what we had just eaten as we were going back the way we came to the Chateau Royal. And eventually at 8:55pm, we were back at the room all tired from this long day of driving and waterfalling.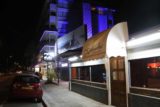 Tomorrow, we were booked on the Phare Amedee excursion, and hopefully the weather would hold up for that! I looked forward to not having to drive after today's experience. And we hoped this last excursion and full day on New Caledonia would be a fitting end to this milestone trip for Julie's birthday.