Day 8 (December 1, 2015 – Noumea, New Caledonia): "Snakes, Turtles, and Embarrassing Dances"
It was 5:55am when I awoke. Once again, Julie had gotten up a little earlier than me, but in her attempt to Facetime Tahia again, she came to the realization that today was a Monday back at home and that she should've been in school by now. When we tried to figure out when would be the next opportunity to Facetime her, we realized that since we wouldn't be back from our day excursion to Amedee Island until around 6pm (or 11pm back at home), there'd be no chance to talk to her until we get home.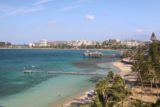 At 6:35am, we were once again back downstairs at the breakfast area where the aggressive birds were once again going after unattended leftovers or other foods sitting out. Julie told me that she saw one of the birds pecking away at one of the serving spoons in the buffet area. Meanwhile, there were some bread thrown onto the adjacent rooftop down below our eating area, where it seemed like the larger white gulls couldn't eat that bread (it couldn't figure out how to get at the softer parts of the bread underneath as it played bread hockey) while the smaller birds seemed to be smarter at getting beneath the hard part and eating the softer parts.
I'm sure human food must be too easy and supercharged with energy to keep these birds from going back to their normal diet.
Anyways, we were back downstairs at the lobby at 7:40am along with two or three other couples, and we were anticipating our 7:45am pickup as scheduled. And like clockwork, our bus driver showed up and we promptly got onto the bus and were whisked away. The driver at first stopped at Le Meridien and some other accommodation by the aquarium, but nobody showed up from there. He did pick up one other pair of girls from an accommodation right across from the Baie des Citrons, and that was when we were taken to the Port Moselle wharf.
We embarked on the boat while there was a band playing Tahitian music. Little would we realize that this day tour to Amedee Island had a much more Tahitian or Polynesian flavor to it than something we might expect from Kanak culture.
After a little confusion trying to figure out where we should be sitting, we finally figured out that we could go upstairs from the aft deck and then chill out in the open air under some shelter from the sun. As the boat took off, the ride was a little on the bumpy side since the open ocean seemed to be pretty choppy thanks to the strong winds coming from the east. Sometimes, the splash from the boat crashing against the waves went high enough to blow up then back into the sitting area surprising us with some water on our faces.
Finally at about 9:30am, we had landed on Amedee Island after the 45-minute boat ride had ended. That was when we saw firsthand the bright white sand and the attractive white lighthouse, which unfortunately was closed. So we couldn't go up to its top and get nice reef views around the island from the top down. Bummer.
We didn't get much of a chance to get settled in any of the lawn chairs out there because it then became time to get onto the 10am glass bottom boat cruise. The space was a little cramped on that boat, and we noticed that there were a couple of "pilot fish" or "lazy fish" that sucked onto the glass surface and then hitched a ride on the boat. I wondered if those same fish hitched onto the shells of the large turtles that this island was famous for.
It was hard to take photos on the glass bottomed boat since the glass was a little on the cloudy side plus there were lots of bars in the way. I was also getting a bit of a headache as the boat was rocking while we were all paying attention to the bottom of the boat.
What was pretty neat about our tour was that we got to see a handful of large turtles swimming about. One of them was called Marcel because it was said to be a French name that could pass for a boy or a girl, and that they couldn't tell if Marcel the turtle was a male or female.
The glass-bottomed boat tour ended at about 10:45am, and then Julie and I spent the next 10 minutes checking out the Amedee Lighthouse (Phare Amedee). There was hardly a cloud in sight on the island so the lighthouse was pretty much jutting up against an almost perfectly clear blue sky. The scene here was quite bright so the camera was overcompensating and making everything appear dark. So I had to try to fight that by making my shots even brighter (risking a blow out or wash out with too much bright light), but I learned from my Whitsundays experience just how easy it is for the camera to think everything else should be darkened to even out the light balance.
At 11am, we got onto the big boat again for an outer reef tour. This one was a bit more subdued and less interesting than the glass-bottomed boat. We saw how extensive the reef was between Amedee Island and Grande Terre, but they didn't photograph well since everything looked pretty flat. Perhaps the most interesting part of the tour was when one of the crew members tossed bread out into the water to bring the fish closer to the boat for photo ops.
At about 11:45am, we made it back to Amedee Island, which was just in time for the buffet lunch and pre-lunch cocktail. The cocktail was pretty much rum and punch, and it didn't take long before the food buffet got started.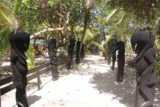 There was an assortment of good stuff including a very popular poisson cru (Tahitian raw tuna salad) as well as some good hot foods like New Caledonian Paradise Prawns, some seared yellow-fin tuna, some pretty good roast beef, and coconut rice among others. Julie and I agreed that the French really know how to make good food, and this buffet was surprisingly pretty good.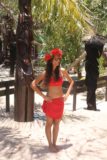 There was also ice cream, lots of fruits (including sweet pineapples), some kind of panacotta (creme-brulee except it wasn't burned), some local Caledonian bananas, and more. There was simply way too much food, but believe it or not, some of the popular items like the poisson cru were already gone when we went for seconds!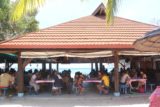 Towards the end of lunch, the musicians with the ukeleles (playing mostly Tahitian music with a mix of French Polynesian though nothing that I'd characterize as Kaneka) started to beat some drums. I think that was the cue for the ladies on the staff to get into grass skirts and start doing their Polynesian dance. And sure enough they started to come out and do their hip shaking dances to the fast drum beats.
The dance became interactive when they started having one guy on the adjacent table to us get up there and dance with the ladies. Then they pulled me up there to do the same. Over the next few minutes and a few more songs, some other guys were brought up to show their Polynesian dancing skills. The first guy that went up was pulled up again to do another dance with another one of the ladies, which prompted one of the older ladies sitting at our table to say, "Gee, they're pulling up all the young men."
Eventually towards the end of the performance, they brought me up once again. But instead of a seemingly benign short dance routine like before, it seemed like they were doing something else with me. First, one of the ladies had me put my arms all the way up, then she was waving her arms beneath my armpits in a slow and sensual manner. I was wondering what Julie was thinking as this was happening.
Then, the same lady pulled off my shirt while another one of the dancing ladies put a grass skirt on me. Then, perhaps the most attractive of the dancers went up behind me and put on these coconut-shell bras. Very embarrassing, especially since I knew that Julie would now have blackmail material against me at her will. She followed that up with putting on three leis around me, and then it seemed like three of the dancers surrounded me and put on another routine for the crowd while trapping me in.
When the dance routine was over, three of the dancers kept going on their routine. The attractive one led me to the room behind the musicians so I could put on my shirt. Apparently, my Chacos were still on stage. She told me in her broken english that she hoped I had something to remember New Caledonia by. I was quite sure that this was certainly accomplished as of this moment.
As I was walking back to my seat, I was getting random compliments from some guys saying I did well on my dance. I had to have gotten at least three or four of these comments, which started to make me think that I must have been made famous by this routine. Later, one of the Kiwi ladies we met during the boat ride here told me that the ice cream I was having was well-deserved. Even one of the school kids told me (or to someone in my direction), "Il a danse." (He danced)
Well, with the lunch over, we were now pretty much on our own for the rest of the afternoon to chill out, relax, and even go snorkeling. There were other activities on offer here like coconut shaving (husking?) demonstrations, palm tree climbing, and some other things. It sure seemed like the entire time spent on this excursion could be spent doing something on the program. But we opted to go the low key route.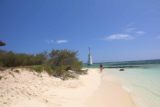 First and foremost, we decided to walk around Amedee Island just to see what else there was here. After continuing in a clockwise direction, we were approaching a jetty, where Julie was telling me something about some tide pools on the jetty. As Julie was coming down the rocks, I noticed there was a banded snake lying still on the sand next to the rocks. It looked like Julie was about to step on it before I warned her.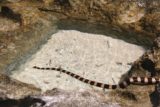 At that point, Julie panicked and ran towards me while the snake appeared to be on guard and raised up while backing away. That was a close call!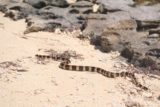 Anyways, that snake now became a photo subject as we watched it deliberately slither back onto the rocks of the jetty, then through some small tide pools, before slithering across the sand again, then finally disappearing into the bush. That was enough for us to realize that bushwhacking here would probably not be a very wise move (especially considering that these banded snakes were venomous).
As we continued our walk along the beach, we then went towards the quiet backside of the island where snorkeling here wouldn't be recommended since the waters were rougher. As we got to the path leading back to the lighthouse, I noticed there was a sandy path going through more bush terrain inland from the beach. I believe this area was a protected area (at least the beach and reefs were) so I just explored that trail to see where it went. However, after the close call with Julie and the snake, I was always keeping a keen eye out for snakes crossing this trail.
It would eventually curl towards the far eastern end of the island then curl back towards the jetty on that side (that we had chilled out at very early this morning). Just as we were approaching the jetty there, Julie and I saw yet another banded snake crossing the sand then underneath the lawn chairs before disappearing into the bush. There were a couple of ladies relaxing around this area, and Julie let them know about that snake.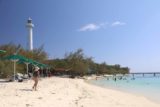 Once we got back to our chill out spot at 2:30pm, that was when we finally donned the snorkeling gear and the life vest (for easier floatation), and as I was approaching the water, I saw yet another banded snake floating around me. That made me hesitate to go in the water, but I figured that I had to go in anyways since I desired to see the sea turtles in a snorkeling environment.
Anyways, after getting over my snake hesitation, I finally got into the water, which felt good after how hot it had felt during our short walk around the island. At first, I saw lots of sea grass and some schools of small fish, but as I started to encounter some corals, I saw more colorful fish as well as brain coral.
Then, as I started to see giant clams and some strange coral formations or remnants of some kind of concrete or something like that, that was when a sea turtle suddenly passed before me. With my GoPro
, I immediately started to snap away photos as well as take some videos. Unfortunately with GoPros
, you can't preview your work on the spot so it was pretty much a guessing game.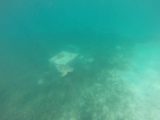 As I slowly followed the turtle while it was busy eating at stuff in the sea grass below while being accompanied by a shark-looking fish (might be the "pilot fish" sucking on the underbelly of the turtle shell), that was when another turtle came in and joined the initial turtle I had been watching.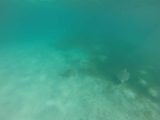 Eventually, the turtles dispersed, then the one turtle I was following would eventually get into deeper waters where I didn't want to go (past the buoys). Next, I would start to have headaches again as I was probably a tad seasick snorkeling like before. So that would pretty much conclude my snorkeling self-tour, but I rejoined Julie a pretty happy customer thanks to those turtle sightings.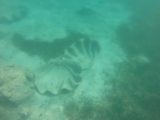 Indeed, the 2008 awarding of the reefs off New Caledonia as UNESCO World Heritage sites were definitely well-deserved.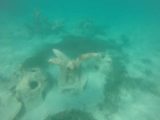 At 3:45pm, we finally had some down time though we knew that it wouldn't last for very long since we had to get back onto the big boat at 4pm. Still, we deflated our life vests, tried to clear out the sand from our reef shoes, and then try to dry off.
As we headed back to the big boat to leave the Amedee Island, we saw a couple more banded snakes. That brought our informal count up to something like 6 or 7 snake sightings. I guess after seeing the first couple, it seemed like these snakes were everywhere as it appeared that we noticed them at an even higher rate.
At 4:05pm, we were all finally aboard the big boat back to Port Moselle on Grande Terre of New Caledonia. As we were boating back, Julie and I were on seats in the middle aisle that were facing the rear. The ride itself didn't seem as severely choppy as on the way in. In fact, Julie and I were able to look back and see the Phare Amdedee for almost the entire boat ride.
At about 5pm, we were finally back at Port Moselle. As we left the boat, the musicians were now playing Hawaiian songs as they were singing Aloha e. After the musicians, we were flanked by two lines of the ladies working the Amedee Island, including the dancers at lunch. When I made eye contact with the lady who put the coconut bras on me, she gave me an acknowledging smile and chuckled. I did the same.
At 5:40pm, we were the last to leave the bus as people were being dropped off. And so it was time to start packing, showering, and getting ready for our 7pm dinner at L'Hippocampe at the Le Meridien property next door. When we were done showering, it was about 6:15pm. At that point, I could see from the pinkish cliffs that the sun had already set. So much for catching the sunset one last time.
At 6:50pm, we headed downstairs and walked to L'Hippocampe. Then, we were promptly seated at 7pm. We had a lot of expectations for this place since it was said to be one of the best dining experiences in Noumea, but our Amadeus experience last night really raised the bar. We'll see if this place can meet the hype.
Our dinner pretty much consisted of an appetizer of scallop ravioli with a couple of chefs surprises. So far so good. But when the mains came out, it seemed like Julie's Wagyu beef was a bit overcooked and dry. She was very disappointed with it. However, my veal was pretty good though it wasn't quite as good as what we had last night.
By the time we were done with our mains at around 8:05pm, we still had to wait about a half-hour for our souffle to show up (even though we had put in our order for it very early on). That kind of frustrated Julie, and I guess things kind of compounded as it seemed like the waiter/waitress neglected us (probably for not ordering any wines).
When the "souffle" came out, it was more like lava cake on a crust. Indeed, it wasn't the souffle we were expecting, and I guess in the end, things kind of went downhill since the starter. So after paying for our dinner (roughly $122 USD for the meal), we concluded that our finale of the trip was a bit of a disappointment. I guess this was yet another affirmation that chain places almost never surpass a local place in terms of value and quality.
At 8:50pm, we were finally back at the room. And that pretty much ended this last full day in New Caledonia, which was quite the busy one. Tomorrow, we're supposed to drive back to the airport though I had fancied going to check out the Place des Cocotiers before taking the freeway out of town. We'll see how it all plays out, but in the mean time, we had to brush and floss, and wrap up our packing.