Day 9 (December 2, 2015 – Los Angeles, California): "From Hot to Cold"
It was 5:25am when I awoke. Unfortunately, I awoke with a mosquito bite right on my forehead between the eyes. I had trouble sleeping because I could hear that damn mozzie in my hear, and given how stealthy they are, there was no chance I'd find it and kill it before it took its pot shot. Hopefully, it wasn't carrying anything deadly.
We spent the next hour trying to reconcile the fact that we had made a mistake trying to dry our wet gear outside on our balcony, but the reality was that we were probably better off drying things inside the apartment where it was air conditioned (therefore drier than the humid outdoors where moisture would be retained). So now, the gear and clothing stinks.
At 6:35am, we went downstairs for the usual breakfast. Nothing extraordinary there except the veggies and the meatballs (something different) were both very salty. We were also entertained watching some poor guy's unattended brekkie getting pilfered by one of the aggressive birds.
At 7:30am, we put the stuff in our luggage, checked out (they were about to charge us the transfer except we never took it since we had our own wheels; good thing Julie caught that), and then got back in the car under the overcast skies.
This time as we drove out, we took the Rue de l'Anse Vata all the way north to some of the side streets going left then north towards the Place des Cocotiers. This would be the first time we'd catch a glimpse of the main city center of Noumea, which Julie thought was cosmopolitan in much the same way that Honolulu could be in Hawaii. It was certainly way busier than say Papeete, Tahiti.
So at 7:55am we parked in one of the open spaces on the side of the road once we saw the main square, and then briefly walked around and tried to get a flavor of this public square. Since it was still early morning, only locals were out and about going about their business. I guess this place could be more festive and happening during lunch and dinner times, but at this time in the morning, it was pretty dead.
At 8:10am, we concluded that there was no more reason to linger at the Place des Cocotiers any longer, and then we continued driving onto the freeway leading us up to Tontouta International Airport, which was still a ways away from Noumea City Center (something on the order of 50km or so).
We weren't in any terrible hurry since we knew we'd be at the airport early, and so we didn't chance any risky passes of slower trucks. With hindsight being 20/20, I guess this was the road we should have taken all along to get to Chateau Royal in Noumea Sud in the quickest route possible. All those longer coastal routes costed us a little more time and probably a little more money (since we were about 50km over the unlimited 1050km limit), but I guess in the end, what's another $10 USD over the excess driving.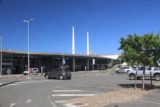 At 8:55am, we finally made it back to the Tontouta Airport. It was pretty empty when we showed up, especially since we were a little over 3 hours from our departing flight to Auckland. When we took everything out of the car (except for leaving the torn up maps that we had been using), we went to the Hertz office, but they weren't open. There was a sign saying they only open for arriving flights, and I guess the Air New Zealand Flight we were about to take wasn't considered an arriving flight?
So we used the key dropoff, and I guess we'd have to wait for whatever charges that will be levied on us after the fact (there'd better not be anything besides the overage charge).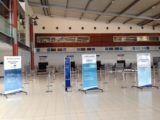 After killing time shopping at the airport to use up the remainder of our francs (we had about $100 USD worth of them), we then promptly got onto the plane at around 11:40am. It seemed like Air New Zealand was prompt yet again, and come to think of it, I don't think any of our Air New Zealand flights had been delayed. Knock on wood, I hope that won't be the case for our really long flight back home later tonight.
After watching yet another version of their creative and entertaining safety videos (this time it was of some surfing legends instead of the Men in Black spoof with Stan Walker and some All Blacks rugby players), I watched a silly but entertaining movie called Entourage (not knowing or even seeing any of the HBO episodes), and then I dozed off.
By about 5:05pm, we had made it to the familiar Auckland International Airport, where we'd have to put up with our long 6-hour layover (Julie learned there was a 7:30pm flight but the cost would've been another $1000 per ticket more so we went with the later flight at 10:55pm). The airport was also noticeably colder than the hot weather in New Caledonia, but I guess that's to be expected in New Zealand. After all, it was cloudy outside with the clouds looking dark and menacing.
Anyways, we would have ourselves another round of ramen noodles from Hayama, but this time, we refused to get prawns after watching the Matthew Evans special on Australia+ that we had seen on the tellie last night. I recalled seeing two nights ago that he talked about the behind-the-scenes engine (the people and jobs) running the Australian economy (like armored car guard feeding the ATMs, the shipping routes of all the stuff we buy, what happens to the rubbish, and even the value of green spaces like Royal National Park near Sydney), but this time, we saw the dirty secrets behind the unsustainability of trash fish and the prawn farming trade in Southeast Asia.
So now we knew that with a loophole in food labeling for cooked prawns or shrimp, it was more likely than not that whole ecosystems were being trashed by dredging for trash fish becoming feed for the farmed prawns.
Boy we could certainly use more honest investigative journalism like what the Australians have back at home. But in a country where money reigns supreme above all else, I highly doubt we'll have that.
Come to think of it, I highly doubt that the COP21 going on in Paris right now will amount to anything meaningful given that the only voices that have impact will come from influential people with wealth. These are the types of people who have big egos and selfish ambitions to attain that wealth in the first place, making it highly unlikely that something as democratic and selfless as sharing a common resource with the world (i.e. the environment) would be properly protected or looked after by these same folks that plunder it.
So as long as we continue with the fallacy that capitalism is the economic system of the world (where wealth is concentrated to the 1%), environmentalism (where wealth is distributed to everyone since we're all sharing the same resources) will always be on an uneven playing field and will take a backseat to the selfish ambitions of that 1%.
And while we're headed back to life, back to reality, I'm sure it won't be long before we're longing for the next getaway in a world that's getting increasingly hot, crowded, troubled…
And with that, we'd kill the next few hours trying to keep ourselves busy with blogging and internetting at the airport. Eventually, we would board the plane at 10:10pm, and we could already see that it was going to be yet another full flight. That said, Julie and I were sitting way in the back this time so we were one of the first ones to board after the baller classes and families. It turned out that there was one more row behind us before the bathrooms, and it appeared to be empty. However, someone claimed that she wasn't feeling well so she was the one who got to sprawl on that entire back row and sleep comfortably.
The flight cabin was quite cold throughout the flight. As a testament to how unprepared I was for this trip, I didn't have a second pair of long pants. So I was basically in nerdy attire with khaki shorts, hiking socks, Chacos, and a Tahitian T-shirt with a waterproof UK jacket over my upper torso. My shin up to my upper knee was exposed to the cold, which had to have been around 60F or something. So I made liberal use of the blanket, especially around the legs.
We had a pretty turbulent flight for what seemed like a large part of the evening. Julie kept clutching my left arm while I was in and out of consciousness. I think when it finally got to around 6:45am New Zealand Time (9:45am California time), that was when I finally kept myself awake to watch a bunch of episodes of Flight of the Conchords. I had always been looking forward to seeing this comedy routine on HBO, but since we don't have HBO and we never seemed to have access to these episodes while flying with Air New Zealand, I never got to see them until now.
Unfortuantely, I didn't get to finish the last two episodes as I had run out of time. Hopefully, I'll get a chance to see them later if they're on Amazon Prime or something. We'll see.
Anyways, the plane touched down at around 1:25pm. It was actually seemingly ahead of schedule. But I knew from experience that before we could celebrate and think we're getting home sooner rather than later, I knew that the passport control, customs, and the inevitable poor line management might rear their ugly heads again. Plus, since we were in the back of the plane, we still had to wait for everyone else to de-plane before it was our turn.
It wouldn't be until around almost 2pm when we were busy walking out of the plane then onto a seemingly new corridor with glimpses of the fancy international terminal below us. That's new. But still, once we got back downstairs to the ghetto part of the airport underground, that was when we saw straight away that we were back in the super long passport control and customs lines.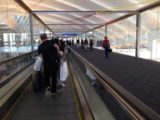 The passport control and customs part of it seemed relatively painless as we would be out of there at around 2:15pm I think. However, then we saw there was utter chaos as there was a massive line of people crowding towards the exit. We had to squeeze our way towards the baggage carousel 9, which was where we got our luggages. Then, we basically crowded our way into the exit queue seeing that it was total chaos thanks to the lack of line management here. Julie wasn't the only person taking a photo of the scene as apparently other people with iPads and other things did the same.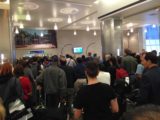 Who knew that it would take us another 30 minutes just to get out of the airport!?!? And we didn't even get a chance to call the 105 Airport Parking shuttle! We were feeling really bad for those folks who had international connections as we knew that our flight was a connecting flight to London Heathrow.
Well, once we finally picked up our car and drove home during the early rush hour, we were finally home at around 4:05pm. I always knew that it typically took around 2-3 hours from the time the plane lands to the time we'd finally get home. It didn't matter that they automated the passport control, because they still had us line up and see a live person, then go through a pair of customs lines. And in the the end, we concluded that they merely window-dressed the international passport control and customs process, but fundamentally, nothing really changed.
I guess it was finally back to life, back to reality. But at least we got to finally embrace our daughter once again…