Days 0-2: LONG HAUL ANXIETIES
The day began with me showing up to work at about 5:30am. This followed me staying at work until about midnight the night before. It was unusual for me to go to work on the same day that we were to have an international flight, but I did have a deadline to meet, and I didn't want the failure of the program riding on my inability to deliver despite the sudden increase in work scope that led up to this crazy push for the last three to four weeks.
I certainly needed this upcoming trip as much as anyone. So for this trip, we were going to Vanuatu, which was totally last minute. We had originally planned on doing a longer trip in December to Vietnam, but there was way too much uncertainty concerning work as well as home-related stuff (let alone leaving Tahia behind for that long). But we had to do something in the near term as we knew it would be a shame to let our 10-year wedding anniversary as well as Julie's birthday pass without even any worthy celebration to show for it.
Vanuatu seemed like the right compromise. Julie wanted something less focused on waterfalling, and so while all my waking hours were consumed by work, she took the initiative to plan for this trip. And this would culminate on us leaving the rat race behind if only for Thanksgiving week in a place no one at work had even heard of.
Anyways, I managed to get my stuff done at work (at least in a good place to leave it), and I made it home by lunch. That left me ample time to pay bills and make sure we were ready for the trip. When all was said and done, it was about 8:30pm when we arrived at LAX, which was surprisingly not as busy as we had anticipated considering Thanksgiving was usually the busiest travel period of the year.
We got our boarding passes, were told our luggage was to be checked through (to Luganville? or Port Vila?), but we had to get our Air Vanuatu boarding pass somewhere in Auckland. The Air New Zealand flight took off on time at 10pm (something Julie was quick to point out that Virgin Atlantic failed to do during our UK trip), and while I was working on three-hour's sleep, I was finally able to unwind and allow myself to sleep (albeit uncomfortably) on the long haul flight to Auckland.
So after half staying awake to watch The Hangover III, then sleeping nearly 8 hours before watching a couple more comedies (Horrible Bosses, etc., but no Flight of the Concords?), we would land at the Auckland Airport at around 7:30am, and it was about 8am when we made it through security at the international transfer lounge and had to wait the next 5 hours before our next flight to Port Vila in Vanuatu.
Security made us drink up the bottled water that Julie had bought at LAX, and then we learned that we'd still be without a boarding pass for Air Vanuatu until about an hour before our departure to Port Vila at 13:05. Seemed kind of hokie, but it was what it was, and we'd have to find a way to kill the next 3-4 hours before we could resume the next leg of our trip.
Given this disconnect in our ticketing situation, Julie and I were a bit nervous about our luggage getting to Vanuatu with us. We'll have to see how it would all play out…
In the mean time, we continued to kill time spending our limited 30 minutes free of internet, then having a long early lunch over ramen noodles and a lamb and kumara meat pie (for old times sake). Speaking of old times, while we were looking at postcards of New Zealand, I started getting nostalgic about our first visit to Aotearoa ten years ago to this day. And here we were, a captive audience at the Auckland airport.
Back then, it seemed like we had made our visit before NZ became a really popular destination. I recalled the small town feel for most of our trip (bad weather and all). When we came back five years later, we were pretty surprised at how much places like Whitianga got further developed. And now, it seemed like NZ had become the chic destination. Even the "epic" safety video on Air New Zealand was a bit of an opportunity to keep that Lord of the Rings and Hobbit theme going (clearly they knew why most foreigners come here).
At about 12:05pm, we went downstairs in search of another International Transfer Desk aftering noticing a sign that we didn't notice before. Once down there, we finally talked to a lady who was able to print out our boarding passes for Air Vanuatu as we just so happened to stumble upon the correct gate. So with that squared away, we were patiently awaiting our flight to continue our very long travel day as we still had two more flights to go before we could finally call it a day and overnight in Vanuatu.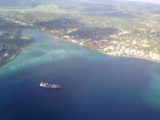 Eventually, the three-hour flight took off on time at 1:05pm, and by about 2:10pm, we arrived at Port Vila as scheduled (two hours behind Auckland). While there, we went through immigrations and customs, then we were greeted by a welcoming band just as we had left customs. And then from there, we had another 2 hours or so before our next flight, which was a domestic flight to Luganville on the island of Santo.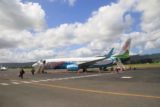 Once we checked in our bags and paid our domestic airport departure tax at the domestic terminal, we then went back to the international terminal (only 100m apart), where it seemed to have more of a festive feel to it. Perhaps it was the band helping with the ambience. But there were also a lot more foreigners (mostly Aussies and Kiwis with a handful of French, Russian, and Chinese) there as they were being received and picked up for staying there on Efate Island (mostly in Port Vila town, I'd imagine).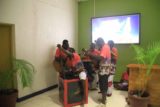 When we had our fill of the international side, we then went back to the domestic side just to sit and chill out. The terminal had been crowded when we first arrived without any room to sit, but now it was pretty empty as I'd imagine most of those people were being flown to a different island.
At this point, it was pretty much locals and a handful of others that were probably on the same domestic flight as us. By about 3:20pm as Julie and I were talking about stuff concerning the bislama language (seeing how it was kind of the ni-Van way of managing multiple languages [mostly English pidgin with a French flair]), the ground started to rumble.
Suddenly, the rumbling got more intense as we started to see the signs on the walls rattling, the ground starting to feel soft, and even locals started running to the outside of the building!
EARTHQUAKE!
Apparently, even locals weren't that used to this given their fight or flight reaction!
Just as Julie frantically tried to get me to move with the rest of the folks to the outside of the terminal, the shaking stopped just as suddenly as it had appeared. And after that brief interlude, we were back to just chilling out as if nothing had happened.
At about 3:45pm, a pair of Chinese ladies asked us if we spoke Chinese. When we affirmed, it turned out that they seemed to be in a bit of a bind. Apparently, they were trying to catch a flight to Santo (a chartered one), but somehow they missed it. Now, they wanted to catch the next flight to Santo (the one we were on), but it was sold out. With their language barrier, Julie was helping them translate and talk with the airport sales agent at the domestic terminal.
I guess to make a long story short, they had to taxi to the airport hotel nearby, then they'd have to catch a very early 8am flight (probably a 5am pick-up) the next morning. Julie learned that they actually live in Santo, which seemed amazing to me if they did that while still having a bit of a language barrier.
Anyways, by about 4:20pm, we finally boarded the twin propeller plane (always scary from a safety standpoint). And once we got into the cramped fuselage with room for maybe a dozen people, we patiently waited for the pilot to take off for Santo. Everyone was sweating bullets inside the fuselage and it reminded me of similar flights that took place in these kinds of planes in Venezuela, Fiji, Guyana, and others.
Mercifully by about 4:40pm, the plane took off on time, and finally by about 6pm, we finally arrived in Santo. I sat on the side of the plane against the sun so it wasn't very photogenic, but Julie managed to get some decent photos from her camera phone. The hotel proprietor Shane picked us up and we learned a bit about him and the island during the short drive to the Barrier Reef Beach Resort, where we were staying for the night.
Shane was an Aussie ex-pat who hailed from a coastal town south of Melbourne somewhere past Geelong. He seemed impressed by our knowledge of Australia, which was largely helped by us being there three times to this date as well as keeping up with Aussie culture through the Triple J Radio station that I stream from overseas. Turned out that he would listen to it as well whenever he was on the computer.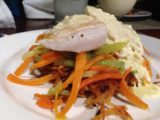 Anyways, they had a vacation home here, but eventually decided on a lifestyle change and moved here to turn this into a business. His description of the Millenium Cave and the Champagne Beach along with the Blue Holes on the island really amped up our anticipation of our upcoming tours for the next three days. But doing the bigger waterfalls on Gaua and other islands seemed to be an impossibility on this trip given our limited time and high cost (resulting from the last minute nature of this trip as well as lots of stuff going on back at home).
Finally by 6:40pm, we got settled into our garden bungalow or fare. And at last, we could finally stay still for a bit and look forward to a dinner (some kind of creamy fish with hash brown like bedding over complementary cocktails), island style relaxing, and catching winks before doing the Millenium Cave tomorrow…