Day 3: LOST SOLES
We awoke to our 6am alarm, which was probably more like 11am considering we were still operating on LA time. So we took our time freshening up then getting dressed. By about 7am, we had ourselves a decent breakfast, but we were also distracted by the nice morning weather, which induced us to take photos through the trees and out onto the blue water.
After breakfast, we waited patiently for our Millenium Cave tour to pick us up, which was scheduled for 7:30am, but we wouldn't leave until some time after 8am. I guess we were on island time.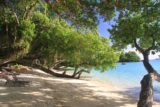 We got acquainted with an Aussie couple who were already in the van hailing from Sydney. It was funny how we were bonding over Triple J talk as I'm sure it must have been amusing to see someone hailing from the States knowing all about things like the Matt and Alex show, Aus Music Month, the Hottest 100, and a bunch of other things related to Triple J.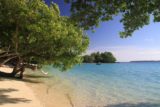 At about 8:35am, we arrived at the Millenium Cave office in Luganville. That was where we met with the ni-Van manager named Sam, who told us a bit about the tour we were going on as well as how proceeds from this tour went right back to the local community. We could clearly see the Australian government (and even the New Zealand government) were on board with what these folks were doing as we had seen signs affirming this as well as a photo of Australian foreign minister Julie Bishop shaking hands with Sam.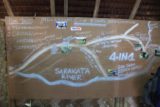 We also met up with another couple who were staying in the main part of Luganville, who also happened to be one of the couples that were on the flight with us from Port Vila to Luganville yesterday. This couple also hailed from Australia but they were from Brisbane.
Next, we got into the van and proceeded to be whisked along the paved road before leaving it as we headed into the foothills. The road was very bumpy, but the driver Serge was very confident in his handling of the vehicle on such roads. There was one part where the drive was surprisingly smooth as we were on a widened and paved part of the road that turned out to be an old WWII airstrip built by Americans.
Anyways, inside the van, we were all being shaken about, and it was almost as if we were having a ni-Van massage (as opposed to African massage) courtesy of the rough road. The car went pretty silent as it wasn't easy to keep a conversation going with all the shaking accompanied by rattling noises, and it wouldn't be until about 9:10am when we would finally make it to a village with a wide open space that looked like it was some congregating area or at least something that could accommodate many vehicles.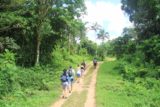 Once we got out of the van, we left most of the towels and dry clothes behind upon the suggestion by the guides that we wouldn't be needing them. We only took with us the dry bag that Shane provided at the resort (knowing we would be toting a DSLR on this excursion) as well as Julie's little backpack.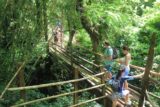 From there, we proceeded to go on a little bit of a walk that left this immediate village (I believe it's called Nambel), then along some combination of more four-wheel drive roads and some jungle walking, including some steps up and over tiny ridges as well as a bamboo bridge crossing. And by 9:40am, we would show up at another village, which was called Vunaspef (some maps also spelled it Funaspef).
At this village, the guides fitted us with some life jackets (though we wouldn't have to wear them until later), and we met quite a few more guides. Inside one of the thatched-roof houses we were at, there was a long table as well as lots of locally-made crafts hanging from the beams above us as well as along the walls. The purchase price of these things were on the order of 1000VT (vatu).
One of the other guides once again went over a map talking about what was going to happen next on the tour, which pretty much started with a 3.3km trek, then the Millenium Cave itself, then a lunch break at a hidden swimming hole, followed by some canyoning and floating. Finally, there was one bit of hiking back to the village. In total, the tour would take about 3-4 hours, they said.
It sounded like an intense trip. I knew this was going to be one of those excursions where you have to be comfortable being uncomfortable considering we were going to be sweaty and smelly given the humidity. And, I was very anxious about dunking any of our electronics or other things in water…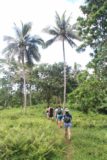 And so we were once again off as we now hiked out of the village and into more of the bush. The going was a bit rougher, but was still pretty much a benign bush walk with lots of shade from the surrounding trees. The guide made sure to show us some of the more interesting things about the bush like a particular poisonous plant (that looked very much like any other plant we saw out here) that apparently was very painful and even putting the wound in water would make it worse.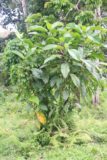 Other things the guide pointed out were some vines that turned out to be the same kind of vines that the land divers at Pentecost would use during their Nagol ceremony. They told us that the ceremony only occurred in April through June because that was when the vines would be at their most elastic. Of course, it was well documented that this ceremony was the very thing that AJ Hackett witnessed and was inspired by to come up with the sport of bungy jumping.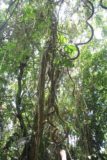 Julie and I tended to stay in the back of the pack (because I took a lot of trail photos), and so one of the guides stayed behind me. He showed me a particular leaf that actually was velcro-like to clothing, which was kind of a trip. Meanwhile, other things of note that the guides pointed out included bamboo stalks (some where huge), bananas (or plantains? I never could tell), taro, and other things the locals cultivated.
Eventually at 10:20am, we made a stop next to a trio of big bamboo stalks. Up here, there was a view of the jungle below us as well as a bush toilet between the bamboos. Up to this point, the hike was surprisingly comfortable (relatively speaking) and not as muggy as we had anticipated. Were we in the Wet Season, yet? It really felt more like the Dry Season, and it started to open up our minds and our eyes to going to the South Pacific in November given the good weather we had been having so far.
Next, we continued the hike, which was now mostly downhill. The terrain was a little more dramatic as we were descending ledges, but we could see that there was a lot of work put into the trails from ladders to footholds carved into rocks, and railings to help the unsure and unfamiliar foreigners with balance.
At about 10:45am, we descended down to stop 2, which was pretty much within the thick bush. At this point, we left our lunch and some of the heavier stuff with the guides. Meanwhile, we carried a dry bag to keep Julie's backpack in as well as my DSLR as needed. One of the guides painted everyone's faces to signify the various aspects of the next phase of our trip with each stroke of red clay.
And with that, we were continuing our descent. This time, there would be one guide per couple. We were guided by the eldest of the guides named Serge, who happened to be the father of the other guides who came along with us (all four of them).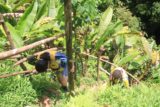 It didn't take long before we found ourselves at the top of a very steep descent where we could look right down at the impressive Millenium Cave itself. Earlier on at the office, I recalled Sam saying something to the effect that the cave was so named because it was open to foreigners in the year 2000. Serge told us that it was he that discovered the cave in 1987, and it was crazy to think that he could very well have been the very reason that visitors would go to Espiritu Santo Island because of this cave excursion (one that Shane the resort proprietor said was the best land activity to do on this island).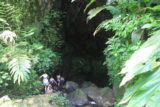 The descent was slow as there were ladders that we had to go down backwards (facing the ladder with our backs facing the dropoffs). I was also probably slowing us down because I had to take pictures to at least communicate the adventure we were embarking on at this point.
Once we made it to the bottom of the descent, we now found ourselves hiking pretty much within the Bamboo River. It was only a few awkward steps more before we then were right at the head of the Millenium Cave, where right above us were swarms of bats and swallows flying back and forth before another opening in the cave high up above us. I guess technically that would make this like a natural bridge or arch, but whatever the case was, this massive high-ceiling cave was impressive and like a lost world.
After going crazy taking lots of photos and movies of this cave entrance, we could see straight ahead that it was pretty much pitch black as we saw other tour mates ahead of us donning torches (flashlights) and headlamps. That was going to be us soon.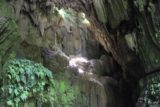 Again, we could see there was a lot of work put into this path as there were footholds carved into rocks to help with the slipperiness. It was amazing that while it was a struggle for outsiders with this, the locals were barefoot as they did the hiking. Clearly, they knew this cave inside out, including where to plant their next steps despite us about to descend into pitch darkness.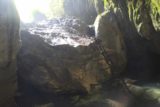 Now, we had to make liberal use of Shane's dry bag as we wouldn't want our camera to get killed by water. But that also meant if there were photos to take, it would be a bit of a hassle. But in any case, this next phase of the tour started to get intense as the only light available to us came from our torches. Meanwhile, we were clamboring over submerged rocks and footholds in the darkness while our eyes were adjusting to the darkness and low lighting, which was enough to resolve the high ceilings of the cave and even some of the interesting insects that seemed to call this cave home.
I don't think Julie and I had ever done something like this before, and it was good that we didn't bring Tahia along for this trip because we would have a serious problem bringing her along or figuring out where she could be baby-sat while doing this adventure.
Somewhere deep in this cave, we saw a waterfall that was coming out of a cave wall. The lighting was low so it wasn't easy to photograph. Since I could do long exposure shots with my DSLR, I was able to at least make it out, but it was most likely blurry as I would have to hold still for at least a half-second or more without a tripod.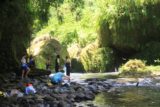 After this waterfall, there wouldn't be much more photo ops as it was pretty much all about the adventure. It wouldn't be until we were at the other side of the cave did it make sense once again to take the cameras out of the dry bag and try to take a few more photos. Eventually at 12:15pm, we would have a lunch break a short distance outside the mouth of the Millenium Cave at what appeared to be a rather hidden swimming hole on the Sarakata River, which was the very river that would actually make its way to Luganville and out to sea.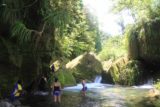 This swimming hole was a pretty neat spot as both guides and some of our Aussie tourmates jumped off the rocks and into the deep waters at the base of the two 5-ft waterfalls that were here. One of the guys also did a waterslide action with one of the waterfalls. Bottom line was that it was a welcome break, and we all knew that we were in a place that was unique and unforgettable to this point.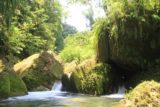 Tempering the elation of being in this special place was the fact that Julie's river shoes with spider rubber soles was missing the sole on her left shoe. So I'm sure that would make the footing going forward a bit tricky. I guess that's what happens when you haven't used that shoe for nearly 12 years as it died on only its second use.
However, when the lunch was over (this was around 12:45pm or so), the guides told us to put most of the stuff in dry bags that would go back to the village. I worried about not being able to take the DSLR with me for more photos on the next phase of the trip, and I guess there was a little bit of a misunderstanding in that I wanted to still have the DSLR with me (along with the GPS to track the action).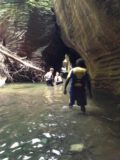 So in the end, we'd have to rely on Julie's camera phone as she had a waterproof "dry case" of her own that was a last-minute purchase at the Auckland Airport. And perhaps it was a good thing I didn't have all 7-pounds of camera with me because it would turn out that the next phase of the trip was even more intense than going 30 minutes through the pitch darkness of the Millenium Cave.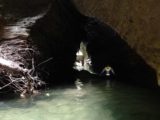 The trek at this point started off as river walking. But it quickly went into slot canyons that involved some bit of wading and even small sections of floating, which would've made things tricky with my DSLR even in a dry bag. Then, we got to some really hairy sections where there were rope and bolt-assisted scrambles with severe drop-off exposure. A misstep and fall in this section would most certainly be fatal, but the guides made sure that for each individual, we knew exactly where we should be planting our feet with each precarious step.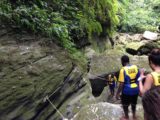 After this really intense section of canyoning, we then were on a wider part of the Sarakata River where it was more of a long float using the buoyancy of our life jackets. We passed by a trickling tall waterfall that we thought was the one shown at the office earlier on, but then not much further was the real deal waterfall.
Boy I wished that I had my DSLR with me at the time, but Julie's camera phone would have to do. We were looking for shallower spots to take photos of the falls without worrying about keeping the camera above water while floating. Once we did find them, we documented this "Hidden World Waterfall", which was definitely the most impressive of all the waterfalls that we saw on this excursion.
And when we were done, we continued to float downstream, where I was floating backwards to keep my eyes on the waterfall framed by the tall cliffs slowing drifting away. Indeed, this was one of those moments that would stay in my mind, but it wouldn't be documented (wondering if buying and using a Go Pro camera for this section would've been best).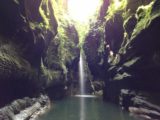 The floating would continue for quite a while longer, and it wouldn't be until some time near 2pm or so would we finally get to the end of the floating section. It was during this part of the tour that I realized that one side of my Keens was also missing the toe kick part of the sole. So that pretty much meant that this shoe was probably dead after this excursion and definitely for this trip in general.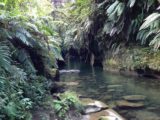 The sole on my right shoe was still there, but the foot bed was prone to coming out.
Anyways, the next part of the trek was now a very steep uphill jungle trek again on rocks carved out by the guides. Some of this steep hiking included walking directly in the courses of small cascades and waterfalls, and there were plenty of rope and chains to assist with the nearly vertical ascent. Clearly, going up this path was the way to go as going down it wouldn't be a wise thing to do.
After this intense bit of uphill scrambling (again with Serge making sure we were fine on the ascent), the path then flattened out at the top of the climb and we then found ourselves walking beneath coconut trees and alongside some subsistence farming plantations growing stuff like kava, taro, pineapples, mangos, papaya, bananas, and more.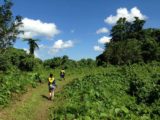 Finally at 2:35pm, we were back at the Vunaspef village where our tour mates were waiting. We probably kept them waiting about half-hour or so, but with excursions like these, who's counting time? Anyways, we were exchanging stories of our experiences while also enjoying very sweet island pineapples and papaya. There was also coffee there. And man the fruits never tasted sweeter as we knew everything tastes sweeter after long excursions like this.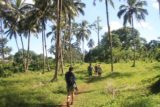 I was indulging one of the guides (one of Serge's sons) with some French practice as I had recalled Serge saying that half of his sons were schooled in English schools while the other half were schooled in French schools. No wonder why bislama was needed to enable all the different ni-Van dialects and foreign languages to be bridged so people could communicate with each other.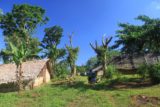 So we recovered our stuff, and then proceeded to walk back to the van at the other village. And at that point, we were back doing the ni-Van massage on the rough road as we were being whisked back to our respective accommodations in Luganville and beyond.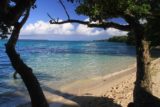 Eventually at 4:20pm, Julie and I were back at the Barrier Beach Resort. We would end up having dinner at the Moyyan House, which seemed to have a bit more variety on their menu, while we also took advantage of their happy hour.
Then, we saw the Aussies from Brisbane who were on the tour with us earlier in the day as they were coming to dinner at the Moyyan as well. I guess that would make sense since they were staying there. And so we relived our Millenium Cave experiences since it was still fresh on our minds.
The dinner of pork belly and filet mignon was satisfying but perhaps not all that impressive compared to the reputation that preceded them (and the price that was commanded). The nice breeze once again made it feel like it was Dry Season as opposed to Wet Season. In any case, the jet lag was catching up to us as it was getting later in the evening, and by about 8:30pm, we were back in our room to get cleaned up and ready for bed. It was past 1am at home, and so it would be the end to this unforgettable day…