Day 4: ALL ABOUT THE COLOR BLUE
It was 5:30am when we awoke. But throughout last night, I thought we were hearing rain. So much for the good weather sticking with us on this entire trip. I instantly started thinking about our Tahiti trip a couple of years ago where it started off sunny, but quickly went south for the remainder of the trip.
I also wondered how our excursions for the rest of the trip would be affected, especially those involving jungle treks to waterfalls like the Mt Hope one we were to do tomorrow…
Plus, how would Tanna and Mt Yasur be affected? As well as the Mele Cascades towards the end of the trip? Well, at least we got the Millenium Cave out of our system yesterday just before this rain showed up. But now, how would the Champagne Beach experience be given this turn in the weather?
The rest of the morning was pretty chill as we had the familiar breakfast though Julie decided on paying the 1000VT for eggs and toast. The wind was blowing and the water seemed a bit choppy. Plus, the skies were a bit more overcast with a few breaks here and there revealing the deep blues in the water just offshore.
We were finally able to Skype Tahia back at home, and we managed to show her the beach and the water. She expressed a desire to come to Vanuatu so she could play in the sand and on the tire swing that she also noticed when we pointed the laptop towards those things. And then she was really sad when we had to say good-bye.
It wasn't an easy decision to leave our little girl behind for this 10-year anniversary trip, but we knew that doing things like the Millenium Cave wouldn't be possible otherwise.
Anyways, it wasn't until about 9:05am when we met up with Ivanna's brother named Tono (sp?), and he was the one who would drive us around for most of the day.
First up was the Nanda Blue Hole, which we got to at 9:35am. It was also called Jacki's Blue Hole on some maps. But the locals refer to it as Nanda. Anyways, we paid the 1500VT per person to get right up to this freshwater lagoon with an impossibly blue color. And now we could see why it was such a coveted spot on Espiritu Santo island.
We probably spent a good 20 minutes just taking photos trying to somehow capture the majestic clear blue pool against the green of the surrounding bush. There were quite a bit of fish swimming below us as we were standing on the wooden deck safely trying to compose our shots. One of the villagers also brought out some freshly cut papaya.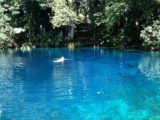 I spent some time swimming in the really cold water, but it didn't take long for me to warm up once I was in. With the snorkeling gear, the clarity and visibility of the pool was quite impressive. I could see there were indeed some reefs down below, and perhaps this was what helped to give this hole its deep blue color.
It was pretty much just Julie and I enjoying the Nanda Blue Hole. We knew cruise ships sometimes would come here, and we could just imagine how much busier the place would be under such circumstances. So we were counting our blessings that we were able to enjoy this place in peace.
At 10:05am, we left the Nanda Blue Hole then continued the ride further north towards Champagne Beach. This was the anticipated highlight of the day, and if the Nanda Blue Hole was any indication, this beach promised to be really good.
At 10:40am, we would finally arrive at the Champagne Beach after paying the 2000VT to get in. Indeed, the color of the water gently lapping towards the fine white sandy beach was a beautiful hue of blue, and once again, we knew we were in a place that was very special. There was no crowd from a cruise ship on this day as it was just one family of three and us when we showed up. This further added to the magic of the moment.
The beach was blindingly bright thanks to the fine white sand. But the water's blue hue contrasted the sand to such a degree that the water was also very bold in color. Surrounding the beach were some palm trees as well as some huts that Tono said were for markets that would be set up here when the cruise ships would arrive. So on this day, those huts were mostly empty, and they provided some much needed shade (along with the trees) since the sun was so intense.
After spending quite a bit of time taking photos of this impossibly scenic place (possibly the most scenic beach we've seen to date – even surpassing the beaches we saw in Phuket which were way busier), Julie and I then went into the water to do a brief round of snorkeling though the sea life here wasn't nearly as impressive as the Nanda Blue Hole (which wasn't really saying much). Nonetheless, this was the place to chillax and we pretty much did just that for the next hour or so.
It wasn't until about 12:15pm when we finally left the Champagne Beach as we were hungry for lunch at Port Olry. Ivanna at the Barrier Reef House told us that there was a good place for Spiny Lobster or Crayfish. And her brother confirmed that as he was headed right over there.
When we showed up to Port Olry at 12:45pm, we walked up to the beautifully-situated thatched-roof shack that was indeed the restaurant. Fronting the restaurant, however, was another beautiful white-sand beach fringed wih palm trees. And again, we saw beautiful colors in the water contrasting with the blindingly white sands as well as some offshore islands under some threatening thunderclouds serving as the backdrop to this scene.
I started to wonder whether this was every bit as scenic as Champagne Beach. But perhaps the one knock on this beach was that the water was quite a bit rougher than Champagne. Still, it was very picturesque, and once again, we spent quite a bit of time taking photos while also waiting for our lunch (after making our order).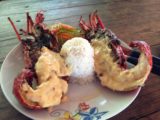 And like with the Champagne Beach, this place was relatively quiet with only a handful of tourists or backpackers out here. I'd say even just for the location alone, this lunch spot was well worth the detour to get to.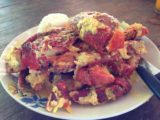 So Julie and I spent the next hour or so having our lunch. We were talking with Tono about a bunch of things mostly concerning island life and the like. Eating the shellfish was a bit on the messy side so there was quite an army of ants who were trying to pick up some scraps that I was leaving behind.
It took quite a bit of time to get through our food given how much work we had to exert. But by about 2:55pm, we finally left our lunch spot at Port Olry, but not before a pair of folks were also hitching a ride with us. It turned out that they were headed back to Luganville, but we were headed in that direction anyways.
The couple that went with us was an American guy from Florida and Georgia who was working in the Peace Corp., while he was joined with a French lady from Paris who was teaching French in Luganville. Both of them were on a bit of a world tour that took them to places like Southeast Asia and ultimately to Vanuatu, where they felt Port Olry was the most beautiful beach in the world.
We learned quite a bit about their journey as well as some of the ni-Van customs since they had already spent over a year here. It was probably through this journey that they found love in each other (or at least that was what we gathered from our conversing).
Indeed, it was moments like this that reminded Julie and I why we enjoy traveling so much as we would meet people from different walks of life that we would ordinarily never have met or conversed with. Such moments further expanded our minds to embrace the diversity of the world and the types of people who possessed that adventurous spirit that we both could admire and respect.
Of course, these folks made our adventurous spirit look very tame in comparison where they were more like the type of folks who go places without a real plan and let them go wherever life takes them. It wasn't the first time we met people like that (we did meet a Canadian couple while on our Angel Falls trip back in 2007), but it was always refreshing to try to learn or at least experience the world through their stories firsthand.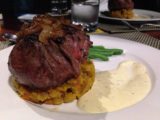 Anyways, it was about 3:50pm when we finally made it back to the room at the Barrier Beach House. The volunteer couple also got off at this spot. Anyways Julie and I would spend the rest of the day unwinding (and unsuccessfully trying to Skype Tahia) as this was pretty much a chill day for us. We dined at the Barrier Beach House since they had beef this evening.
And tomorrow, we were hoping the adventure would continue at the Mt Hope Waterfall, but that would be weather dependent. And we weren't sure whether the weather would cooperate.
So we'll just have to wait and see what comes next…