Day 5: LOCAL FLAVORS
It was 6am when we awoke. As our body clocks were still getting adjusted to local time, we didn't have much difficulty obeying the alarm. And so the next couple of hours were spent taking our time getting prepared for the day's excursion, which was the Mt Hope Waterfall.
After having our fruits and cereal for brekkie, we were then waiting for our tour at 8:05am. Knowing that things operated on "island time", we didn't fret about the tardiness. And at 8:25am, we were then whisked away by the pick-up truck and three guides (John, Richard, and Sabrina) that was to take us to the Mt Hope Waterfall. The tour was operated by Oyster Island, so we were also looking forward to having a lunch there just to try something different since it was said to be on the way.
But just before we were headed for real to the Mt Hope Waterfall, we had to pick up another couple who happened to be staying next door to us at Moyyan. I was joking with Julie that it might be the same couple that went with us to the Millenium Cave a couple of days ago as well as on the plane ride with us to Santo from Port Vila the day before that…
And by 8:40am, sure enough, it was the same couple that I joked with Julie about!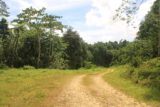 We finally learned their names were Joel and Melia. So with that bit of a festive atmosphere from this deja vu feeling, we were learning even more about this couple who hailed from Brisbane though Melia was originally from Tonga. Even with the rough ride (and ni-Van massage) on the 4wd road that left inland towards Mt Hope, we were still conversing.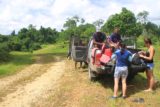 Eventually at 9:35am, the truck stopped past the gate signposted for Mt Hope, and we got out of the truck to get fitted for life jackets while leaving most of the stuff in the truck. Once again, I left the SLR camera behind as the guides encouraged us not to bring it even though we had a dry bag. Part of me was relieved that I didn't have to bring the DSLR and risk getting it dunked in water, but at the same time, we were once again relying on Julie's camera phone and her last-minute purchase dry bag specific for the camera phone.
And so we were off walking downhill towards the Sarakata River (the same river that comprised part of the Millenium Cave tour), and we would eventually be standing on the bridge over the river. Once we got through the safety briefing, everyone but Joel went down a bush trail leading to an easier place to put into the river. Joel followed one of the guides towards a part when you'd have to jump in from pretty high up.
Then, once we were in the water, there was a bit of a current to fight so Julie and I managed to cling to the wall a little further downstream from the others who were waiting for everyone to put in.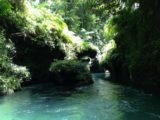 And at this point, it was pretty much all floating downstream on the Sarakata River. And since we were pretty much floating the whole way, it wasn't really feasible to take photos (or at least hold the tour up for it), especially with the risk of dunking Julie's iPhone in the river.
The floating was mostly relaxing as we let the current take us downstream while we were looking forwards, backwards, and up from within the gorge. There were mozzies whizzing by my head as I'm sure the DEET washed off by the river. There were also lots of dragonflies and other moth-like flies hovering about above the river as well.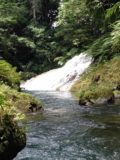 Then, there were probably about four or so "rapids" where we had to keep our legs up while being pulled feet first downstream. Failure to keep the legs up meant the likelihood of kicking or scraping a submerged rock. But doing the rapids successfully meant it felt more like a waterslide, which was pretty thrilling.
The very last series of rapids were right at the base of the Mt Hope Waterfall. There was a part where the whole tour stood on a rock to get a look at it while the guides made one last bit of instruction concerning how to float towards the waterfall (on the left) then to the right to climb up alongside the falls where the guides awaited. But overshooting the waterfall wouldn't be a good thing as there was a dropoff about 30 minutes further downstream…
Of course I was the last to make my move as I was taking a photo and a movie of the action taking place. Eventually, I did as the guides were instructing me (with their watchful eye as well in case I screwed up), and then I'd finally make my way up the Mt Hope Waterfall where the Mt Hope River was hugging the sloping limestone-like formation before joining the Sarakata River.
This was one of those waterfalling excursions where pictures and movies didn't do it justice. It was really more about the experience. Nonetheless, I did my best to capture the moment while making sure we had some memento to bring home essentially documenting this fairly lesser-known excursion.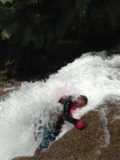 There was even a part of the cave where a guide got Joel to go behind one small drop of the falls where it was said that you could have had a smoke from back there if you wanted to. From looking at the hesitation on Joel's face, I wasn't sure if he was buying it, but he did go in there and back out.
Then, we continued to climb up the waterfall, which got progressively less steeper the higher up we went. And when we would finally make it up to the very top of the falls (which were now more like rapids at this point), we then re-applied bug spray while others were busy trying to wash off some worms that managed to cling onto those who chilled in the water (especially since Julie and Melia were sitting within the falls to get a "massage").
The remaining bush walk was pretty straightforward and lasted another 10 minutes. And by 11:15am, we finally made it back to the truck where there were cut up grapefruits as the refreshments.
We chillaxed a bit for another 15 minutes until it was decided that we'd drive directly towards Luganville instead of the Oyster Island Resort. Apparently, Joel wanted to try some local food for lunch. And so that was what we did.
During the drive on more bumpy roads, John was driving and we were learning a bit more about him since he hailed from one of the Banks Islands of Northern Vanuatu. The rest of the party were sitting outside on the back of the truck (probably more so Joel could have a smoke) but they all had to hang on given the bumpiness of the ride.
John showed us some of the interesting things about the drive like he pointed out a series of American WWII bunkers that looked more like hobbit holes. We also learned that the Mt Hope Property was owned by some Australian actress though we didn't know who at the time. He also pointed out to us who owned what as apparently there was a Kiwi landowner who owned quite a significant chunk of cleared land that was clearly used for cattle grazing. There was even a part that was Japanese owned who also exported cattle beef as well.
It wasn't until about 12:30pm when we finally made it Luganville, and that was when we stopped at a local food stand selling very local stuff like taro, toloch (sounds like "two look"), and lap lap. They were all starchy staple foods that were really local to Vanuatu. The toloch had meat in it, and it really reminded Julie and I of a Chinese version of sticky rice with meat wrapped in banana leaves (zongzi). Even though we were headed to Oyster Island for a lunch, we just had to try the local fare as it was a mere 100VT for each thing we got.
Compared to the resort prices at 2500VT to 4000VT or so, you couldn't be any more reasonable than that!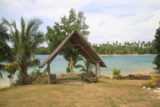 Anyways, on the way back to Moyyan then to Oyster Island, we learned from John that most of the place names in Vanuatu were foreign named. He cited one example, where he said Melakula Island was actually named from a Portugese explorer who needed to do a #2 in the bush. It turned out that he wiped his butt using stinging leaves, and when he was feeling pain, he kept saying, "Melakula, melakula!" which he said meant "pain in the butt". So it turned out that the name stuck and Melakula Island (just south of Espiritu Santo) was literally "Pain in the Butt" Island. He said to make sure that I talk to Ivanna about it since she was from Melakula Island.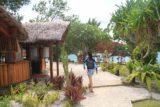 Meanwhile, Espiritu Santo was Spanish named.
Other names were named by Captain Cook like Ambrym and Pentecost.
John said the only native name was the nation of Vanuatu itself, which came from the time when Vanuatu became independent. It was formerly called the New Herbrides, but once independence was attained, that was when the name became changed to Vanuatu, which meant "our land".
Eventually at 1:10pm, we made it to the dock at Oyster Island (after dropping off Joel and Melia at Moyyan). The dock was interesting in that Julie went up to a bell and rang the gong to summon the boat ferry to pick us up and take us across the small (and colorful) strait to Oyster Island itself.
At 1:25pm, we finally had lunch at Oyster Island, where we treated ourselves to a couple of fruit juice cocktails as well as a couple of fish salads and a burger. The fish salads were the thing that I was looking for all along on this trip as it was the ni-Van version of the Tahitian poisson cru. The difference here was that it was prepared more as a salad dish but it was still swimming in coconut juice just like the Tahitian version.
The burger was something we probably could have done without though the meat patty was really good, but the bun was kind of weird.
When we were done with our lunch at 2:30pm, we spent some time taking photos while also conversing with the manager, who was Aussie, but had spent some time living in San Diego. He said it was only his third day on Oyster Island though he used to run dive tours for cruises near Santo Island. Anyways, we learned from him that the owner of Oyster Island was indeed Kiwi, and that the Mt Hope land was actually recently purchased by actress Cate Blanchett.
He was saying that she was trying to make the beef of Vanuatu more well known, while also helping to put Vanuatu more on the map than it currently was. I guess that's kind of the trade off though for the very thing that we loved about Vanuatu (the chilled atmosphere, the lack of commercialism, and the pristine sights), were the very thing that those with vested interests were working to bring more attention to (thereby compromising those very things we loved).
We're not sure whether Vanuatu would be a very different place the next time we're so fortunate to come here. But in the mean time, Julie and I were focused on just enjoying the place for what it was at the moment.
At 2:50pm, we were back at the Barrier Beach House after being hailed a taxi which was driven by Louis, who beared a pretty strong resemblance to Sammy Sosa. We paid the 1000VT for this short taxi ride, and then we went next door to the Moyyan for a massage.
Unfortunately, we learned that they were fully booked for massages on this day so we would have to book for first thing tomorrow morning at 8am, which was actually two hours before their 10am normal opening hours. In any case, Julie wouldn't be denied the massage, and we'd finally have our couples massage, which we hadn't had for at least 6 years or so. I really can't remember when was the last time we did it.
In the mean time, we spent the remainder of the afternoon on a Skype call with Tahia but this time my parents were there with her along with Julie's mum. It was nice to show everyone what it was like at the resort, especially the fare we were staying in as well as the beach right in front of the property. We even met Shendell and her daughter Madeleine, who happened to walk in while we were on our Skype call (Shane was away at the time).
And so when the family affair ended, we finished eating our local fare that we had bought a few hours earlier even though we were pretty full. Julie wasn't too fond of the taro or the laplap, but she did like the toloch.
The rest of the afternoon was spent just chilling out. Julie napped, while I was busy blogging. And by 7pm, it turned out that Julie and I were the only ones eating dinner at the Barrier Beach House. Flavia (one of the workers) thought it was too windy to dine at the resort, but I suspected that it had more to do with the menu, which was a fixed menu of pasta carbonara with garlic bread and salad. I'm sure others thought this was the day to give Moyyan a try.
Julie wasn't too keen on going back to Moyyan since it was pricier and it didn't seem to live up to the hype. But in any case, upon a quick inspection, Julie spied that Moyyan was very busy as I had anticipated. I'm sure most of the folks dining over there will be there for a very long time because it took so long to get our food when we were there, and I'd imagine those folks would have to wait even longer since there was now greater demand against a seemingly understaffed kitchen.
And so we pretty much had ourselves a very peaceful and relaxing dinner as well as a rather quick one even though we were quite stuffed already after having eaten the lcoal food earlier in the day. I know I could feel my tummy bulge at the end of this meal despite the healthy salad though the pasta was on the creamy side.
When Flavia was helping with the cleaning of our dinner, I took the opportunity to ask her about the anecdote that John told me concerning Melakula Island. She laughed real hard upon hearing it from me, and she knew that John had me fooled all along, especially since John and Ivanna once worked in the same resort in years past. So it turned out that Melakula didn't mean "pain in the butt" and I guess I'll have to Google the origins of its name later on…
But all in all, we concluded yet another eventful day of adventure. Tomorrow, it was time to fly to Port Vila (and exchange some money) before flying over to Tanna Island. Of course, we'd have to get packed first, and we still have the morning massage, but that would essentially conclude the first half of our brief weeklong stay in Vanuatu…