Day 6: TOK TOK MOA
It was 6:15am when we awoke. Actually, it was Julie that woke me up as I had apparently slept through my watch alarm. We didn't really have a whole lot planned on this day as it was pretty much a travel day, but we did have a pre-booked massage at the Moyyan that Julie was looking forward to, especially since we hadn't done a couples massage in several years.
After our breakfast (which included eggs and toast along with the usual fruits and cereal), we then went to Moyyan where we participated in our pre-arranged massage. The next hour or so was a bit of a blur as we each were in our neighboring rooms and let the masseuse do the rest. I know mine was a bit on the intense side since I didn't know what was too hard and what was too soft, but I reckoned it was fine regardless.
The thing that struck me about our massage experience wasn't so much the massage itself, but it was the AC-chilled room we were in. It made me realize that all this time, we never needed AC for our entire stay in Santo, and now that we were in an AC room, it was actually quite cold. But once the massage was underway, I quickly realized that the AC was really more for the masseuse than it was for the guests as I saw how much hard physical work it was. I'm sure with all the physical work involved, the AC must have made things a bit more tolerable for them.
When our massage was done, we went back to the front desk to pay, and that was when we once again saw Joel and Melia. They were headed for their morning brekkie, but we learned that they were headed up to Port Olry and Champagne Beach before their late afternoon flight to Port Vila. When we headed back to our room at 9:25am, Julie was a bit bummed about not having a hot shower (as apparently the hot water tank or natural gas line wasn't getting to the water). But other than that, while she was washing off the massage oils, I just went ahead and explored more of the property on either side of the Barrier Beach House property.
On the one side, I went as far as what appeared to be Shendel and Shane's home past Moyyan, and on the other side, I went towards some property that appeared to be for sale. With the nearly cloudless skies and bright sun, the blue in the water was really pronounced. It's funny how weather like this tends to occur on travel days when it doesn't really matter so much, but in any case, I took the opportunity to try to capitalize on this good weather with some photos to take home with us to have reveries about.
Eventually at 10:05am, I returned to the room where we did some more last minute packing to prepare for our journey to Tanna Island. We lounged around some more at the general lobby area where we took a few more photos of each other at the beach as the water became even more blue with the sun rising higher in the sky. Then, we chatted a bit with Nick and Luanne (sp?) who hailed from Sydney who we had seen quite a bit at meals at the resort.
Eventually at around 11am, we all left together with Shane to go back to the airport. Once there, we chatted some more complimenting Shane on the wonderful stay that we had there, and we also conversed with Nick and Luanne some more while waiting in line to have our bags checked. Considering there really wasn't much going on in this travel day, we pretty much just chilled out for a bit before boarding the pretty full flight back to Port Vila on a plane that seemed significantly larger than the one we took to Luganville from Vila four days ago. We would leave Luganville at 12:50pm.
At 1:50pm, we would arrive at the Bauerfield Airport in Port Vila, and so we took this opportunity to exchange some more money while also having a meat pie at the international terminal. We then went back to the domestic side where we just patiently chilled out until our next flight to Tanna Island.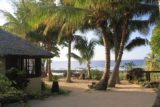 It wouldn't be until about 3:20pm when we would finally board the plane to Tanna, which itself was a surprisingly full flight on a plane that was similarly as large as the one back to Port Vila. And the 35-minute flight to Tanna Island had pretty much lulled me to nap just like the 45-minute one from Luganville to Port Vila earlier on.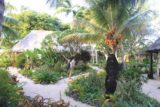 Once we landed, we had to negotiate the crowded baggage claim window before we would get picked up by the truck that would take us to the Whitegrass Resort. It was funny how our truck driver pretty much blocked the airport traffic to load us up, but I guess in this island, no one was in a hurry.
Eventually at 5:15pm, we got all settled at the Whitegrass Resort, which wasn't far from the airport (it might have even been walking distance). It turned out that our room might have been meant for Phil and Alex, who were staying in the next bungalow over, as there was champagne and a letter that was addressed to them (did they swap our rooms?).
Anyways, the rest of the day was spent chilling out at the general restaurant and bar area as we watched the sun set at 6pm over happy hour cocktail (that may have been reasonably priced, but it was kind of watered down). Still, the relaxing scene of watching the sun sink towards the cloud-banded horizon with the calm seas lapping towards the volcanic rocks below us was sublime.
Other guests were also capitalizing on the sunset scene, and even the manager Wayne was chatting it up with the guests.
After the sunset, we chillaxed some more at the restaurant, then had a dinner of poulet fish and rock lobster (crayfish). The lobster was messy eating, but overall the dinner was good and made up for the cocktail. All the work we had put into getting as much meat out of the lobster reminded us of how much we wasted at Port Olry where we had rock lobster there but left quite a bit of stuff where the legs and head were.
At 8:15pm, we were back at our room, knowing that we were going to be in for a very long day tomorrow…