Day 7: THE LEGEND OF YASUR
It was 6am when we awoke. We were actually somewhat awake even earlier than that (like around 5am) because we kept hearing birds or bats flying about. We couldn't tell if they somehow made their way into our room, but when there was enough daylight to see what was going on upon or awakening, we could see that our bungalow (or fare) was pretty much open air except for screens above our front door. So we must have heard them flying past.
While Julie was freshening up, I spent some time exploring a bit of the property seeing that this would be our only full day on Tanna Island. I saw a local out by the reefs fishing or something already at this time of the day.
At 6:35am, I had walked all the way to the end of the jetty. Along the way, I was able to see lots of life such as sea cucumbers as well as small fish in the tide pools flanking the walkway leading to the jetty. Some of the coral even looked like they were healthy (like pulsating brain coral and others). There was even a school of dark catfish-like species gathered in a ball.
When I got to the end of the jetty, I could see the somewhat rough seas concealing a 20m drop right into the deeper ocean. I'd also imagine there was a current there as well since I'd imagine boats might access the jetty through this opening in the coral reef. I could only imagine how cool the snorkeling or diving would be way out here, but I'd also imagine that you would really have to know what you're doing as well so as to not be swept out to sea by a rip tide or sea current.
When I returned to the room, I told Julie about my findings, and so we spent a few moments going back out to the jetty so she could see for herself what I had seen. While she didn't quite see the same fish species that I had seen earlier, she did spot other interesting life in the tide pools like an eel looking for a meal as well as some brightly colored fish scampering from rock to rock.
At 7:20am, we finally had ourselves a brekkie. And the brekkie turned out to be easily the best one we've had on this trip so far. We started off with multiple glasses of coconut juice (something we hadn't had so far), then we each had a fruit platter that consisted of very sweet soursop (reminding us of mangostine), lychee, mango (all of which were not-so-common southeast Asian fruits), as well as bananas and watermelon. Then, the cooked breakfast was coconut pancakes (really just pancakes with coconut shavings) or eggs over toast with basil thrown in there for a bit of an unusual but effective flavor mix. And that was accompanied by sausages and beans.
Since we anticipated being out all day with the morning waterfall and beach excursion followed by the Yasur Volcano in the evening, we figured that we mind as well stock up on the food even though we also had a picnic lunch provided for our waterfall and beach part of the tour.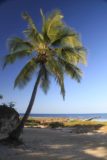 At 8:10am, Julie and I got into the awaiting 4wd vehicle, and we headed off on our waterfall tour. It was only going to be us on this tour so it was intimate. Nick and Luanne thought about doing it, but they wanted to mix things up a bit (having done the Millenium Cave in Santo) and opted to visit a native village.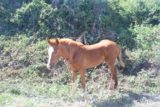 About ten minutes into our drive, we noticed a horse off the side of the road. Our driver noticed that it was tied up at one point given the rope around its neck, but then he noticed that the horse had one bad leg as it was bloodied and it looked like it wasn't even putting any weight on that bad leg. We weren't sure how it happened, but there wasn't much we could do for the horse so we continued on.
The bumpy drive would persist for the next hour or so as we would wave towards smiling villagers walking alongside the road tending about their daily lives and chores. It seemed like there were no paved roads on Tanna Island, which attested to its rather remote and undeveloped nature.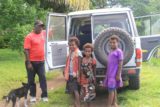 Eventually, we left the "main" road and then veered onto a bush road that I'd argue marginally counted as a road. This road was even bumpier and more uneven than the roads we had taken to this point. And at 8:50am, we then got to a part of a remote village where the driver stopped the car, then picked up three kids from that village. They gave us flowers as they greeted us, then they hopped into the 4wd as we resumed the drive.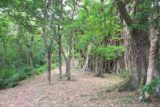 The road degenerated further into something that was more like a foot trail as it weaved around trees and traversed sloping ridges, but at 9:05am, we eventually stopped the car deep in the jungle where we all got off and proceeded to continue walking further into a gorge. The hike was pretty steep on the descent, so I knew that it would be pretty hot and sweaty on the way back up.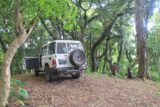 Both Julie and I were wearing reef shoes, but the kids were in flip flops or bare-foot despite the steep terrain. I could imagine just how much muddier and more difficult it would be had it been the Wet Season or had it rained recently. But anyways, we'd eventually get to the base of the descent at 9:15am, and that was when we were right in front of the impressive Louniel Falls.
The waterfall was vertical and more like a normal waterfall in the classical sense. Up to this point, all the falls we had visited were play waterfalls or were so remote that it required a bit of an adventure to get to. However, in this case, it was the conventional hike. The kids didn't waste time getting into the chilly water, and after a few minutes of taking photos and movies, I decided to join them.
One of the kids caught a freshwater prawn and showed it to us. Meanwhile, Julie was catching me swimming them wading towards the base of the 20-30m falls. Now that we had our waterfalling excuse to talk about the Yasur Volcano tour that was coming up later in the day, we were pretty content with this waterfall sighting.
At 9:50am, we finally left and made the steep and sweaty uphill climb back to the awaiting 4wd vehicle. We'd eventually get back there by 10:05am, and while we were there, one of the kids shared a small fruit that was reminiscent of guava.
Anyways, the driver then took us back up the rough "road" and then veered onto another rough road leading us further past this waterfall trailhead and eventually towards a more open spot where we would have to make a hike down to a black sand beach called Louniel Beach. We would start the walk at 10:30am, where there were plenty of cows grazing about.
Again, it was a pretty long downhill hike beneath palm trees and flanked by lots of jungle bush, but by 10:45am, we would finally arrive at Louniel Beach. Being that it was a black sand beach, it didn't turn out too well in our photos, plus the seas looked a bit on the rough side (probably ideal for surfers). But it was a relaxing spot to have our picnic lunch while just watching and listening to the waves crash against the lava rocks as well as the fine black sand.
Since there was a lot of food in the picnic lunch, Julie offered to share a bit of the food with the kids who gladly took it. They seemed pretty hungry. We also shared some water with them as well as some of the other packed stuff like banana bread, banana, and a mango.
Then, while Julie and I were having what was left of the picnic lunch, the kids went down to the black sand beach where there seemed to be a pool draining to the ocean. The kids were swimming there, and we saw that one of them even caught a fish down there. She tried to build a fish pond for the fish that was caught.
Julie and I couldn't eat the remaining mango since we didn't have a knife. So we thought we mind as well take that back to the resort where we could have the equipment to properly enjoy it. Meanwhile, the banana bread was very moist and delicious. It was a good thing Julie shared the food because there was way too much for Julie and I to finish alone. But Julie also wanted the driver to have some of our lunch (we left him a sandwich and a banana) so we put those things back in the cooler as we were ready to leave at 11:40am.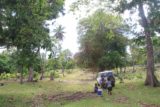 The kids didn't seem very eager to leave so we had to hail them a couple of times before they realized that we were ready to go. Given that it wasn't even 12pm, I guess we were ahead of schedule. Julie wasn't interested in lingering around until 2:30pm, which was when we were to go to the Yasur Volcano, so it was decided that we should go back to the resort to chill out for a bit before moving onto the next major tour of the day.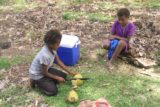 So we made our hike back up to the 4wd vehicle, and we'd eventually get there at 12pm. While the hike up seemed long and hot, at least there were some tropical breezes to help keep things relatively cool. It wouldn't be until 12:15pm when we finally left for the resort.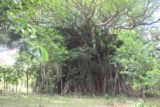 As we were making the drive back to the White Grass Ocean Resort, we noticed there was some kind of celebration going on at the French Primary School we saw on the way to and fro. There was a quite a crowd as the driver pointed out to us that the teacher was receiving a bunch of gifts from different people's kids of that school or something like that. There was a bit of a festive atmosphere as we witnessed all this going on from the road, what with the music being played and a lot of folks looking on with smiles and cheers.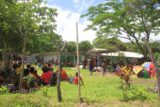 Apparently, the kids were on holiday, and we were told that tomorrow was also a public holiday. Those were the main reasons for the celebrations going on.
At 1:25pm, we eventually made it back to the White Grass Ocean Resort. We chatted with Phil and Alex briefly about their Serbian background even though they're living in Australia now. We also commented to them how Phil reminded us of Freddie Prince Jr., and apparently they acknowledged that he gets that comment hundreds of times.
When Phil and Alex retreated to their room, not long thereafter Nick and Luanne showed up, and we chatted with them some more. It was really feeling like we were really getting to know them given the amount of each other we were seeing and interacting.
We also chatted with a guy working on developing the agriculture in Tanna Island as well as other provinces of Vanuatu. He was part of an effort to bring up Vanuatu's farming practices for world export though I sensed something was a bit off about that approach as subsistence farming (i.e. farming within the island's means) was the current way of doing things, which had gone on for centuries. However, it didn't really fit (or seemed primitive to) the plunderous world economic view that he was trying to get them to go with. If this succeeds, I get the feeling the islands of Vanuatu would be even more stripped of their natural resources than before.
Meanwhile, we were sharing a spaghetti bolognese as well as a small fruit "salad", which was more like cut up fruits in a juice-filled bowl.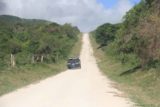 It was a relaxing way to whittle away another hour or so before we would finally head out for Mt Yasur at 3pm (originally 2:30pm). We had to drop off a trio of folks at the airport, but then we took off in earnest.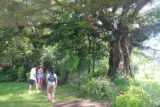 While we were quite familiar with the bumpy roads, at 3:30pm, we'd eventually get to a spot where we stopped the vehicle along with the rest of our group in front of us. And we were walked towards a small gathering where a childrens choir from one of the local villages was serenading us. It was beautiful, and it also brought smiles to all six of us. We also took plenty of photos when the singing ended.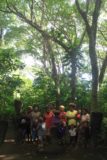 Something that Julie and I noticed was that the cicadas were ringing and chirping louder as the volume of the singing increased. When the songs ended, the cicadas were doing their thing much quieter than before. Were they trying to sing along with the choir?
Next, we resumed the bumpy drive, which one again drove past some remote villages while we were waving at people when we'd pass through. In one steep section of switchbacking road, we made a brief stop to take photos of Mt Yasur in the distance. However, since there were quite a few clouds, the colors of the mountain didn't really show up. That said, we did see some ash clouds rising from the vent in the distance.
It wouldn't be until about 4:30pm when we then arrived at the desolate ash plain surrounding the Mt Yasur Volcano. This large black sand plain with some reddish lava remnants sprinkled throughout was otherworldly. We also noticed quite a few other 4wd vehicles passing by and continuing on while Julie and I were taking photos where the driver stopped and let us experience this spot for a bit.
Unfortunately, I noticed that my DSLR camera was starting to act up a bit as it couldn't read my battery or it take some of the photos in error.
That problem would rear its ugly head again when we drove right in front of some impressive treetop bungalows, which looked like they could house guests wanting to say they actually stayed atop a tree. At that point, I even had trouble turning off the camera or getting it to a state where I could take pictures again. I had thought that Murphy's Law would strike again, and screw me out of capturing Mt Yasur due to a dead camera, but a few minutes later, the camera would eventually right itself for some unknown reason…
Next, we picked up Frederick, who was our guide on the volcano itself. Then, at 5:15pm, we'd finally make it to the car park for Mt Yasur. From here, it was another 10 minutes or so steep walk up to the rim of the Yasur Volcano. Apparently on Monday (earlier in the week), there was a bunch of magma or hot rocks that flew up and over the heads of onlookers. I guess that was kind of the precursor to the unpredictability of Mt Yasur.
At first, when we arrived at the top of the initial climb, we then stopped at one of the popular stops which got us somewhat close to the turbulent crater of Mt Yasur. That was where we couldn't really see much except for the odd red rocks tossed up into the air before crashing down, but a lot of that had to do with the fact that there was still too much daylight to effectively view the volcano.
After about 15 minutes, Frederick got us to go to the opposite side of the crater, which meant going up the steep ridge to get right up to the top of Mt Yasur.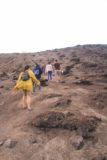 We did this just as the sun was setting behind the mountains to the west of us. And on the ridge we traversed to get up to the final climb, Frederick pointed out the fresh new rocks that had landed on the very ridge we were walking just this past Monday. That undermined any sense of security we might have been having thinking we ought to be watching from a safe distance. Yet it was this fact alone that could very well result in the primal feeling of fear and adrenaline rush that made this place as unforgettable as it was.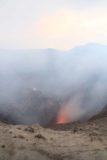 Once we got up to this second overlook, we would sit there as that skies became darker and darker with each progressing minute. Every so often, we would see a large ejection of lava and hot rocks accompanied soon thereafter by a large boom. Clearly the unpredictability of where the next ejection of lava was going to land as well as the rumbling beneath the earth lent some element of danger to this excursion. Indeed, on the one hand we didn't feel safe, but on the other hand, we wanted to capture the moment when Mt Yasur had itself an eruption.
And as the skies continued to darken, the glow of the crater beneath as well as the ejection of hot rocks up into the air became even more pronounced. We could even see that there were multiple crater holes where the lava was being ejected from. And for nearly the next hour, we'd be admiring yet wincing when Yasur would have one of its mood swings.
In fact, the seething sounds and discharges of fire were very much like how I'd imagine an encounter with a fire breathing dragon would be like.
Then, just as we thought we had had enough and were ready to go back down, a French guy happily told us that we should go all the way to the other side of the crater, where there was the highest ridge allowing us to look right into the pair of holes where the lava was being ejected from.
At first, we weren't going to do it, but when we saw Nick and Luanne going on to that spot the French guy talked about, we decided to follow them. Frederick stayed behind with Phil and Alex.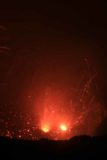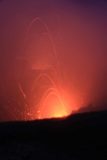 I guess the thinking here was that we mind as well seize the moment because we might never have another opportunity to see this again. So we got our torches (flashlights) and carefully made our way following Nick and Luanne. I had a real terrible urge to pee so I had to do so in the dark with Yasur belching lava behind me.
And then when we got up to the top of the ridge with a handful of other people, we now could see exactly what the French guy was talking about. There they were, the reddish holes spewing out lava while making two or three huge ejections. All of us were vacillating between capturing a photo or capturing a movie of the whole scene. It was just all too surreal, and we easily couldn't lingered here for another hour or so.
But Frederick shined his laser pointer towards us, and that was our indication that it was time to go. So we carefully made our way back to the second overlook, then follow Frederick past the stretch of ridge where some rocks were deposited just this past Monday, before making the final steep descent back down to the awaiting 4×4 vehicles.
We got back into the 4×4 at 7:30pm, and that was when we realized that our faces were caked in a thin layer of ash that we didn't even realize we were accumulating. Who knows how much of that fine ash made its way into our lungs and mess with our respiratory system?
Then, the driver skillfully made his way on the rough and tumble 4wd road to get back to the White Grass Ocean Resort. It was interesting how our driver was slow and deliberate on the morning drive to the waterfall and beach, but on the way back to the resort in the darkness, he was gunning it.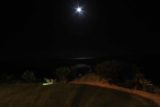 And after a very bumpy 75 minutes on the road, we'd eventually be back at the resort by 8:45pm where we then finally had our pre-arranged dinner which consisted of seared tuna with sweet potatoes, some eggplant, and conventional potatoes. This ended up being our Thanksgiving dinner, and we were doing this while looking right at a crescent moon hovering above the seas while casting a glow on it. It was an all too surreal scene on a day full of surreal moments culminating in the Yasur Volcano putting on a show.
When dinner ended, we bid Nick and Luanne a fond farewell after having bonded with them for the past few days ever since the Barrier Beach House in Santo. Since Nick was going to go fishing before 6am, we probably weren't going to see them again. We also said our goodbyes to Phil and Alex as well. It had been fun hanging out with these Aussie honeymooners, but alas, all good things must come to an end, and so that was the feeling we were getting as it was time to settle our bill and get back to our room so we could pack and get ready for the early flight tomorrow morning.
Eventually, Julie and I would return to our room at 9:30pm where we could finally call it a day and get a much needed shower. At around 11pm, I noticed that it was raining outside, which was surprising considering it hadn't really rained for most of this trip. I guess the timing couldn't have been better because at least it didn't happen while we were at Mt Yasur or while we were doing the jungle hikes to the falls where it couldn't been muddier and more dangerous.
And so ended this epic day, where Mt Yasur certainly lived up to the lofty expectations, and clearly was a legend.