Day 8: CULTURE CLASH
It was 5:55am when we awoke. Since we had slept some time at around midnight last night following the adrenaline pumping action of the Mt Yasur volcano, this was probably the first night of this trip where we didn't really get sufficient sleep. Plus, Julie woke up with a bit of a cough, which worried us as we had completely overlooked the fact that volcanic ash clouds tended to have very fine glass in it, and it could very well have been the case that we were breathing in the nasty (and deadly) stuff for 90 minutes last night.
With hindsight being 20/20, I guess we should've brought those 3M masks to at least provide another layer of preventing the volcanic glass from getting into our respiratory system.
As we were finalizing our packing, we decided to leave behind the shoes with the missing or broken soles. So away went Julie's 12-year-old spider rubber river shoes, and away weny my Keens. We left the rest of the luggage outside as we went over for breakfast at around 6:40am.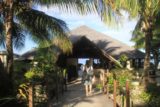 We had looked forward to the coconut juice and the fruit platter, but on this day, the fruit platter was missing the young coconut flesh. Oh well, at least they still had soursop and mangos.
The brekkie was also missing sausage and beans. Instead, they had bacon on this morning.
In any case, the breakfast was satisfying. And by 7:15am, we were done and ready to head out to the airport. But while we were chatting it up with some of the staffers, we learned that the Blue Cave excursion on the north side of Tanna was closed due to a dispute over landowner ("kastom") rights to that area. We were curious to see what it was about though we really didn't have the time to go ahead and do it.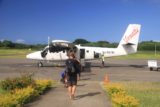 By about 7:40am, we arrived at the nearby White Grass Airport, and it would appear that we would be on a tiny plane to get back to Port Vila. With the tiny twin prop plane, it would take 60 minutes to return to Port Vila instead of 30 minutes, which was the case when we first got here on one of the larger jet engine planes with a pair of propellers.
So after boarding the plane at 8:15am, we would end up arriving at the Bauerfield Airport (for the third time on this trip) at about 9:20a, which was 10 minutes early. So we waited a few minutes for the pick-up to show up, and once that happened, we then got to the Breakas Resort at about 9:50am. During the drive there, we paid attention to the Port Vila Waterfront, the happening local market, and even the Iririki Resort off shore from the waterfront.
Since we had showed up early, we decided to just seize the moment and head out via taxi to the happening Port Vila Waterfront area that we had seen earlier on the drive to Breakas.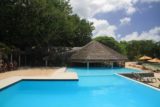 So we took a 300VT "bus" ride (really more like vans that were flexible enough to drop you off wherever you needed to go around town (or even outside of town if you were willing to pay more), and we would arrive at the local market on the Port Vila waterfront (some 5km from Breakas) at 10:25am.
Julie and I immediately walked about in the local market, which was a large assortment of fruits and other local foods on offer here. It was pretty hot in town, which was interesting considering that our time spent in Santo and Tanna were quite cool and comfortable. It didn't feel like it was Wet Season yet out there, but here in Vila, it certainly did.
Anyways, we ended up buying a pair of red-looking mangos thinking they ought to be sweet, and that we should be ready to eat them with a knife provided at the resort. We also noticed lots of pineapples, which we knew would be sweet but we worried more about getting through the thick skin on that one to get at the delicious fruit beneath. Unfortunately, we didn't see any soursop or other fruits that we had seen at the White Grass Ocean Resort on Tanna Island.
Julie wasn't interested in having the local food like laplap or toloch (thinking she might get sick from eating street food) so we didn't linger at the market after our fruit purchase, and we walked further into town looking for a lunch spot or a takeaway. After trying the croissant (crispy but quite oily) at a French pastry place (Peche something… forgot exactly where), we then went across the street and went to a Chinese restaurant at 10:50am. The prevailing thought was that we couldn't go wrong with Chinese-prepared local seafood dishes.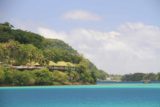 During the wait for pretty delicious seafood lunch (consisting of the Tahitian Fish Salad, garlic prawns, and lobster all cut up), I looked out the other side of the restaurant and noticed some really blue water out in the distance. This prompted me to take the camera and go outside to take photos out there.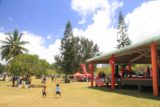 While I was there, I passed by a playground on the waterfront, but there was also a stage with some live local act playing to anyone listening. Meanwhile, there was a somewhat bustling walkway that went up and down along the calm blue green water with the Iririki Resort on an island just off shore from the bustling Port Vila Waterfront. I took my photos then returned to the restaurant so Julie could take her turn to do the same.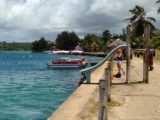 We would eventually leave the restaurant fully stuffed at 12pm. The food was delicious as anticipated, and it turned out to be quite reasonably priced for what we were getting. Plus, they also took credit card, which helped out our cash situation since we weren't going to exchange any more (though the Goodies Exchange in town easily had the best rates I had seen so far).
Next, we hailed a "bus" again, but this time, we were charged 200VT per person (400VT total) to get back to Breakas as opposed to 300VT for the two of us as the resort was saying. Oh well, we weren't going to haggle over what amounted to 100VT or a buck, so we just took it.
By 12:15pm, we were finally back at the Breakas Resort, and we were checked into our fare, which turned out to be quite spacious. Even the "outdoor" restroom seemed like an interesting little touch to the room, but the thought did cross my mind that it would be prone to mosquitos or other creepy crawlies that might surprise us in the night.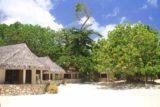 So we changed our clothes into something that might be better suited to getting wet as we were about to get onto our planned waterfalling excursion. And at 1pm, we were at the lobby awaiting our ride.
While we were waiting there, we were still trying to figure out how to spend the rest of our day tomorrow after the Mele Cascades, and we had contemplated checking out Eton Beach and Eton Blue Hole, but we were told that Eton Beach was closed due to landowner dispute (something that closed the Blue Cave in Tanna Island). Plus, we were told that the Blue Hole on Efate Island wasn't as good as what we had seen on Santo Island so it probably wasn't worth the 8000-10000VT bus fare to get all the way out there just for that attraction.
At 1:05pm, we were picked up by Pascal and his son Dimitri, and we were pretty much off and ready to go onto the Vanuatu Ecotours truck, which had a shelter on the trunk of the pick-up. After picking up Bosco, who was a local guide from the island of Ambrym, we were about to be joined by a trio of Aussies from Sydney as well as a couple of French ladies.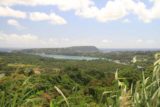 Since Pascal had that French accent, I figured the two French ladies that were about to join us could be good French practice for me since I didn't have that many opportunities back at home to speak French on a consistent basis.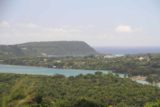 Once all the pick-up formalities were done, we were then driven out to the backside of Port Vila where we climbed up to a vista overlooking much of Port Vila, then we took a bumpy ride onto a cattle plantation belonging to a Catholic Church. I think the bumpy ride alone would limit that amount of visitation as the more publicized Mele Cascades seemed to be very popular given its ease of accessibility (even to cruise ships, one of which was showing up tomorrow when we would be visiting it! Doh!).
Eventually at 2:25pm, the truck stopped and we then proceeded to make the short 200m walk to the Lololima Waterfall. When we got to the descent leading down steps to the multi-tiered cascade, we could see that it was an impressive multi-tiered falls with character thanks to the underlying limestone over which the water was running.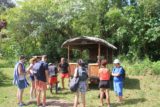 The widest and largest drop was the upper main drop. Then there was somewhat of a waterslide cascade on the lower drop before dropping into a very clear plunge pool where a rope swing awaited anyone willing to take a plunge.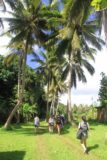 The Aussie guys and their mother were already taking advantage of the rope swing. Meanwhile, Julie and I joined Pascal and the French ladies in doing a bit of a river walk going up the Lololima Falls and then doing a bit of a combo of wading, swimming, and hiking. I'd have to leave my DSLR camera behind because it wouldn't survive any dunking, but Julie's iPhone would help out thanks to the last-minute waterproof bag purchase we made at the Auckland Airport at the start of this trip.
The river walk was refreshing as it helped to keep everyone cool. One of the hidden upper cascades allowed us to go into one grotto with a waterfall going into its chamber while allowing us to go out the other end of the companion waterfall. It was kind of reminiscent of what Reach Falls in Jamaica was like.
After that little waterfall, we'd continue the wade and hike through more of the peaceful gorge before getting up to a jungle walk leading back up to a road. We then followed that road back down to the Lololima Falls where a couple of us (the French lady visiting from Lyon and myself) did the rope swing, then I swam towards the backside of the lowermost of the main falls.
There was a large contingent of young teens chilling out at the falls. Apparently, school was just out, and this was their time to enjoy themselves at the falls, which created a pretty festive atmosphere.
Next, Julie and the French lady from French Embassy in Vanuatu joined Pascal for some fresh fruits at the shelter between the main waterfalls. Apparently, this shelter was a stand-in for a more permanent structure that was washed away in a very unusual flash flood three months ago (in Dry Season mind you) where a torrential downpour did the area in.
Meanwhile, Bosco showed the French lady from Lyon and myself the way to a limestone cave behind the large uppermost tier of Lololima Falls. Inside the 200-year-old cave, we noticed swallows closer to the entrance, but then we noticed fruit bats further in. We went deep enough to see that there was crawling space further on, but Bosco said we would need scuba gear because there was insufficient oxygen that deep into the cave.
When we had our fill of the cave, we then joined the rest of the party having fresh fruits of pineapple, mango, coconut flesh from browned coconuts (not as good as young coconut flesh), bananas, and grapefruit. We then took our last photos of the falls now that clouds were overhead and it produced even lighting for long exposure photos.
By 4:50pm, we headed back towards Port Vila in the truck. And by 5:45pm, we were back at the Breakas Resort again. We freshened up with a change out of wet clothes then headed back towards Port Vila to have a dinner at the L'Houstalet restaurant. This French place seemed to be a Port Vila institution. So we just had to give this place a go as we thought about dining at the resort tomorrow night.
When we got to the restaurant at 7pm, the place wasn't quite busy just yet. So we had a coconut crab cream soup, a delicious dozen of escargot, steak (French almost never disappoint when it comes to steak), and flying fox (the specialty of the House). With the ebola scare in West Africa originating from fruit bats, the thought did cross our minds that we were taking chances eating fruit bat at this restaurant. But the waiter didn't hesitate to recommend this considering it was local fare that also seemed to be one of the signature dishes of the restaurant.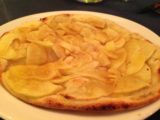 While Julie and I were waiting for our Apple Marsala dessert, we couldn't help but notice the culture clash that was on display. On one side of the outdoor dining area, we saw a large group of folks speaking French while on the other side of the room were folks speaking English. We were in the middle watching all this unfold. I guess this was a microcosm of the multi-ethnicity of Port Vila, though it almost seemed as if though there was a bit of a cultural competition between English and French.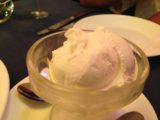 It took about 30 minutes for our dessert to show up, but Julie thought it was worth the wait as the apple "pizza" was good while the vanilla ice cream was divine.
We were done with our dinner at about 8:35pm, and we hailed a "bus" going back to Breakas at a rate of 300VT for the two of us. I guess today, we had a 50% strike rate of catching the bus at the recommended 300VT while the other times we had to pay 400VT. Like I said before, 100VT wasn't a whole lot to get worked up about, and at least it was pretty convenient for us to go to town and back in this manner.
At 8:55pm, we were finally back at the room at Breakas. As we were unwinding for the day, I noticed that at late night, it was actually raining! And this rain seemed to be more substantial than all the rain we had seen or heard from this trip so far. Perhaps the Wet Season finally showed up…