Day 9: MELE MELEE
It was 6:25am when I awoke, which was past my alarm. Either I didn't hear it or it didn't go off. Anyways, Julie was already up and freshening up. I didn't need much time to get ready before the 7am brekkie. It looked like it had rained quite a bit last night, and this morning felt a bit on the steamy side.
The brekkie was pretty much fruits, some cereal, and some hot breads or pastries. Perhaps the most interesting cooked item was the pancakes, but it was pretty much a protein-free carb fest so we just loaded up on the sweet pineapples, mangos, and a smattering of papaya, watermelon, and bananas. No coconut though, which kind of made us determined to pick a couple young coconuts up from the waterfront market in downtown Port Vila.
Since we had learned that our pick-up for our Mele Cascades tour wouldn't occur until about 9am, we thought we might use the extra time to Skye home and talk to Tahia before our long journey home tomorrow. Unfortunately, the Breakas resort didn't have complementary Wi-Fi so we would have to go through TelSat, but when we saw the steep 30 AUD price tag for just 1GB of data (knowing the streaming video would be taxing on the broadband), we just decided not to get ripped off.
At 8:35am, we were then tending to some business on the provided computer in the lobby (though we wouldn't be able to Skype), and then by 9:10am, we were picked up by the Evergreen Tours, and we were off. It turned out that it would just be Julie and I as we anticipated a chaotic scene at the Mele Cascades due to the arrival of a cruise ship that was scheduled for today.
But when Ronald, our guide, and Kenny, the driver, told us that the ship's arrival was cancelled due to someone falling overboard, that would mean the scene at the cascades would be relatively quiet. I wasn't sure whether to be happy about it for our own peaceful experience at the Mele Cascades or to be bummed that it took a tragic event for that to occur. Part of me still couldn't believe that something that full on had happened that directly had an impact on our trip. Ronald said the cruise ship was now headed back to Sydney while the search and rescue was going on.
During the drive through the back roads of Port Vila on the way to the village of Mele, there was some tropical rain from the time we got into the van to the time we were driving through town. This time I had brought a GPS along though I was kicking myself for not bringing one to the Lololima Waterfall excursion yesterday since that one was a bit more remote and obscure.
We would arrive at the car park for the Mele Cascades some time around 9:45am or so. We then walked through some well-manicured premises (kind of reminding me of some of the Jamaican waterfalling excursions we had) with some outdoor cafes with one bar that was playing some local radio station. And all this was flanking some really clear blue-green waters of the Mele Stream itself.
The walk wasn't long but it did have steps with a couple of calm creek crossings. It was enough to induce some sweat given the rather muggy tropical conditions with the sporadic intense sun coming and going behind the thick clouds above us.
We had passed by several smaller scenic cascades where photos wouldn't do it justice, and we even passed by an impressive bamboo stalk.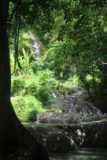 At 10:10am, we finally made it to a shelter where Ronald would wait for us while we were enjoying the waterfall. We left most of our stuff behind under Ronald's watchful eye, but we did bring Julie's iPhone, my tripod, and my DSLR while wading through the mostly ankle to knee deep stream leading up to the grand finale of the Mele Cascades, which was a tall plunge that kind of had a Thi Lo Su Waterfall (on Thailand) quality about it.
There were a handful of more people showing up to enjoy the falls while Julie and I were taking pictures and movies, and we could totally see why this waterfall was as popular as it was.
Ronald did say earlier that Mele Cascades was owned by a family in the local Mele Village (the largest one in all of Vanuatu of some 7000 people and counting), and that the 3600VT that Julie and I paid each was all going back to the Mele Village.
After doing our bit of work documenting the waterfall, I then put the DSLR and tripod back under the watchful eye of Ronald at the shelter, and then that was when I finally got to swim and enjoy the waterfalls myself. While doing this, I noticed there was a small cave adjacent to one of the more hidden tiers of the falls, but I didn't go in too deep given how many flies were hovering there and how dark it was. It didn't look deep anyways, and I felt like I saw just about as much of it as was safely possible.
At 11:10am, Julie and I had our fill of the Mele Cascades, and we were totally satisfied with the experience. I guess the relative calm and peacefulness of it all (there were only about a couple dozen folks here as opposed to nearly 1000 or so from cruise ships) kind of made this experience as pleasant as it was. Plus, the scenic allure of this falls wasn't bad either.
By about 11:30am, we were back at the car park though we took a different path on the other side of the stream. Ronald brought out a platter full of local fruits including passion fruit, brown coconut, sweet pineapple, bananas, and papayas. Ronald also gave us a 600VT discount for our tour (I wasn't sure why, but we gladly took it).
We genuinely liked our experience with Ronald and learned a bit from him during our brief time on this tour.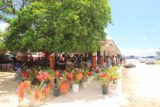 At 11:45am, we were back at the van, and then we had them drop us off at Port Vila's downtown area so we could pick up some flip flops since my feet were wrinkly from the constantly wet cheap-go reef shoes that I was wearing.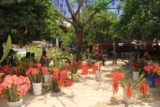 At 12pm, we were back at the market, which was less happening than yesterday, but at least we did pick up a couple of young coconut for 100VT total. While we were pulling up to the market, we saw Nick and Luanne walking in the opposite direction but we didn't have an opportunity to catch up with them again. Anyways, we then picked up my flip flops before we walked towards the northern part of the downtown waterfront where we then had a Vietnamese lunch at 12:35pm.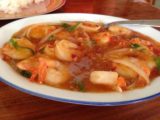 It had all the makings of a random stop, but Julie knew that their poulet fish in curry or prawns in sweet chili would be satisfying. By the time we were done, we then walked next door to pick up some sturdier reef shoes that seemed better than the cheap-go Walmart kind we had gotten from home before the trip at the last minute. Then, we hailed a "bus" for 300VT to go back to Breakas, and that was when we could finally call it a day.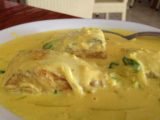 We were so ready to just chillax and enjoy the resort doing nothing for once. And when our fruits were sufficiently chilled, we were also looking forward to a refreshing fruit snack treat in the middle afternoon…
The next four five hours were spent just doing nothing at the resort. We had the staff cut open the coconut we had bought at the market as well as the mangos. The mangos were very sweet. The coconut juice wasn't as sweet nor as chilled as we would have liked. But the coconut flesh was either too hard or didn't taste very sweet (almost bitter). That was too bad. Perhaps, we'll go for one of the young coconuts from Breakas for dinner.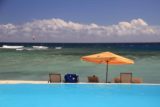 Then, we just chillaxed on the provided hammocks, looking for those that were in the shade. At first, we tried chilling out by the cocktail lounge where there was a bit more atmosphere, but the spots remaining were a bit too sunny. So we settled for an hour nap in one of the hammocks closer to our fare (bungalow). That was relaxing, letting myself drift to sleep to the sound of lapping water against the beach property.
Dinner was a barefoot affair as we got to have our very last dinner in Vanuatu on this trip on the sand next to the pool, where we were also within view of the fire dancing performance as well. The seafood platter was rather pricey (amounting to over $120 USD per person) and we never had much luck with seafood buckets or platters anyways. So we opted to go with the conventional dinner next to tiki torches (still within sight of the fire dancing performance).
And so ended our last full day in Vanuatu. Tomorrow would be a travel day for the long journey home, where we would rejoin the rat race once again. At least the flip side of it would be to hug and kiss Tahia as we also missed her even though traveling without her was nice. But we'll have to think of something that would be both productive (from a waterfalling standpoint) as well as reasonable with our little girl…