OUR OWN CIRCLE ISLAND MOOREA TOUR
As expected the ferry took off at 12:30pm. It was much more crowded this time around. Anyways, we returned to Vaiare on Moorea Island at 1pm. I was concerned about waiting again for a ride back to the Sofitel Ia Ora, but that cab driver who brought us here in the first place was there once again looking for someone needing a ride like us.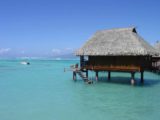 And with that, Julie and I returned to the Sofitel Ia Ora minutes thereafter, and the weather was as good as it had ever been during our trip.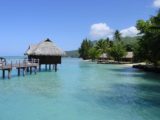 It was almost siesta time so before that happened, Julie and I looked to hire a car for a 24-hour period. That way, we could also drive to the other side of the island for dinner. We had Le Linereva (Le Bateau) on our minds since it was recommended on the Tahiti boards.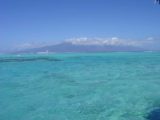 So when we talked to Maria, who was the very helpful receptionist, she called the restaurant and secured our spot. Then, she also directed us towards the car hire kiosk right next to her so we could go ahead and book the car.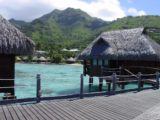 The car hire rates weren't cheap. The car had no AC, was compact, and it was manual transmission. All this was for over 10,000 CFP, which translated to upwards of $100 USD for the day.
So Julie and I wasted no time getting into the car and doing our own circle island tour of Moorea.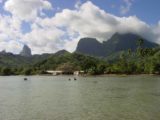 We began the tour going counterclockwise around the paw-shaped island. We made a few stops where there were views of smaller bays, but it was mostly uneventful.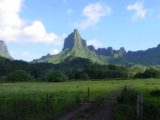 We passed Le Linareva (Le Bateau) on the way to Haapiti which was on the non-touristy part of the island. We took note of that restaurant as we would come back there later in the evening. But the tour guide from two days ago recommended this place in Haapiti for authentic Tahitian food. We had our hearts set on that place for lunch. Unfortunately, Julie and I were too late as it was 3pm and they were closed at 2:30pm.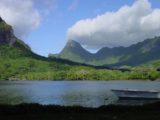 The drive continued towards Opunohu Bay. From there, we took an inland road that twisted its way up to the Belvedere (overlook) on the island. When we got there, it was pretty quiet and we had partially cloudy views of Mt Rotui along with the two bays – Cook's Bay and Opunohu Bay.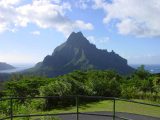 While Julie and I took photos up here, we also took this time to buy some ice cream from a nearby stand as well. Given the heat and humidity of the tropics, this Tahitian Vanilla ice cream was appropriate for the moment. But it was also perhaps the best tasting vanilla ice cream we ever had!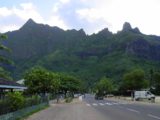 Afterwards, we continued back down towards the main road and proceeded to go around Mt Rotui towards the scenic Cook's Bay. Next, we continued around the bay and noted some of the restaurants we had eaten at already such as Te Honu Iti (our favorite up to this point) and Le Mahogany.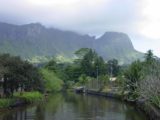 We would eventually reach the village of Maharepa where Julie and I took a break to do some souvenir shopping. I don't recall we picked up anything here, but it was starting to get dark anyways so we had to get back to the Sofitel Ia Ora to ensure we can get cleaned up and ready to go to our restaurant in time for our booking.
We returned to our resort at 5pm and we left for Le Bateau at 6pm. By now, night had fallen and the drive was pretty much pitch black. We needed high beams to ensure we could see where we were going. But we took our time as we weren't in any hurry.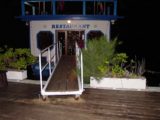 Julie and I finally arrived at the front of Le Bateau. It looked humble so far. We followed a sign that directed us past these buildings and eventually we found ourselves on a long dock that was lined with lights on its side. The dock ultimately led to a boat that said "Restaurant" on it.
When we walked into the lightly swaying boat, the interior was cozy with dim candled lighting. There was probably room for about 4-6 couples I reckoned. The tables were neatly set and everything had a very beachy theme to it. Clearly this was no ordinary restaurant but even a cynic like me couldn't ignore the atmosphere of romance this boat had.
My only concern was getting seasick while eating, but surprisingly it wasn't that bad.
Julie and I enjoyed some very interesting seafood dishes. I had a very heavily marinated yet tender shark. Julie had some kind of jack fish. The appetizers also blew us away and of course the complimentary baguettes were top notch.
We had enjoyed Te Honu Iti last night, but we were so blown away by this experience that we would associate the best of fine dining in Tahiti with this place. Sure it wasn't cheap, but you don't really think about these things when everything just feels right about your dining experience.
After a very satisfying and memorable dinner, Julie and I happily drove back to the Sofitel Ia Ora in the dark. We blissfully took our time and by the time we returned to our traditional garden bungalow, we went to bed. And as we replayed the way this day went in our minds, we were glad the way things turned out after having been on our own for the whole day.
It was indeed paradise… done our way!
Visitor Comments:
Got something you'd like to share or say to keep the conversation going? Feel free to leave a comment below...
No users have replied to the content on this page