URU'S WATERFALL
At 1:15pm, we had finally made it out of Nausori. And while we continued north on the Kings Road, we could tell potholes started showing up on the sealed road. But it didn't take long before the road went completely unsealed.
Still, that didn't deter us. And so we would continue along the fairly tame unsealed Kings Road without seeing another town in sight for a while. So far, my trip research about the Kings Road had me believing this road was 4×4 only. But I knew they were working on improving the road for both locals and tourists and it seemed like they did a pretty good job of it.
As we continued along the Kings Road, we had just passed a bridge that appeared to have a creek running below it. Could this be Uru's Waterfall?
I went ahead and pulled over on the next available shoulder that I could find. Julie wanted to stay in the comfort of the car as it was still running so the AC stayed on. So I went out and braved the mosquitoes and the heat.
When I walked over to the bridge, it was clear there was a waterfall down there. The problem was that I wasn't sure how to safely get down there. After a few minutes of looking around for a way down, I gave up and headed back towards the car.
Then, a young Fijian boy was heading towards me as he was going the other way. We made eye contact and gave him a polite smile. But he actually walked towards me and extended out his hand for a handshake. Naturally, I shook his hand, then he asked if I was going to the waterfall.
I said yes, but he could tell I couldn't figure out how to get down. So he guided me past the bridge and over to a gate that was locked. No one was there to let us in so he took me back to the bridge.
At that point, he proceeded to climb down the north end of the bridge and told me to come. So I followed him down the bridge with him, then went underneath the bridge. From there, the path was a bit steep and narrow and I dared not continue standing upright.
I was amazed at how nimble the boy was and he didn't even have shoes on!
There were other Fijian villagers at the top of the main drop of the waterfall. The boy joined them and wanted me to take their picture. Apparently, Fijians aren't camera shy and I gladly took their pictures before continuing to go down.
Anyways, as I was carefully making my way down, he would point me towards the correct path. And eventually after a little more rock hopping, I was able to get to the shores of the plunge pool without getting wet.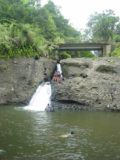 Uru's Waterfall was a modest multi-tiered cascade that tumbled beneath the bridge on the King's Road. The boy who helped me dove into the water and swam while the other Fijians stayed on top of the falls and talked amongst themselves.
Even though they seemed to lead simple lives, they were all smiles and seemed to enjoy each other's company.
Finally, I had to say my good-byes and head back up to the car to rejoin Julie. I told the boy, "Vinaka vakalevu!" which translated into something like "Thank you very much." Then told them all "Moce," which meant "Good bye" if you didn't plan on seeing them for a while.
Visitor Comments:
Got something you'd like to share or say to keep the conversation going? Feel free to leave a comment below...
No users have replied to the content on this page