Day 9: FAMILY FIRST
At 5:15am Tahia woke everyone up. Upon looking outside our overwater bungalow, I could see that we were surrounded by dark clouds except we were under a rather small patch of clear skies. I wasn't sure what that meant in terms of weather, but I figured we mind as well enjoy at least the morning while the weather was good.
Some time during this morning, the A/C had stopped working, but we figured that was ok since there was a nice sea breeze that pretty much offset the humidity in the air. So we opened up all the shutters (including those in the bathroom) to let the air circulate.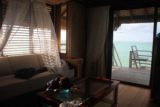 However, I had also noticed that the laptop was running on battery power. So clued me in to the fact that there was probably some kind of circuit breaker that tripped in our room. At 6:05am when Julie called into maintenance, the reception said there was no electricity in general (even though our ceiling fan was working and some of our lights were working).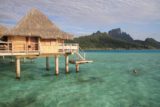 While we wanted to chill out on this do-nothing day, we did intend to visit the sister property of Intercontinental Le Moana – the Thalasso. There were some limited free boat shuttles going back and forth between properties so we decided to take the very first shuttle at 7:45am so we could have breakfast at the Thalasso instead of Le Moana. We wanted to see if the brekkie at the Thalasso was any better than that of Le Moana.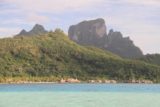 Plus, we also planned on spending the better part of the morning swimming or just lounging around on the beach at the Thalasso property. So we packed up a fair bit of stuff (mostly Tahia's) in anticipation of the extended play time, and we were at the dock in plenty of time for the 7:45am shuttle to the Thalasso.
As we boated from one IC property to another, our gaze mostly focused inland towards Mt Otemanu. From the angle we were looking at near the start of the shuttle, the impressive mountain took on more of a flatter, almost table-top mountain-like appearance.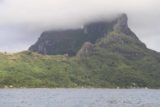 Julie and I were recalling some of the resorts we checked out ten years ago like Le Maitai, Sofitel Marara and Motu (now Sofitel Bora Bora), and even the closed down Club Med, which Julie pointed out was an experiment that proved why all-inclusives didn't work in French Polynesia as it would be a money-losing proposition given how everything was imported and the rather high cost of living.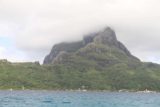 Further on in the shuttle as we got closer to the previously undeveloped long motu (Motu Ahi, I think, according to a map in an old LP book we consulted on our previous trip here), we could see Mt Otemanu take on more of a semi-circular appearance.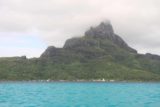 A light-bulb moment went off as I equated Mt Otemanu to an old volcano. And given the advanced age of Bora Bora Island, which was an island that was sinking as it was no longer over a hot spot providing new land from the depths of the ocean, all that was left of the volcano were the hardest rock layers as advanced weathering exposed only the hardiest sections of the crater.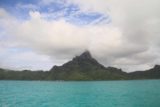 By the time we were very close to the Thalasso on Motu Ahi, we could see that the cratered peak took on more of a needle-like appearance because we were looking at the mountain edge-on. The view of Mt Otemanu from this vantage point was Julie's favorite as the crater rim comprising what's left of the very old island could be seen edge on so the peak took on a bit of a sharp appearance.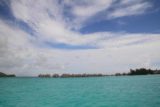 Roughly 25 minutes after we left Le Moana, we arrived at the dock for the Thalasso where we then embarked on a fairly lengthy walk all the way to the breakfast area. The wind was noticeably gentler on this property so the heat was pretty stifling.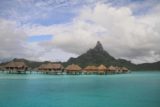 The heat was made worse by the fact that we both had a lot to carry. Julie carried Tahia and her own stuff while I carried all the bigger bags full of Tahia's stuff plus a cooler.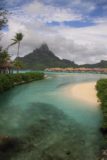 We'd eventually make it to breakfast at around 8:45am where there was hardly any air circulating in the dining area. Thus, we were all a hot and sweaty mess from all the walking to get here plus the lack of relief from the stifling heat and humidity on this motu we were on (which was previously undeveloped except for Le Meridien back in 2002).
When we were finally settled and got Tahia to behave somewhat, we went up to get our food. That was when Julie and I went nuts grabbing some poisson cru as well as some sweet mangos, crispy croissants, and some fluffy crepes. Needless to say we were totally stuffed when all was said and done. Given how much better the brekkie at the Thalasso was, we decided we were going to do the boat shuttles to come bacck here tomorrow morning.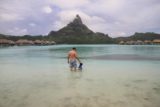 After brekkie was over at 9:30am, we walked to a beach fronting the breakfast area with a view of Mt Otemanu between a pair of overwater bungalow groups. However, the everpresent clouds made for photographing the impressive volcanic crater rim fickle as the clouds would frequently cover its highest sections most of the time while suddenly revealing the peak of Mt Otemanu at other times.
At first Tahia and I entered the water, which felt a little cold, but we quickly got used to it. While Julie was busy trying to change her clothes into swimming attire, Tahia and I were having another father and daughter moment watching her gain confidence as she trusted the life jacket more and was allowing herself to float.
The only thing she couldn't do was to keep her mouth out of the water (to stop from drinking the seawater) or to figure out when to hold her breath and when to breathe. I guess that'll come in time, but for now, she seemed to be gaining more confidence in the water.
When Julie returned to us, she beckoned us to get out of the water. She told us that the water was calmer at a lagoon facing more inland (though it was already calm at the beach where we were at). So we got our stuff and got out of the water (Tahia was reluctantly doing this as she was having too much fun), and then walked over to Julie's proposed site.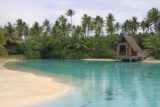 Indeed, this alternate spot seemed like a calmer place as there was a beach looking into an inlet with some fish swimming around. However, when I got into the water here, it didn't take long before the water was over my head. It was at that point that I didn't think I could both swim and manage Tahia at the same time. So I told Julie that we should go back to the original spot.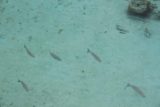 Even though Tahia was having some fun looking at fish here, the range of places we could go was very limited. As soon as I left a little shelf with sea urchins all over it, the lagoon was deep. I believed that this was more of a snorkeling spot as opposed to a playing spot.
Back at the main beach again, Tahia and I went back in the water to play some more. During this play period, it seemed like the clouds were gradually rolling in though Mt Otemanu still remained mostly visible despite its cloud cover. Eventually, Julie got around to changing her clothes into swimming attire and she got to rejoin us in the water.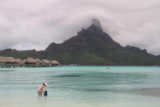 Before we knew it, the whole family was in the water and enjoying watching Tahia enjoying herself in the water. It was the very first time all trip long that all of us were having fun as a family at the same time. There was no real set itinerary, no plan other than to get back to dock for the 12:15pm boat shuttle back to Le Moana, and some decent weather for playing. Indeed, prior to this, there was always something going on from Julie's site visits to my waterfall hikes to some kind of logistical thing going on regarding travel.
Indeed, it felt like it took nearly 8 days for us to finally vacation as a family in South Pacific paradise. Sure the weather could've been a bit more ideal, but considering we were in the height of Wet Season, we merely enjoyed the moment and forgot about whether the conditions were ideal or not. It was good enough, which was better than most places I'd reckon.
After some swimming (or more like walking the shallow sand bars), we then spent time paddling on a tandem kayak. We were merely ambling around the sand bar area with no real destination in mind not even going beyond the overwater bungalows. However, this bit of haphazard floating rekindled the memories of when Julie and I messed around with a tandem paddle boat at the Bora Bora Pearl Beach 10 years ago.
We were done playing in the water at 11:15am. At that time, Tahia started to conk out since she pretty much wanted her morning nap. So she slept under the pandanus shelter while I briefly did the same. Meanwhile, Julie was checking out the property with my camera taking more photos of the overwater bungalows and other parts of the resort.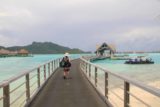 By about 12pm, we all took our stuff and headed back to boating area. It looked like the clouds were getting darker by the minute as we were back on the shuttle boat back to Le Moana.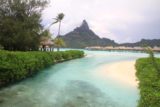 With me wearing the ergo with a napping Tahia this time, I still managed to take a few more photos of the impressive Mt Otemanu from its varying faces as we boated along towards the south of the island near Matira Point.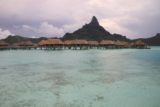 Now I was looking back at the mountain in reverse progression as it went from a needle-like spire to a semi-circular crater to a flat table-top-like mountain.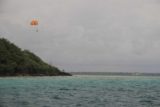 Somewhere along the way, we passed by another boat with some parasailers. That was something we didn't notice in French Polynesia up until now. But then again, I'd imagine all sorts of water activities would be possible. In fact, I recalled someone was kitesurfing when I was looking down from the lobby of the Tahitian Legends property on the day we left Moorea for Bora Bora.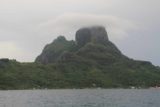 By about 1:05pm, we made it back to the room where we noticed that the electricity was back on again.
It was getting late for lunch knowing that most places would go on siesta at 2pm so we hastily made our way to the Fare Manuia by about 1:45pm seeing that other places like Bounty or Snack Matira weren't likely going to serve us by the time we'd arrive to those places.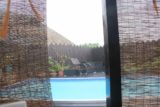 Just as we started to get settled in the restaurant, the skies started to dump its load and it was pouring rain. So we narrowly missed getting rained on while walking, but I knew we'd eventually have to face the rain on the long hike back to our room.>
Seeing how big the portions were at last night's dinner, we settled on saving some money and just going for pizza with water to drink. It was plain and simple fare and we were hoping the weather might let up when we were done eating.
While the rain wasn't coming down in buckets anymore, it was still raining heavily and we only had one umbrella. So I decided to brave the wet weather until we got back to the IC Le Moana lobby to request for a second umbrella. And even though we had two umbrellas, either we were getting wet, our shoes were getting wet, or the bags we were carrying were getting wet. The umbrellas couldn't keep everything dry against the combination of rain plus wind.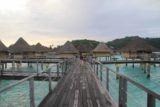 By 2:45pm, we were back at our overwater bungalow again. For another couple of hours, it was still raining outside, but at least we were couped up in the room relaxing and napping knowing that we profitted from a fair weather day that progressively turned worse when it got into the afternoon. I guess that's island weather for you in the Wet Season. The fair weather comes in pockets while the rest of the time would be rainy (or at least that was our experience on this trip).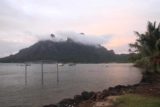 At about 6:15am, we headed back out of our room. I was struggling with a bout of diarrhea and I was wondering what had upset my stomach so much. Was it overdosing on poisson cru at the Thalasso buffet breakfast? Could it be salmonella poisoning from undercooked egg at breakfast? Well whatever the case, I stopped worshipping the porcelain god just in time for us to leave for dinner.
The intensely raining weather gave way to calmer skies again. So even though we had brought two umbrellas for our dinner engagement, it turned out that we didn't need them.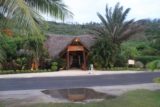 Once again, Danny was waiting for us at the lobby. He took us back to the Kaina Hut restaurant since we had such a good experience there two nights ago. Plus, Julie didn't feel like taking a chance on one of the further restaurants near Top Dive (which apparently have different restaurants than 10 years ago).
Either way, we knew the quality we were getting at Kaina Hut and we knew we'd be warmly greeted by the hostess there who loved to engage with our daughter.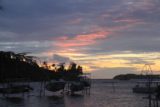 As Danny drove us to the Kaina Hut, we could see that today there might be a sunset. Unfortunately, where the Kaina Hut was located, there was a hill and some trees in the way so the sunset that I was looking for wouldn't be available here. However, I could see from the glow through the foliage behind the hill blocking my view that there was indeed a sunset on this day, which was a rarity on this trip.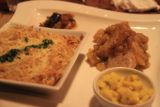 This time around at the restaurant, we had some kind of pork with old-style mustard sauce (probably some kind of variant of dijon). We changed up our tuna dish by having it with mango chutney instead of the capers and tomatoes ala Provencal style. We also had the chef's special bruschetta as the appetizer.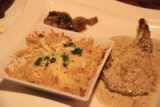 Julie asked our hostess if it was true that the chef here worked with Damien of Villa Mahana fame. She said that her husband Laurent knew Damien since they grew up and that he was the reason why he moved from Corsica to Bora Bora.
We also learned that our hostess' name was Titaua, which was a Polynesian name even though she was Caucasian. Apparently, she was born here and met her now-husband when he moved over. She said she has two boys where one of them seemed to adopt a very Polynesian mentality from bare feet to eating fish straight up raw.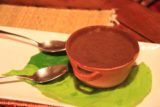 Anyways, our dinner was capped off with a delicious tiramisu dessert. Julie and I liked it so much that decided to have another one! After all, where else and when else would we have something like this. Titaua said the recipe was passed down from her grandmother. We even let Tahia have a few bites of the divine dessert.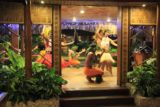 At 8:35pm, we were back in our room. Julie and I reflected on our last night in Bora Bora and even checked out what remained of the traditional Polynesian show that was going on at our resort. Julie was hoping for a fire dance, but apparently they didn't have the real estate to do something like that.
While we were getting cleaned up and wound down the night, I was starting to have chills. I wasn't sure if I was cold from the A/C or if I was still fighting off some food poisoning from earlier in the day. Whatever the case was, I went to sleep in fetal position trying my best to stay warm under the sheets.
The evening was cloudy but calm. There was still no further rain. With most of tomorrow to go before flying home that evening, we went to sleep wondering what we were going to do since we really had nothing planned other than to pack and have our meals.